I get a lot of questions about soup makers, mostly asking which is the best soup maker to buy (when there are so many to choose from!) I thought it was about time I laid out my own Morphy Richards Soup Maker Review and Comparison!
I make no secret of the fact that I love my Morphy Richards Soup Maker and I would recommend it as my favourite soup making brand over and over again.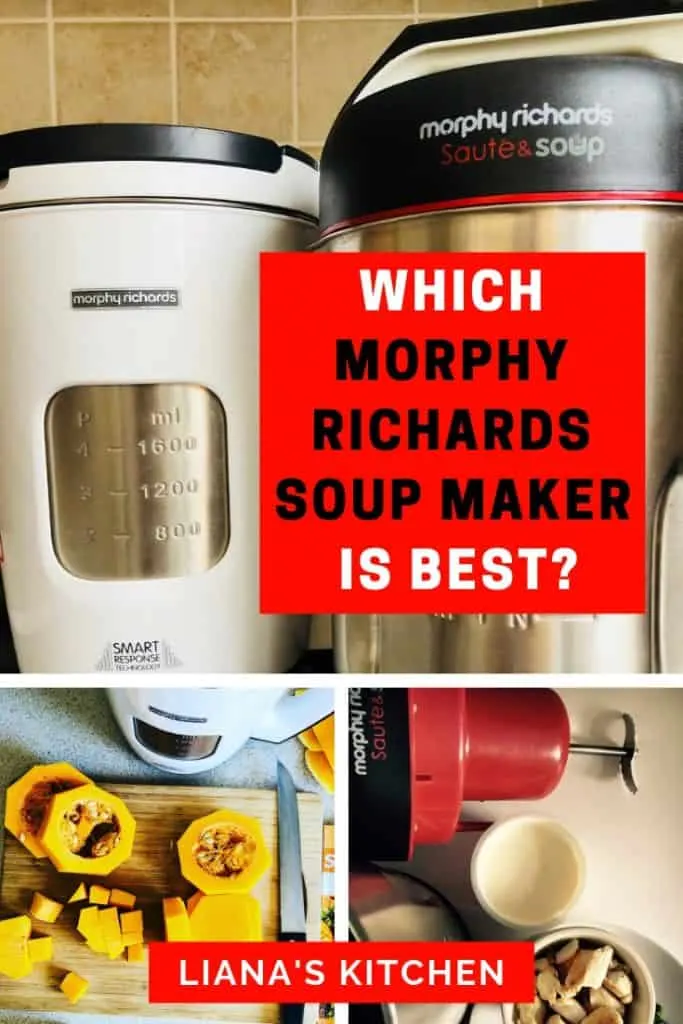 Morphy Richards Soup Makers are one of the most well known range of models. At the time of writing they have 6 soup makers available, some with more features than others.
They are really simple to use and don't cost too much money. The earlier models are the cheapest and come with the least amount of functions, for example, it is their latest 2 models that have a sauté function. All of the Morphy Richards Soup Makers are kettle size and fit easily onto kitchen work tops.
I've had my Sauté and Soup maker for around 3 years now, and it hasn't let me down yet. And trust me when I say it gets a lot of use! I have since bought the latest Morphy Richards Total Control Soup Maker because;
a) I was curious on how they could improve on the previous model, (more on that below), and;
b) As I test so many soups for both this blog and my books, I wanted a model that could make smaller quantities.
Before I jump into a detailed comparison of the various Morphy Richards Soup Makers, I'll quickly list my top 3 from their range that I think are the best to choose from:
The Morphy Richards Saute and Soup Maker has a

sauté

function (I wouldn't be without mine now!)
The Morphy Richards Total Control also has a saut

é

function, as well as the ability to make smaller portion sizes.
The Morphy Richards 48822 Soup Maker doesn't have the

sauté

function but it still makes great soup and is my top pick for a budget soup maker.
Which Morphy Richards Soup Maker Should I Get?
Which one you go for will depend on a few factors;
Budget
At the time of writing, the Morphy Richard's soup makers vary in price, but not by a huge amount. If you regularly make soup (and I think you will once you have a soup maker!) then having one that can saute the ingredients too is worth the extra spend.
Features
They all have the basic soup functions; you can choose to make either smooth or chunky soup. They can all create smoothies and milkshakes with ease. Each model comes with a 1000 watt motor and a 1.6L liquid capacity. The main outliers are that two of the three mentioned above can saute (#1 & #2) and the Total Control can make smaller portion sizes.
1. Morphy Richards Total Control Soup Maker 501020 White Soupmaker
This is the latest soup maker from Morphy Richards and I couldn't wait to get my hands on it to test it out! This model really is 'souped up' version of my other favourite model, the Morphy Richards 501014
I'll jump into the main features so you can really understand why I love it so much;
Main Features
1.6 litres capacity
1100 watt power
Dimensions: 26cm x 18cm x 28.4cm
Portion control
Saute, smoothie & blend function
Choose between smooth, medium and chunky
Easy to remove inner pot
Control Your Portions
The Total Control, as the name suggests, really does give you much more control than previous soup maker models. Whereas with all the other Morphy Richards Soup Maker models, you must make a minimum quantity, the Total Control allows you to make other portion sizes, with the options to choose between 2, 3 and 4. This is great news for users that only want to make enough for 2 or 3 servings.
Easy To Clean
Although all the models in this range are easy to clean, the Total Control goes one step further by making the inner pot removable. This means you can give it a thorough wash without worrying about the rest of the unit – and electrics – getting wet. There is also a Pre-Clean function which you can run with water and washing up liquid to ensure it is super clean.
Reheating Soup
This is another new function in this latest model, the ability to reheat your soup. You can choose to reheat either 2, 3 or 4 portions.
Making Soup
The Total Control works in a similar way to the other Morphy Richards Soup Makers. Like the Sauté & Soup 501014 model you can also sauté certain ingredients prior to adding the remaining ingredients. You must keep the lid on in order for this function to work (unlike with the 501014 where the lid must stay off). This in my opinion is the biggest (and probably only) downfall of this model. I much prefer being able to stir my ingredients when they are cooking in oil/butter.
You can choose to make smooth, medium or chunky soup, with the option to further blend soup at the end of the cooking cycle.
What I Love: Sauté function, ease of use, easy to clean, ability to make smaller portion sizes, 3 modes of soup texture (smooth, medium and chunky).
What Could Be Better: The only thing I don't like about this model is the need to keep the lid on when sauteéing.
If you are interested in my complete review and guide to using this model please head over to my Morphy Richards Total Control Soup Maker Review & Beginners Guide.
2. Morphy Richards Saute and Soup Maker 501014
This is another of my recommended soup maker picks and is the first soup maker I bought. It ticks so many boxes when it comes to features, as well as being an economical purchase and very easy to use.
The capacity comes in at 1.6 litres, producing enough soup to serve 4 people. The 1000 watt motor is more than sufficient for chopping through ingredients and blending soups into a velvety texture.
But what really turns the Morphy Richards Sauté and Soup Maker into one of my favourites is the sauté function. It turns this machine into a one stop appliance for making soup from start to finish. The sauté function enables you to gently cook ingredients with the lid off, giving you the ability to stir it from time to time.
What I Love: Price is right, sauté function, ease of use, easy to clean.
What Could Be Better: The ability to produce less soup if required – but I usually store excess soup in the fridge or freezer for later use, or give away to friends and family.
3. Morphy Richards Soupmaker 48822 Stainless Steel Soup Maker
The Morphy Richards 48822 would win my best budget soup maker. Although it doesn't have the sauté function of the previous two models, if this feature isn't something you'll use, this is the machine for you.
It has the same 1.6L capacity, as well as a 1000 watt motor. The simple modes include smooth, chunky, juice and blend. Please note that 'juice' means to make a smoothie here, not actually work like a traditional juicer.
It doesn't get much more straightforward than this, you simply add your ingredients and press either chunky or smooth. Less than 25 minutes later you'll have piping hot soup.
What I Love: Budget buy, easy to clean, super easy to use.
What Could Be Better: I prefer a sauté function. If this doesn't bother you then this is the ideal soup maker for you.
Morphy Richards Soup Maker Recipe Book
Are you looking for a Morphy Richards soup maker recipe book? Any soup maker cookbook should be sufficient but if you want one that has recipes tried and tested in a Morphy Richards then I have put all my soups into one soup maker recipe book, currently available on Amazon!
Do You Really Need A S
auté

Function?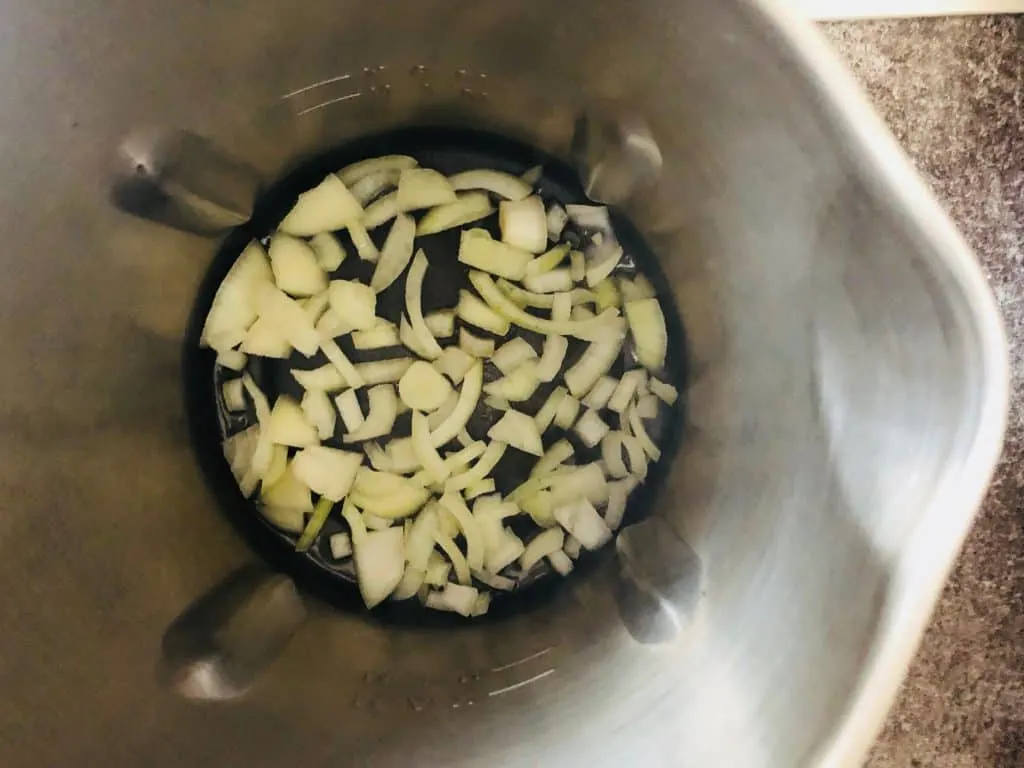 In short, no you don't. You can easily sauté ingredients separately in a saucepan. But, I have found I am much more inclined to sauté ingredients for my soup when it is built in to one machine. I like speed and as little washing up as I can get away with!
Of course you might not be bothered about sautéing your ingredients – and that is perfectly fine too. I don't always sauté mine. But when you use sautéed ingredients the soup will produce a much more robust and influential flavour. Times when I don't always sauté are when I want to appreciate more of the less intense ingredient. Sometimes by frying an onion you might detract from the taste of a less powerful ingredient.
Morphy Richards S
auté

and Soup Maker v Morphy Richards Total Soup Maker

If you know that you want one of the sauté soup makers but you can't decide between these two models, let me give you my thoughts. I have both of these models and have really put them to work so feel I am in a good position to comment on the pros and cons of each.

Firstly, if I could merge the top features of both, we would have the perfect soup maker. In short, here are the main takeaways from each model;
Both models can saut

é

. The 501020 does this without the lid on whereas the Total needs to have the lid on. Which feature wins? The 501020 does. In my opinion being able to stir, or at least keep an eye on what you are essentially frying is preferable. I don't like putting the lid on and leaving it to it's own devices – inevitably the lid gets left on for too long, and you can't tell if anything is overcooking.
The Total can make fewer portions. This was a huge selling point for me. If you are making soup just for yourself, or even two people, you might not want to make 1.6 litres. The solution of course it to store or freeze the leftovers for another time, or to be a super kind neighbour and give some of your leftovers away. Be aware that you can't make smaller portions for all soup options though (for example, for smooth you can only make 3 or 4).
The Total is easier to clean. You can remove the vessel/inner jug from the Total model and give it a really great wash by submerging it in water. You can't do this with the 501020. Although the 501020 isn't necessarily hard to clean, it just takes a little more care to make sure not all of the soup maker gets wet.
The Total has a reheat and keep warm function. The reheat is really useful for any leftover soup you want to reheat at another time. The keep warm function kicks in 10 seconds after the soup maker cycle has finished.
So really it's a tough call if I had to pick which one I prefer. Point 1 probably bothers me the most, but maybe that isn't as important for you. If you don't really use the saute function as much then I would go for the Total Control – the other features of this model will likely make up for this downside (smaller portions, reheat, easier to clean etc).
Conclusion – Which Is The Best Morphy Richards Soup Maker?
If you are sticking to a tight budget and you are not concerned with sautéing ingredients prior to cooking them, the best budget soup maker for you would be the Morphy Richards 48822 – it offers enough functions to make tasty soup every day.
If sautéing ingredients is important to you, and you like to make enough soup for a family, or to save some for another day, the Morphy Richards Saute and Soup 501014 is the next best choice.
However, if you like the option to make less soup, for example if you are just making soup for 1 or 2 people, the Morphy Richards Total Control Soup Maker would be the best soup maker for you. Alongside portion control, the added functions (reheat, pre-clean etc) are worth the extra cost.