Chicken Tikka Masala is so popular in Britain it could almost be considered a national dish. There are many variations of the dish, but the common ingredients include chicken, tomatoes, spices and a cream of some type.
Tikka Masala is ideal for turning into a soup, and is especially easy to create in a soup maker. You can serve it as a soup, or make it more of a complete meal by stirring in some rice at the end.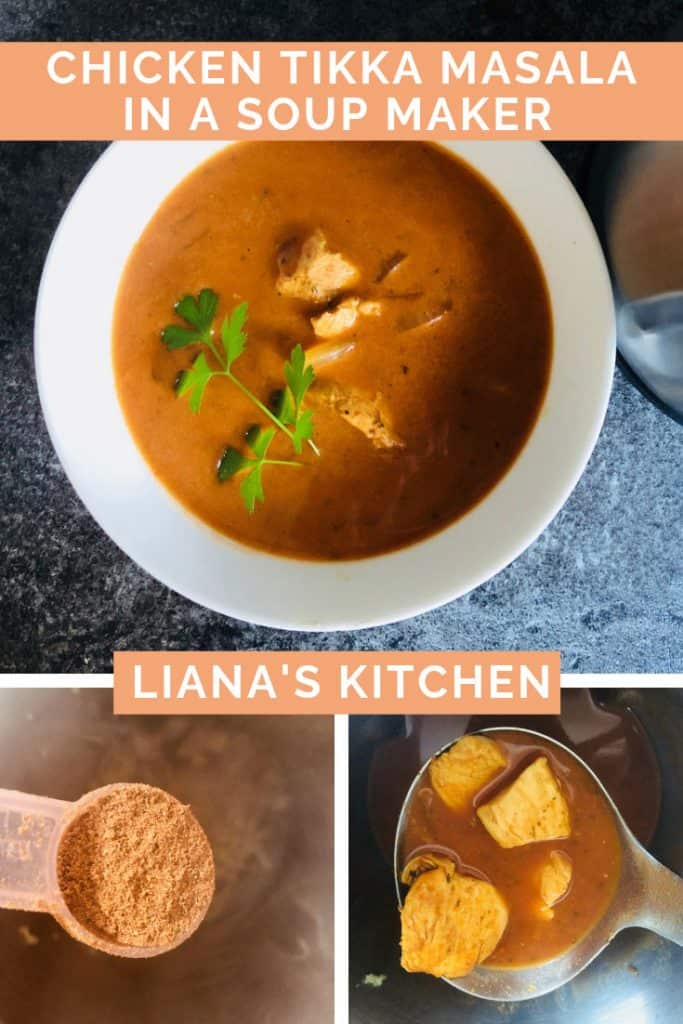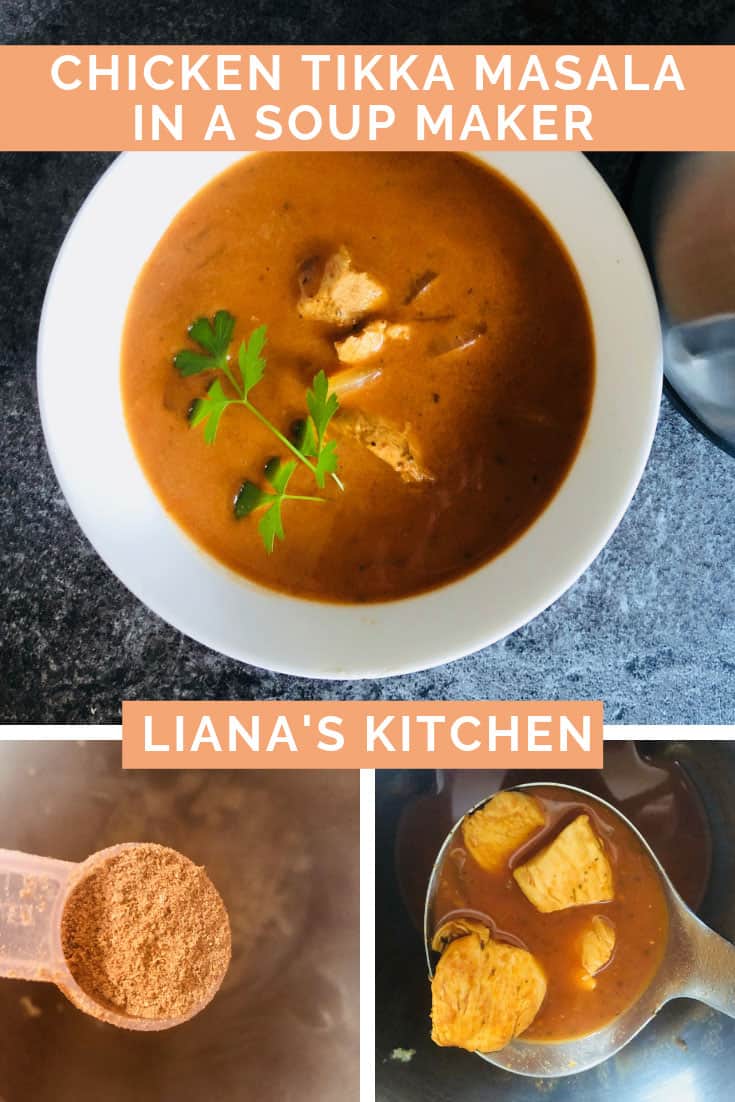 If you don't have a pre-made Tikka Spice mix you can make your own up with other spices – see the recipe notes.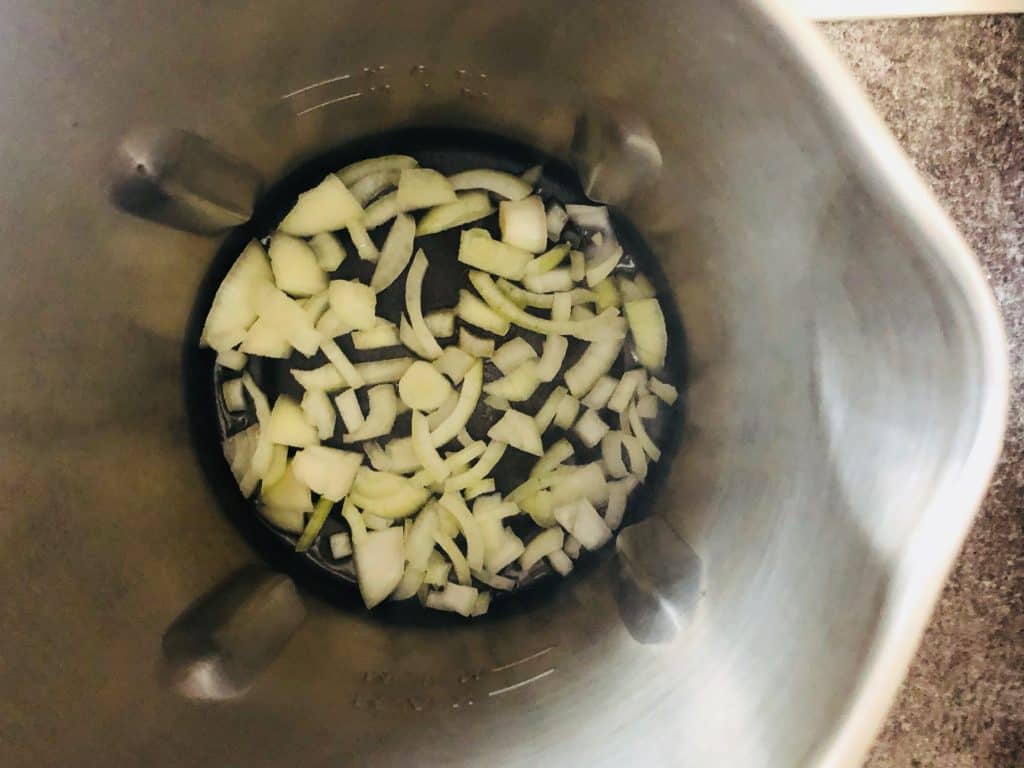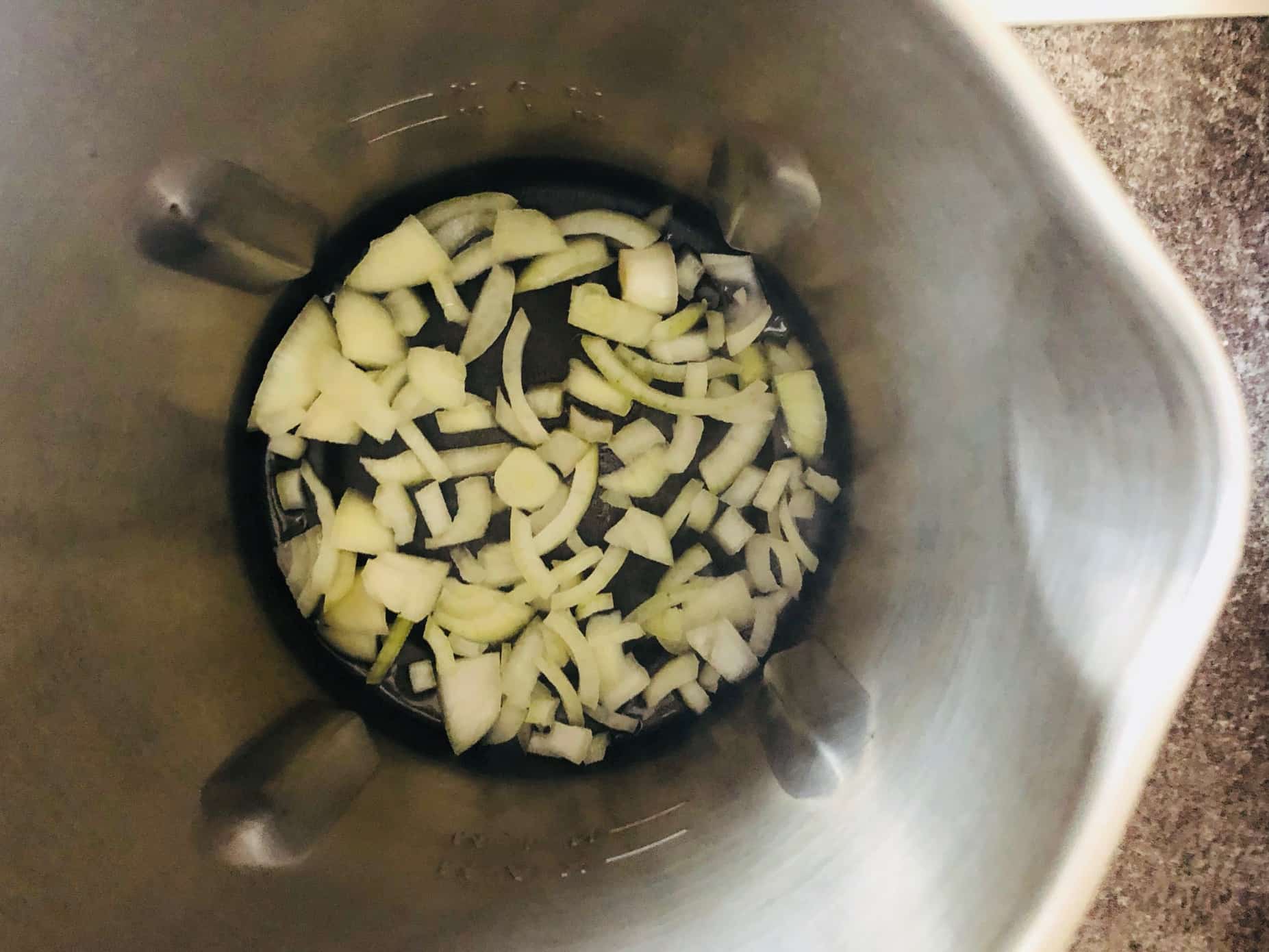 It isn't a necessity to sauté ingredients but it often intensifies the tastes, and in this case, it really does pay to do this extra step. It allows the spices to really infuse with the onions and turn them into a paste when you add a little stock.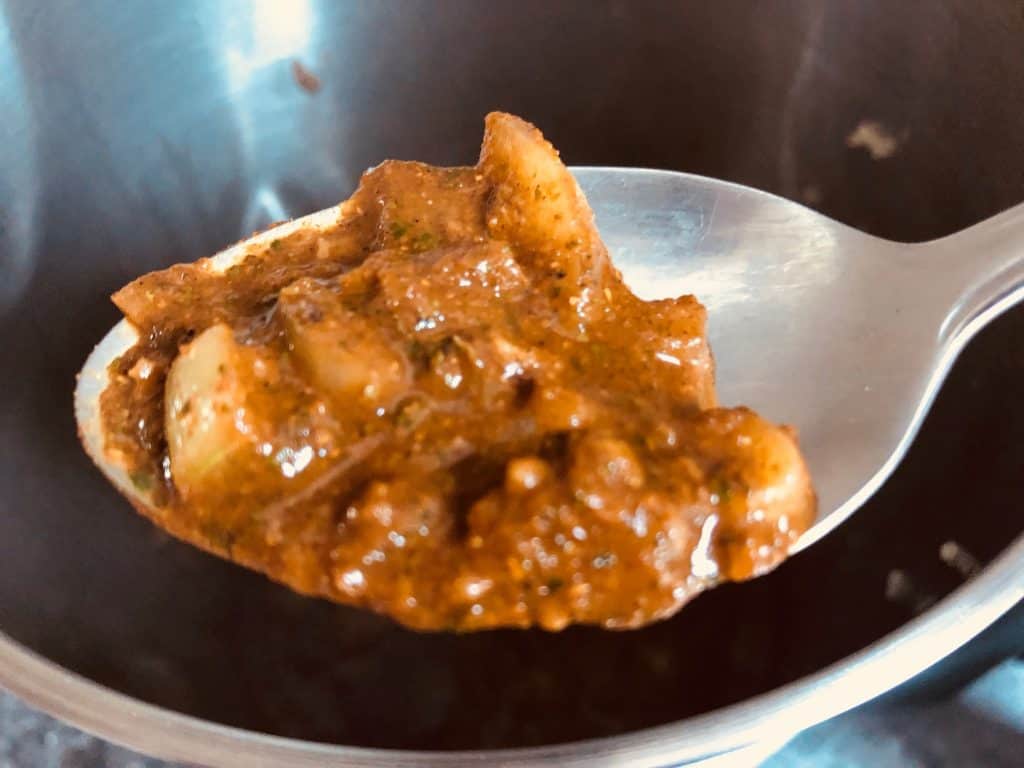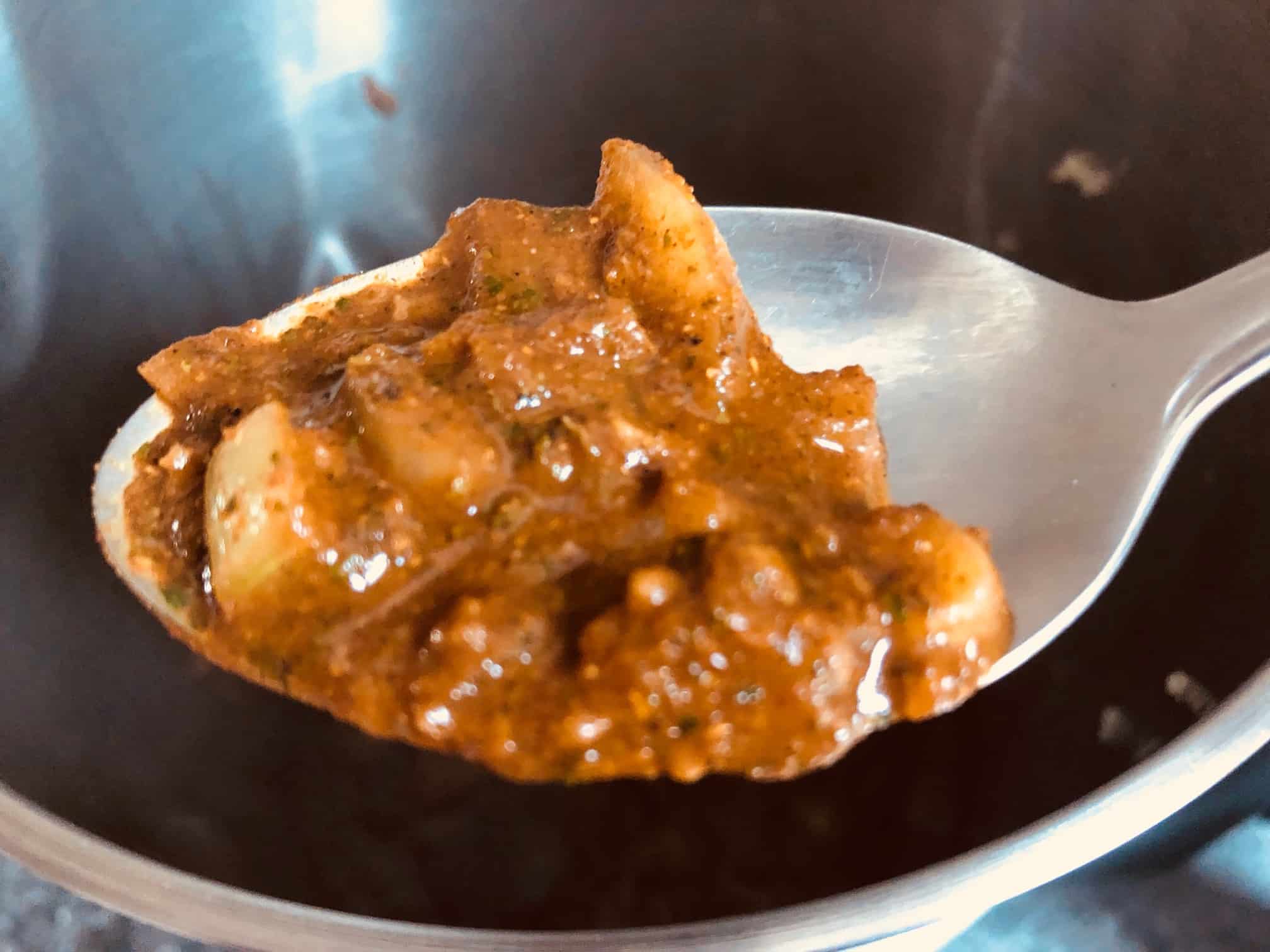 Add a little bit of the hot stock to deglaze. Use a wooden spoon or silicone spatula to scrape off any browned bits stuck to the base of the soup maker (or pan if you are making on the stove) and stir to form a paste.
You can use leftover chicken from a previous meal (Sunday roasts are always a good one!) or cooked up your own chicken specifically for this recipe. I have put 3 to 4 chicken breasts, but really you can less is you don't have enough leftovers. I got lucky with these chicken breasts and managed to be in the supermarket at the right time and picked up 12 chicken breasts for just £1! I LOVE it when those bargains come along.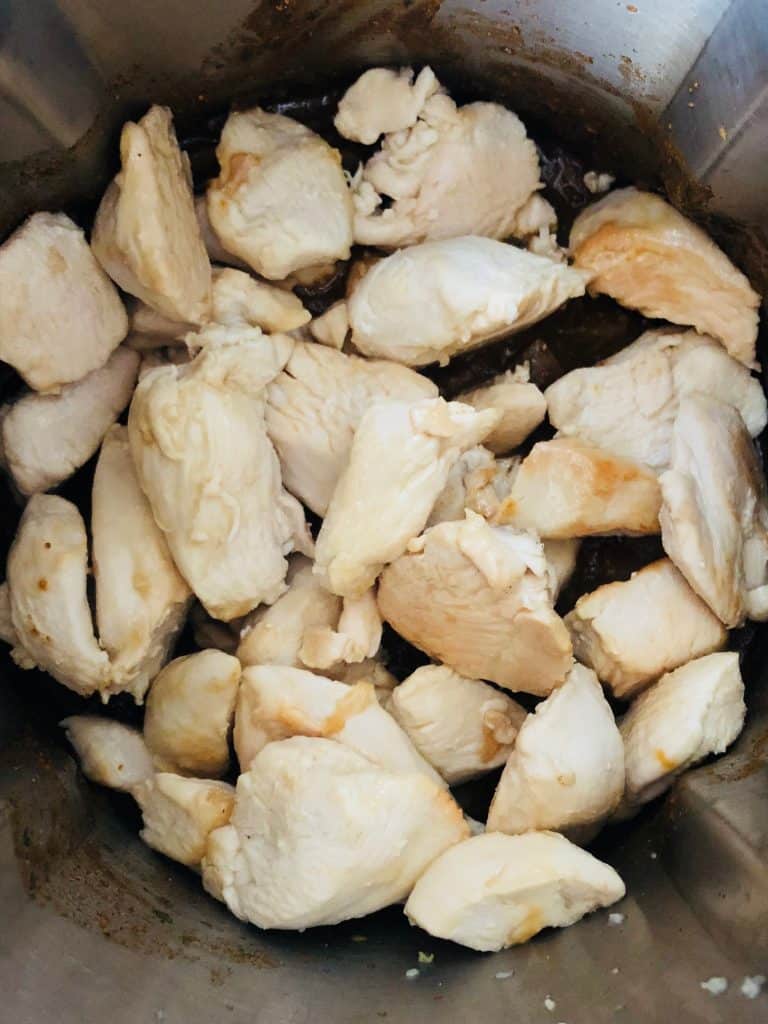 Add in the passata, chicken stock and give it a good stir. Some soup maker users have mentioned how passata burns to the bottom of their soup makers. Fortunately this has never happened to me (yet!) but I think that really stirring the contents around in the soup maker ensures that nothing gets stuck to the bottom.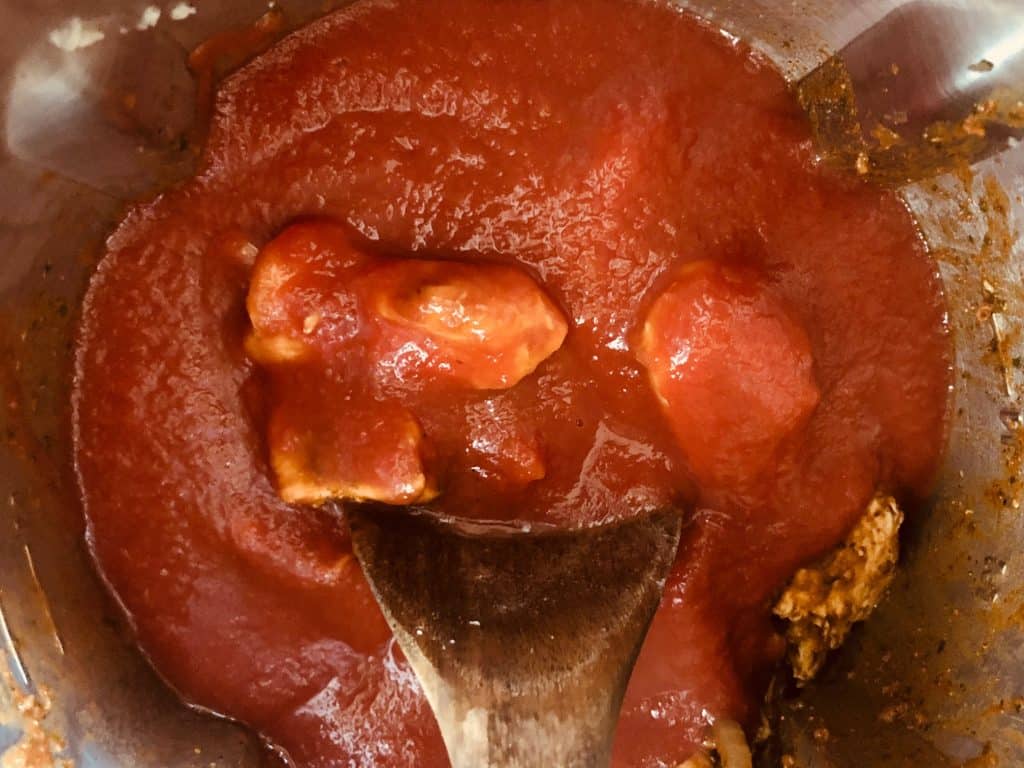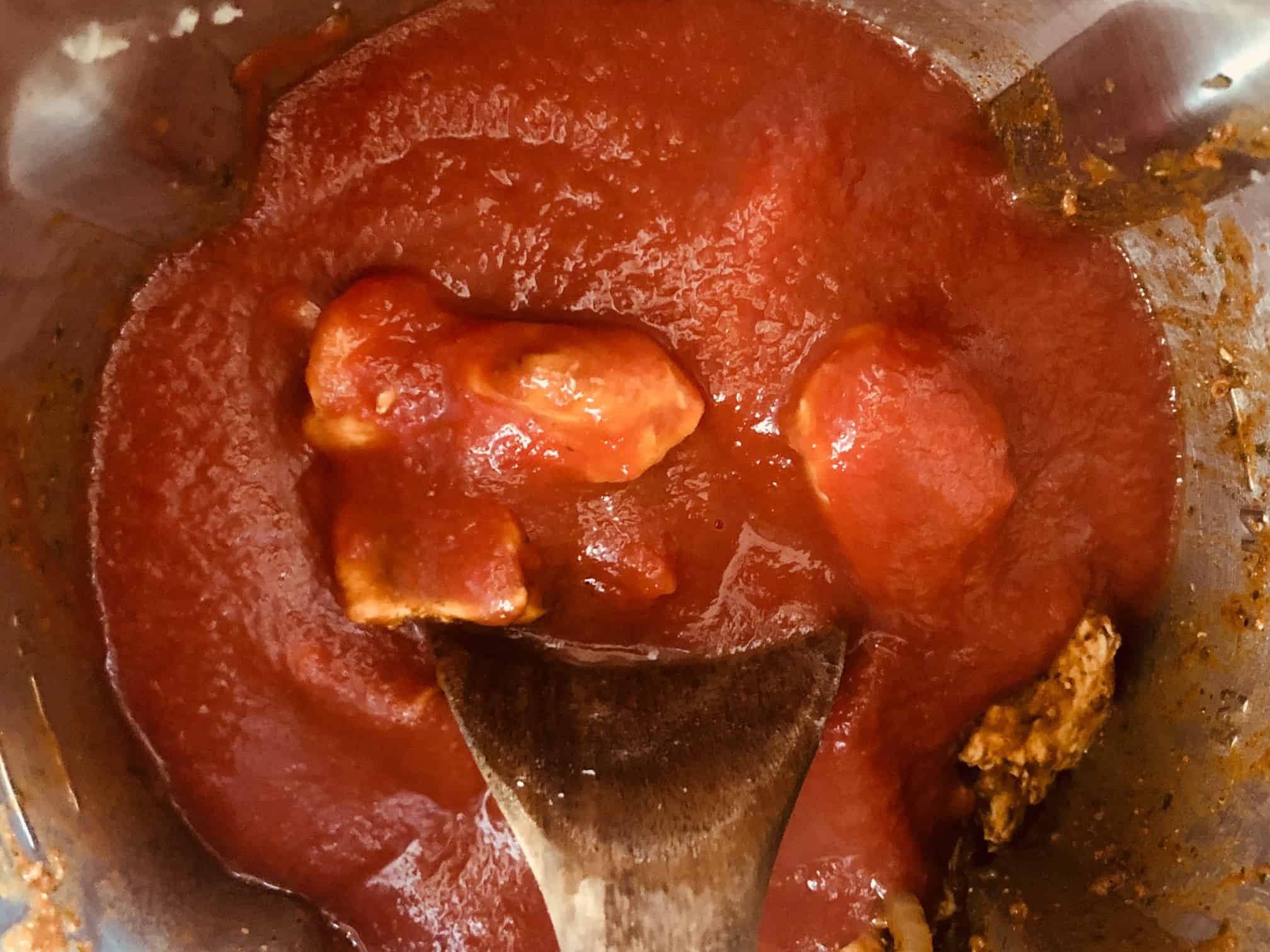 Set the soup maker off on the chunky setting. If you want to add rice to the final soup now is a good time to make it.
Once the soup cycle has finished, lift the lid off and stir in the cream. Depending on your taste and diet requirements you might want to substitute the cream for natural yoghurt (shout out to Tash @slimmingworld_mummyof3) for this suggestion!
You can also stir in any cooked rice at this stage and turn it into a really filling and complete meal!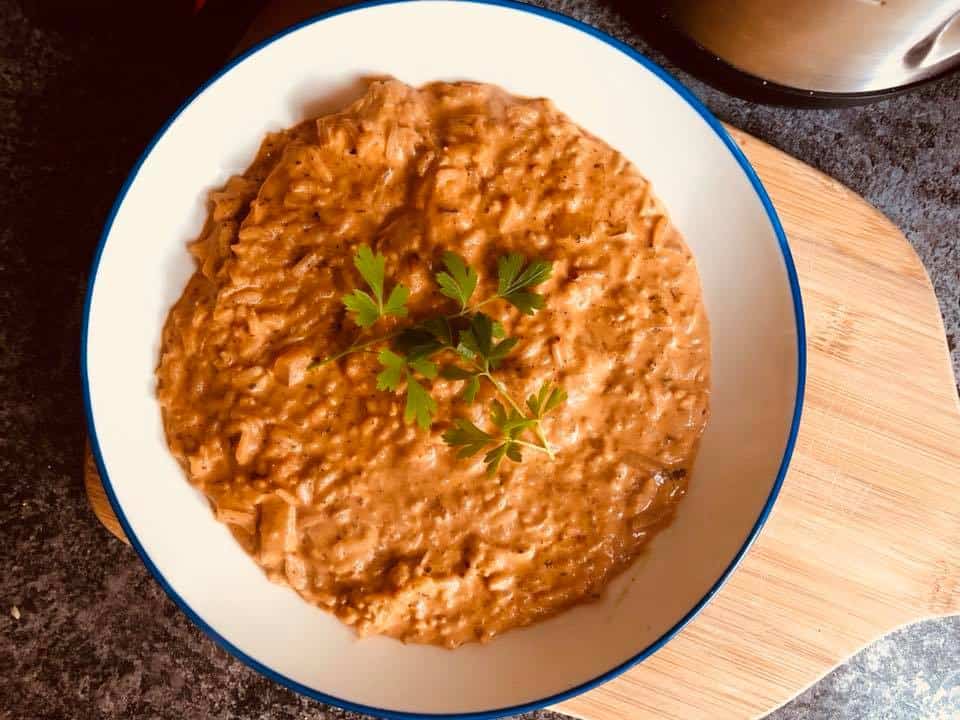 Or, leave it as is, and enjoy it as a soup;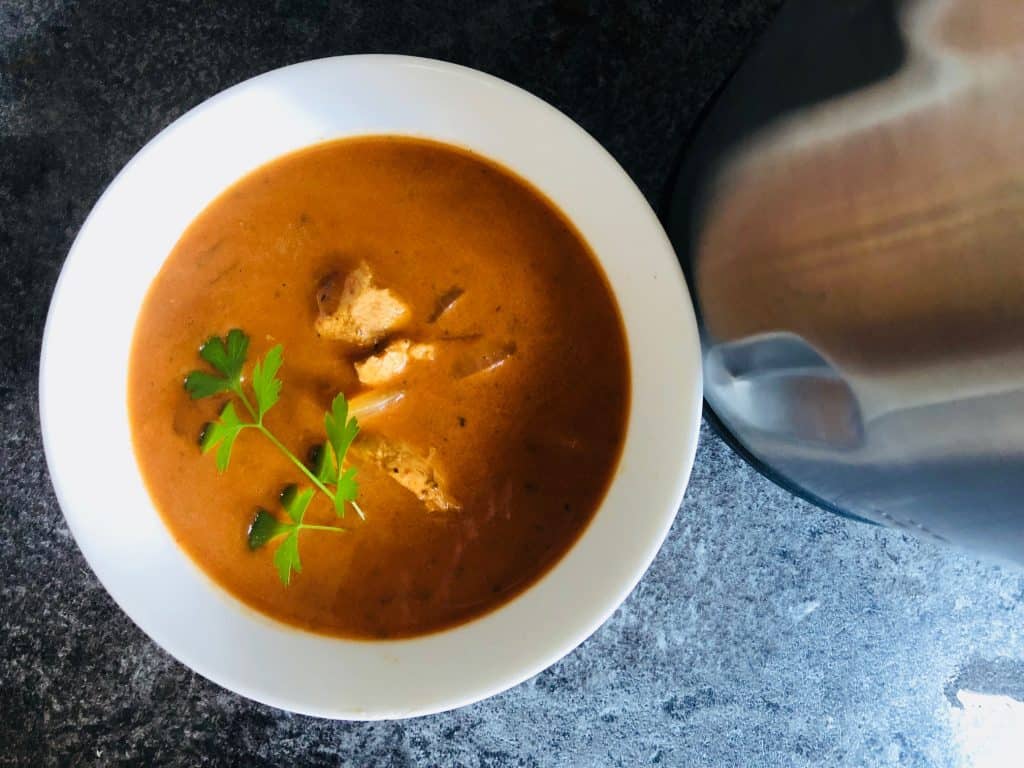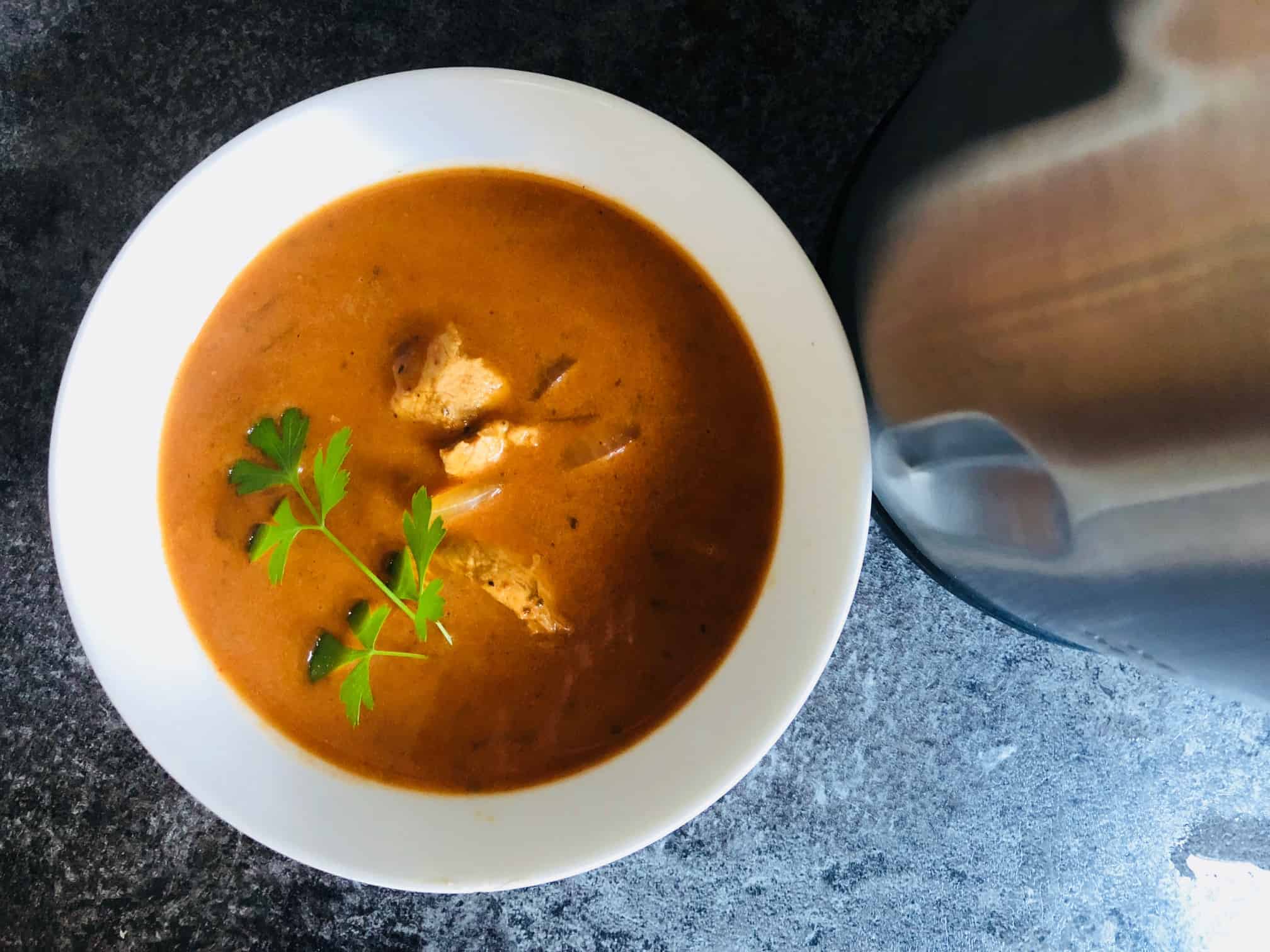 If you enjoyed this soup head over to my Soup Maker Recipes page on Facebook where I share more recipes. You can also join my newsletter to get recipes straight to your inbox. I will also let you know when my 2nd soup maker recipe book is available (it is really soon, I promise!)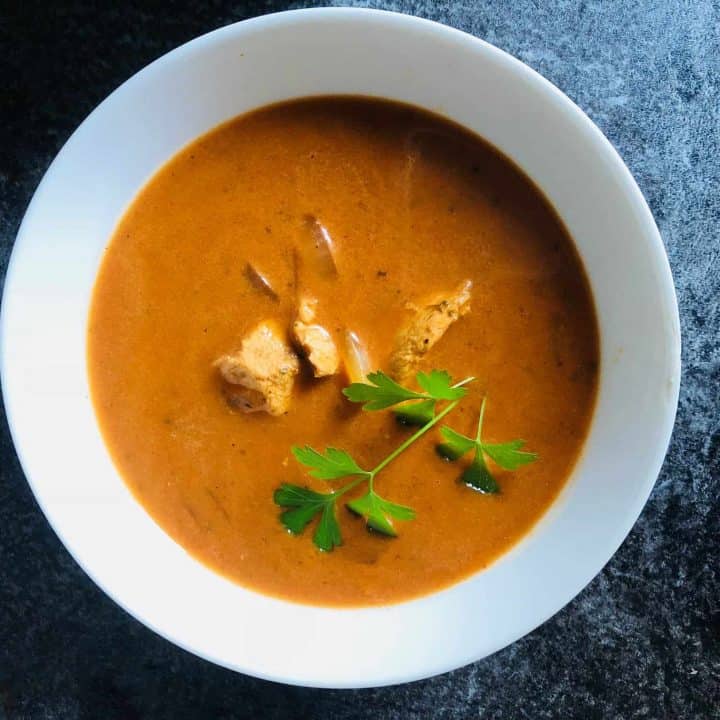 Chicken Tikka Masala Soup (In A Soup Maker)
Chicken Tikka Masala is a British favourite - it's the perfect meal to convert into a soup. The good news is you can easily make this in a soup maker, even adding rice at the end to turn it into a complete meal.
Ingredients
3-4 chicken breasts, cooked, shredded/diced
1 tbsp oil
1 onion, sliced
3 cloves garlic, crushed
4 tbsp chicken tikka powder
1 tsp ground ginger
300 g passata
800 ml chicken stock
150 ml double or single cream, or swap with natural yoghurt
fresh coriander, optional garnish
Instructions
If you are not using leftover cooked chicken you will need to precook the chicken now (oven, fry or however you usually cook chicken).
If you have a sauté function on your soup maker heat up the oil and cook the onions for a couple of minutes. If you don't have a sauté function it is worth doing this step in a pan on the hob to really infused the spices in the onion.
Add the crushed garlic and sauté for a further minute.
Add the chicken tikka spices and ground ginger and sauté for another minute. You might find that some of the spices stick to the base of the soup maker. If they do pour in a little of the hot stock to deglaze (use a wooden spoon to scrape off any stuck spices). This will also create a paste like liquid.
Switch off the sauté function and add the cooked chicken, passata and stock. Ensure that you are between the MIN and MAX lines of your soup maker.
Stir the ingredients so that they are well mixed.
Place the lid on the soup maker and set it off on the chunky setting.
If you are adding rice to your soup you can cook it now.
Once the soup has finished lift the lid off and stir in the cream. You can also stir in your cooked rice now if you are having that too.
Optionally garnish with fresh coriander.
Notes
Make Your Own Tikka Spice Mix
If you would rather make your own tikka spice mix, use the following;
2tsp garam masala, 3tsp coriander, 2tsp chilli powder, 1tsp garlic powder, 1tsp turmeric, 1tsp ginger, pinch of salt.
Mix it all together and add to the soup mix.
Lower The Calories
If you would rather not use cream you can substitute for natural yoghurt.