The quality of the ingredients you use can make all the difference in the soup that you make. Although we know that soup makers produce amazingly flavoursome soup, they can't work magic if you're not using the best ingredients.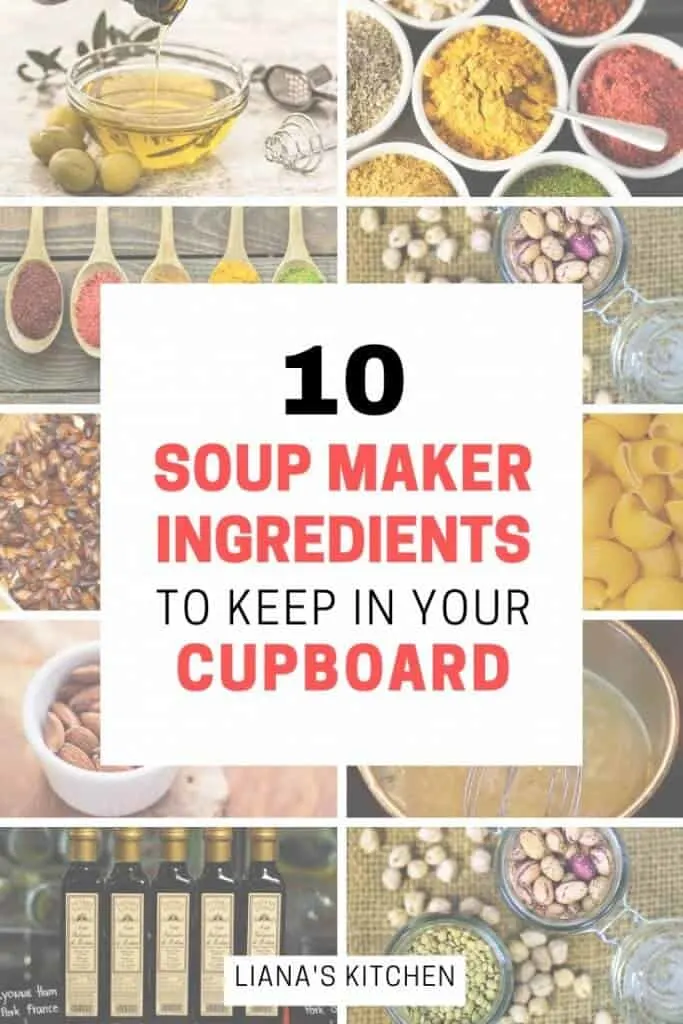 Some ingredients might seem expensive at first glance, but they should be considered an investment for both your health and your taste buds. Remember that many of these store cupboard essentials also last a long time, coconut oil and some ground spices are a great example of this.
My Favourite Soup Ingredients
1. Oil/Butter
Many of my soup maker recipes use olive oil, especially if I am sautéing ingredients, but I do also from time to time use coconut oil, avocado oil, or a good quality grass fed butter.
Remember not all soup makers have a sauté function, if this is important for your soup-making you should definitely consider a Morphy Richards Soup Maker (this is the brand I currently use for all my soup making).
There are plenty of great oils to choose from, always check the labels and if you can find out how they have been processed. If an oil is cheap, you probably should avoid it. Remember, with some of the more expensive oils such as avocado oil, a little goes a long way, and that expensive price tag should last you many months.
Avocado Oil
My favourite avocado oil at the moment is this one from Chosen Foods.
Avocado oil has a high cook point of 260C, making it a versatile oil to use in the kitchen, as well as a fantastic source of those healthy fats we really should be consuming more of. This particular brand and oil are cold-pressed, naturally refined and has nothing extra added to it – perfect for all your healthy soup-making needs!
Coconut Oil
As coconut oil has grown in popularity over recent years, so has the number of products on the market. It can be tricky to know which brand to trust; there are various high-quality oils available to buy, but my best coconut oil for my soup needs is currently this raw organic extra virgin coconut oil from Coconut Merchant.
This coconut oil is 100% natural, cold-pressed and raw organic; plus it is great for not just sautéing, but also other baking, cooking and other non-food related stuff like homemade hair masks, face masks as well as massage. It really is a brilliant all-rounder!
It is available in a handy 1-litre glass jar and can be bought in bulk to reduce the cost.
2. Herbs & Spices
The right herbs and spices can make all the difference to a soup. If you don't already have some herbs and spices you can either buy a starter set which will come with a variety of the most commonly used ones or slowly build up your collection depending on what tastes you prefer.
At a minimum, you should have some sea salt and black pepper. Other useful spices to have in your cupboard include chilli powder, red pepper flakes as well as some dried mixed herbs.
Check in the supermarket the next time you are visiting as they quite often have deals on (eg. 3 for 2), if not, Amazon Pantry often run some good value offers and they have a wide range of brands including Whole Foods and Schwartz.
If you are looking for a starter collection of herbs and spices you can't go far wrong with this spice rack that comes complete with 16 spices;
What I really love about this rack is the organisation of the jars – no more digging around the back of a cupboard looking for a spice that's gone missing!
3. Chopped Tomatoes
Chopped tomatoes, or a tomato sauce such as passata, are the base of many soup recipes. They are often very cheap to buy – it is also worth stocking up on them when a supermarket is offering a special offer on them. Some of them have extra herbs, spices and flavours already added to them so consider this before adding them separately to your soup. One thing to consider when using any tomato based sauce in a soup maker is to make sure that enough stock or liquid is included. Whereas I have never had this problem, some users have commented that passata or foods that use tomato based sauces, such as baked beans, have burnt to the bottom of the soup maker. With enough liquid, other than the tomato based sauce, this shouldn't be a problem.
4. Coconut Milk
Coconut milk has seen a huge upsurge in popularity over recent years, not only for those with dairy intolerances but also as a healthy ingredient to cook with. Although it is high in fat, it is a healthy fat that can be beneficial when seeking a balanced and varied diet. Coconut milk has many health benefits including high levels of plant based iron. It also works great in some soups and can add a great creamy alternative to cream.
5. Legumes & Beans
Legumes and beans are a fantastic source of meat free protein as well as being perfect for bulking out a soup to make it both nutritious and filling. There are plenty to choose from, with many of them working well in most varieties of soups. They can be included as a chunky soup, as well as blended to create a thicker, creamier soup.
Chickpeas, lentils, kidney beans, black beans, cannellini as well as peanuts (yes they are a legume and not a nut – who would have thought?) all provide high levels of welcome nutrients as well as extra flavour and fibre. Just double check which ones need to be soaked prior to cooking as they may need to be left overnight.
You Might Like: Butter Bean And Lentil Soup In A Soup Maker
6. Grains
Adding whole grains to a soup is the ideal way to turn a light meal into a fuller one. A lot of people wonder if you can actually add grains such as rice in a soup maker – the good news is, you absolutely can! It's always a good idea to rinse rice under some cold water to remove as much of the starch as possible before adding it to the soup maker or you'll change the taste and texture of your soup. But add it in and create some amazingly filling soups!
7. Noodles & Pasta
Similar to adding grains to a soup maker, many people wonder if they can add pasta or noodles. Again, you're in luck, pasta works well in a soup maker! Of course you will need to put the soup maker on the chunky setting and depending on the packet instructions you may need to add the pasta towards the end of your cycle, depending on how your soup maker works.
You Might Like: Bolognese Pasta Soup (In A Soup Maker)
8. Stock
This is a really important part of any soup. The stock you add to your soup can make or break a soup recipe. When you are making a smooth soup you can pretty much add any stock type, as in, shop bought, fresh or granule. I find that for chunky soups you need to use more high quality stock as the taste will really show through more. Also, check what's in the stock too, some are so high in salt you might want to check out different brands.
9. Nuts
Nuts can be added to a soup maker at either the beginning of the soup cycle or sprinkled on top at the end for some extra crunch. Nuts add an extra level of nutrients to take your soup to the next level of health.
10. Vinegar
Adding a splash of vinegar to a soup can brighten up the flavour. You can either add it at the beginning or stir a little in at the end. Alternatively, you can add a few squirts of lime or lemon juice.