Soup maker leek and potato soup is one of the most popular searched for soups on my blog.
It's also one of my favourites – it's quick and easy to prepare and it's the perfect bowl of comfort on a cold and damp day.
Read on to see how to make leek and potato soup in a soup maker in simple steps.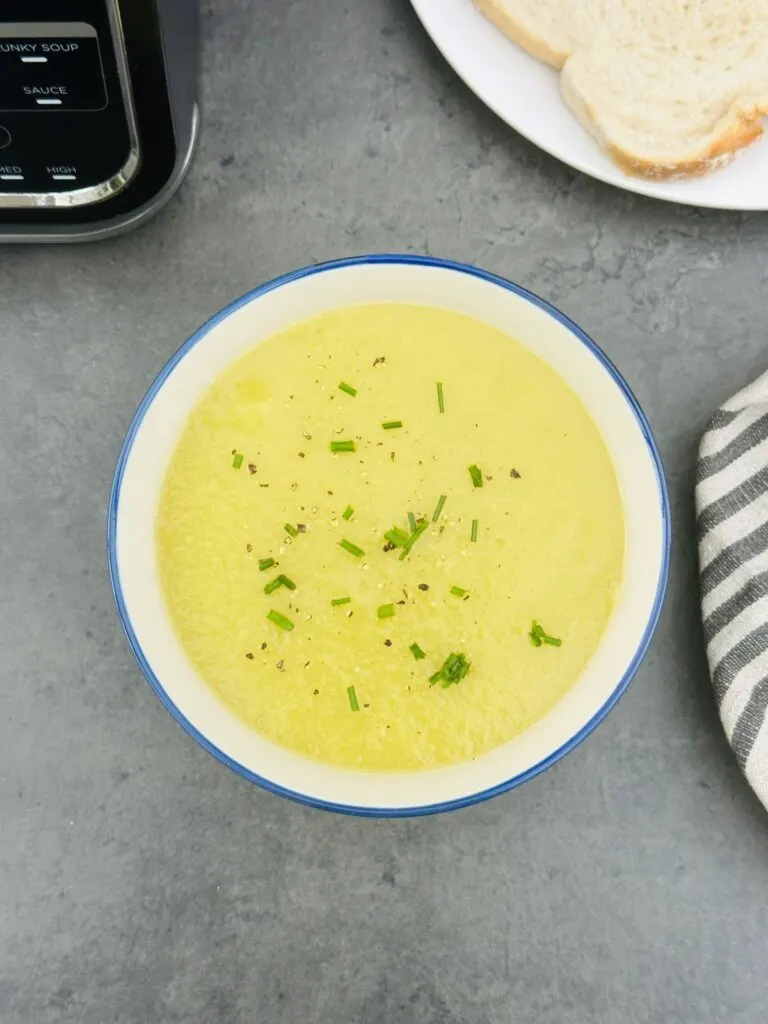 British leeks are usually in season from November until April – a nice long window to really enjoy and appreciate this versatile vegetable!
🛒 What You Need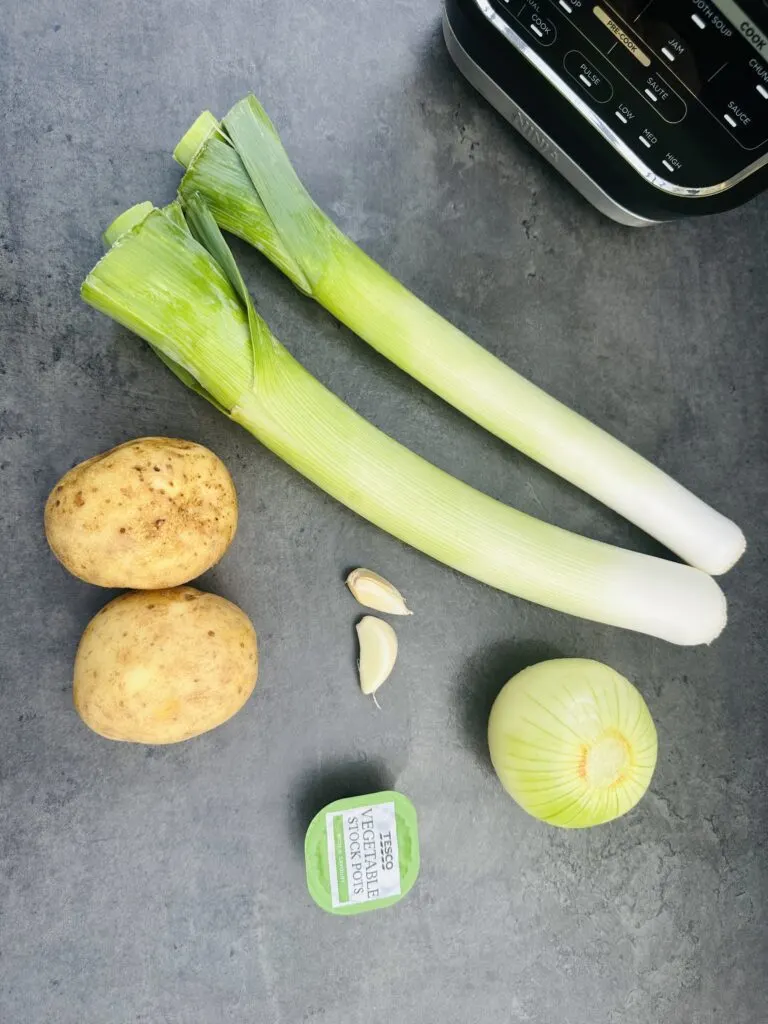 The only ingredients I used to make this soup were leeks, potatoes, onion and garlic and some vegetable stock.
2 medium leeks
250g – 300g potatoes
1 onion
2 cloves garlic
800ml – 1 litre of vegetable stock (made from 1 stock pot or cube)
Salt and pepper according to taste
A Note About Making Leek and Potato Soup
Use the above ingredients above as a rough guideline, they don't need to be the exact same amounts. As long as you have enough room to add around 700 – 800ml of stock after all the vegetables are in, the soup maker will produce a medium consistency soup. If you prefer it thicker, reduce the amount of liquid and/or increase the amount of leeks and potatoes.
👩‍🍳 Making Leek And Potato Soup In A Soup Maker
Step 1
Begin by preparing the ingredients. Chop up the onion, peel and crush the garlic, slice the leeks and chop the potatoes into chunks. There is no need to peel the potatoes.
Step 2
Add all the ingredients to the soup maker. I prefer to add the stock pot or cube directly to the soup maker and then pour hot water in next, up to the line. Some people prefer to use cold water instead of hot. You can also make the stock up separately in a jug.
You can also add any chosen seasoning at this stage (salt, pepper etc.). Check what's in your stock first, as you might not need to add a lot, if any.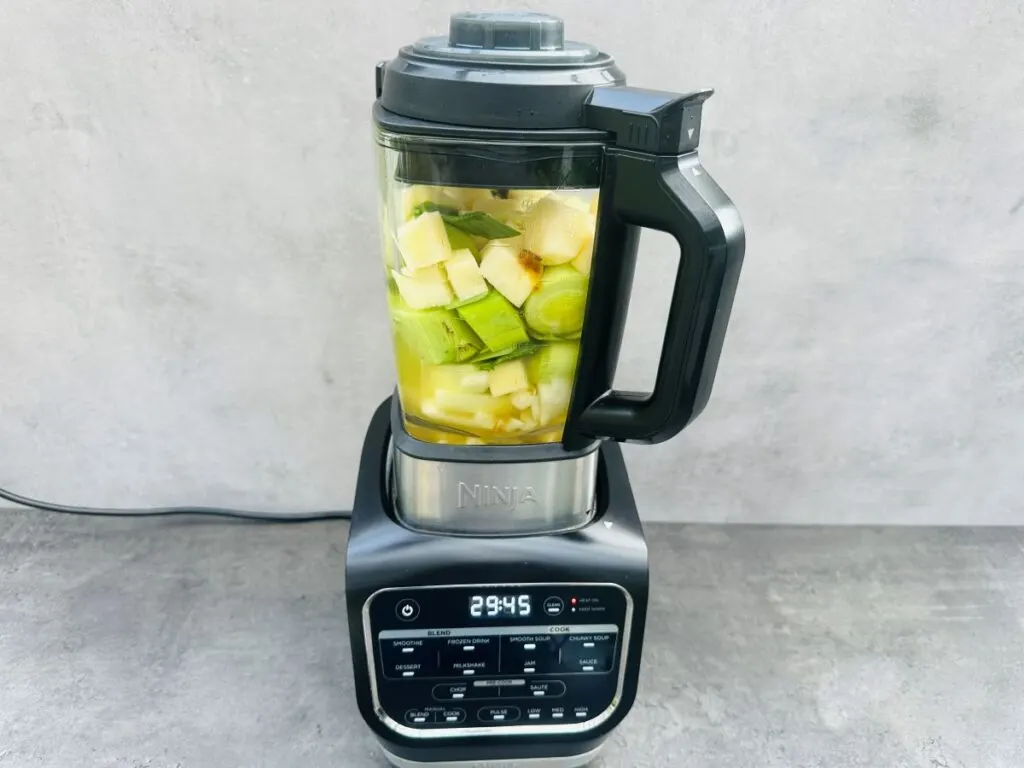 As you can see the leek and potato have been cut into fairly large chunks. I find that the Ninja Soup Maker can more than cope with cooking and blending them at this size, partly due to it's motor power, but also I think it has a longer soup making cycle than other models.
When I make this soup in one of the Morphy Richards soup makers I tend to chop them a little smaller to make sure they cook through and blend up smoothly.
Should I Sauté The Ingredients First?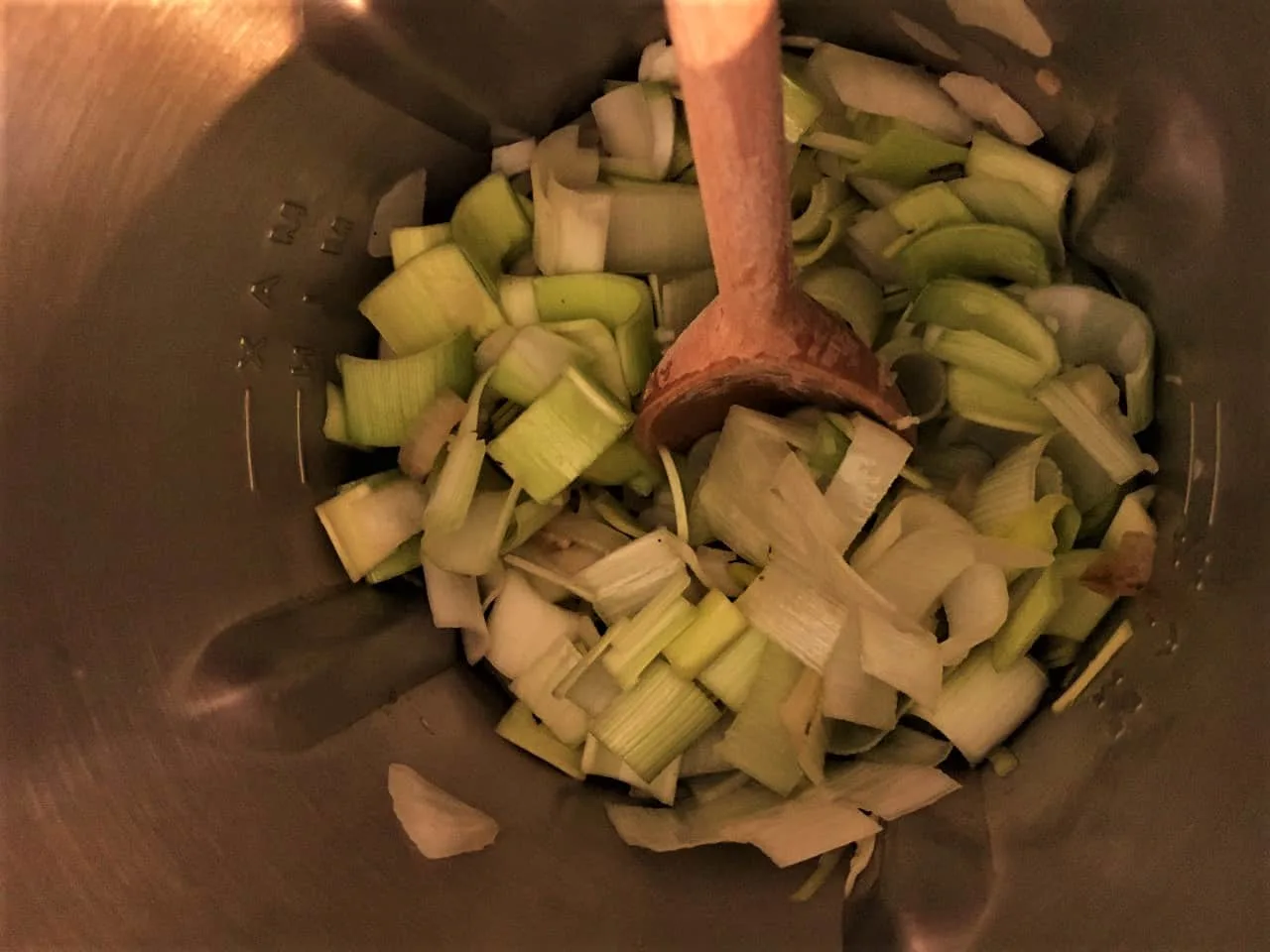 This is a question I get asked all the time when making soups. The answer is really down to how you are cooking your soup and your personal taste.
As my soup maker has a sauté function built into it, I tend to use this feature. It really is as simple as heating up a little oil or butter first and then adding the ingredients to the soup maker. All in one pot, no need for additional pans and washing up. If my soup maker didn't have a sauté function, I would likely skip this step more often than not.
Step 3
Set the soup maker off on your chosen setting, chunky or smooth. I tend to use the smooth function more often than not. This will cook and blend the ingredients, producing a lovely smooth soup.
Another option for a different consistency is to set it off on chunky and then at the end of the soup making cycle give the cooked soup a few short blends/pulses to partially blend it.
Step 4
Taste the soup (taking care not to burn your tongue!) and add some more seasoning if it needs it. Serve as it is, or with your favourite soup topping. Croutons, chives or crispy bits of bacon work well with leek and potato soup.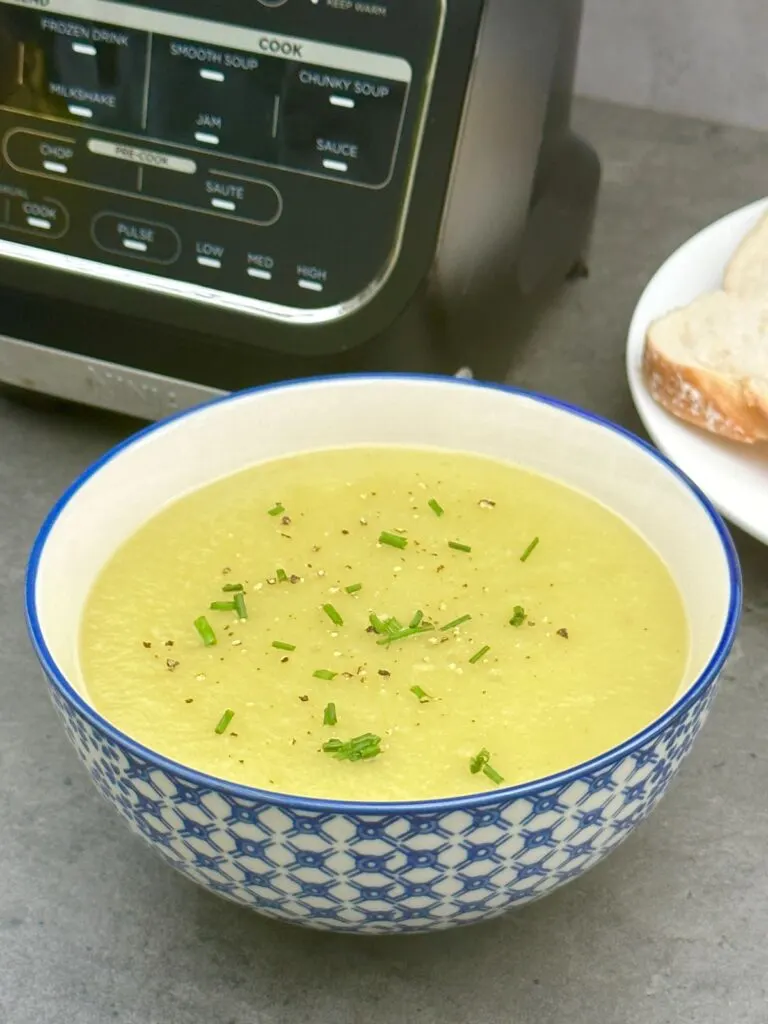 Which Soup Maker Should I Use?
I have made this soup in both the Morphy Richards Soup Maker, and the Ninja Soup Maker. It can be made in any soup maker but you may need to adjust the quantities slightly according to the capacity of your model.
For example, the Morphy Richards is 1.6 litres in size (the compact is 1 litre), and the Ninja is 1.4 litres. This recipe works well for both the Morphy Richards and the Ninja Foodi. Just make sure you don't go over the MAX line in any of the soup makers.
Don't get too hung up on getting the exact same weights as I have listed, just use them as a rough guideline. As you get to know your soup maker more and how you prefer the consistency of your soup, you will be able to adjust quantities accordingly.
Related – Soup Maker Buying Guide
Can You Freeze Leek and Potato Soup?
Yes, leek and potato soup and be frozen. Leave it to cool down and then pour into a suitable freezer safe container. Leek and potato soup will last in the freezer for two to three months.

I like to use these ones: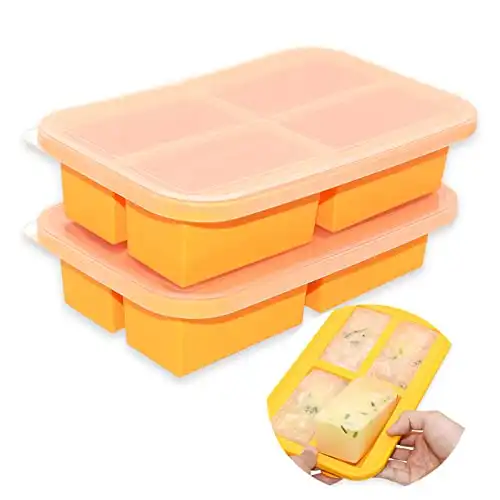 How Can I Make Creamy Leek and Potato Soup?
Once the soup has finished cooking, stir in some cream or milk – about 150ml should be enough, depending on how creamy you like it.
🧾 More Soup Maker Recipes
Are you looking for more soup maker recipes? There are so many you can make, but here are some for inspiration:
📚 Soup Maker Resources
📙 My Soup Maker Recipe Book On Amazon
GRAB MY BOOK!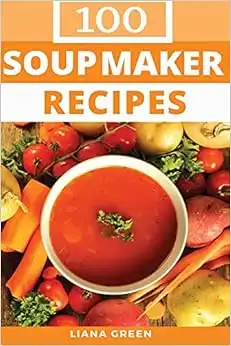 We earn a commission if you click this link and make a purchase at no additional cost to you.
👉 Recipe Card (Concise Instructions + Print)