Today is most definitely a leek and potato soup kind of a day. It's grey and it's damp. Since I've had my soup maker, I've made so many different soup recipes.
I have loved experimenting with a variety of flavours, but sometimes, it's the traditional favourites that I crave!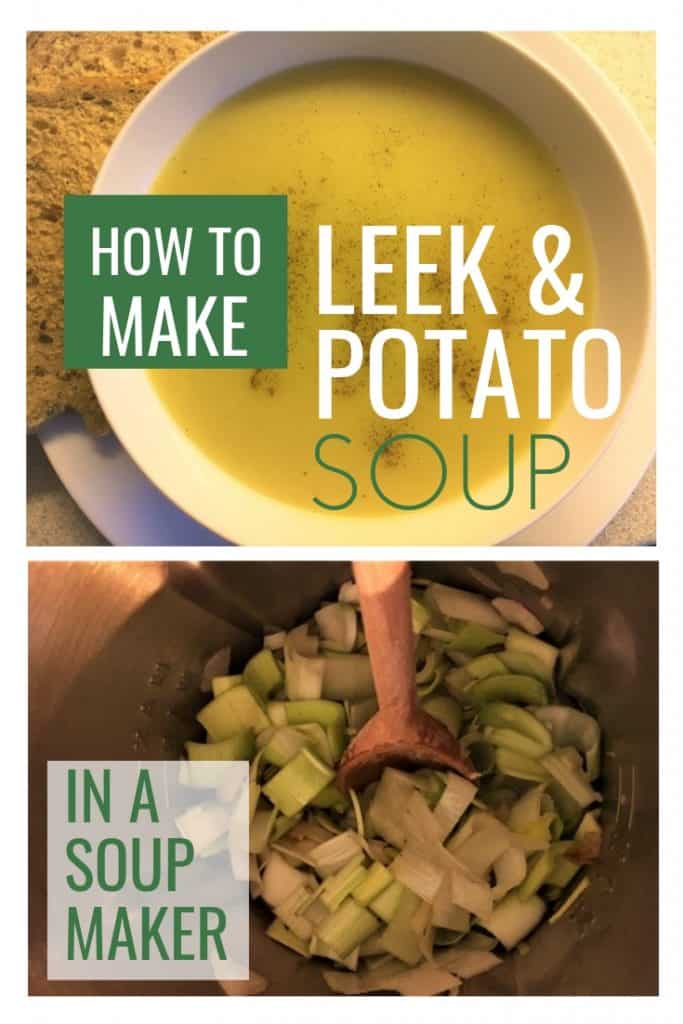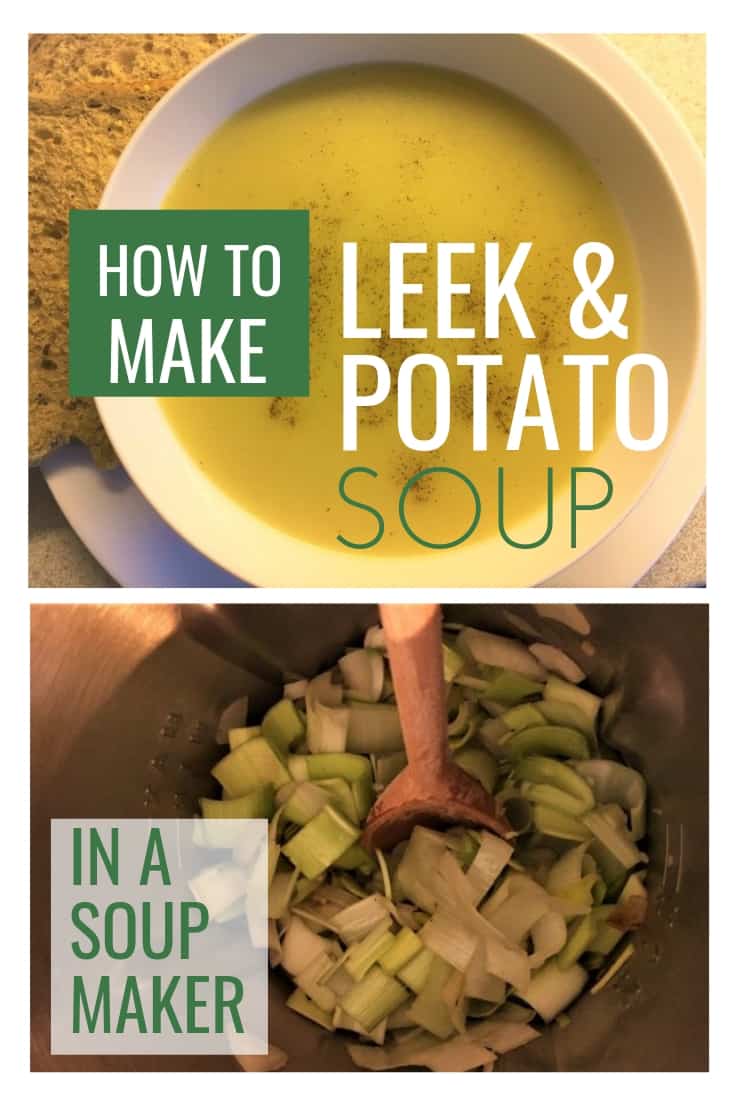 Leek and potato soup is a really popular choice, it is one of the most searched for soup recipes in the UK. It requires very few ingredients to create a really delicious tasting soup.
British leeks are usually in season from November until April – a nice long window to really enjoy and appreciate this versatile vegetable!
How To Make Leek And Potato Soup
The only ingredients I used to make this soup were leeks, potatoes, onion and garlic – and of course some vegetable stock.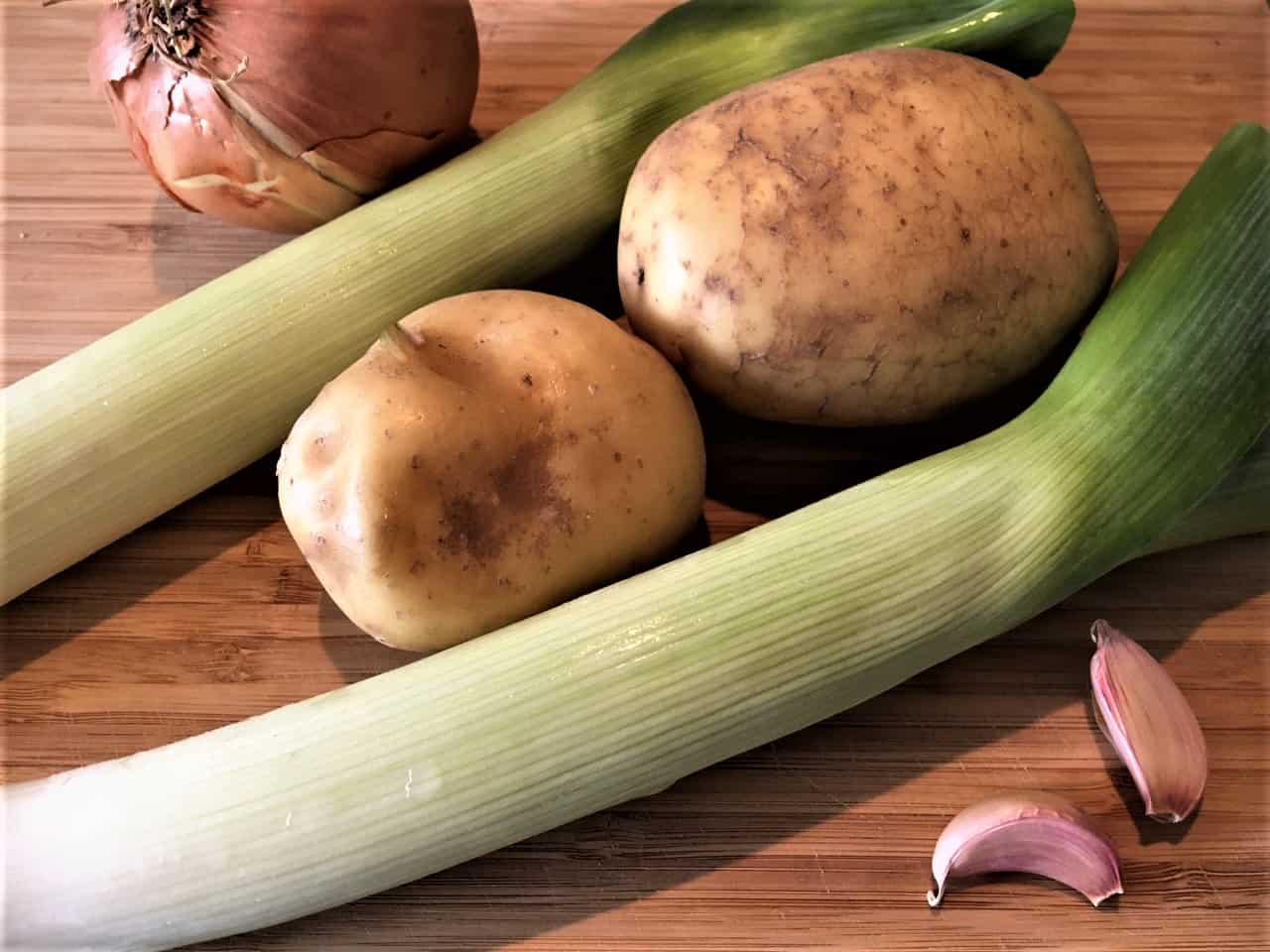 I sliced up the leeks, scrubbed the potatoes until clean, chopped them up into small chunks, peeled and sliced the onion, and peeled and crushed the garlic cloves.
Should I Sauté The Ingredients First?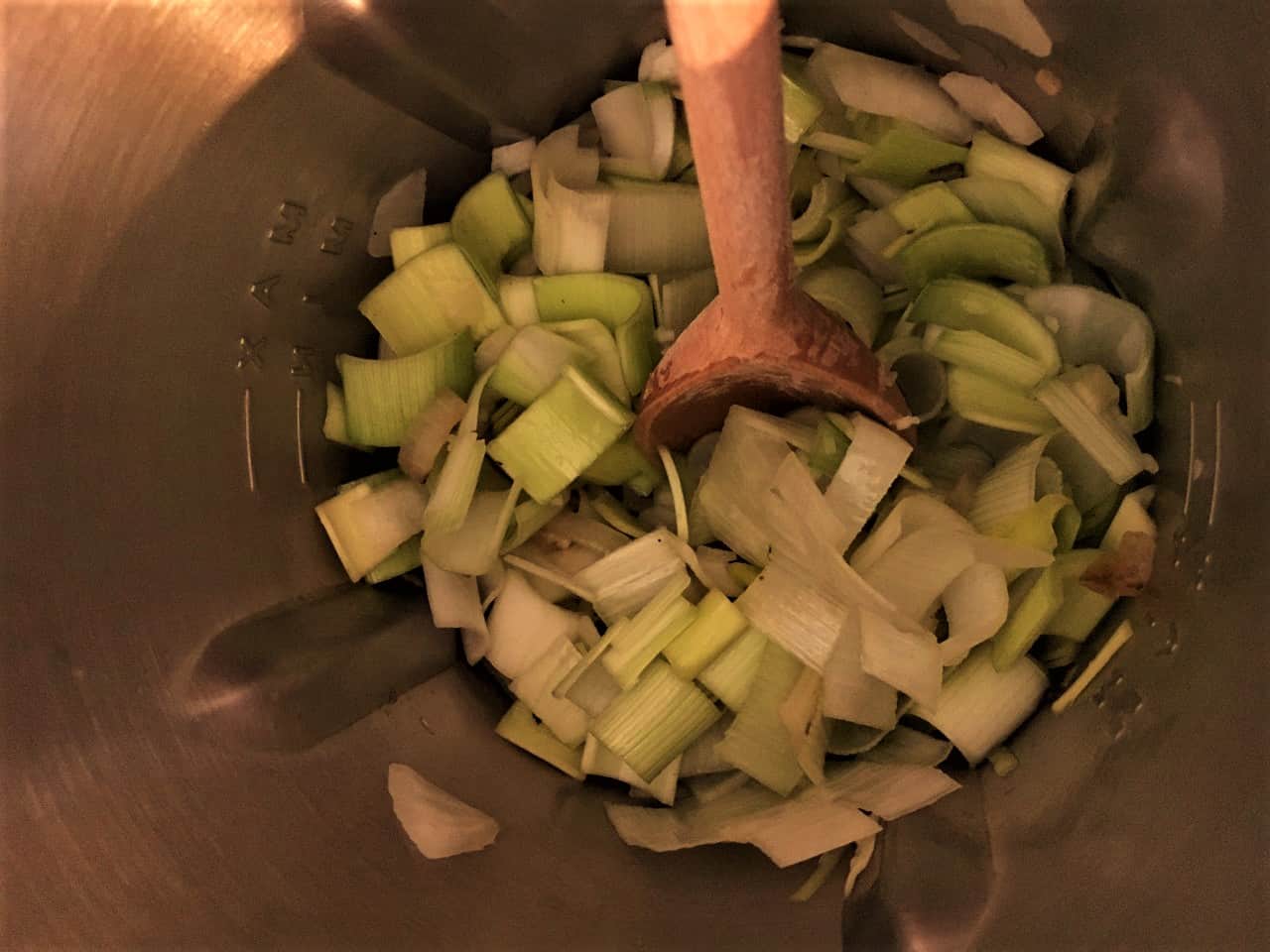 This is a question I get asked all the time when making soups. The answer is really down to how you are cooking your soup, as well as personal taste.
As my soup maker has a saute function built into it I do tend to use this feature. It really is as simple as heating up a little oil or butter first and then adding the ingredients to the soup maker. All in one pot, no need for additional pans and washing up. If my soup maker didn't have a saute function I would likely skip this step more often than not.
Add The Stock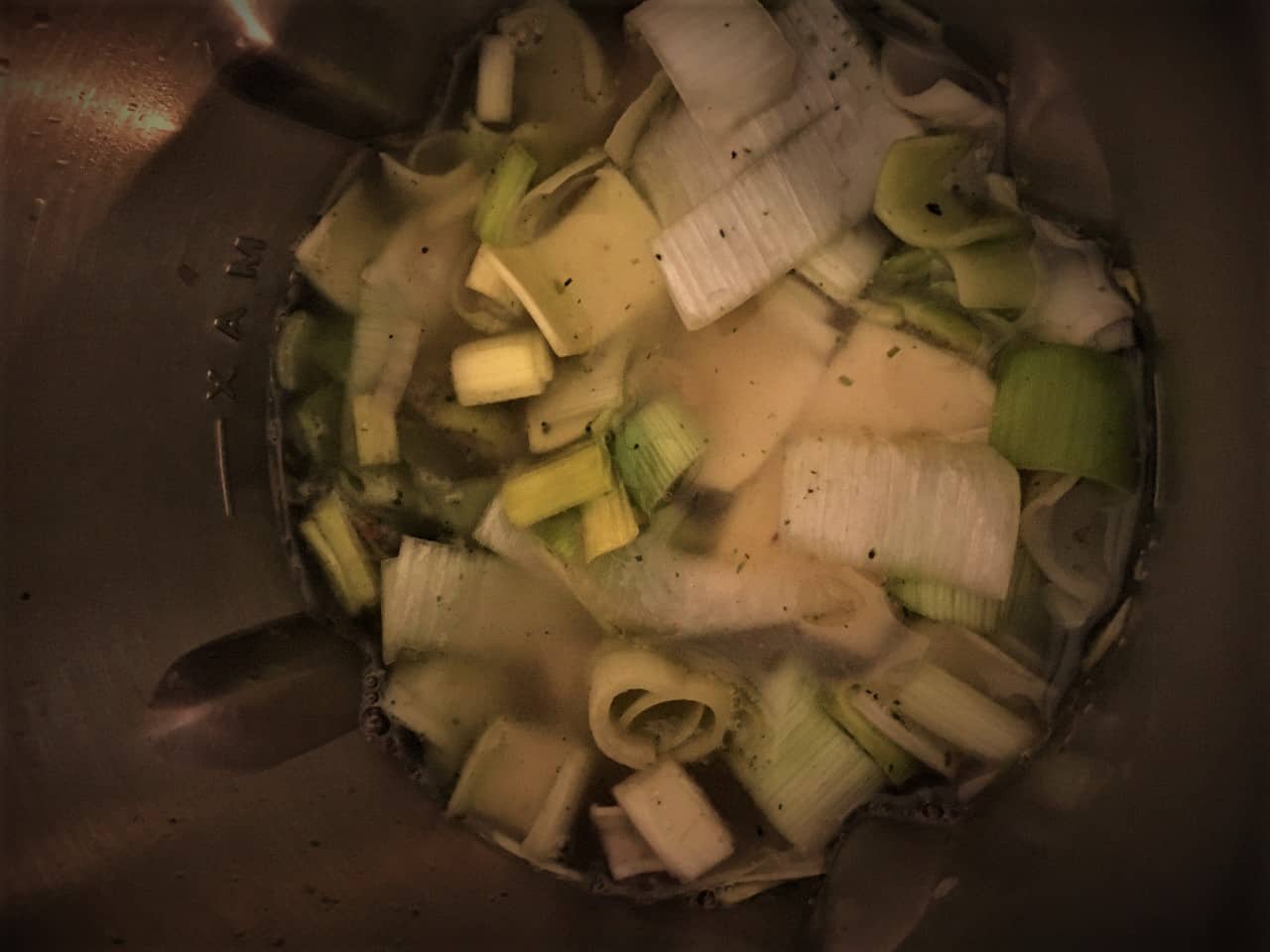 Once all the ingredients are in the soup maker (or pot if you are making it on a stove), it's time to add some stock. For leek and potatoes soup I tend to use vegetable stock. Pour it in over the ingredients, making sure it is somewhere between the MIN and MAX lines. I then usually give everything a good stir to make sure no ingredients are stuck to the bottom.
You can also add any chosen seasoning at this stage (salt, pepper etc). Check what's in your stock first though as you might not need to add a lot, if any.
Cooking Leek And Potato Soup
In a soup maker, all you need to do is choose your preferred setting. I tend to use the smooth function more often than not. This will cook and blend the ingredients, producing a lovely smooth soup after just 21 minutes. If you are making your leek and potato soup in a pot, bring it to the boil and then reduce the heat to a gentle simmer until the leek and potatoes are cooked through and soft.
Making Leek And Potato Soup In A Different Soup Maker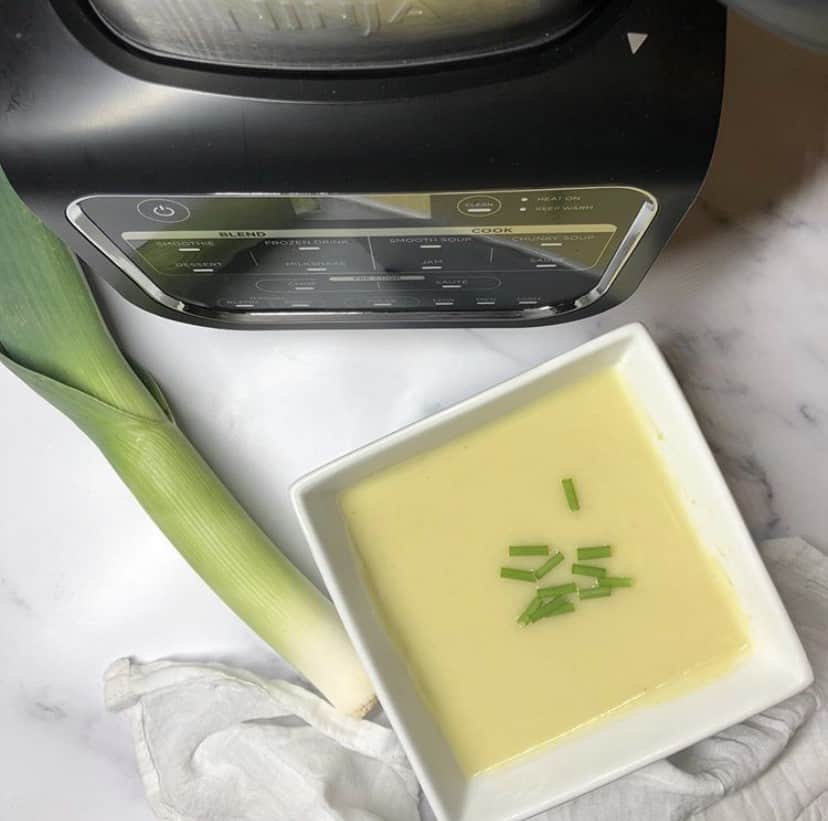 I have made this soup in both the Morphy Richards Soup Maker, and the Ninja Soup Maker. If you are making it in the Ninja – or any other soup maker with a smaller capacity – you will need to reduce the quantities slightly.
For example, the Morphy Richards is 1.6L in size (the compact is 1L), and the Ninja is 1.4L – so there really isn't much difference. Either add a little less, or, if you prefer, leave it as it is and get a slightly thicker soup – just make sure you don't go over the MAX line in any of the soup makers.
Related – Soup Maker Buying Guide
How Can I Make Creamy Leek and Potato Soup?
Once the soup has finished cooking, stir in some cream or milk – about 150ml should be enough, depending on how creamy you like it.
If you want to join other soup maker fans over on FB I have a Soup Maker Recipes group – we'd love to see you there!
Did you enjoy this recipe? You might also be interested in;