Making a chicken casserole in the Ninja Foodi is quick to prepare and tastes delicious. You can make a complete meal in one pot which can be ready in less than 45 minutes. And once you set it off, you can go off and do something else, leaving the Foodi to do its thing.
It's possible to convert pretty much any recipe and make it in a Ninja Foodi (or any multi-cooker). Recently we've been using the pressure cooker function on the Foodi for making lots of stews and casseroles, especially on those days when I forget to set the slow cooker off!
Related: Ninja Foodi Beef Stew
How To Make Chicken Casserole In A Ninja Foodi
This recipe is a conversion of my slow cooker chicken casserole – there are some adjustments to be made, but not too many.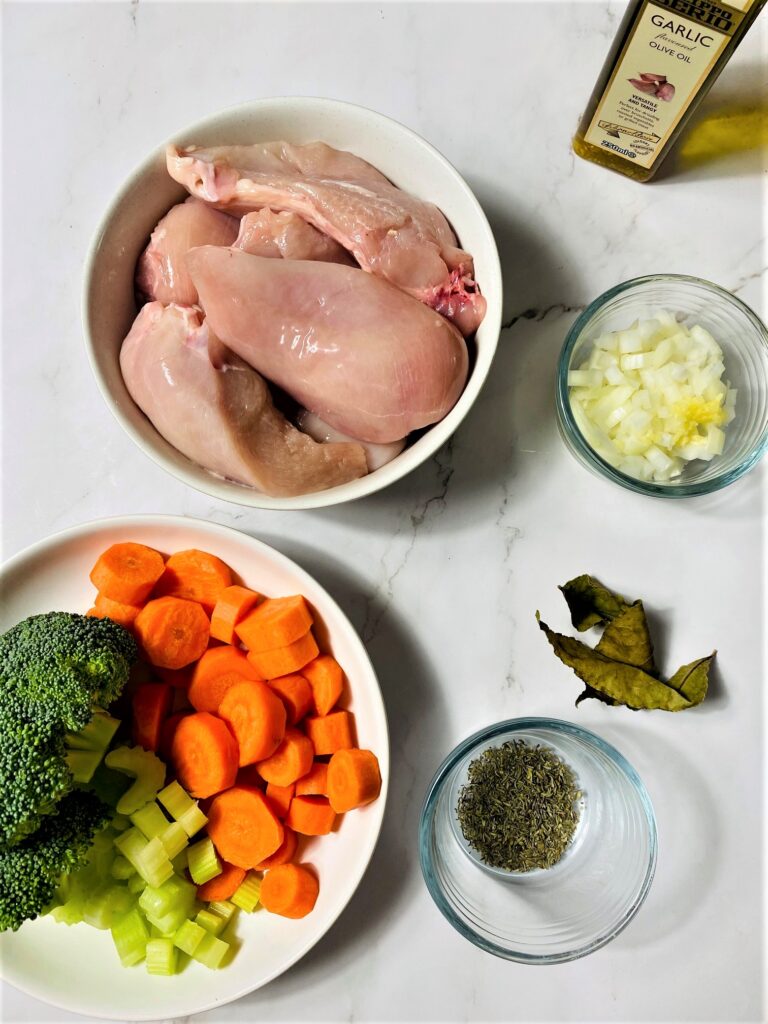 What You Need
(Exact amounts are in the recipe card at the end).
Ninja Foodi – I have the MAX 9-in-1 Foodi but you can use any Ninja Foodi, or, other electric pressure cooker.
Chicken – use either boneless chicken thighs, or chicken breast.
Oil or butter – for sauteing the onions and garlic – I used a garlic infused virgin olive oil which tastes amazing!
Onions and garlic
Herbs – I used 2 tsp dried mixed herbs and 2 bay leaves (we dried the bay leaves ourselves from our bay tree in the garden!)
Vegetables – use your favourite vegetables, or whatever is available. For this one I just added carrots, celery and broccoli (the broccoli got added at the end). You can also add potatoes, we quite often add new potatoes in at the beginning so that we have a complete meal in one pot.
Stock – make sure you use enough stock for your electric pressure cooker. I added 600ml of chicken stock. I prefer to add hot stock as it helps the Foodi to reach pressure sooner.
Cornflour or chicken gravy granules – this is stirred in at the end to thicken up the casserole. I prefer to add a couple of tablespoons of gravy granules, but use what you prefer.
Making It
Add a little oil or butter to the Ninja Foodi bowl and switch on to 'sear/saute.' Add the onions and gently cook for a few minutes, until they begin to soften up.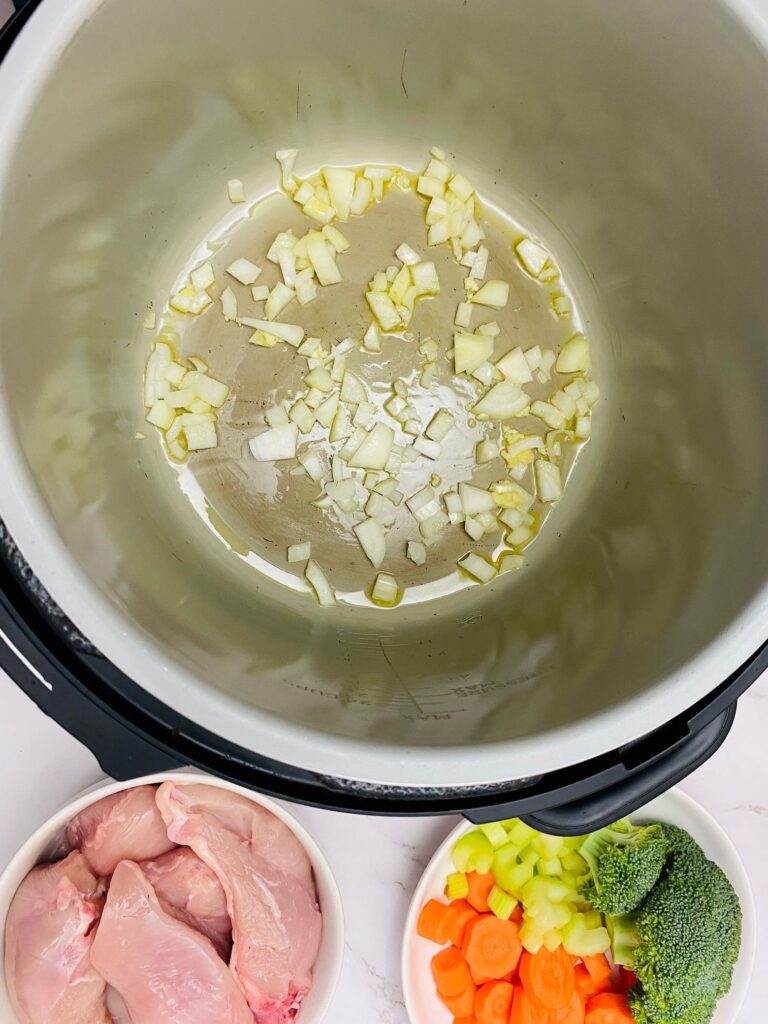 Keeping the saute/sear function on, add the chicken. I like to keep the chicken whole and then shred it at the end, I prefer the texture, plus it's less preparation 😉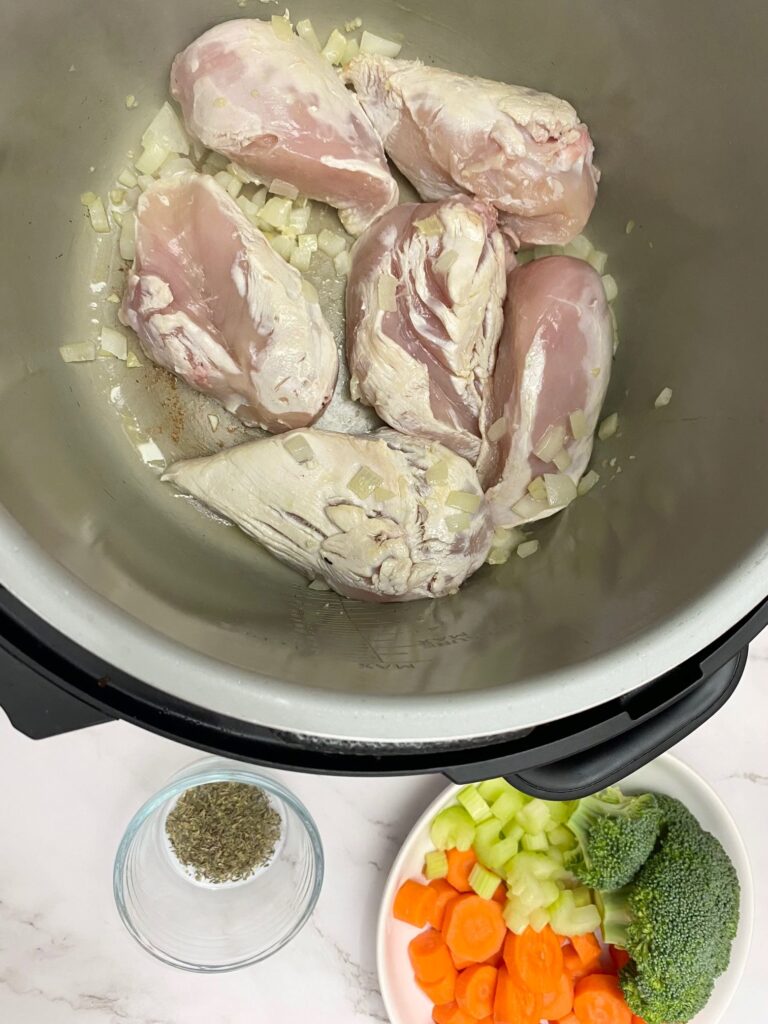 Switch the saute/sear function off and add the remaining ingredients, apart from any green vegetables such as broccoli, peas or cabbage.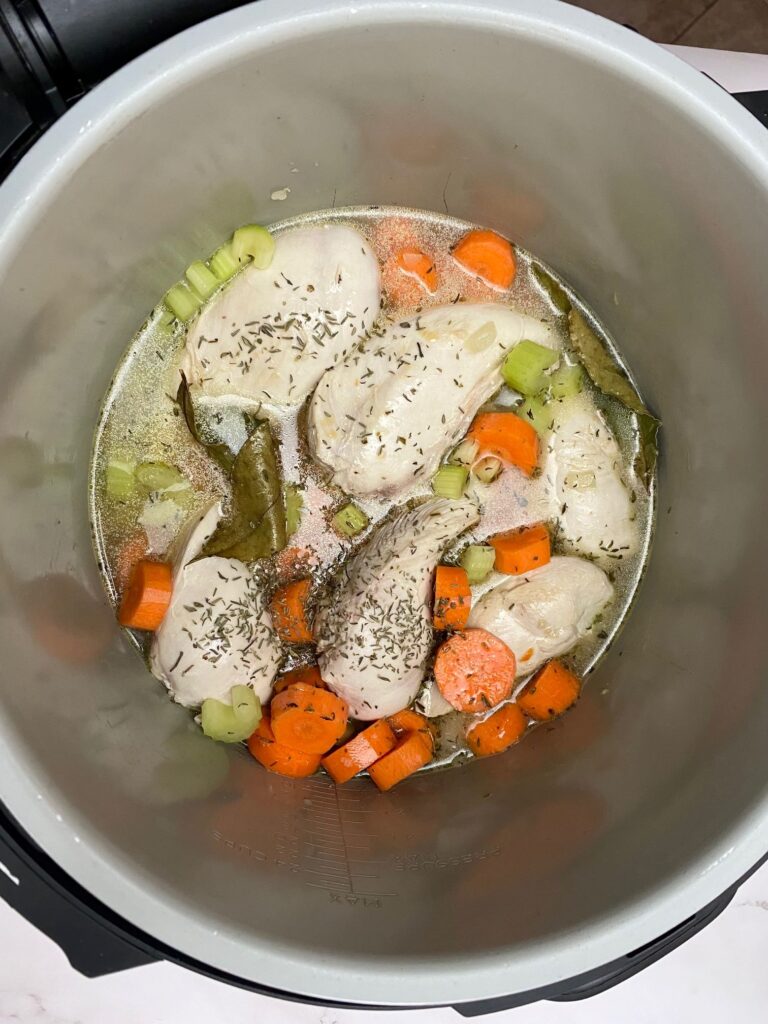 Put the pressure cooker lid on and set the valve to 'seal.' Switch the function to pressure cooker and set it to high, 10 minutes.
It should take around 10 minutes to reach pressure (the silver bit in the valve will come up when it is at pressure and the timer will start).
Once the timer has finished, I tend to leave it for up to 10 minutes to naturally release before doing a quick release.
Remove the lid from the pressure cooker and shred the chicken (if you want to, you can serve it whole too). Then, add any green vegetables and stir in.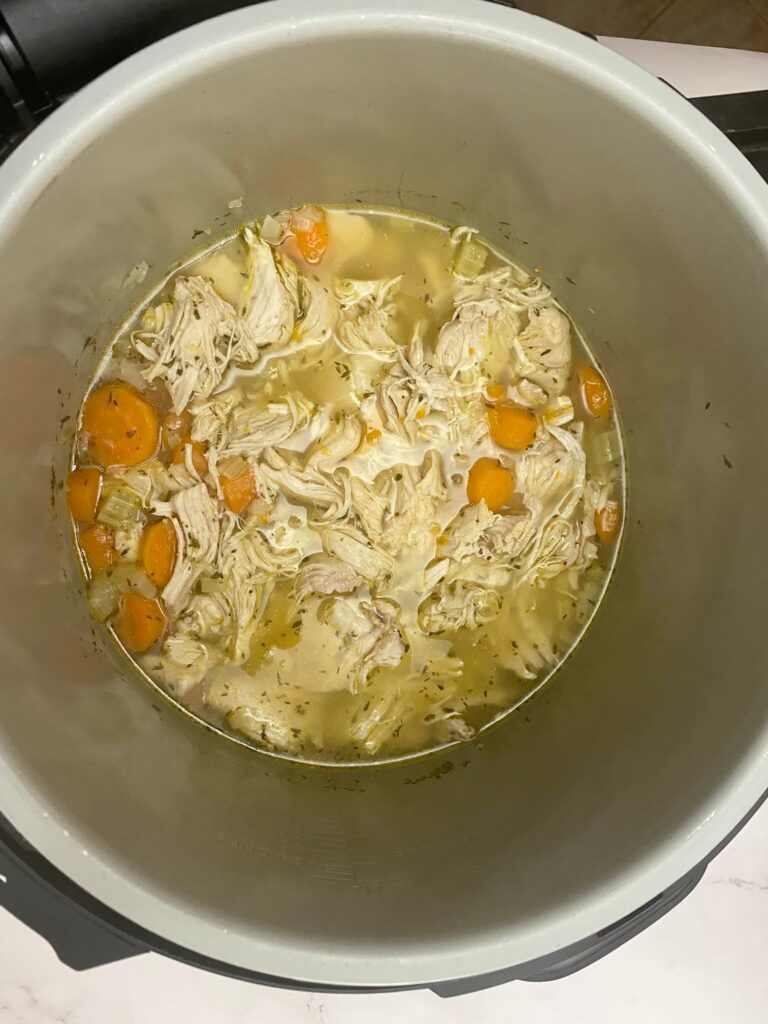 I also take this opportunity to add my choice of thickener, so for me, some chicken gravy granules. Just add 1 tablespoon at a time and stir until it is at your preferred consistency.
Give it a taste test and add any seasoning if needed.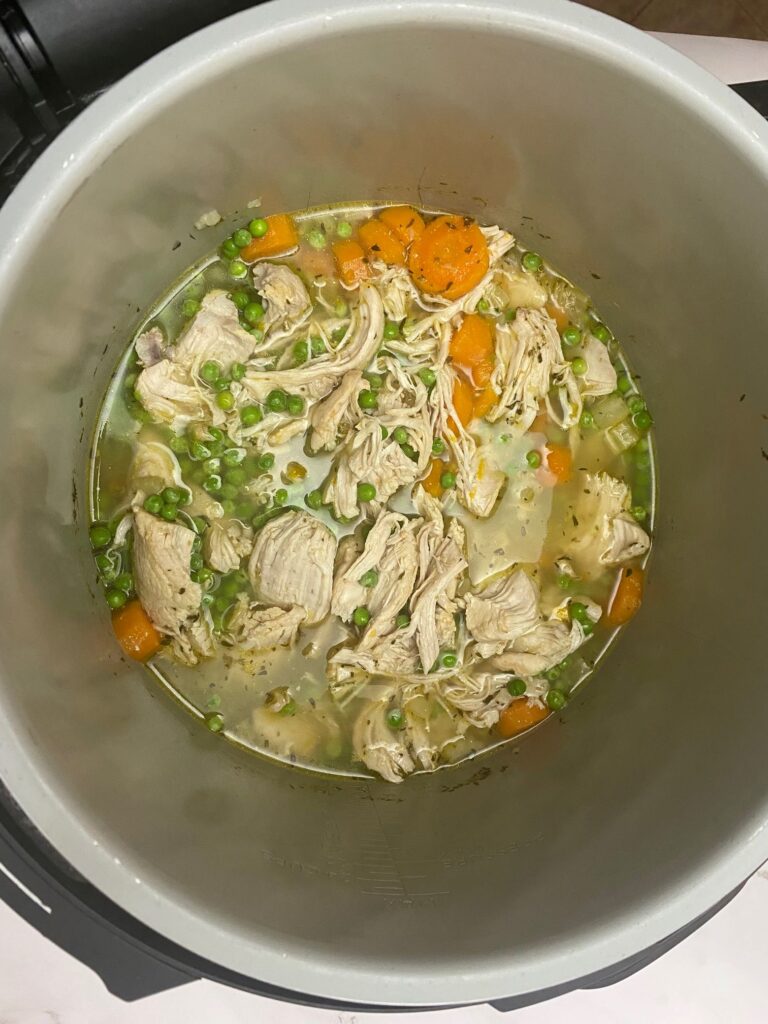 I meant to take a finished, plated photo, but we were so eager to eat I completely forgot! I will add one in when I next make this recipe 😉
I hope you enjoy this Ninja Foodi Chicken Casserole recipe – let me know in the comments if you make it, and if you have any questions!