Slow cooker chicken casserole is a regular in our house – not only is it really quick to prepare, it's one of those meals that you can literally chuck in whatever vegetables you have going spare – and it works!
It's definitely the go to dinner made the most out of my slow cooker recipes!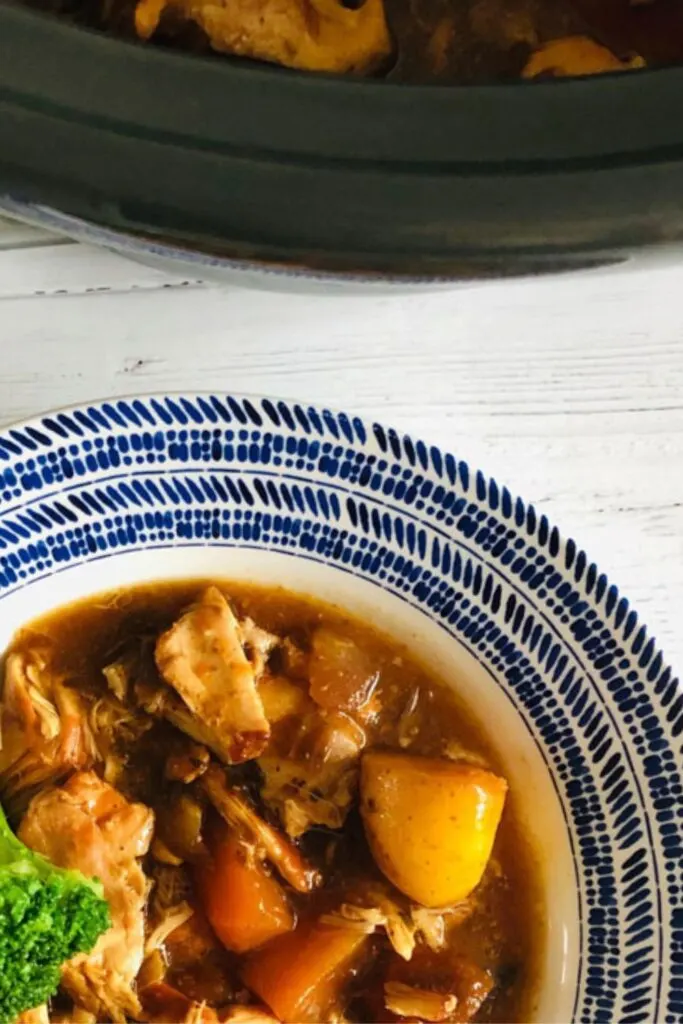 🛒 What You Need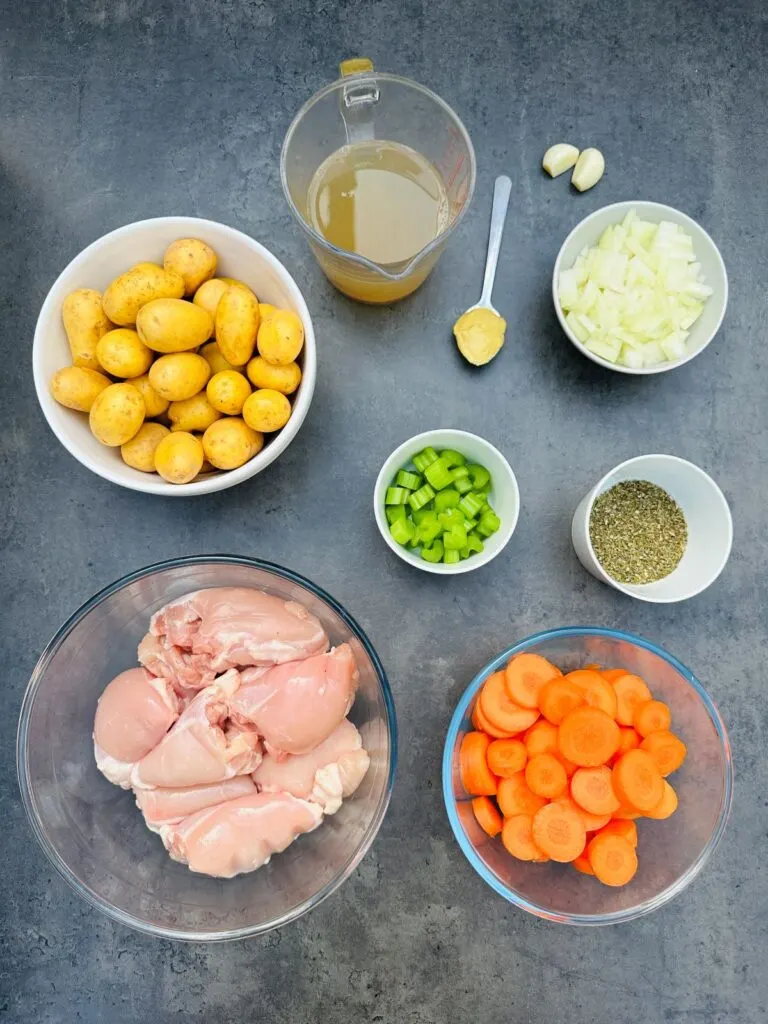 800g to 1kg boneless chicken thighs (approx)
Vegetables: I used carrots, celery, garlic cloves, onions and new potatoes
Seasoning/flavours: I used 2 tsp dried mixed herbs, 2 bay leaves and 1 tsp mustard
Stock: I used 500ml chicken stock made from one stock pot
Chicken
Yeah, I know, kind of obvious, huh?! But – what type of chicken? My preference is for boneless chicken thighs – but I'll add whichever chicken I have. Chicken thighs and drumsticks are cheaper than breast and can usually be left in for longer, but you can use any.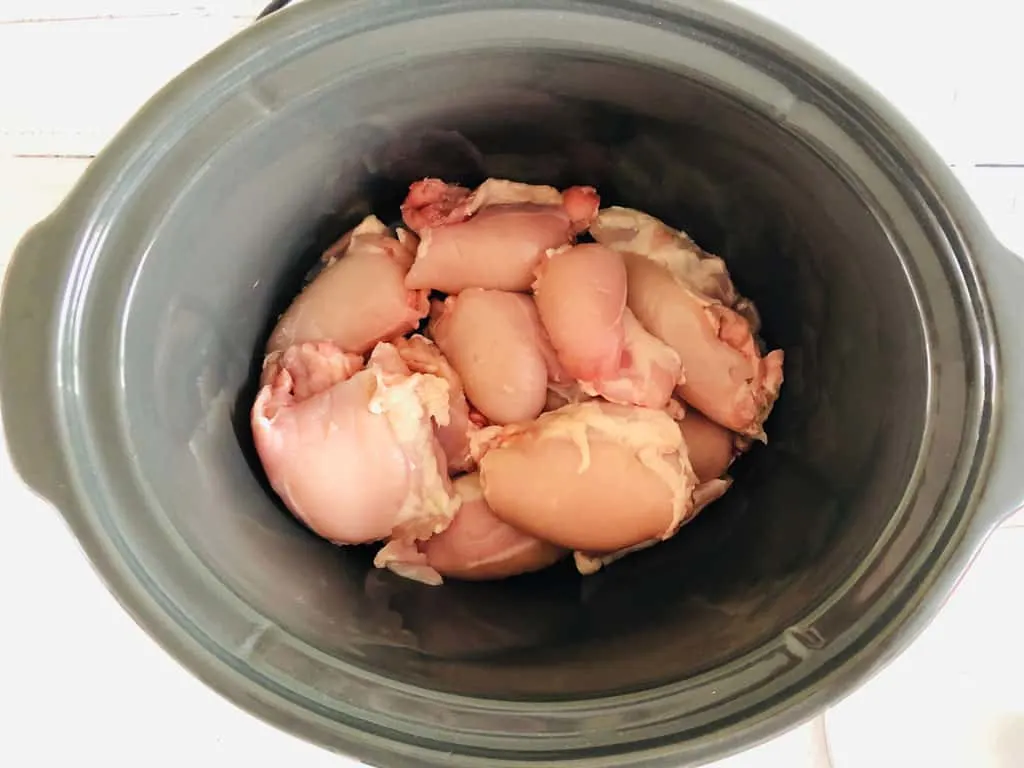 I also add the chicken straight to the slow cooker – no faffing about with sealing it in a separate pan. The only meat I usually do this for is when making a sausage casserole in the slow cooker (sausages don't taste so great if they haven't been browned before going in a slow cooker – if you've ever tried it, you'll know exactly what I mean!)
Related: My favourite slow cooker chicken recipes
Vegetables
We've added all sorts of different vegetables to our chicken casseroles over the years. Carrots, leeks, parsnips, celery, tomatoes, peppers, potatoes, onions – you name it, we've likely tried it!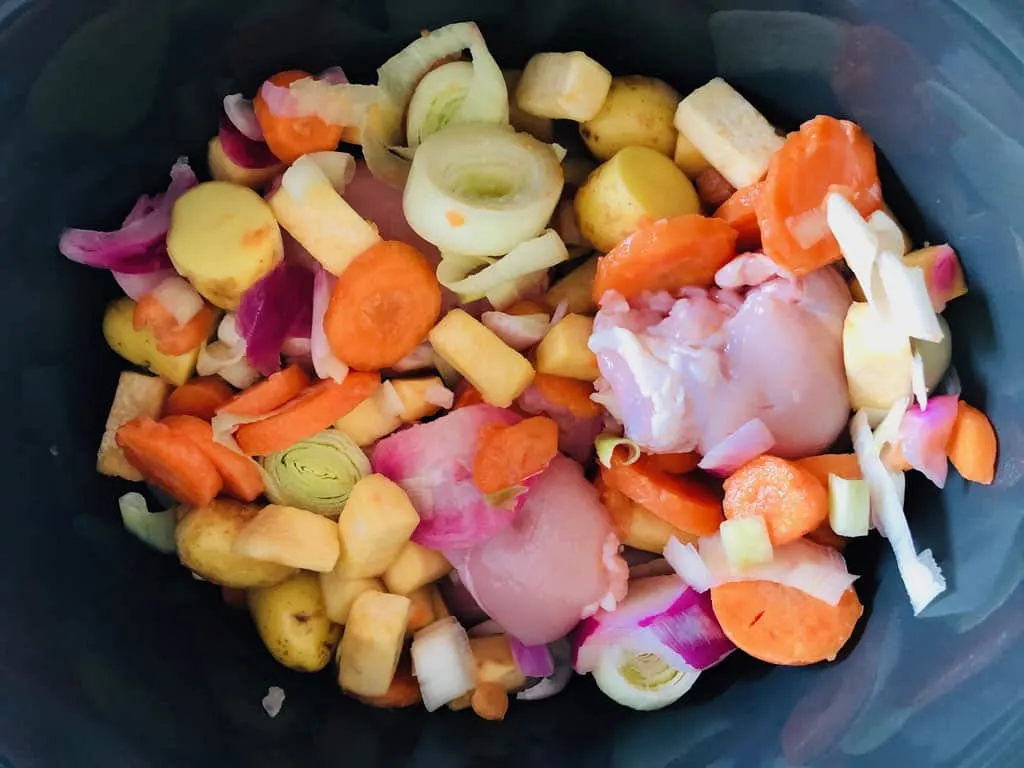 The beauty of a casserole/stew (the same goes for our slow cooker beef stew) is you can use up any ingredients that are lingering at the back of the fridge and prevent any of that dreaded food waste.
Herbs
You can use any mixed herbs. I tend to use a dried herb mix in all my casseroles and stews. It usually has thyme, parsley, sage, basil, oregano – all great herb additions to any casserole. I also add in a couple of bay leaves.
Mustard
I'm not a fan of mustard – but I've got to say it tastes amazing in a chicken casserole. I usually add 1 tsp. of mustard, but you can add as much or as little as you like.
Stock
I don't add too much stock as the chicken and vegetables will release quite a bit of liquid during the cooking time. But I do add some – it is a chicken casserole, after all, and chicken tastes great if it is swimming in thick chicken-flavoured gravy/stock!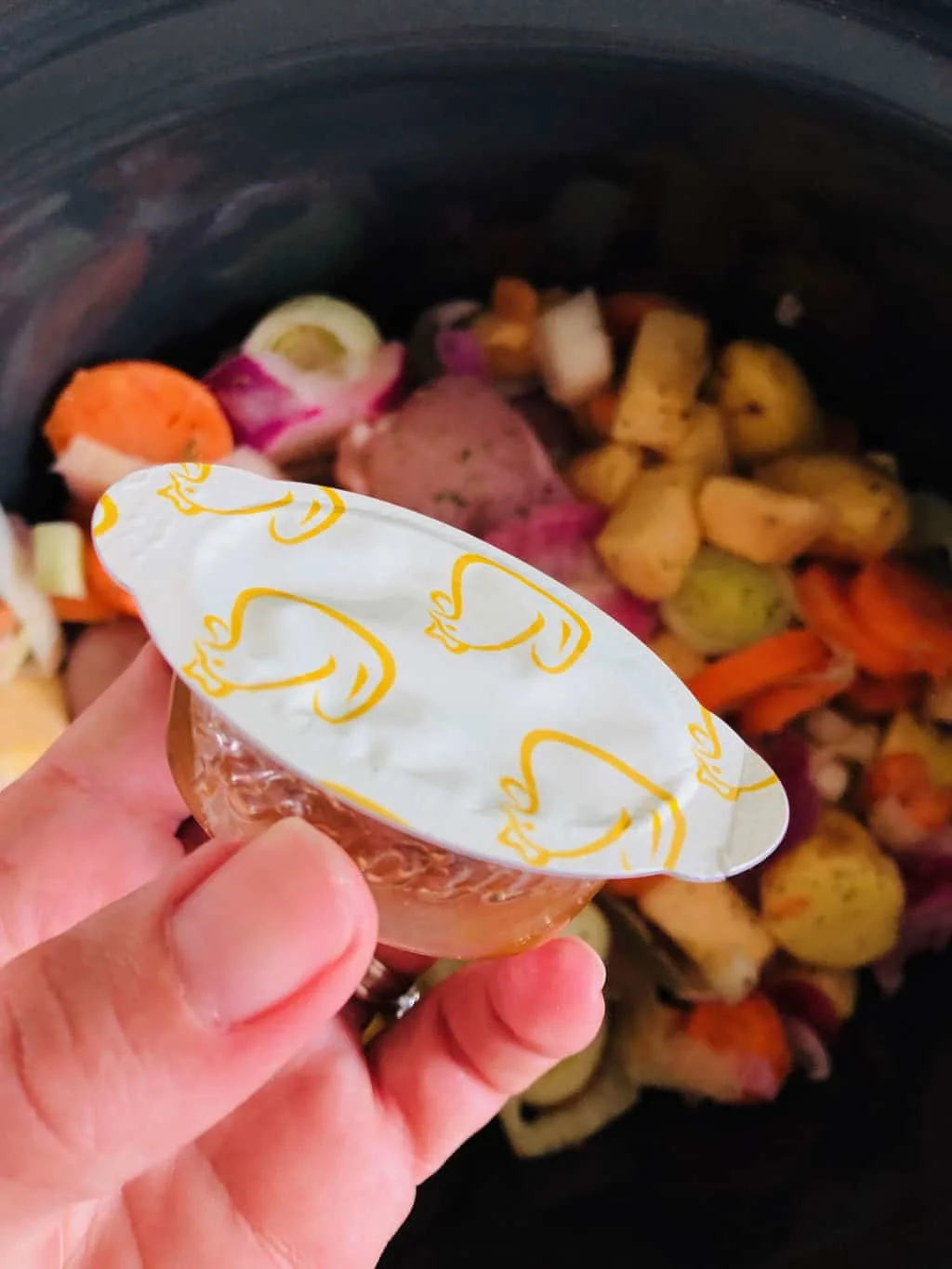 👩‍🍳 Making It
Step 1: Add the chicken to the slow cooker. You can optionally saute the chicken before adding it to the slow cooker. Unless I'm cooking it in a slow cooker with a built-in saute function (like a Ninja Foodi Multi Cooker), I tend to just add it straight in raw.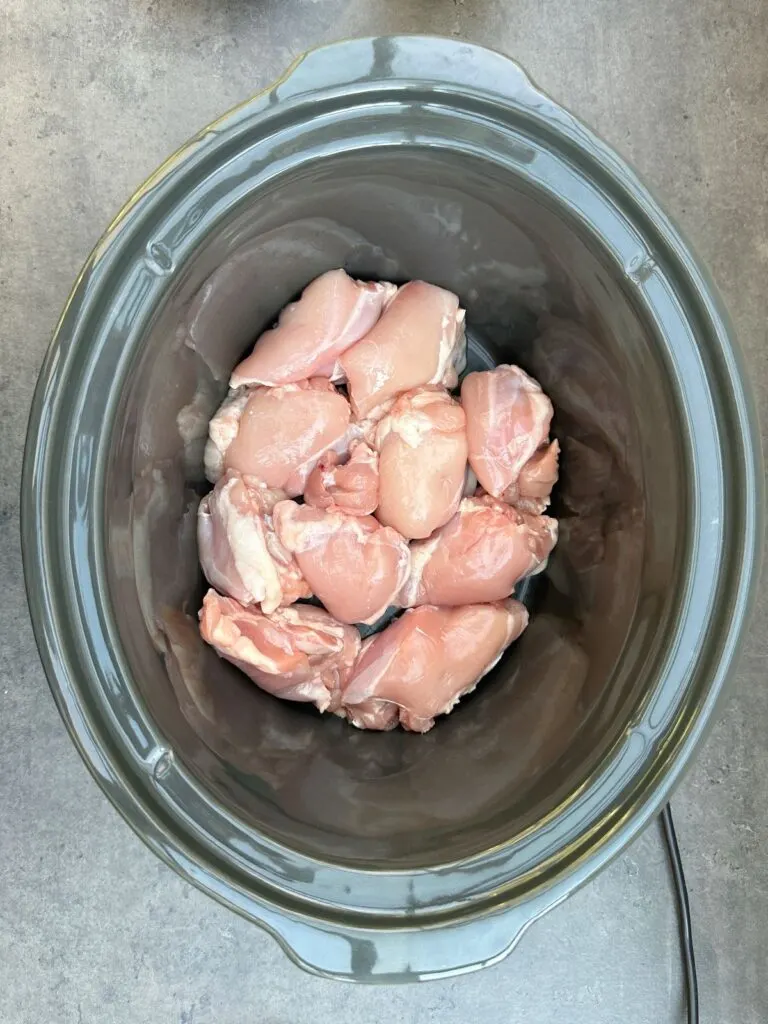 Step 2: Add all the remaining ingredients to the slow cooker.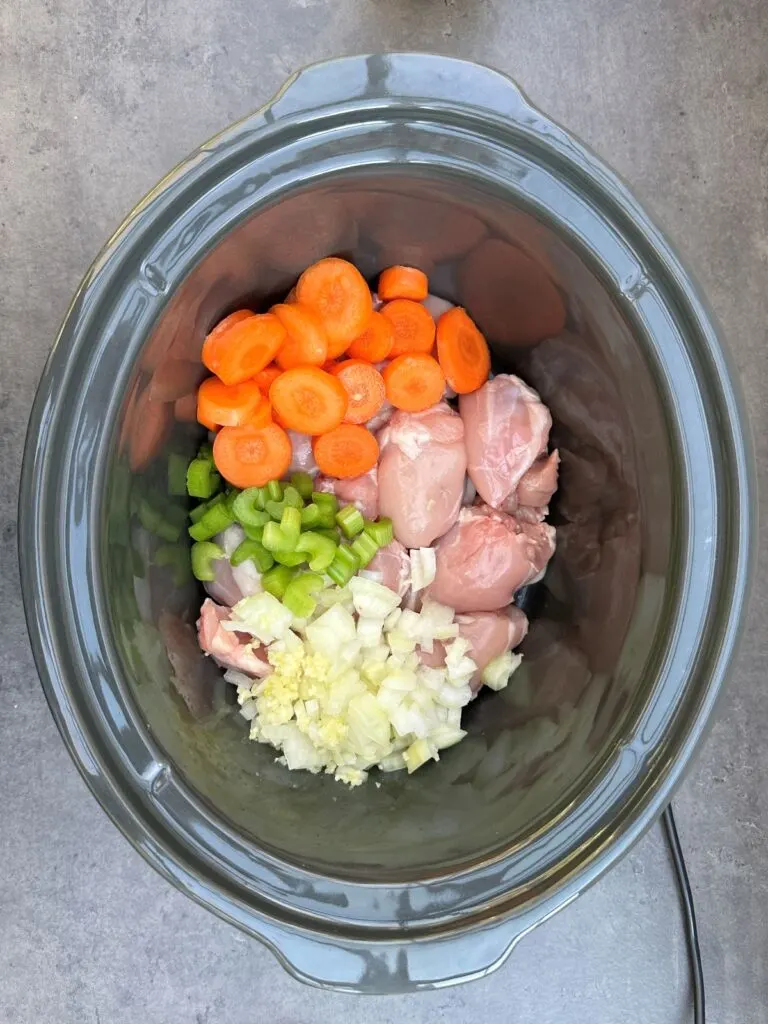 Step 3: If you are adding new potatoes, you can add them now too, together with the stock.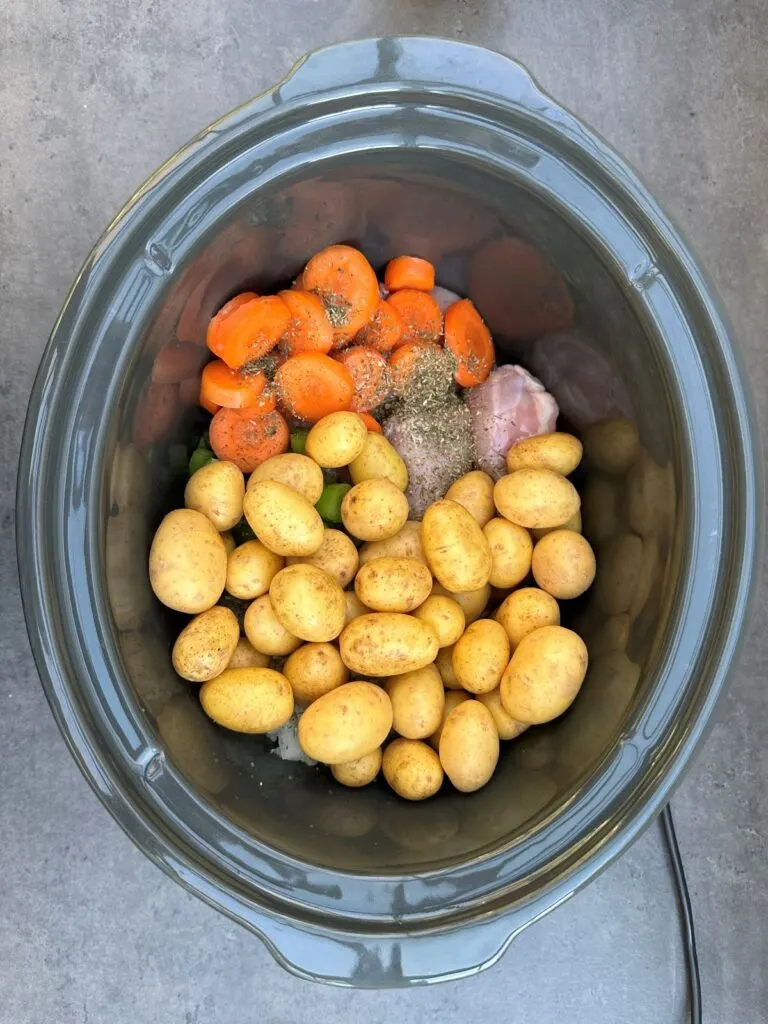 Step 4: Place the lid on the slow cooker and set it off on low for 8 to 10 hours, or high for 4 to 6 hours.
How Long Does Chicken Casserole Take To Cook In A Slow Cooker?
On High – 4 to 6 hours.
On Low – 8 to 10 hours.
Check the chicken is cooked through and there are no pink bits – if in doubt, use a meat thermometer.
Step 5: Check that the chicken casserole is ready and thicken the sauce.
It's quite likely that the liquid in the slow cooker at the end of the cooking time will be too thin. If I have the time to wait before eating, half an hour before serving, I will take the lid off, turn the slow cooker up to high and stir in a few tablespoons of chicken gravy granules.
If you don't have the time, just stir in the gravy granules; you might need to add a little extra if it isn't thick enough for your liking. Just make sure you do it gradually so that you don't get lumps of gravy hanging about.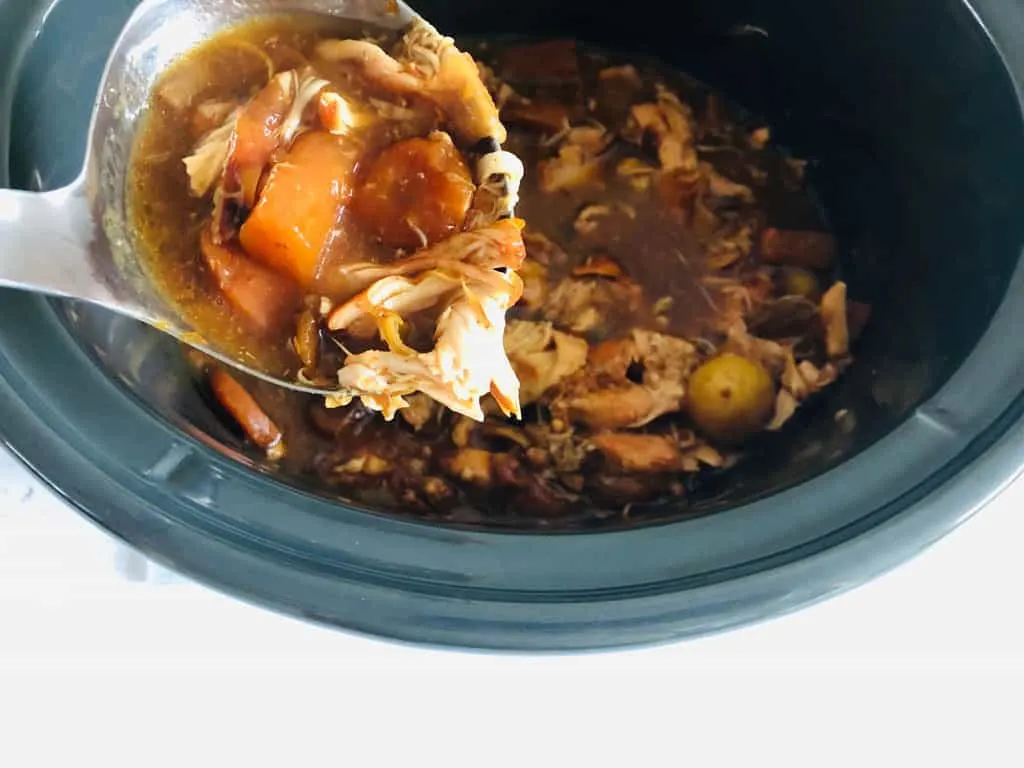 What Can I Serve With A Chicken Casserole?
My favourite way to serve a chicken casserole is to cook everything together – so I will add in some new potatoes at the beginning. There is no need for extra cooking of food later on.
But, sometimes, if the mood takes, we'll have it with some mashed potato – because mashed potato smothered in yummy chicken casserole and gravy is just unbelievably delicious.
Side note: sweet potato mash works just as well.
I almost forgot that adding dumplings to a slow cooker casserole is also a winner. The options are endless. You can see why we make it so much…
Money and Time Saving Tips For Making Slow Cooker Casseroles And Stews
I like to keep an eye out for any supermarket offers for either;
a) End of day discounts for vegetables – these are perfect to throw in a stew or casserole; they are usually a long way from going off and still totally okay to use. The same goes for meat – I've found some fantastic offers at the end of the day.
b) 3 for 2 offers on pre-chopped vegetables – these can be a real time saver if you are in a rush – or just don't like chopping vegetables! When they are on offer, they don't always work out more expensive than buying the vegetables separately. Keep your eyes peeled!
🧾 More Slow Cooker Recipes
---