Slow Cooker Beef Stew is a comforting and simple slow cooker recipe full of flavour. I love cooking beef in the slow cooker; if it is cooked on low and for a long enough time, the beef comes out so soft and tender that it almost melts in your mouth 🙂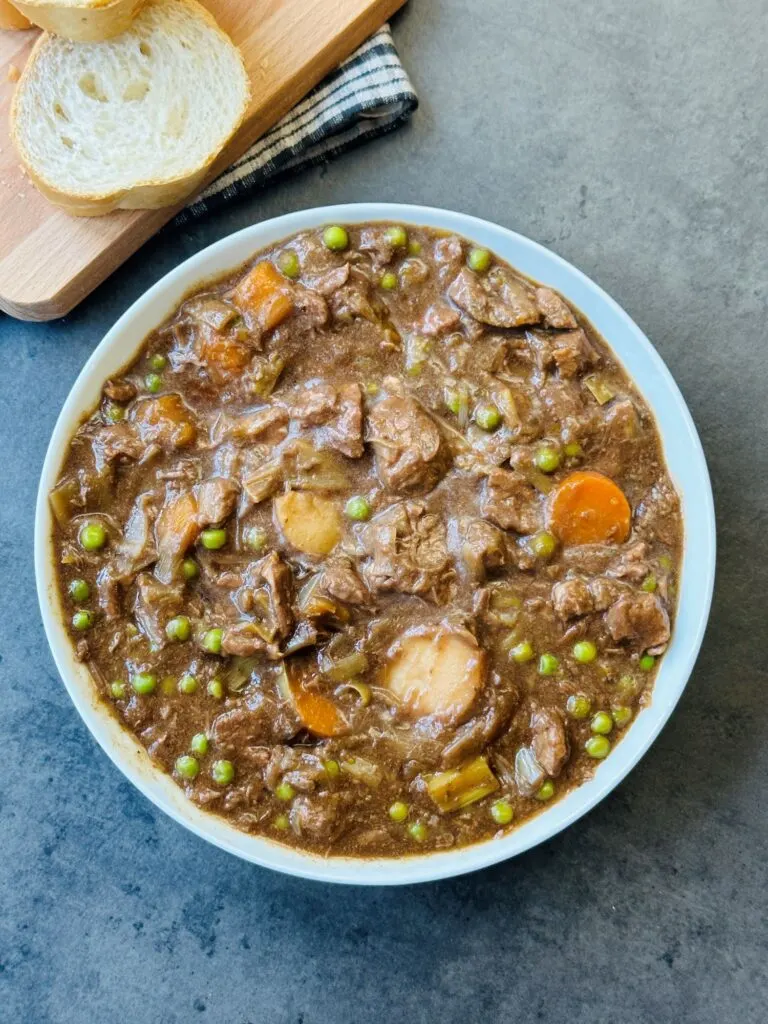 How To Make Beef Stew In A Slow Cooker
You can change what ingredients you include in your beef stew depending on your tastes and what is available.
Aside from the meat, you can use a wide range of root vegetables to cook slowly alongside the beef and soak in all the flavour from the juices as it cooks.
To print out this recipe card, head down to the bottom of this post.
What You Need:
Beef – the cheapest cut of meat is going to be the best one to use for a beef stew. If you can't easily get beef shin or brisket in the supermarket aisles, head for the butchers or meat counter within the supermarket. Ask the butcher for their recommendation, explaining that you are using a slow cooker. There is no need to use expensive cuts of meat in a slow cooker.
Vegetables – add whichever vegetables you have; I like using new potatoes, carrots, onions, leeks, and celery. Just chop them up and throw them in!
Herbs/Spices – adding a couple of bay leaves and herbs such as rosemary and thyme add a welcome taste to a beef stew.
Worcestershire Sauce – adding a couple of tablespoons of Worcestershire sauce to a beef stew will really enhance the flavour.
Stock – I usually add two beef stock cubes or stock pots dissolved in 500ml of hot water.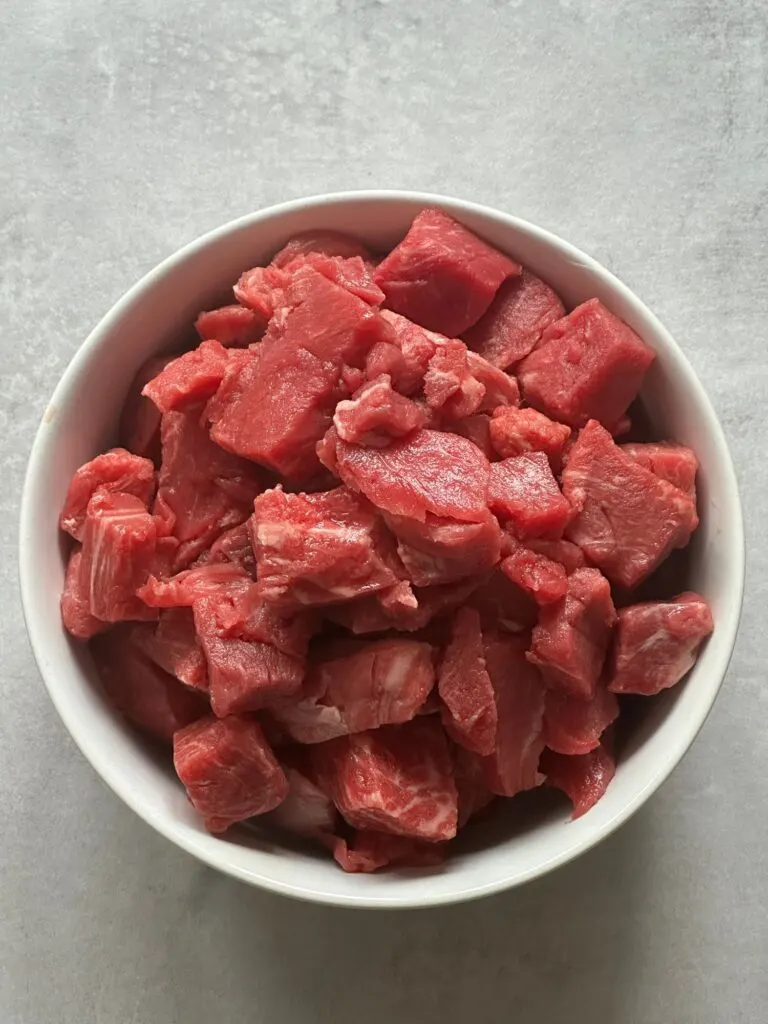 Making It:
Add everything to the slow cooker bowl and stir to ensure everything is mixed together.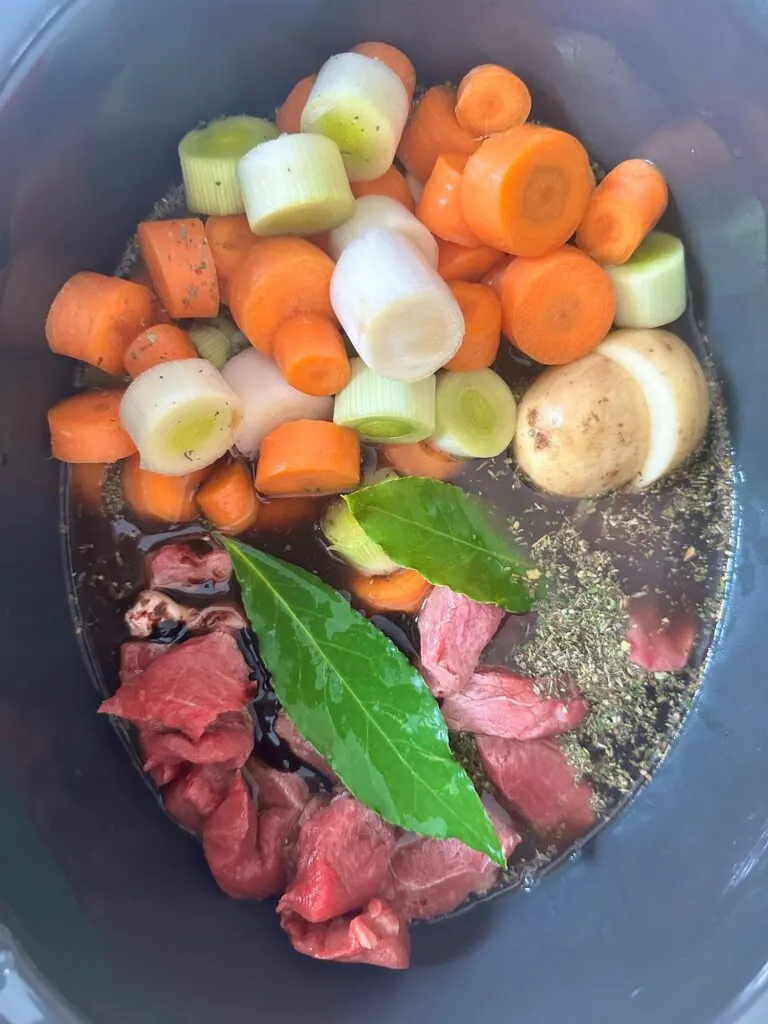 Set off on low for 8 to 10 hours or high for 4 hours. I prefer to cook slow cooker beef stew for a long time on low heat to get the meat really soft and tender.
Remove the lid for 30 minutes to thicken the stew. Switch the slow cooker to high and add gravy granules or cornflour at this stage to thicken up even more.
If you are adding dumplings to your slow cooker, now is the time to add them.
Do I Need To Coat The Beef In Flour Before Cooking?
Personally, I don't – but you can. The point of adding flour to the beef is to thicken up the stew, but if you are adding flour, you should brown the beef too, or the flour might go lumpy in the slow cooker.
I am pretty lazy when browning meat before adding it to the slow cooker (the only exception is when I make a slow cooker sausage casserole because sausages that aren't browned first end up with a rather unpleasant texture!). Hence, I tend to skip the whole coating in flour step. I do, however, thicken up the liquid at the end before serving; more on that below.
If you want to include this step, pop the beef in a sandwich bag and add 1 or 2 tbsp of flour; shake it up to ensure all the meat is completely covered. Then, gently fry the flour coated beef until it is lightly browned in a little heated oil before adding it to the slow cooker bowl.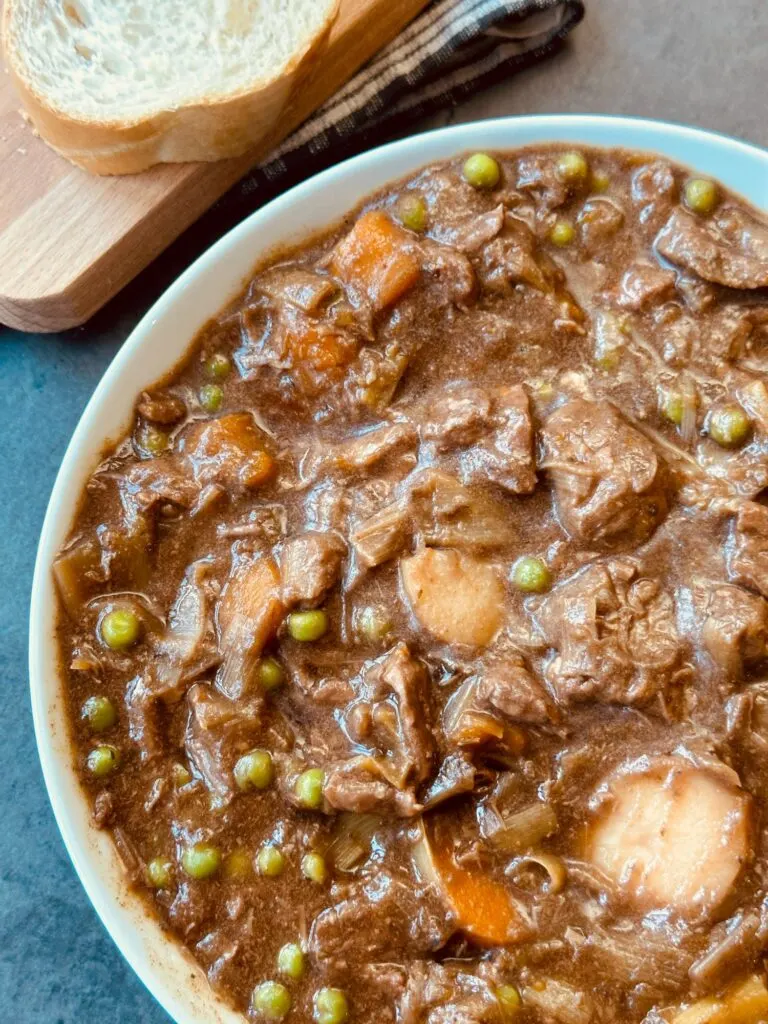 How To Thicken Slow Cooker Beef Stew
You will likely want to thicken up the stew before serving it. How thin the liquid ends at the end of cooking time will depend on a) how much liquid you added at the beginning and b) how many vegetables you added. Vegetables have a high water content that will be released during cooking. Sometimes it's hard to judge how much liquid will be released until you reach the end of the cooking time.
You can thicken up a beef stew in the slow cooker by any of the following methods;
Remove the lid for the last 30 minutes, and turn the slow cooker up to high.
And/or;
Add in some gravy granules and stir in. Add 1 tbsp of beef gravy granules at a time and stir; add more until it is at your preferred consistency.
Make a cornflour mixture using 1-2tsp cornflour with a little water (follow pack instructions). Stir it into the slow cooker and leave it to thicken up.
Adding Dumplings To A Slow Cooker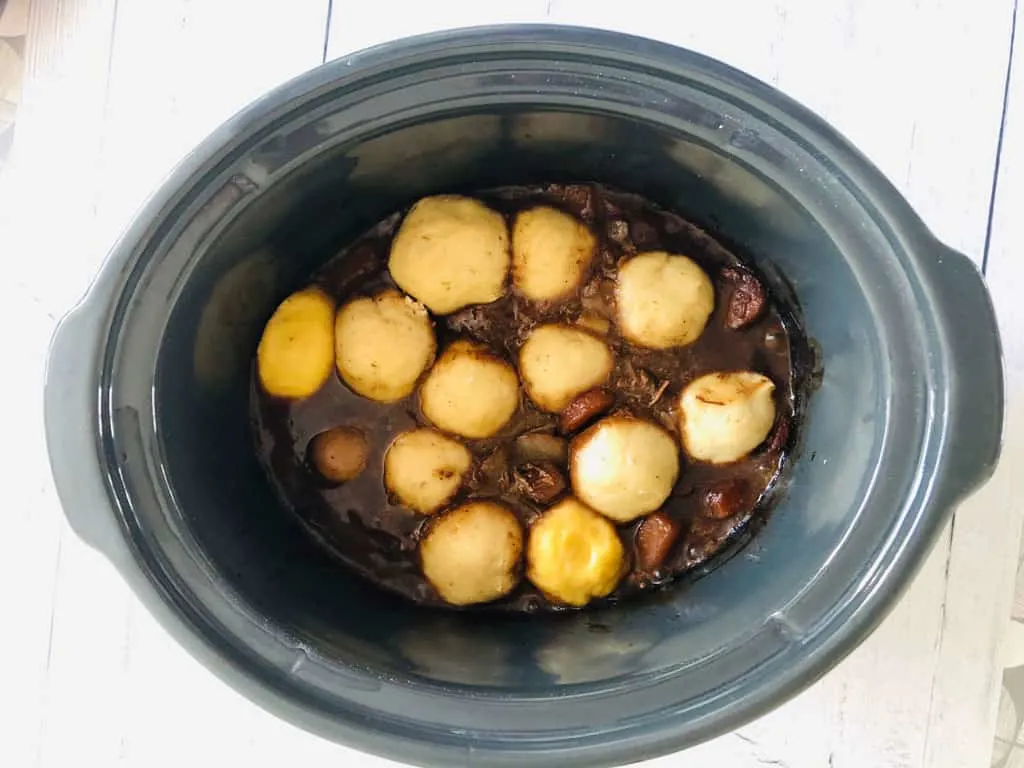 Who can resist some dumplings with a beef stew? They are really easy to make and add in. Just follow pack instructions if you are using a dumpling mix and add to the slow cooker 30 – 40 minutes before the end of the cooking time. Alternatively, make your own dumplings before adding them to the slow cooker.
How Long Should I Cook A Beef Stew For In A Slow Cooker?
Low and long is the preference for the best slow cooker beef stew. I find for the best results, 8 to 10 hours on low is ideal. If you are short on time, you can put the slow cooker on high for around 4 hours, but the beef might not be as tender.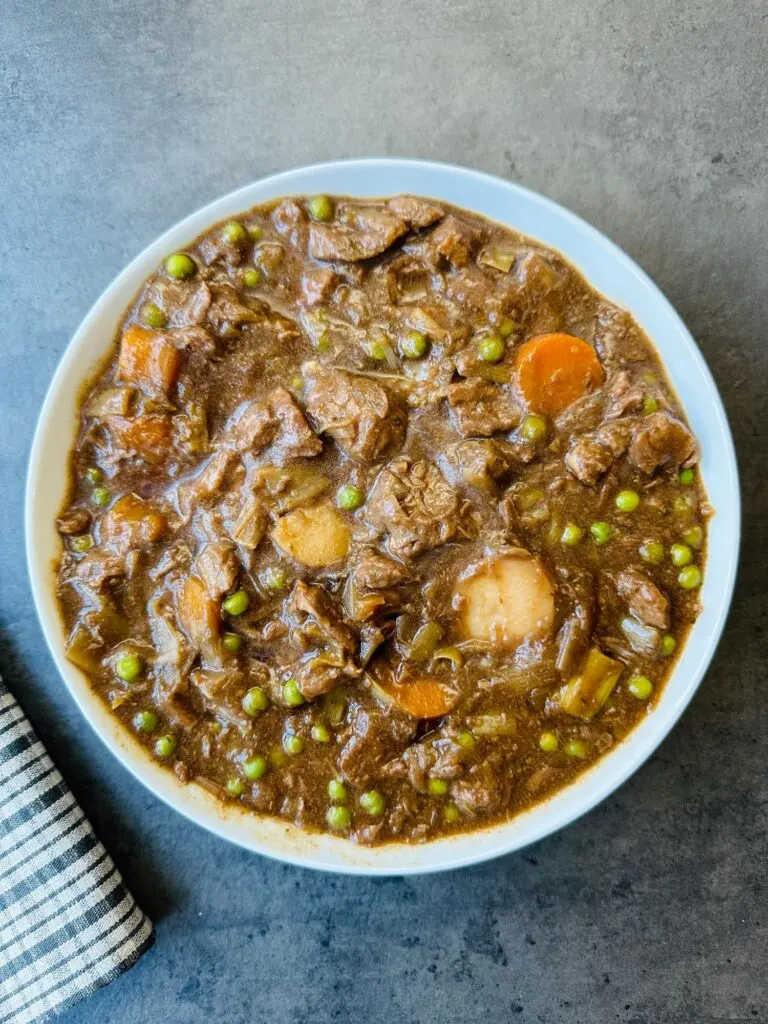 More Slow Cooker Recipes
Are you looking for more slow cooker recipes? Get some inspiration here:
📍 Pin It For Later