Tomato soup is a classic recipe that can be made in many different ways. The great thing about this tomato soup is you can have it as it is, or use it as a base to add some of your favourite ingredients to.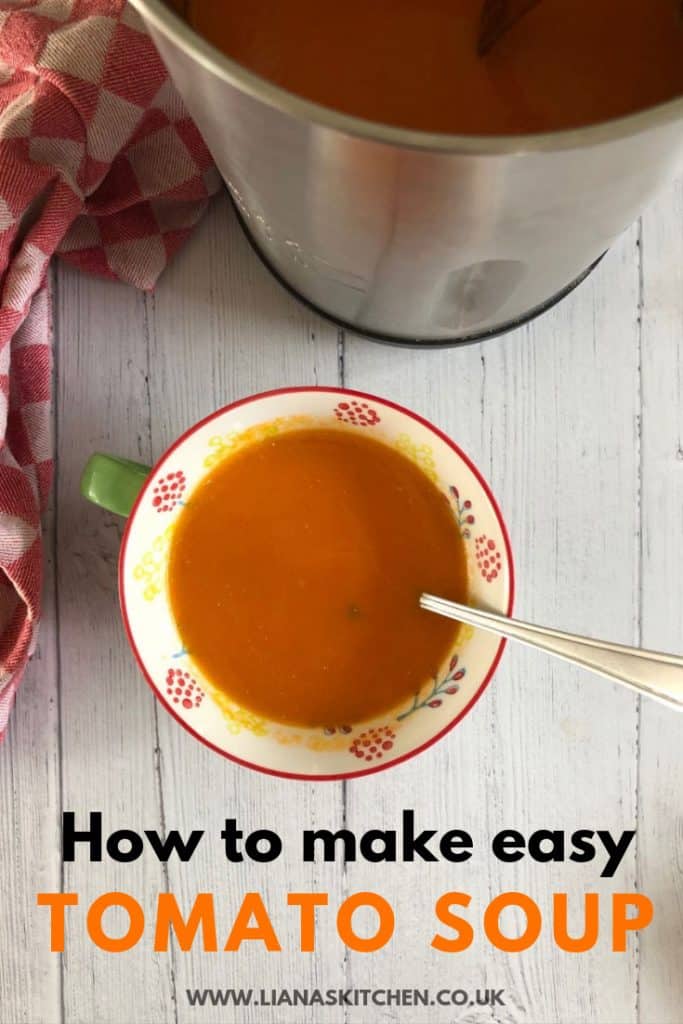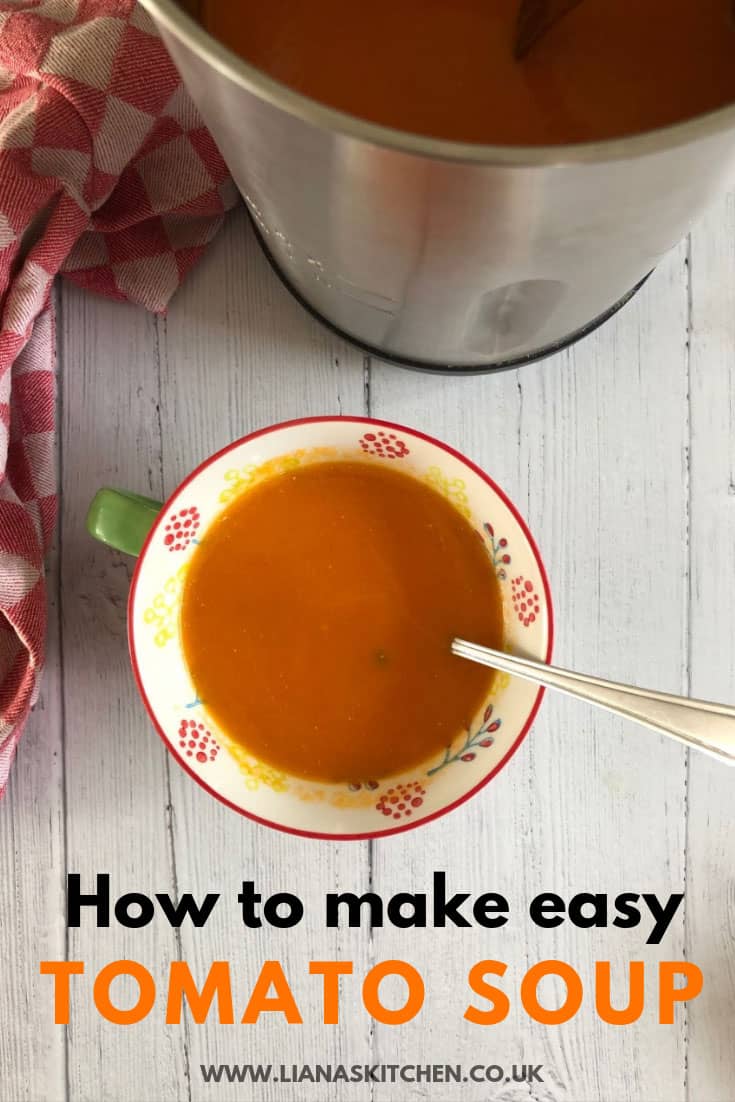 In my Soup Maker Recipe Book (Amazon) I included my 'Simple Tomato Soup.' This recipe is very similar to that one except in this one I am using fresh tomatoes rather than tinned.
Plus, there are even fewer ingredients!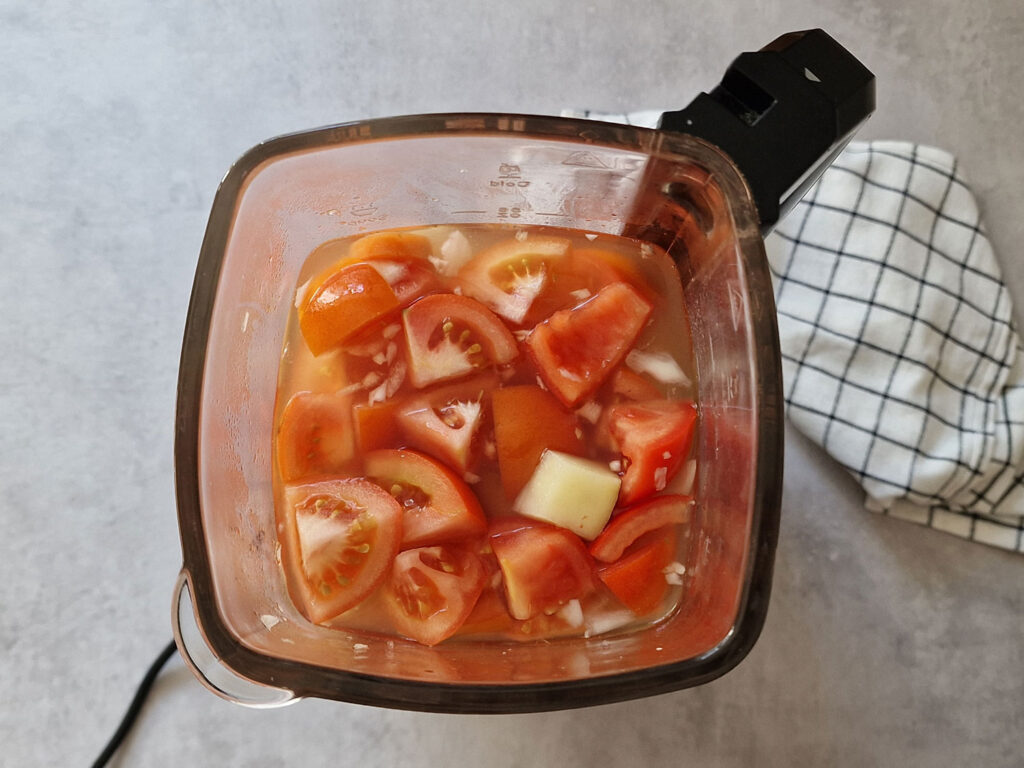 Tomato Soup Ingredients
1 tbsp. butter/oil
12 fresh tomatoes (I like to use on the vine or plum)
1 onion
800ml vegetable stock
This makes a light and thin soup. If you like it thicker check my tips further down.
How To Make Tomato Soup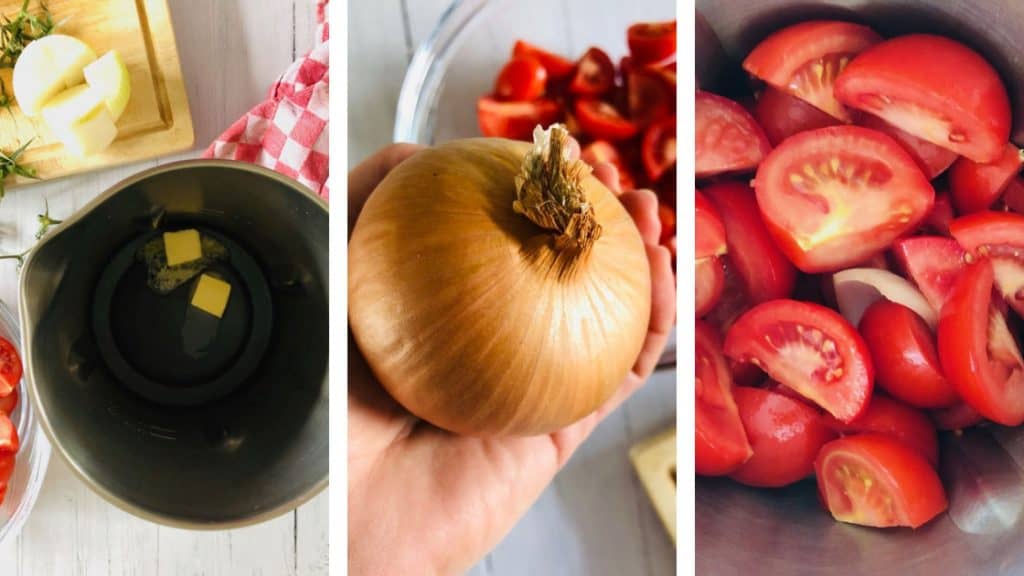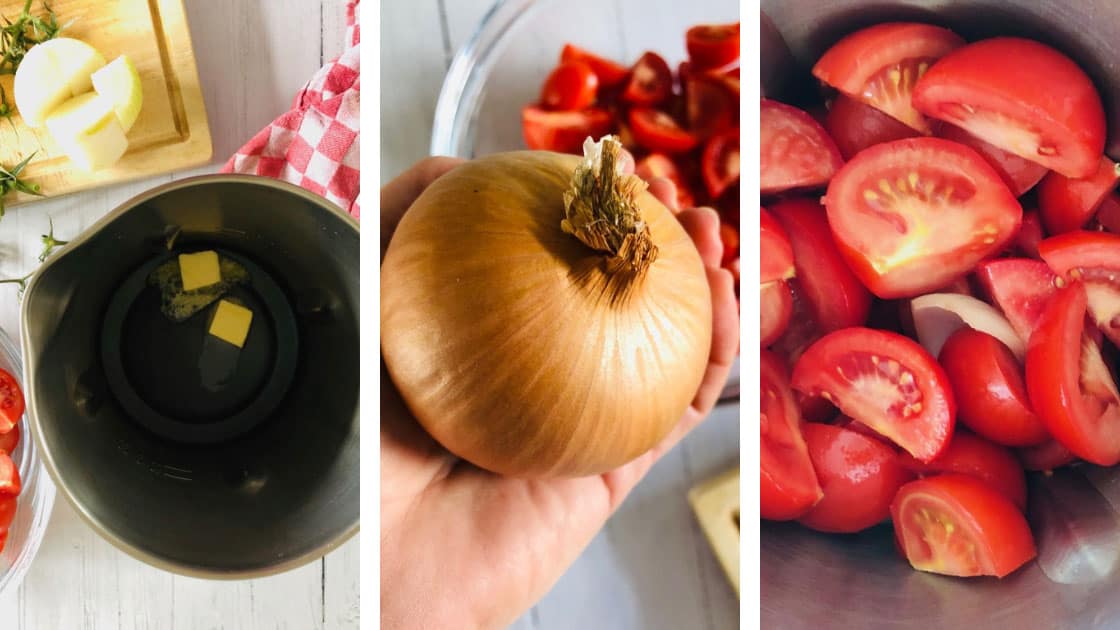 You can make tomato soup as simple as you wish. This tomato soup recipe is as easy as it gets. My super quick process was;
Wash and chop up the tomatoes (leave skins on)
Melt a little butter in the soup maker. You can even skip this step and head straight to step 4. You can use oil instead of butter.
Add the chopped onions and let them gently cook in the melted butter (and really enjoy the smell of onions cooking in butter!)
Add everything else to the soup maker. Stir to mix everything together. Set off on smooth.
If you don't have a soup maker you can still make this same recipe. Just follow the above steps, substituting the soup maker for a large pot. Bring it to a boil and then reduce to a simmer for about 18 minutes, or until the tomatoes are soft. Blend with a hand blender.
If you are tempted by a soup maker you can read all about them in my guide to buying a soup maker. If you have any questions about them please feel free to drop a message in the comments and I'll do my best to answer them.
What Type Of Tomatoes Should I Use?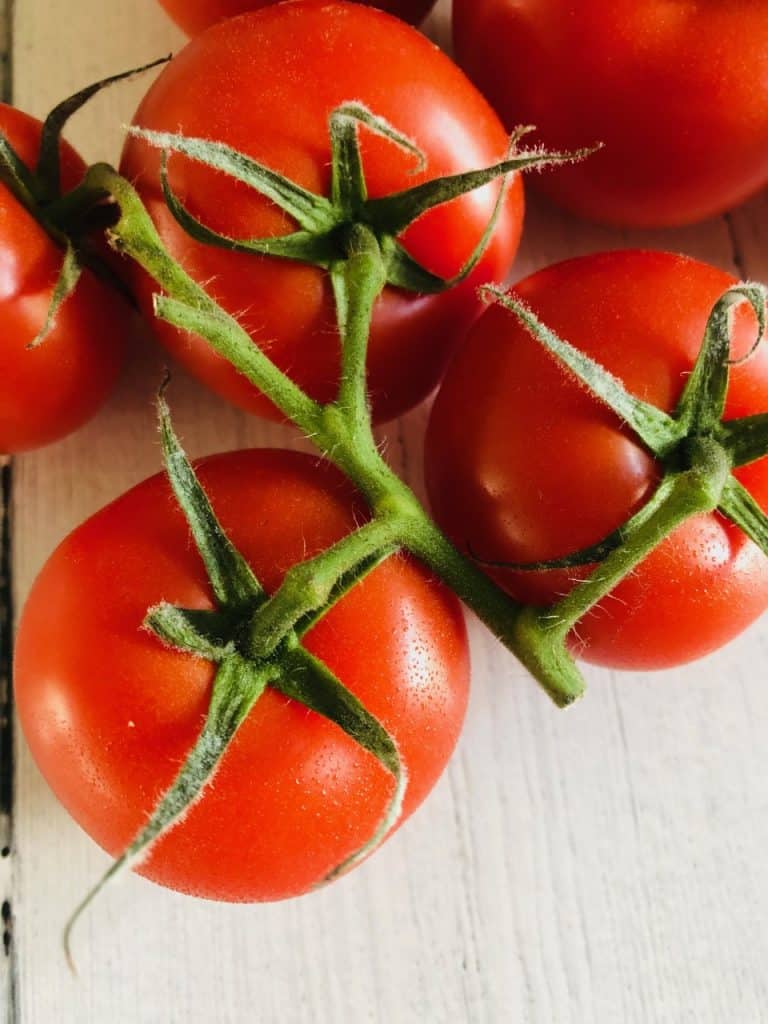 My favourite type of tomato to use in a soup is either on the vine or plum. They need to be ripe for maximum flavour – they will have a little bit of give when you squeeze them.
If you are using tomatoes that aren't ripe enough you will end up with a soup that has less flavour – you can add in some tomato puree if this is the case. You can also intensify the flavour by roasting the tomatoes first in an oven.
How Many Tomatoes Should I Use?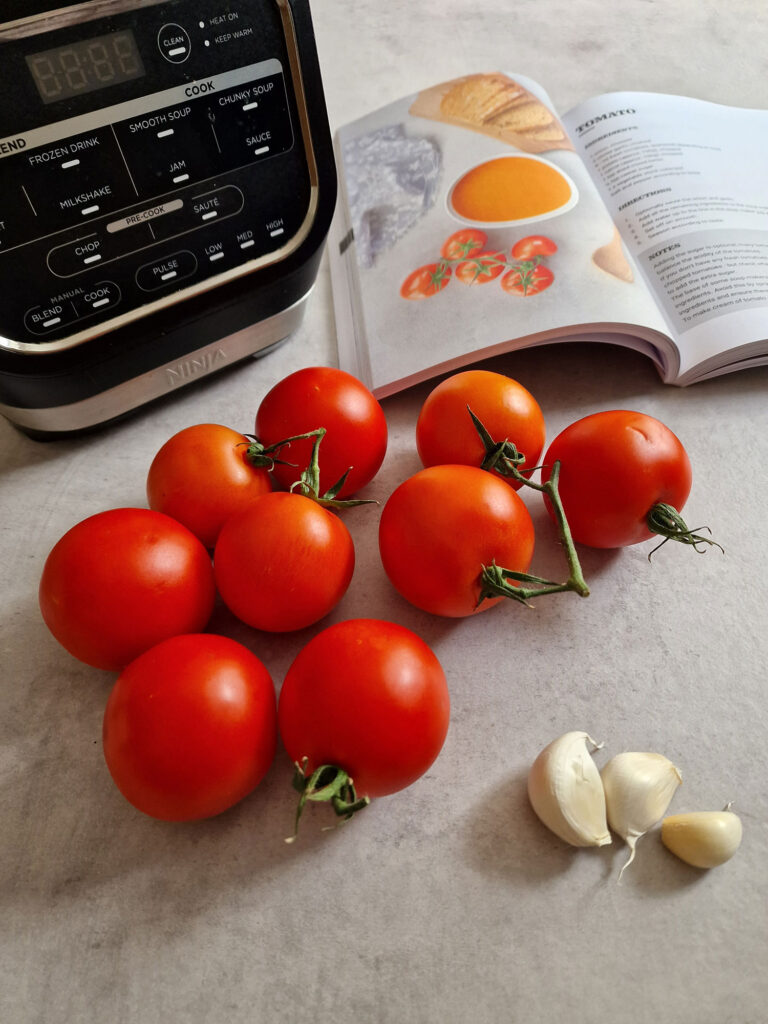 The number of tomatoes you use will depend on the type, size and soup maker model you are using. I tend to use anywhere between 8 and 10 – but sometimes more if they are small. I like to try and squeeze in a small chopped potato too to make the soup thicker.
Do You Need To Peel The Skin From Tomatoes?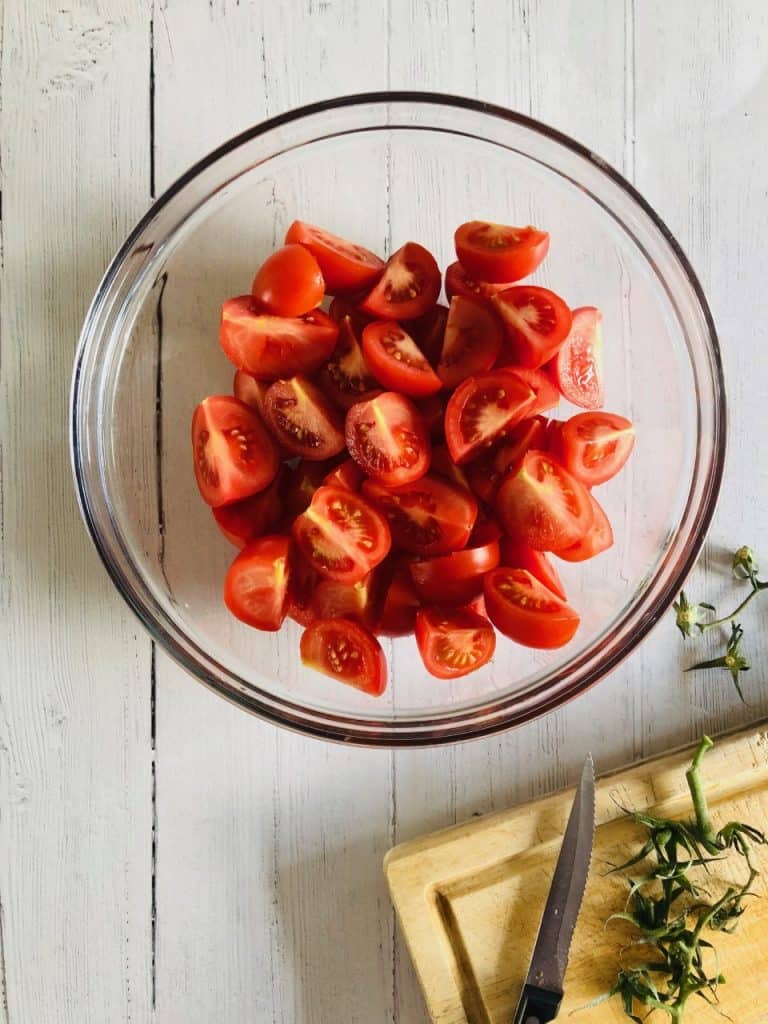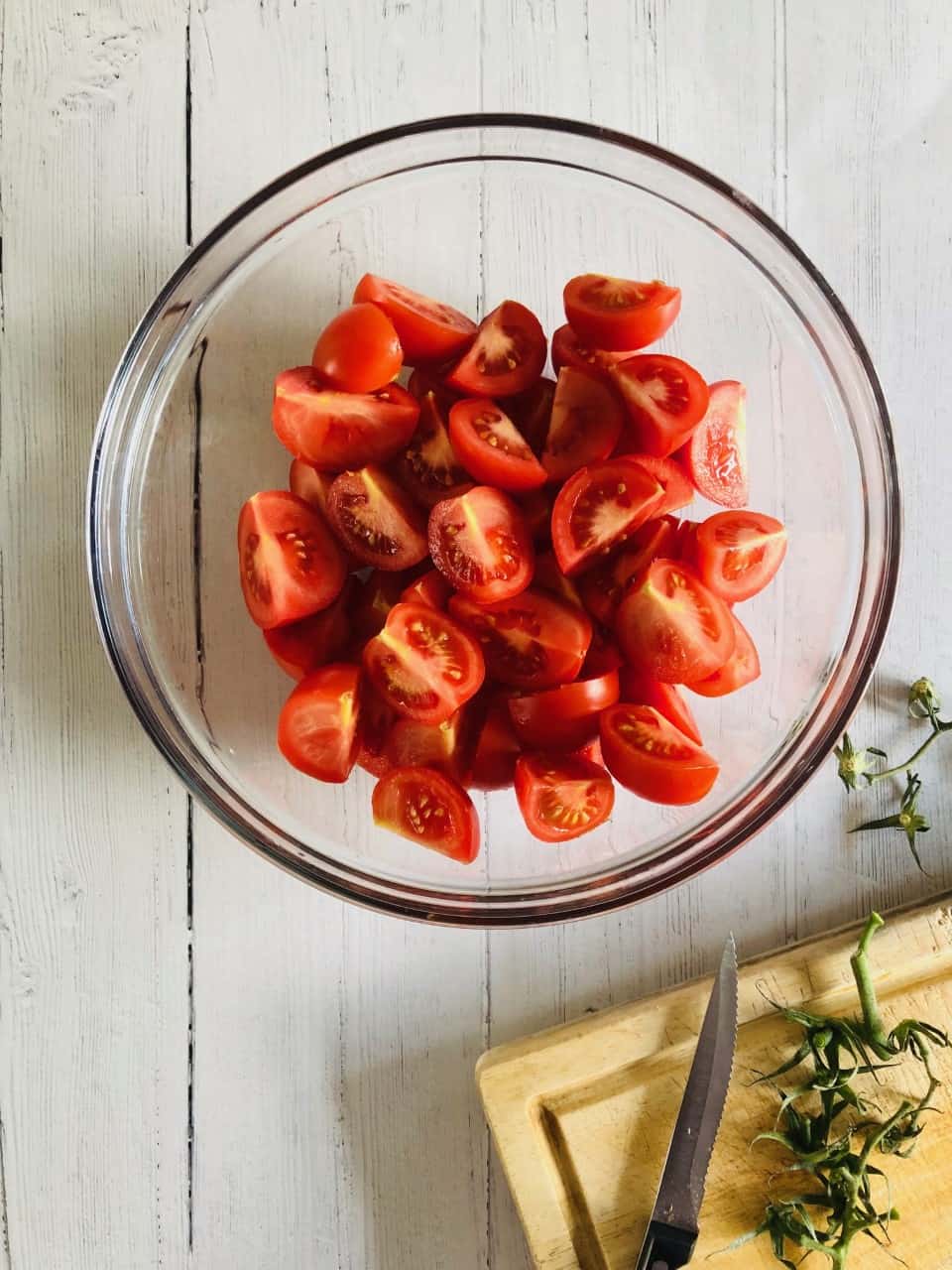 I never peel the skin. Mainly because I really can't be bothered, but also because a lot of the goodness is in the skin, as well as much of the flavour.
And, if you are using a soup maker to make tomato soup it will blend it up so smooth that there won't be any bits in it. A good hand blender should also get it smooth enough if you are making it in a slow cooker, or in a pot on a hob.
Should I Use Fresh Or Tinned Tomatoes?
If you grow your own tomatoes, or it is tomato season, using fresh tomatoes makes sense over tinned. However, it's not always possible to use fresh tomatoes, and having tinned tomatoes on standby in the cupboard is really handy. And they do still make a really tasty tomato soup.
Side Note: Check the sugar content of your tinned tomatoes – I've had a few people contact me to say that using tinned tomatoes has resulted in a burnt soup maker base. This has never happened to me before and I've used most tinned tomato brands over the years.
I Don't Like My Soup Thin, How Can I Make It Thicker?
This is a popular question I get asked all the time, so much so I recently published an article with some tips on thickening up soup – How To Thicken Soup. This tomato soup is intentionally light, great for a starter, or as a small afternoon snack. However, if you do want to make it thicker you can;
add 1 medium potato, diced, at the beginning.
add 2 small carrots, diced, at the beginning.
add some rinsed red lentils (about 50g), at the beginning.
mix in some cream, at the end.
mix in some instant mash potato granules, at the end.
You will also find that it thickens up slightly when it has been left to stand.
Do I Need To Add Sugar To Tomato Soup?
You don't need to add sugar, but you can. It will really depend on how tart the tomato soup tastes and whether you are adding any of the extras to your soup. If on tasting your soup is a little bitter, add a pinch (or 1tsp) or sugar to sweeten it up a little.
Added Extras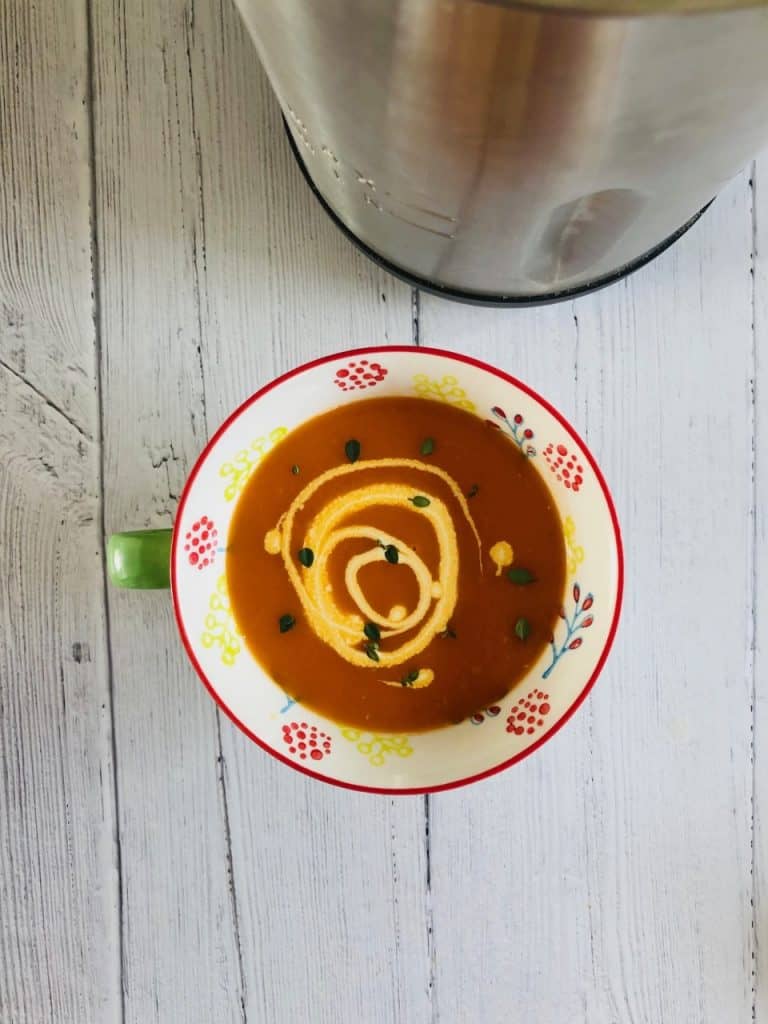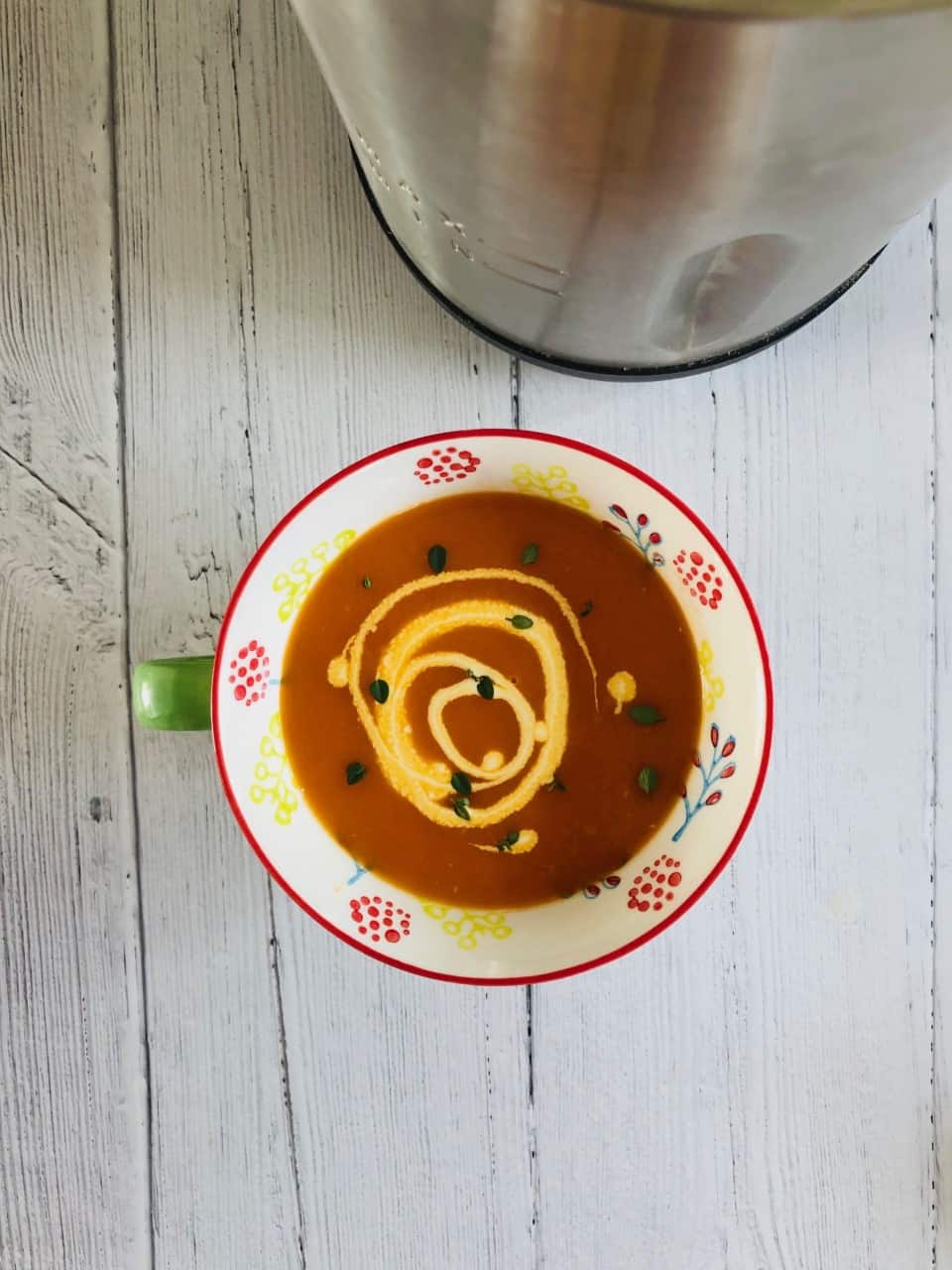 There are so many options to add to a tomato soup. You can just leave it as it is, or try any of the following;
garnish with fresh thyme leaves (basil leaves also work really well)
stir in some cream
sprinkle some chilli flakes over it
dip in some melted cheese on toast (this is amazing!)
Related: Spicy Tomato Soup (in a soup maker)
I hope you enjoy this recipe – let me know in the comments if you make it! You can also find some more soup maker recipes here.
If you would like to join a friendly bunch of soup makers and get some more soup recipe inspiration please feel free to join us over on my private Facebook group.