Spicy tomato soup is a deliciously comforting soup that delivers the perfect amount of heat. It's quick and easy to make, especially if you are using a soup maker!
Spicy Tomato Soup Ingredients: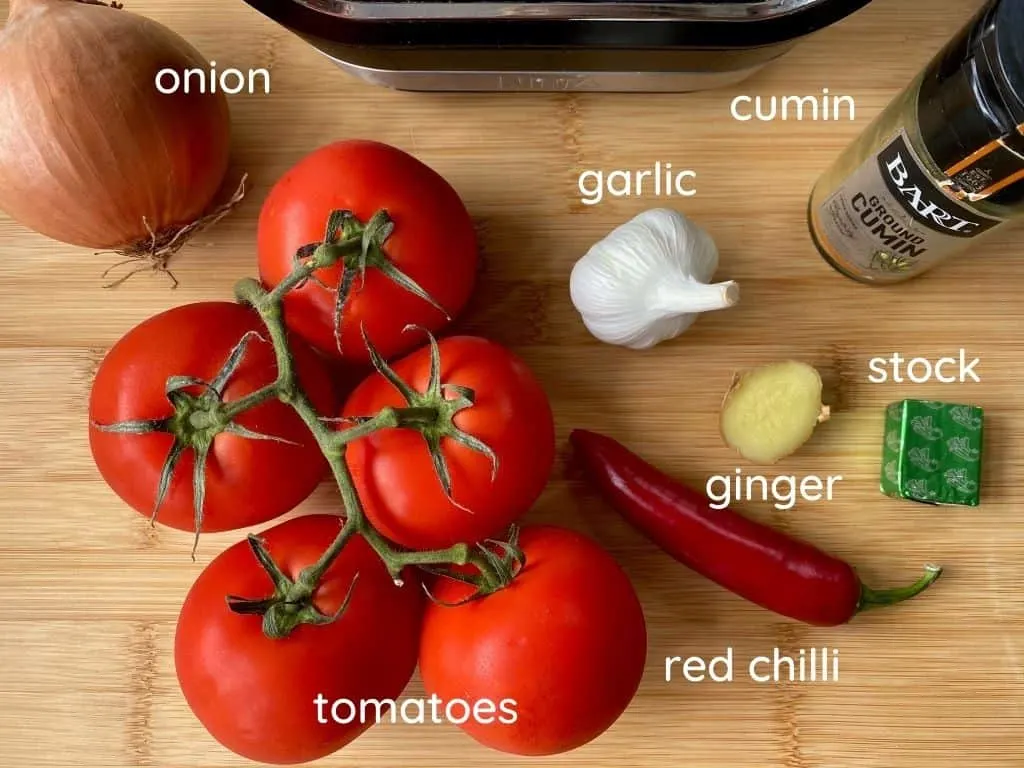 Fresh tomatoes: I like to use tomatoes on the vine or plum tomatoes as I find they have more flavour, but you can use tinned tomatoes. It's fine to leave the skin on fresh tomatoes – I just wash and quarter them. If you have time, try roasting the tomatoes for a more intense flavour!
Red chilli: Remove the seeds for a milder taste, or leave them in if you like it hot!
Onion & garlic
Ginger: You can use grated fresh ginger or ground ginger. If you are using ground ginger, reduce the quantity to 1/2 tsp.
Cumin: I added 1 tsp of ground cumin – you could add in some different spices like coriander, garam masala or a mixed curry powder.
Stock: I used a vegetable stock cube – you can use chicken stock if you prefer.
Related: How To Ripen Tomatoes
How To Make Spicy Tomato Soup In A Soup Maker:
Saute: Gently fry the onion, garlic and ginger in a little oil or butter. This is optional, and I would only really bother to do this part if your soup maker has a built-in saute function.
Add: tomatoes, chilli, cumin and stock.
Stir: I like to give everything a good stir once all the ingredients are in; this ensures nothing is sticking to the bottom of the soup maker.
Set off on smooth
Add toppings: Add some fresh herbs and croutons or sprinkle with grated cheese.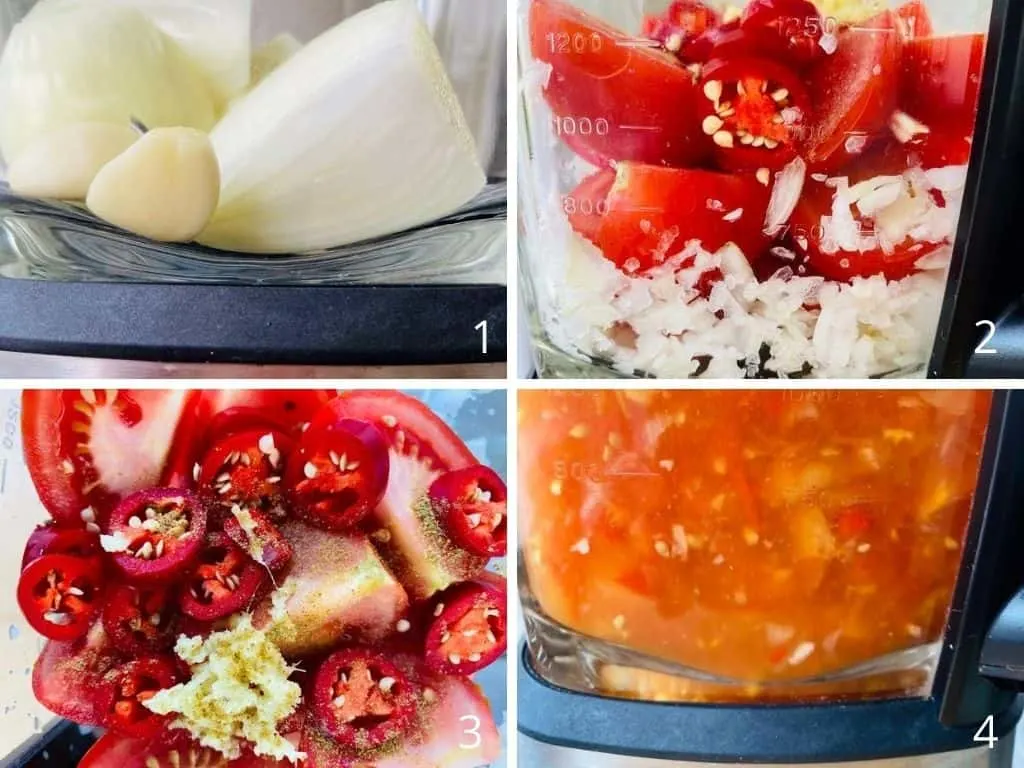 Using A Soup Maker
If this isn't your first visit to Liana's Kitchen, you'll know that I love my soup maker! I make the majority of my soups in it these days – I do occasionally use a slow cooker or pressure cooker, but for convenience and speed, the soup maker wins hands down.
Related: Soup Maker Buying Guide – Morphy Richards Soup Makers – Ninja Soup Maker
GRAB THE DIGITAL DOWNLOAD!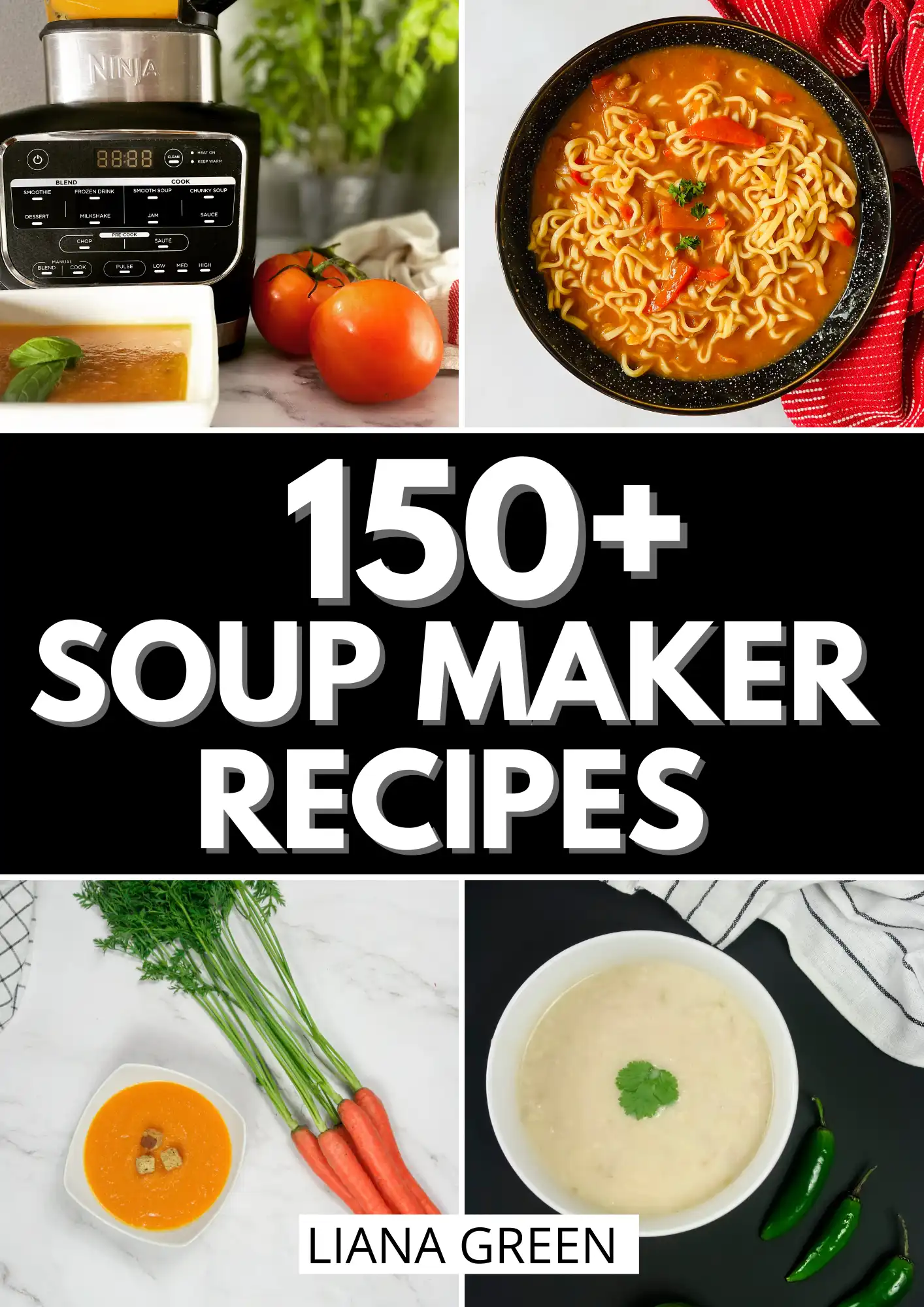 150+ Soup Maker Recipes (ONLY £3 INC FREE UPDATES)
Over 150 easy recipes, you can make in any soup maker 🥣
👩‍🍳 Recipes include:
Carrot & Coriander, Mexican Bean Noodle Soup, Easy Chicken Soup, Curried Parsnip, Thai Red Curry Soup, Bombay Potato Soup, Classic Vegetable, Minestrone Soup and many more!
Free updates automatically sent to you for the duration of the book!
BUY NOW
Making It In A Pot
You can make this same recipe in a pot on the stove and follow the same steps to prepare the soup, but instead of setting it off on smooth, you'll be bringing it to the boil and then leaving it to simmer for about 20 minutes, until the tomatoes are soft.
You can then decide whether to leave it chunky or blend it up for a smooth soup. If you choose to turn it into a smooth soup, you will need to use a hand blender – or leave it to cool and transfer it to a jug blender.
How To Make This Soup Thicker
With these quantities, this soup is fairly thin in consistency. If you prefer thicker soups, add in more tomatoes, one chopped potato, or some red lentils before setting it off.
Related: How To Thicken Soup
How To Avoid Burning
Some soup makers suffer from burning in the base – this is usually down to not enough stock being used, especially when a tomato-based ingredient is included. Make sure you use enough stock and that any tomatoes aren't resting directly on the base of the soup maker.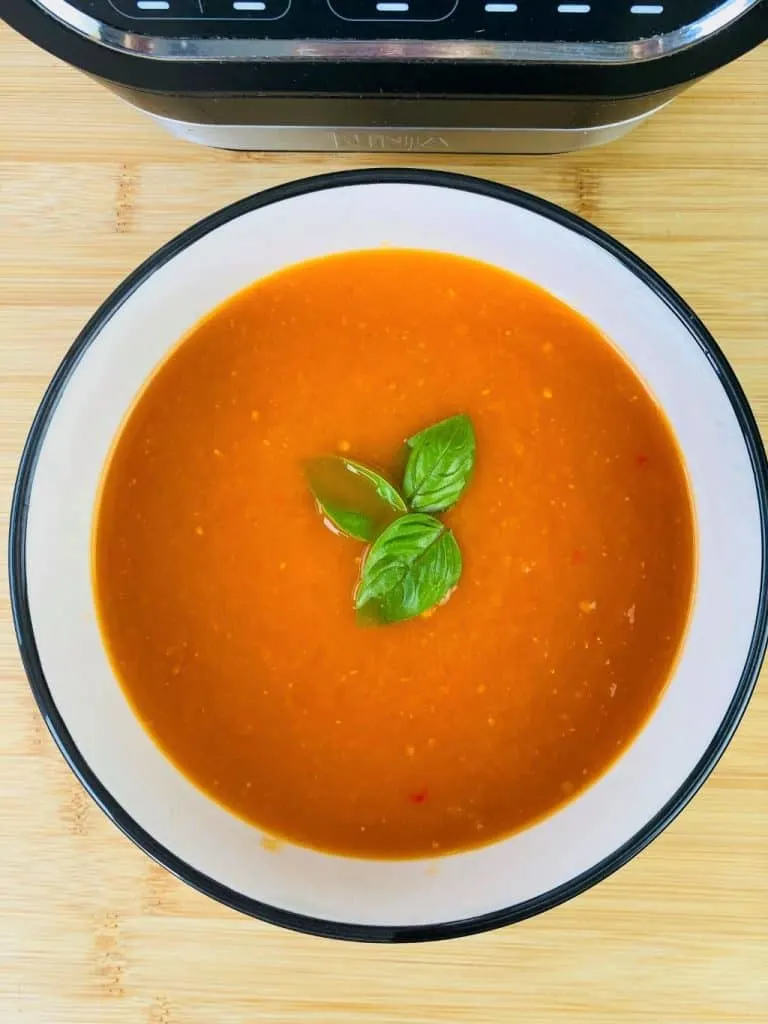 I hope you enjoy this soup – let me know in the comments if you make it!
More Tomato Soup Recipes: