Tomato and basil soup is a popular classic. It is so easy to make—either in a soup maker or in a pot on the stove, blending once cooked.
Read on to discover how easy it is to make tomato and basil soup in a soup maker!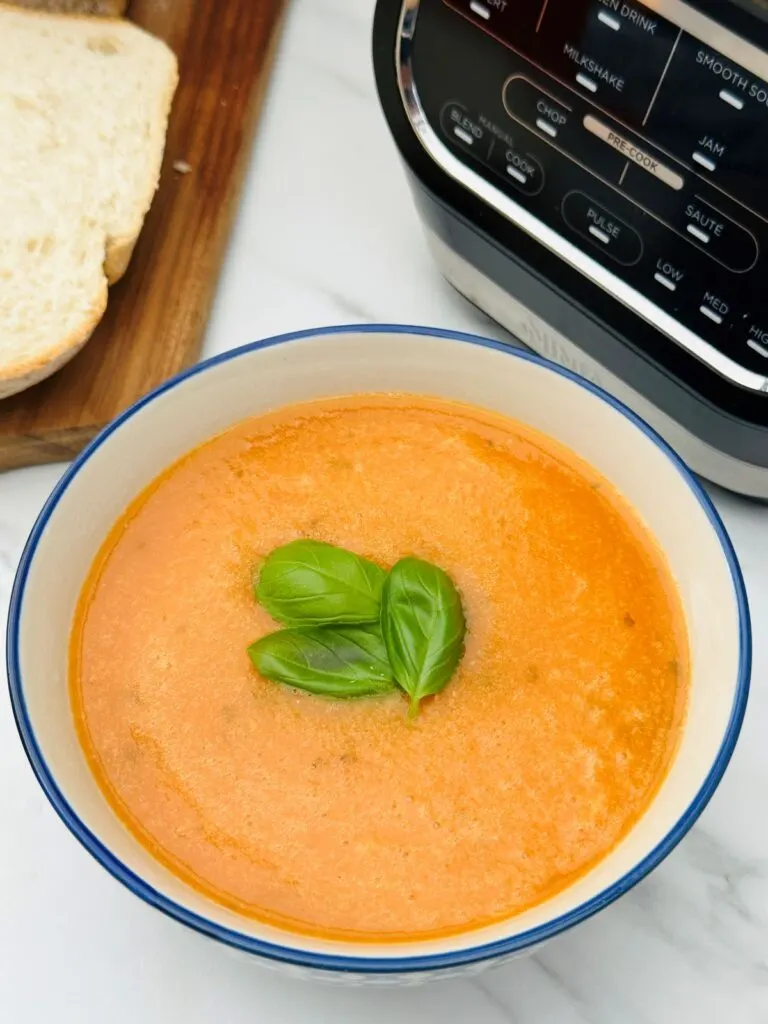 I originally made this recipe back in 2016 when I was first experimenting with soup makers (and when my first ever soup maker recipe book was released; you can check it out here on Amazon!)
I have since made it more times than I can remember, it's one of my favourites for sure.
How To Make Tomato And Basil Soup In A Soup Maker
I've tested this recipe out in various different models of soup makers, including two different Morphy Richards Soup Makers, and, more recently, the Ninja Soup Maker and Blender.
What You Need To Make It
The ingredients below work well for most soup maker models. If you have a compact soup maker you will need to reduce the quantities.
For more compact instructions or to print out the recipe, head down to the recipe card at the bottom of this post.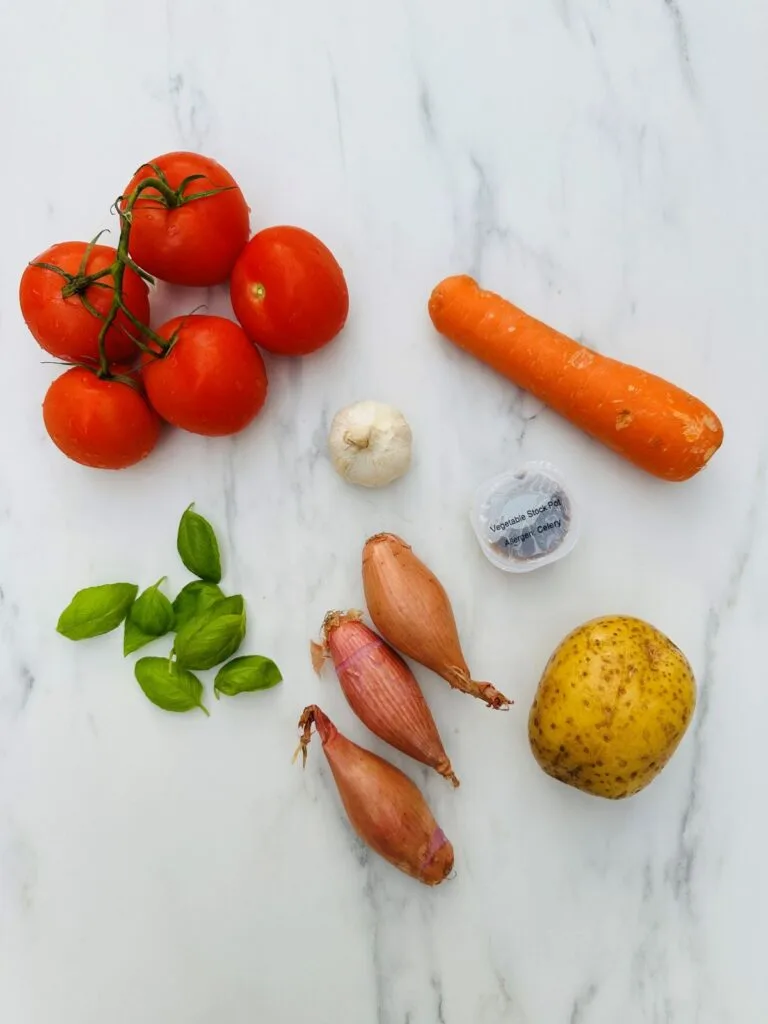 2 to 3 shallots, chopped (you can substitute for an onion)
4 cloves garlic, crushed
5 medium tomatoes, chopped
1 medium potato, chopped
1 large carrot, chopped
8 basil leaves, chopped
800 ml vegetable stock (I add a stock pot and then top up to the line with hot water)
2 basil leaves, chopped, for garnish
As with all my soup maker recipes, the ingredients don't have to be the exact same weights and sizes; just use a rough combination of what I have listed, and you'll soon be enjoying a delicious tomato and basil soup!
Making It
Prepare the ingredients: some people prefer to remove the skin from tomatoes before adding them to a soup, but I don't find it necessary when using a soup maker. The same goes for the potatoes and carrots; peeling the skin is completely optional.
The motor is so powerful that it blends the soup until it is completely smooth and doesn't have any bits of skin left.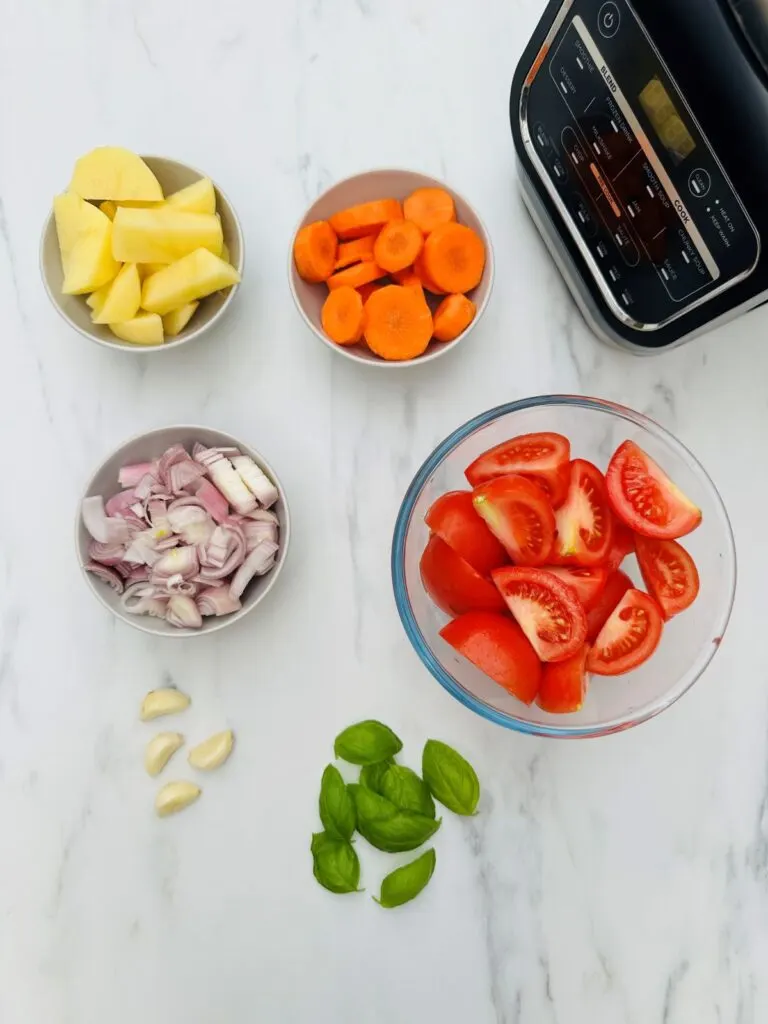 Add all the ingredients to the soup maker: once you have prepared the ingredients, it's time to add everything to the soup maker – but not the basil leaves; we're going to add them at the end.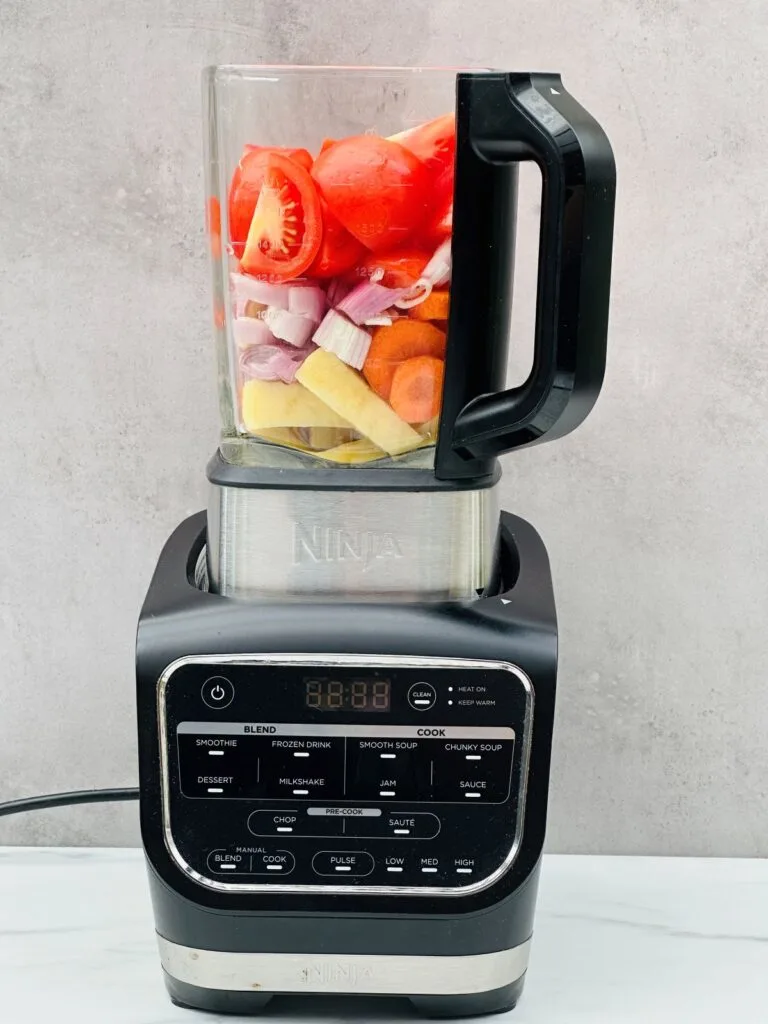 When it comes to adding the stock, you can choose your preferred method. I tend to add the stock pot directly to the soup maker and then add hot water up to the line – all soup makers should have a MAX line, so make sure the water or stock doesn't go above this.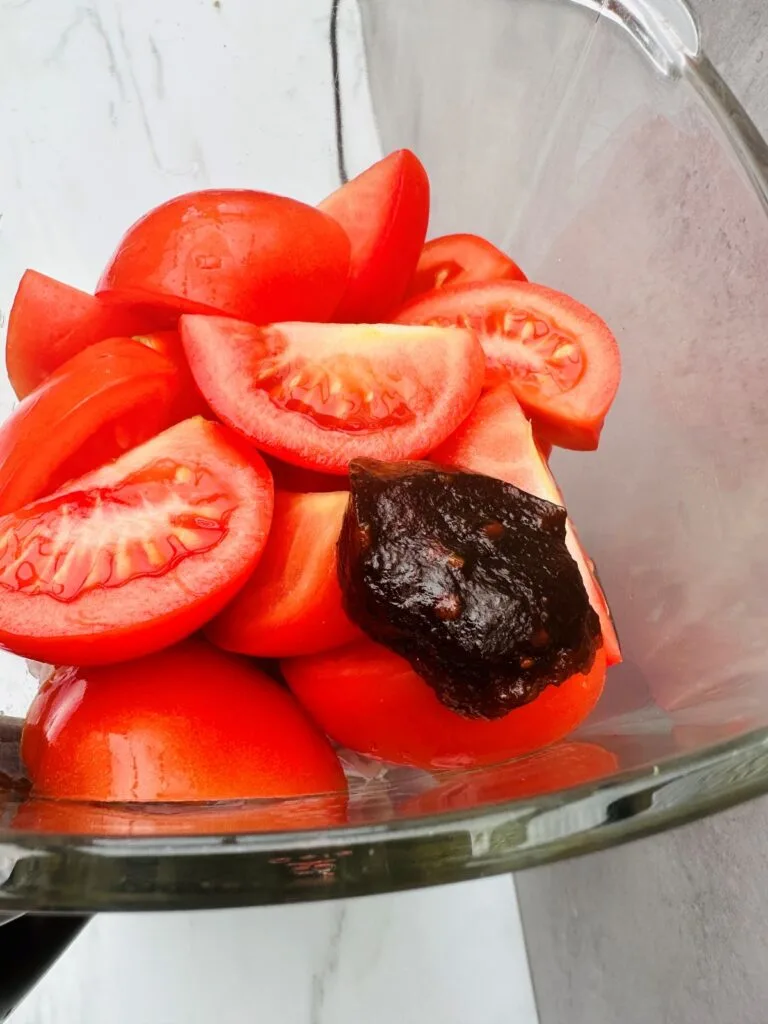 Place the lid on the soup maker and choose the "smooth" soup cycle.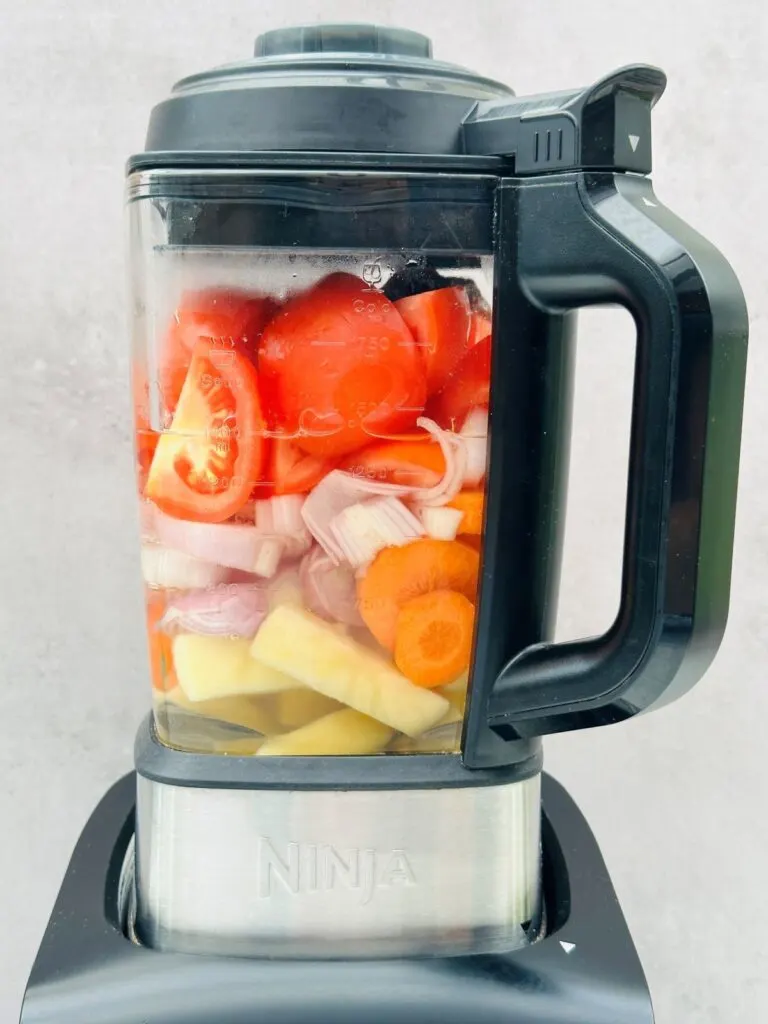 At the end of the soup maker cycle, carefully remove the lid and add the fresh basil leaves.
Replace the lid and manually blend the soup maker on low for about 15 seconds or until the basil leaves have been chopped up and mixed in with the soup.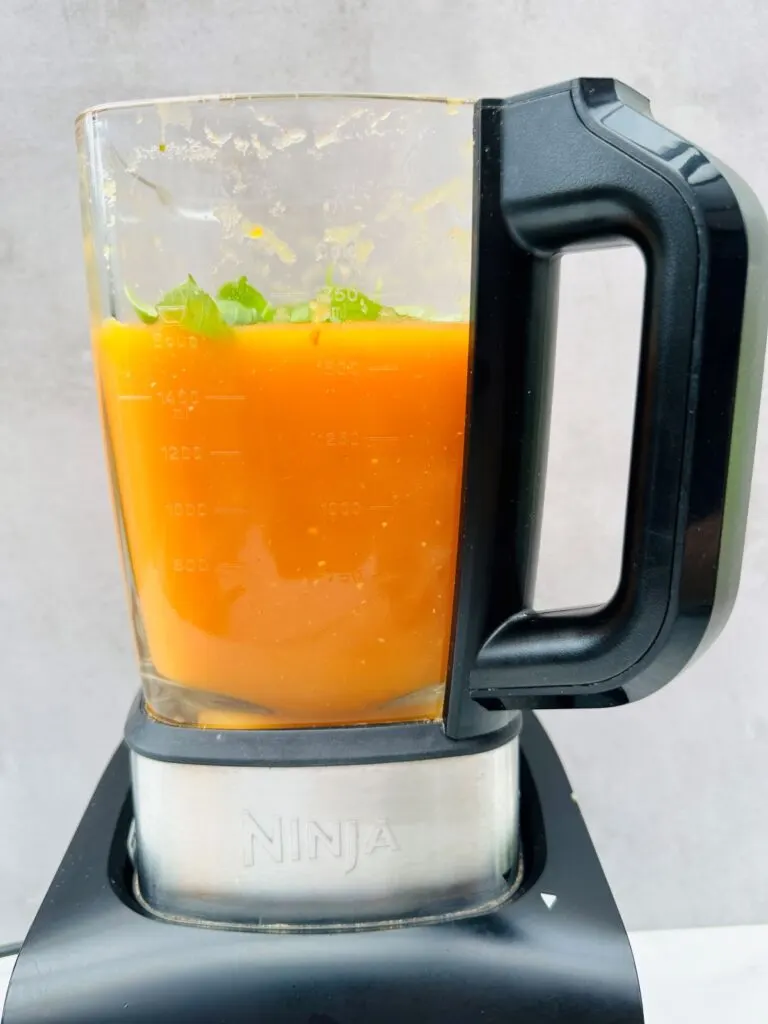 Pour the soup into bowls or mugs and serve! Add any seasoning according to taste and optionally add some fresh basil leaves for garnish.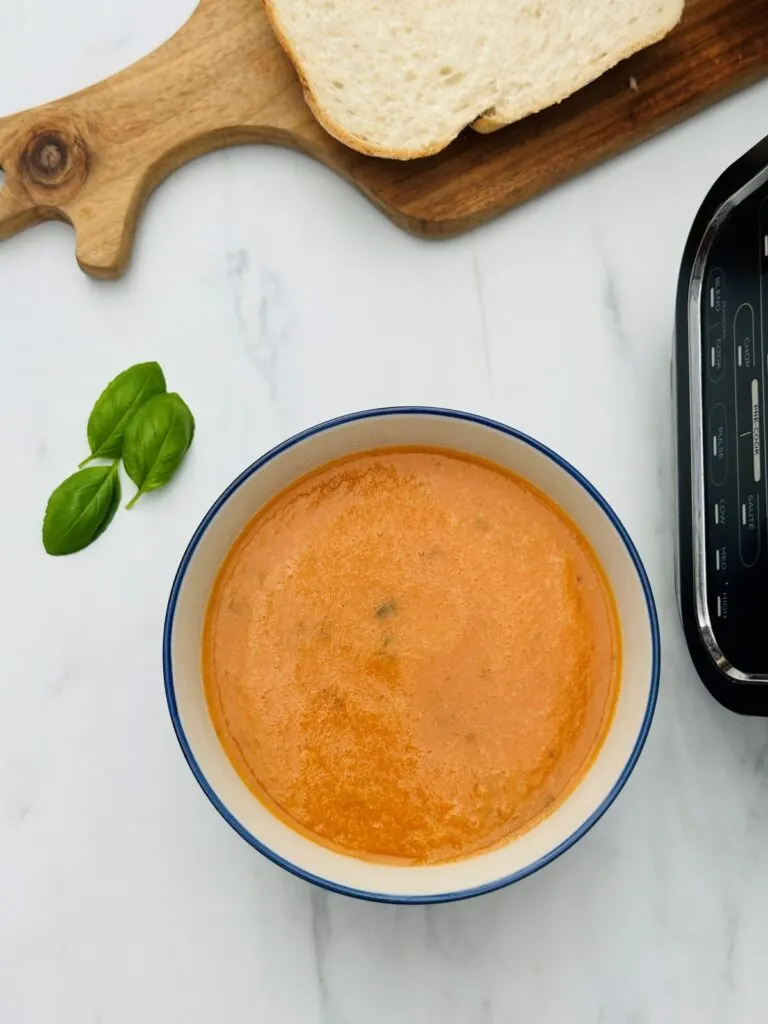 How Long Does Tomato And Basil Soup Last?
Tomato and basil soup can be kept in the fridge for 3 to 4 days. Leave it to cool down before transferring it to an airtight container.
Can You Freeze Tomato And Basil Soup?
Yes, you can freeze tomato and basil soup. Leave it to cool down before transferring it to a suitable container. I like to use these soup freezer containers, but you can use any type.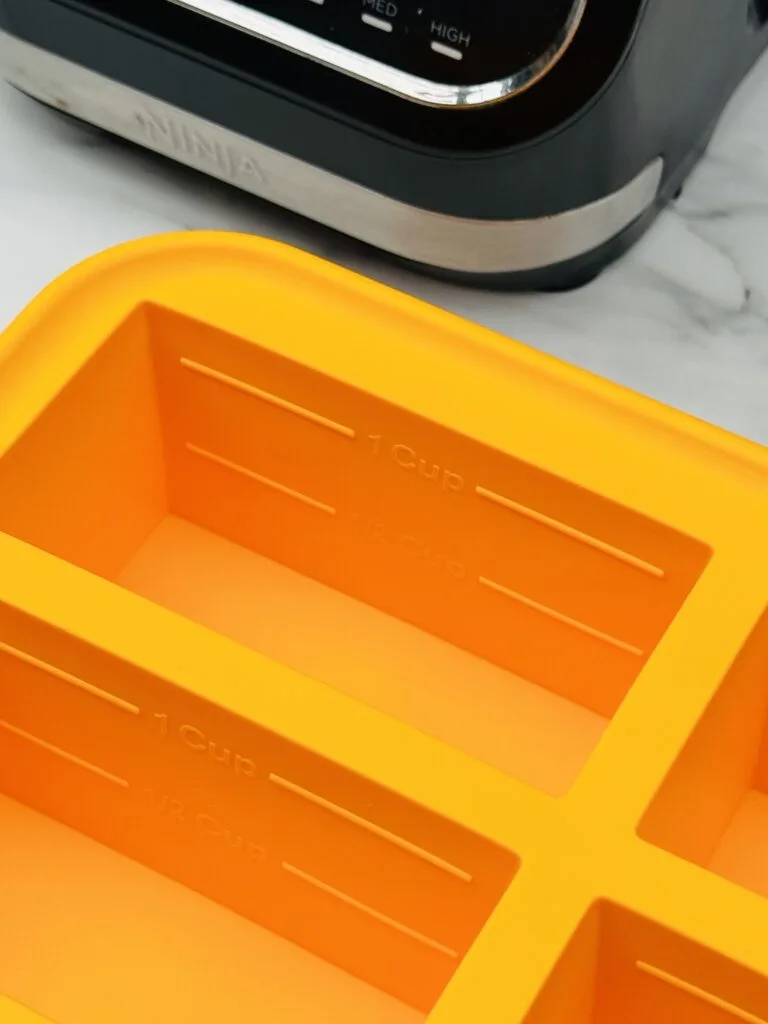 These soup containers will store up to 1 cup per section, which is about 250ml, roughly enough for a mug of soup.
It comes with a lid, so once the soup has cooled I will place the lid on top and put in the freezer.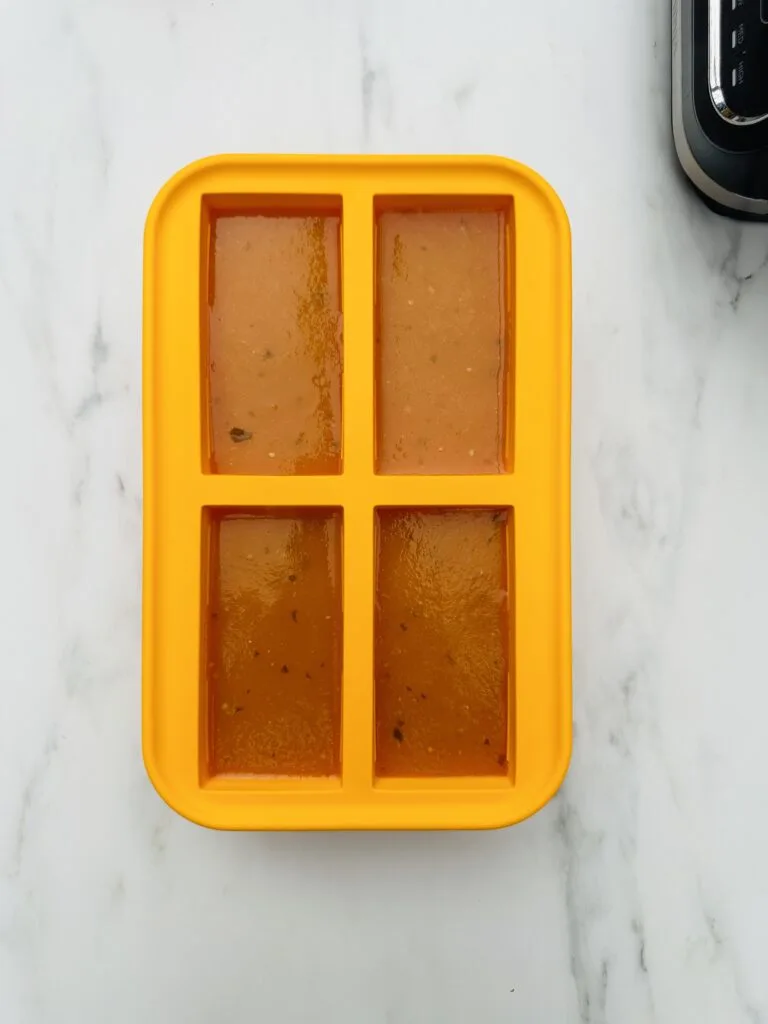 Tomato and basil soup will last in the freezer for 3 to 4 months.
If you want to check out these soup maker containers, I bought them on Amazon.
I hope you enjoyed this tomato and basil soup in a soup maker. Let me know in the comments if you make it!
Are you Looking For More Tomato Soup Maker Recipes?
If you want some inspiration for more tomato soups you can make in a soup maker, check some of these out: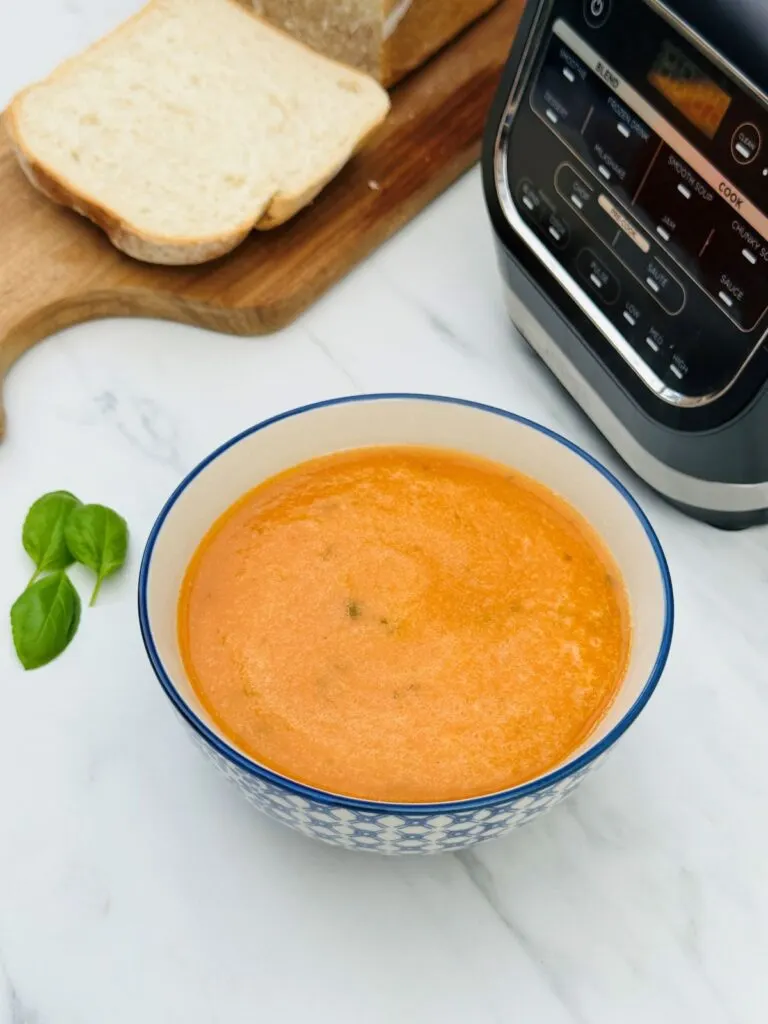 If you enjoy this soup, you might be interested in joining my Soup Maker Recipes group over on Facebook. Come on over and say hi!
Happy souping!
GRAB THE DIGITAL DOWNLOAD!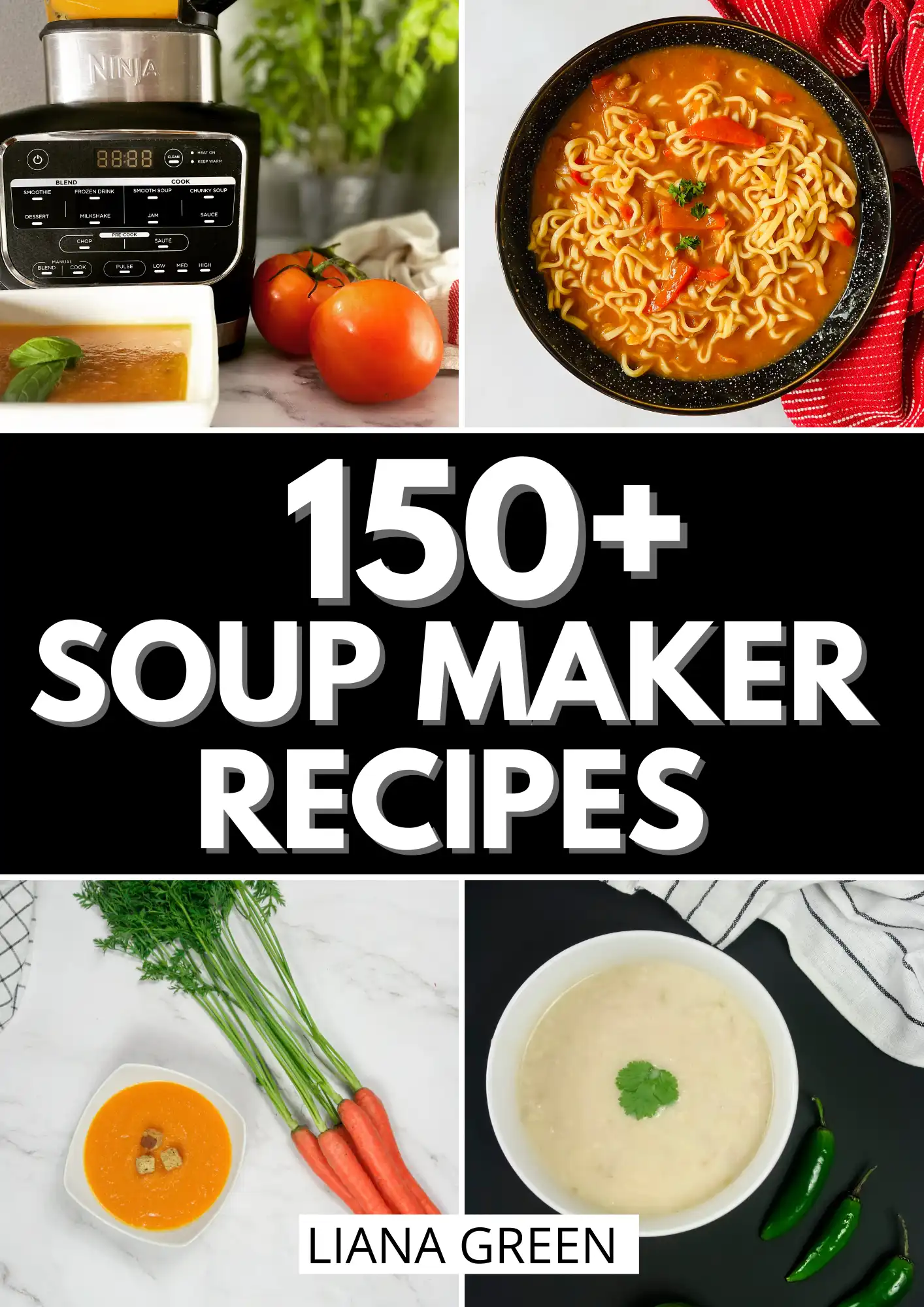 150+ Soup Maker Recipes (ONLY £3 INC FREE UPDATES)
Over 150 easy recipes, you can make in any soup maker 🥣
👩‍🍳 Recipes include:
Carrot & Coriander, Mexican Bean Noodle Soup, Easy Chicken Soup, Curried Parsnip, Thai Red Curry Soup, Bombay Potato Soup, Classic Vegetable, Minestrone Soup and many more!
Free updates automatically sent to you for the duration of the book!
BUY NOW
📍 Pin It For Later