I love making tomato soup in my soup maker.
From classic tomato soup recipes to those with a bit of a twist – adding a dash of curry powder or stirring in some Mascarpone cheese – there are so many variations to keep things interesting.
Check out six of my favourite soup maker tomato recipes below and then keep reading to pick up tomato soup tips further down.
Soup Maker Tomato Soup FAQs
How Do You Thicken Tomato Soup In A Soup Maker?
You can thicken tomato soup in a soup maker at the beginning by adding a chopped potato or some red lentils. If the soup has already been made, you can add any of the following:
– Cream (double or single)
– Yoghurt
– Crème Fraiche
– Cheese
– Cornflour (mix 1tsp with a little water or milk and stir into hot soup until thickened to your preference)
– Mashed potato granules
– Thickening granules (can be found in most supermarkets)

Related: How To Thicken Soup
Can You Leave The Skin On Tomatoes When Making Soup?
You can leave the skin on tomatoes when making tomato soup in a soup maker. Just wash, chop, and add them to the soup maker. The soup maker will blend the tomatoes and their skin into a smooth soup.
What Else Can You Use A Soup Maker For?
Depending on what type of soup maker you have, you might be able to make things other than soup. You might be able to make smoothies, sauces, dips, nut milk, and some even have jam settings.
---
GRAB MY BOOK!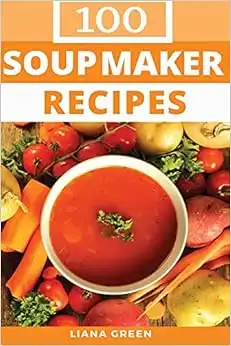 We earn a commission if you click this link and make a purchase at no additional cost to you.