Are you looking to make a creamy mushroom soup in a soup maker?
Using a soup maker to make mushroom soup is not only easy, but it also ensures that the soup is cooked evenly and has a velvety smooth texture.
Plus, using fresh ingredients and controlling the amount of seasoning and cream added means it can be a healthy and nutritious meal option.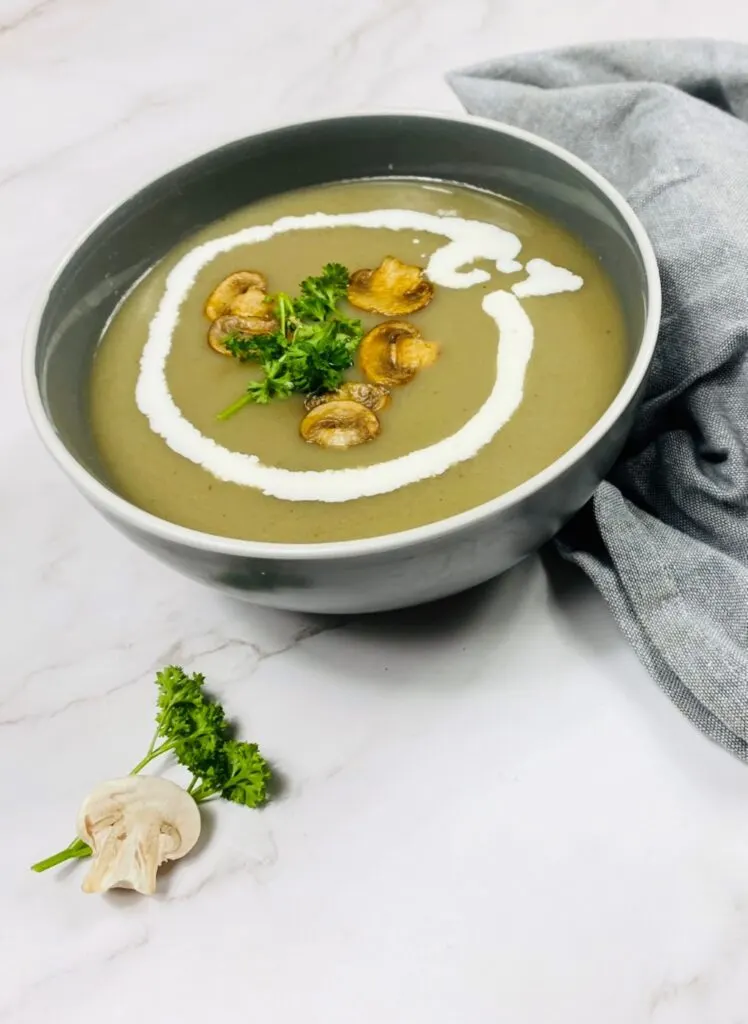 How To Make Mushroom Soup In A Soup Maker
The following quantities are suitable for a Ninja soup maker, but they can be adjusted for any soup maker.
For concise ingredients and instructions and to print them out, head down to the recipe card at the bottom of this post.
What You Need:
Onion and garlic – 1 onion and 2 cloves garlic
Mushrooms – I used 350g mushrooms – you can use any mushrooms you have available or a mixture of a few varieties (button, chestnut or shiitake, for example). For a thicker soup, add 400g – 500g of mushrooms, depending on the size of your soup maker.
Potato – I used one that weighed in at about 150g, chopped. There is no need to peel it.
Herbs – I used 1 tsp of dried mixed herbs. You can use any herbs you prefer; parsley, rosemary and thyme are good options.
Stock – you can use a vegetable stock pot or, if you have any, a mushroom stock pot.
Cream – I used 100ml of single cream; you could use double if you want an even creamier mushroom soup. You can also leave the cream out.
Seasoning – salt and pepper according to taste.
I used a Ninja soup maker, but it can also be made in any soup maker.
Ninja Soup Maker and Blender
Soup/Hot Capacity: 1.4 Litres

Smoothie/Cold Capacity: 1.7 Litres

Chunky and Smooth Soups
This post contains affiliate links, meaning at no additional cost to you, if you click a link and subsequently make a purchase I will earn a commission.
Preparing The Ingredients For Soup Maker Mushroom Soup
After washing the mushrooms, chop them up using a sharp knife, slicing them into small, uniform pieces. This will ensure that they cook evenly in the soup maker.
Prepare the remaining ingredients by peeling and chopping the onions and peeling and crushing the garlic cloves.
Peeling the potato is optional; I wash mine and chop it up. The potato in this mushroom soup recipe will help to thicken it up as well as make it smoother.
Add all the ingredients to the soup maker, apart from the cream (if you are using it).
When I make soups in a soup maker, I add the stock pot (or cube) directly to the soup maker and then add the hot water to the line on the jug. Some people prefer cold water, so you could try this instead of hot.
If you prefer, you can make the stock up separately before adding it to the soup maker.
Place the lid on the soup maker and set it off on smooth.
At the end of the soup-making cycle, add the cream, if using and stir it in (either by hand with a spoon or by placing the lid back on and blending it).