There are so many different sweet potato recipes you can make – it really is a versatile vegetable. Roasted sweet potatoes are definitely one of our favourites, it's such a quick and easy recipe to make.
The roasting of sweet potatoes produces a deliciously crispy exterior, with a tasty soft and sweet inside. We're big fans in our house, using sweet potato in place of our usual potatoes makes for an interesting change.
Related: Sweet Potato Recipes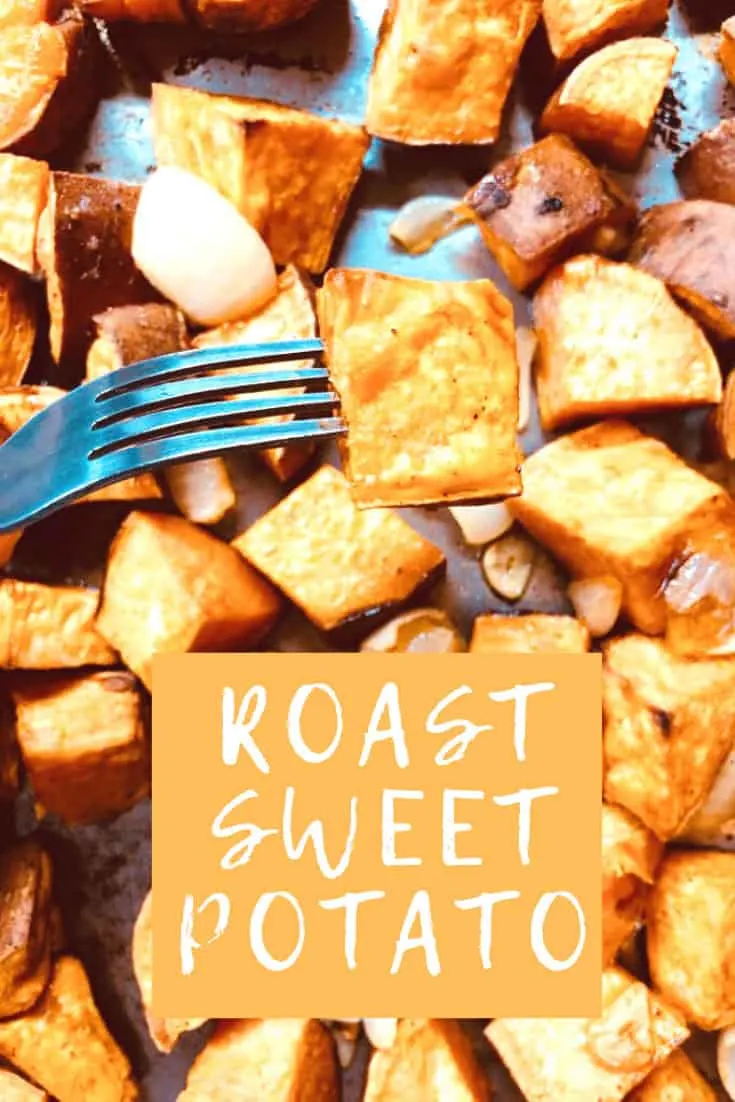 How To Make Roasted Sweet Potatoes
Use roughly one sweet potato per serving. I usually serve sweet potato as a side dish, so one large sweet potato should be enough.
Do You Need To Peel Sweet Potatoes?
I don't tend to peel my sweet potatoes when I'm roasting them – I love how the skin crisps up and tastes nice and crunchy when it's roasted. Oh and I'm kind of lazy when it comes to preparing food – if I can skip the peeling step, then all the better. Plus, the skin on sweet potatoes holds a lot of the nutrients and fibre, so why not eat it too? Just give the skin a really good wash and scrub, much the same as you would with other vegetables you don't peel.
If you would rather peel the skin then use a vegetable/potato peeler and peel as you would a normal potato. You can also use a sharp knife but try not to take away too much of the flesh when peeling.
Cutting A Sweet Potato
You can roast them in any shape you want, for this recipe I am cubing them but you can cut them into fries, wedges or round disc shapes if you prefer. Remember different sizes and shapes will need longer or shorter cooking times. Cut the sweet potatoes into cubes roughly 1/2 inch in size.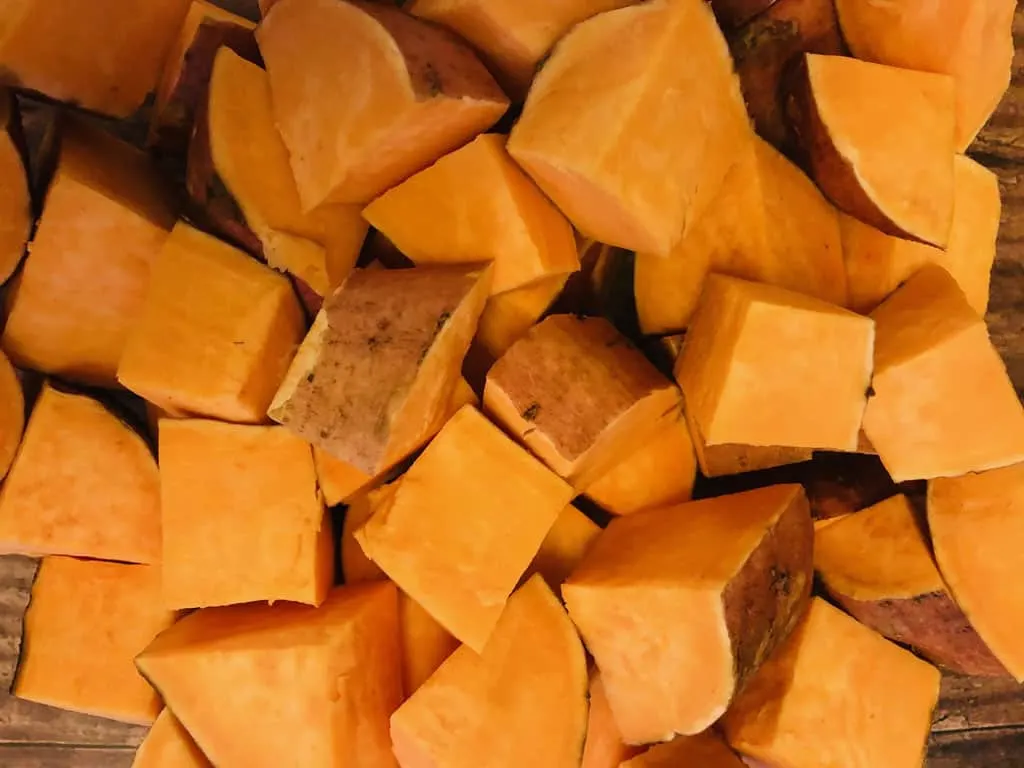 You can add additional vegetables and ingredients to roast alongside the sweet potatoes. Chopped onions and garlic taste amazing with sweet potato. You could also make a more substantial side dish out of this recipe by adding chopped carrots and parsnips to roast too.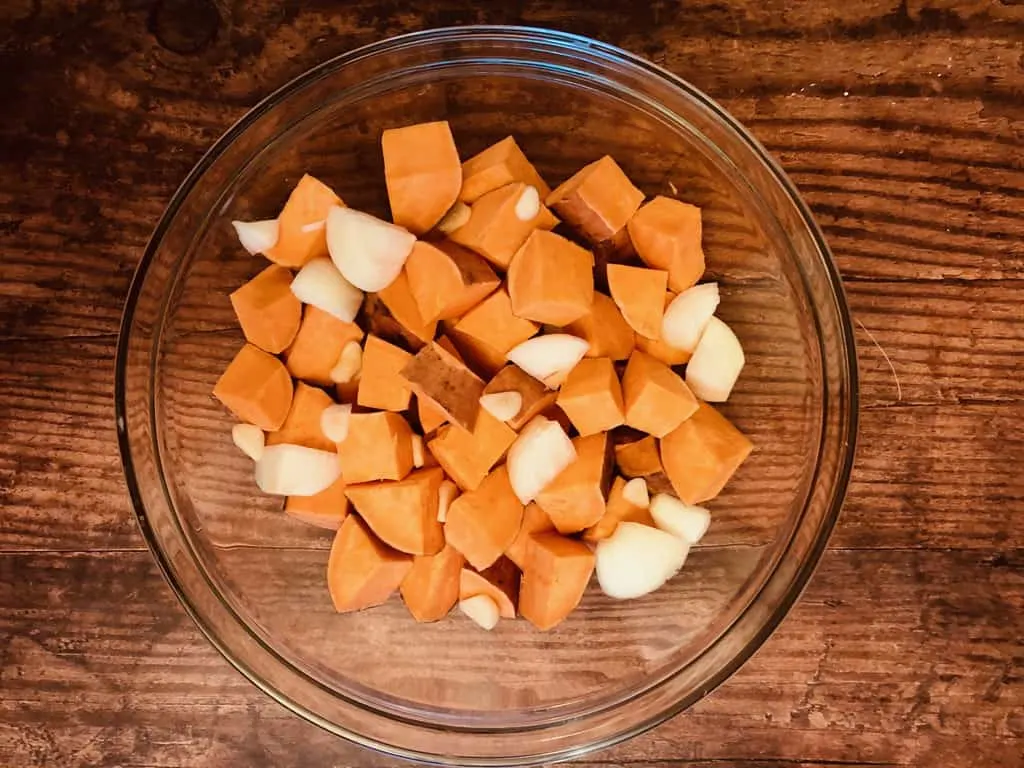 Once you have all your chopped sweet potatoes, onions and garlic in a bowl, coat them in some olive oil. Give the ingredients a good shake and toss so that everything is coated. Sprinkle in your choice of herbs and spices – I like to use smoked paprika or a little chilli powder – but you can use what you prefer, even just a sprinkle of salt and pepper will produce deliciously caramalised roasted sweet potatoes.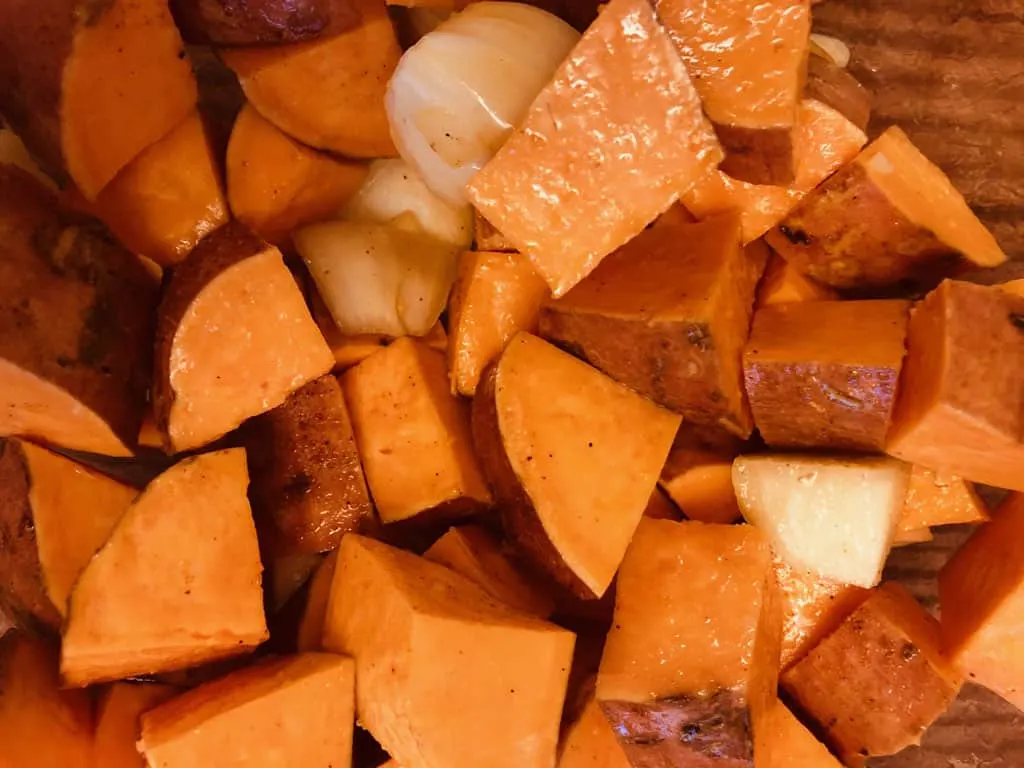 Once all the ingredients are coated, transfer to a baking tray. Make sure the sweet potato is spread out with enough space in between to allow them to cook and crisp up. The more space they have the easier they will roast – if they are too squashed together you'll end up with soggy sweet potatoes as they steam rather than roast.
How Long Should You Cook Sweet Potato?
Cook them in a preheated oven at 200C/Gas Mark 6 for around 30 minutes. Check on them after 10 minutes and give them a good shake about to make sure they are cooking and crisping up on all sides. Repeat at 20 minutes. They should be perfectly roasted by the 30 minute mark – check with a fork, they will be crispy to puncture with a fork but really soft inside.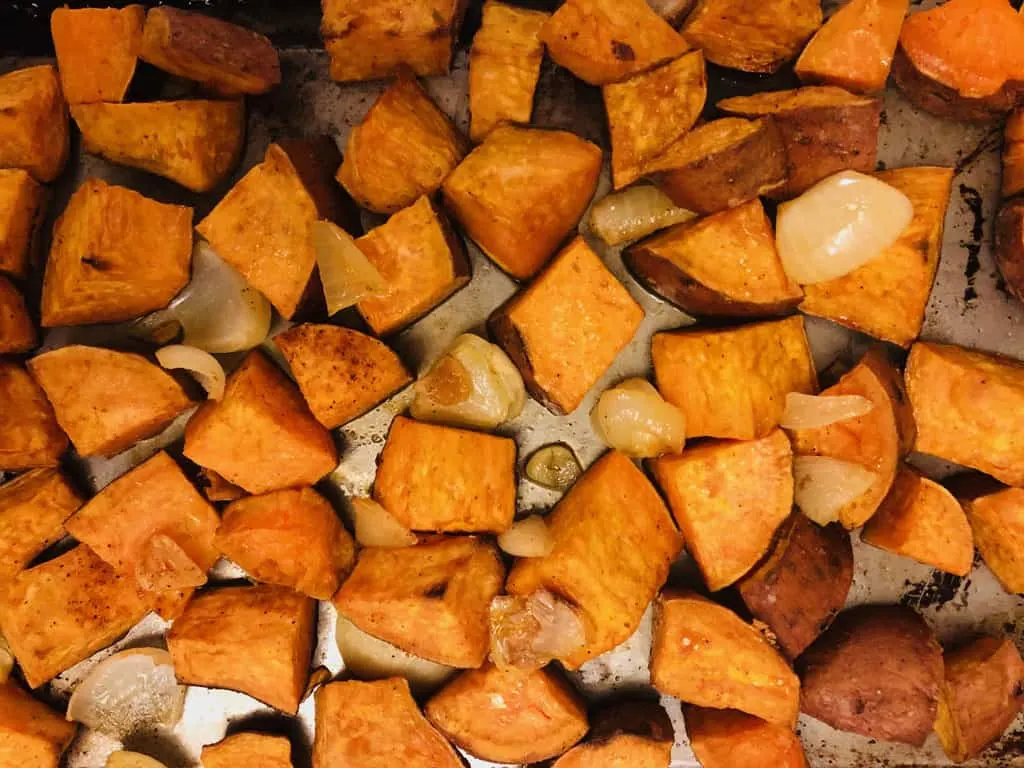 What To Serve With Roasted Sweet Potatoes
They work well with many dishes, or even on their own as a snack. You can serve them as a side dish alongside roast dinners, or meals such as Pulled Pork. Oven roasted sweet potatoes are also delicious when turned into a soup.
More Sweet Potato Recipes
Butternut Squash and Sweet Potato Soup