Baking is a hobby that can indulge not only your eating habits, but also your creativity. The home baker can achieve many incredible results by first following a tried and tested recipe, and then, if they wish, adding a creative spin to it.
If you are new to baking, or if you stick to the same few favourite recipes, experimenting with the unknown can feel dauting. But it doesn't need to be, as long as you have a few essential ingredients and equipment on hand, all you need to do is follow a recipe and have some fun with your creations!
Baking Essentials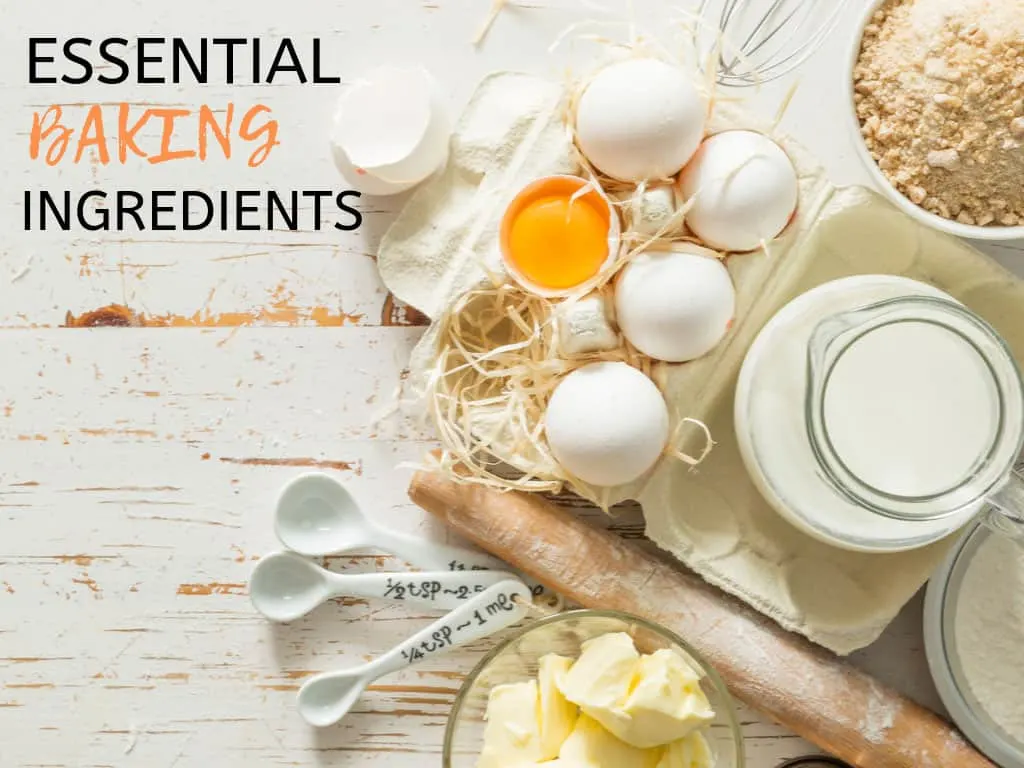 Ingredients
If you edge more towards spontaneous baking than plan ahead, it pays to have a basic collection of common baking ingredients on hand.
Plain flour
Self-raising flour
Baking powder
Sugar – caster, icing and brown
Vanilla extract
Golden syrup
Butter
Cocoa powder
Dried fruit mixes
Oats
Eggs

Equipment
We have over the years bought, or somehow inherited, a wide selection of baking utensils that fill a cupboard. Our 'baking cupboard' is an open at your own risk door, depending on how the tins have been packed back in there by the previous user!
If you are new to baking and don't know which items to buy, the following list is a good starting point. You obviously don't need to buy them all at once, aside from the bowl, spoon and kitchen scales, you only really need to get the baking tins as and when you decide to start baking with them.
Mixing bowl
Wooden spoon
Kitchen scales
Rolling pin
Plastic spatula
1 x 12 hole muffin tray
2 x 12 hole cupcake trays
2 x cake tins (18cm or 20cm)
1 x baking tray
2 x baking sheets
1 x loaf (oblong) tin
1 x loose bottom cake tin (20cm)
Baking paper
Cupcake and/or muffin cases
Wire rack
Cake storage tin
Baking Lingo
Beating – combining the mixture by whisking the ingredients with a electric whisker, food processor or wooden spoon. A job well done will result in a light and fluffy sponge.
Folding in – usually when you gradually add the flour to the creamed mixture (butter and sugar). The idea is to keep as much of the air inside the mix as possible.
Creaming – combining butter and sugar together until the mixture is light, fluffy and lighter in colour. For the best results use butter that is at room temperature. Beat the butter in a bowl first until it is a soft consistency and then add in the sugar. You can use either a wooden spoon or an electric hand mixer. Don't over mix it or the air will escape and result in a denser cake consistency.
Rubbing in – the end result is a breadcrumb like mixture. You need to get your hands dirty to achieve this – place the flour in a bowl and add in cubes of butter according to the recipe measurements. Rub the butter into the flour with your fingertips until the mix resembles breadcrumbs.
Dropping consistency – using a spoon, scoop some mixture out of the bowl and allow it to slowly fall off, without shaking it. The mixture should neither pour off, or stick to the spoon.
Troubleshooting – What Went Wrong?
There's nothing more disappointing than following a recipe, waiting patiently for it to bake, and then for it not to turn out quite as well as you'd hoped! This has happened to me more times than I can remember!
Here's some of the things that can go wrong and the possible reasons why;
Sunken Cake
Too much sugar
Too much raising agent
Not cooked for long enough
Oven too cool
Oven too hot
Cracked Cake
Oven too hot causing the cake to rise to quickly and crack.
Baking tin too small
Mixture too stiff
Too much baking powder
Burnt On The Outside, Wet In The Middle
If your cake is burnt on the outside this could be because you've over greased it (see notes below under 'Greasy Cake'). The excess butter or oil will literally fry the cake mixture making it harder and browner/burnt.
Oven too cool to cook the inside. Turn the temperature up a little. Use a skewer to check if it is cooked on the inside.
Cake Stuck In Tin
If you try to remove a cake from it's tin too soon after taking it out from the oven it might stick and crumble. Leave it in for about 30 minutes to cool down.
Greasy Cake
Too much butter/oil when greasing the baking tin, you only need a thin coating, or preferably use some greaseproof paper
Cake Didn't Rise
Using out of date or stale baking powder
Opening oven door during the baking time
Mixture over mixed
Bad quality flour – if using self raising flour, make sure it is of decent quality
Faulty oven
Using the wrong sized baking tin – if it is too large for the cake it will spread out more and be flatter.
Baking Ideas
There are so many different cakes and bakes you can make! Here's a little inspiration to get you started, with plenty more to come 😉
PIN IT FOR LATER