Flapjacks are a classic snack that appeals to all ages. And with only 4 ingredients in a traditional flapjack recipe, they're not that hard to make either!
A flapjack makes the perfect lunchbox treat, as well as a great afternoon energy booster. The porridge oats are full of slow-releasing energy, making you feel satisfied for longer.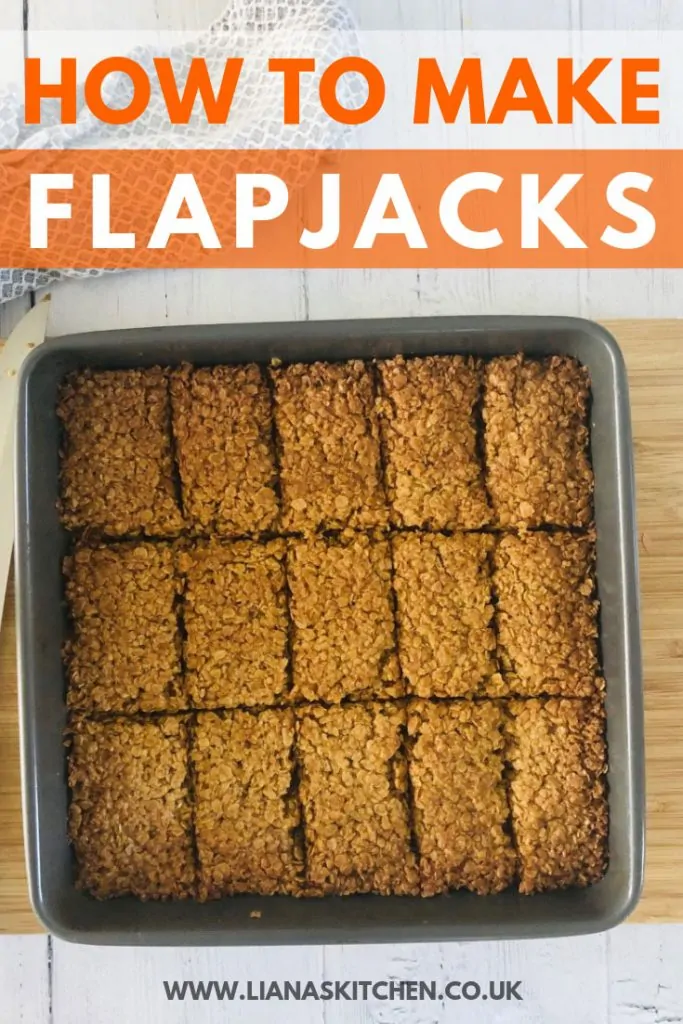 How To Make Flapjacks At Home
This is a classic recipe that involves minimal preparation. With only 4 ingredients, it's hard to go far wrong (but of course possible, so do read my tips and tricks later on to avoid them!)
You might also like: Air Fryer Flapjacks
Flapjack Ingredients
250g (8oz) butter or margarine
250g (8oz) soft brown sugar
450g (16oz) porridge oats
4tbsp golden syrup
These measurements make about 15 decently sized flapjacks; they can be cut in half again to make smaller bite-sized flapjacks.
If you don't want to make so many flapjacks, simply half all the amounts above. As there are 5 of us (and usually extras for tea!) I usually make bigger portions – I figure if I'm going to the effort of making them I may as well make enough to last the week!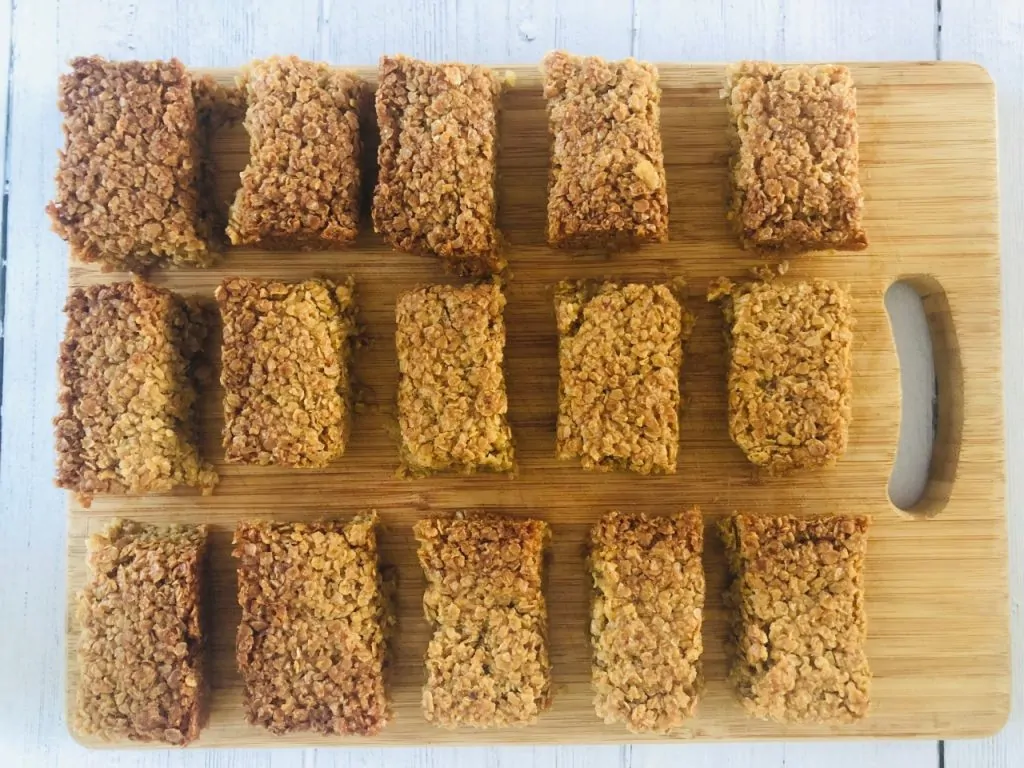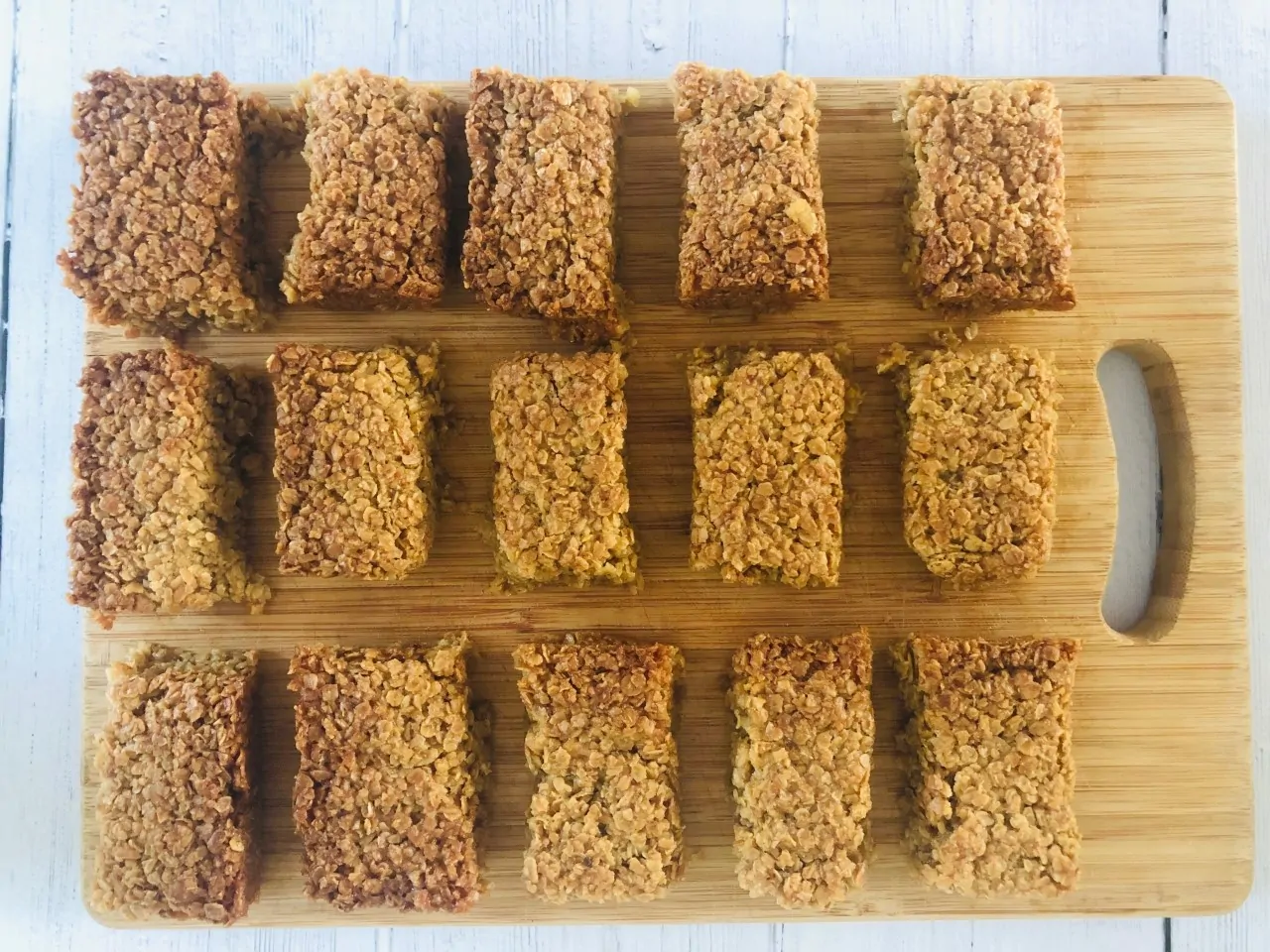 I prefer to use butter rather than margarine, especially for flapjacks – it gives them that lovely buttery taste that feels so comforting. You can however use margarine if that is what you usually have.
I find that using that amount of golden syrup is the perfect ratio for moist and gooey flapjacks – if you prefer a crunchier and drier texture reduce the amount down to 2 to 3 tbsp.
Aside from weighing the ingredients, the only thing you need to do is melt the butter/margarine in a saucepan on a low heat. At the same time, stir in the sugar and mix it together.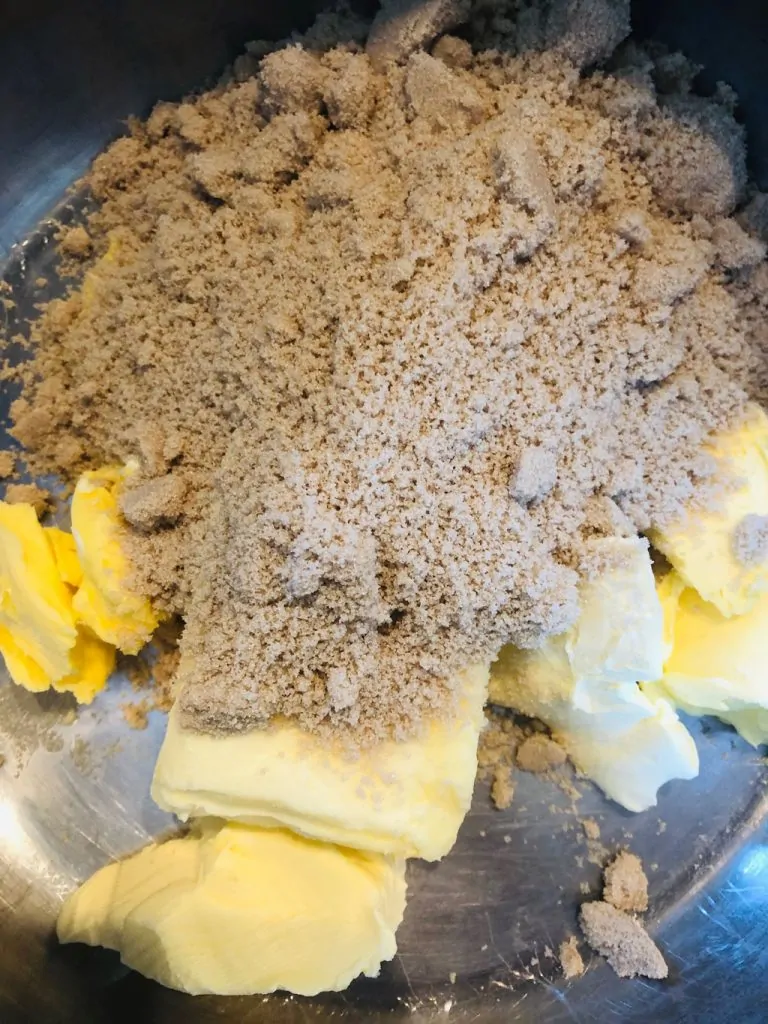 Then switch off the heat and stir in the golden syrup and porridge oats. Give the porridge oats a really good stir and make sure they are adequately coated in the butter and sugar mixture.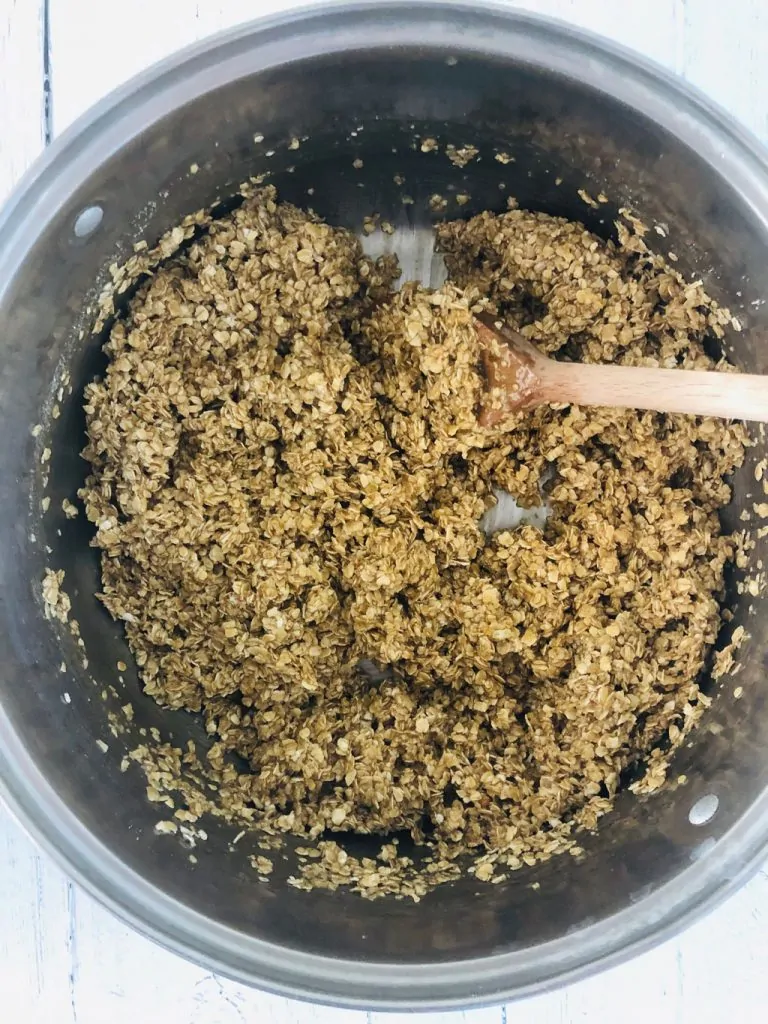 When you transfer the flapjack mixture to your greased baking tin you can use the back of a spoon or a palette knife to press it down and make sure it gets right up to the edges and into the corners.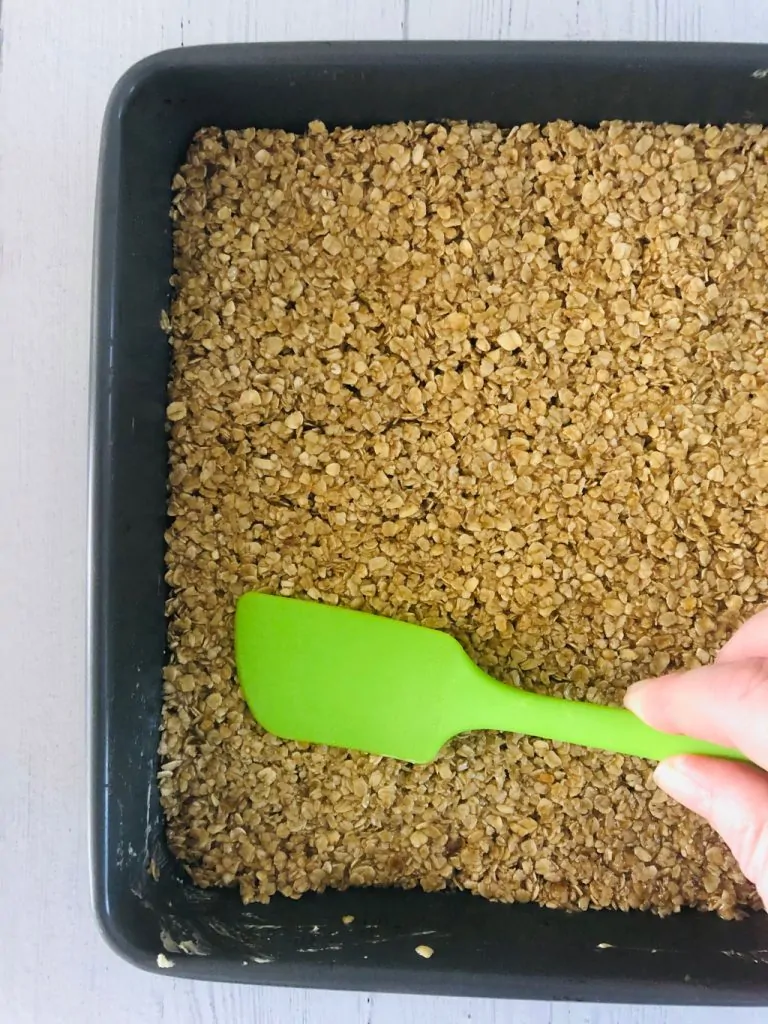 Cook for about 20 to 25 minutes in a preheated oven. I like to check on them at 20 minutes to make sure they aren't hardening up too much. This is really key when cooking flapjacks to prevent them from getting too crunchy (unless that is your aim of course!)
When they start to go golden and slightly hard at the edges, they are usually ready to come out. The flapjacks will feel soft to the touch, don't worry, they will harden up as they cool down.
I like to cut them up when they are still warm and in the tin. As the flapjacks start to cool down they will harden up, making them more tricky to cut up.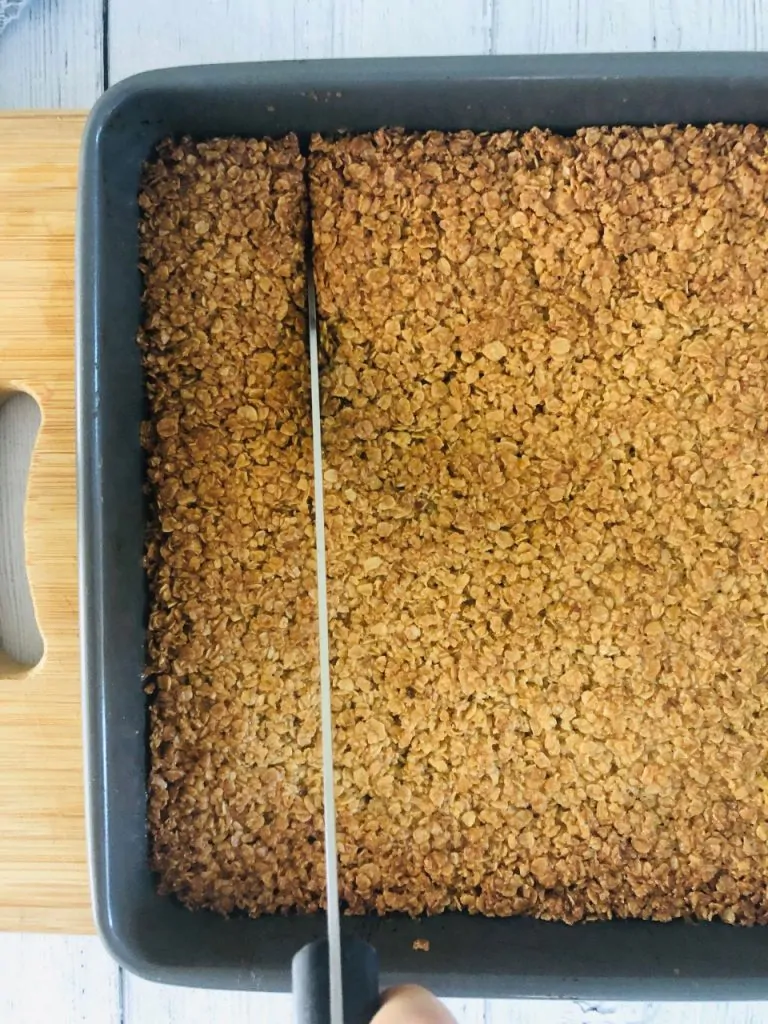 Leave the flapjacks to cool before taking them out of the baking tin – if you try and take them out too early they might crumble. If they start to fall apart when you remove them from the baking tin leave them to cool down for a little longer.
Flapjack Variations
You can use this recipe as a base and add in extra ingredients to vary it up a bit. Suggestions include;
Dates, chopped
Dried or glace cherries, chopped
Raisins or sultanas
Nuts and/or seeds
Chocolate – you can drizzle some melted chocolate over the cooked flapjacks and then allow to set.
If you are storing them they can be kept in an airtight container for up to a week.
Flapjack Questions
I get asked quite a few questions about making flapjacks, below are some of the most frequently asked ones. If you have one that I've not yet answered, please feel free to pop it in the comments and I'll do my best to reply to you.
1. Should Flapjacks Be Soft When Cooked?
Yes, they will be soft when you first take them out of the oven – don't worry, they are not undercooked! They will harden up a little bit as you leave them to cool – enough so that they are the perfect chewy texture without crumbling or falling apart.
2. Why Is My Flapjack Falling Apart?
Assuming you have cooked it for long enough and allowed it to cool for at least 5 minutes, your flapjack shouldn't be falling apart. If it is, it could be down to either the type of porridge oats that you used. I tend to use regular/standard porridge oats as opposed to 'large' oats. Neither are right or wrong but each oat type will produce a different texture. The larger type of porridge oats might result in a flapjack that is harder to bind together with the other ingredients – to fix this I would add a little more melted butter/golden syrup.
3. Why Are My Flapjacks Hard?
You may have left them in to cook for a little too long. Once the flapjacks start to harden up slightly around the edges it is definitely time to take them out. Also, try not to allow the butter and sugar to boil during the melting stage.
Other Baking Recipes You Might Like
Shortbread
Banana Bread
Cupcakes