I really love adding spices to my soups and turning them into a curried soup. This curried potato soup is my version of Bombay potato, one of my favourite Indian side dishes.
It can be served either smooth or chunky, I personally prefer this one with the potatoes still whole (well, diced), but it also works on smooth, or somewhere in the middle with a short sharp pulse at the end.
Whichever consistency you prefer, if you like curried soups, this one is for you.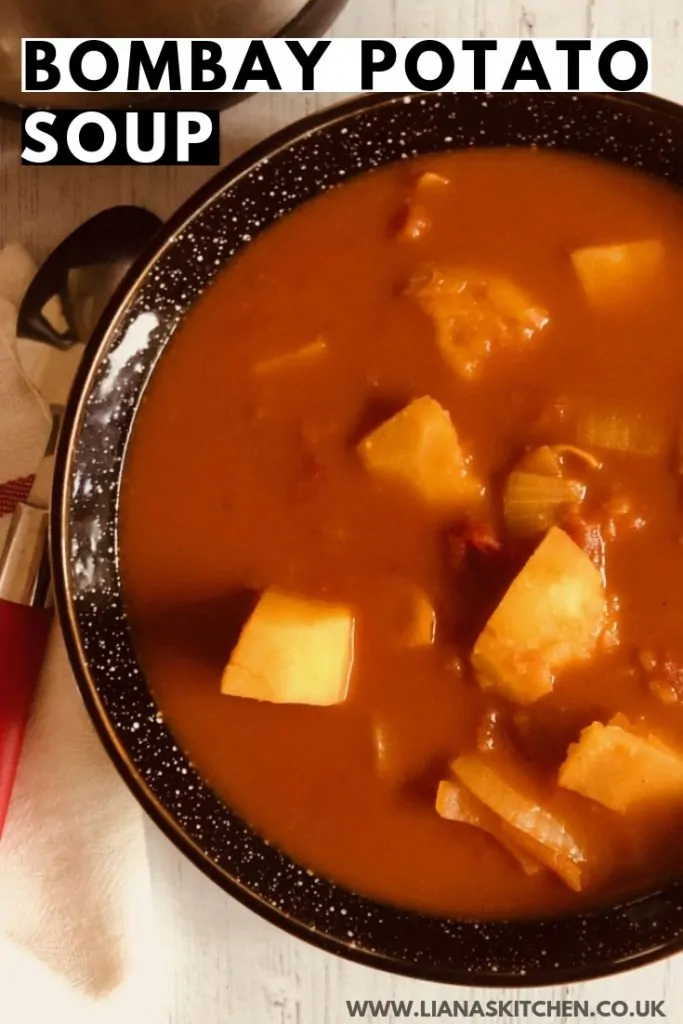 The Ingredients
Keeping with my preference of simple recipes with minimal ingredients, this curried potato soup uses the following;
onion
potatoes
medium curry powder
turmeric
chopped tomatoes
tomato puree
vegetable stock
I used about 700g of diced potatoes in this recipe. You can use your choice of potato, I used Maris Piper, because that is what we had 🙂 You can also choose to leave the skin on if that is your preference.
Related: Spicy Tomato Soup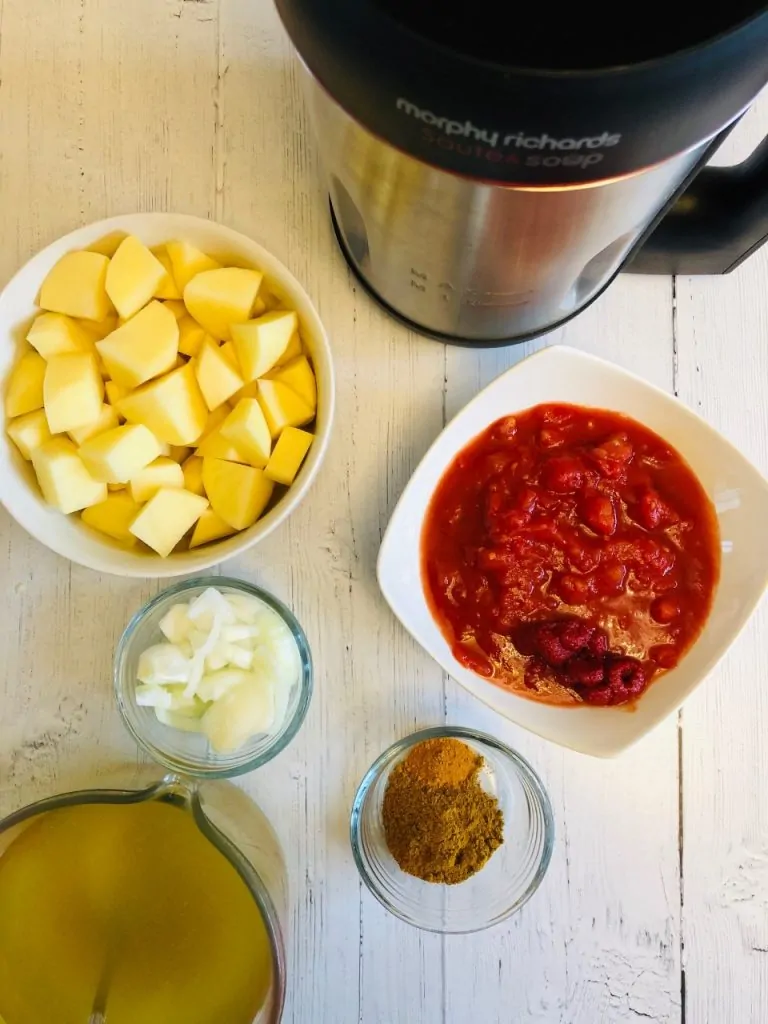 I ended up using 3 tablespoons of curry powder, you may want to use less if you prefer a milder taste, maybe just 2 tablespoons. You can always add an extra teaspoon/tablespoon at the end if you wish.
Although sauteeing any ingredients at the beginning is totally optional, with curried soups, or where spices are involved, I like to mix a little oil, onion and spices altogether.
If you don't have one of the sauté models, you can either skip this step, or do it in a pan on the hob.
Once you have cooked the onions for a couple of minutes in your choice of oil, add the spices and stir the onions to make sure they are well coated.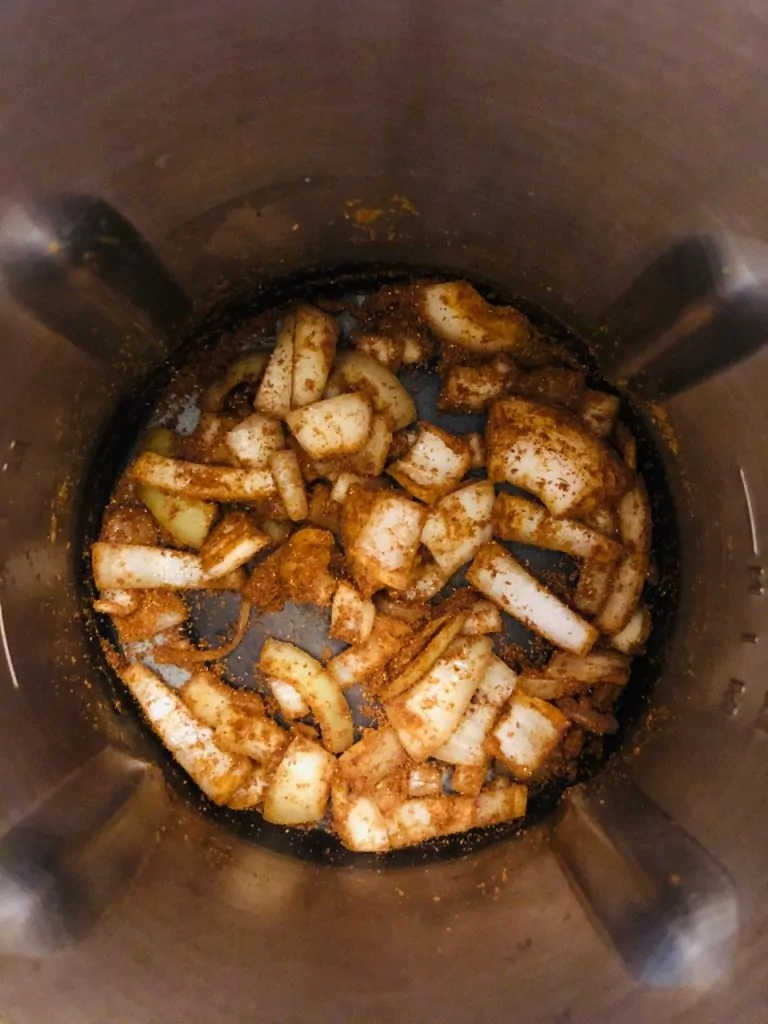 This is where the Morphy Richards Sauté and Soup Maker is better suited than the later Morphy Richards Total Control model. As I explain in this post about the Morphy Richards Soup Makers, the lid stays off during the sauté function for the earlier model, but must stay on for it to work with the Total Control. Although you could still make it work, it gets a little tricky to not be able to stir the ingredients around as they cook.
If some of the spices are sticking to the bottom of the soup maker (or pan if you are doing it on a hob), add a little hot stock, or water, and deglaze the base. This will also produce a curry paste to coat the diced potatoes in, which go in next.
Add the remaining ingredients; chopped tomatoes, tomato puree and top up with vegetable stock. Give everything a good stir to make sure everything is well mixed together, and nothing is stuck to the bottom.
You can set this soup off on either chunky or smooth. I chose chunky as I wanted to keep the potatoes whole. I enjoyed a bowl like that, and then used the manual blend function to quickly pulse up the rest. The result was a thick soup, with a few chunks of potato to still munch through.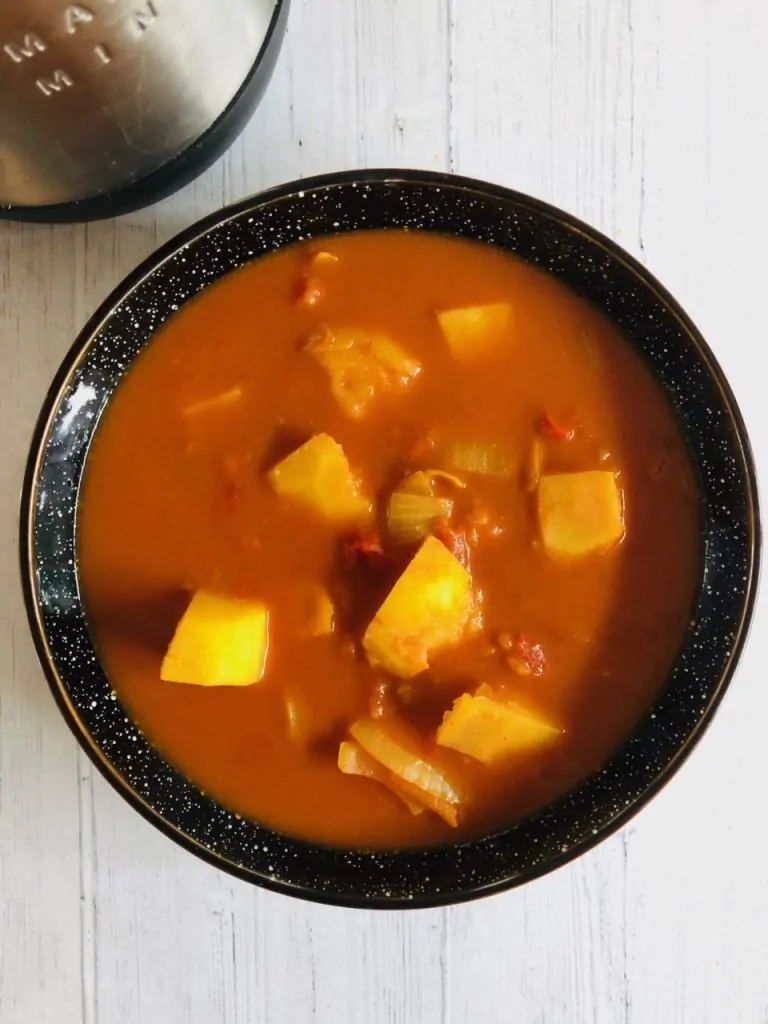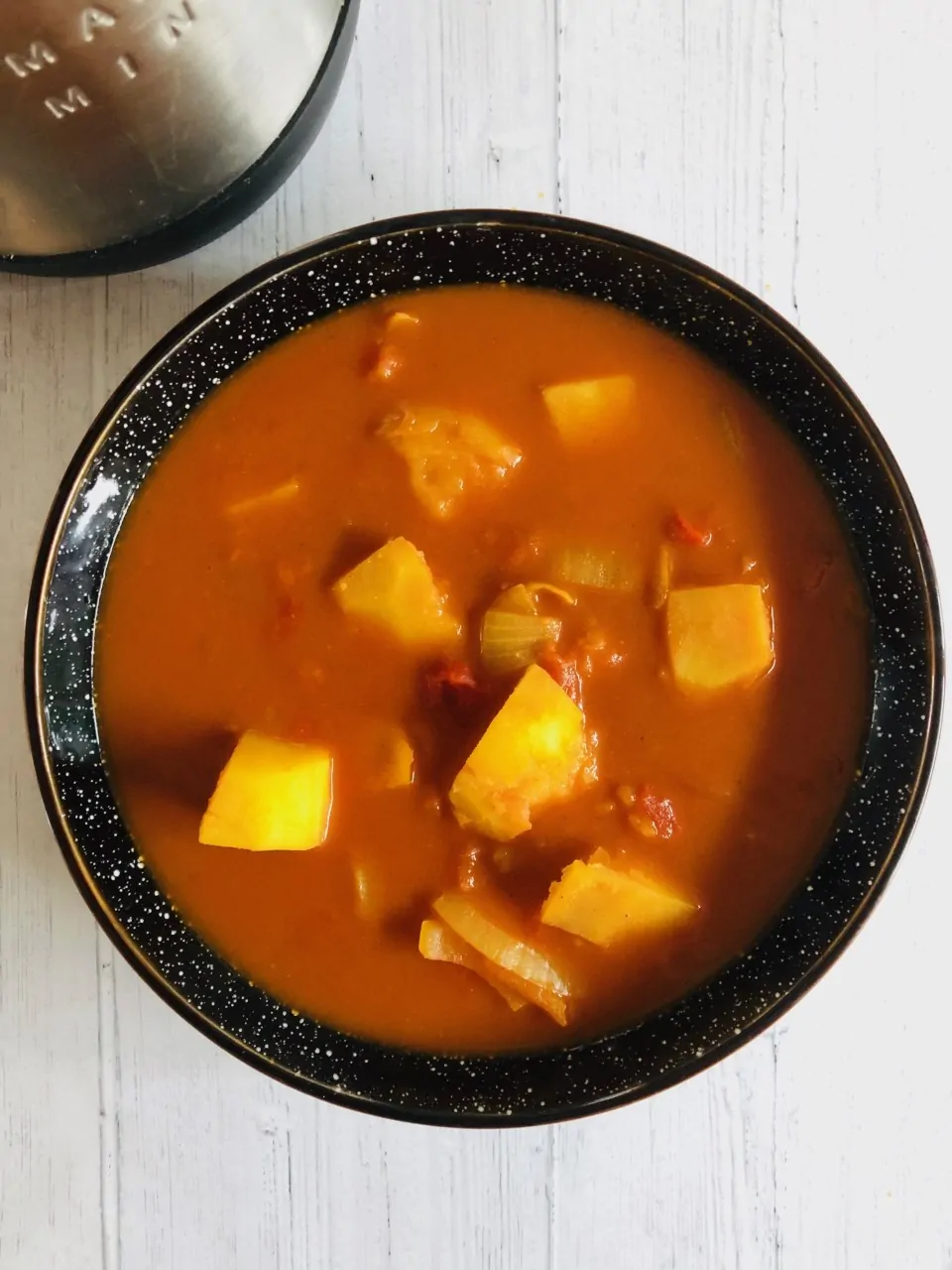 I hope you enjoy this recipe – let me know in the comments if you make it! You can also find some more soup maker recipes here.
If you would like to join a friendly bunch of soup makers and get some more soup recipe inspiration please feel free to join us over on my private Facebook group.