Are you looking for an easy to make banana recipe?
We always seem to have a few bananas left over each week that are perfectly ripe for turning into tasty banana bread.
Banana bread is perfect to eat as an afternoon snack or to pop in the kid's lunch boxes for a special treat.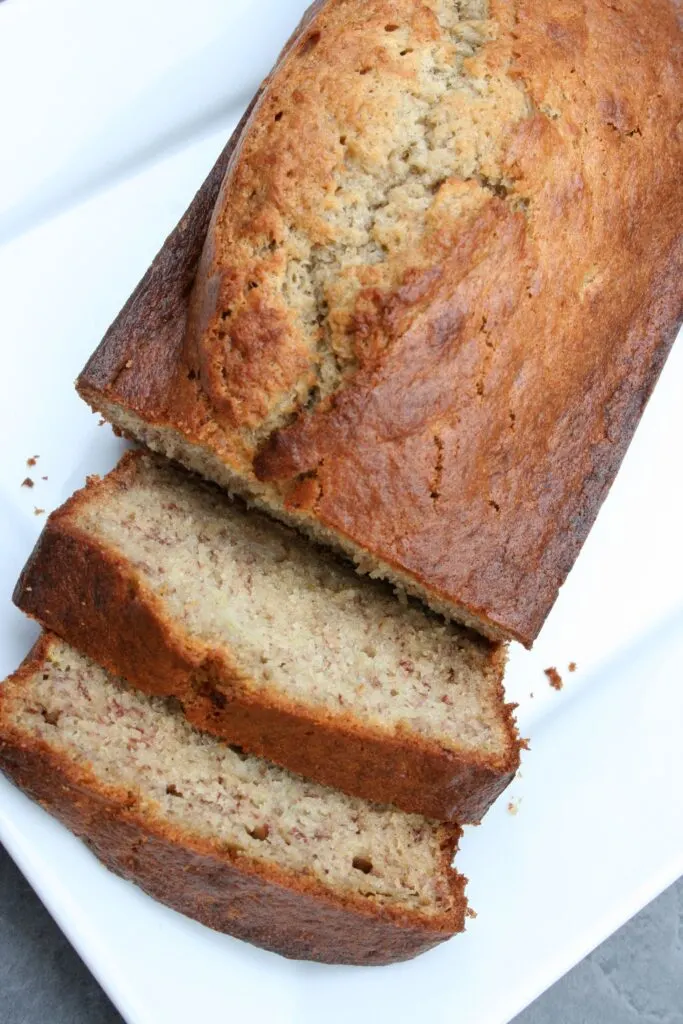 How To Make Banana Bread
There are plenty of banana bread recipes to choose from, from ones without eggs to those that include chocolate chips.
Ingredients Needed For Banana Bread
There are many banana bread variations; I've tried a variety of combinations and cooking times but have found these ones to produce the best results.
Please scroll down to the recipe card at the bottom for measurements and full instructions.
Bananas
The bananas I use tend to be medium-sized. If you use larger bananas, you might find that the bread turns out 'wetter' in texture, perhaps even a little soggy. I either use two or three bananas,
Butter
Make sure this is at room temperature, or if need be, you can melt it. I make it with unsalted butter but you can use salted butter.
You can substitute the butter for vegetable oil if you prefer. As a general rule of thumb, substitute with 3/4 oil for the amount of butter in the recipe (in the case of this recipe, you'll put in 90ml of vegetable oil).
Sugar
I usually make it with brown sugar but it can be made with caster sugar if that is all you have. You can also reduce the amount of sugar in the recipe if you wish; bananas can provide quite enough sweetness sometimes!
Side Note: if you would rather leave out the sugar, you can bake with honey or maple syrup instead.
Eggs
The eggs are beaten before they are added to the mixture. You can make this recipe without eggs, whether that's for health reasons, or you just don't have any eggs available.
What you should know if you don't include eggs is that the banana loaf will turn out denser and not as moist but it will still be a tasty recipe.
Some recipes include applesauce as a substitute or increased bananas. I've never made an eggless one before but this one looks pretty amazing if you want to give it a try.
Flour
If you don't have any self-raising flour you can substitute it with plain flour and add in some baking powder. If you have bread flour, this can also be used instead, as can whole wheat flour.
Cinnamon
If you've used any of my other recipes from this blog before, you'll know that I love using cinnamon when I bake! This is an optional extra in the list of ingredients, but well worth adding. I stir it into the mixture when I'm sifting the flour in.
Other Extras
You can also experiment with adding some sultanas, and nuts (walnuts are a good option).
How ripe do bananas need to be?
If a banana is yellow, with a hint of green, and no brown speckles, the chances are it isn't ripe enough. The browner and more speckled brown the banana is, the riper it will be.
Not only will a ripe banana be easier to mash, but it'll also be much sweeter. That's not to say you can't use a less ripe banana; just be aware that it might not be as moist and sweet.
You might also enjoy my Quick and Easy Banana Muffins
Preparing Banana Bread
Start by mixing the butter and sugar together – make sure the butter has been softened, or melted, before mixing in.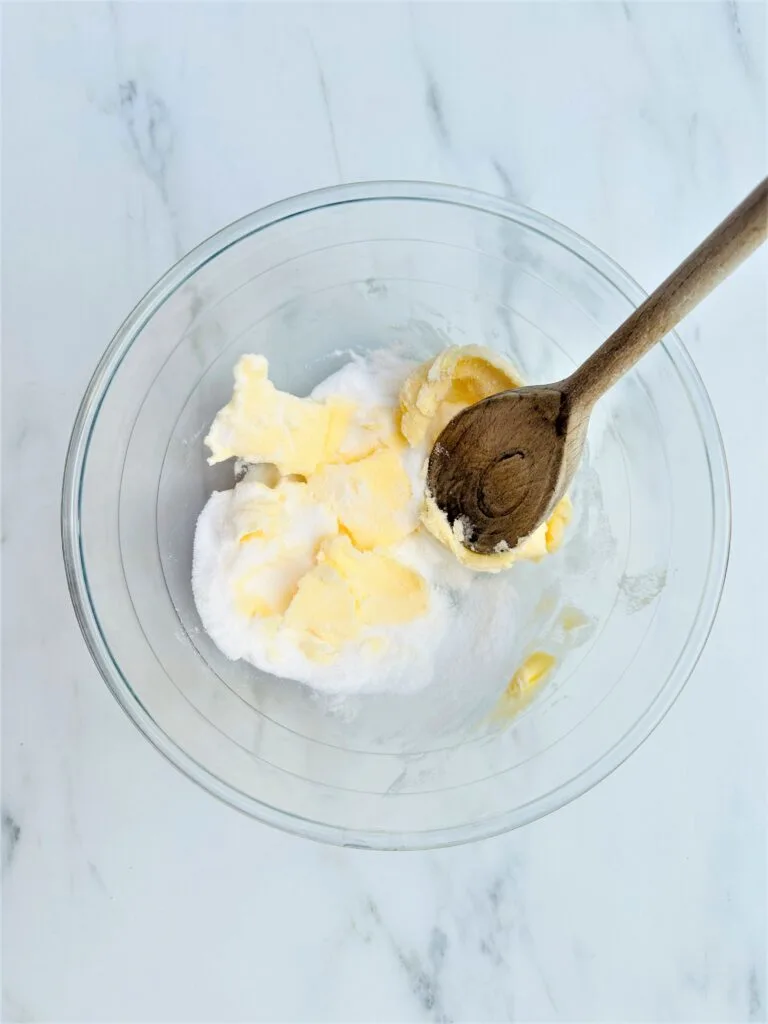 Once the butter and sugar is combined, stir in the flour, baking powder and cinnamon followed by the beaten egg.
If the bananas you are using are ripe enough you will be able to easily mash them using either a fork or a potato masher.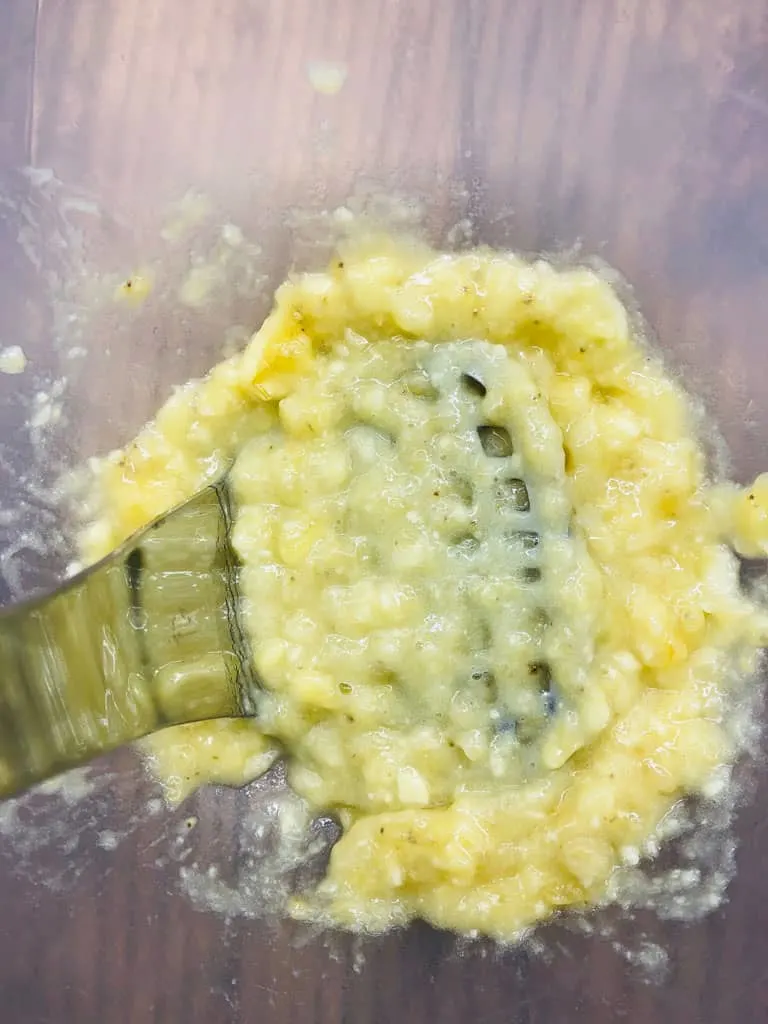 Add the mashed banana to the bowl and stir it, making sure it is well mixed.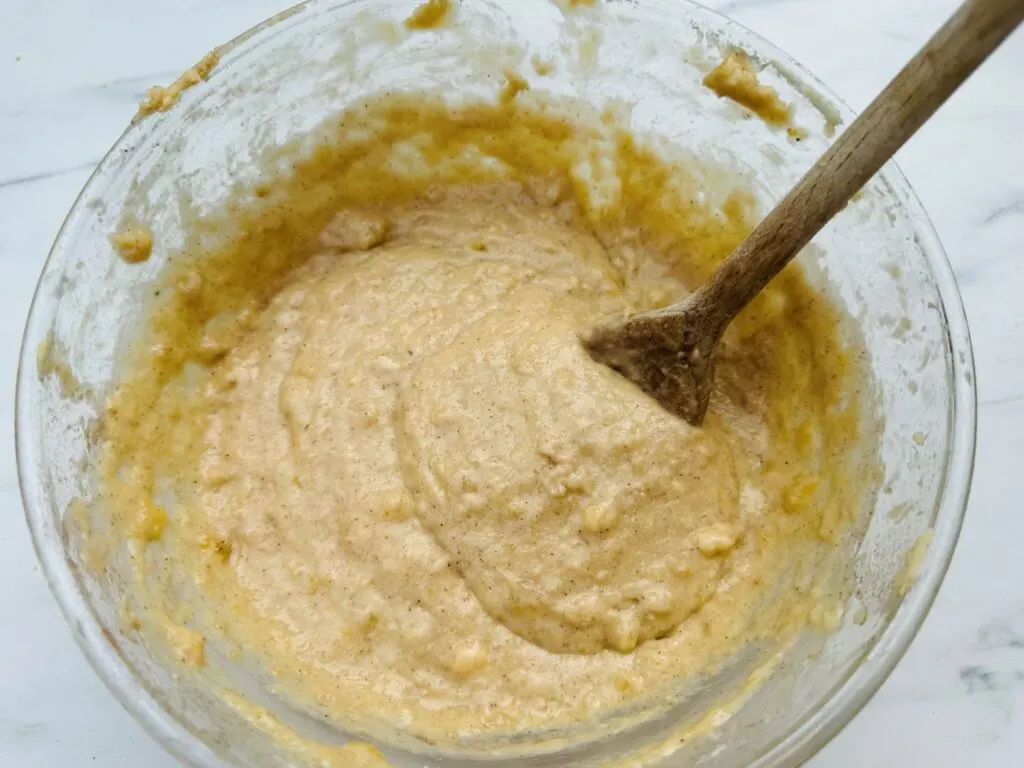 You're now ready to transfer it to the greased loaf tin before putting it in the preheated oven, ready to be baked.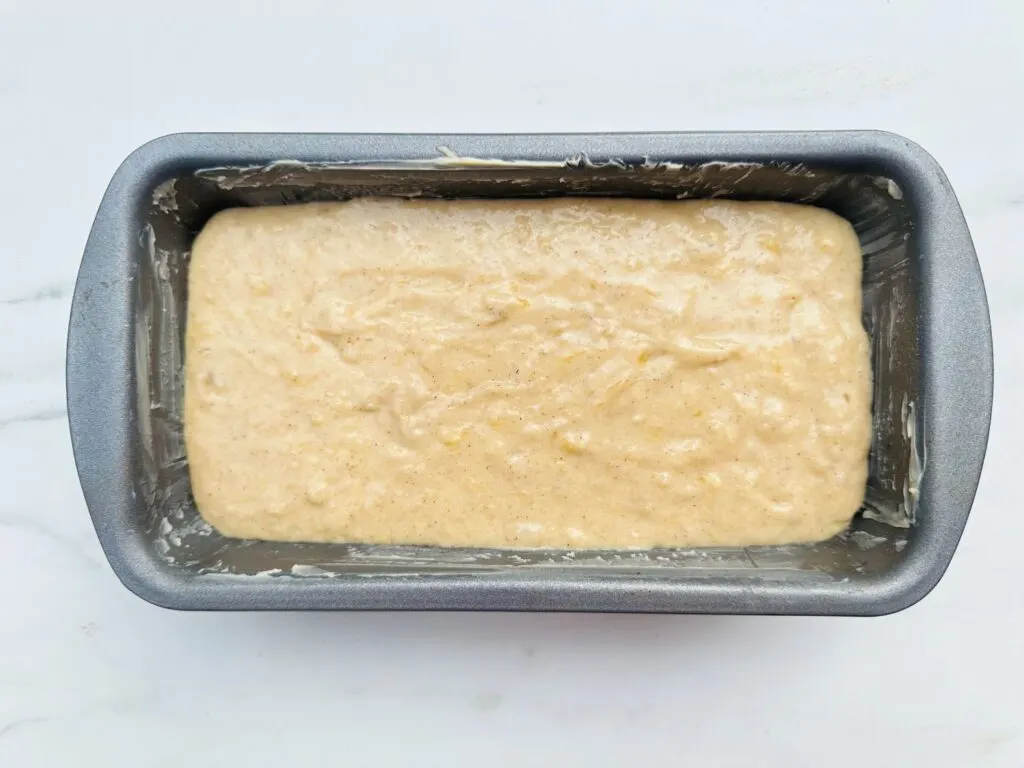 Cook for between 45 minutes and 1 hour at 180°C/Gas Mark 4.
After the cake is ready – between 45 minutes and 1 hour, take it out and leave it to cool for around 20 minutes before removing it from the tin.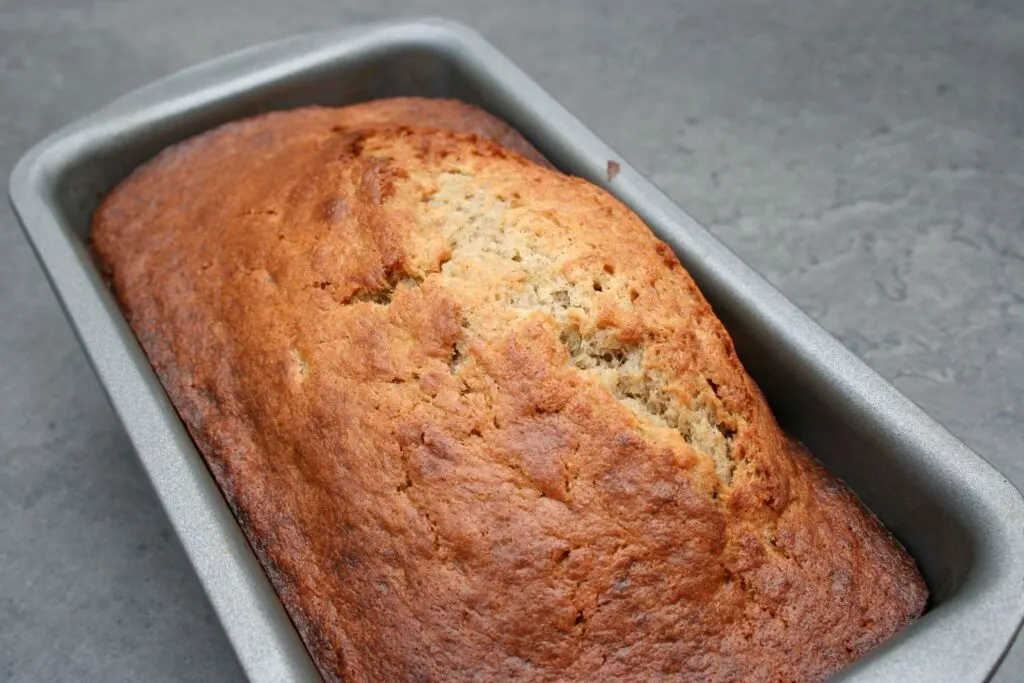 Leave it to cool for a little longer on a wire rack before slicing it up ready to eat and enjoy!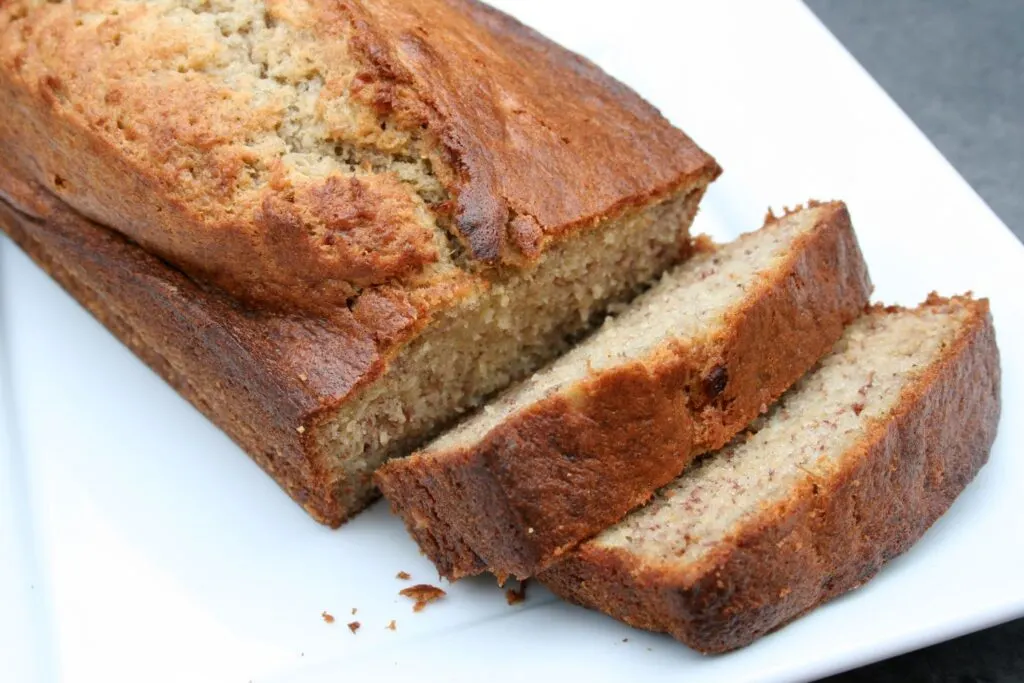 Banana Bread Hints and Tips
Why Is My Banana Bread Soggy/Undercooked On The Inside?
At the end of the suggested cooking time use a skewer or sharp knife to insert it into the centre of the loaf. If it comes out clean, it's ready.

Make sure you are not using too many bananas, sometimes, if you are using larger bananas, the extra will throw out the ratio of the ingredients and leave it with a wetter texture on the inside.

If you feel you are using the right amount of banana, it could be that you need to cook it for longer.
You should cook it for longer but without burning/overcooking the outside. Try covering the loaf pan with some foil and cooking it for a further 10 minutes.
How Do I Keep Banana Bread Moist?
If by some miracle you have some leftovers to store, you will want to try and prevent them from drying out. If you store it in an airtight container it will last for a few days – don't put it in a fridge or you will dry it out.
Can I Bake Banana Bread In A Round Cake Tin?
Yes, it can be baked in a cake tin, but you may need to reduce the cooking time. This is because the batter will be thinner in depth as it has more space to spread out.
Can I Toast Banana Bread?
If you are not eating it on the day that it is baked, you can lightly toast it and put some spread on it – honey or peanut butter tastes amazing! It also tastes good with some cream cheese.
How Long Does Banana Bread Last?
Banana bread lasts up to 5 days outside of the fridge in an airtight container.
Can You Freeze Banana Bread?
Yes. Wait for the banana bread to completely cool down. You can freeze it whole, or sliced. Wrap it in cling film or foil.
How Long Can You Freeze Banana Bread For?
You can freeze banana bread for up to 3 months.