Whenever we have ripe bananas hanging about I tend to make our family favourite banana bread. But today, with less time to wait for the oven to bake the banana cake, I decided to try out making banana muffins instead.
Read on to see how easy they were to make, and then grab the recipe at the bottom 🙂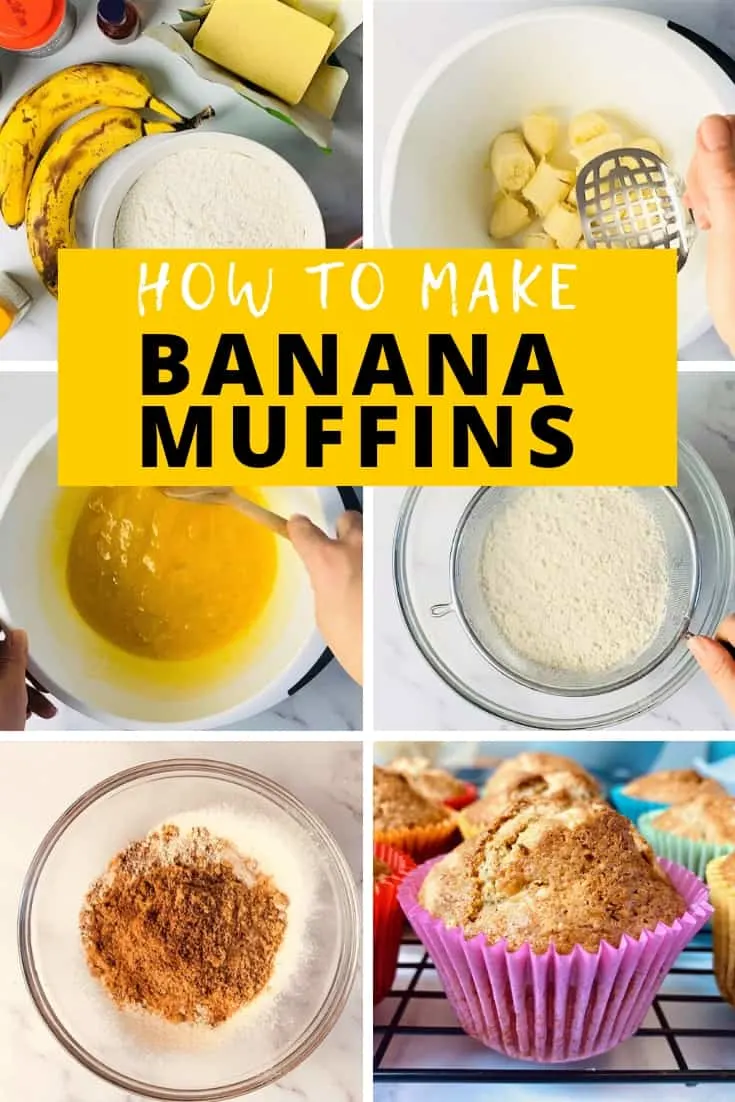 How To Make Easy Banana Muffins
The ingredients you will need for banana muffins are generally ones you'll already have – and of course some ripe bananas! If you really want to make this recipe, but your bananas aren't quite ripe enough, you can try out some different methods on how to ripen bananas.
Banana Muffin Ingredients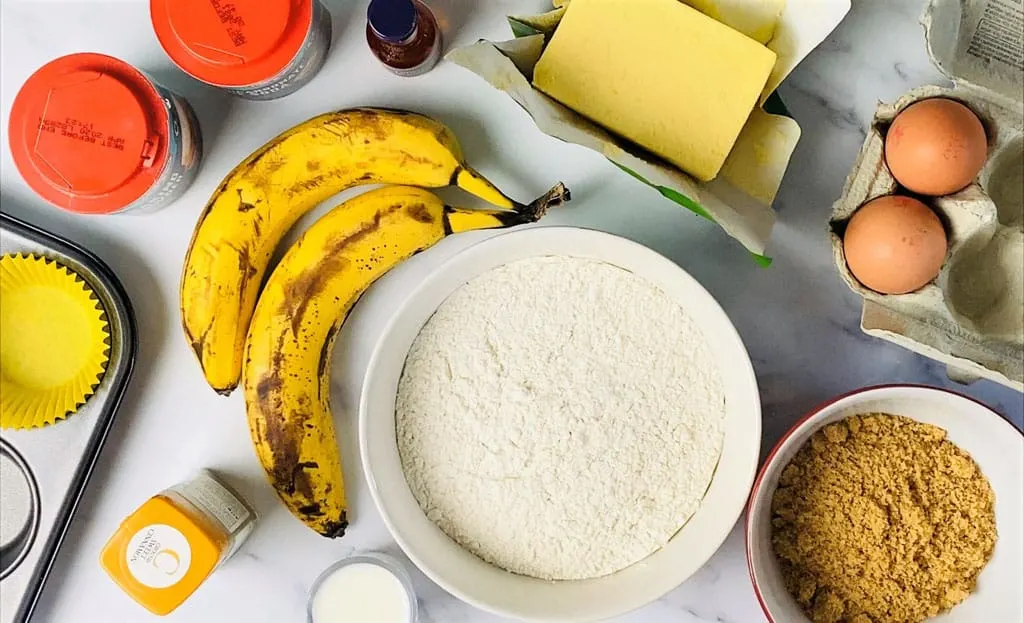 So, the ingredients we need to gather before making the muffins are;
ripe bananas – the riper they are the better. The muffins will be easier to mash as well as ensure the muffins taste deliciously sweet. I tend to use 2 ripe bananas but you can use 3 – you'll just get a more moist and intense banana flavour.
eggs – use 2 medium eggs, beaten.
butter – I always melt the butter in a microwave before mixing it. If you don't have butter you can use margarine.
self-raising flour – this will be sifted in.
brown sugar – you can use caster sugar if that is all you have.
milk – you only need to use a few tbsps of milk, it just really helps to produce a moist banana muffin.
vanilla extract
cinnamon – I love putting cinnamon in cakes and muffins, especially banana related ones! You could also use nutmeg.
bicarbonate of soda and baking powder
Extras
You can also vary the taste and texture of the banana muffins by adding in some additional ingredients; chocolate chips, walnuts or pecans.
Making Banana Muffins
Heat the oven to 200C (gas mark 6). Note: You will turn this down during the baking time.
The first step is to mix together all the 'wet' ingredients. So, the mashed bananas, melted butter, beaten eggs, milk and vanilla extract.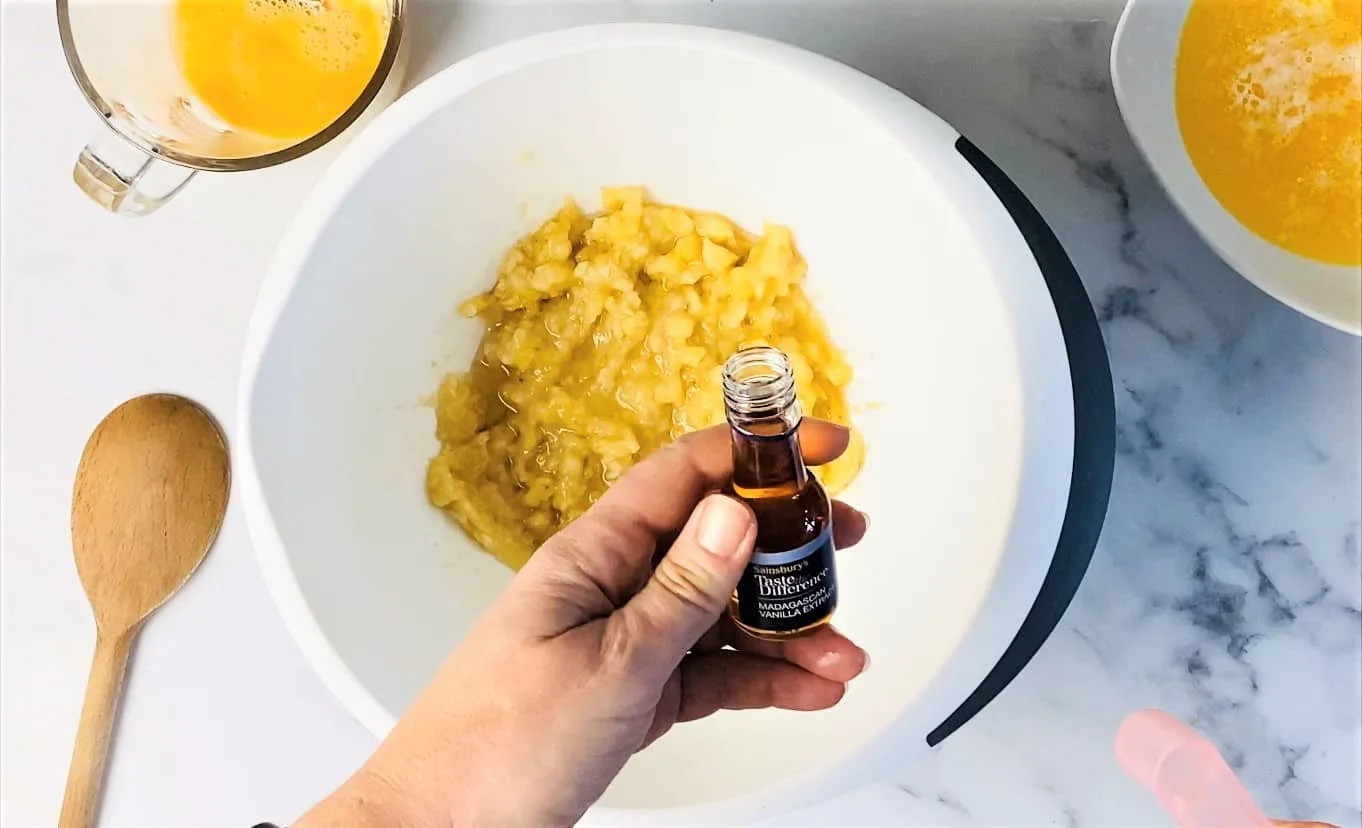 It won't be hard to mix these together, just gently combine them.
In a separate bowl you will then prepare the 'dry ingredients'. Start off with sifting the flour, bicarbonate of soda and baking powder into the bowl. Then add the cinnamon and sugar.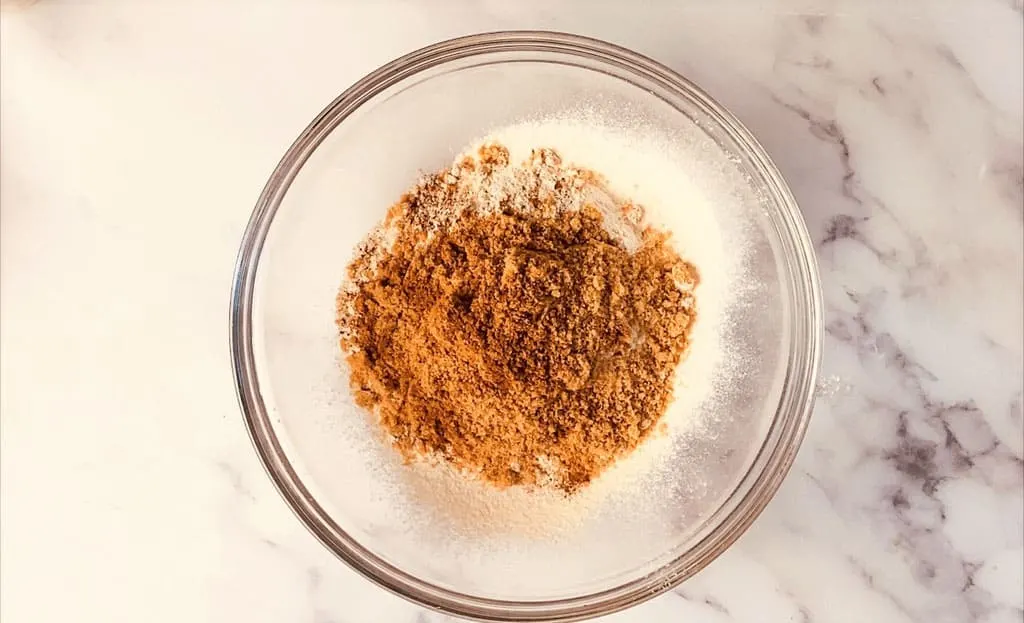 Make a well in the centre and pour the 'wet ingredients' into the middle. Again, gently mix everything together, you don't need to go crazy with the wooden spoon, just some gentle stirring until everything is combined.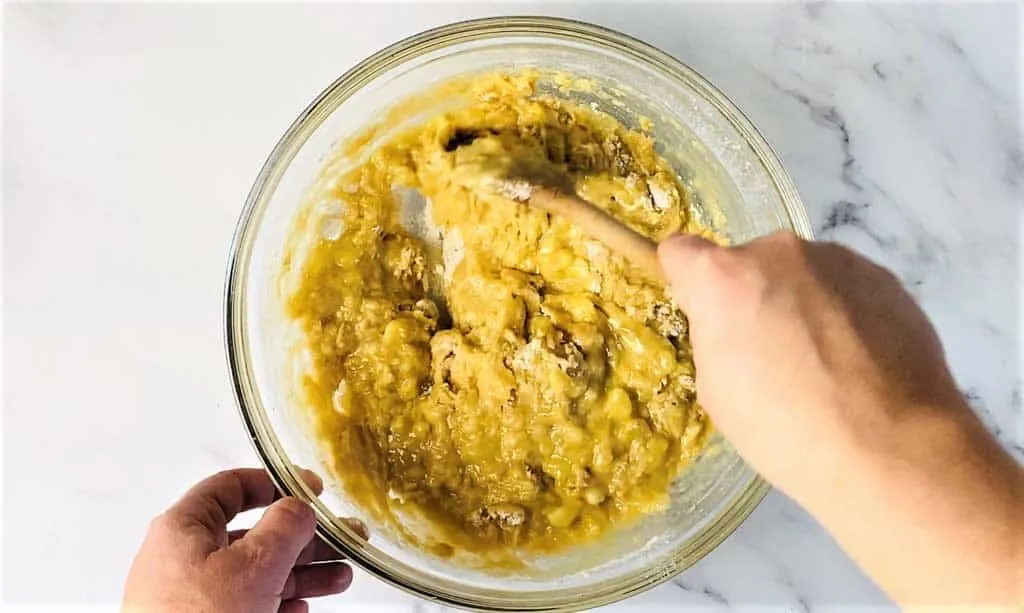 Line a tray with 12 muffin cases and fill up – almost to the top – with the banana muffin batter. This will make sure the muffins rise nice and tall!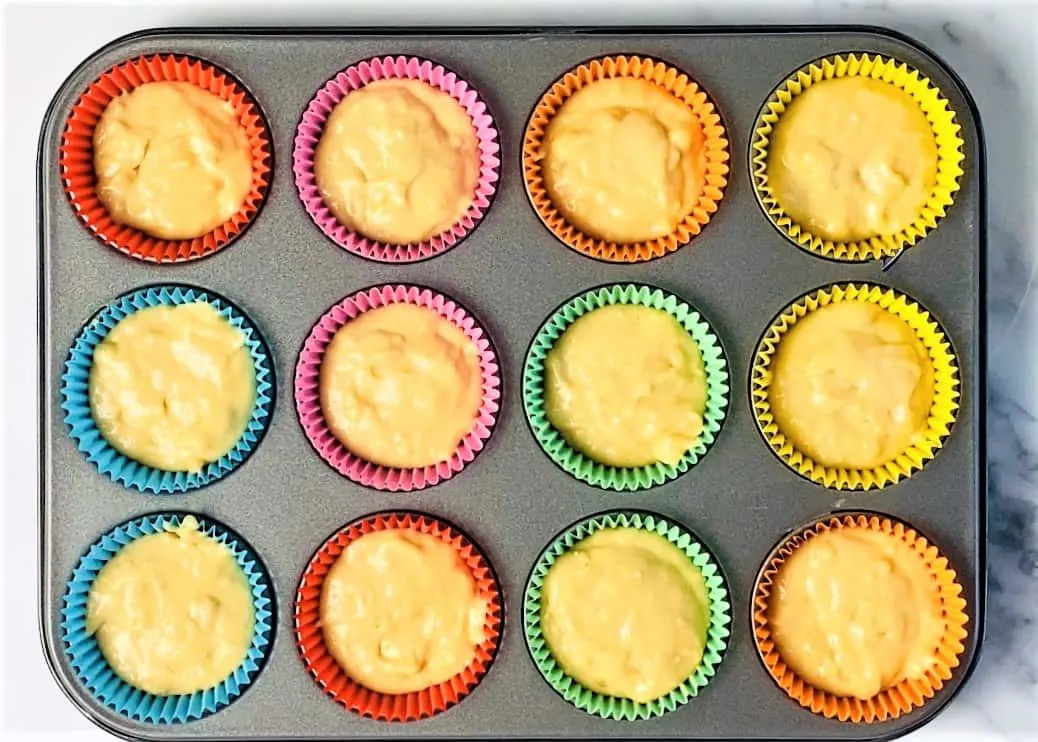 Pop them in the preheated oven – after 5 minutes turn the heat down to 180C (Gas Mark 4) and leave them to cook for a further 15 to 20 minutes. When they are ready they should be golden brown and have risen.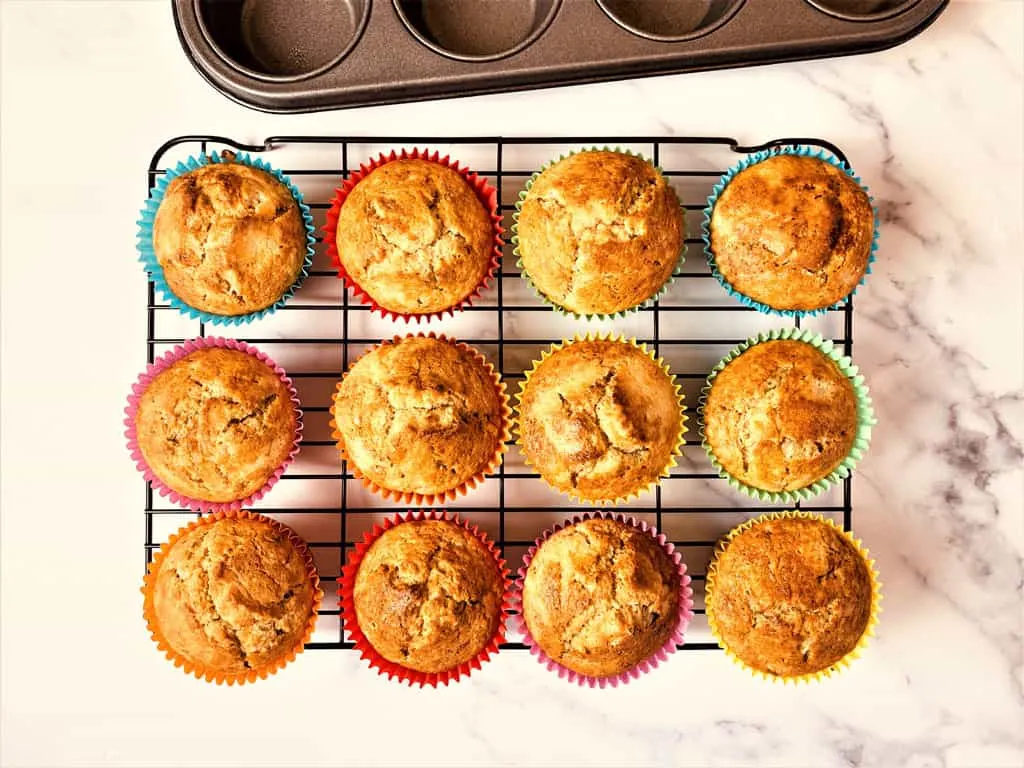 Leave them to cool down on a wire rack – banana muffins taste lovely when they are still warm, as well as when they have completely cooled down.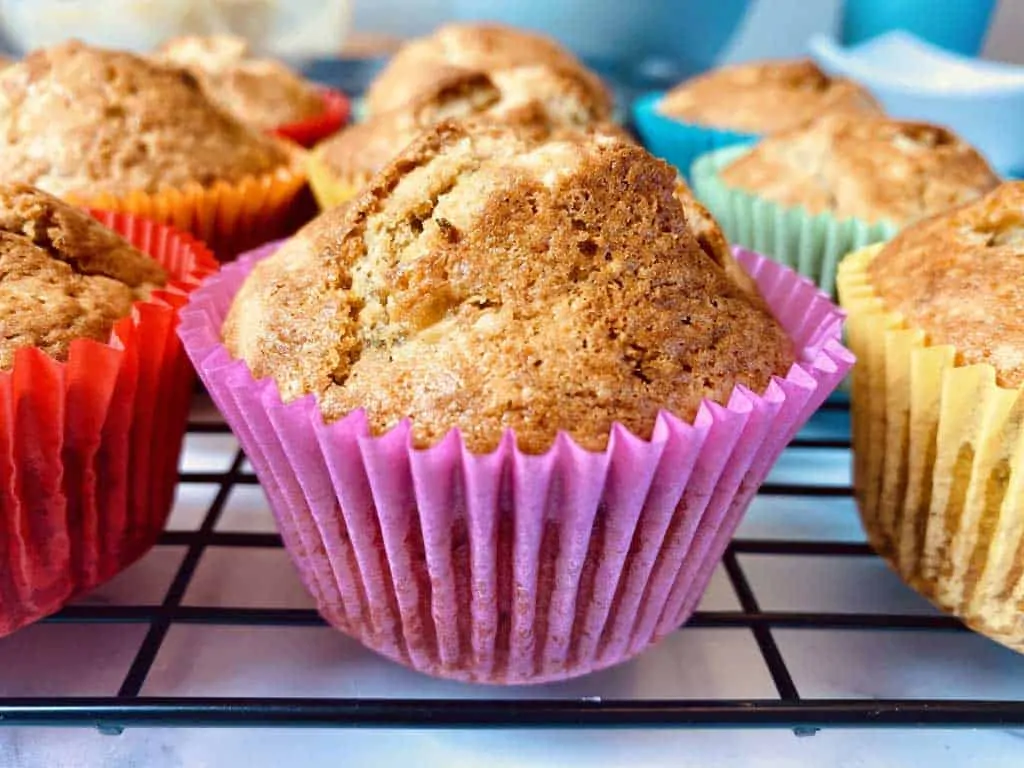 I hope you enjoy this banana muffin recipe – do you add in any extras? Let me know in the comments!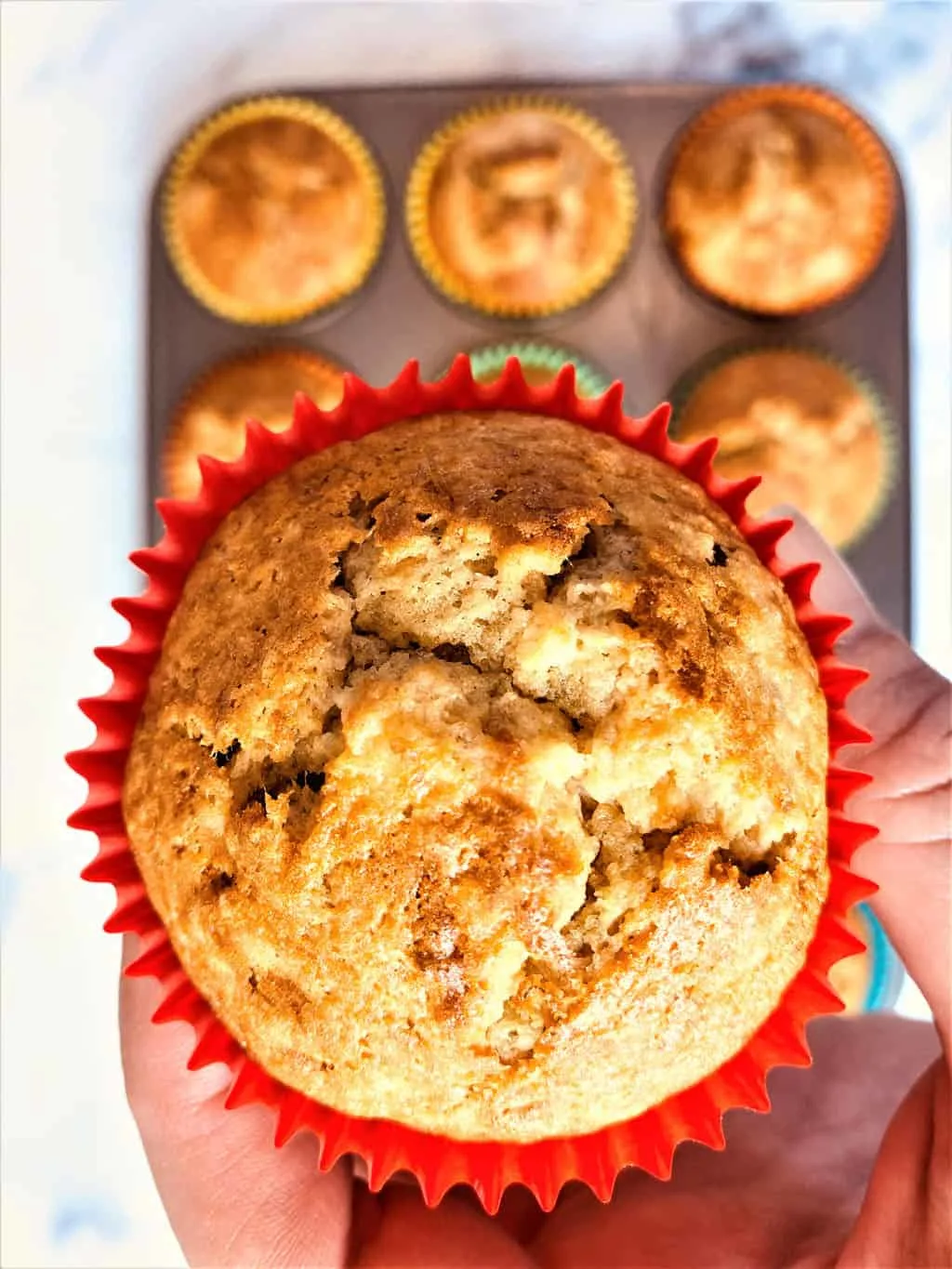 Other Recipes You Might Like: