Have you tried making air fryer flapjacks yet?
The beloved flapjack takes a modern turn with this air fryer recipe. But don't worry; the result is as delicious as ever.
Read on to learn how easy it is to make flapjacks in an air fryer.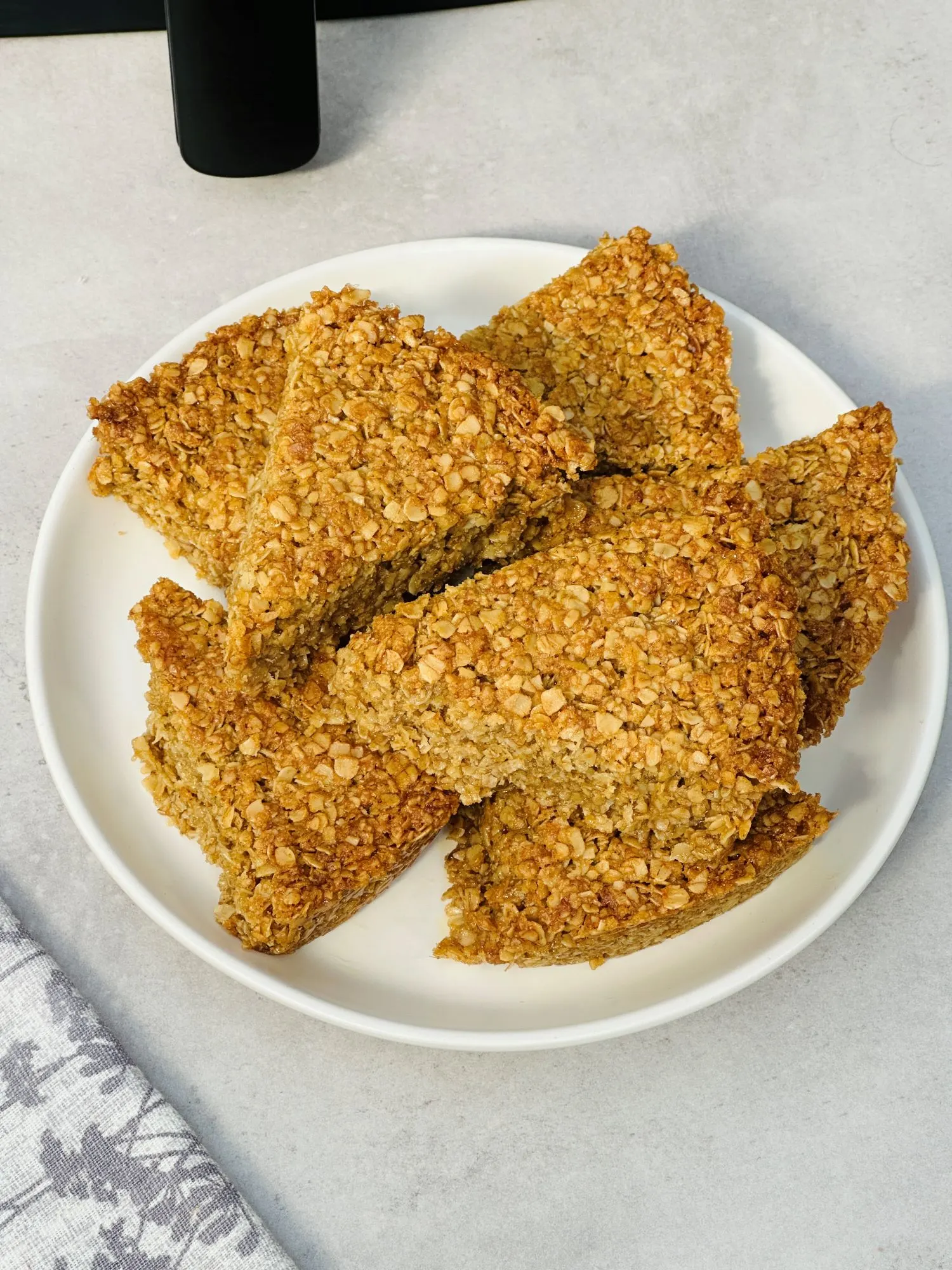 How to Make Air Fryer Flapjacks
The ingredients and method for making air fryer flapjacks resemble my easy flapjack recipe. For more concise instructions and to print out this recipe, head to the card at the bottom of the post.
Ingredients For Flapjacks In The Air Fryer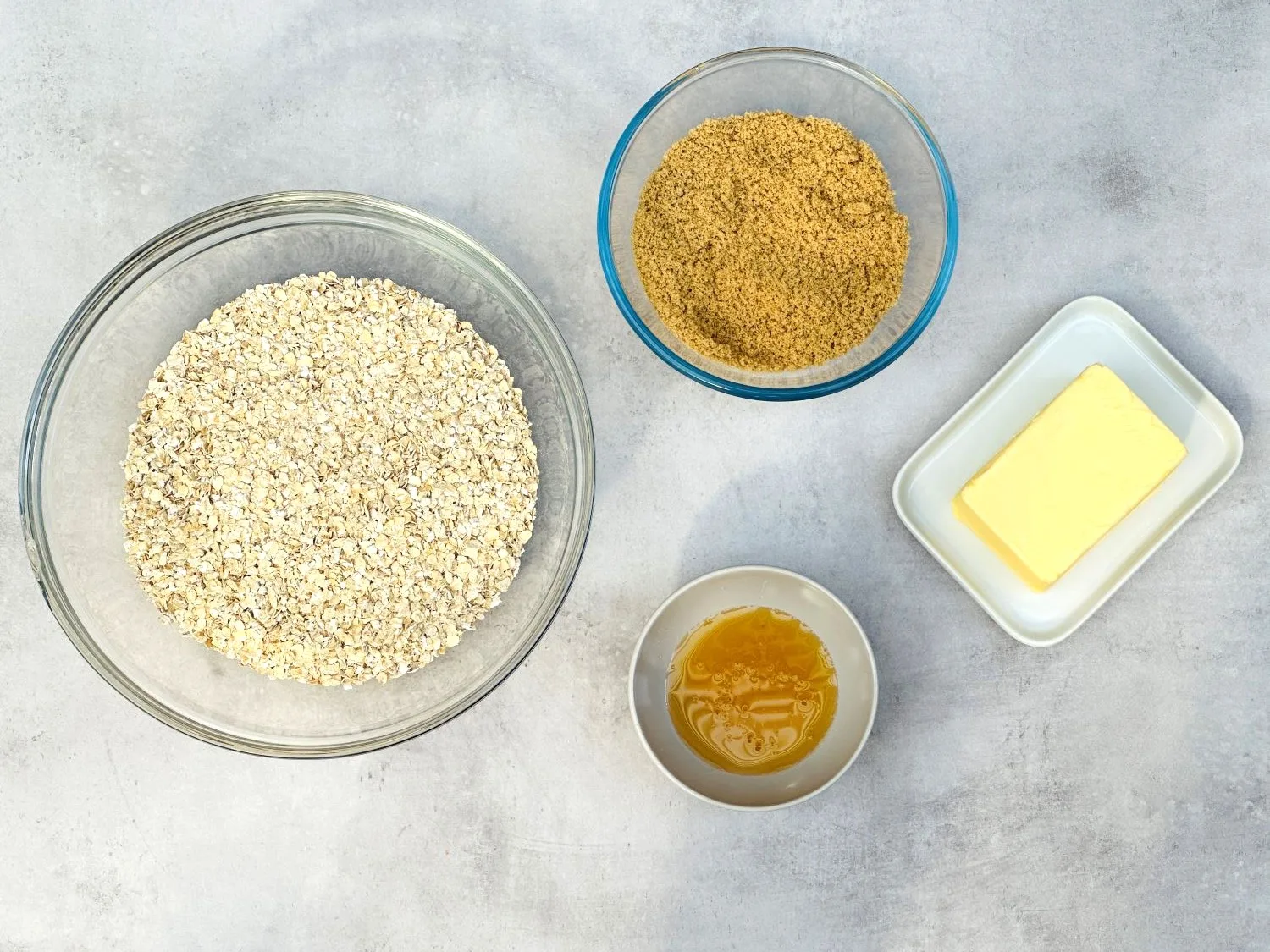 250g butter: The butter brings the richness and smoothness that flapjacks are known for.
200g soft brown sugar: Soft brown sugar will give a lovely, caramelly sweetness.
4 tbsp. golden syrup: This helps bind the flapjack and enhance its sweetness. Add more golden syrup if you want the consistency to be more gooey.
400g porridge oats: The star of the show, providing substance and a chewy texture.
Suggested Alternatives:
You could use a dairy free instead of butter for a dairy-free version.
Maple syrup could work as a replacement for golden syrup if needed.
What Size Baking Tin Should You Use?
The ingredients above are enough to fill a 20cm square baking tin. In this recipe, I actually use a 20cm round baking tin; I could just about squeeze all the mixture in by pressing it down with the back of a spoon. But if you can fit a 20cm square tin in your air fryer, try to use that.
What If You Have A Different Size Air Fryer?
As air fryer sizes vary so much, you might need to adjust the recipe to fit your air fryer basket. The same mixture can be used and either adjusted or the flapjacks can be cooked in batches. Remember, the thickness of the flapjack will determine its consistency. Thinner flapjacks will be crunchier, and thicker ones will be chewier.
Making It
Step 1: Start by greasing a 20cm square tin and preheating your air fryer to 160°C.
Step 2: Put your butter and brown sugar in a saucepan. Melt them over a gentle heat, stirring the sugar into the butter as it melts.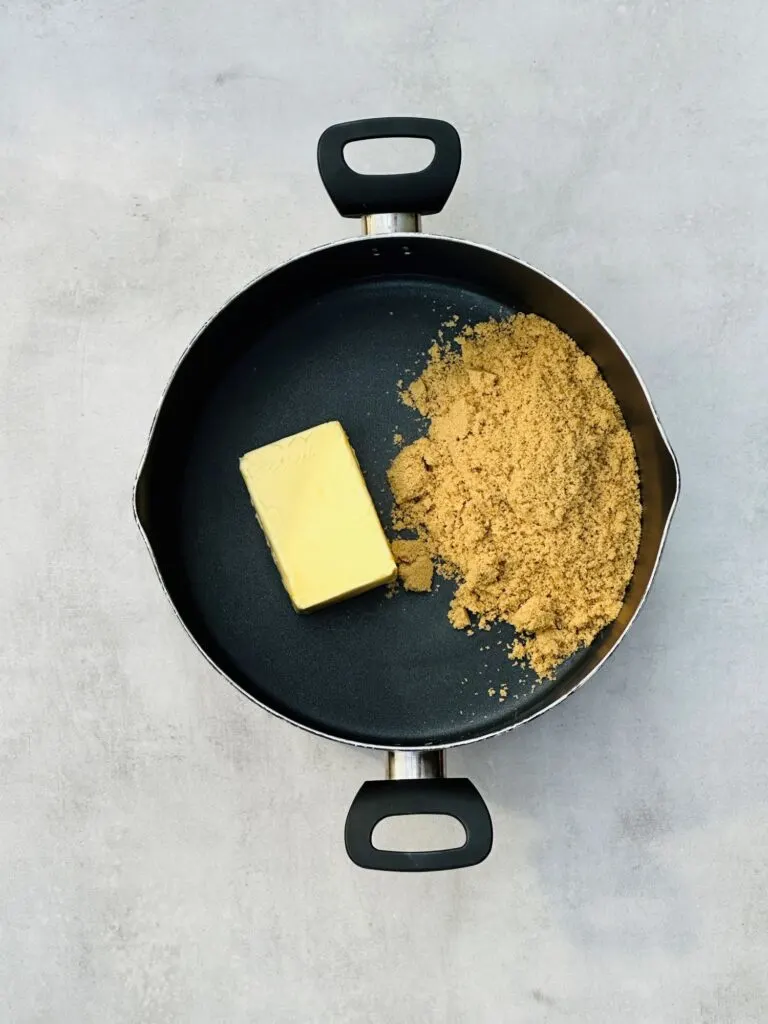 Step 3: Turn off the heat and stir in the oats and golden syrup. Give it a good stir until everything's well mixed.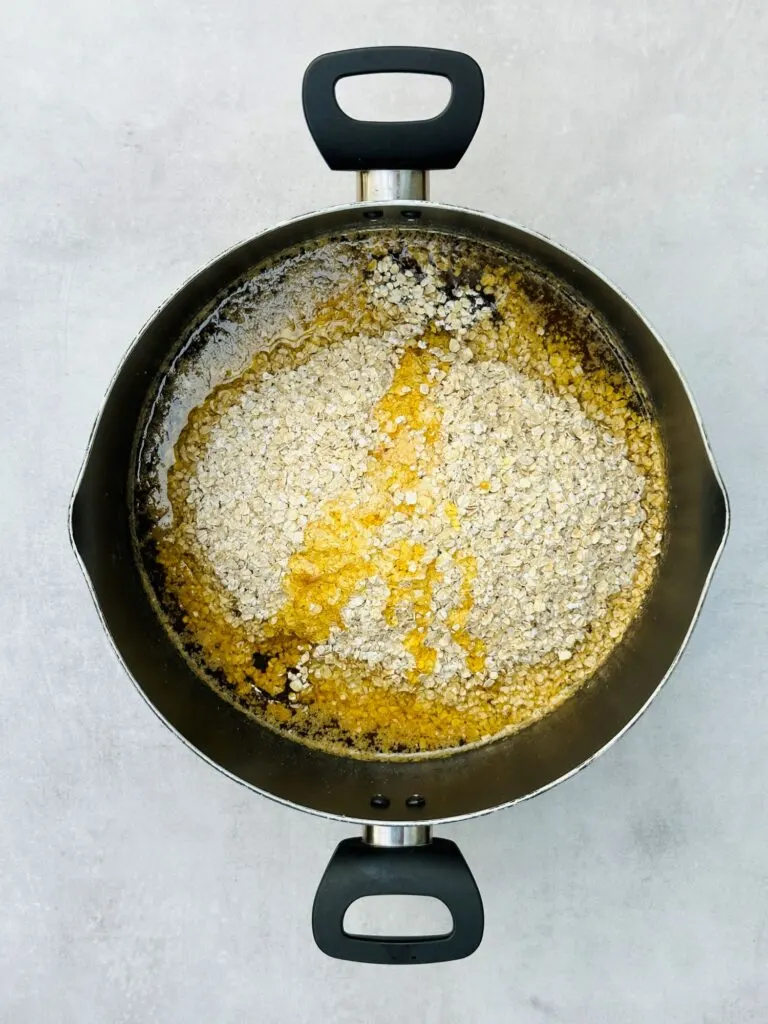 Step 4: Transfer the flapjack mixture into the greased tin. Use the back of a spoon or a palette knife to press it down until it's nice and compact.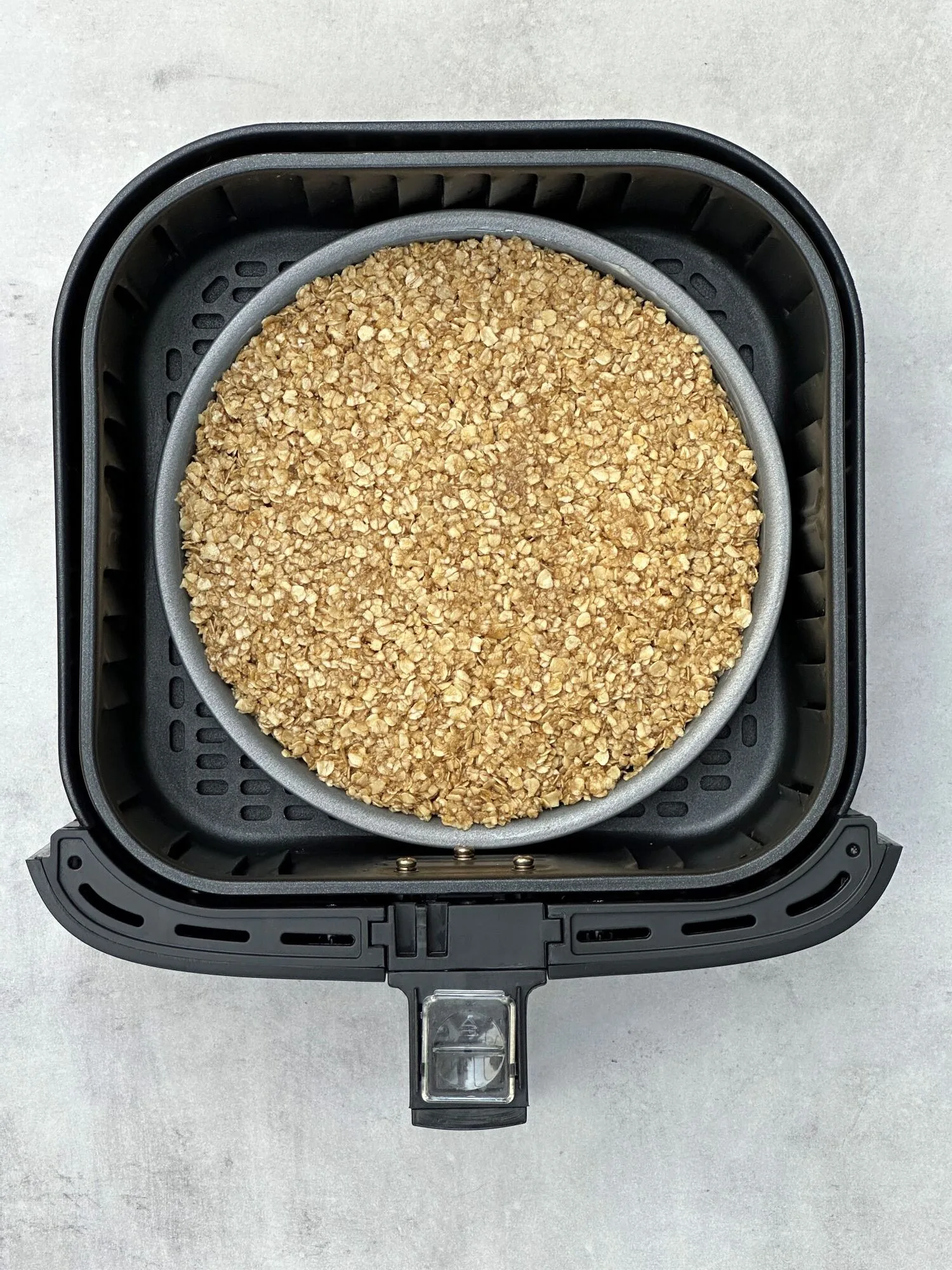 Step 5: Transfer the tin to the air fryer basket and set the timer for 20 minutes. Check on it after around 15 minutes. When it is ready, the mixture will be slightly firm to the touch but still slightly runny. The flapjacks will become too hard and tough to eat if you leave the edges and top to turn a darker golden brown.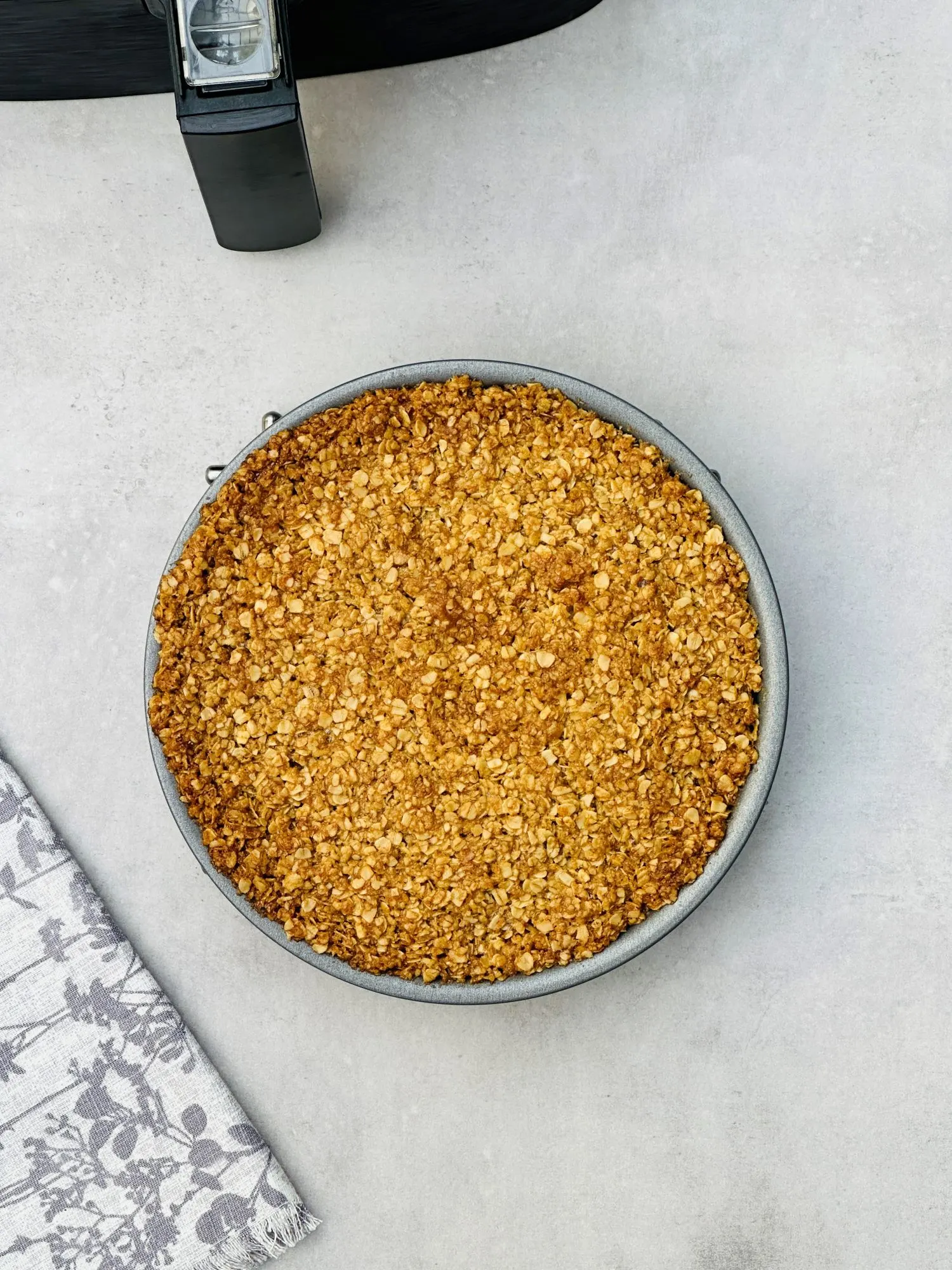 Step 6: Resist the temptation to dig right in after the timer goes off. You'll need to let it cool down; otherwise, it'll crumble.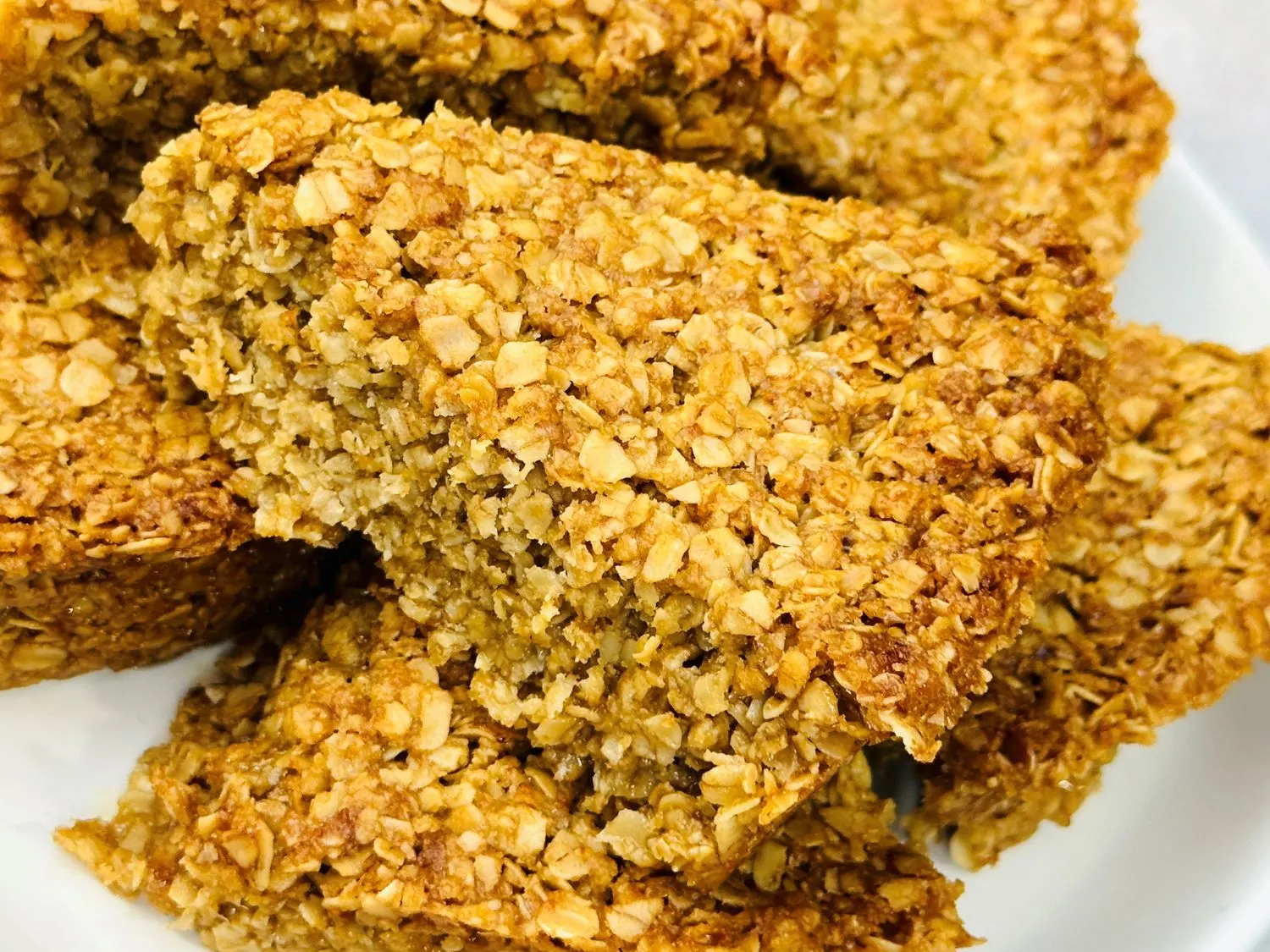 Step 7: Once the flapjacks have cooled down, slice them and carefully remove them from the tin.
Air Fryer Flapjacks: FAQS
Why should I let the flapjacks cool completely?
Because if you don't, they will crumble and fall apart.
Do I need to adjust the recipe for different air fryer models?
Yes, depending on your air fryer's size, you may need to adjust the quantities and cooking time.
Can I add extras like chocolate chips or dried fruit?
Absolutely, feel free to customise your flapjacks with additional ingredients.
Can I make these vegan?
Yes, simply replace the butter with coconut oil or another plant-based alternative.
How do I know when the flapjacks are ready?
Flapjacks are ready when the mixture is slightly firm to the touch but still slightly runny. The oats will gradually start to brown, but don't let them turn a golden brown, or the flapjacks will be too hard to eat once they have cooled down.
What else can I cook in my air fryer?
You can cook so much! The list is endless, from desserts to savoury dishes, breakfast, and snacks! Check out some of my favourite air fryer recipes here.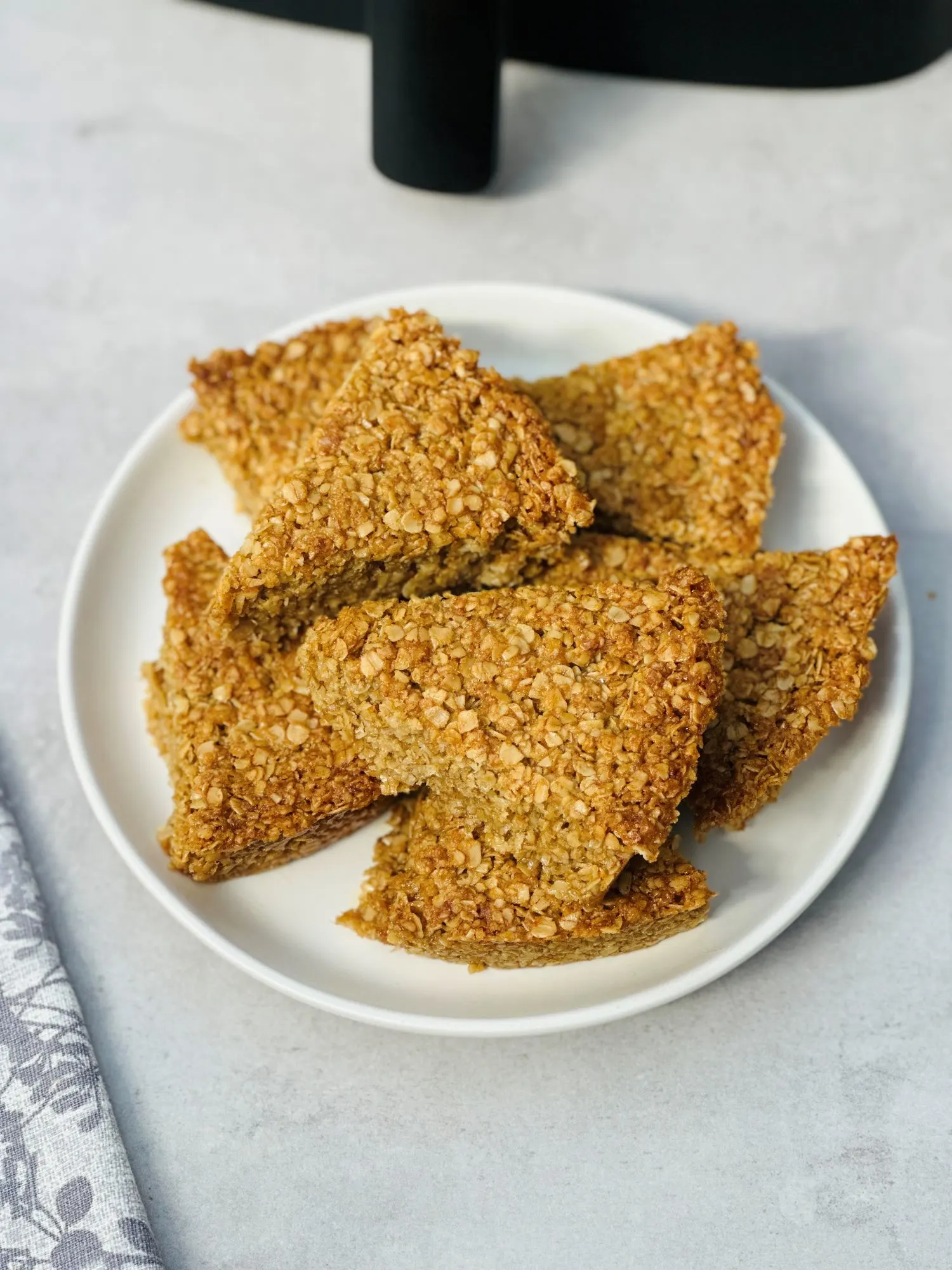 More Air Fryer Cakes and Bakes
Are you looking for more treats to make in your air fryer? Check out some of these for inspiration: