Did you know you can make cakes in an air fryer? If you're a fan of banana bread, you'll be pleased to know that making air fryer banana bread is simple; some would say, a piece of cake 😉
Banana bread is the perfect way to use up bananas that are starting to brown. Two ripe bananas should be enough, but you can use more or less depending on the size of the cake you are making.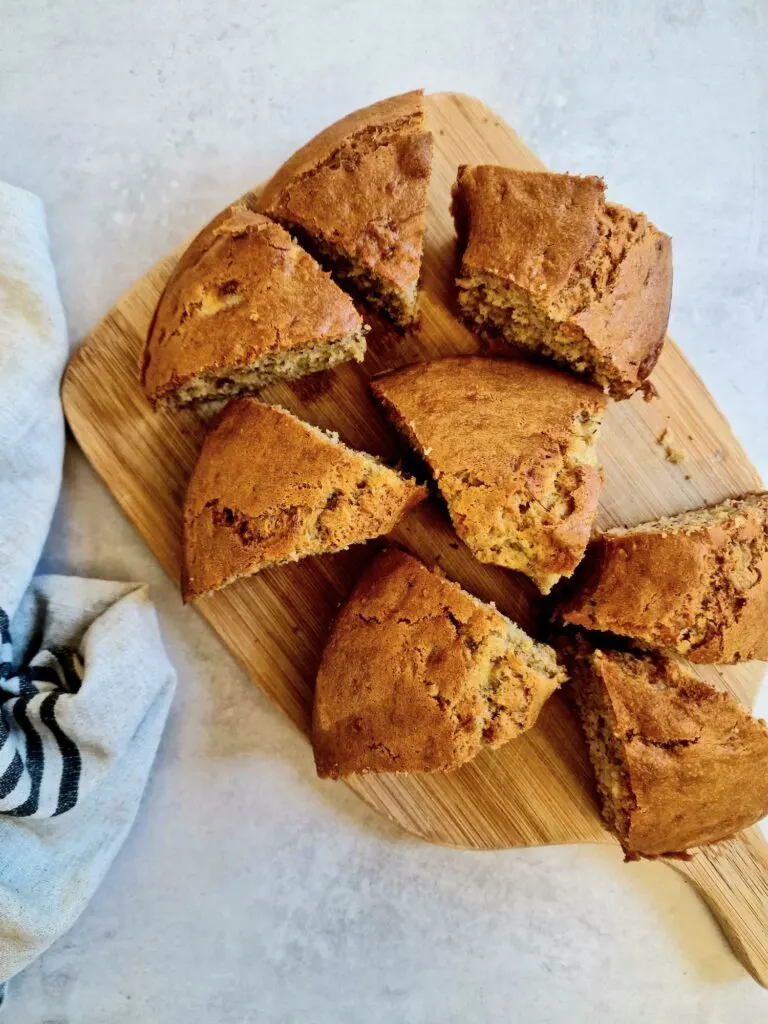 How To Make Banana Bread In An Air Fryer
Typically, any cake recipe can be followed and made in an air fryer. I used my banana bread recipe that I usually cook in the oven for this recipe.
The quantities worked out just right for making it in the Ninja Foodi Max. I bought this baking pan from Ninja Kitchen to use, but you can use any one that fits and is suitable for oven cooking.
Side Note: if you are using the Ninja Foodi (or a similar model), you can choose between air frying or using the 'bake' function.
I personally preferred the result of using the air fry function as it produced a crispier exterior – but other than that, there wasn't much difference in texture.
What You Need:
Depending on your air fryer size, you might need to scale up or down, but this should fit most air fryers.
Ingredients for air fryer banana bread:
Two ripe bananas, medium in size, mashed
120g butter, softened
100g caster sugar
200g self-raising flour
Two medium eggs, beaten
1tsp baking powder
1tsp ground cinnamon
What Air Fryer Is Best For Making Banana Bread?
You can make banana bread in any air fryer. I have made this in the Ninja Foodi Max (7.5L) and the smaller Proscenic T22 Air Fryer (5L).
For the smaller-sized air fryers, you will need to ensure a baking tin that fits in the basket.
Related: Air Fryer Buying Guide
Preparing The Banana Bread Mixture
I followed the exact same procedure as I did for my easy banana bread recipe.
I mixed together the butter and sugar until they were smooth. Then I slowly added the beaten eggs and mixed until they were combined.
I then gently added the flour, baking powder and ground cinnamon.
Finally, I stirred in the mashed bananas.
Next, I transferred the mixture to a greased baking tin and placed the tin in the air fryer at 160°C and set the timer for 30 minutes.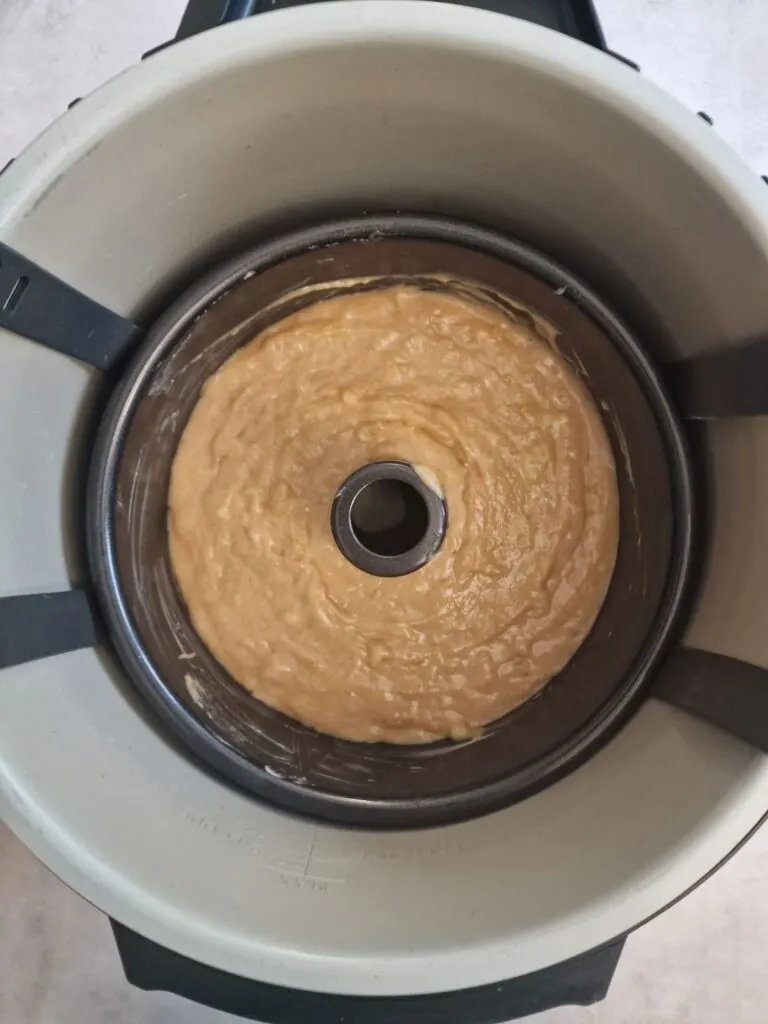 The banana bread should be browned and cooked through at the end of the cooking time. Insert a metal skewer or sharp knife to check. If it is still too wet or soggy on the inside, continue to air fry, checking on it every five minutes. You might need to cover it with some foil to stop it from burning on the outside.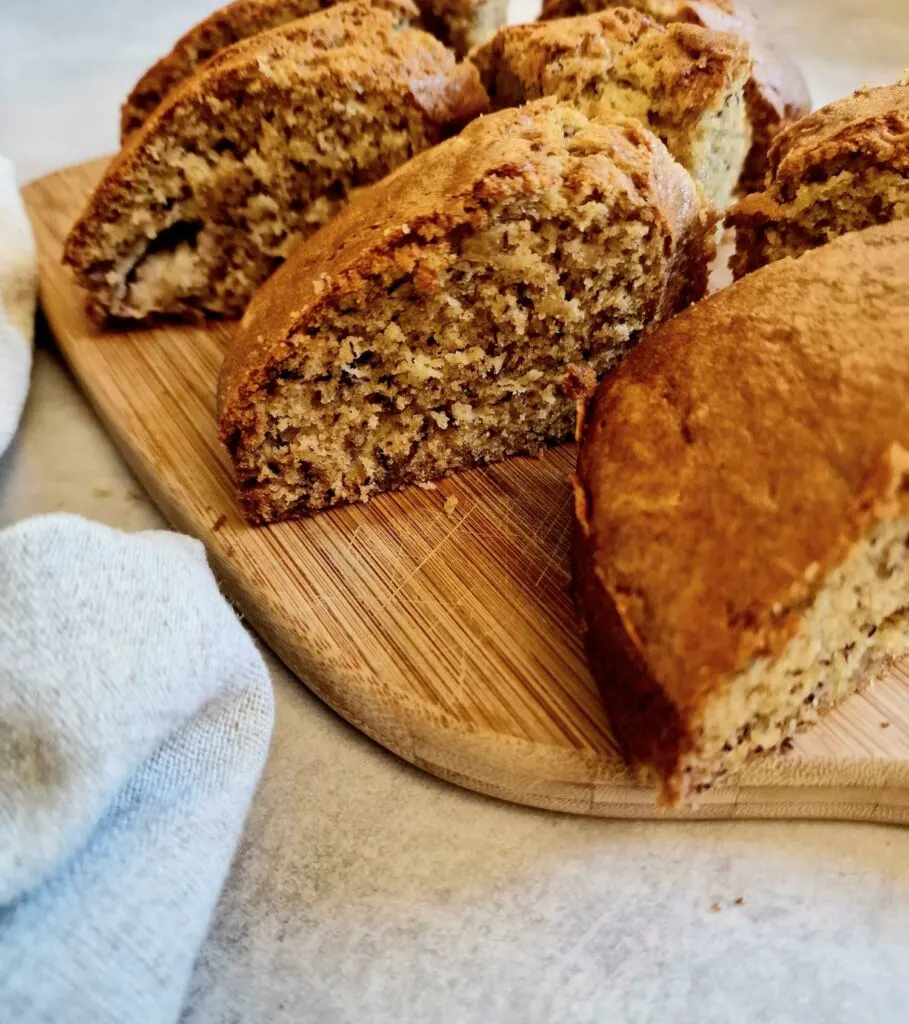 📍 Pin It For Later