Proscenic produces several home appliances, including air fryers. The Proscenic T22 Air Fryer is a small to medium air fryer with a 5L capacity.
Read on to see what I think of this air fryer and whether it's worth the purchase.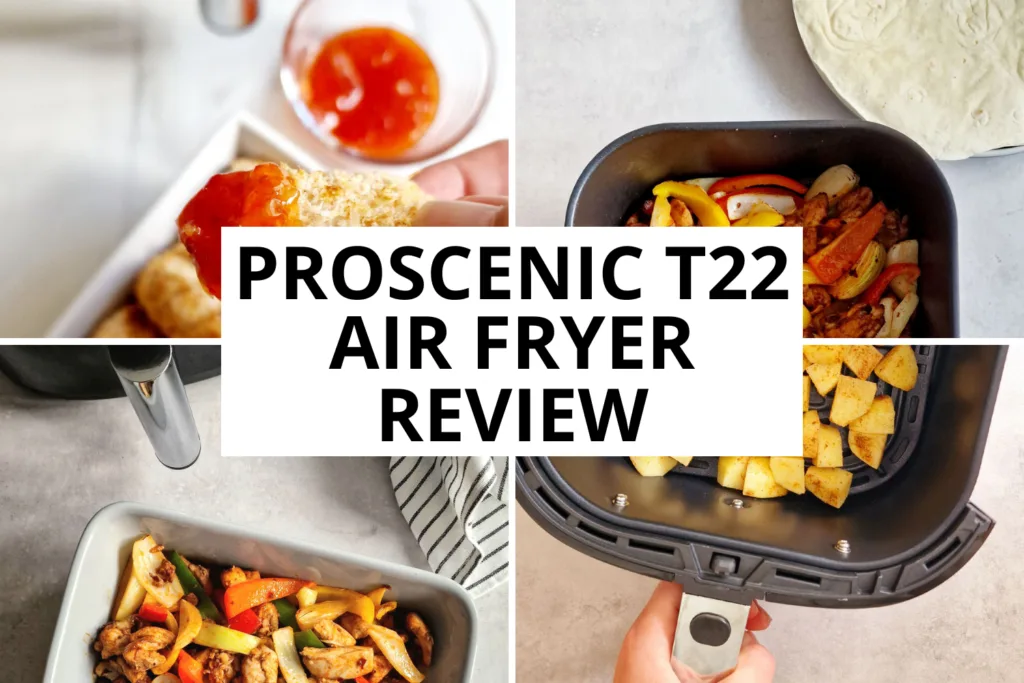 Disclaimer: I was given the Proscenic T22 Air Fryer free of charge in exchange for an honest, unbiased review. All views are my own, and no further compensation has been received.
---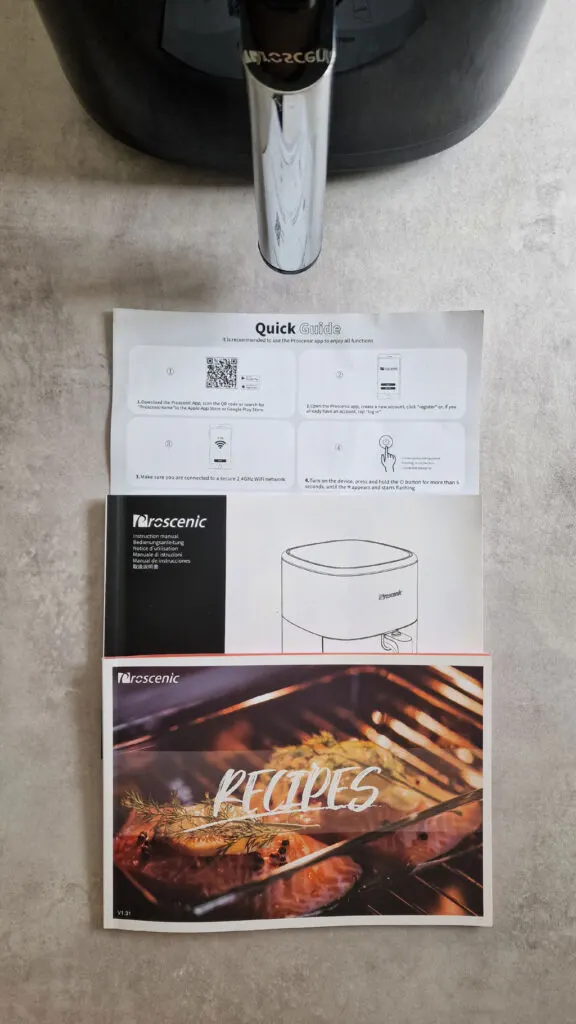 What You Get With The Proscenic T22 Air Fryer
Air Fryer with frying basket (Proscenic 5L)
Recipe Book
Quick Guide (For App)
User Manual
Proscenic T22 Main Features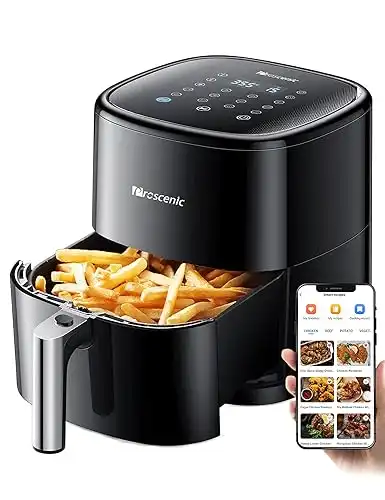 Proscenic T22 Air Fryer
Colour: Black
5.5 litre capacity
Wattage: 1500W
Size: 33.7 x 25.2 x 31.7cm
Weight: 5.5 KG
Temperature Range: 75°C - 205°C
Time Range: 1 - 60 minutes
13 cooking functions
Proscenic APP
BUY ON AMAZON
We earn a commission if you click this link and make a purchase at no additional cost to you.
12/02/2023 10:56 am GMT
Testing The Proscenic T22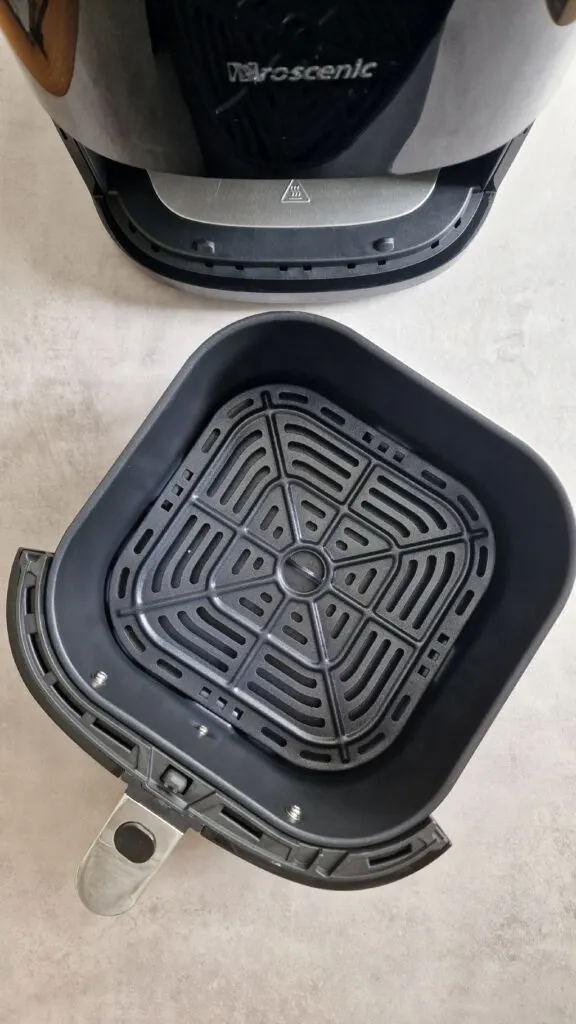 Each kitchen appliance we test at Liana's Kitchen gets put through its paces by trying out various different recipes before giving our verdict.
To test the Proscenic T22, we made the following popular air fryer recipes;
Sweet Potato Wedges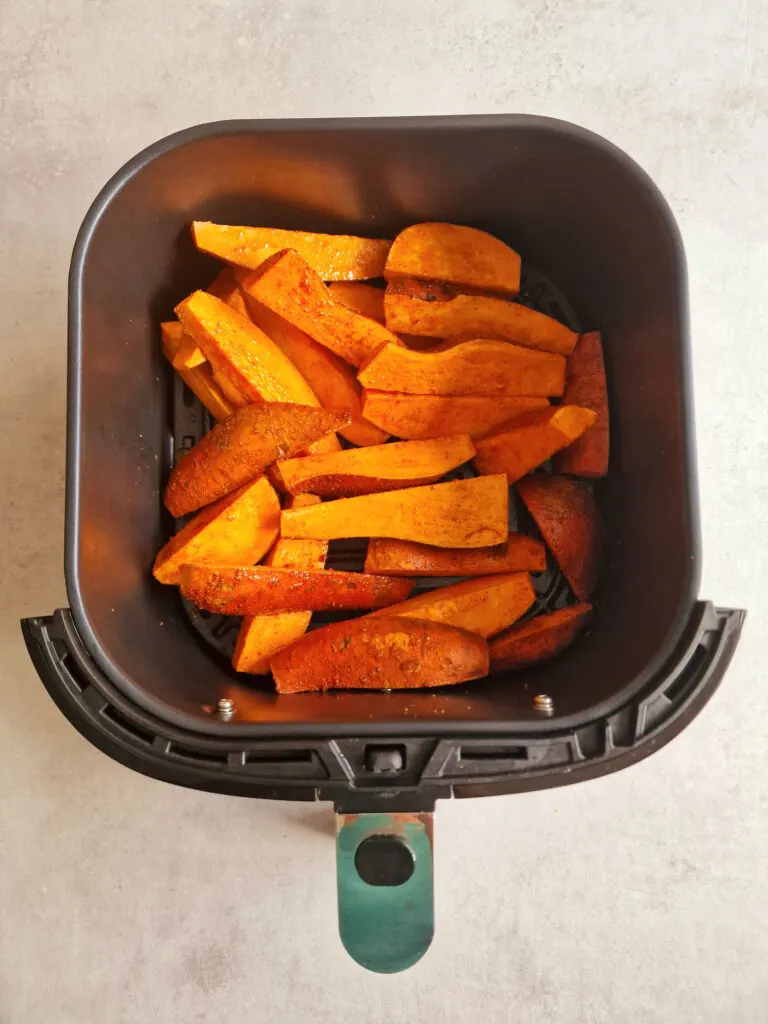 Air fryer sweet potato wedges are quick to prepare and cook in around 20 minutes. There is no need to peel them; just wash them and cut them into wedges.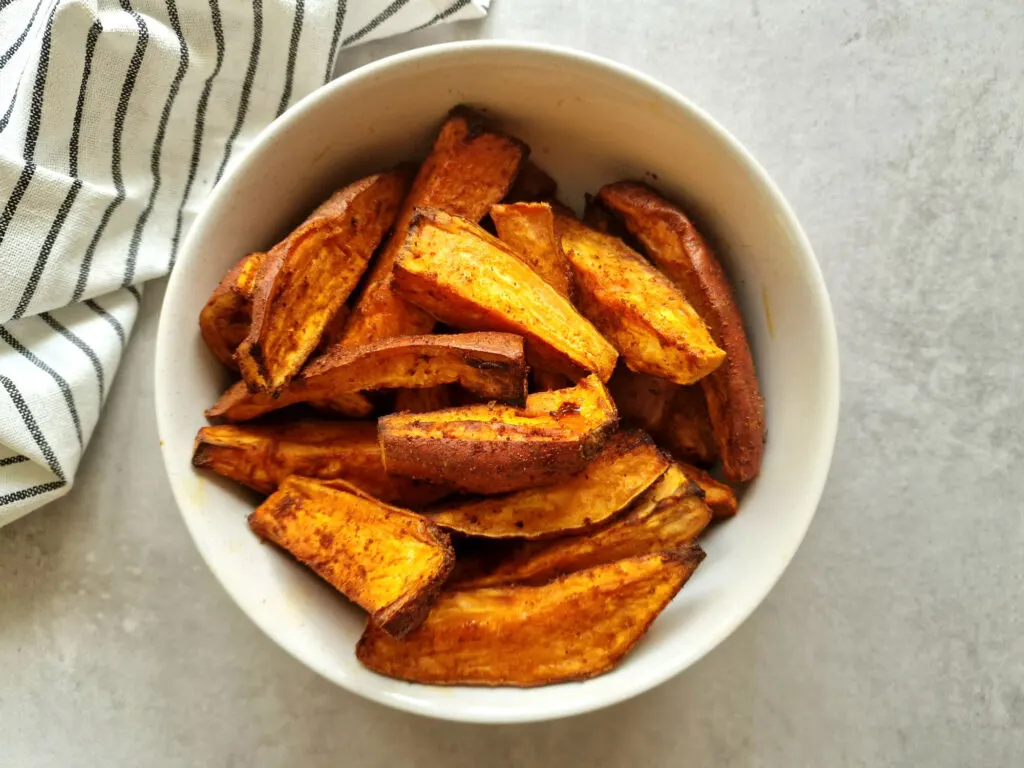 Verdict: Crispy on the outside, soft and fluffy on the inside. The air fryer basket was easy to clean.
New Potatoes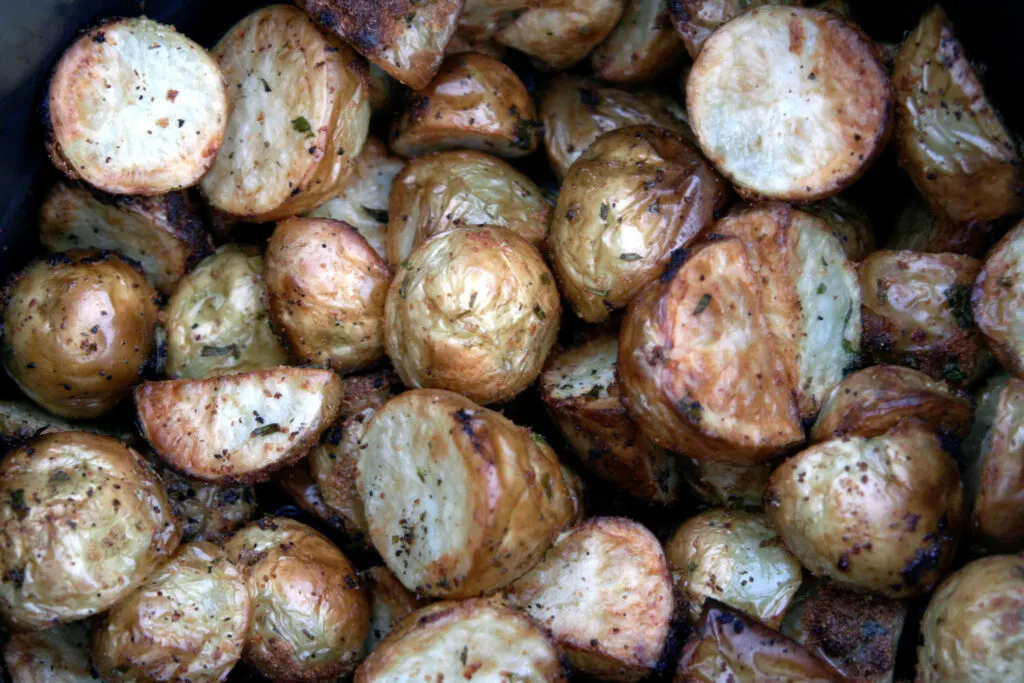 Cooking new potatoes in the Proscenic T22 air fryer was simple; they came out perfectly with a little drizzle of oil and 20 minutes of cooking time.
Verdict: Golden brown and crispy skin.
Chicken Legs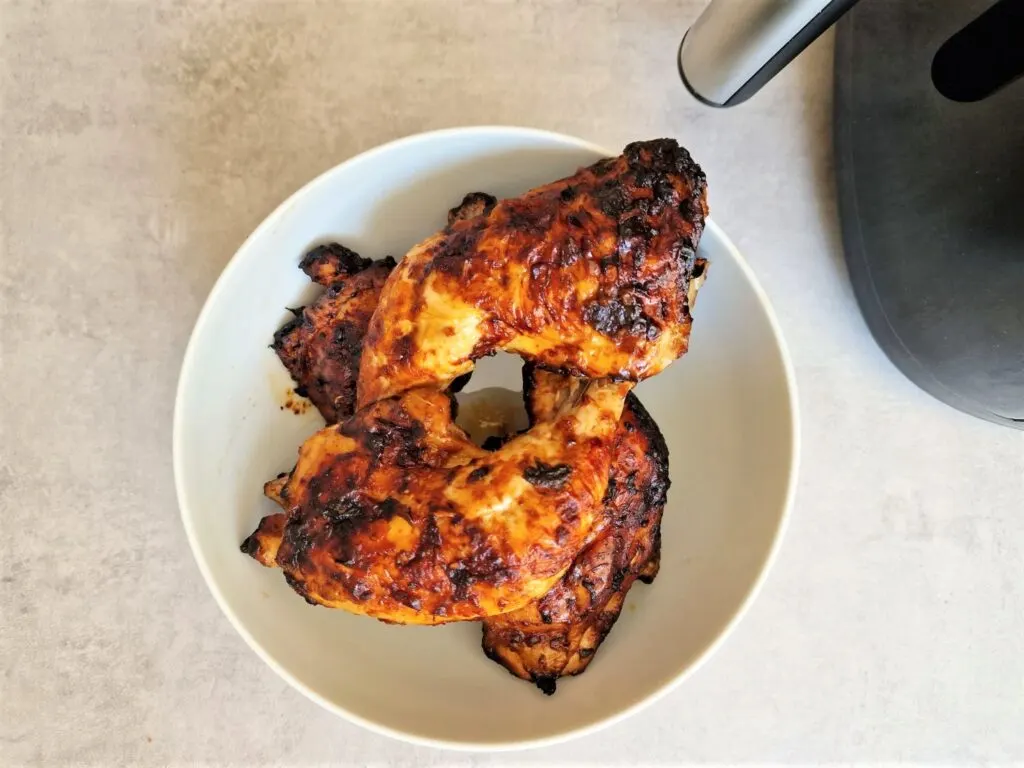 There are so many different marinades you can add to chicken. I used a Piri Piri spice mix and marinade to make air fryer Piri Piri chicken legs. It was ready in 22 minutes. The skin was deliciously crispy, and the inside was juicy and tender.
Verdict: The Piri Piri chicken legs tasted amazing in the Proscenic T22 Air Fryer. I could only fit four chicken legs in the basket, so I would need to cook in batches if I wanted to make any more.
Chicken Nuggets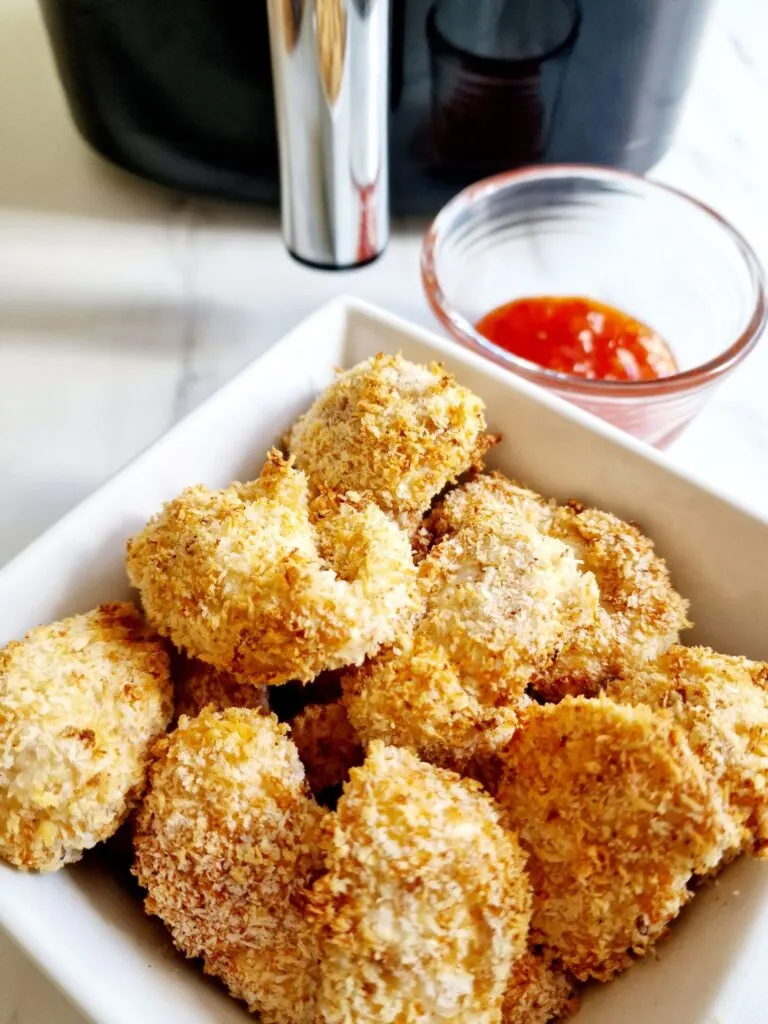 I've made air fryer chicken nuggets plenty of times in different air fryers. Making them in this air fryer was just as easy; they cooked in just 10 minutes.
Verdict: Chicken nuggets turned out well, the basket size is a little small, so I had to cook in batches.
Bacon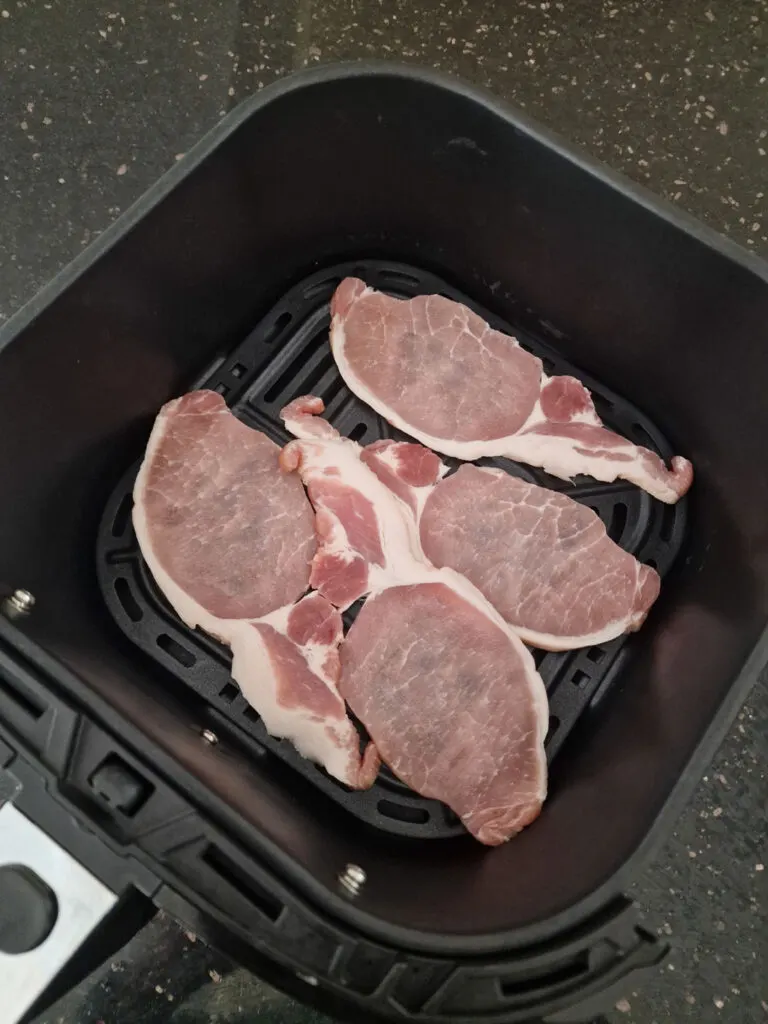 I used the Proscenic T22 preset bacon program (160C for 8 minutes).
The bacon was cooked after this time, but it wasn't really crispy enough, so I turned the temperature up to 180C and cooked for a further 2 minutes.
When cooking bacon in an air fryer, I usually cook it at 180C for 8 to 10 minutes.
Verdict: Bacon cooked through, but I recommend you manually set the temperature rather than use the bacon preset. Air fryer basket easy to clean afterwards.
Frozen Sausage Rolls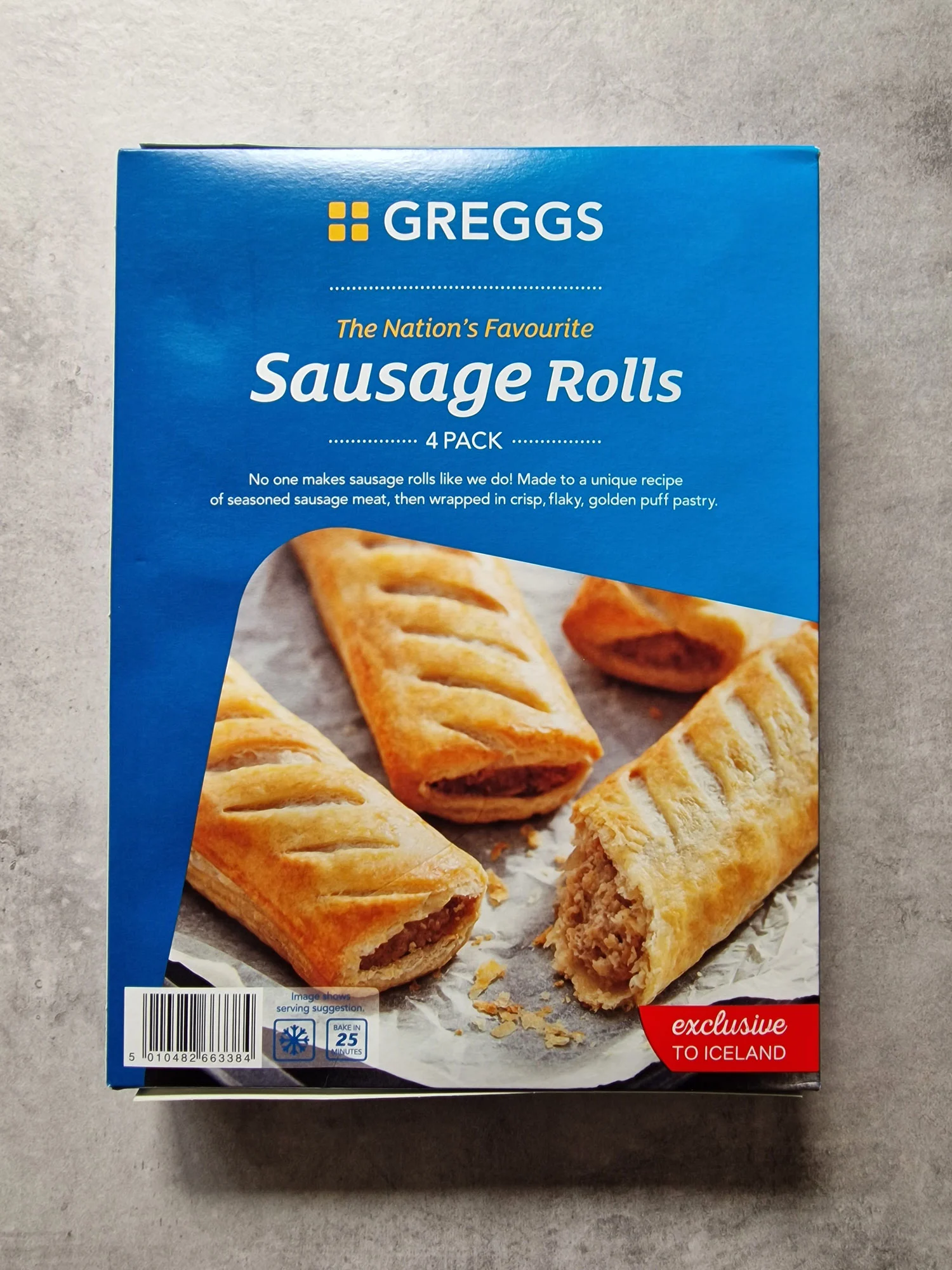 As air fryers are so ideal for cooking frozen food, I wanted to test cooking sausage rolls from frozen – plus, I had a craving for a Gregg's sausage roll 😉
I cooked them at 180°C for 18 minutes and then turned the air fryer up to 200°C to brown them off some more for a further 2 minutes.
I managed to fit four sausage rolls in the Proscenic air fryer basket, and they cooked through to perfection during this time. The sausage rolls didn't stick to the basket, and it was easy to clean afterwards.
Verdict: Frozen sausage rolls cooked through, I managed to fit four large sausage rolls in, clean up of basket easy.
Fajitas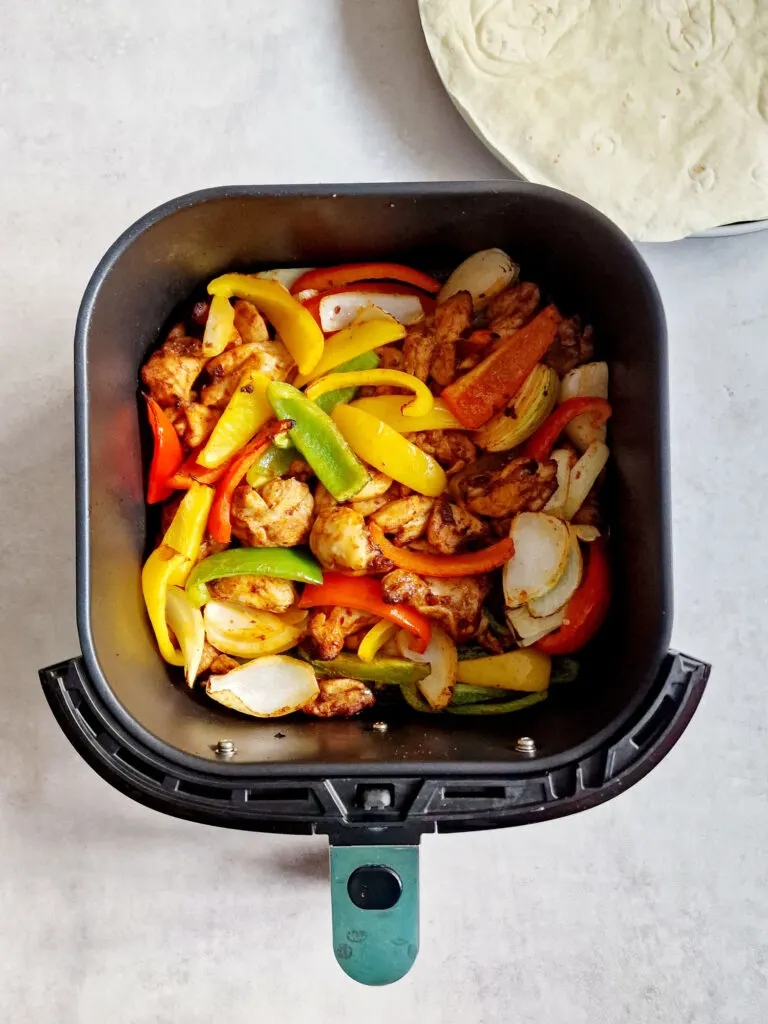 Fajitas are easy enough to make in a pan, but they're also perfect for making in an air fryer.
I made air fryer chicken fajitas in the Proscenic, cooking the chicken first, then adding the chopped vegetables. The total cooking time was 15 minutes at 200°C/390°F.
I could cook enough to feed four people, and the cleaning of the air fryer was minimal.
Verdict: Chicken fajitas cooked quickly, and the clean-up was quick and easy.
How Easy Is It To Clean The Proscenic T22 Air Fryer?
Out of the air fryers I have tested so far, the Proscenic T22 has been the easiest. Even when air frying greasy foods such as sausages, the basket is easy to clean.
You can put the air fryer basket in a dishwasher, but I tend to handwash it as soon as they have cooled down.
When cleaning an air fryer, use a soft washing-up sponge or cloth; don't use a scourer or anything metal. Wipe the outside down with a damp cloth and a little washing-up liquid.
How Much Does It Cost To Run the Proscenic T22?
Before you buy any new kitchen appliances, it's important to know how much they will cost to run.
The Proscenic T22 runs at 1500 watts, so to work out how much it costs to run this air fryer for 1 hour, you need to do the following calculation;
1.5 x £0.52p = 0.78p
Based on £0.52 per kWh (the price cap for electricity from 1st October 2022 – 31st December 2022, see Ofgem for details)
How Does The App Work?
Using the app for the air fryer to work isn't necessary, but it is quite a cool extra to have should you want to use it.
There is an instruction sheet that comes with the air fryer with a QR code that you can scan or search for the "Proscenic Home" in your app store.
You will need to create an account within the app and be connected to a secure WiFi network. From here, the app will instruct you on how to add your air fryer to the app.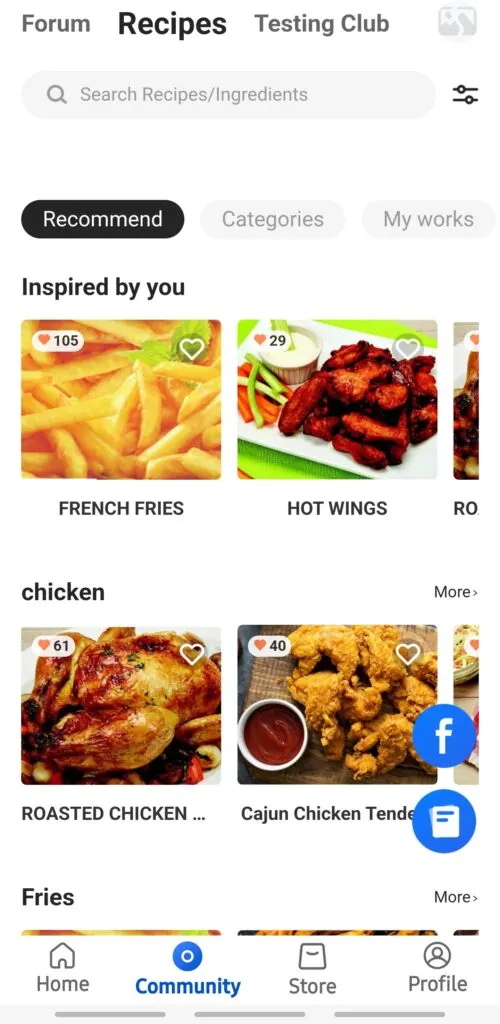 The app has plenty of recipes to follow; they are in US measurements, so you will need to convert them.
You can also control the air fryer via the app – I didn't really use this feature, I tend to be in the kitchen while the air fryer is cooking, so I had no need to control it from my phone.
Verdict: The app is a nice extra, but it wouldn't be a reason for me to choose this air fryer over a version that didn't have an app.
Proscenic T22 Pros
App
The air fryer is light to move about
Compact – takes up minimal space on the countertop
Pull out basket – easy to shake ingredients at the halfway point where required
Preheat function
Keep warm preset – can be set for up to 60 minutes (at a temperature of 75°C/170°F)
Feature to remind you to shake halfway through
Really easy to clean, and food doesn't stick to the basket, even when oil isn't used.
Perfect for two adults or a small family
A good price point (it typically costs less than £100)
Proscenic T22 Cons
The plastic build feels more flimsy compared to other brands (e.g. Ninja)
Unable to cook a large whole chicken
Not suitable for larger family
Recipe book in US measurements
Verdict: Is The Proscenic T22 Worth It?
Having used the Proscenic T22 air fryer (for the purpose of this review) for the last six months, I can recommend it to those looking for a small to medium-sized air fryer.
It is easy to clean, simple to use and performed well on all the air fryer recipes I tried.
My two negatives for this air fryer would be that for this price point, I would prefer a sturdier material for the casing and for the recipes to be aimed at the UK market.