So many chicken recipes can be made in an air fryer, and Hunter's Chicken is one of them.
In just 25 minutes you'll be enjoying a juicy chicken wrapped in crispy bacon, smothered in BBQ sauce and melted cheese. Yum.
What You Need To Make Air Fryer Hunters Chicken
The ingredients below are enough to make 2 servings of hunters chicken, you can adjust according to the number of servings you need.
To print out the full recipe and instructions head on down to the recipe card at the bottom.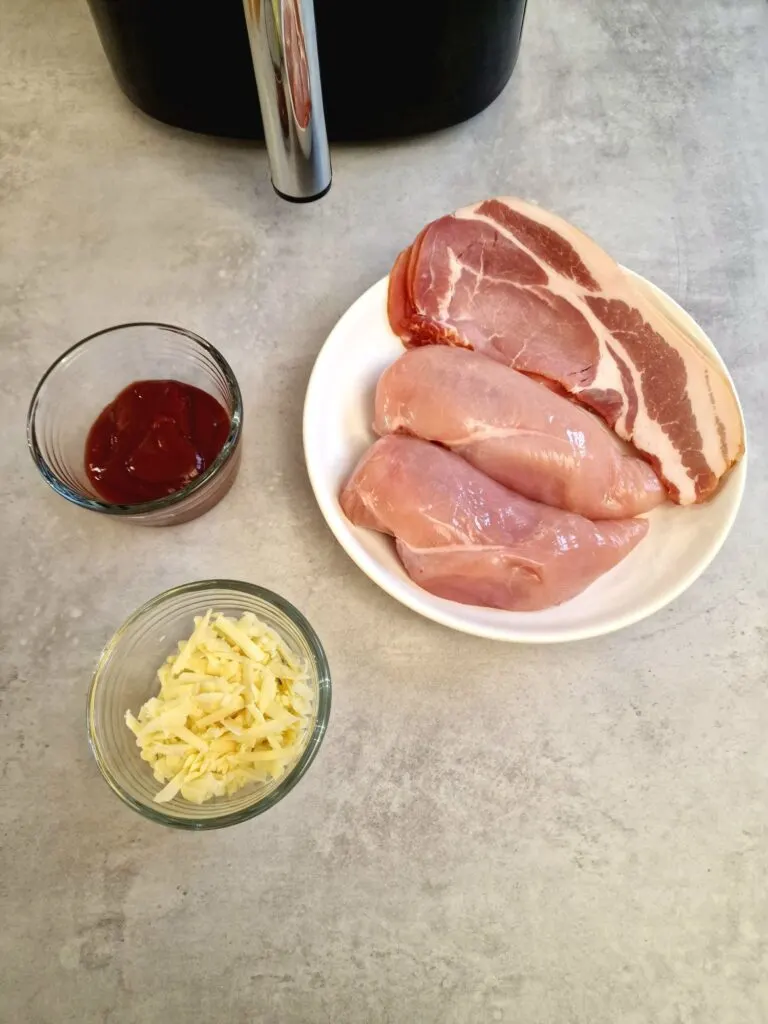 Chicken
I used chicken breast, but you can also use boneless chicken thighs. Use one chicken breast per person, if you are using chicken thighs you might need to use two as they tend to be smaller.
Bacon
You can use any type of bacon; I used two smoked bacon rashers per chicken breast. You could also use medallions.
BBQ Sauce
Use either shop-bought BBQ sauce, or you can make your own. I used three tablespoons of BBQ sauce on each chicken breast. You can use more or less according to taste, as well as the size of the chicken.
Cheese
Any cheese that melts easily will work. I used a handful of grated cheddar cheese; you can also use mozzarella, gouda, parmesan etc.
Making Hunters Chicken In An Air Fryer
Place the chicken breasts in the air fryer basket at 190°C/375°F and set the timer for 10 minutes.
If you have a small air fryer basket, you might only be able to fit in two at a time.
Turn the chicken at the 5-minute mark.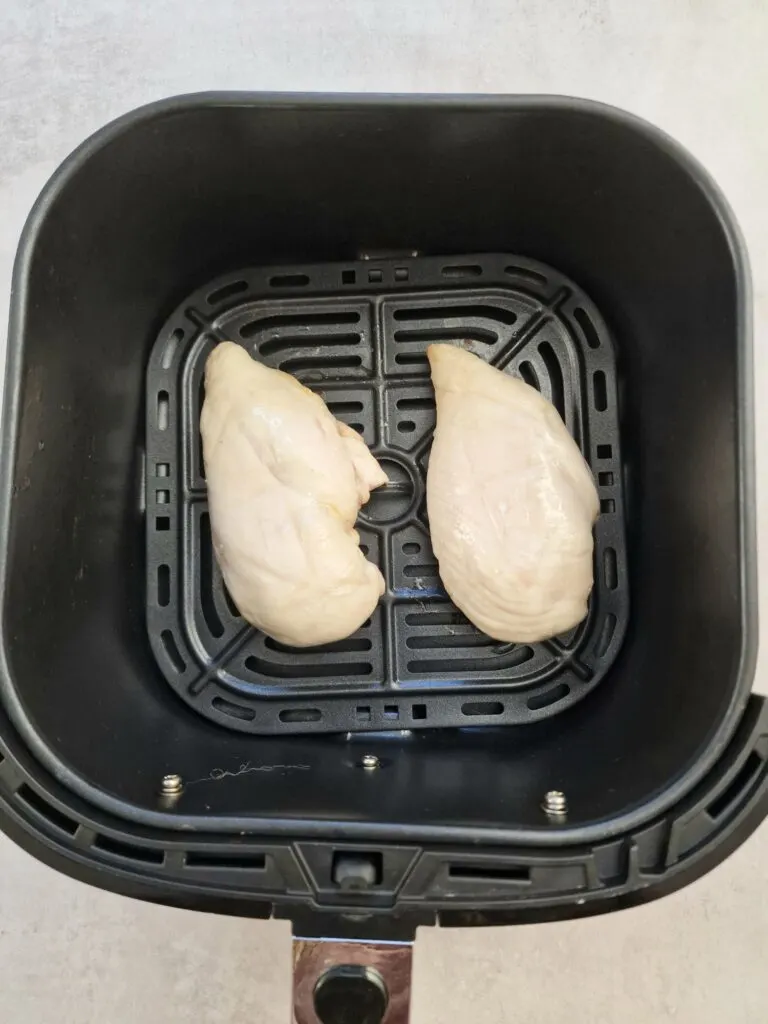 After 10 minutes of cooking time, using some tongs or a fork, remove the chicken breasts and wrap each one in one or two rashers of bacon. To keep the rashers in place you can use a cocktail stick.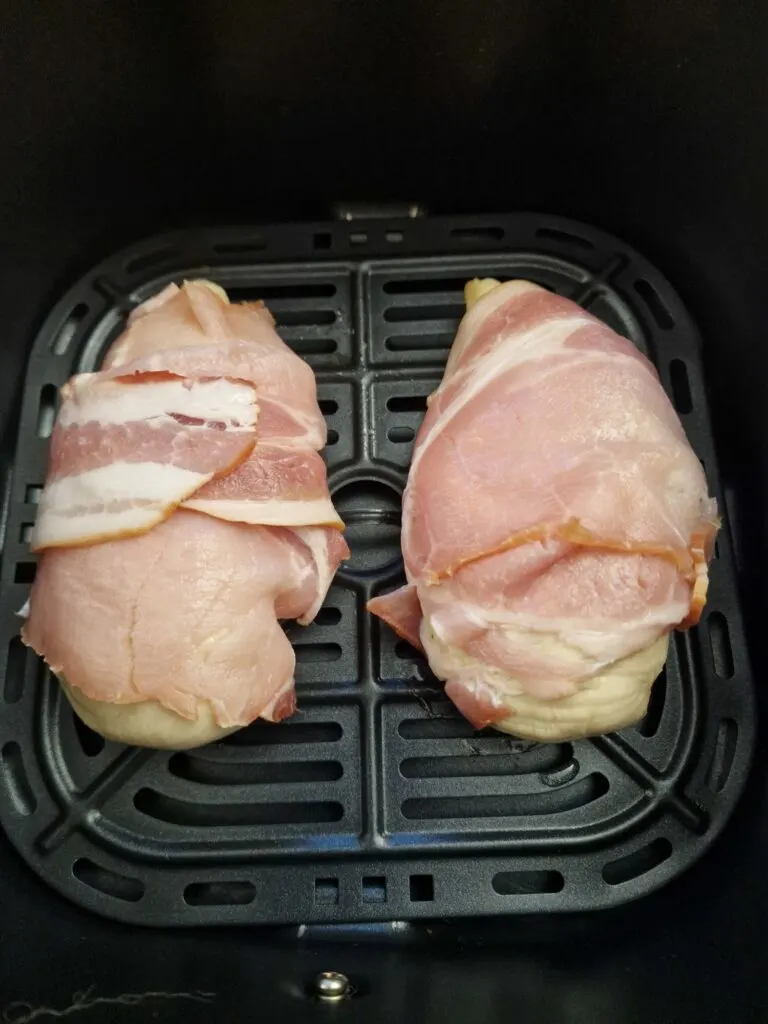 Return the bacon-wrapped chicken to the air fryer basket and cook for a further 10 minutes, again turning halfway.
At the end of the cooking time, open the air fryer basket and brush the bbq sauce equally over each chicken breast.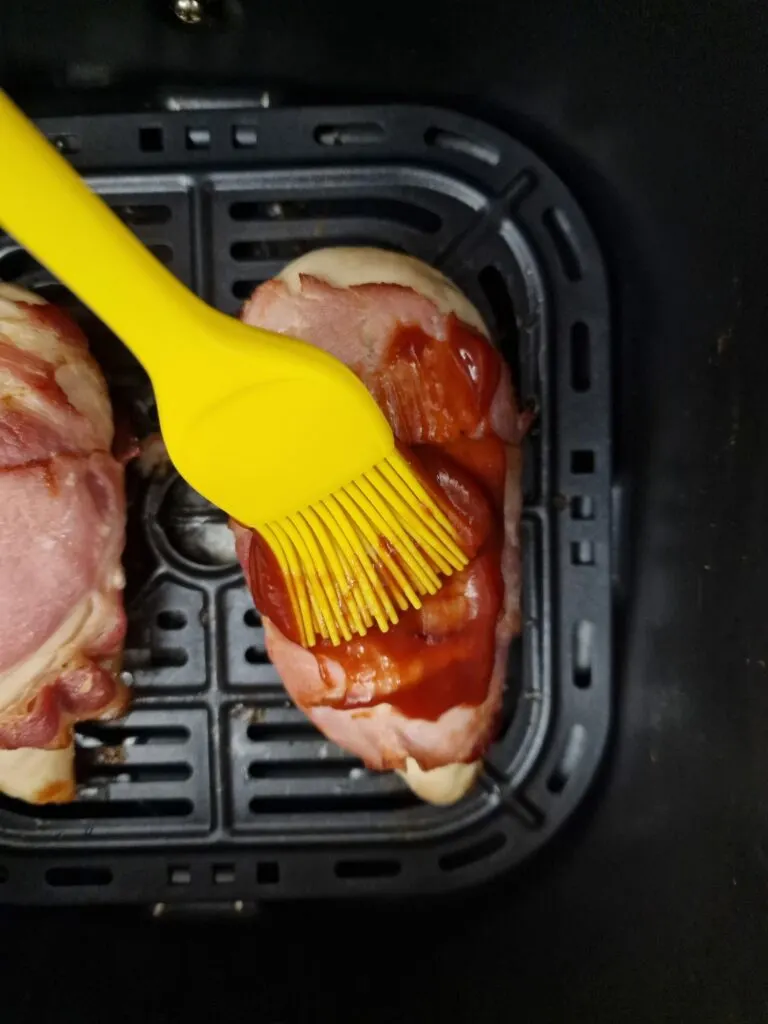 Sprinkle the grated cheese over the top of the BBQ sauce.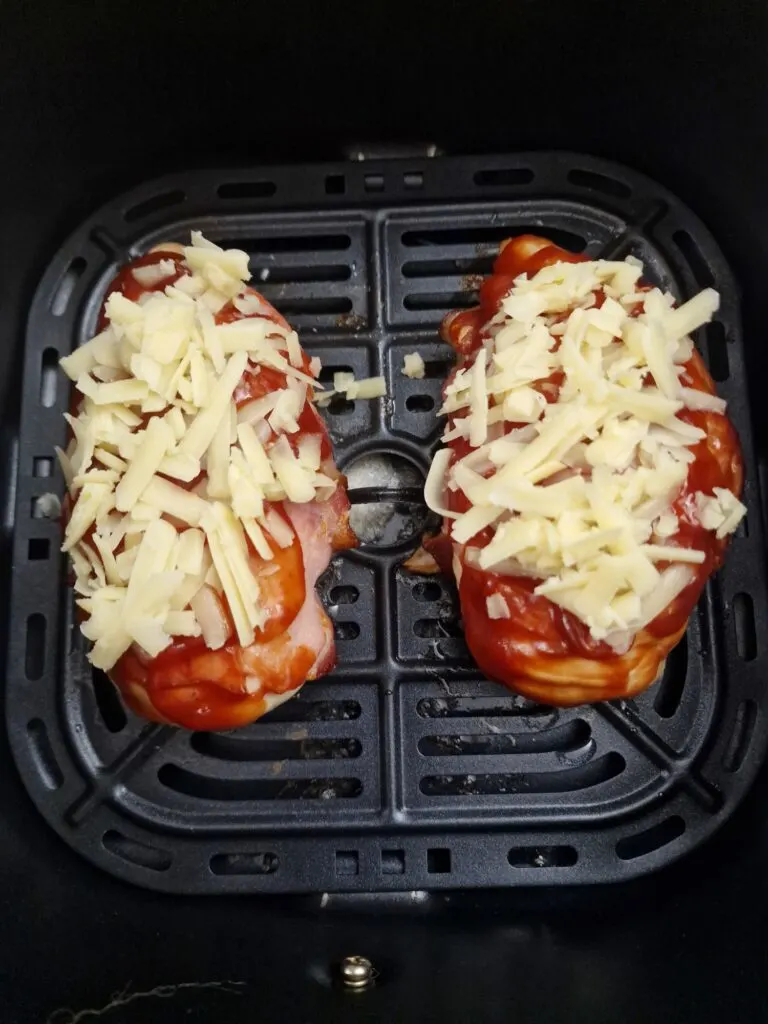 Air fry for a further 2 to 3 minutes or until the cheese has melted and the bbq sauce is hot.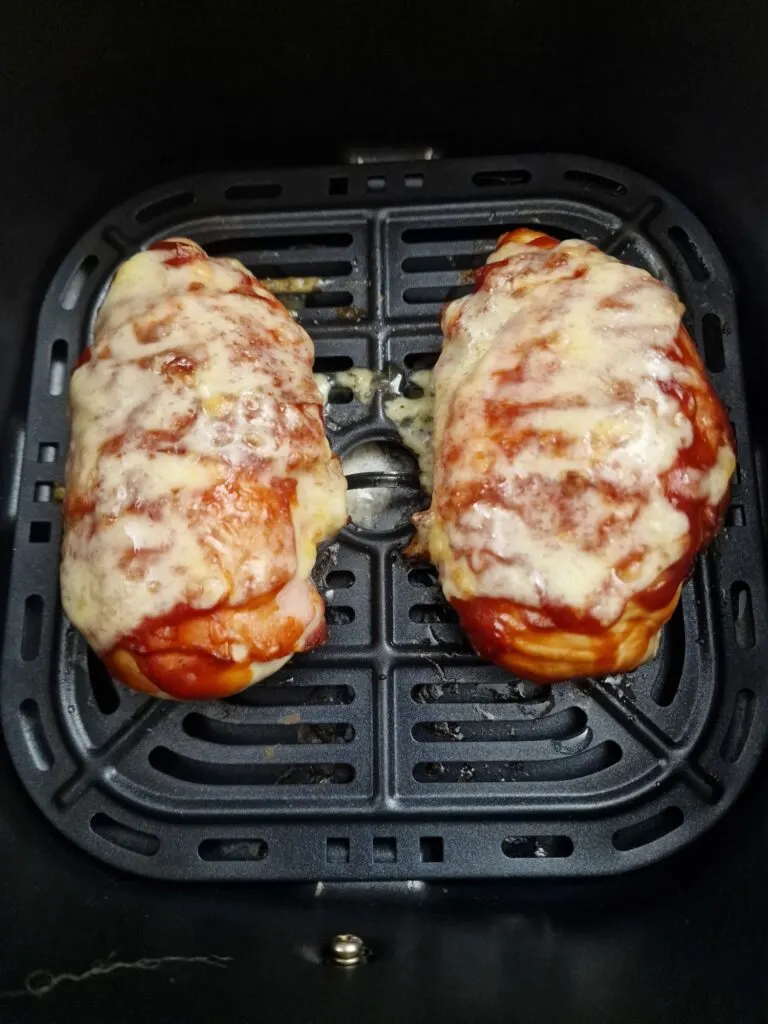 Remove from the air fryer, and remove the cocktail sticks if you used them. Check that the chicken is cooked all through by cutting into one or using a meat thermometer.
Serve with your favourite side dish.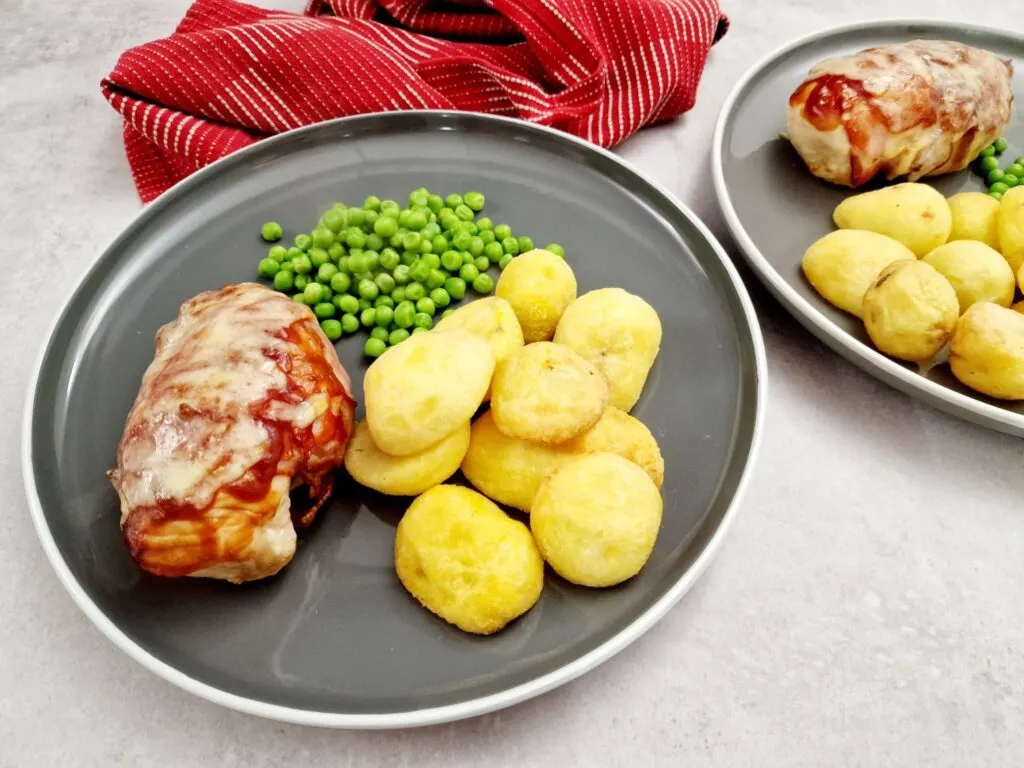 Other Methods For Making Hunters Chicken;
Making hunter's chicken in an air fryer is my new favourite method, but you can also easily make hunter's chicken in a slow cooker and in an oven.
What To Serve With Hunters Chicken
Hunter's chicken can be served with various side dishes, from rice to potatoes. Here are some suggestions you might like to try;
What Air Fryer Can This Be Made In?
Hunter's chicken can be made in any air fryer. I have made it in both a Proscenic Air Fryer and a Ninja Foodi.
The size of your air fryer will determine how many chicken breasts you can cook at once. Also, the first time you make it keep an eye on the cooking times; some air fryers cook faster than others.
Read: Air Fryer Buying Guide