Slow cooker chicken curry is a simple, no fuss recipe that you can easily adjust according to how you enjoy your curries. I've got this slow cooker curry down to just a handful of easy to get ingredients – it's just the way I like to cook!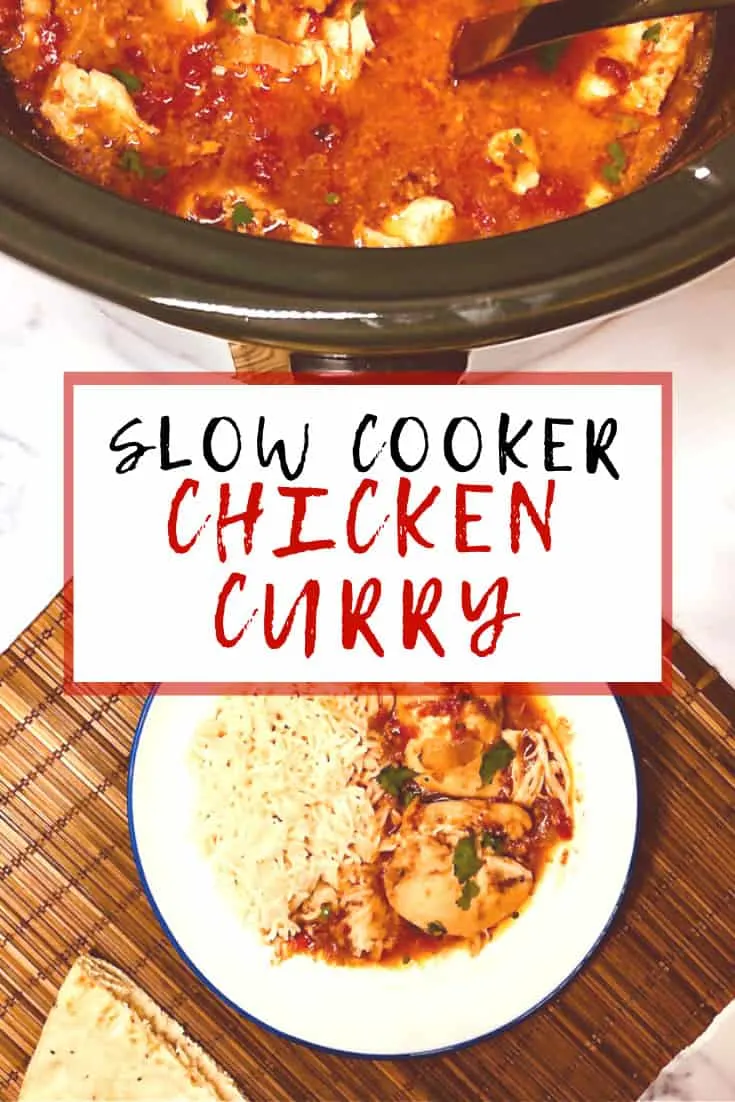 What Should I Add To A Slow Cooker Chicken Curry?
1. Chicken
First up is the chicken itself. I prefer to use boneless chicken thighs in most of my slow cooker meals, they are economical to buy and taste really great when slow cooked. You can also use chicken breast, either put it in whole or dice it up.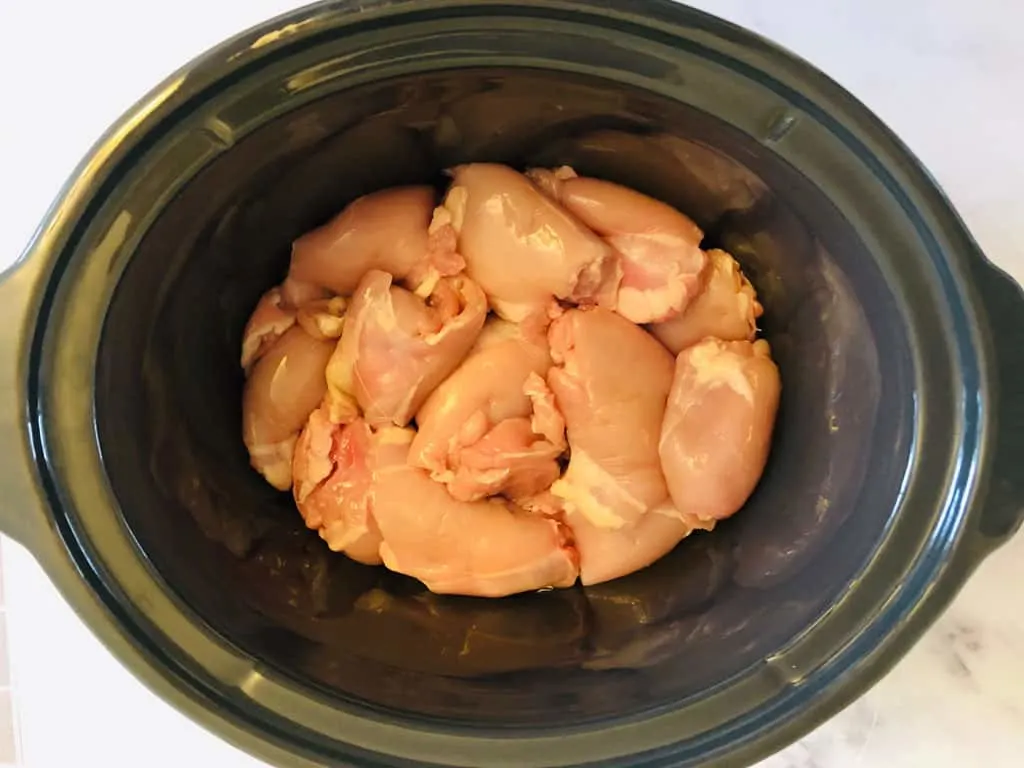 What About Browning The Chicken First?
Many recipes advise to brown (or 'seal') the chicken before adding it to a slow cooker. Whereas this does seal in some of the juices and flavour, I tend to skip this step. I've tried it both ways (browning vs not browning) and I've not noticed a big enough difference to warrant the extra effort of dirtying up an extra pan.
However – and this is an important point – you might compromise the flavour of your curry if you don't fry up the onions, garlic and spices before adding them to the slow cooker. If you happen to have one of the slow cookers with a built in searing (sometimes called saute) function, then do this. Or, do it in a separate pan before transferring to the slow cooker.
2. Onions and Garlic
Chop up some onion and garlic to add in too. You can also add in some grated ginger too if you have some on hand, or use ground ginger.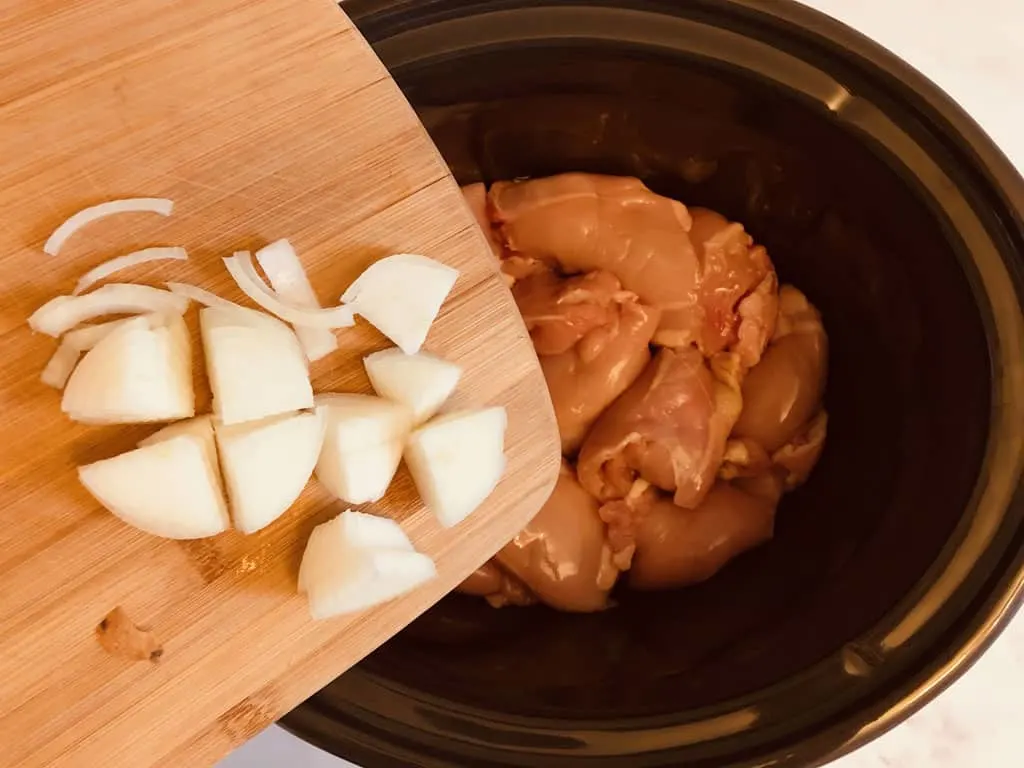 3. Tomatoes
I like to add in a tin of chopped tomatoes and some tomato puree. You can also add in passata in place of chopped tomatoes.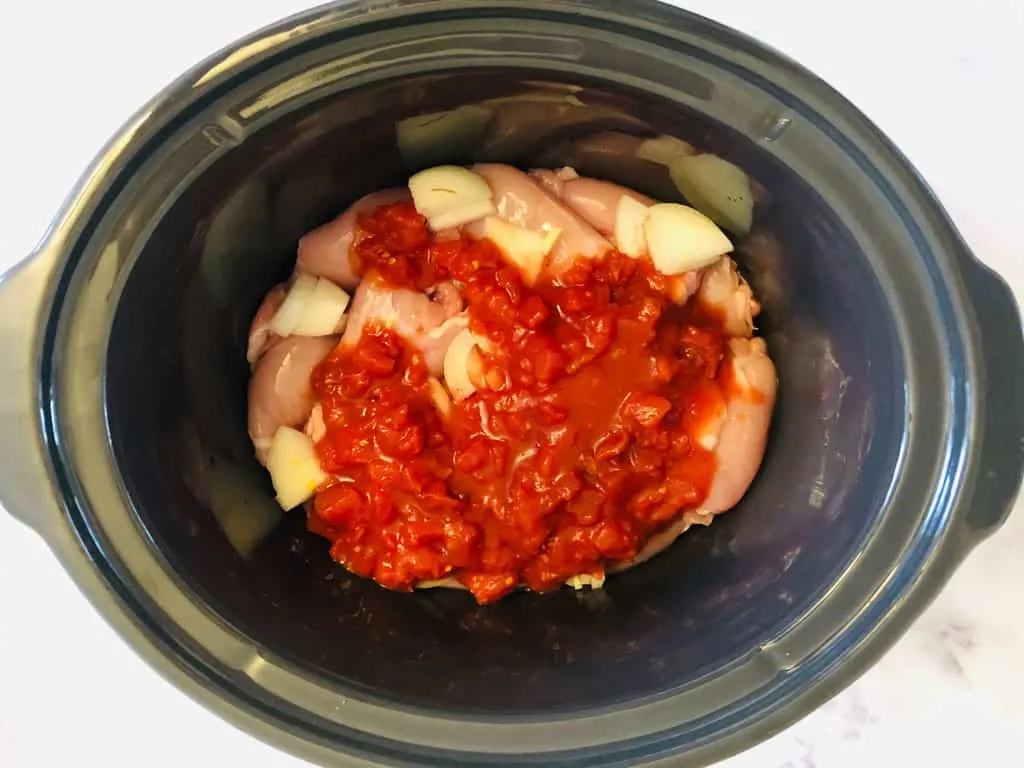 4. Spices
Following my theme of simple slow cooker meals I use a curry spice mix. Which one I use depends on what type of slow cooker curry we fancy on the day. I have a chicken tikka mix, korma as well as a medium and hot curry powder mix.
You can also make your own curry spice mixes according to how you best like them. It is worth spending the time to hunt down the highest quality Indian spices that you can find, your taste buds will thank you when you're tucking in later!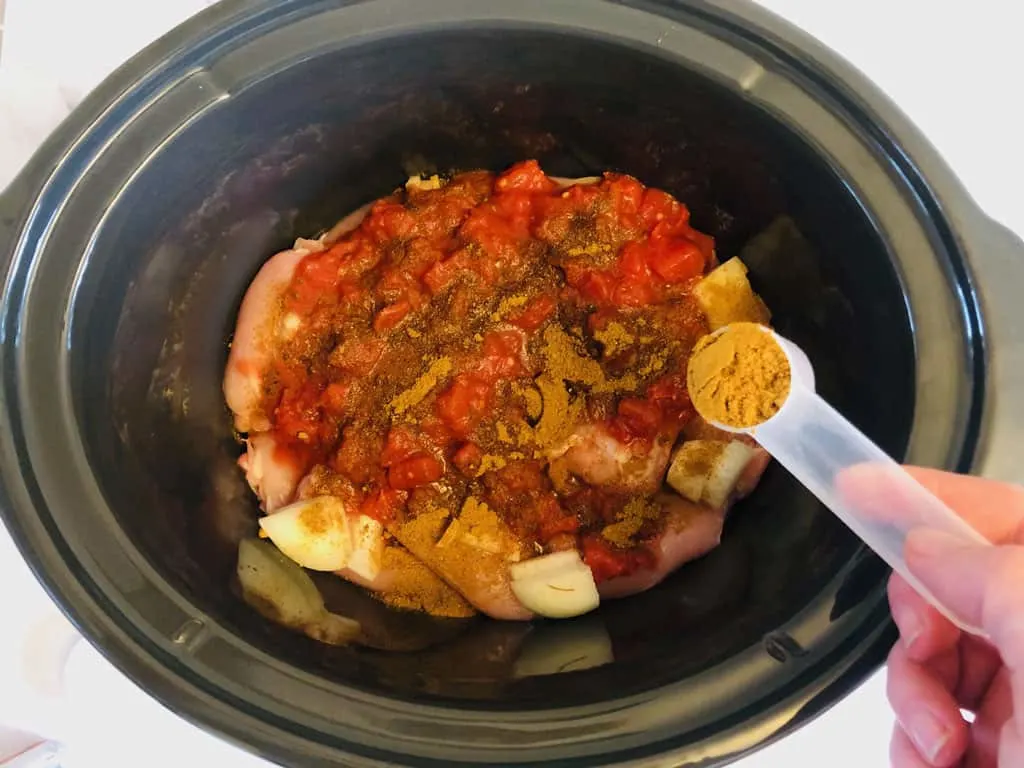 5. Stock
Adding stock is up to you – personally I prefer not to add stock to this meal as I find the amount of juice that the chicken releases is enough – but, you might prefer to add a little bit, say around 200ml.
You really don't need a lot of extra liquid as the chicken will release plenty as it slow cooks. If you add too much you might end up with a watery curry.
Remember too, the more chicken you have in your slow cooker, the more liquid will be released.
If you do end up with a curry that is too thin scroll down to find out how to thicken up a curry.
Set the slow cooker off on low for 6 hours or high for 4 hours.
6. Herbs
A handful of fresh coriander (or cilantro if you are in North America!) leaves stirred in at the end adds the perfect complimentary flavour to a slow cooker chicken curry. Just remove the stems, chop up and stir through.
7. Cream/Yoghurt
Yoghurt is traditionally used in an Indian curry, but you can use crème fraiche, cream or milk if you prefer. If you are using yoghurt, a natural one is best, I normally use Greek Yoghurt.
Whatever you decide on, make sure you add it at the end of the cooking time to avoid it curdling.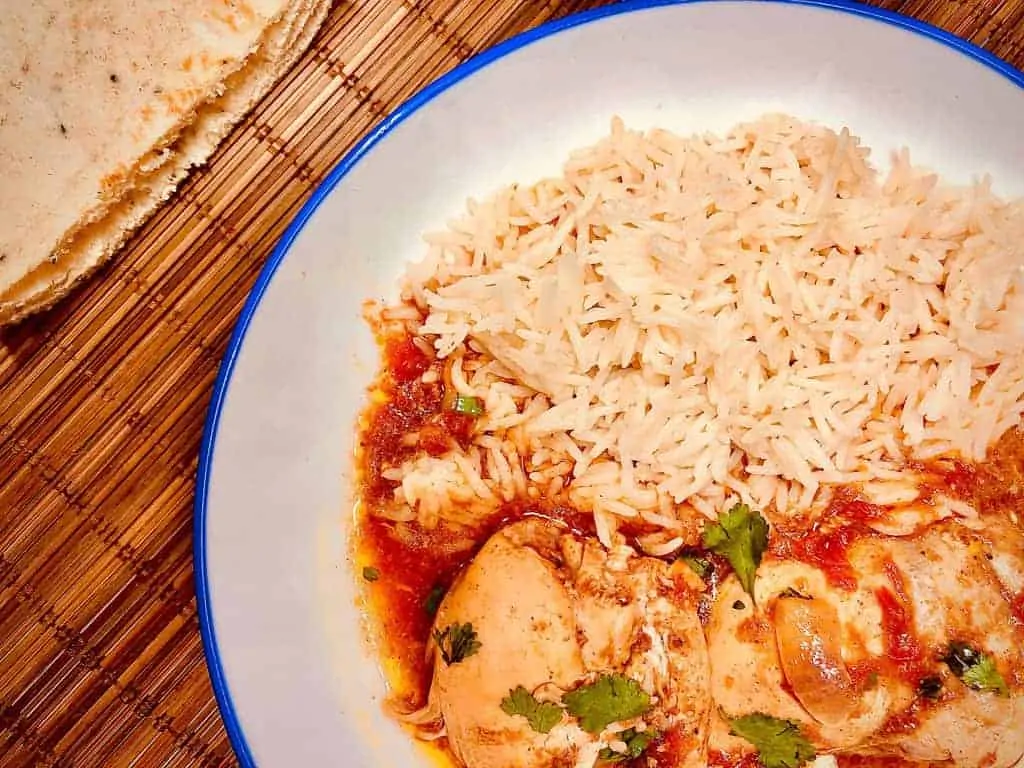 You can either serve the chicken thigs whole, or use a fork to shred them up.
How Do I Thicken Up A Chicken Curry In The Slow Cooker?
When the chicken curry is ready in the slow cooker you might find that the sauce is too thin. If this is the case then you can do the following;
Leave the lid off and leave the curry to cook for a further 20 minutes on high
Stir in some extra cream (or coconut milk)
Add some corn flour (mix 1tbsp of cornflour with 1tbsp of water to form a paste before stirring into the curry)
My Chicken Curry Is Lacking In Flavour
Once the slow cooker has finished cooking your chicken curry do a quick taste test to make sure the flavour is to your taste. If it lacks and tastes a bit bland then you have the following options;
Add in some more spices and/or salt – only add in a little bit at a time and taste in between
Squeeze in some lemon juice or a little vinegar and stir through – the acid will help the flavours come together
My Curry Is Too Spicy/Hot
If the curry has come out too spicy for your taste buds you can calm it down by adding in some more yoghurt (or whatever you used in step 7 above).
Curry Side Dishes
There are so many delicious Indian side dishes that work perfectly with a curry – take your pick from rice, naan bread, samosas, Bombay potatoes, poppadoms and mango chutney. Or maybe a bit of each?!
I hope you enjoy making this slow cooker chicken curry recipe! Let me know in the comments how you get on 🙂
You Might Also Like:
Chicken Casserole (In A Slow Cooker)
Pulled Pork (In A Slow Cooker)