Slow cooking a whole chicken is a fantastic way to enjoy a Sunday Roast.
If you're after a soft, tender and juicy chicken, using a slow cooker to cook a whole chicken is the answer.
Once cooked, the chicken quite literally falls off the bone.
And, the best bit? You can put the chicken in the slow cooker in the morning and then get on with your day!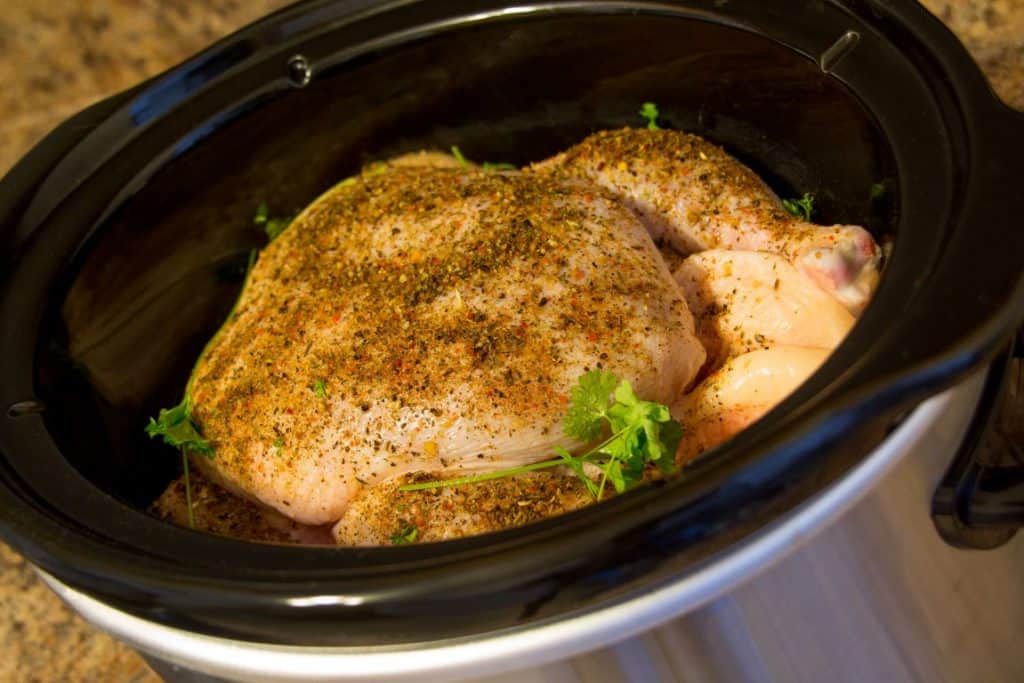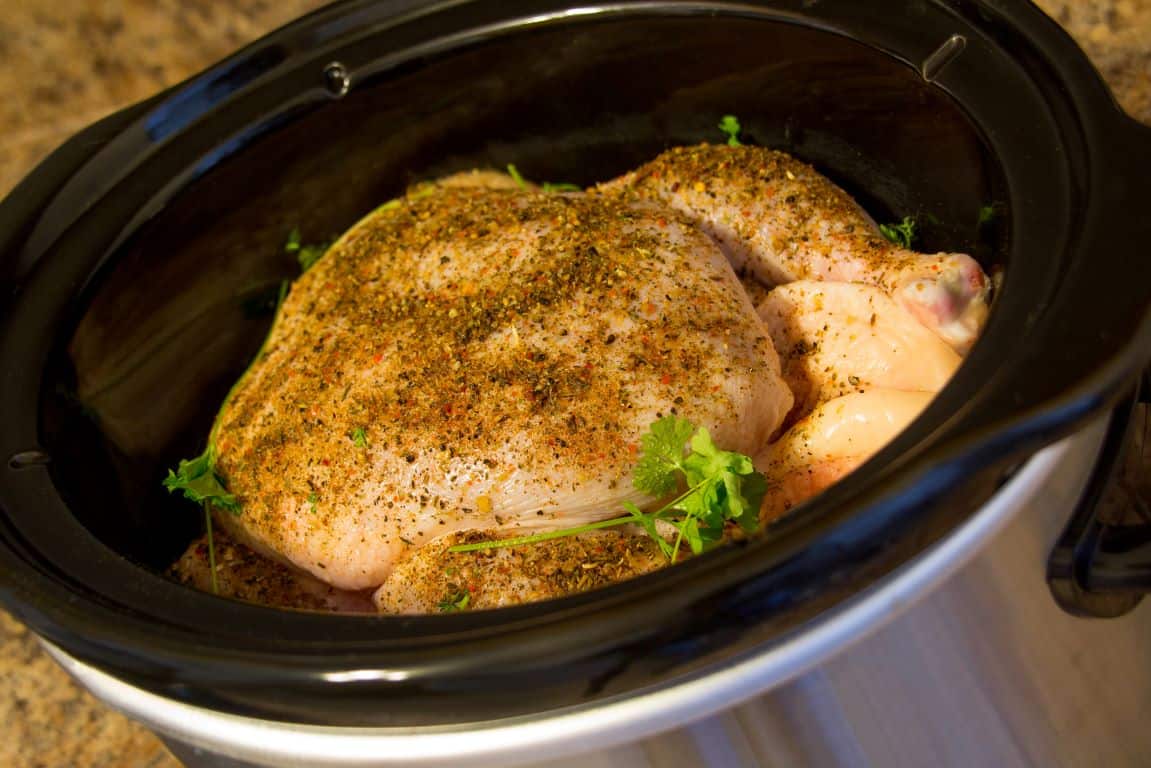 What You Will Need:
Essentials
Whole raw chicken
Slow cooker
Yes, it's true – you could just place the raw whole chicken straight in the slow cooker pot as it is.
However, it will taste much nicer if you add some extra flavours!
Optional
Onions, chopped
Whole garlic cloves, peeled
Herbs or spices – I like to add some dried mixed herbs, but you can add whichever your favourites are!
How To Cook A Whole Chicken In The Slow Cooker
Adding the chicken to the slow cooker
You can place the whole raw chicken directly in the slow cooker (which is what I do), or you can raise it slightly from the base of the bowl.
To raise it you can rest it on;
a small trivet
rolled up foil balls
chopped up vegetables (onion and carrot work well)
Using a sling
When you cook a whole chicken in a slow cooker it can sometimes fall apart when you go to remove it.
This is because the chicken becomes so tender and soft after such a long and slow cook time.
Although this is a good thing, it's not always ideal if the chicken falls apart in the slow cooker bowl.
One way around this is to use a sling. You can either;
buy a purpose made silicone sling (from Amazon)
make your own from rolled up foil
Cooking the chicken
Once the chicken is all seasoned up to your liking, simply pop the lid on the slow cooker and set it off for;
7-9 hours on low (my preferred option), or;
4-5 hours on high
Make sure the chicken is completely cooked through before removing it from the slow cooker.
You can check by either piercing it with a knife/metal skewer and seeing if the juices run clear. Or, use a meat thermometer.
Leave the chicken to stand for about 15 to 20 minutes before carving.
Making gravy from the liquid
You should be left with quite a bit of liquid at the end of the cook time. This is great for turning into chicken gravy!
You might want to pour it through a sieve to remove any bits, or, you can serve it as is if you prefer.
If it needs thickening up, you can stir in some gravy granules, or if you don't have any, you can make up a little slurry of cornflour to stir in.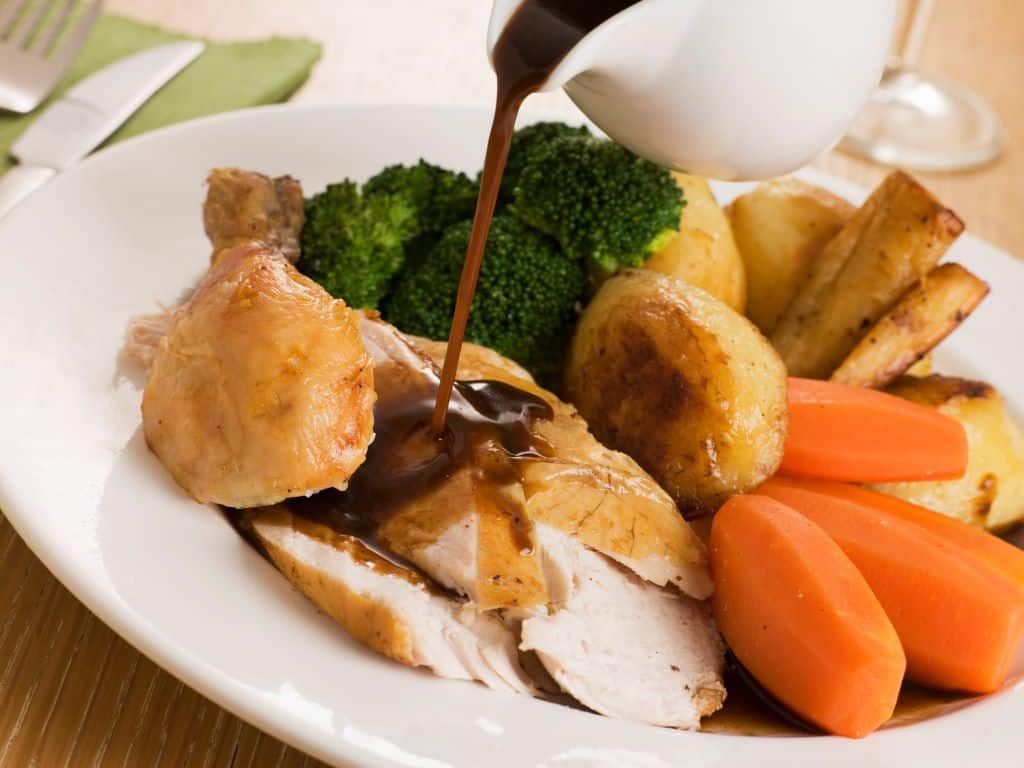 Making slow cooker whole chicken crispy
There is one downside to using a slow cooker to cook a roast chicken – the skin doesn't come out crispy!
The quick solution to this is to put it under the grill for about 3-5 minutes.
Either put the slow cooker bowl straight under the grill – but only if it is oven safe!
Or, transfer the whole chicken to a roasting tin.
Slow Cooker Whole Chicken Questions
Can you put a raw chicken in a slow cooker?
Yes, you can put raw chicken in a slow cooker. The chicken will slowly cook over many hours.
What size slow cooker do I need to cook a whole chicken?
This will depend on the size of the chicken. To cook a large whole chicken you should use a 6.5L slow cooker.
How long does chicken take in the slow cooker?
The fastest time would be around 2 to 3 hours on high and the longest 6-8 hours on low. This will vary depending on the cut of chicken as well as the quantity. Always check your chicken is cooked all the way through before eating.
Do you need to add water in the slow cooker with chicken?
No – you can just put raw chicken straight in the slow cooker with nothing else. The natural juices from the chicken will slowly release during the cooking time.
And that's it! Yummy, tasty slow cooker whole chicken! Let me know in the comments if you make it!