We probably cook a whole chicken at least once a week in our house. Even if we are not having a full-on Sunday Roast, we like to cook a chicken to have with other meals – it's also a really economical way to eat chicken, you can use up all the bits for different meals.
When I first got our air fryer it was pretty much with the sole intention of making air fryer chips and our own KFC chicken pieces at home (we still do this!) I never imagined though that I would be able to make so many air fryer recipes!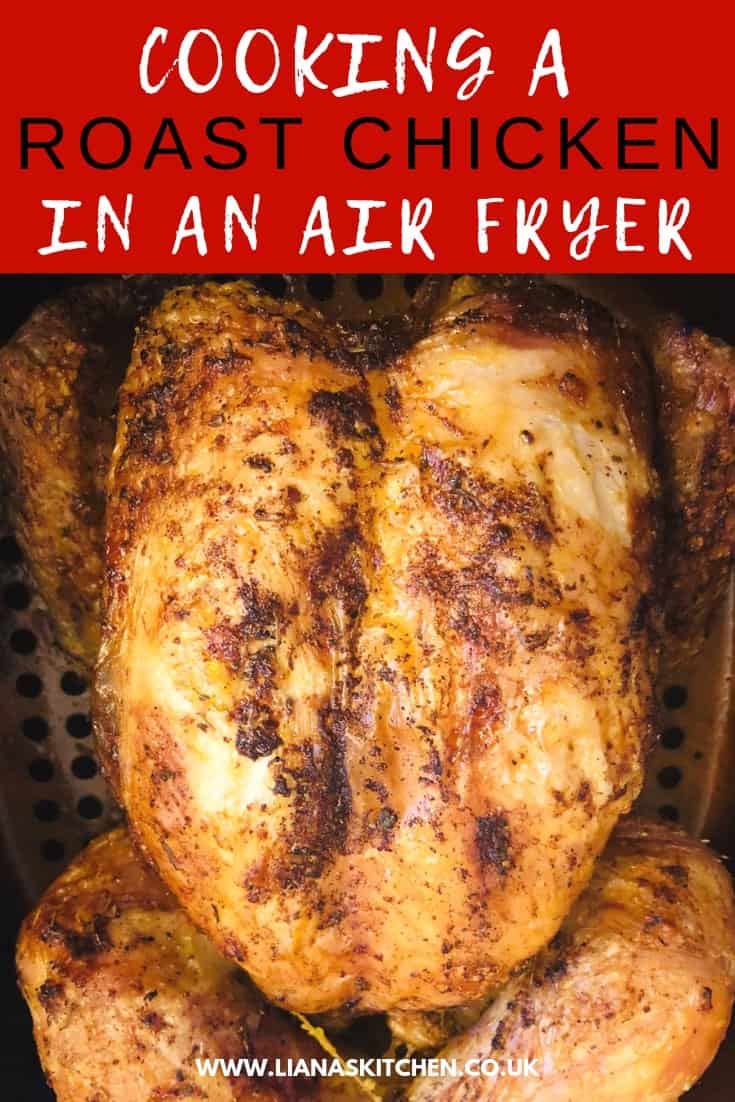 My first air fryer purchase was the smallest Phillips Air Fryer. It was a great first air fryer – but with us being a family of 5 I soon realised we would be needing a larger sized one if we were to be making big enough meals. Now we use a Power Air Fryer XL (the 5L capacity version) which is more than suitable for our needs.
In fact, it can fit in a whole chicken, as you will soon see!
I honestly can't remember the last time we cooked a roast chicken in the oven. We either use our slow cooker – usually if we are going to be out for the day, or the air fryer. We do occasionally use an electric pressure cooker for a whole chicken, but that isn't too often.
The Quick An Easy Way To Cook A Whole Chicken In An Air Fryer
Does It Fit?
Seems kind of obvious, but make sure the chicken can fit in the basket of the air fryer. I used a 2kg whole chicken and it was the perfect size. It's fine if it fills the whole basket, but you want to make sure there is a little space for the air to circulate.
Adding Oil And Seasoning To Air Fryer Chicken
You can just pop the chicken straight in the air fryer and it will cook just fine, it will also taste just fine – but if you want super tasting chicken I really recommend adding a little oil and some of your favourite seasonings.
You really don't need to add much oil – I used 1tbsp of olive oil and I pasted it on with a pastry brush to make sure it was coated all over. You can add what seasoning you prefer, my usual includes;
1tsp smoked paprika
1tsp dried mixed herbs
1tsp garlic salt/granules
I mix it all together in a small pot and then sprinkle it over the oiled chicken, either using the pastry brush, or my hands, to rub it in all over.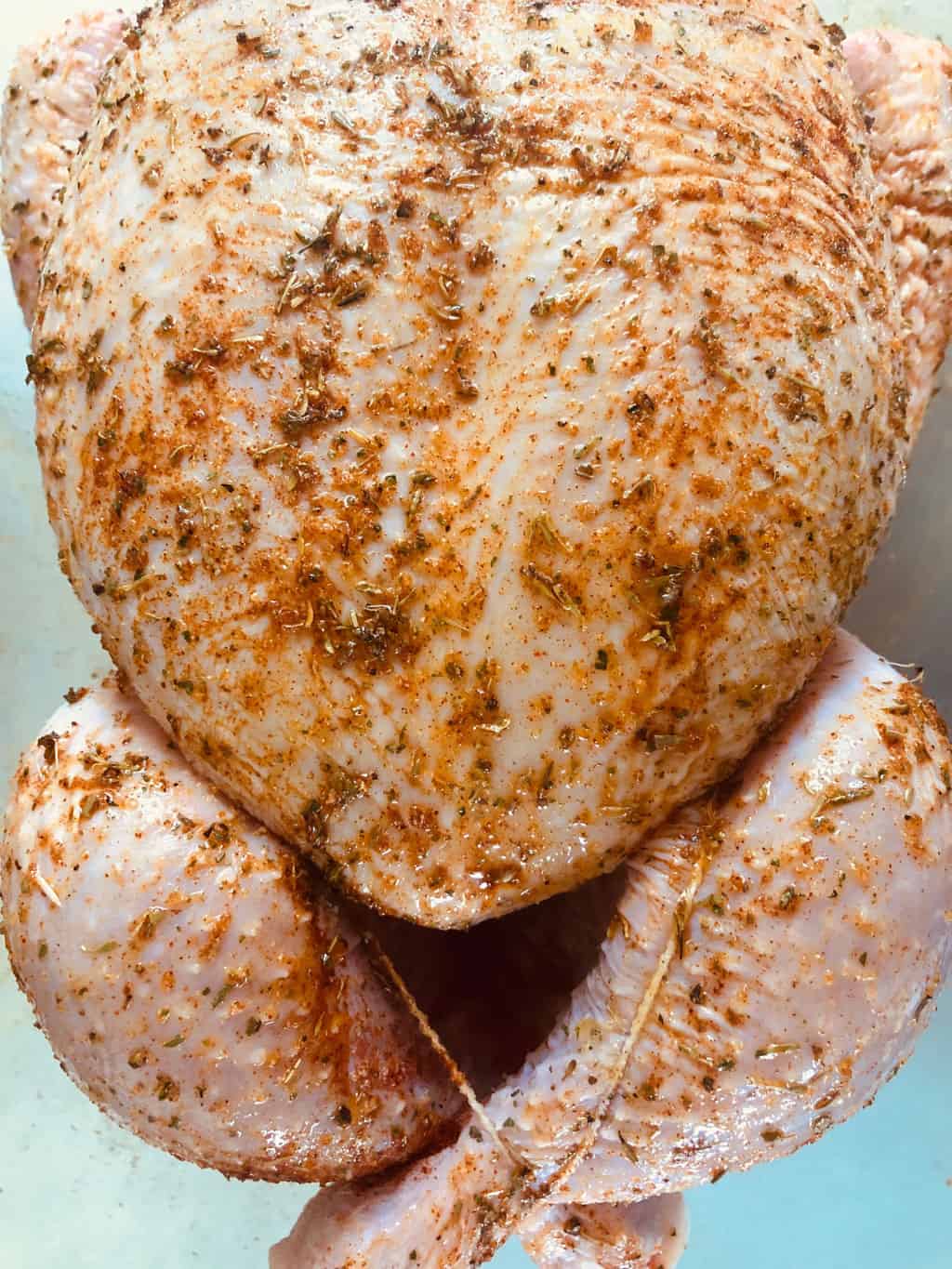 Putting The Chicken In The Air Fryer
Once I am done seasoning the chicken I put it straight into the air fryer basket. I don't usually preheat the air fryer – usually because I forget! You can heat it up for 5 minutes or so, while you are seasoning up the chicken, but no big deal if you don't.
I like to cook the chicken breast side down for the bulk of the cooking time. It always seems to come out more evenly cooked, and not too overcooked across the breast when I cook it this way round.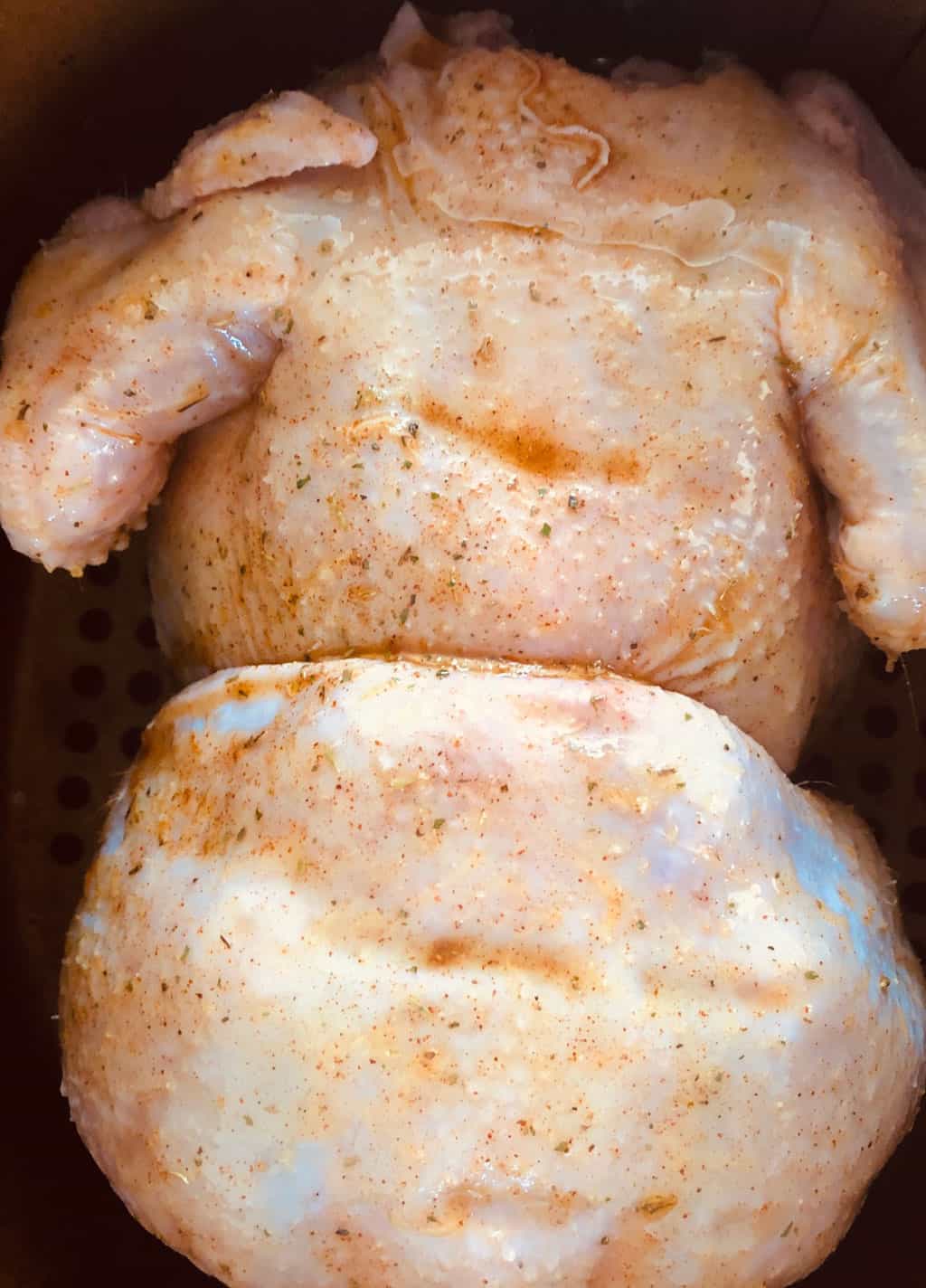 For the first 45 minutes I cook it at 180C. I like to check it once or twice during this time to make sure it isn't over cooking. A quick opening of the air fryer tray won't effect or delay the cooking time.
Once the 45 minutes is up I turn the chicken over so that it is breast side up. I then cook it for a further 15 minutes at the same temperature. After the 15 minutes is up I pierce the chicken to make sure it is cooked through – if you get a clear juice running out you should be good to tuck in. If I am ever unsure – and if it is one of the first times you are cooking a whole chicken in an air fryer – you should use a meat thermometer to double check it is cooked through. Different air fryer machines can behave differently, so always check it is cooked through before eating!
What To Serve With Air Fryer Chicken
There are so many choices – so much works well with chicken!
Some of these can even be made in your air fryer. Once the chicken has finished cooking you can take it out and leave it to rest before carving. While it is resting you can cook the side dish!
Slow Cooker Whole Chicken Vs Air Fryer Whole Chicken
First up, both ways taste delicious. But each method produces quite different results.
Slow cooker chicken can be in all day and left to it's own devices. You can literally just put it in the slow cooker, put the lid on, set it off on low and leave it all day. When you return, the chicken will be so soft and tender. It will fall off the bone and let me tell you, none of that chicken will be going to waste! You can even use the cooking juices to make your own stock and gravy.
I love to get the last of the chicken and stock to make a chicken soup.
Air fryer chicken only takes about 1 hour to cook. But you do need to be about to check on it, flip it, etc. However, air fryer chicken comes out so amazingly crispy on the outside, and the flavour, oh my, it's like proper rotisserie chicken! And the inside is so soft and juicy, it doesn't dry out at all. In comparison a whole chicken cooked in a slow cooker will be soft and anaemic looking, if you want the same crispy exterior finish as an air fryer chicken you are going to need to pop it in the oven for a while to crisp it up.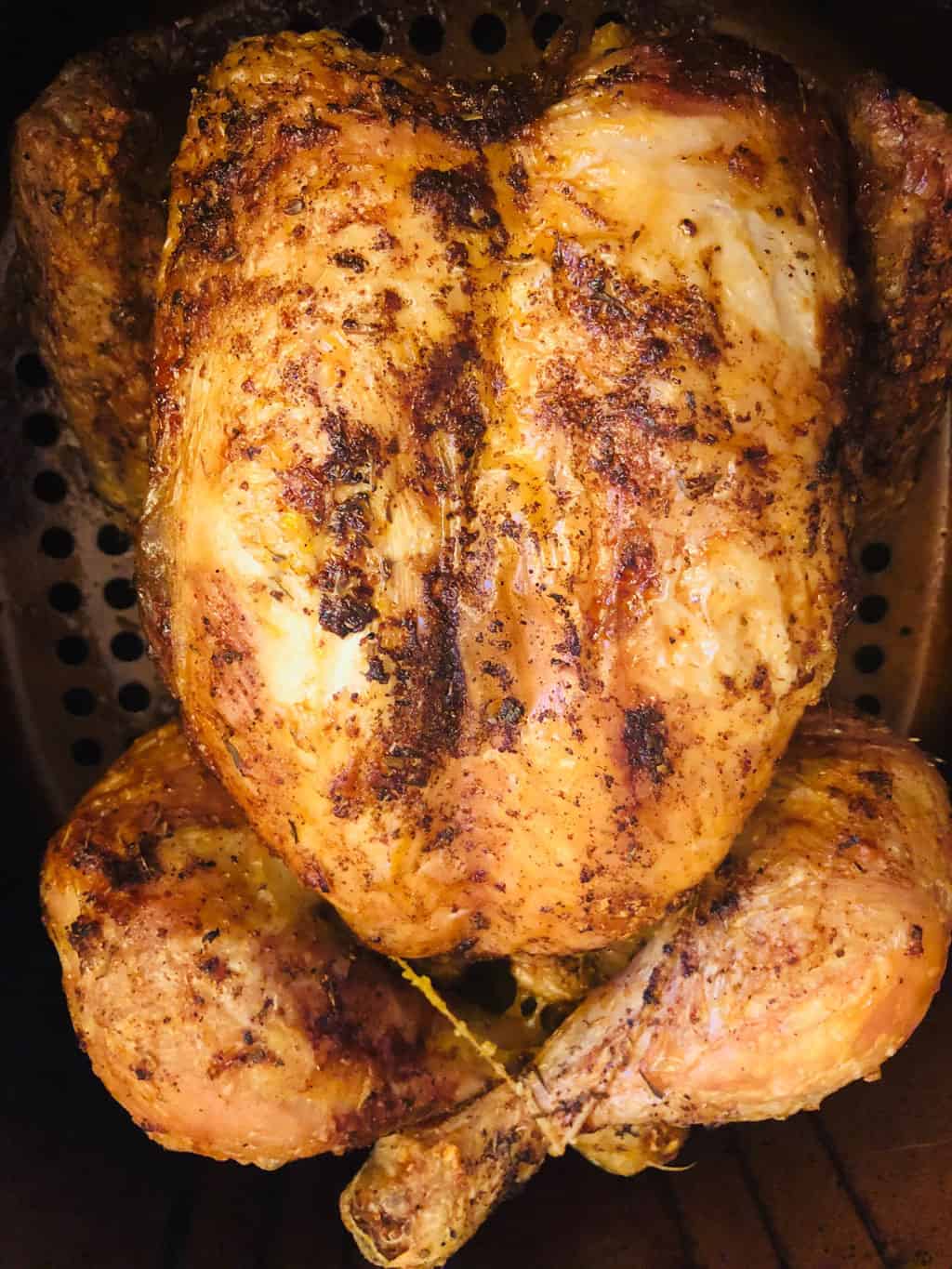 So, cooking a whole chicken either way produces great results, although quite different ones. What they do both have in common though is that with no oven on, the house keeps much cooler – a real bonus for those hotter months!
Or, it can help free up the oven for cooking other dishes. Apple crumble for pudding anyone?!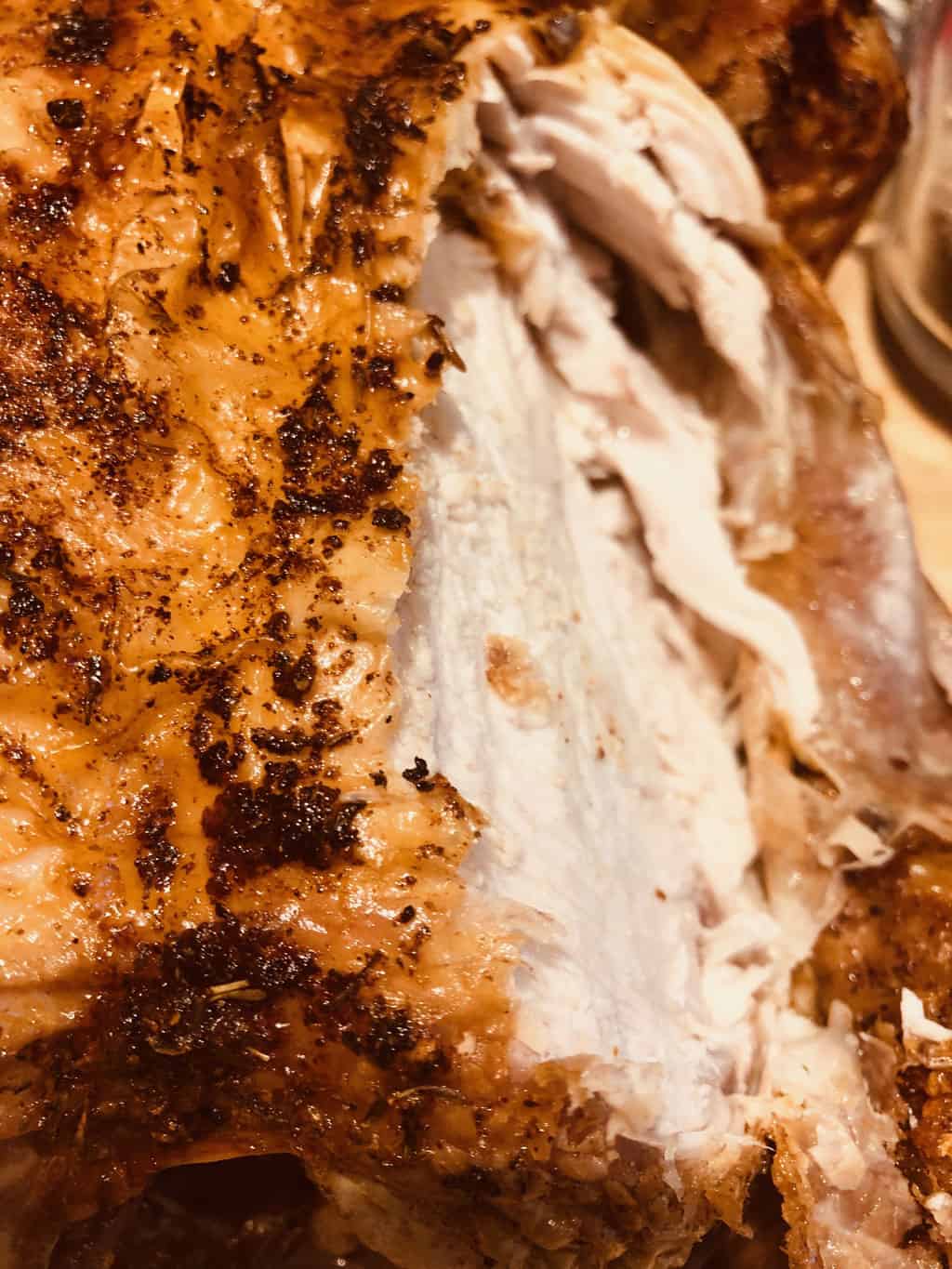 Other Air Fryer Chicken Recipes You Might Like