Curried parsnip soup is perfect as the colder days creep in, and our soup maker is back to almost daily use.
The simplicity of literally throwing everything in and pressing a few buttons still amazes me, despite how many times I've used it!
Read on to discover how easy it is to make curried parsnip soup in a soup maker.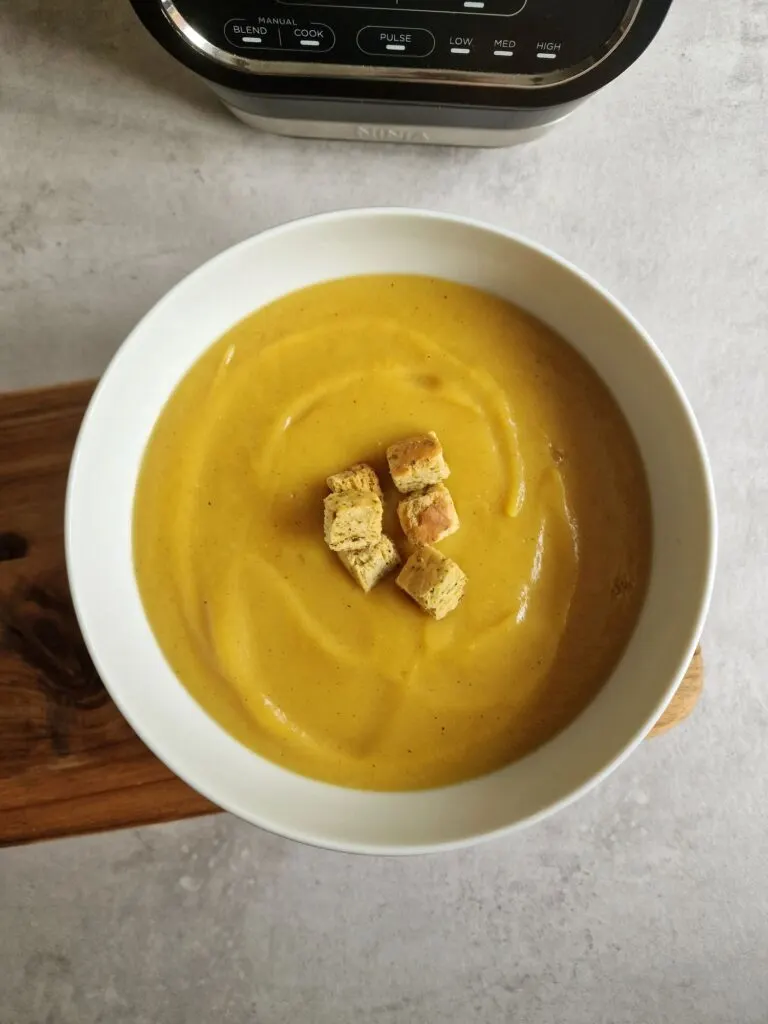 The great thing about any soup maker recipe is you can take the main ingredient (in this case, parsnips) and experiment with different herbs and spices.
With just the addition of 2 tsp of curry powder, this simple parsnip soup has become a curried one.
How To Make Spicy Parsnip Soup In A Soup Maker
I made this spicy parsnip soup in a Morphy Richards soup maker and a Ninja. Both are really quick and easy to make.
For more concise instructions and to print this recipe out, head down to the recipe card at the bottom.
Curried Parsnip Soup Ingredients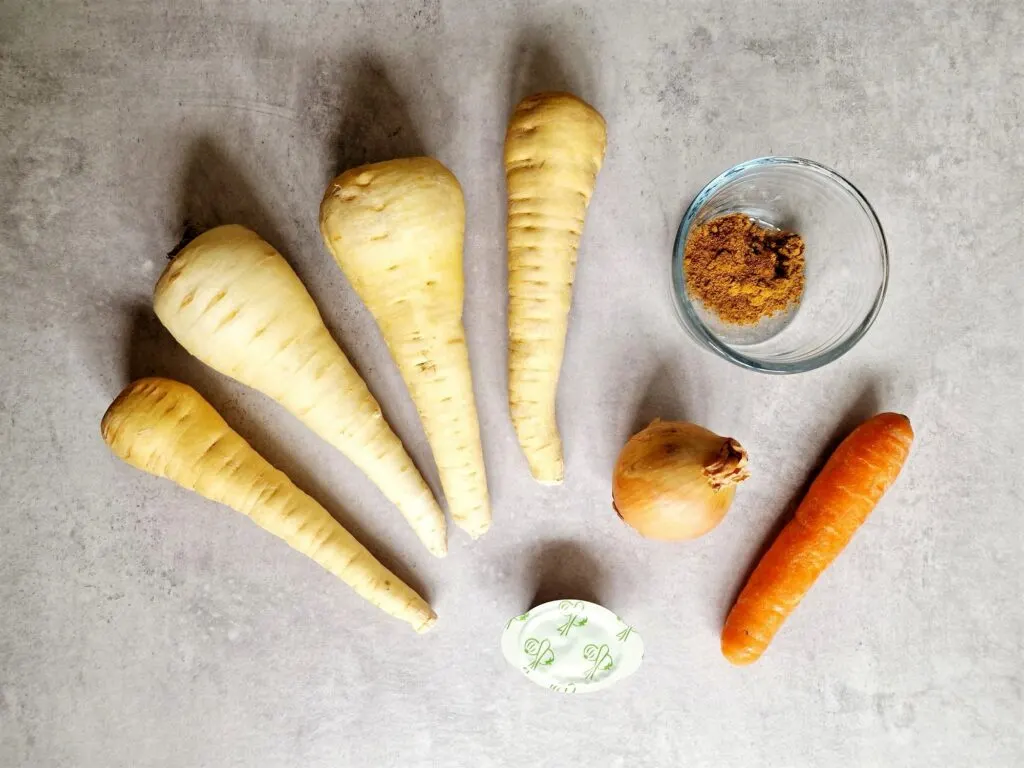 Parsnips: I used about 500g of peeled and chopped parsnips. This amount, combined with some chopped carrots, was the perfect (thick) consistency when made in a Ninja soup maker (capacity 1.4L).
The same quantities can be used in other soup makers, or the parsnips can be increased a little for larger capacity models (for example, the 1.6L Morphy Richards Soup Makers).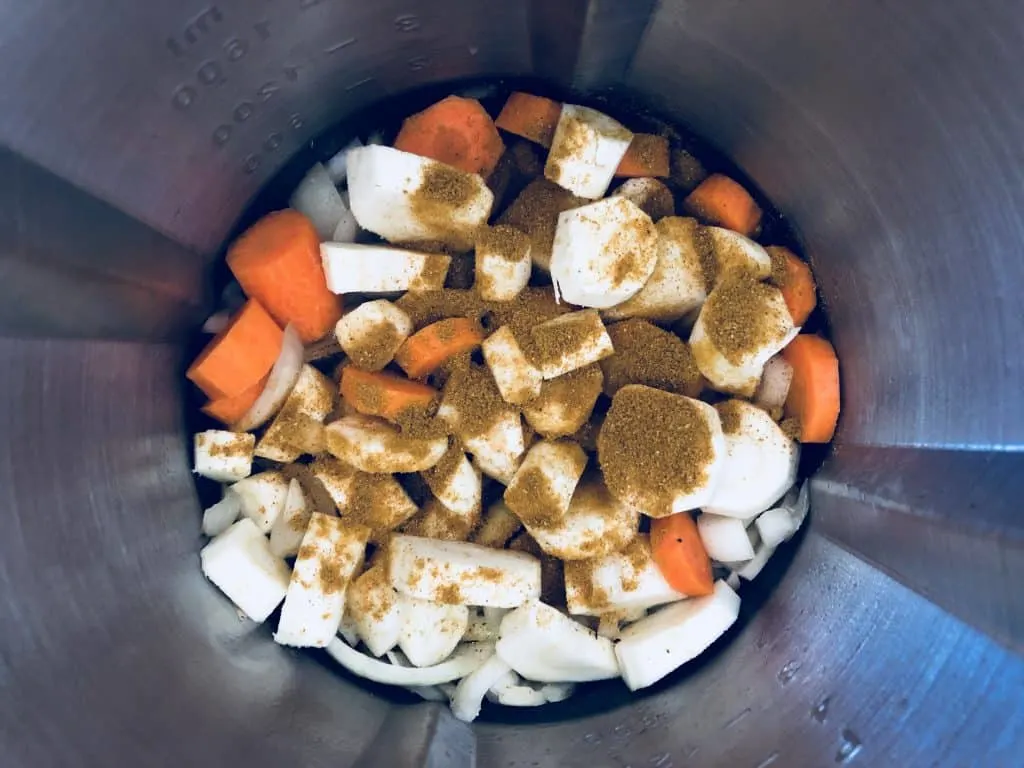 Carrot: I added just one small chopped carrot (it weighed about 80g).
Onion: I used one small onion, chopped or quartered.
Curry Powder: I used 2 tsp of medium curry powder. This gives a slight and subtle heat; add an extra 1 tsp if you want a curried parsnip soup with a bit more kick.
Stock: I used one vegetable stock pot, adding it directly to the soup maker jug and then topping it up with hot boiling water to the MAX line.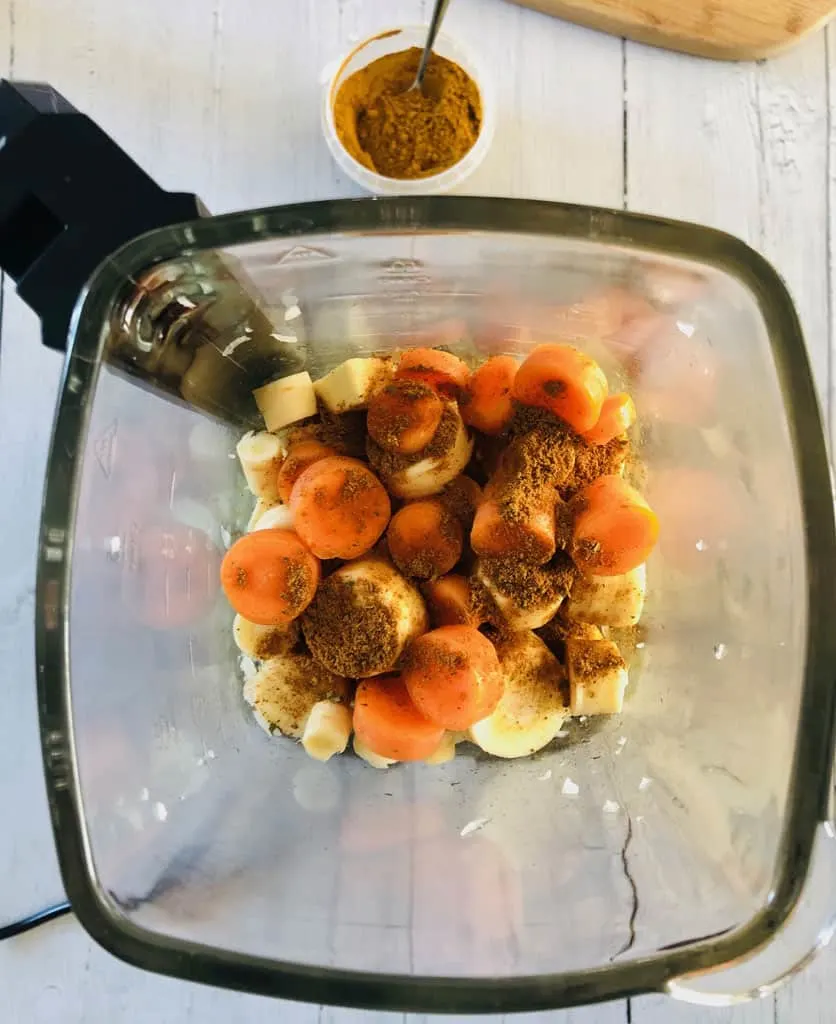 Making Curried Parsnip Soup
Begin by preparing the ingredients. Peeling the carrots and parsnips is optional; as long as they are washed, a soup maker will blend the skin up very smoothly.
Add all the onion, parsnips, carrots, curry powder and vegetable stock pot to the soup maker jug. Add hot water to the MAX line of your soup maker.
Set the soup maker off on a smooth cycle.
At the end of the cycle, season, if necessary, and add your favourite soup topping.
Seasoning The Soup
You can also add any seasoning or garnish you like at the end, once the soup has been poured out. This way, you can do a taste test and decide if it needs anything else.
The taste can also depend on what stock you have used and any salt or other seasoning that has been added. This is another reason to leave that part of the soup-making process until the end.
GRAB MY BOOK!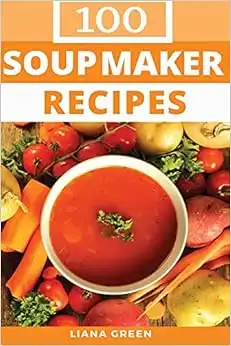 We earn a commission if you click this link and make a purchase at no additional cost to you.
How To Make Parsnip Soup Thicker
You can optionally add 100ml of single cream at the end to give it a creamier and thicker texture.
Alternatively, you can add a potato at the beginning instead of cream to give it a thicker consistency. Just remember to adjust stock levels consistently.
You might also like: How To Thicken Soup
If you enjoy this soup, you might be interested in joining my Soup Maker Recipes group over on FB; we're a friendly bunch!
More Parsnip Soup Maker Recipes
Are you looking for some alternative parsnip soup maker recipes? Check out some of these for inspiration;