Slow cooker honey mustard chicken is a quick to prepare meal that requires very few ingredients.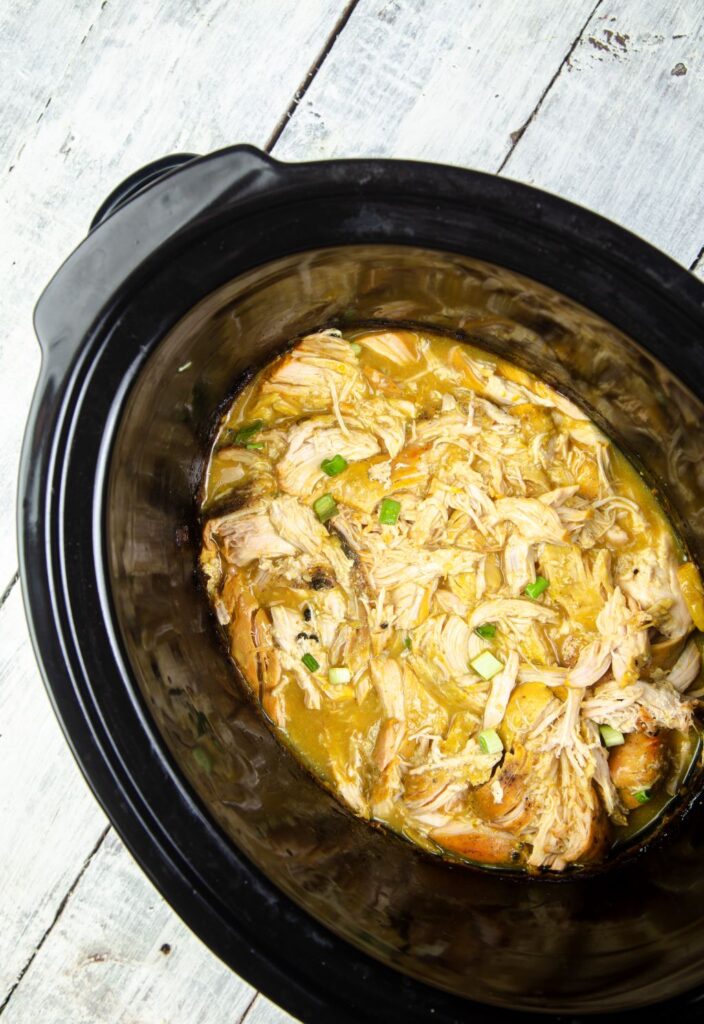 How To Make It
What you need: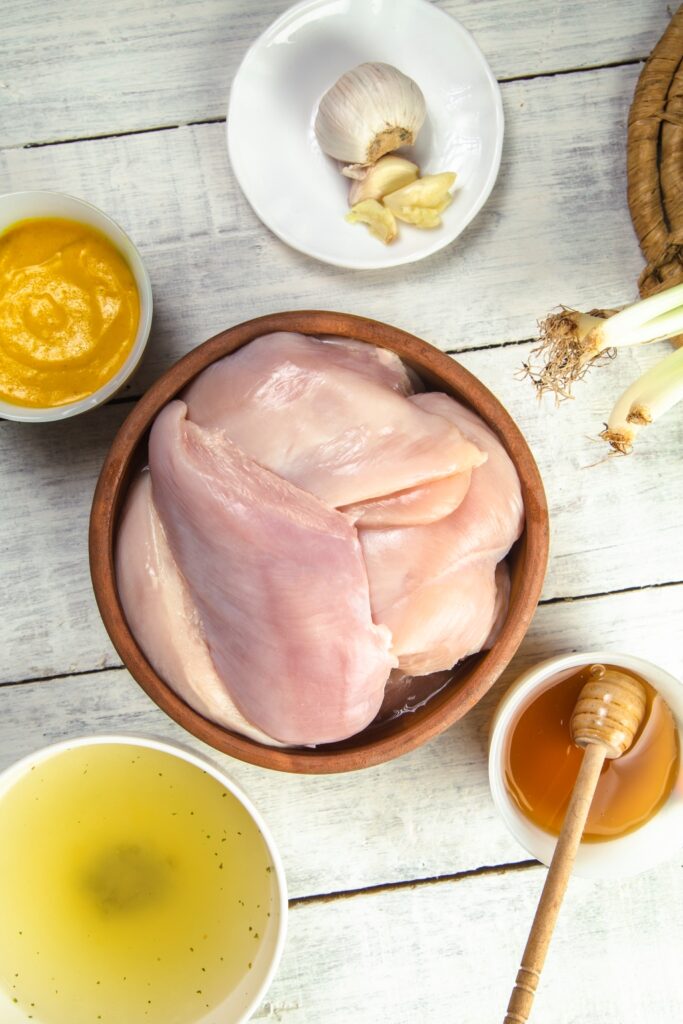 Chicken
I find when making most chicken-based slow cooker meals that boneless and skinless chicken thighs are my favourite.
Unless I'm making a whole roast chicken in the slow cooker that is!
Chicken breasts do work ok too, but they require much less cooking time and don't come out as tender as thighs.
Honey
Runny honey is the easiest to use – I normally add 4tbsp honey to the slow cooker – because we like our honey mustard chicken sweet – but you can reduce this to 2 or 3 tablespoons if you prefer a less sweet version.
Mustard
Dijon mustard is best for this recipe. I have used English mustard before and the Dijon definitely had more flavour in this dish. 2tbsp should be enough – add a little more if you prefer a more mustardy kick.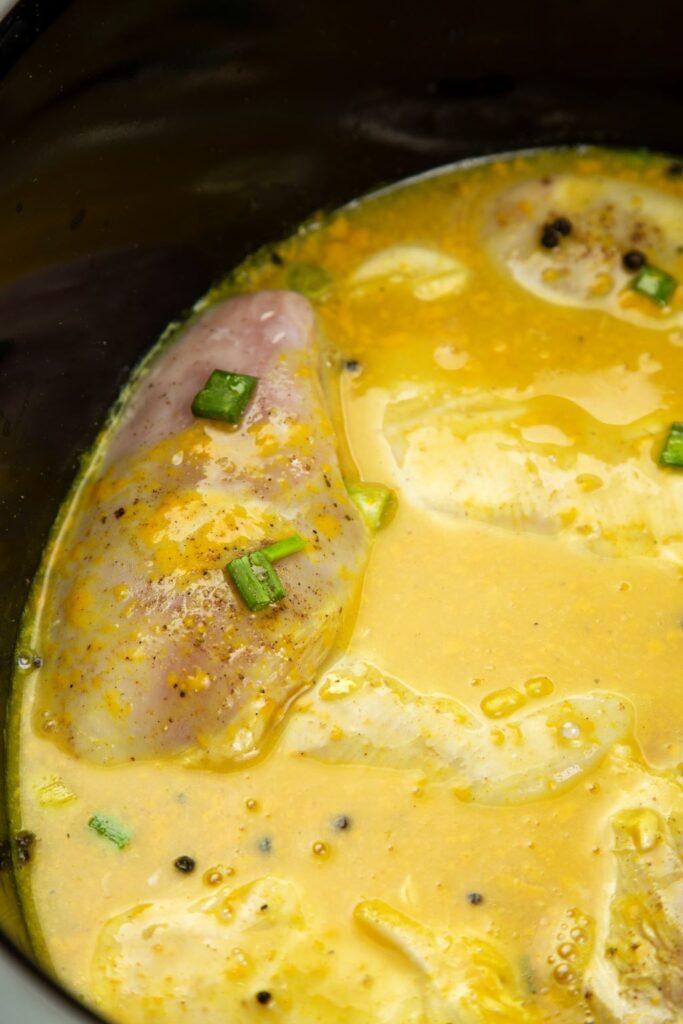 Spring Onions
Sliced up and thrown in – I prefer spring onions with this recipe, but you can use normal yellow onions.
Garlic
I used 2 cloves of garlic, crushed.
Stock
Either vegetable or chicken stock. I add 150ml of stock to this slow cooker recipe – remember the chicken will release a lot of juices during the cooking time.
Cornflour
The sauce at the end of the cooking time will likely not be thick enough – you can leave the lid off for the last half an hour of the cooking time, but adding in some cornflour will help thicken it up some more. Alternatively, you can stir in some cream to thicken it up.
Peas/Broccoli
Optionally you can add in some peas for the last 15 to 30 minutes of cook time (when you leave the lid off).
Making It
You can optionally sear the chicken first – I don't tend to with slow cooker recipes (unless it's sausages!) – but you can if you have a slow cooker sear model.
Make up the stock in a jug and stir in the honey, mustard and any seasoning (salt, pepper, garlic powder etc, according to taste).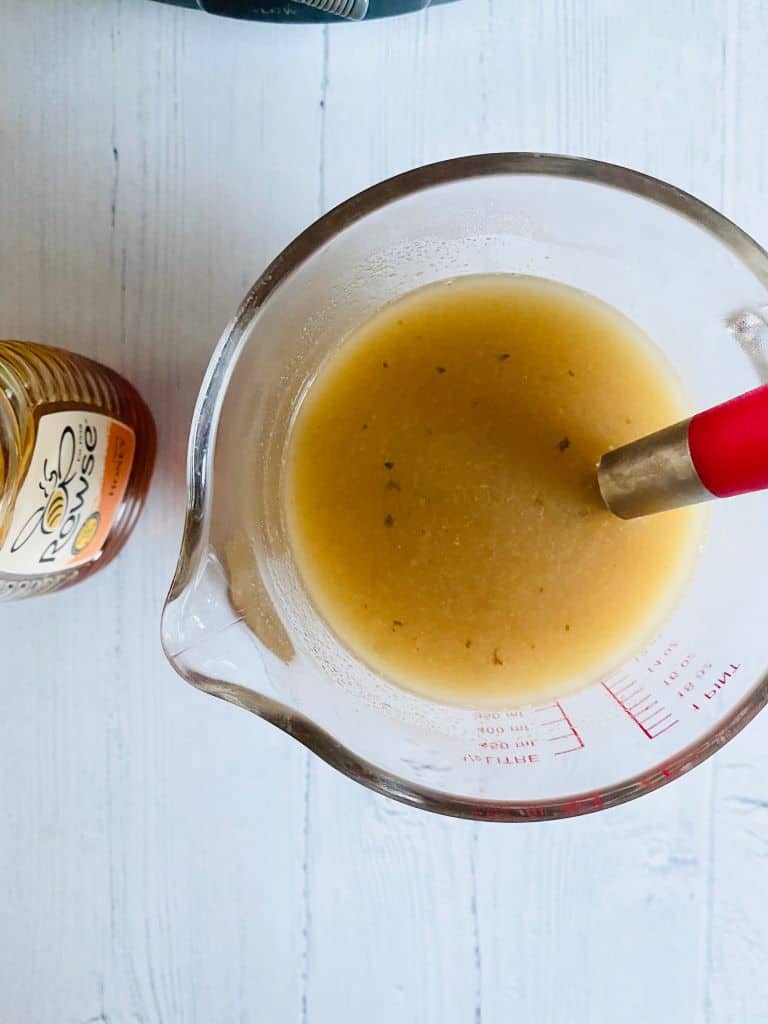 Place the chicken and spring onions in the slow cooker.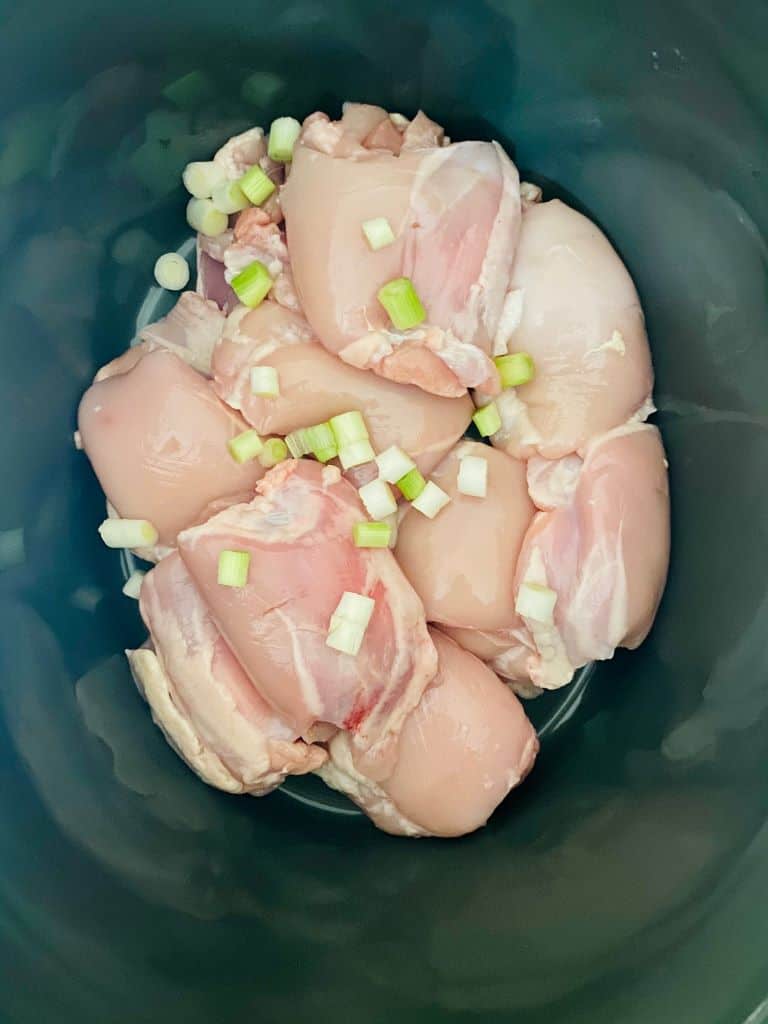 Pour the stock mixture over the top.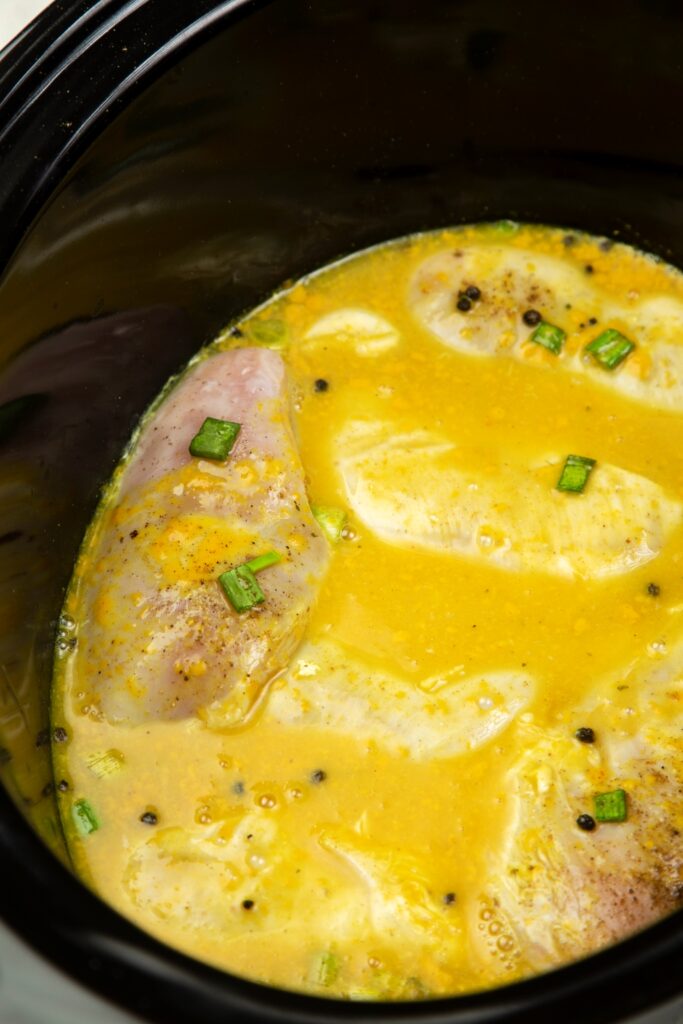 Half an hour before the end, lift the lid off to allow the sauce to thicken up.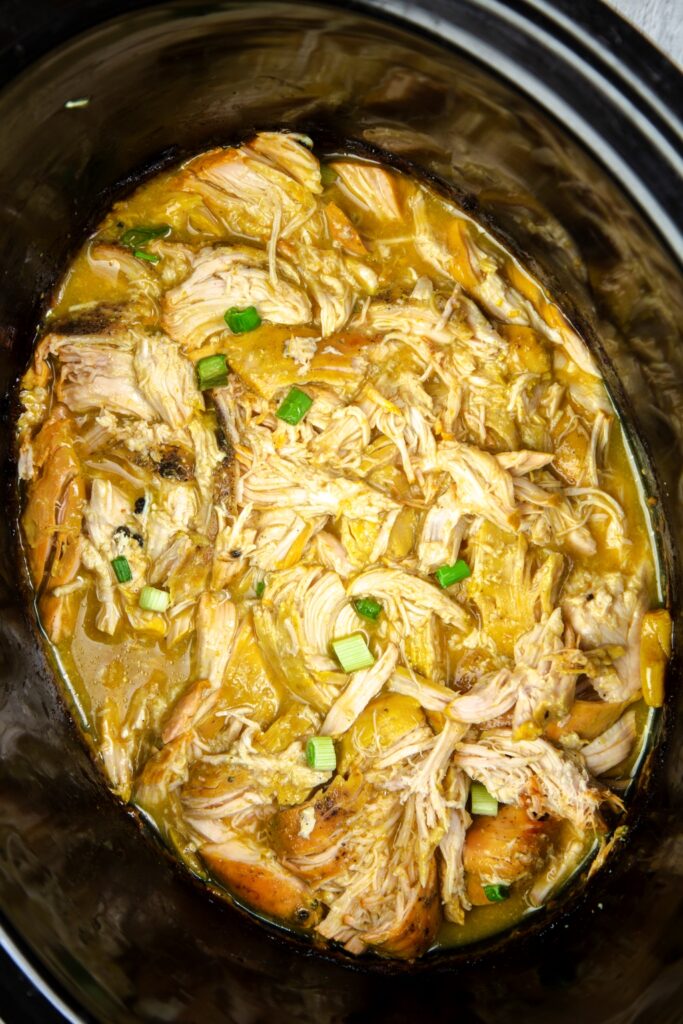 You can add in some peas or broccoli at this point too if you wish.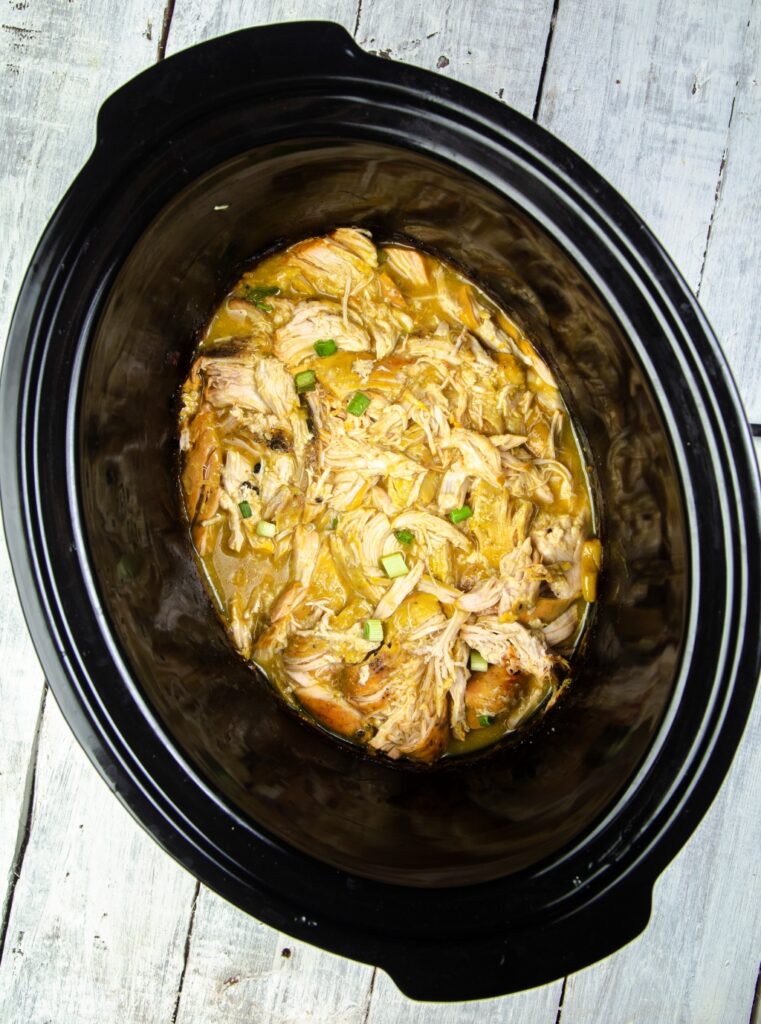 What Should I Serve With Slow Cooker Honey Mustard Chicken?
You could have it with rice, noodles, mash potato – or, if you like, add some new potatoes in at the beginning of the cooking time and have an all in one meal ready for you! Much like my slow cooker chicken casserole recipe.

Can I Freeze It?
Yes, you can freeze it but I would leave the cream out (if using) and stir that in when you reheat it. Leave it to completely cool down before storing in a freezer suitable container.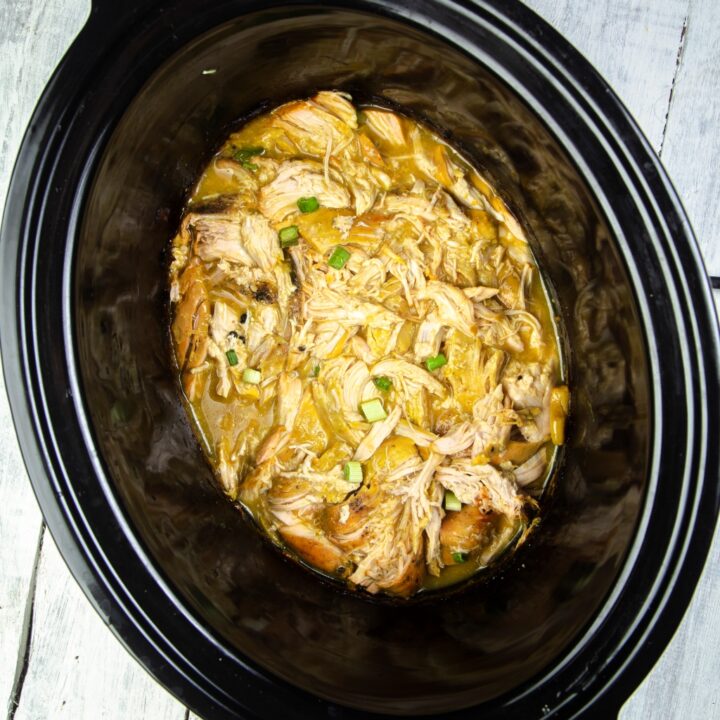 Slow Cooker Honey Mustard Chicken
Total Time:
6 hours
10 minutes
Slow cooker honey mustard chicken is quick and easy to prepare. Simply add it all in the morning and enjoy the tasty and filling dinner later on!
Ingredients
8 boneless chicken thighs
2-4tbsp honey
2tbsp Dijon mustard
4 spring onions, sliced
2 cloves garlic, crushed
150ml chicken stock
Instructions
Optionally sear the chicken before adding it to the slow cooker.
In a jug make up the stock with hot water. Add in the honey, mustard, garlic and spring onions. Also add in any seasoning you might want to (according to taste).
Pour the stock mixture over the chicken in the slow cooker.
If you are adding new potatoes, add them in now too.
Set off on low for 6 hours, or high for 4 hours.
In the last 30 minutes, lift the lid off to allow the sauce to thicken up. If you are adding peas or broccoli you can add them now.
If the sauce is too runny for you make up a little cornflour slurry according to the packet instructions, or alternatively stir in a little cream.
Serving suggestions: with rice, noodles or mashed potatoes.
Nutrition Information:
Yield:

4
Serving Size:

1
Amount Per Serving:
Calories:

520
Total Fat:

18g
Saturated Fat:

6g
Trans Fat:

0g
Unsaturated Fat:

12g
Cholesterol:

274mg
Sodium:

658mg
Carbohydrates:

38g
Fiber:

1g
Sugar:

36g
Protein:

56g
Did You Like This Recipe?
If you enjoyed this recipe you might like my new eBook '100 Slow Cooker Recipes.' It will be released on Monday 8th March 2021, but you can pre order it today for a discounted price – check it out!