Slow cooker pulled chicken is a simple, tasty, no-fuss recipe that your family will love.
The mouth-watering pulled chicken is tender, juicy, and brimming with flavour, making it the perfect addition to sandwiches, salads, tacos, or even as a topping on a homemade pizza.
It's cooked in a blend of spices, brown sugar, and barbecue sauce that infuses the chicken with a wonderfully smoky and slightly sweet taste.
And best of all, it's made in a slow cooker, which means it's largely hands-off cooking for you!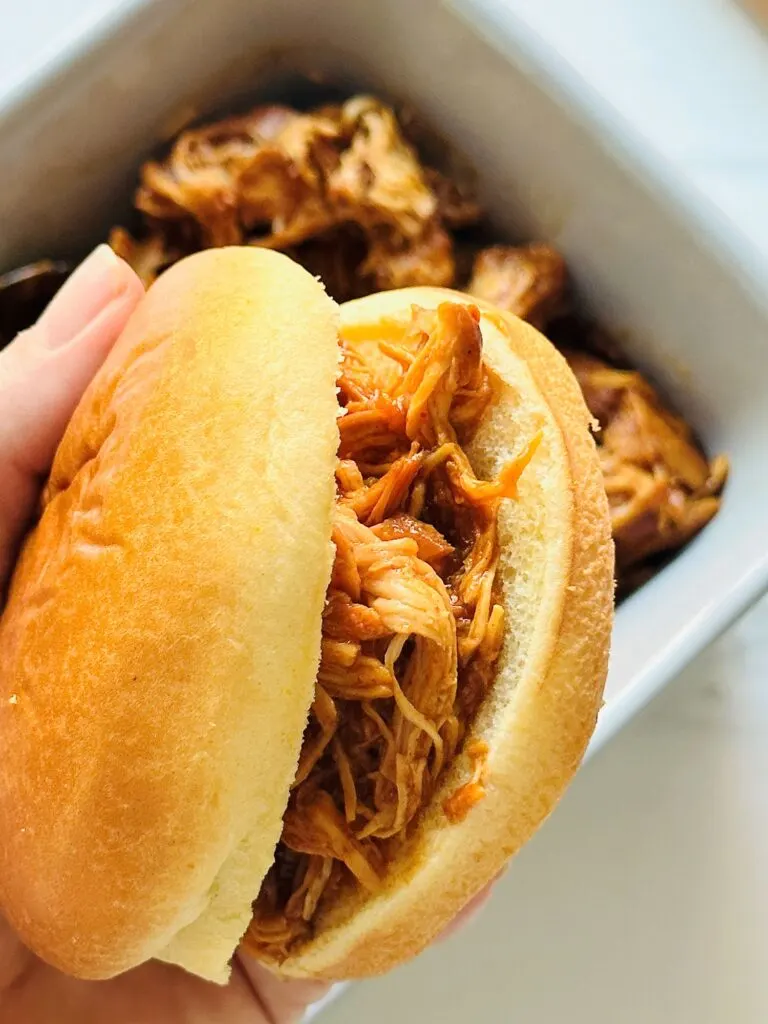 How To Make Pulled Chicken In A Slow Cooker
The ingredients below are enough to serve 4 people, you can make more or less by adjusting the quantities accordingly.
To print out this slow cooker pulled chicken recipe scroll down to the recipe card at the bottom of the post.
What You Need: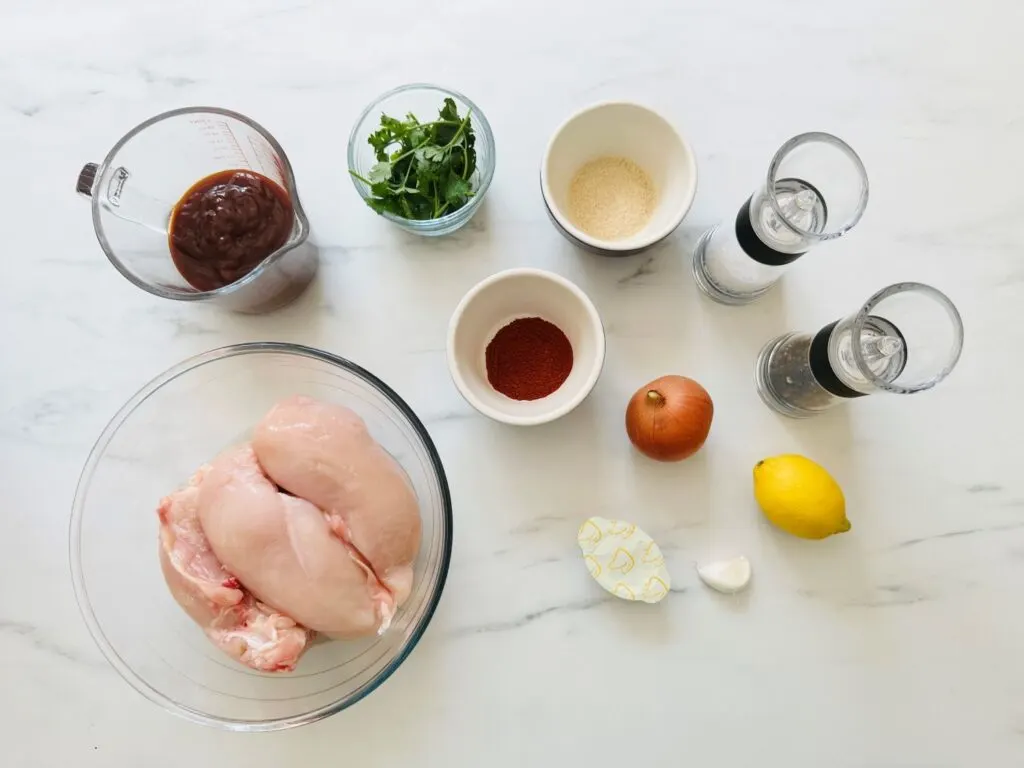 Chicken – I used 4 chicken breasts. You can use breasts or boneless chicken thighs, both shred well for pulled chicken.
Seasoning & Spices – I used a little salt and pepper to season the chicken as well as 2 tsp of smoked paprika.
Barbecue Sauce – I used 200ml of shop bought BBQ sauce. You can also use your own homemade BBQ sauce.
Sugar – I used 1 tablespoon of brown sugar.
Lemon – I used 1 tablespoon of lemon juice, you can use apple cider vinegar instead.
Onion & Garlic – I used 1 small onion, finely chopped and a clove of garlic, minced.
Chicken stock – I diluted 1 chicken stock pot in 50ml of boiling water.
Making It:
Start by placing the chicken breasts (or thighs) in the slow cooker and season with salt and pepper.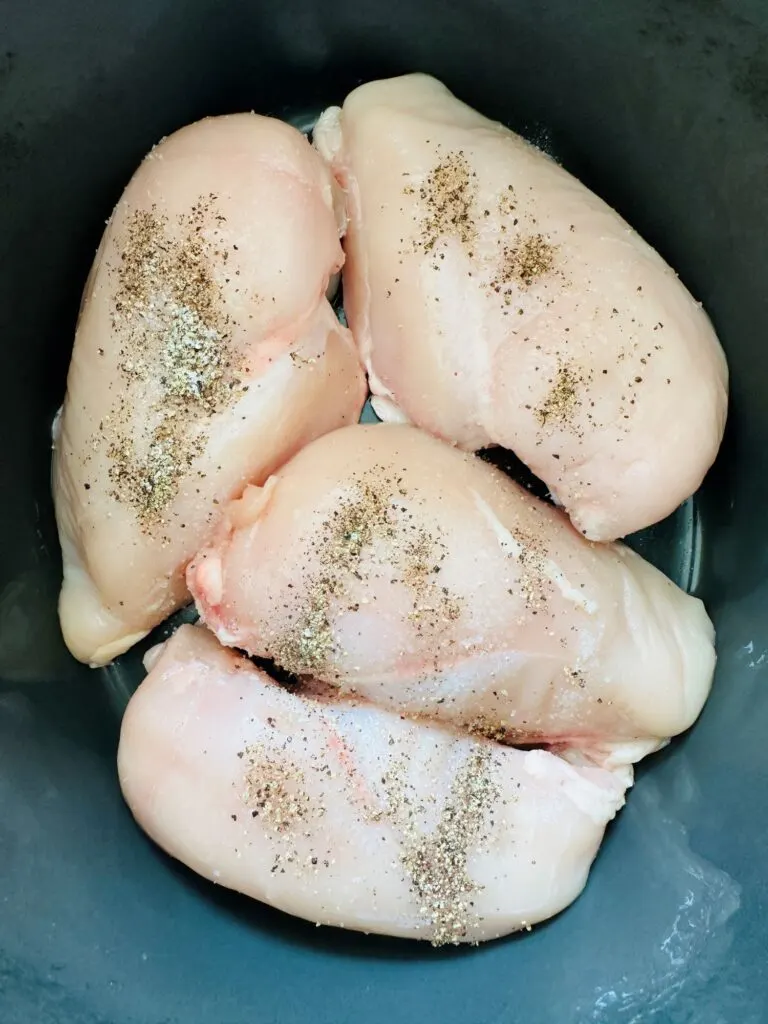 In a bowl or jug mix together the barbecue sauce, chicken stock, sugar, and lemon juice (or apple cider vinegar).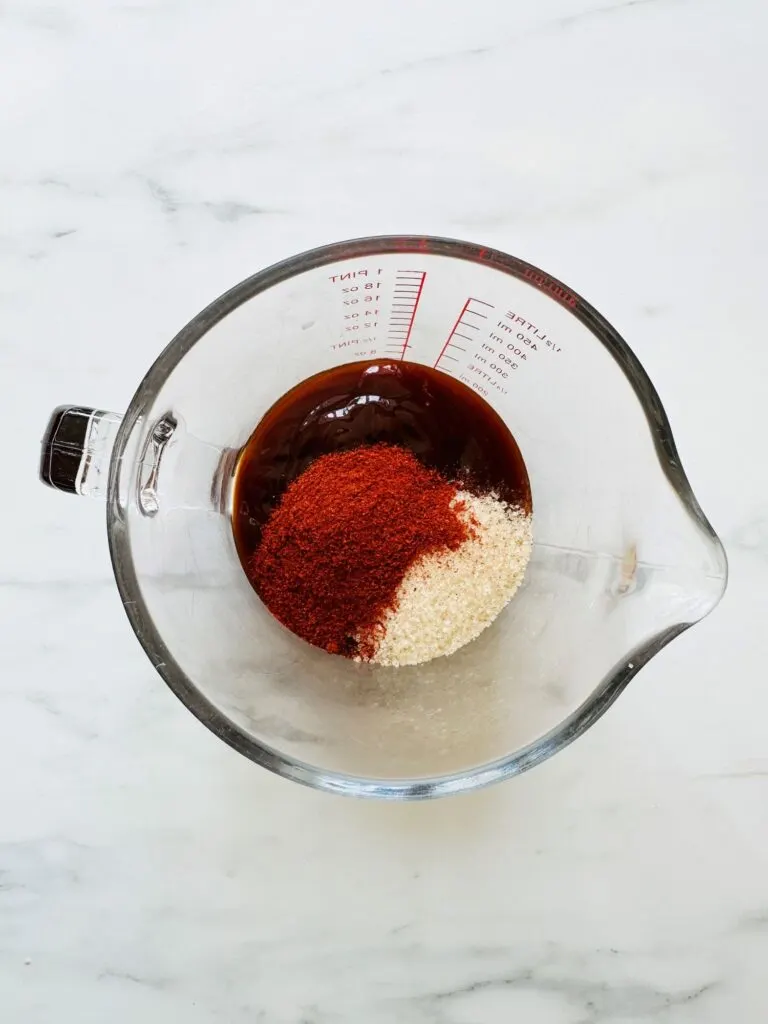 Next, stir in the minced garlic and chopped onions.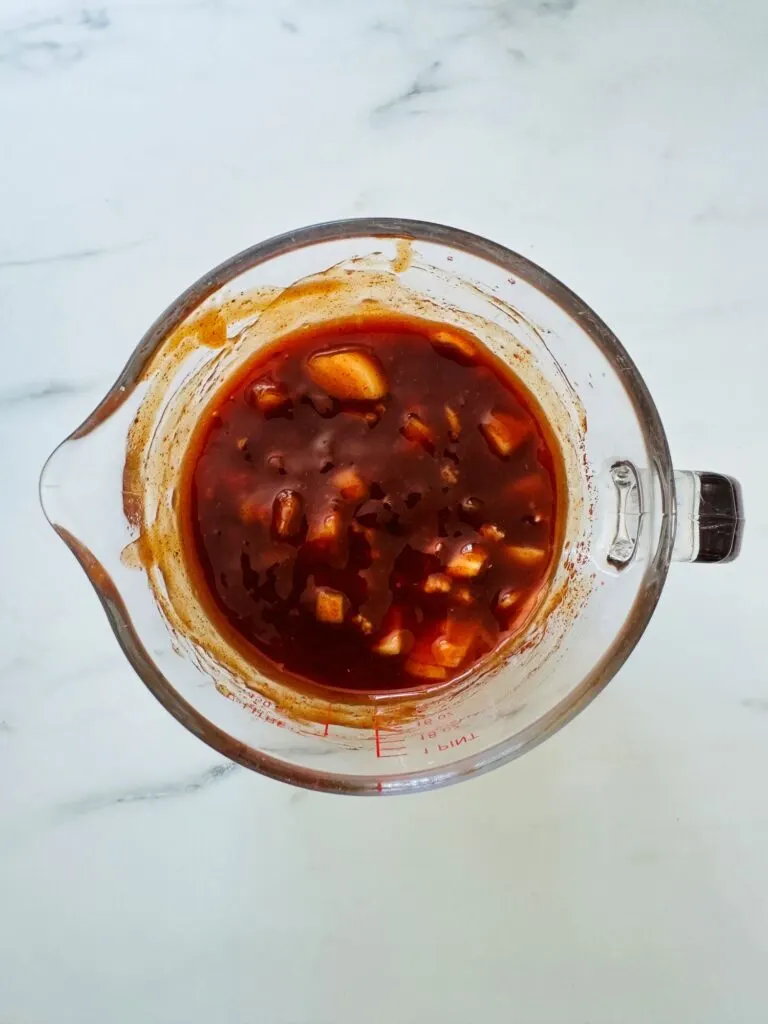 Once everything is mixed, pour the mixture over the seasoned chicken breasts in the slow cooker.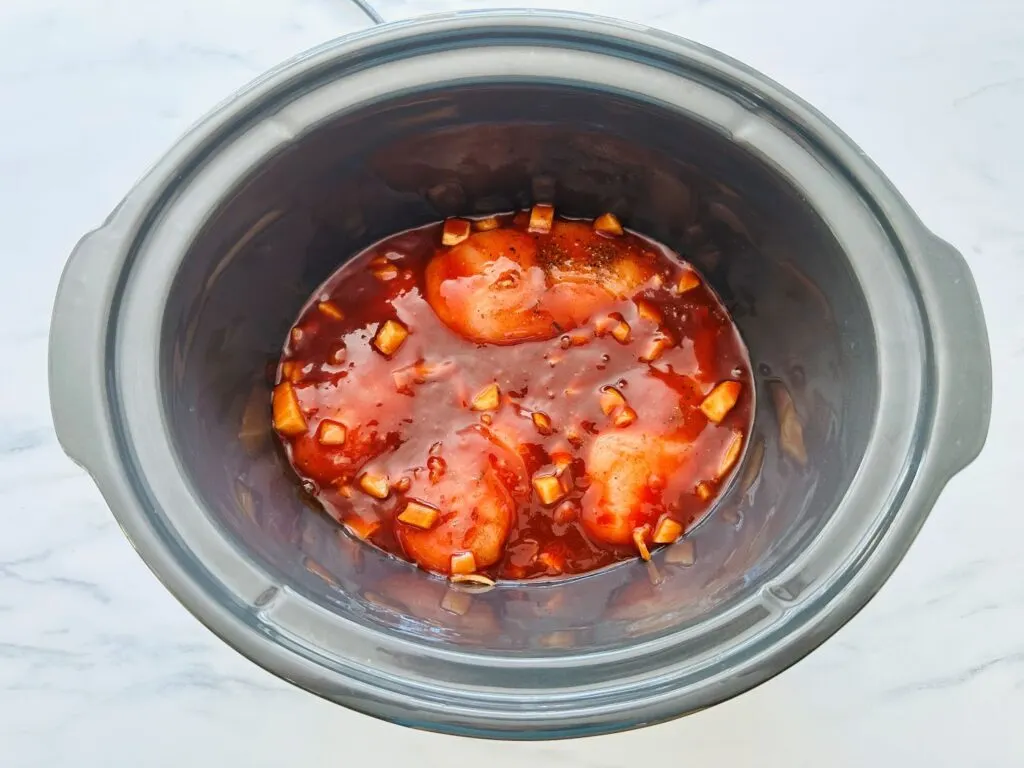 Place the lid on the slow cooker and set it off on low for 6 to 8 hours, or high for 3 to 4 hours. I prefer to cook pulled chicken for longer on a lower heat as I find it results in more tender and shreddable meat.
When the chicken is ready, carefully remove the lid. The chicken should be soft and tender and easy to pull apart. You can either shred it while it is still in the slow cooker or remove it and shred it on a chopping board.
I prefer to shred chicken while it is in the slow cooker. As soon as you remove it from the pot it will start to cool down. The hotter the chicken is, the easier it is to shred. Keeping it in the slow cooker with also help retain more of its natural juices.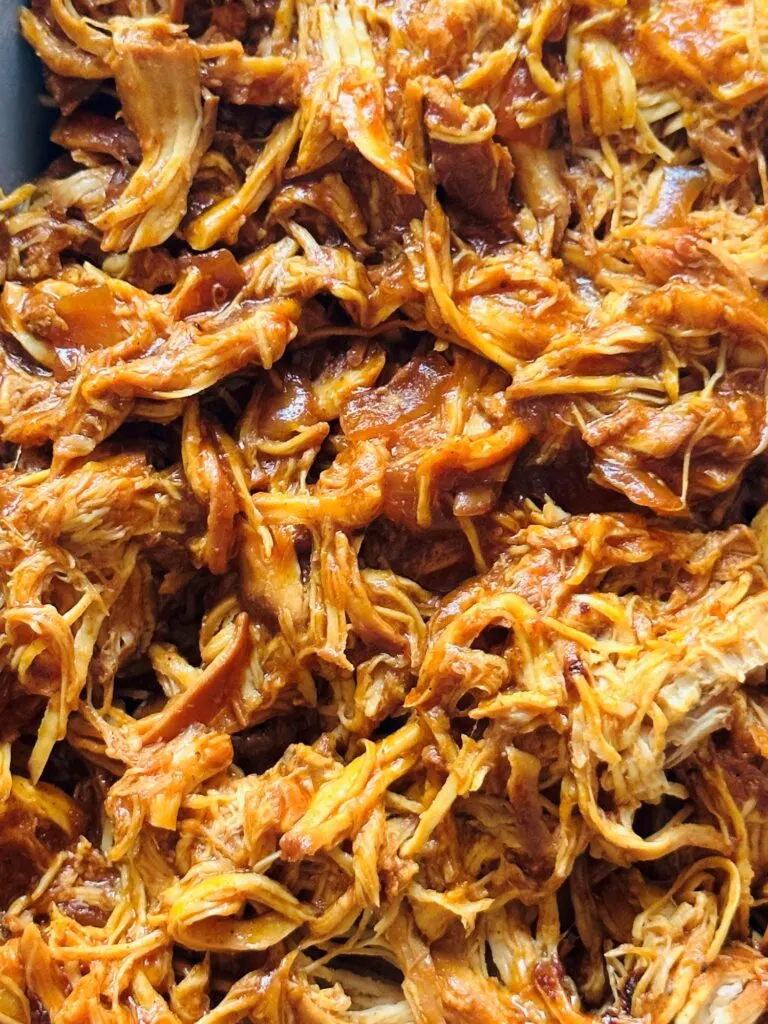 Remember, it's always important to be careful when handling hot food to avoid burns. Using two forks or a pair of tongs can make shredding hot chicken safer and easier.
Once the chicken is shredded, stir everything together, the pulled chicken should be the perfect consistency to serve.
If there is too much sauce and the shredded chicken hasn't soaked it all up, leave the slow cooker on high with the lid off until it has reduced. Keep an eye on it though and stir it often so that it doesn't burn or stick to the slow cooker bowl. Alternatively, if you have a multicooker you can switch the function to sear/saute and reduce the sauce that way.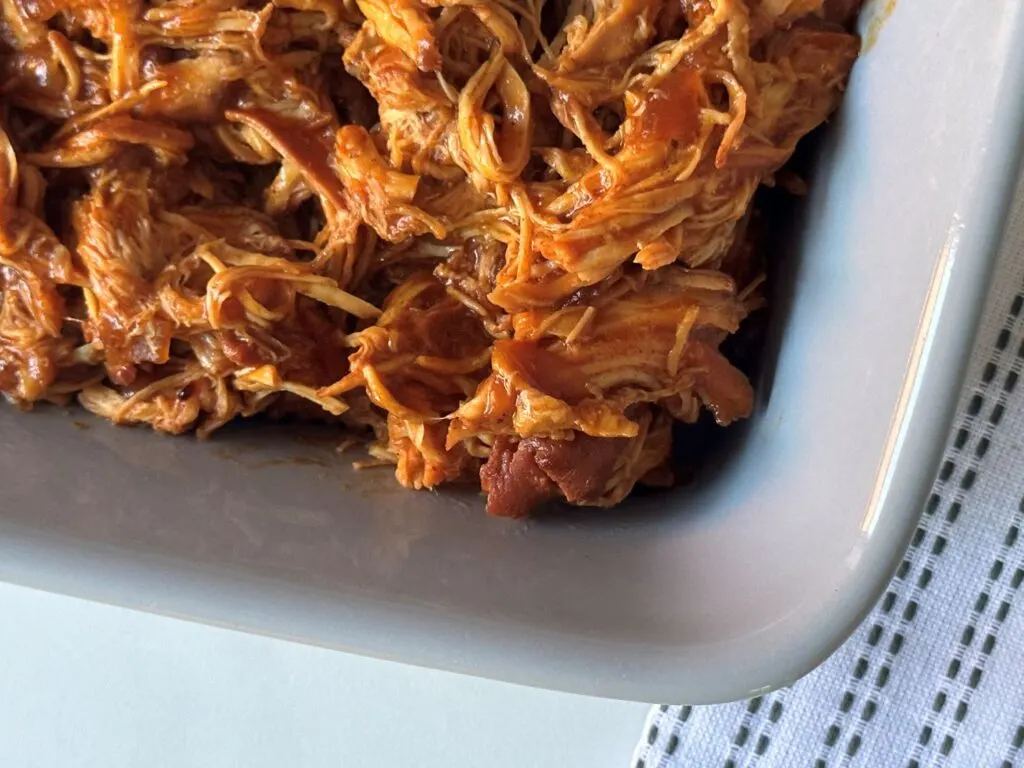 When I made this recipe the sauce consistency was perfect so hopefully yours will be too – but different slow cookers do run at different heats with some being more efficient than others.
What To Serve With Slow Cooker Pulled Chicken
Slow cooker pulled chicken is incredibly versatile and can be served in a variety of delicious ways. Here are a few ideas for how to serve it: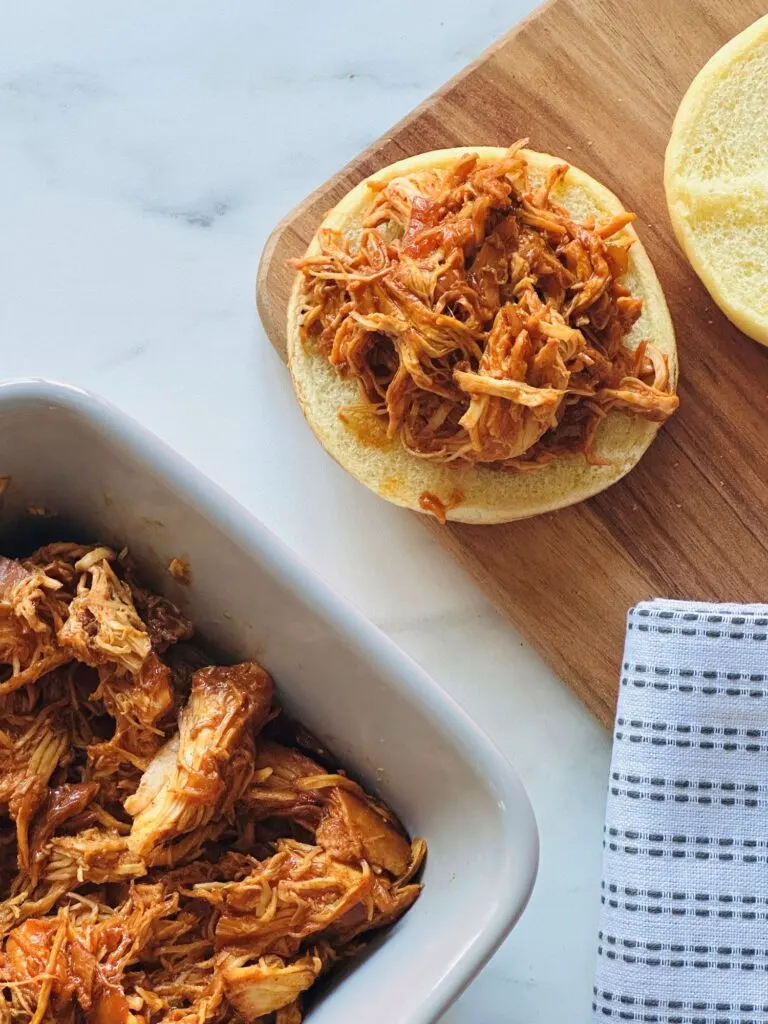 Sandwiches or Rolls: Pile the pulled chicken high on a bun or a small roll, top with coleslaw or pickles for a bit of crunch, and serve with a side of fries or potato salad.
Tacos or Wraps: Use the pulled chicken as a filling for tacos or wraps. Add some shredded lettuce, diced tomatoes, cheese, and your favourite salsa or sauce for a complete meal.
Salads: Toss the pulled chicken into a salad for a protein boost. It pairs well with a wide range of greens and dressings, so you can mix and match to suit your tastes.
Pizza Topping: Spread a thin layer of barbecue sauce on a pizza crust, top with pulled chicken, sliced red onion, and mozzarella cheese, and then bake for a twist on traditional pizza.
Baked Potatoes: Make a meal out of a baked potato by topping it with pulled chicken, shredded cheese, sour cream, and spring onions.
Pasta: Mix the pulled chicken into pasta for a BBQ chicken pasta.
Rice Bowls: Create a balanced meal with a base of rice (brown, white, or even cauliflower rice), topped with pulled chicken and vegetables.
Nachos: Scatter pulled chicken over tortilla chips, add cheese, jalapenos, and other preferred toppings, and bake/grill until the cheese is bubbly for a tasty appetiser or snack.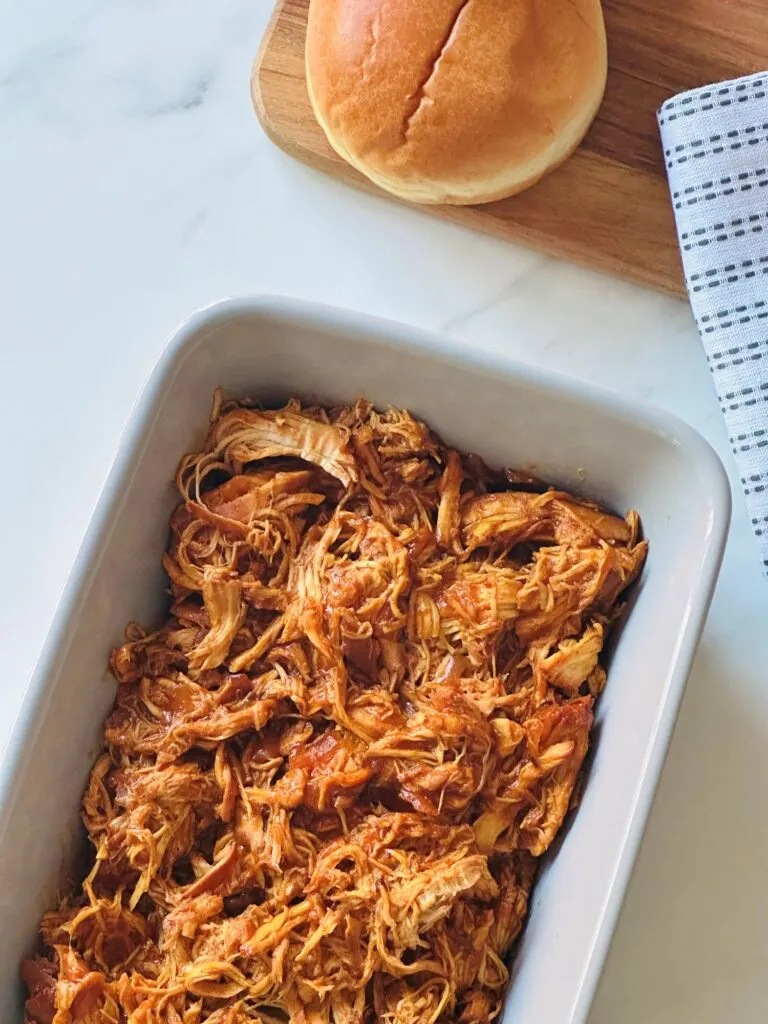 How To Store Slow Cooker Pulled Chicken
After cooking, allow the pulled chicken to cool down before you store it. Transfer the cooled pulled chicken into airtight containers or resealable plastic bags. Make sure to include any juices or sauce to keep the chicken moist and flavourful.
If you're planning to eat the pulled chicken within 3-4 days, refrigeration is fine. However, if you want to store it for a longer period, freezing is the way to go. Pulled chicken can be frozen for up to 3 months without significant loss of quality.
Label and date it, especially when freezing, that way, you can keep track of how long it's been in the freezer and use it within the recommended timeframe.
When you're ready to enjoy your pulled chicken, reheat it safely. If it's frozen, it's best to thaw it in the refrigerator overnight before reheating. Then, you can warm it up on the hob, in the oven, or in the microwave, ensuring it reaches an internal temperature of at least 165°F (74°C) to ensure food safety.
More Slow Cooker Chicken Recipes
If you are looking for inspiration for more slow cooker chicken recipes the suggestions below might interest you: