This simple, yet tasty air fryer mushrooms recipe brings out the robust flavours of button mushrooms combined with a garlic and herb marinade, turning them into a crispy and mouth-watering treat.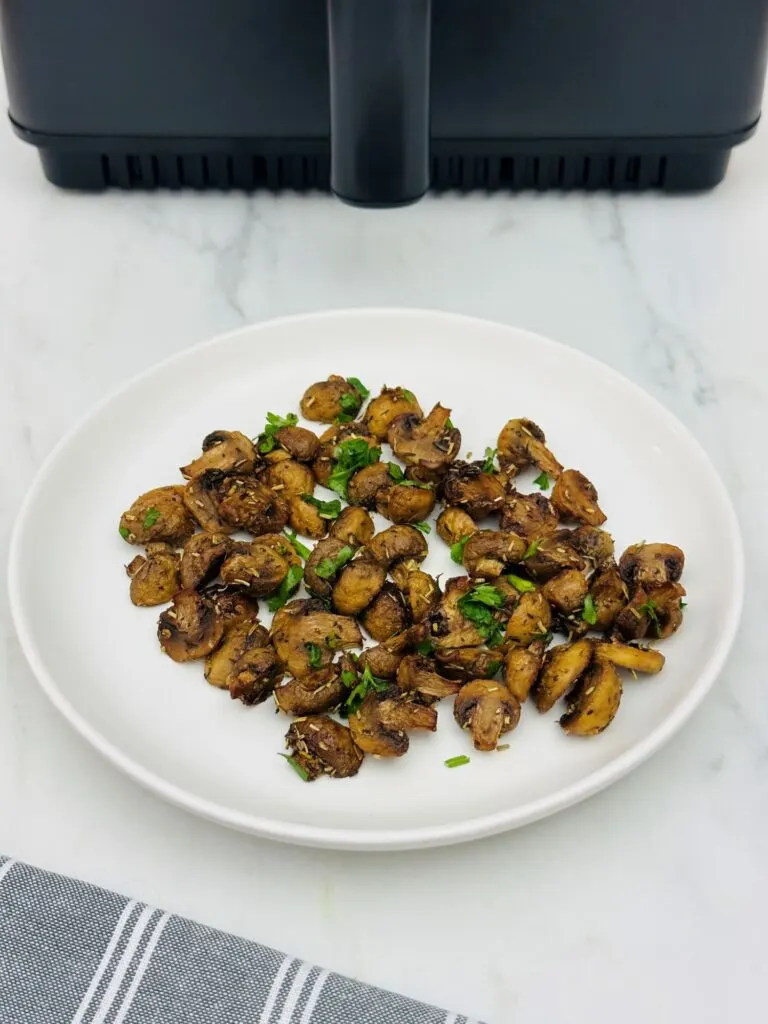 How To Make Air Fryer Mushrooms
Air fryer mushrooms are ideal to make as a side dish, or just as a quick snack. You could serve them with air fryer scrambled eggs, tomatoes, sausages or bacon.
Or why not try making them all together for an air fryer full English breakfast?
What You Need:
The quantities below are enough to serve 4 people as a side dish, or 2 as a more substantial meal/snack. Adjust the amounts depending on how many you need.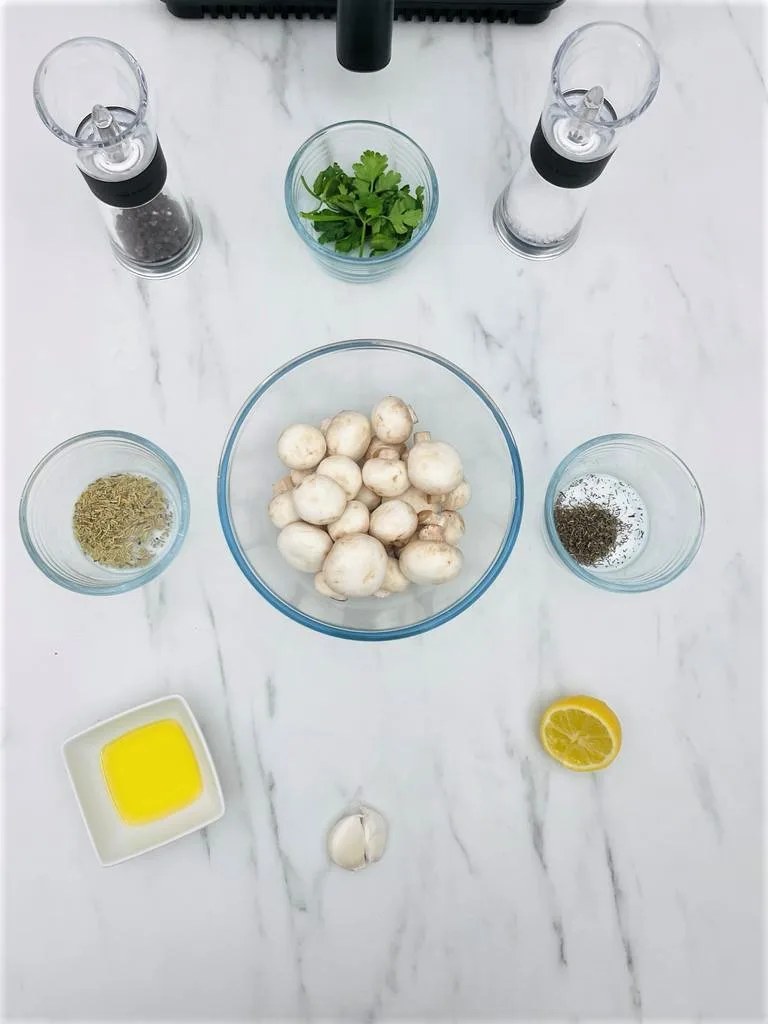 200g fresh button mushrooms: These are the star of our dish. The button mushrooms have a delicate flavour that pairs well with the other ingredients. If unavailable, feel free to substitute with another mushroom variety.
2 tbsp extra virgin olive oil: Used for coating and marinating the mushrooms, providing them with a rich, smooth texture. If preferred, avocado oil could be used as a substitute.
2 cloves of garlic, minced: Provides a punch of flavour and is a great accompaniment to the mushrooms.
1 tsp dried thyme and 1 tsp dried rosemary: These dried herbs add depth to the flavour and combine perfectly with the garlic in the dish. They can be replaced with other herbs like oregano or basil as per your preference.
Salt and freshly ground black pepper, to taste: Season the mushrooms and enhance their natural flavours.
2 tbsp finely chopped fresh parsley: Adds a fresh and bright flavour to the dish. Coriander could be a good alternative here.
Optional 1 tbsp fresh lemon juice: This gives a zesty finish to the mushrooms, elevating their taste.
Optional grated parmesan cheese for topping: This is a great addition that adds a cheesy twist to the finished mushrooms.
Making It:
Firstly, rinse the button mushrooms thoroughly. If they are large, you may want to halve or quarter them.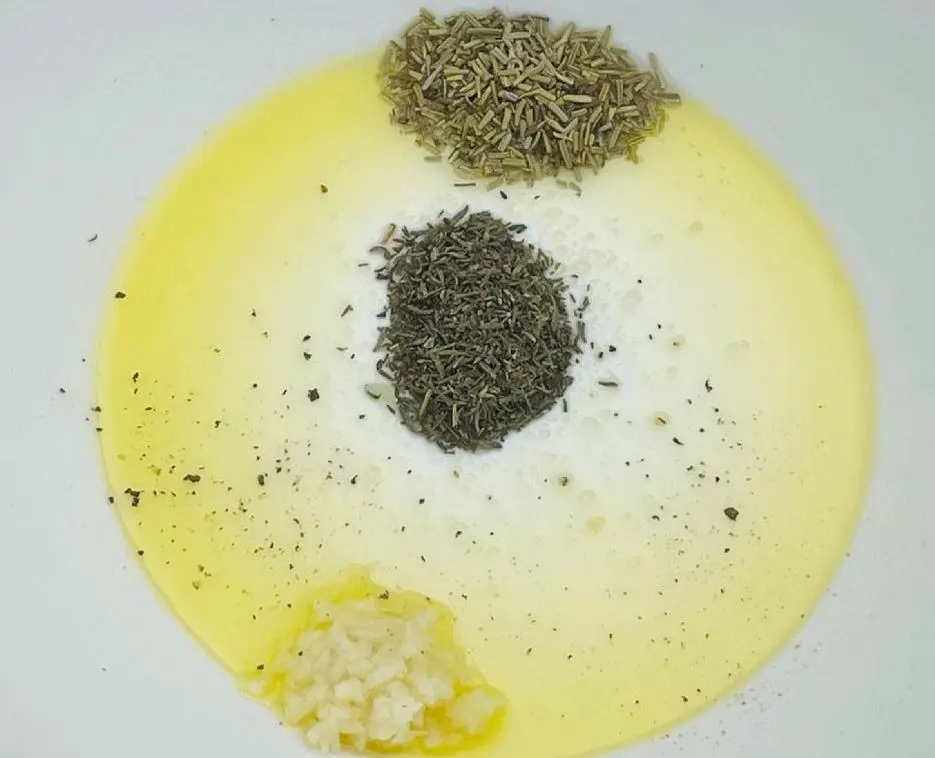 Next, in a large bowl, mix together the extra virgin olive oil, minced garlic, dried thyme, dried rosemary, salt, and freshly ground black pepper. This will be the marinade for the mushrooms.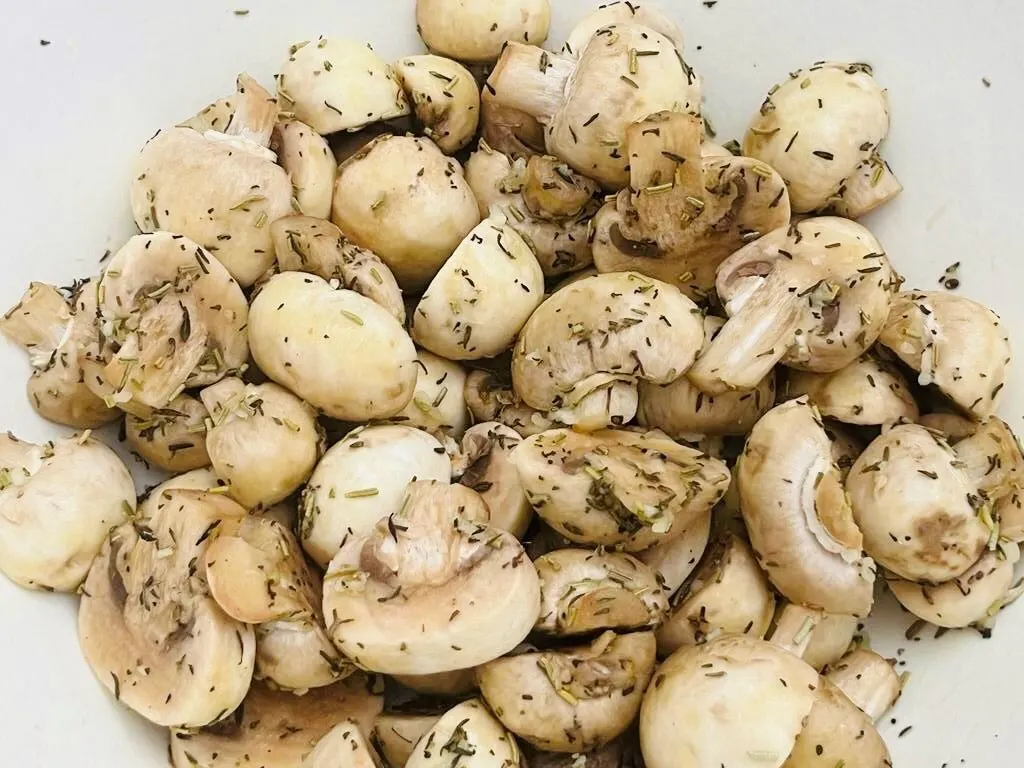 Add the cleaned mushrooms to a bowl and toss until they are evenly coated with the oil and herb mixture. Letting them sit and marinate for about 15-20 minutes will help them absorb these lovely flavours.
Now it's time to preheat your air fryer to 180°C (about 350°F). Although this step isn't essential, preheating the air fryer will help create a crispy finish to the mushrooms.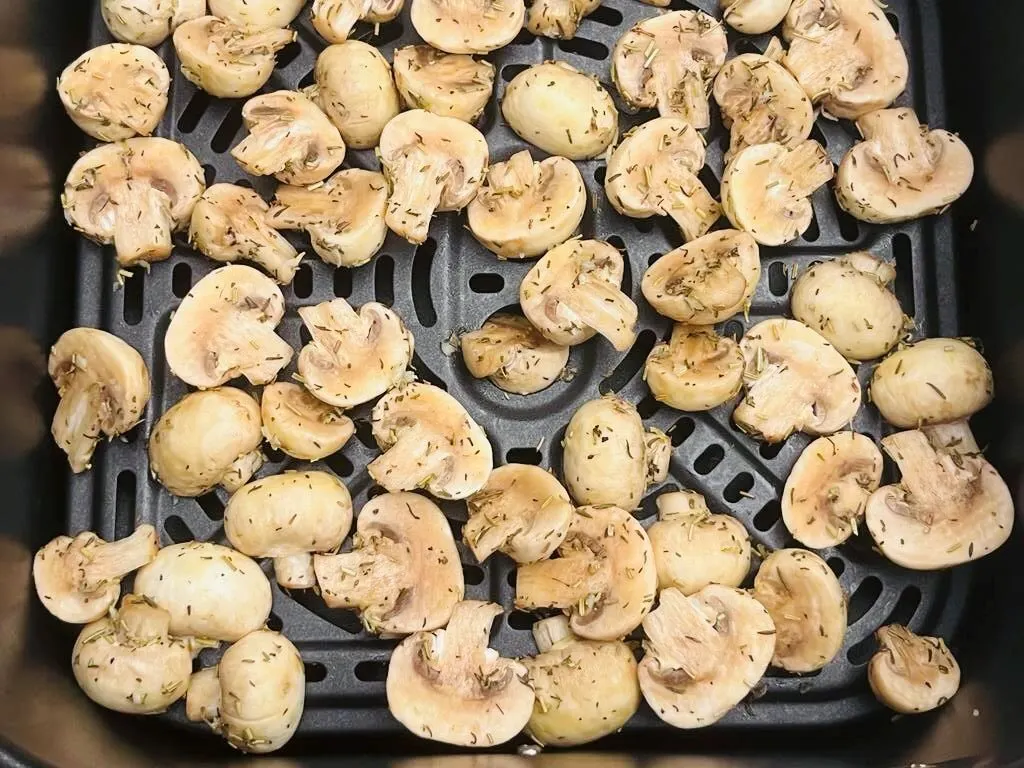 Place the mushrooms in the air fryer basket, being careful to keep them in a single layer and not overly crowded. You might need to cook in batches depending on the size of your air fryer. This ensures that heat circulates evenly and the mushrooms cook properly.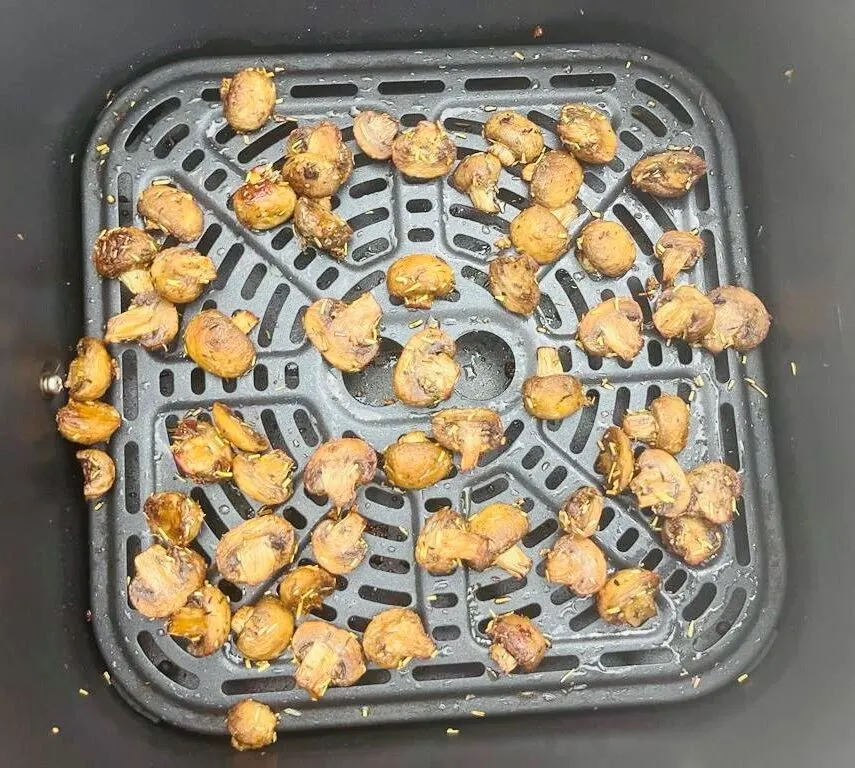 Cook the mushrooms for about 10 minutes, then shake the basket or use a spatula to stir the mushrooms around for even cooking. Cook for another 5-10 minutes, or until the mushrooms are golden brown and crispy.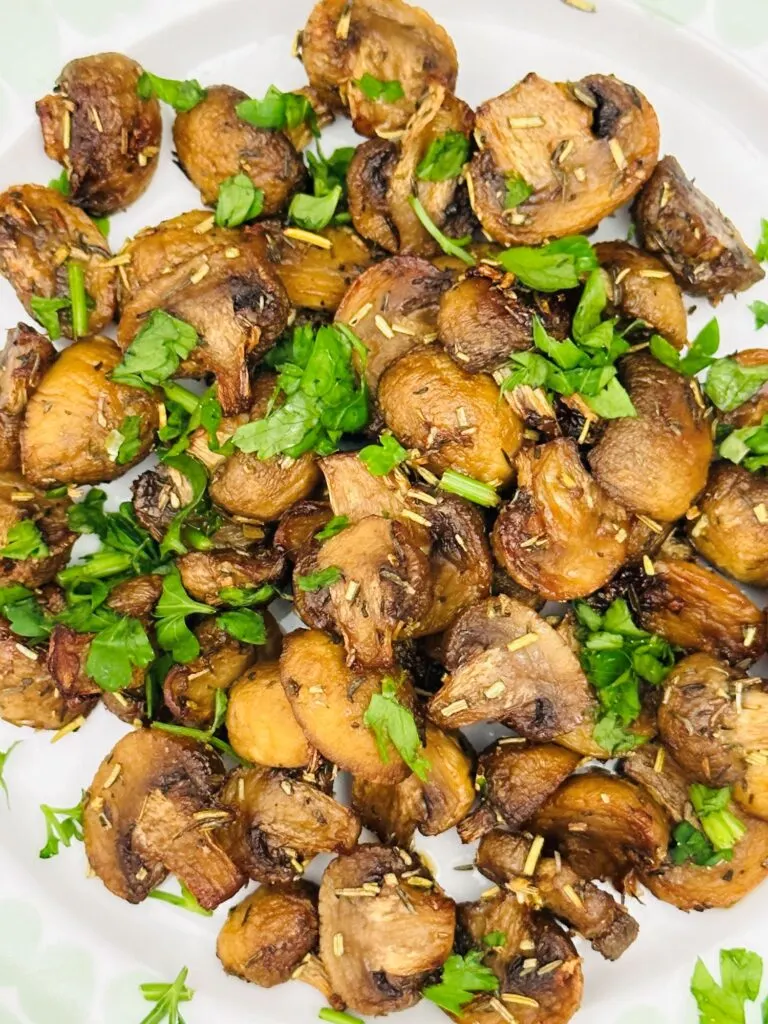 Lastly, remove the mushrooms from the air fryer and transfer them to a serving bowl. Toss with the fresh lemon juice and chopped parsley, and taste and adjust the seasoning if necessary.
Optionally sprinkle the mushrooms with some freshly grated parmesan cheese while they are still warm.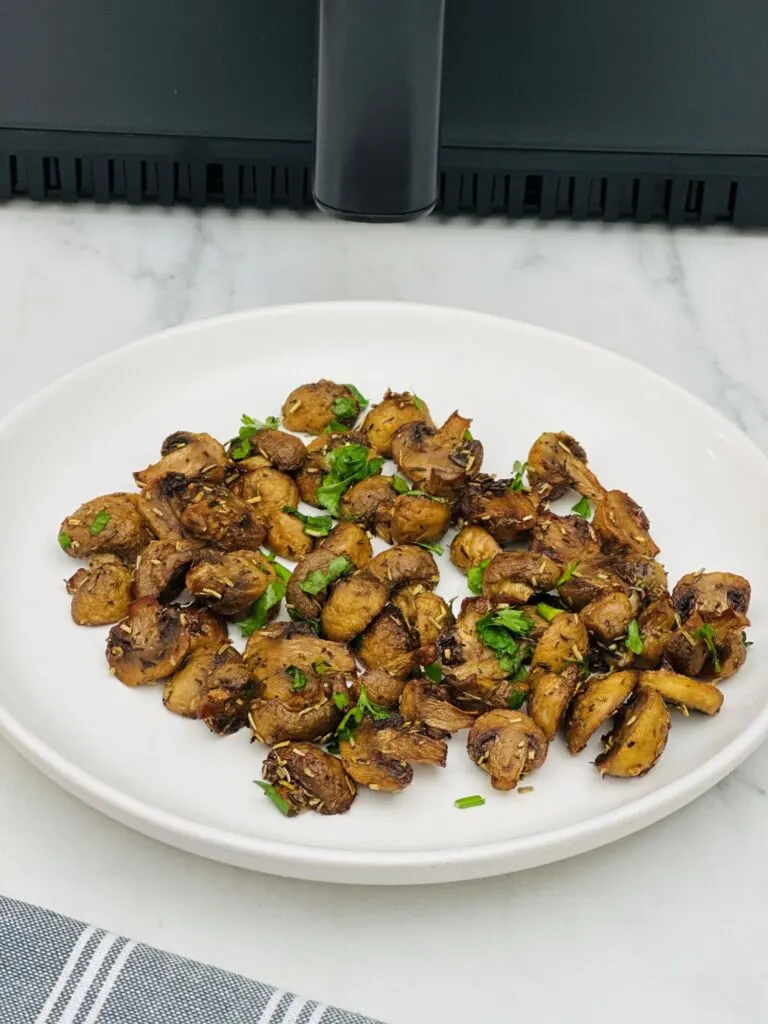 Tips & Questions For Making Air Fryer Mushrooms
Can I use other types of mushrooms?
Yes, you can use other types of mushrooms such as chestnut or small white mushrooms. However, cooking times may vary.
Do I need to preheat the air fryer?
You don't have to but preheating the air fryer ensures that the mushrooms cook evenly and become crispy.
What can I serve with air fryer mushrooms?
These mushrooms are versatile and can be served as a side dish with steak or chicken, or added to salads or pasta.
More Air Fryer Side Dishes
Are you looking for more air fryer snacks or side dishes? Try out some of these ideas!