Have you ever wondered if there's an easier way to whip up a hearty breakfast? If so, Air Fryer Scrambled Eggs are the answer!
This simple recipe takes advantage of modern air frying technology to deliver a breakfast favourite with less mess, less fuss, and surprisingly good results.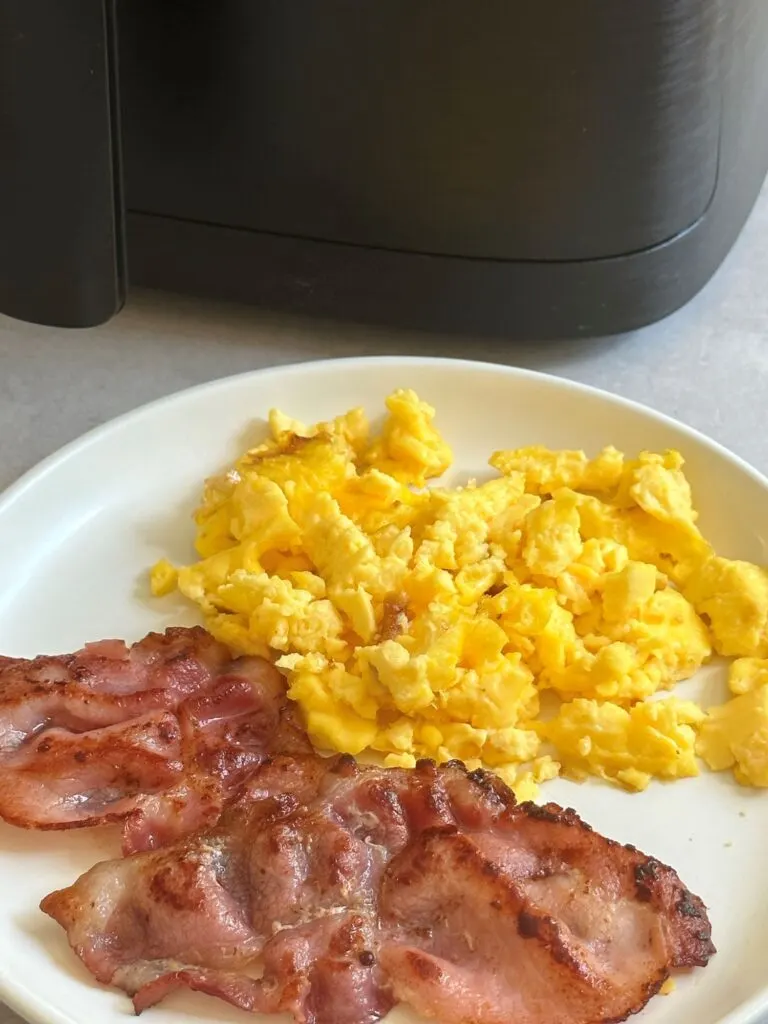 How To Make Scrambled Eggs In An Air Fryer
The ingredients below are enough to make two servings of scrambled eggs in an air fryer. You can adjust the amounts according to how many people you are making it for.
To print out this recipe, scroll down to the recipe card at the bottom of this article.
What You Need: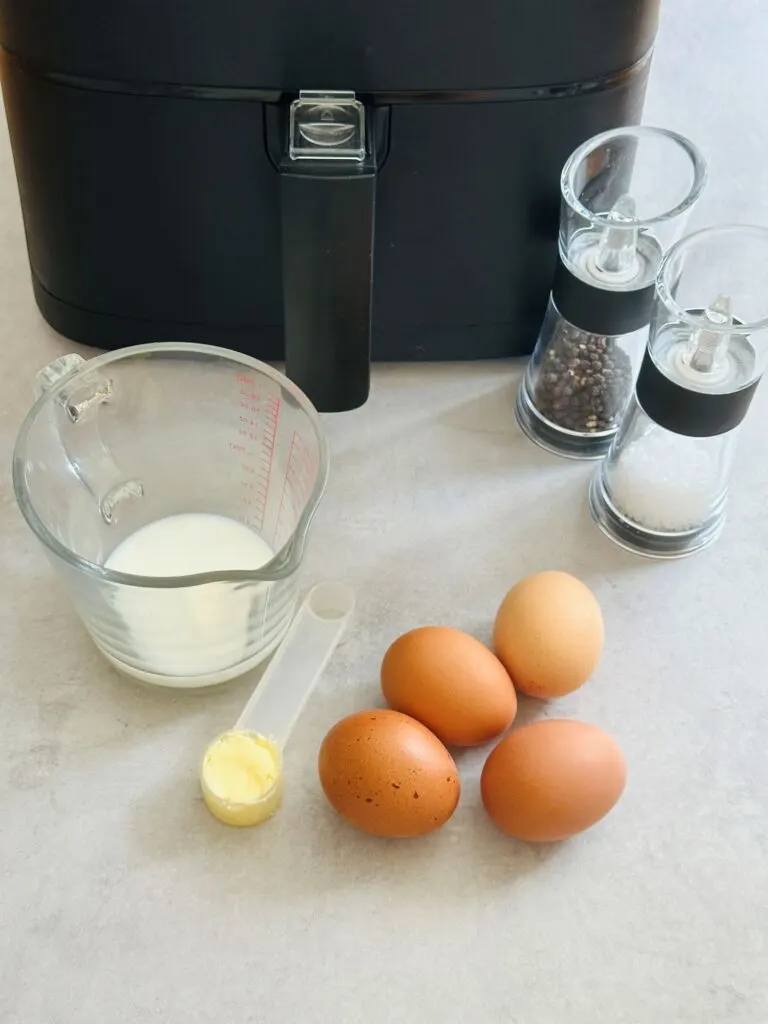 4 large eggs
60ml milk or cream
Salt and pepper to taste
Butter for greasing
Optional: shredded cheese, chopped fresh herbs, or diced vegetables
Air fryer – you can use any air fryer model
Baking tin or any oven-safe dish
Making It: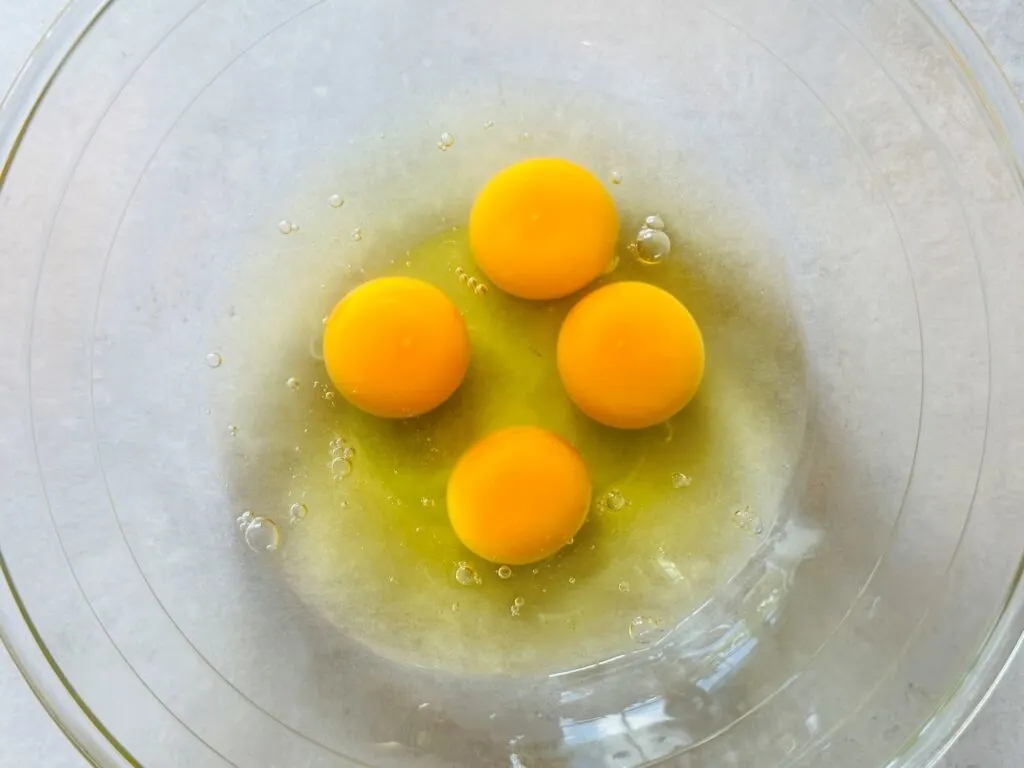 Start off by whisking together the eggs, milk or cream, and a pinch of salt and pepper in a bowl until the mixture is well combined.
If you've decided to add some extra flavour to your scrambled eggs with cheese, herbs, or vegetables, now is the time to stir them into the egg mixture.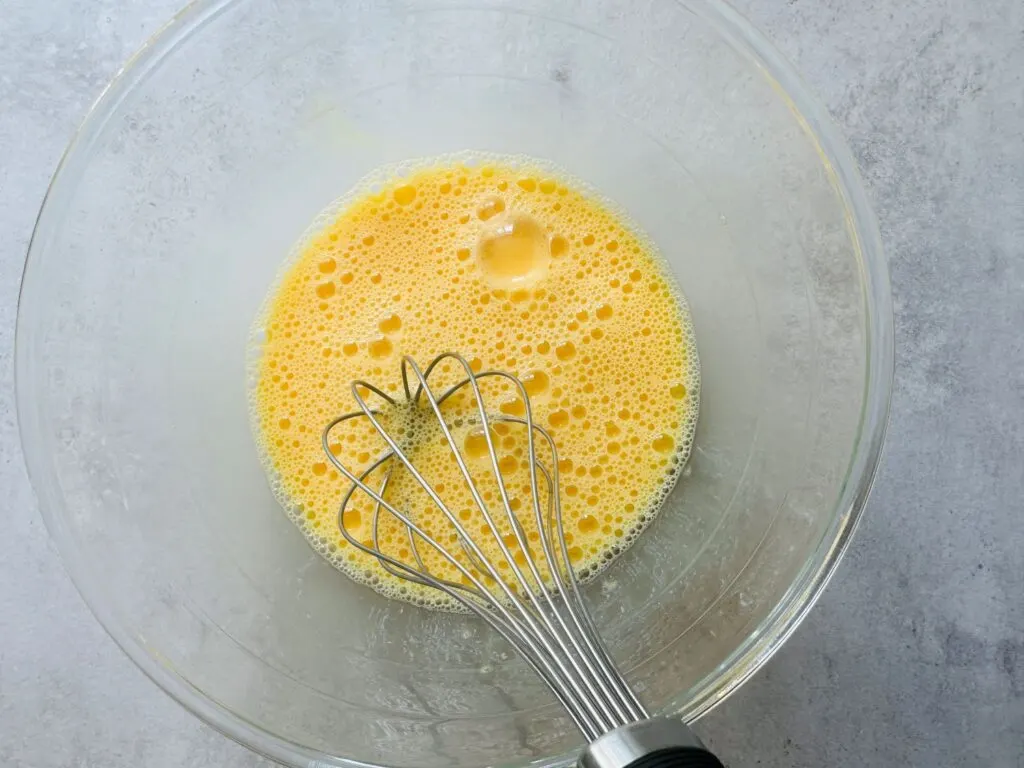 To prevent your scrambled eggs from sticking, take an air fryer-safe dish or pan that will fit in your air fryer and grease it with some butter.
You can also use individual ramekin dishes to cook the scrambled egg in single portions.
Pour the prepared egg mixture into the greased dish.
Set the air fryer to 170°C and the timer for 10 minutes. I have cooked scrambled eggs at different temperatures in an air fryer and have found that 170°C produces the best results.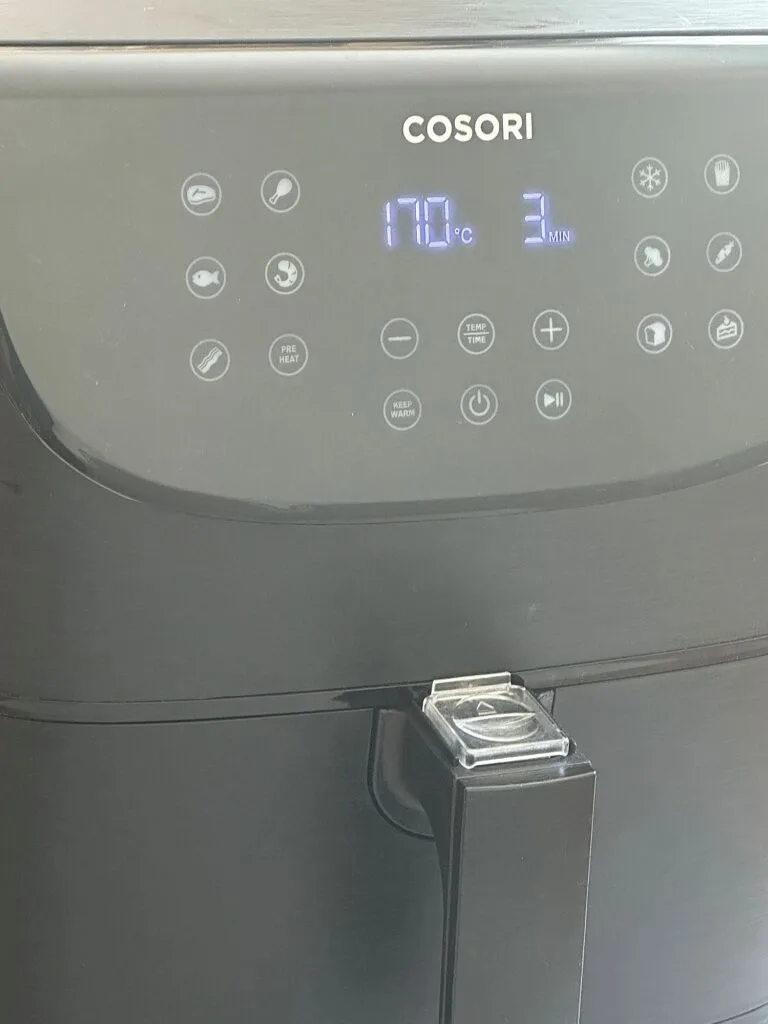 Place the dish with the egg mixture into the air fryer basket.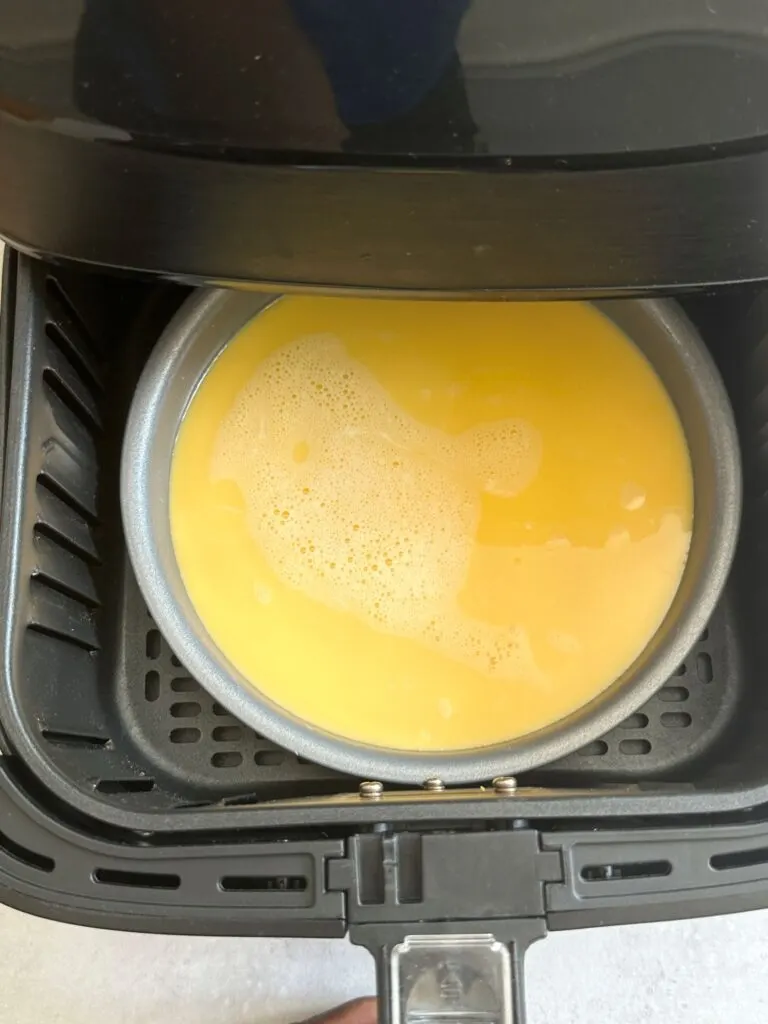 Now it's time to cook the eggs for approximately 10 to 12 minutes. Check on the scrambled eggs every 2 to 3 minutes and break them up and stir the eggs with a fork or spatula to ensure even cooking.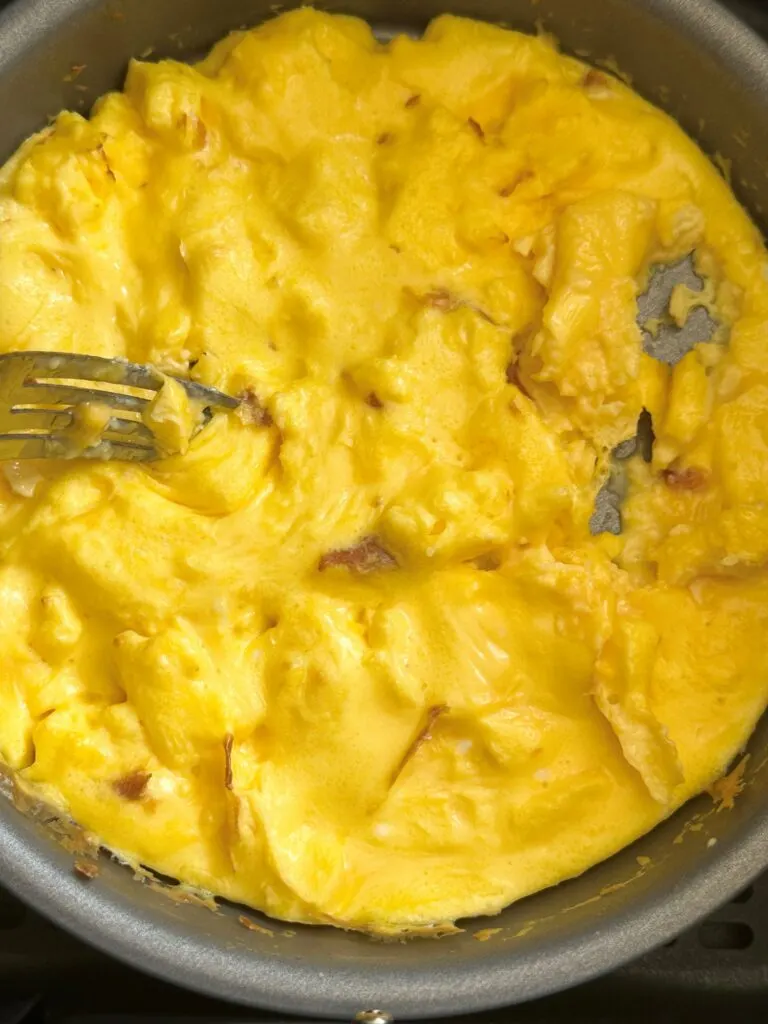 Continue to cook until the eggs are done to your liking. If you prefer softer eggs, reduce the cooking time; if you like your eggs firmer, add a few extra minutes.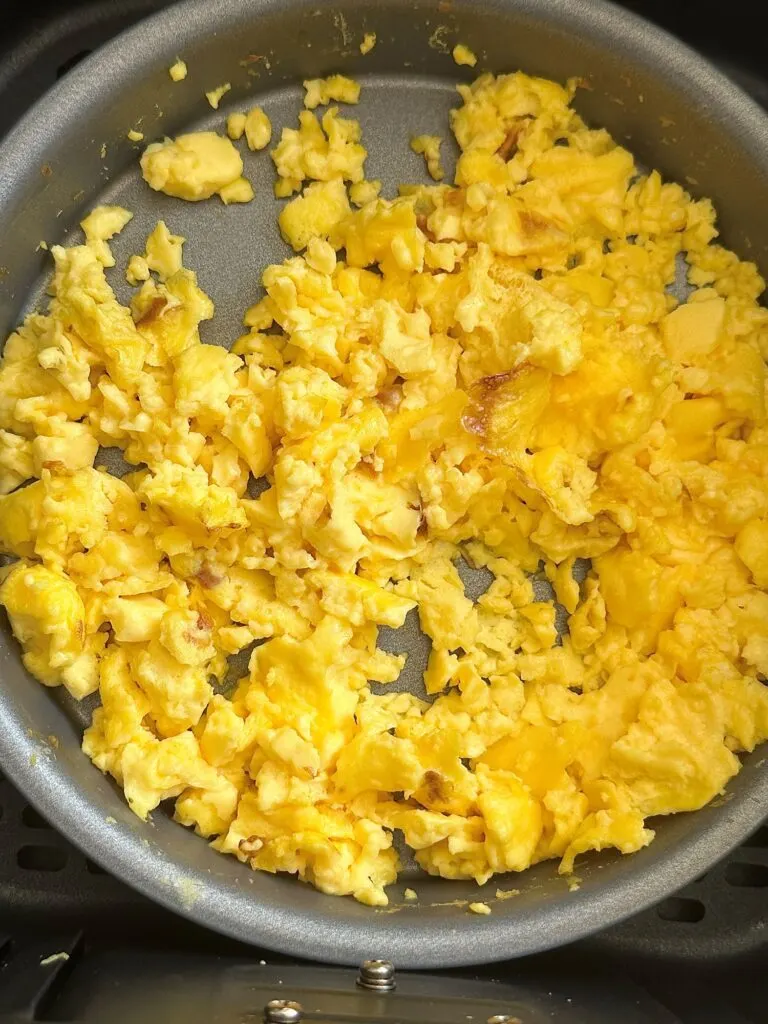 After cooking, carefully remove the dish from the air fryer (it will be hot) and let the eggs sit for a minute or two. They will finish cooking in the residual heat.
Note: All air fryers are not created equal. Depending on your specific model, you may need to adjust the cooking time slightly.
Give the eggs one final gentle stir, then serve them while they're warm.
FAQ & Tips
Can I use any kind of dish in my air fryer?
Not all dishes are safe to use in an air fryer. It is essential to use a dish that can handle the high heat produced by the air fryer. Materials like oven-safe glass, ceramic, and metal are typically safe.
Do I need to preheat my air fryer?
Most air fryer models don't require preheating, but it's always good to check the user manual. If preheating is needed, it generally only takes a few minutes.
Can I cook the eggs without stirring them during the cooking process?
While you could cook the eggs without stirring, we recommend doing so. Stirring the eggs ensures that they cook evenly and attain that classic scrambled texture.
Can I cook scrambled eggs and bacon in the air fryer at the same time?
Yes, you can, since bacon takes longer and requires a higher temperature, you could start with the bacon first. After it's partially cooked, you can reduce the temperature and add the dish of scrambled eggs. You may need to reduce the size of the dish you cook the scrambled eggs in to fit the bacon in the air fryer basket in too.
Enjoy your delicious and effortless air fryer scrambled eggs!
More Air Fryer Breakfast Recipes
If you are looking for more air fryer breakfast recipes you might like these ones too!