If you're looking for a healthy and easy breakfast option, look no further than air fryer boiled eggs.
Follow these simple steps, and you'll be enjoying perfect boiled eggs in no time!
Why Cook Boiled Eggs In An Air Fryer?
Although it's easy enough to boil an egg in a saucepan if you have an air fryer, why not use that?
You can walk away and leave your air fryer to cook so that your eggs are cooked to perfection.
It also means you can cook multiple eggs at once, perfect for making snacks ahead of time, or for making egg mayonnaise.
How Long Does It Take To Boil An Egg In An Air Fryer?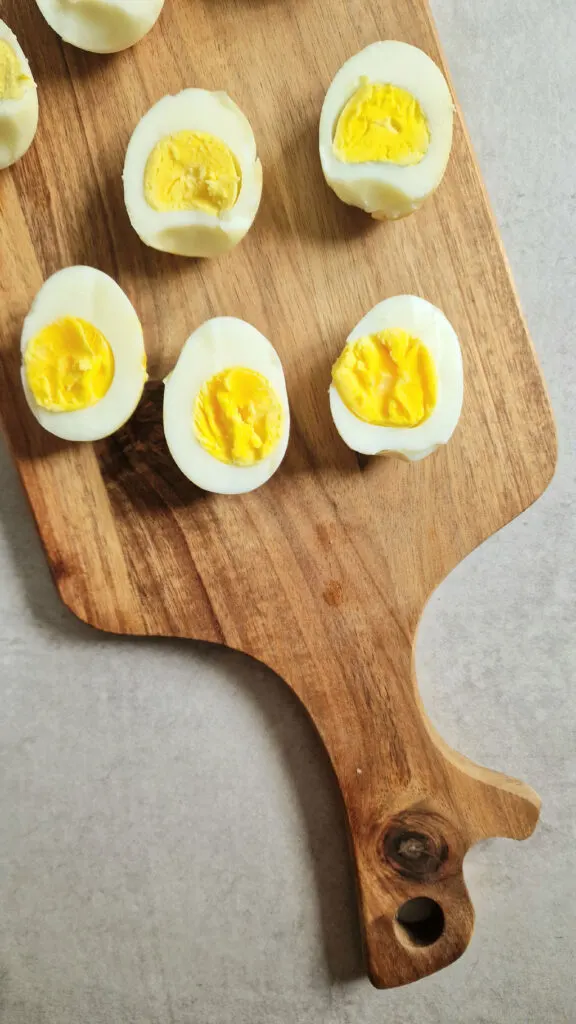 It may take a few tries to get the timings right when making boiled eggs in your air fryer.
Use the following times as a guideline depending on whether you want soft or hard boiled eggs.
I've tried cooking the eggs at different temperatures in an air fryer and have settled on setting the temperature at 150C.
Soft Boiled Eggs
8 minutes. A runny yolk with the egg white set. Perfect for dippy eggs.
Medium Boiled Eggs
10 minutes. The yolk is almost set but remains a little sticky.
Hard Boiled Eggs
12 minutes. The yolk is completely set, ideal for snacking, salads and for making egg mayo.
Note: the above times are for medium eggs, if you are using larger eggs increase the time a little.
Is It Safe To Boil Eggs In An Air Fryer?
The short answer is yes! As long as you follow the steps and tips outlined here it's perfectly safe to cook boiled eggs in an air fryer.
Will Eggs Explode In An Air Fryer?
Eggs won't explode in an air fryer, as long as you don't cook them at too high a temperature. During my experimenting, I tried them at 170C and one egg cracked and half the egg inside oozed out (not fun to clean out of the air fryer!)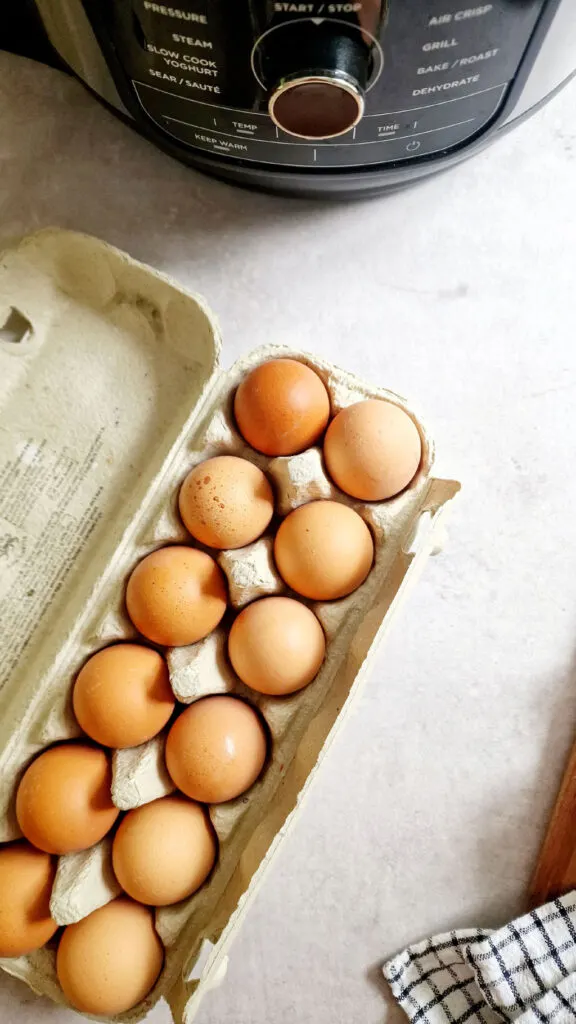 How Do You Cook An Egg In An Air Fryer?
Decide how many eggs you want to cook. If it's your first time making eggs in an air fryer, start with 1 or 2 to test out the timings that work best for you.
If you store your eggs in the fridge, remove them and leave them to come to room temperature.
Add the eggs to the basket of your air fryer, and leave some space between them so that there is room for the hot air to circulate.
Cook according to how well done you want your eggs (starting at 8 minutes for runny, up to 15 minutes for hard-boiled).
At the end of the cooking time, remove from the air fryer basket and plunge into an ice bath or into a bowl of cold water – this will prevent the eggs from continuing to cook.
Once they have cooled down a little and can be handled, remove the shell.
Would you like more ideas for your air fryer? Try out more air fryer recipes!
How Many Eggs Can I Cook At Once?
The number of eggs you can cook will depend on how many you can fit in your air fryer. I can comfortably fit 8 in the Ninja Foodi basket and 12 if I use a rack.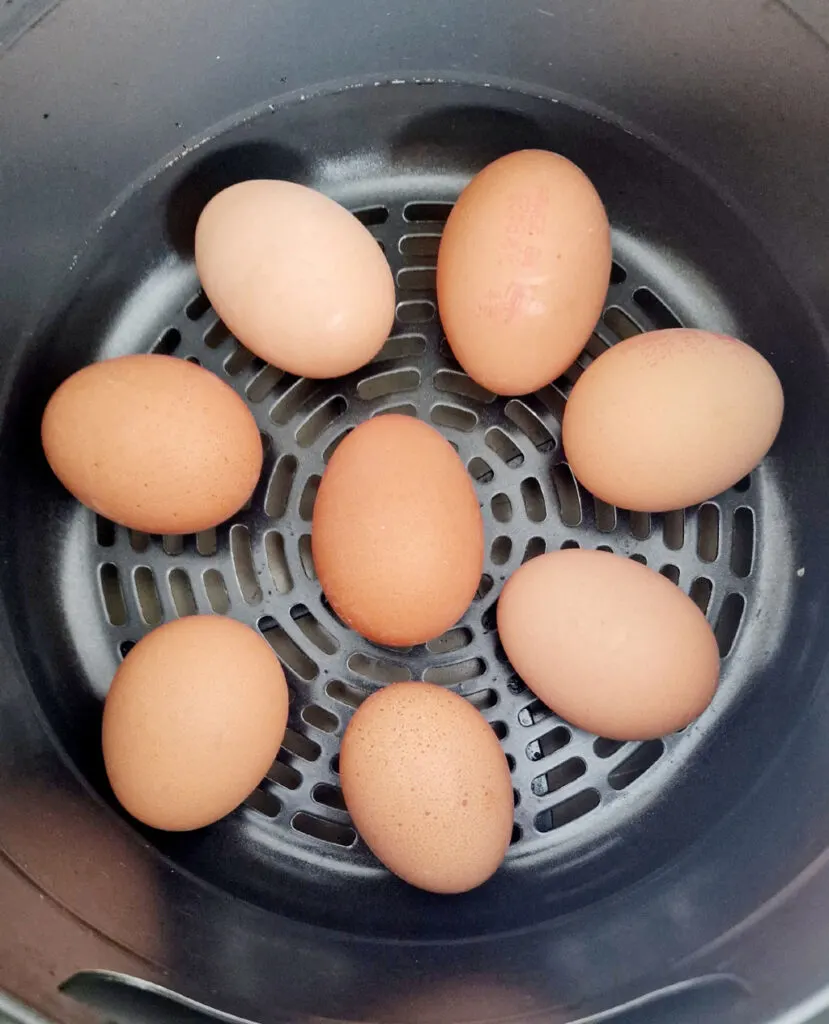 What Is The Best Air Fryer To Use?
I used the air fryer function on the Ninja Foodi for this recipe but you can use any air fryer. Are you looking to buy an air fryer? Check out our air fryer buying guide here.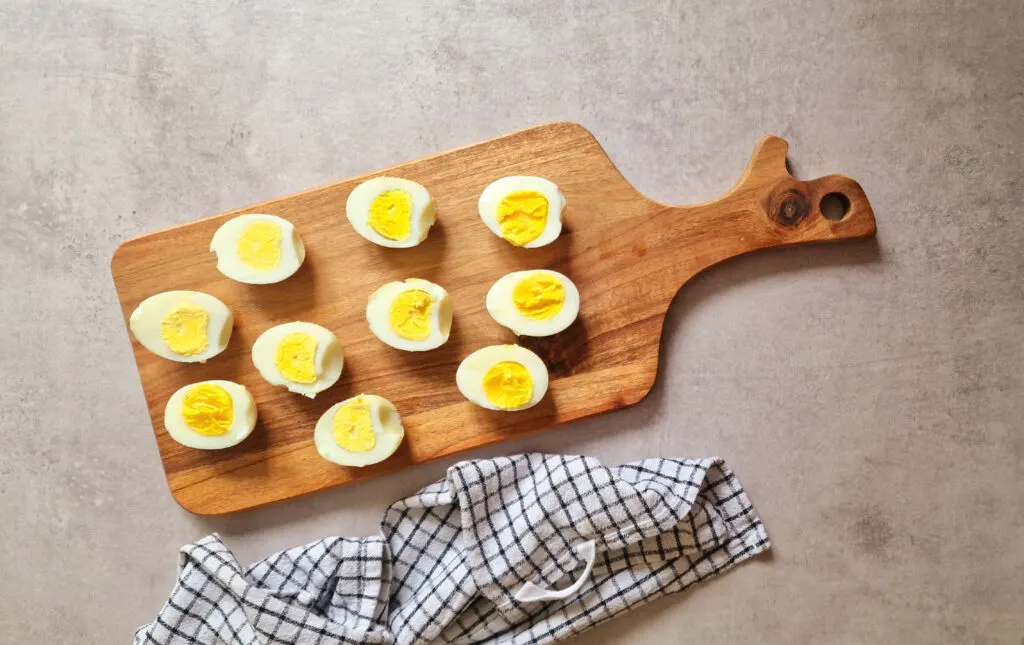 Do You Want More Air Fryer Breakfast Recipes?
Although boiled eggs can be enjoyed throughout the day they are often enjoyed for breakfast! Here are some more air fryer breakfast recipes to tempt you 🙂