Shakshuka can be served for breakfast or dinner. It's usually eaten with pita bread or challah, but it also makes for a delicious dinner.
This shakshuka recipe will teach you how to make this delicious meal in just 30 minutes!
What Is Shakshuka?
Shakshuka is a dish that originated in North Africa and then become popular in the Middle East.
It is made with eggs poached in a sauce of tomatoes, chilli peppers, onions, garlic and olive oil.
How To Make Shakshuka
The best part about this dish is how versatile it can be depending on your mood.
Want to make it milder? Add more tomatoes or serve over rice instead of pita bread.
Need some heat? Just add some hot sauce or chilli flakes! So whip up this deliciousness for breakfast, brunch, lunch, dinner – any time of day!
What You Need
Lidded shallow casserole dish or non-stick frying pan
Olive oil
Onion, garlic, sweet mixed peppers
1 tin chopped tomatoes + tomato puree
4-6 medium eggs
Spices – ground cumin, hot smoked paprika, ground coriander and optionally some cayenne peppers or chilli flakes for some extra heat.
Fresh coriander leaves
Making Shakshuka
Heat the oil in the casserole dish or frying pan and add the onion and chopped peppers. Gently saute them for about 5 minutes until they are soft.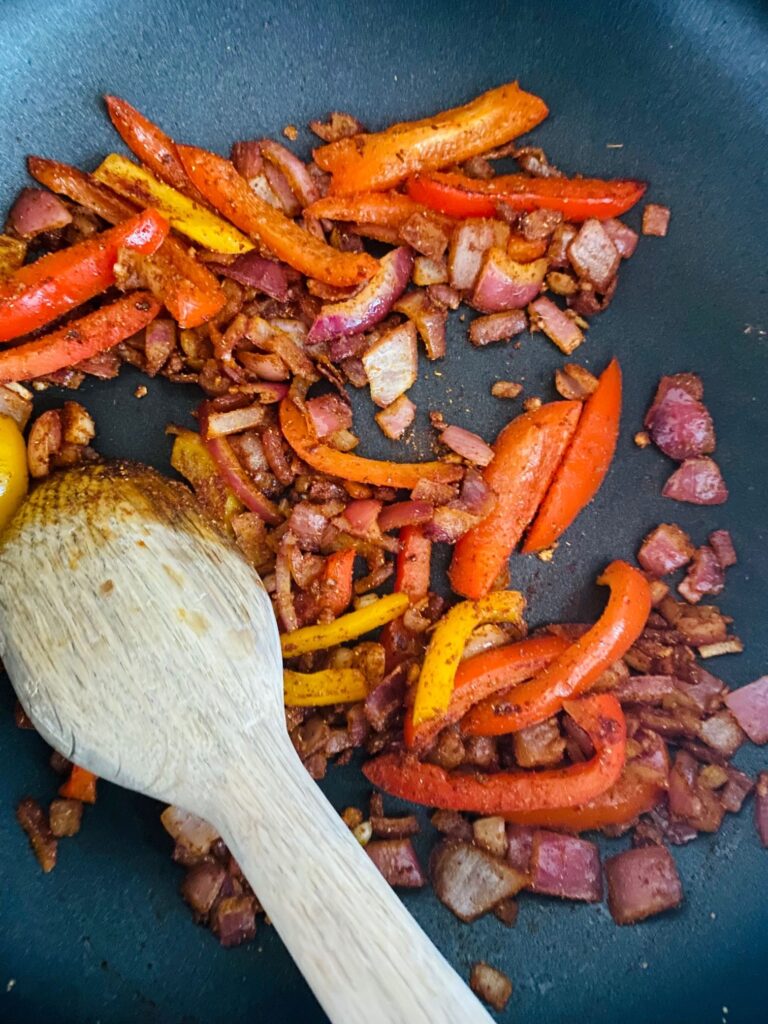 Add the crushed garlic and spices and stir in with the onions and peppers.
Add the tinned tomatoes and stir in, optionally add in some salt and ground black pepper.
Bring the sauce to a boil and then reduce to a simmer. Place the lid on the casserole dish or frying pan and leave for 10 minutes.
Remove the lid and stir. Make a small hole for each egg, making sure there is enough space between each one. Crack each egg into each of the holes.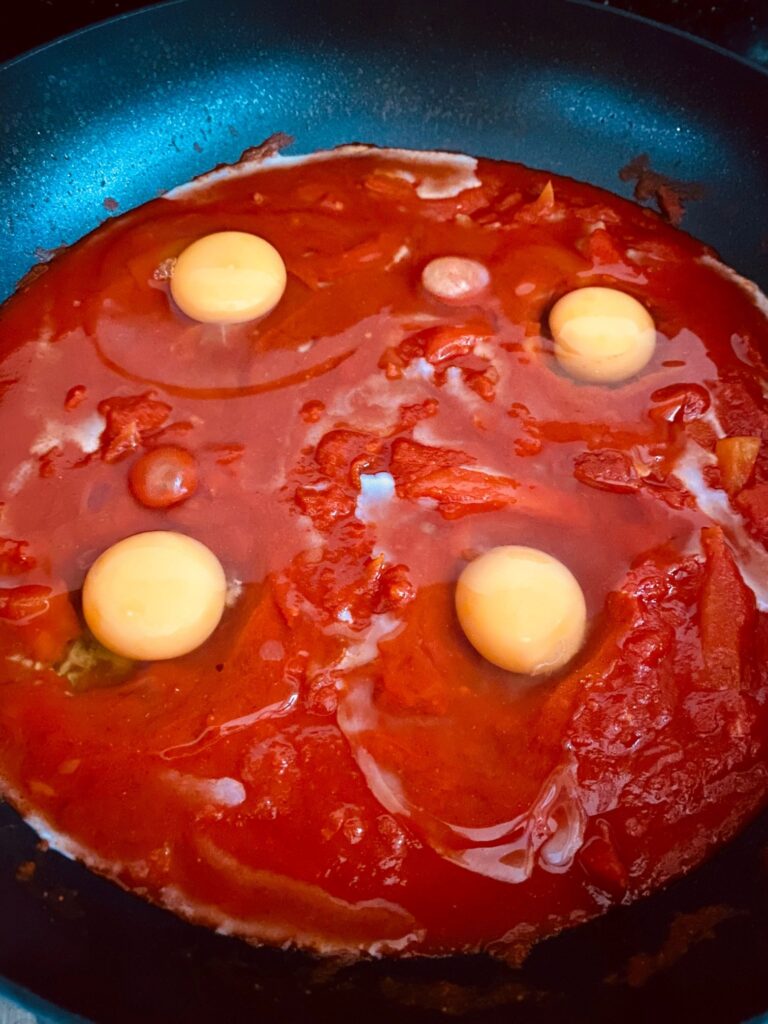 Place the lid back on the pan/casserole dish and briefly cook until the eggs are poached – the whites of the eggs will set. This should take about 3 to 5 minutes. If you don't like runny eggs, cook 'poach' them for a bit longer until the yolks cook some more.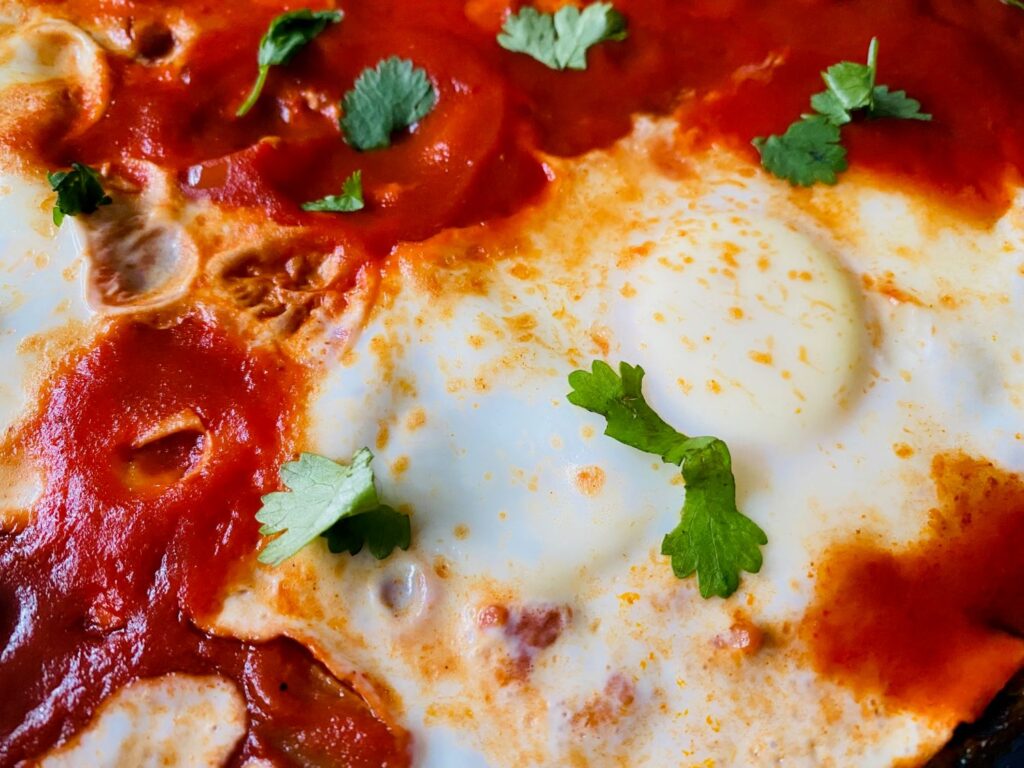 Remove from the heat and sprinkle the fresh coriander and any more seasoning as desired.
What To Serve With Shakshuka
Shakshuka goes very well with pita bread or crusty bread. You can also serve it with white rice or couscous, or a chickpea salad.
How Long Does Shakshuka Last?
Shakshuka can last in the fridge for up to 3 days if stored in an airtight container.
If you want to reheat it, do so gently and be very careful not to overcook your eggs. You might need to add some more tomato sauce or a little hot water if the sauce is too thick.
If you're looking for a healthy Mediterranean meal that's easy to make, shakshuka is the ideal dish. Made from just a few ingredients and simple techniques, this one-pot wonder is perfect for mid-week dinners or a lazy weekend brunch.
I hope this recipe has inspired you to try out some of your own variations on the dish. Have you ever made shakshuka before? What's your favourite Mediterranean meal?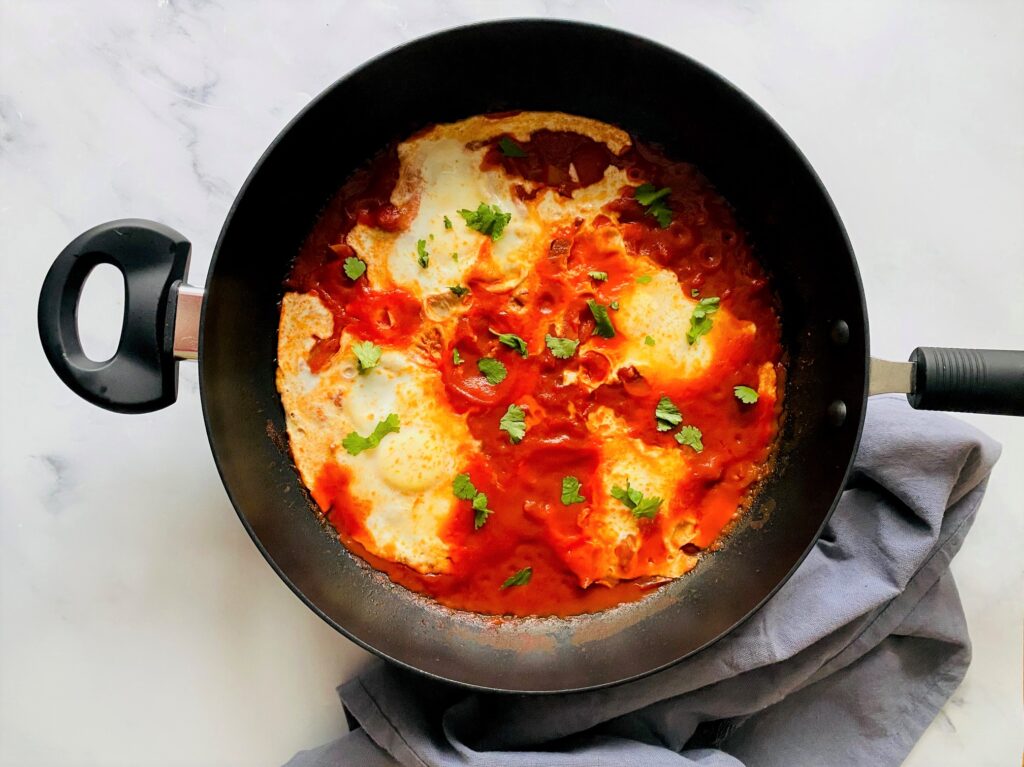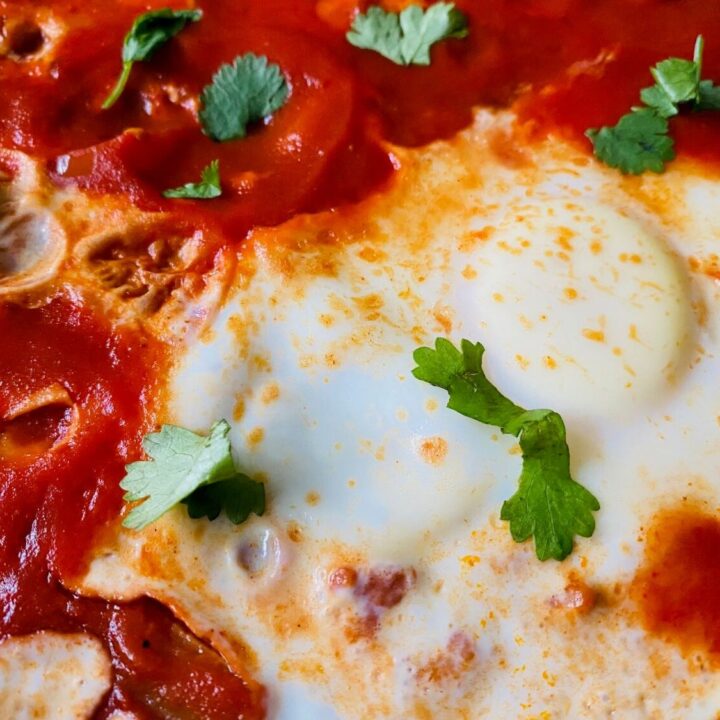 Shakshuka Recipe
Shakshuka is a quick to make meal that can be enjoyed for breakfast, lunch or dinner!
Ingredients
1 tbsp olive oil
1 onion, sliced
2 cloves garlic, crushed
2 peppers (any colour)
1 x tin chopped tomatoes
1 tsp cumin
1 tsp smoked hot paprika
1 tsp ground coriander
1 tsp cayenne pepper (optional)
4 medium eggs
Fresh coriander
Instructions
Heat oil in a frying pan and add onions and chopped peppers. Cook on a gentle heat for about 5 minutes, or until they have softened.
Add the crushed garlic and spices, mixing them in with the onions and peppers.
Add tinned tomatoes and optionally some salt and ground black pepper.
Bring to the boil before reducing to a simmer for about 10 minutes, with the lid on the pan.
Remove the lid and stir the sauce. Make little holes with a wooden spoon and crack an egg into each one.
Replace the lid and leave the eggs to 'poach' for about 3 to 5 minutes - longer if you want the yolk to be well cooked and not runny.
Remove from the heat and add any additional seasoning. Sprinkle with fresh coriander leaves.
Nutrition Information:
Yield:

4
Serving Size:

1
Amount Per Serving:
Calories:

133
Total Fat:

8g
Saturated Fat:

2g
Trans Fat:

0g
Unsaturated Fat:

6g
Cholesterol:

164mg
Sodium:

68mg
Carbohydrates:

9g
Fiber:

2g
Sugar:

4g
Protein:

7g