Are you wondering if you can make pasta sauce in your soup maker? The good news is, yes you can!
I've made a few different pasta sauces in my Ninja Soup Maker, read on to discover how easy it is with step-by-step photos and instructions.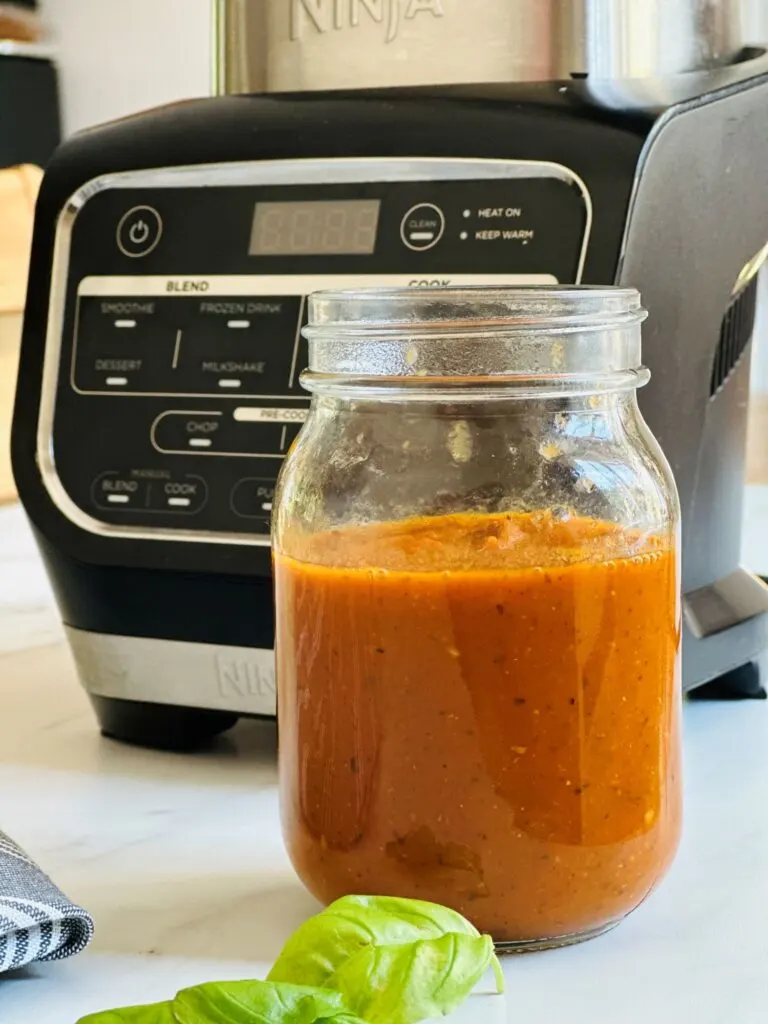 How To Make Pasta Sauce In A Soup Maker
Before we get started I need to point out that I made this in a Ninja Soup Maker using the 'sauce' function. I haven't tested it in any other soup maker so if you do try it in a different model you will probably need to adjust this recipe.
---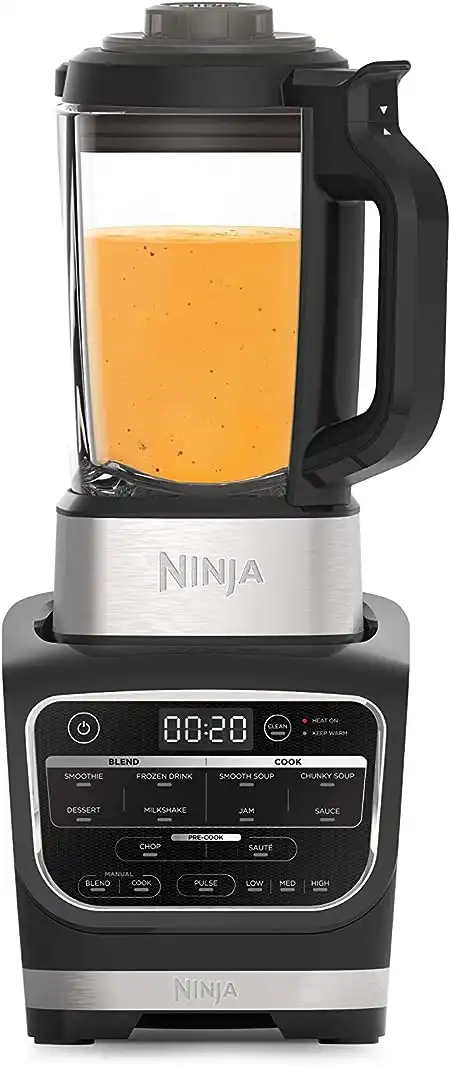 Ninja Blender and Soup Maker [HB150UK] 1000 W, 1.7 Litre Jug, Black
Makes chunky or smooth soup, smoothies, sauces, jams, frozen cocktails.
Hot capacity: 1.4L
Cold capacity: 1.7L
Chop and sauté
We earn a commission if you click this link and make a purchase at no additional cost to you.
12/09/2023 11:36 am GMT
---
What You Need:
The quantities below are enough to make about 400ml of pasta sauce. I could have easily doubled or tripled the amounts and have had enough to save for a later meal – next time I will!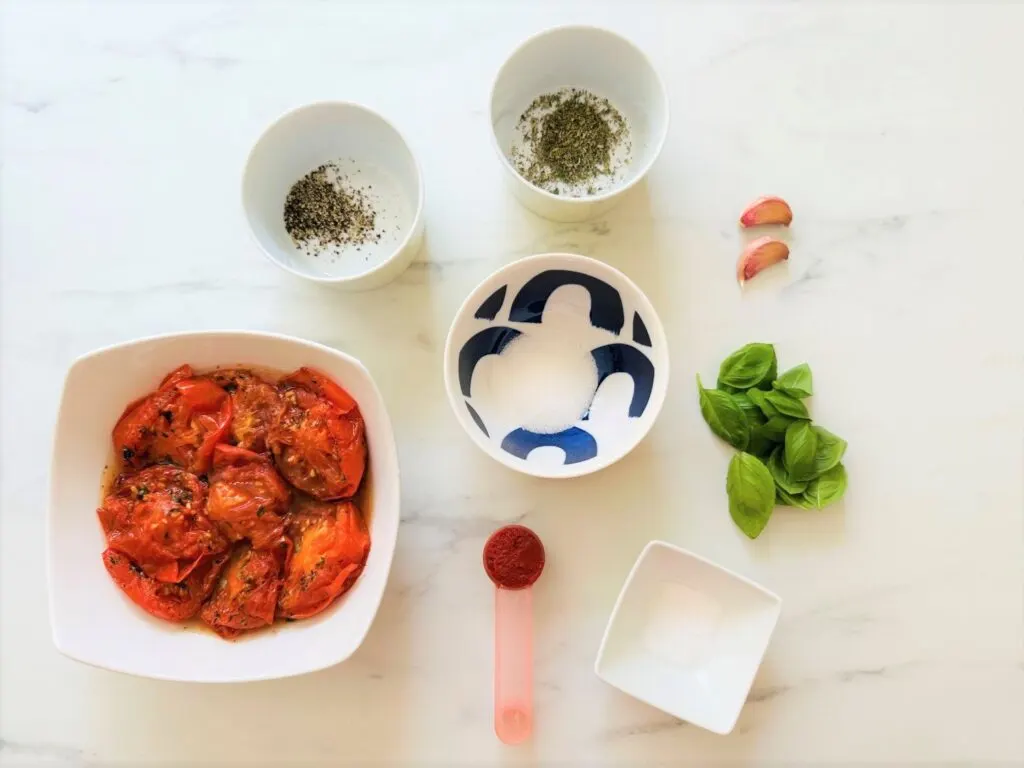 500g tomatoes
1 tbsp tomato puree
2 cloves garlic
1 tsp dried mixed herbs
1 tbsp sugar
1/2 tsp each salt and pepper
Handful of fresh basil leaves
The Best Tomatoes To Use For Pasta Sauce
For pasta sauce, I prefer to use fresh tomatoes on the vine, and I prefer to use roasted ones. I find this produces the best flavour.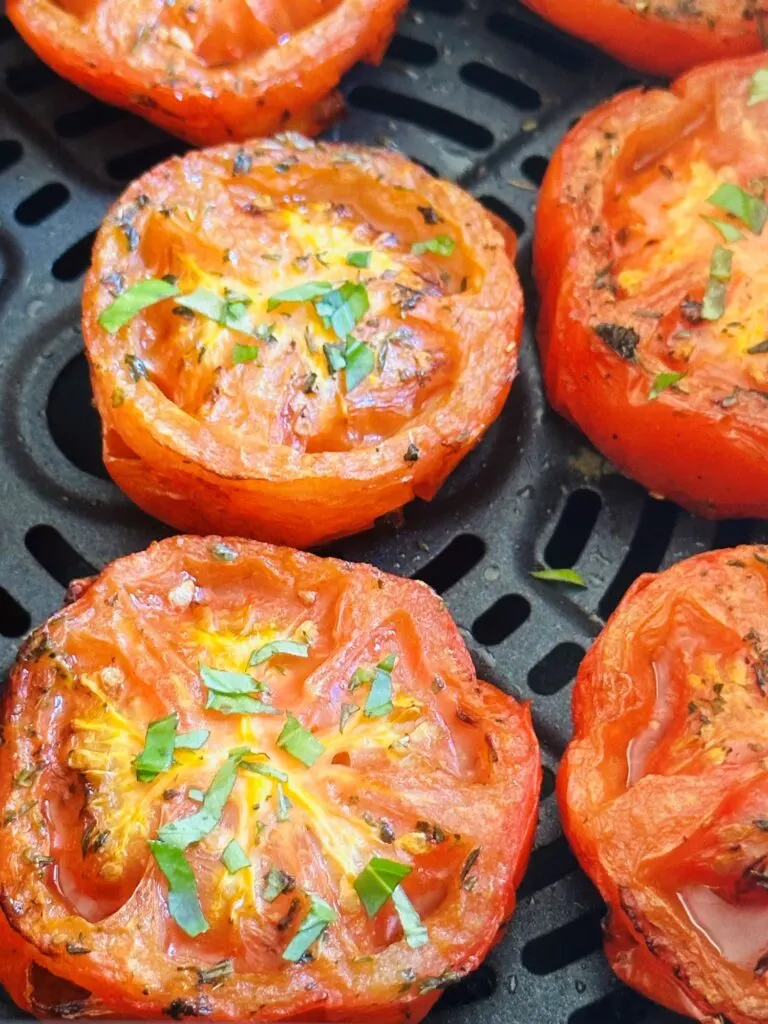 As I had recently been testing roasting tomatoes in an air fryer, I used them for this recipe.
If you don't have an air fryer you can roast tomatoes in an oven. Slice the tomatoes in half, brush the tomatoes with some oil, sprinkle with salt and pepper and cook at 160C/140C fan/gas 3 for around 45 minutes to 1 hour or until the tomatoes have softened and starting to collapse.
Making It:
Peel the garlic cloves, there is no need to crush or mince them as the Ninja blender will take care of that.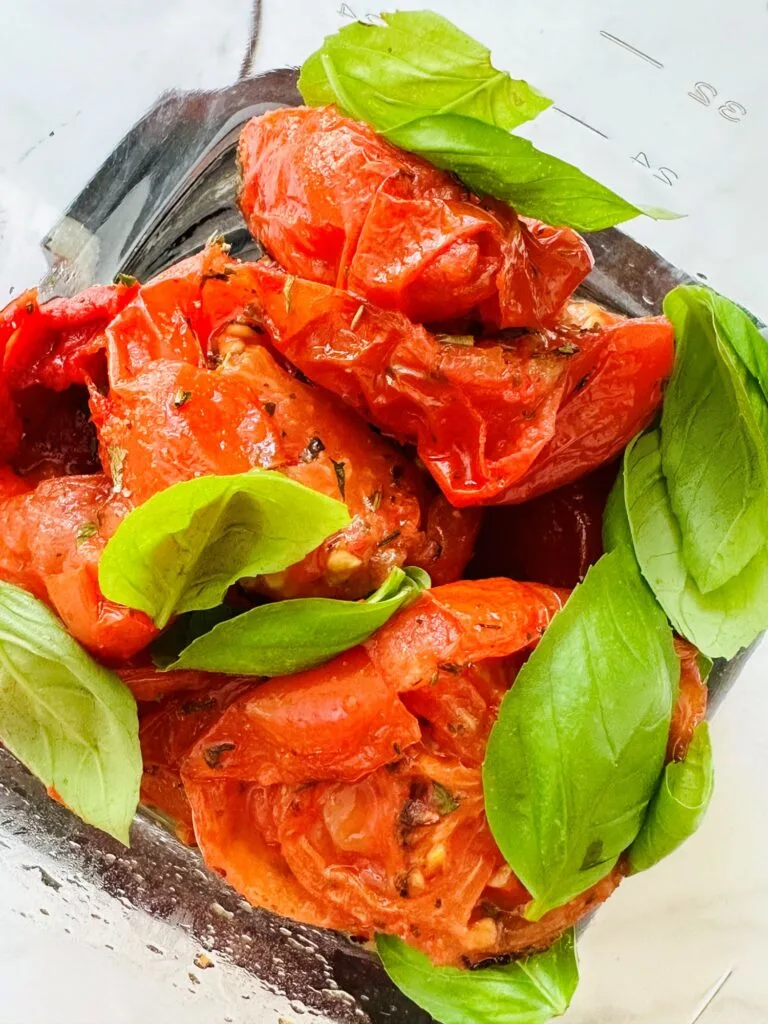 Add everything to the soup maker jug – roasted tomatoes, whole peeled garlic cloves, dried mixed herbs, sugar, salt and pepper.
Top with a handful of fresh basil leaves. If you prefer a more pronounced basil flavour, feel free to add more according to your preference.
Add the lid to the soup maker and press the 'sauce' button. This will automatically blend and heat the ingredients, turning them into a smooth, hot sauce.
Once the blender stops, carefully open the lid and give the sauce a taste. Adjust the seasoning if necessary.
Your tomato and basil pasta sauce is ready to serve – pour it over your favourite cooked pasta or save it for later use.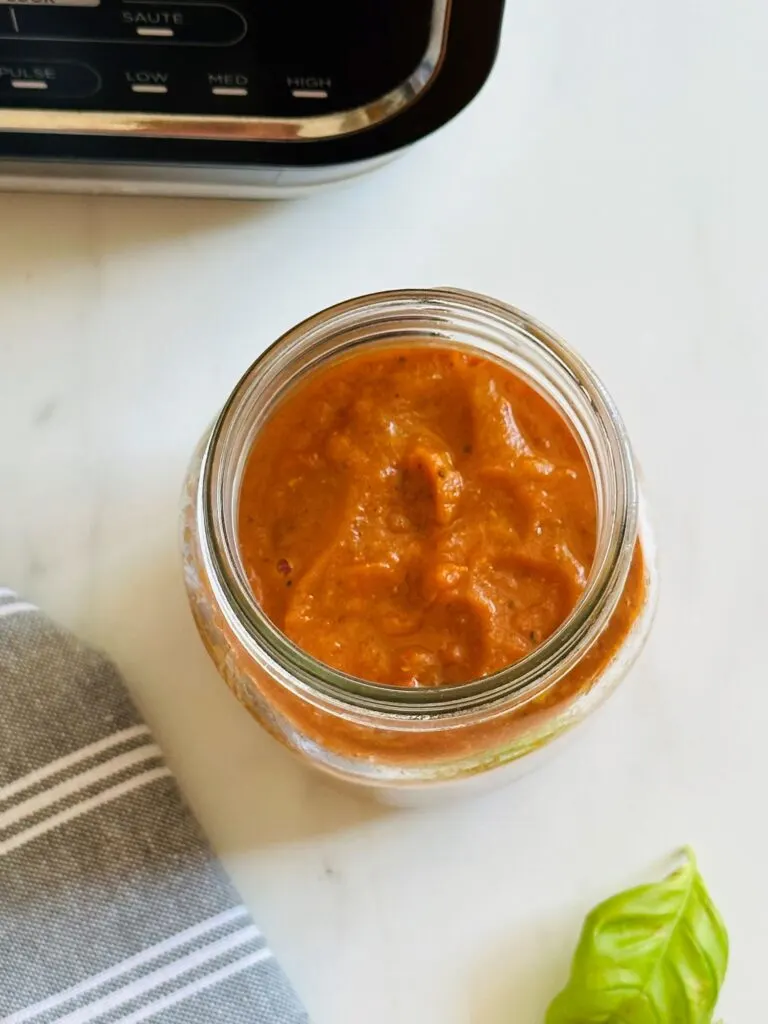 Ways To Use Pasta Sauce
Pasta Dishes: This is the most common use. Pasta sauce can be used with all types of pasta, from spaghetti to lasagna, penne, fusilli, and more.
Pizza: You can use pasta sauce as a base for homemade pizza. Spread it on your pizza dough before adding cheese and your choice of toppings.
Stuffed Bell Peppers: Hollow out bell peppers and fill them with a mixture of cooked rice or quinoa and pasta sauce, then bake until the peppers are tender.
Baked Eggs: Shakshuka is a delicious North African dish. Make a well in a pan of simmering pasta sauce and crack an egg into it. Cover the pan and let the egg cook to your desired level.
Meatballs: You can use pasta sauce to pour over meatballs. Try it with my air fryer meatballs recipe or my slow cooker meatballs.
Stews and Soups: Pasta sauce can provide a tasty base for stews and soups. Just add some meat, vegetables, and maybe some beans or lentils.
Bread Dip: Warm up pasta sauce and use it as a dip for crusty bread.
Can I Make Other Pasta Sauces In A Soup Maker?
Basic ingredients for pasta sauce include tomatoes, garlic, onion, olive oil, and seasoning such as basil, oregano, salt, and pepper. You may also include additional ingredients like bell peppers, carrots, or meat, depending on your preference.
Most traditional pasta sauces, such as marinara, Bolognese, or alfredo, can be made in a soup maker.
How To Store Homemade Pasta Sauce
Yes, you can store leftover pasta sauce in an airtight container in the refrigerator for up to one week. For longer storage, you can freeze the sauce for up to 3 months.
More Ninja Soup Maker Recipes
There are so many different recipes you can make in a Ninja Soup Maker. Here are some of my favourites!
I hope you enjoy this soup maker pasta sauce recipe – let me know in the comments if you make any other sauces in your Ninja, I'd love to hear about them!