Making homemade pizza dough has never been easier or more delicious. Skip the takeaway and try this simple recipe instead – you'll be amazed at how good it tastes!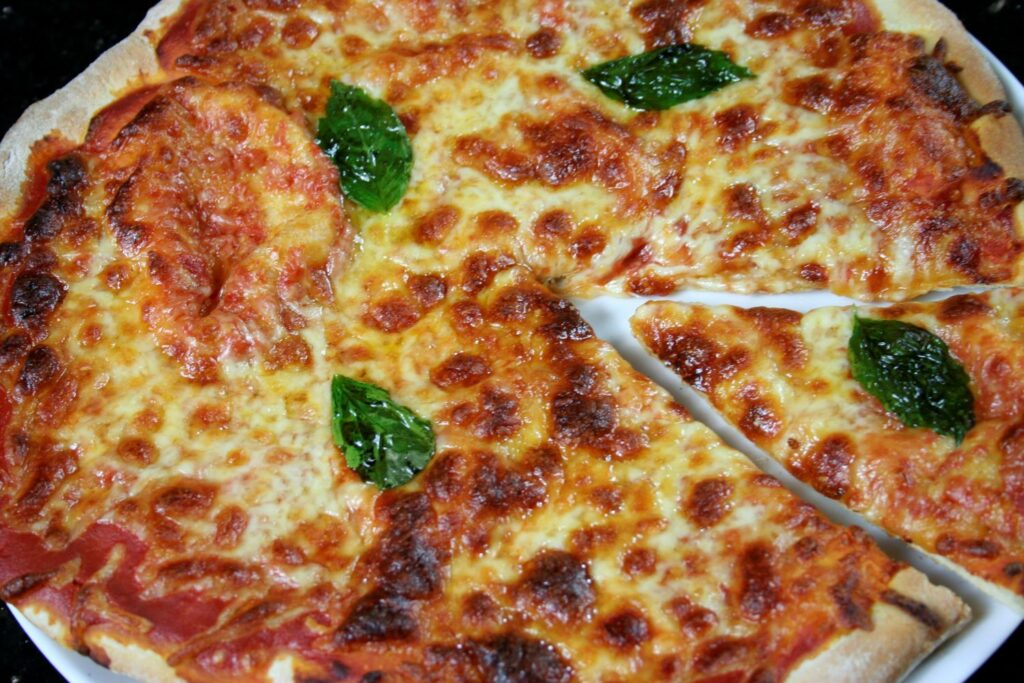 This recipe is perfect for beginners. You can make your own dough in under an hour with just a few ingredients and some elbow grease. And it tastes so much better than store-bought bases, too!
How Do You Make Pizza Dough From Scratch?
The process of making pizza dough at home is a simple one and can be done by anyone.
To make basic pizza dough, you need just 6 ingredients:
Flour, yeast, salt, sugar, olive oil and water.
Let's talk some more about these ingredients;
What Is The Best Flour For Pizza Dough?
While it's not essential to go with a specific type of flour, a tip is to use an Italian '00' flour. Using 00 flour for pizza dough is good because it is ground more finely than other flour. This will mean that the pizza dough will be easier to work with, resulting in a lighter and more crusty base.
You can buy 00 flour in most supermarkets. It's also the same flour used when making pasta from scratch.
If you don't have any 00 flour you can instead use strong white bread flour which will still create a delicious pizza base but it might be a little denser than when you use 00.
We mainly use white bread flour and get great results.
What Yeast Should I Use For Pizza?
I use fast-action dried yeast because it removes the need to proof the dough – I'm all about eating my pizza sooner rather than later! It can be mixed directly into the dough.
Adding Salt To Pizza Dough
It might be tempting to skip adding the salt if you don't tend to cook with it – but salt does play an important role in making pizza dough. Aside from enhancing the taste, it also helps to strengthen the dough.
Adding Sugar To Pizza Dough
A small amount of sugar (just 1tsp) will not only help the yeast to do its thing, but it will also give the pizza crust a nice golden colour.
Adding Oil To Pizza Dough
Adding some olive oil to a pizzas dough is important because it helps make the pizza dough pliable and easier to work with. Stretching out the pizza dough is an important part of the process, by adding oil you reduce the risk of holes forming in the dough.
Olive oil also adds that traditional pizza flavour we all know and love!
How Much Water Should I Add To My Pizza Dough?
Pizza dough recipes can vary quite a bit but after making this recipe countless times, I prefer to use 250ml of water for every 400g of flour.
I like to use warm water, but not too hot as it will affect the yeast. Just lukewarm from the tap is ok.
Making Pizza Dough – Step By Step
Start by preheating the oven to its highest temperature. The hotter you can get it, the better the results will be. If you have a pizza stone, even better, put this in the oven at the same time to heat up too.
In a large mixing bowl add all the dry ingredients together, so the flour, yeast, sugar and salt.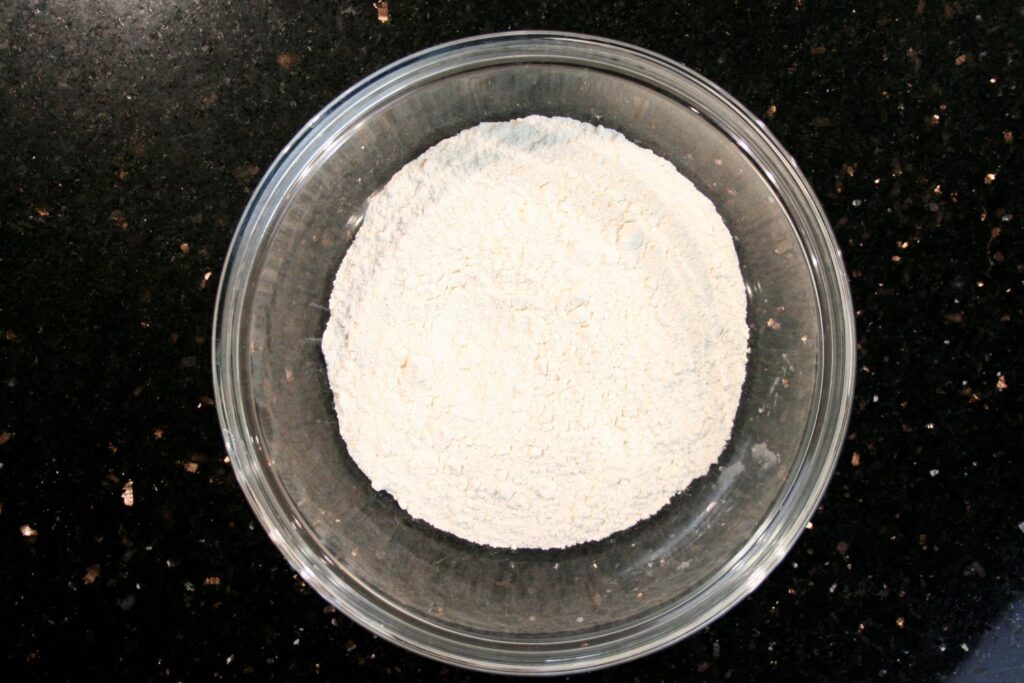 Make a well in the flour and add the olive oil and water and form it into a dough.
Flour the kitchen worktop and knead the pizza dough on the worktop – but not for too long, if you overwork the dough you will make it too tough. It only needs a few minutes of kneading, or until the dough is smooth and elastic.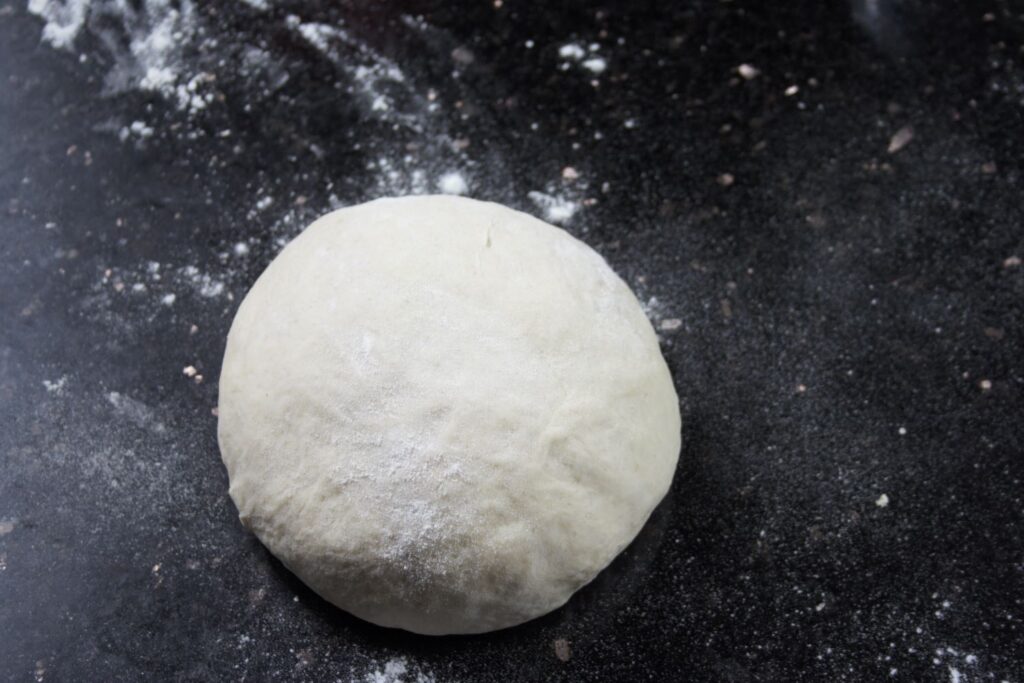 Split the dough in half and roll out each one until it is about 1/2 cm thick in the middle and slightly thicker around the edge.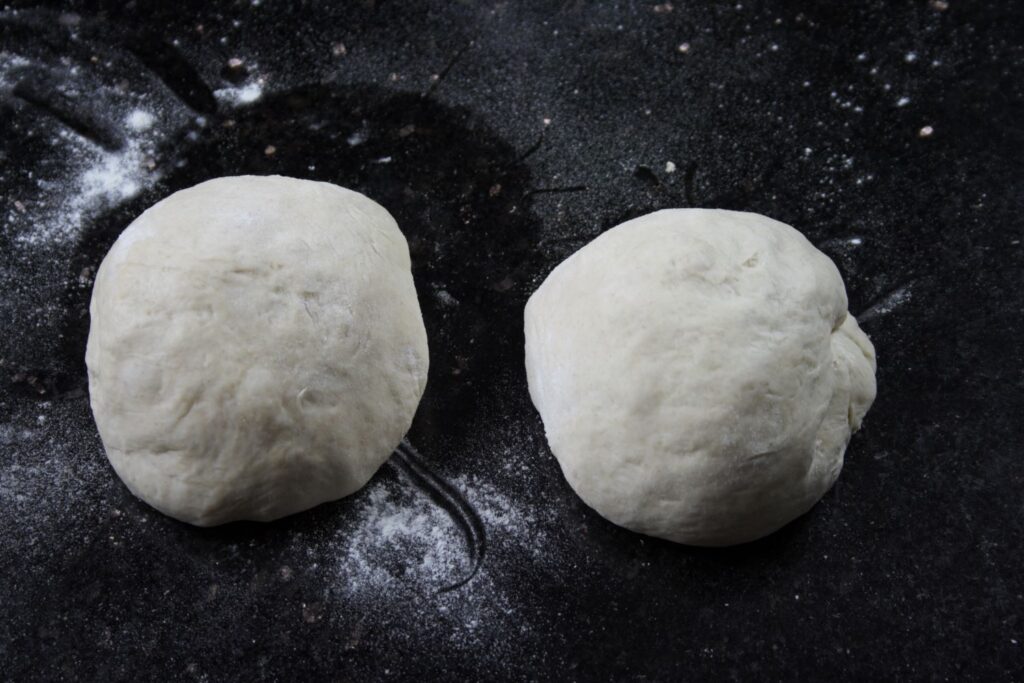 Spread your chosen pizza sauce (either make your own or buy some from the supermarket) followed by some grated cheese – the best cheese for pizza is mozzarella, but you can use your favourite type, as long as it melts easily.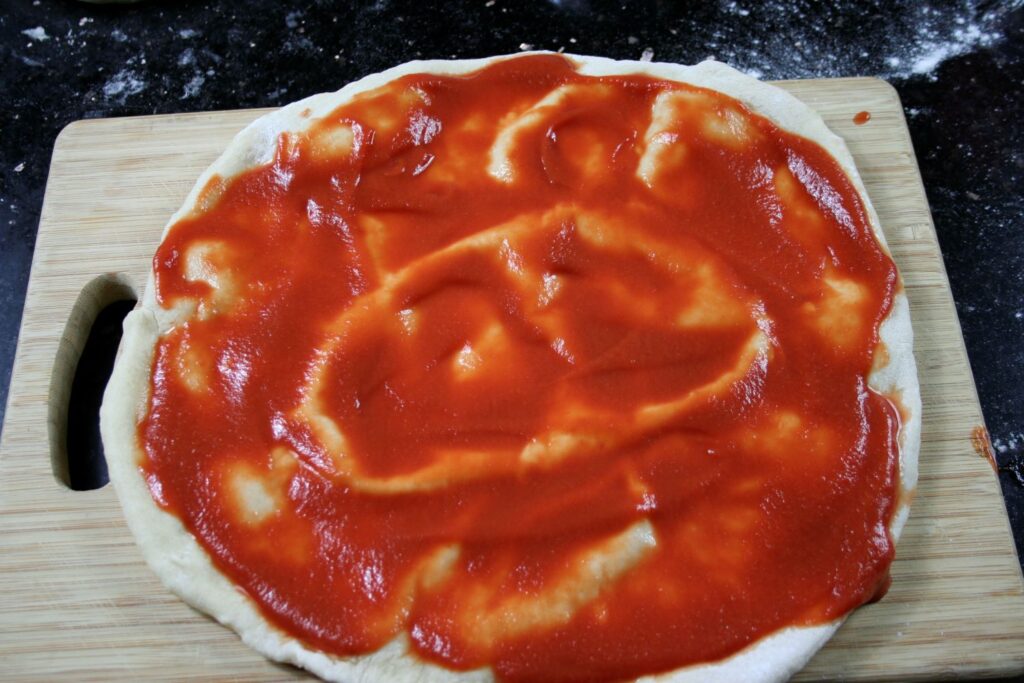 Add your favourite pizza toppings and place the assembled pizza in the hot oven – either on a pizza stone or baking sheet.
Cook for 15 to 20 minutes, or until the base is cooked through and the crusts are golden.
Why Is My Pizza Dough Tough?
While this depends on the cooking temperature, sometimes pizza dough can be a little tougher than you would like.
The reason for this is that the water in your dough has evaporated due to excessive kneading – or if you have left it in a warm place (like inside an oven) too long before cooking.
Do You Bake Pizza Dough Before Adding Toppings?
You don't need to cook the dough before adding pizza toppings but you might find that you get better results – more so if you are cooking your pizza in a traditional oven.
If you are using a pizza oven (gas, wood-fired, or BBQ), you shouldn't need to cook the dough before adding toppings. This is because a pizza oven can get to a much higher temperature than a regular oven and can be cooked in a much quicker time (just like they do at your favourite pizza restaurant!)
Why Is My Pizza Dough Not Crispy?
If your pizza dough is a little chewy rather than crispy it can mean that you have overworked the dough.
To get a crispy pizza base you also need to make sure the toppings and sauce you are using aren't too 'watery' as this will result in a soggy base.
Make sure you roll the crust out thin enough so that it has a better chance of cooking.
If you are going to be making pizzas frequently at home, but don't want to invest in a pizza oven, it's worth looking at getting a pizza stone to use in the oven. A pizza stone will retain the heat and in turn transfer it to the bottom of your pizza base, helping it to turn crusty rather than having a soggy bottom!
Can I Freeze Pizza Dough?
Yes, you can freeze pizza dough. If you want to make pizza from scratch at home more often it makes sense to at least double up the mixture and freeze one batch for next time. Cover it in cling film and freeze for up to 3 months.