There are many types of pasta sauce available, both premade shop sauces, as well as homemade pasta sauce.
Making pasta sauce at home is easy. It may seem daunting at first, but once you've whipped up your own and realize how simple it is, you'll wonder why you've been buying jarred sauces all this time.
Have a look at these popular recipes and see just how easy they are to make!
1. Classic Tomato Pasta Sauce (also known as Neapolitan and Salsa di Pomodoro)
Having a busy weeknight? This simple, timeless sauce is, literally, timeless. Not only does it taste good all the time, but, it's also ready in no time. It's super healthy, too – vegan, dairy-free, and gluten-free.
Also known as salsa al Pomodoro or sugo al'pomodoro, this sauce is the foundation of so many Italian dishes.
It can stand on its own with pasta, but is also a brilliant base for adding vegetables and meats such as minced beef or meatballs, Italian sausage, bacon bits, tuna or clams.
All you need is just 6 ingredients: canned whole plum tomatoes (diced or sliced into chunks), crushed garlic, chopped red onion, basil leaves, extra virgin olive oil, and a pinch of sugar. Italians like adding a bay leaf as well.
Saute the garlic and onion in the olive oil until tender, then add the sliced tomatoes, basil leaves and sugar (plus the bay leaf, if using). Pour the remaining tomato juice from the can, and cover the pot. Simmer for 15 minutes, stirring occasionally. You may season with salt and pepper. The sauce is ready when it has become creamy with small, tender chunks of tomato, and just the right balance of sweetness and savoury.
2. Bolognese
Known in Italy as ragu alla Bolognese or simply ragu, this hearty, meat-based sauce originated in the city of Bologna.
In Italy, it is customarily used to dress tagliatelle, pappardelle, or fettuccine, or combined with béchamel to prepare traditional baked lasagne.
But in other parts of the world, it is popularly paired with spaghetti.
If you want to make authentic ragu, start with onions, celery, and carrot. Add minced beef and cook until light brown. Season with salt and pepper. Next, pour some white wine and let it simmer until dry. Then add milk and a can of peeled tomatoes, pureed or crushed by hand. Alternatively, you can use a combination of tomato sauce and tomato puree with water. Simmer for a couple of hours, stirring occasionally until the sauce thickens.
The secret to excellent Bolognese is letting it simmer on very low, gentle heat for about 3 hours so the juice of the meat has plenty of time to saturate the sauce. You can choose to use a slow cooker to make spaghetti bolognese. Sprinkle with parmesan when serving on your preferred pasta.
3. Carbonara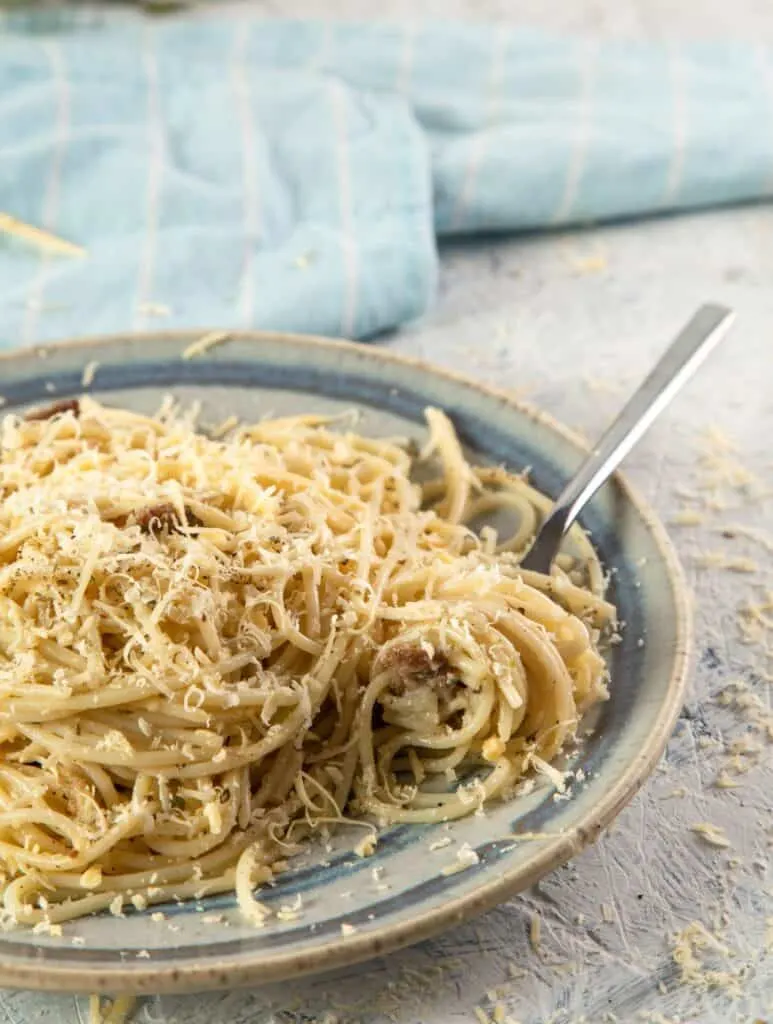 Carbonara is a popular pasta dish originating in Rome. The sauce is made with fresh, raw eggs, hard cheese, cured pork, and black pepper. The cheese used is Pecorino-Romano or Parmigiano-Reggiano (Parmesan), or a combination of both.
Spaghetti is the pasta most favoured, but linguine, fettuccine, penne, rigatoni, and bucatini are also used. For cured pork, pancetta is preferred, but guanciale and cured bacon are acceptable substitutes.
To make carbonara, first, fry the pancetta in its own fat until brown and crispy, then set aside to cool. Whisk the eggs, cheese, a good amount of black pepper, and a dash of salt in a serving bowl, then add the cooled pancetta. You may also add some thyme and lemon zest for added flavour. Is now ready to serve. You may opt to pour the sauce into a pot of freshly cooked and drained pasta, or toss the pasta right into your bowl of freshly made sauce.
Serve immediately, sprinkled with additional parmesan cheese.
4. Arrabbiata
Arrabbiata is Italian for "angry". Known in Italy as sugo all' arrabbiata, this spicy but versatile tomato sauce gets its name from the addition of dried red chili peppers. It is customarily served with penne but it goes well with other types of pasta, and is especially great on linguine with clams, roasted meat, and fish.
Arrabbiata is very easy to make. Just saute garlic in olive oil for a couple of minutes or until golden and fragrant. Add the chilis and a can of plum tomatoes, sliced into chunks. Simmer for an hour or until thick.
For more flavour you may add wine or lemon juice, and a pinch of salt, pepper, and sugar for seasoning. Basil or parsley may also be added before serving.
5. Tomato and Mascarpone Sauce
This is a sauce that kids love! Mascarpone is an Italian cream cheese that is creamier, sweeter, and more buttery smooth than regular cream cheese. It is a specialty in the region of Lombardy and is used in desserts like tiramisu. It is so good, it's an easy hit among both children and adults!
Combined with tomatoes, herbs, balsamic vinegar (or lemon), and optional garlic and onion, mascarpone cheese evolves into a delectable sauce that can stand alone or be paired with chicken, fish, and vegetables.
If you're using garlic and onion, sauté those first in olive oil until soft. Then you can add all the remaining ingredients – tomatoes, herbs (your choice of basil, oregano and/or dill), vinegar or lemon juice, and the mascarpone cheese – into a saucepan. Bring to a boil, then down to a slow simmer for 20 to 30 minutes until thick. Season with salt and pepper. Remember to sprinkle with parmesan when serving with pasta or meat.
6. Amatriciana
This is an Italian classic and is one of the best-known pasta sauces in present-day Roman cuisine. Sugo all' amatriciana, also known as salsa all' amatriciana, is a traditional sauce consisting of cured pork cheek known as guanciale, pecorino romano cheese, tomatoes, red pepper, and sometimes white wine, garlic, and onion. The traditional pasta used in Amatriciana is bucatini, but spaghetti is also used.
Originating from the small town of Amatrice in the mountainous region of Lazio, this dish is prepared by gently frying the guanciale until crisp and brown, adding the white wine and red pepper, then covering in rich tomato sauce. It is simmered until thick then seasoned with salt and pepper. The cooked bucatini is added, and the pecorino is incorporated.
The result is a rich pasta dish with a full-bodied, meaty flavour.
7. Roasted Tomato Sauce
This is what you can do if you've had a bountiful harvest of ripe, garden-fresh tomatoes or if you just snapped up several bags at the farmer's market.
Roasting fresh tomatoes is the secret to a sweet, authentic, and fresh-tasting sauce. Caramelizing them along with some garlic and onion produces a rich, deep flavour that's unbeatable by any store-bought preparation.
Just place the tomatoes onto a wide baking tray, add garlic, onions, and herbs of your choice, and season with salt and pepper. (Sugar, too, if you'd like). Next, drizzle some olive oil. Roast in the oven for half an hour or until their skins blister and lift from the flesh.
Allow the tomatoes to cool. You may choose to peel off their skins and take out the seeds. If you want the sauce to be chunky, place them in a bowl and mash with either a fork or a potato masher. If you'd prefer a smoother sauce, puree them in a blender.
You can use this sauce on pasta, pizza, stews, and as a dipping sauce. Re-heat it if using immediately, or store in a freezer, up to 4 months, for later use.
8. Pesto Sauce
Everybody knows this green, fragrant sauce. Originating in Genoa, Liguria, pesto traditionally consists of crushed garlic, pine nuts, basil leaves, hard cheese such as Parmesan or Pecorino Sardo, and salt blended in olive oil.
Pesto literally means "to pound" or "to crush", referring to the way the sauce was originally made. The uncooked yet flavourful sauce is traditionally prepared in a mortar and pestle, but it can also be done in a food processor or blender.
If you're using a mortar and pestle, try crushing the nuts first then add the garlic to make a fine, creamy paste. Then add the basil leaves and salt, and pound further. Slowly add the olive oil and incorporate the cheese.
Outside of Italy, pine nuts are sometimes substituted with hazelnut, almond, cashew, brazil, pecan, walnut, pistachio, macadamia, or any oily tree nuts, or even sunflower and pumpkin seeds. And instead of basil, other flavourful leaves that are used are kale, spinach, rocket arugula, parsley, mint, dill, or coriander.
If your sauce turned out a little too thick, you can add a few spoonful's of the water in which you cooked your pasta.
Pesto can be kept in a jar or an air-tight plastic container, covered with a layer of extra-virgin olive oil to preserve it. It can be refrigerated up to a week or frozen for later use.
Related: Green Basil Pesto Sauce Recipe
9. Puttanesca Sauce
Puttanesca is a tomato-based sauce, flavoured with garlic, chili peppers, black olives, capers, and anchovies.
It was created in Naples in the mid-20th century and traditionally served with spaghetti, although linguine, vermicelli, bucatini, and penne are also used.
The feisty, briny dish is called sugo all' puttanesca, which is roughly translated as "in the style of the prostitute". It was humorously called "whore's spaghetti" because according to folklore, it was so cheap and easy to make that it could be cooked quickly by prostitutes in between visits with their clients. Another story goes that ladies of the night made it to entice men into their abodes. It has since acquired the moniker pastitute, a combination of the words pasta and prostitute.
To make this tasty sauce, sauté some garlic and anchovies in olive oil. Add olives, capers, diced tomatoes, chili peppers, and oregano. Season with salt and pepper, and simmer until thick. Pour on spaghetti al dente and top with chopped fresh parsley.
Puttanesca can be combined with fish or chicken but it's most popular with shrimp or prawns. Shrimp Puttanesca, as it is called, is sometimes added with vegetables like green peas, baby zucchini, artichokes, green onions, and chives for a healthy, hearty, and totally satiating meal.
10. Cheese Sauce
Now, who doesn't like cheese? It just seems to work magic on all kinds of pasta dishes – what would macaroni and cheese be without it?
To make your own cheese sauce, start with a béchamel sauce – a simple white sauce made of butter, flour, milk, and a few seasonings. Add cheddar cheese, then spice it using some English mustard, Worcestershire, and pepper. In place of cheddar, you can use other sharp cheeses like Gruyere, Gouda, Havarti, or Parmesan. You may also mix in different herbs. To reduce or increase the richness of the sauce, you can incorporate milk, single cream, or double cream.
11. Mushroom Sauce
This creamy white or brownish-white sauce is made primarily with mushrooms – fresh, dried, or canned. It is often cream-based, but can also have tomatoes or white wine as a key ingredient. It is a flavourful and versatile sauce that is also used with chicken, and vegetables.
In a frying pan, sauté some garlic and onion in butter or olive oil until they're soft. Add mushrooms, Italian parsley, basil, and other herbs. Season with salt and pepper.
Next, pour a cup of water or chicken stock and a dash of wine or lemon juice. Simmer for 20-25 minutes or until mushrooms are tender and liquid has been reduced. If you want the sauce thick and creamy, you may add flour or cream. Mix with your cooked pasta and top with grated Parmesan or Pecorino.
12. Marinara
This simple sauce is used in traditional southern Italian cuisine with pasta, rice, pizza, and seafood. The word "marinara", after all, comes from "alla marinara" which means "mariner's" or "sailor's style".
It consists primarily of tomatoes, herbs, garlic, and onions, but usually includes a variety of seafood such as scallops, anchovies, and oysters. Common variations add capers, olives, and a dash of wine.
Marinara has evolved significantly in many parts of the world and become one of the most common and best-loved sauces. Is very easy to make.
Just heat some olive oil in a pan and sauté slices of onions and garlic until tender. Then, pour a can of peeled tomatoes. (You can use whole plum tomatoes, just crush them by hand.) Add fresh or dried herbs – basil, oregano, and thyme. You may also add red pepper flakes. Simmer for about 30 then season with salt, pepper, and white wine. You may add sugar if you like. For a thin, smooth Marinara, use a blender to puree the sauce.
13. Alfredo Sauce
This rich, velvety dressing is easy to fall in love with. It's a cream-based sauce traditionally paired with fettuccine because the broad noodles provide a wide base for the butter and cheese to cling to.
Fettuccine all' Alfredo, as the dish is known, was made famous by Alfredo Di Lelio who started a restaurant in Rome in 1914 and served the sauce using only butter and Parmesan.
Today it has many variations and is used as an accompaniment for other types of pasta, chicken, and more. It's actually a favourite around the world, especially in the United States where the sauce is even sold as a type of convenience food in grocery stores.
Unlike the original preparation though, the processed and fast food versions are usually thickened with eggs or starch. Thankfully you don't need to buy commercial preparations. Alfredo is one of the easiest sauces to make at home!
Just soften some butter to room temperature and grate 250g of Parmesan cheese. You may opt to add cream cheese or whipped cream. Whisk them together until well blended. Add salt, pepper, finely chopped garlic, and Italian seasoning and whisk again until smooth. Voila, it's ready to be smothered onto your freshly cooked fettuccine.