Spotted Dick is a classic British recipe, often served as a pudding during school dinners.
Traditionally, spotted dick is made with dried fruit and suet, and is cooked by steaming it. It is possible to make it without suet, which I will detail further on.
Spotted dick tastes best with fresh custard, but is equally tasty with some vanilla ice cream!
How To Make Spotted Dick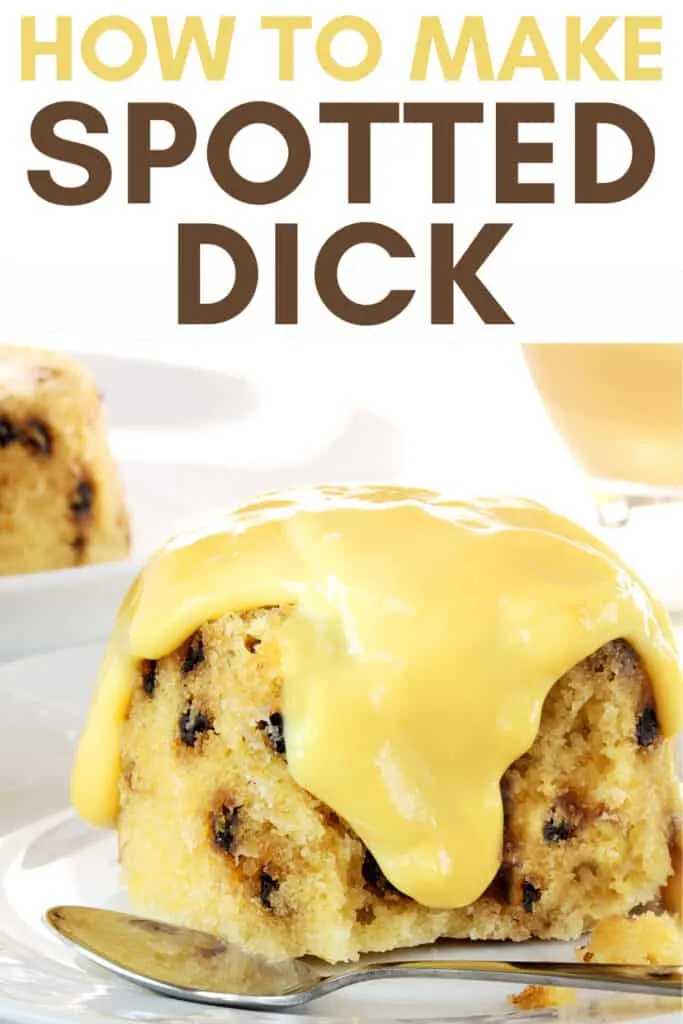 You can make spotted dick in a pudding basin, or if you don't have one, you can roll it into a cylinder shape.
What You Need:
self raising flour
suet/butter
caster sugar
currants or raisins
grated rind of lemon
milk
pudding basin, foil, large saucepan or steamer (for steaming option)
Different Ways To Cook Spotted Dick
Steaming
Steaming is the traditional way to cook a spotted dick. Either use a steamer and cook it for 60 to 90 minutes, or place a saucer or trivet in a large saucepan and place the covered pudding basin on top of it. Add boiling water to the saucepan so that it comes to about halfway up the side of the pudding basin. Cover the saucepan.
Oven Baked
If you want to reduce the cooking time, spotted dick can be baked in an oven, but this will alter the texture and taste compared to a traditional spotted dick. Fill a baking tray with water and place it at the bottom of the oven. Preheat the oven (220°C/fan 200°C/Gas Mark 6). Cover the spotted dick with foil and place in the oven – the cook time should be around 35-40 minutes.
Microwave
If you want super quick spotted dick, you can cook it in a microwave. It will have a completely different texture to the traditional boiled/steam option – much like microwave treacle sponge. Cook it in a microwave safe bowl, covered with cling film, leaving a gap to allow the steam to escape. Cook for 5 minutes on full power and then allow to stand for a few minutes before serving.
If you've got the time though, and to do this marvellous pudding justice, I recommend the traditional method of steaming it!
Making Spotted Dick Without Suet
Suet is used in steamed puddings as it has a higher melting point, making the texture fluffier, but you can substitute it with an alternative fat such as butter. Just use the same amount of butter as you would suet.
What To Serve With Spotted Dick
Custard is usually served with spotted dick, but you can also serve it with ice cream, or cream.
Why Is It Called Spotted Dick?
The dried fruit (the currants and the raisins) are the 'spots' in the pudding, and the word 'dick,' according to this source;
"dick may be a corruption/contraction of the last syllable of pudding, a corruption of dough, or from German dick ("thick, viscous")"
More Popular British Desserts
Is spotted dick one of your favourites? Let me know in the comments what your favourite British pudding is!