Spotted Dick is a classic British recipe, often served as a pudding during school dinners.
Traditionally, spotted dick is made with dried fruit and suet, and is cooked by steaming it. It is possible to make it without suet, which I will detail further on.
Spotted dick tastes best with fresh custard, but is equally tasty with some vanilla ice cream!
How To Make Spotted Dick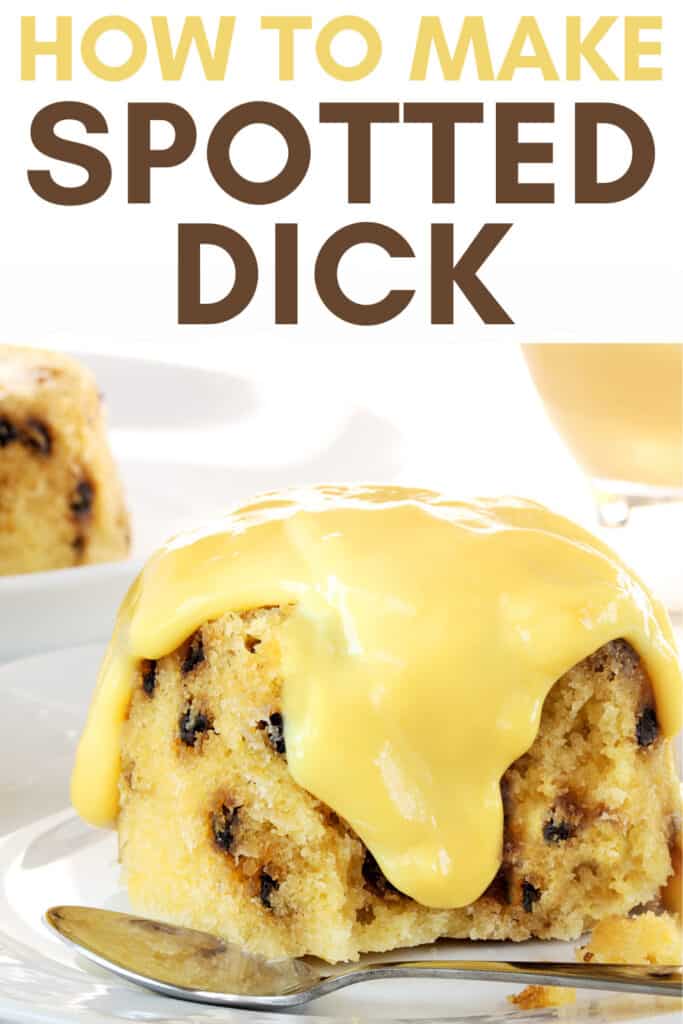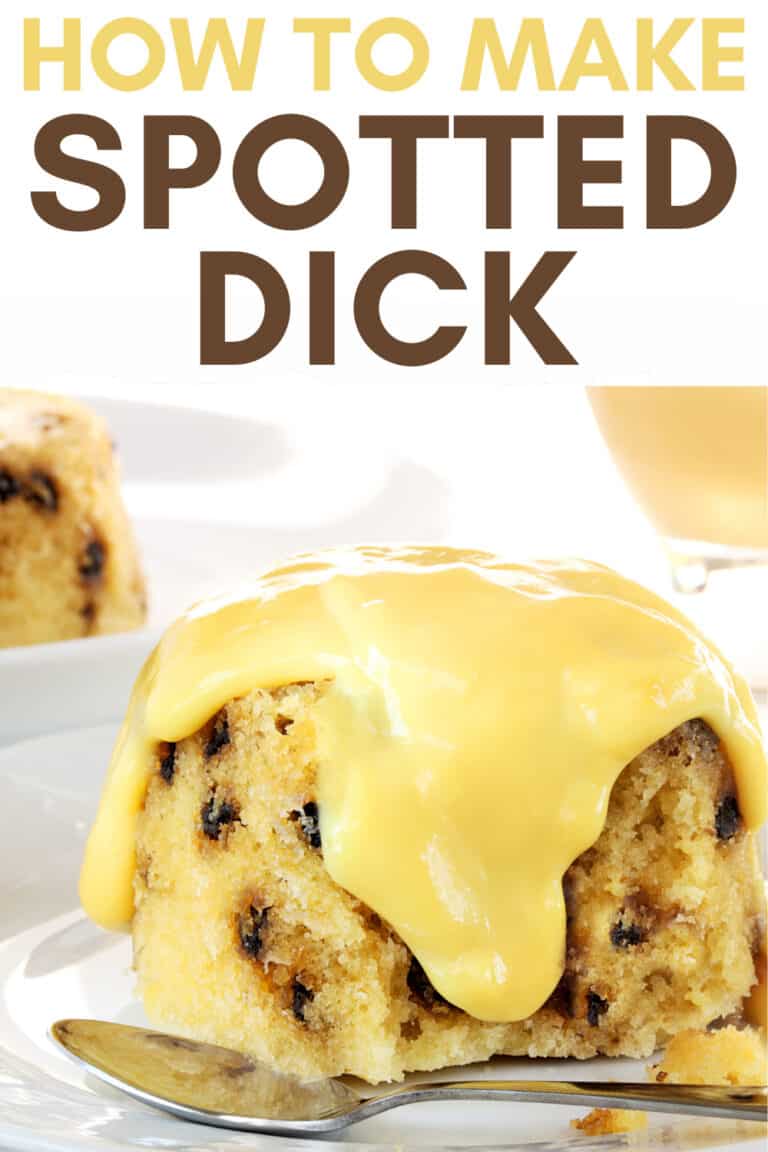 You can make spotted dick in a pudding basin, or if you don't have one, you can roll it into a cylinder shape.
What You Need:
self raising flour
suet/butter
caster sugar
currants or raisins
grated rind of lemon
milk
pudding basin, foil, large saucepan or steamer (for steaming option)
Different Ways To Cook Spotted Dick
Steaming
Steaming is the traditional way to cook a spotted dick. Either use a steamer and cook it for 60 to 90 minutes, or place a saucer or trivet in a large saucepan and place the covered pudding basin on top of it. Add boiling water to the saucepan so that it comes to about halfway up the side of the pudding basin. Cover the saucepan.
Oven Baked
If you want to reduce the cooking time, spotted dick can be baked in an oven, but this will alter the texture and taste compared to a traditional spotted dick. Fill a baking tray with water and place it at the bottom of the oven. Preheat the oven (220°C/fan 200°C/Gas Mark 6). Cover the spotted dick with foil and place in the oven – the cook time should be around 35-40 minutes.
Microwave
If you want super quick spotted dick, you can cook it in a microwave. It will have a completely different texture to the traditional boiled/steam option – much like microwave treacle sponge. Cook it in a microwave safe bowl, covered with cling film, leaving a gap to allow the steam to escape. Cook for 5 minutes on full power and then allow to stand for a few minutes before serving.
If you've got the time though, and to do this marvellous pudding justice, I recommend the traditional method of steaming it!
Making Spotted Dick Without Suet
Suet is used in steamed puddings as it has a higher melting point, making the texture fluffier, but you can substitute it with an alternative fat such as butter. Just use the same amount of butter as you would suet.
What To Serve With Spotted Dick
Custard is usually served with spotted dick, but you can also serve it with ice cream, or cream.
Why Is It Called Spotted Dick?
The dried fruit (the currants and the raisins) are the 'spots' in the pudding, and the word 'dick,' according to this source;
"dick may be a corruption/contraction of the last syllable of pudding, a corruption of dough, or from German dick ("thick, viscous")"
Is spotted dick one of your favourites? Let me know in the comments what your favourite British pudding is!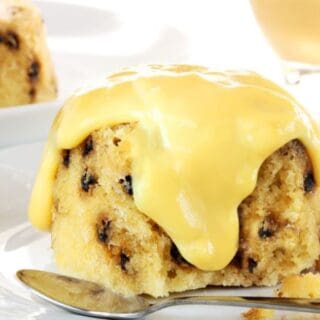 Spotted Dick Recipe
Cook Time:
1 hour
30 minutes
Total Time:
1 hour
40 minutes
Spotted Dick is a classic British pudding that has been enjoyed by generations over the years!
Ingredients
225g self-raising flour
60g caster sugar
115g suet (or butter)
140g raisins or currants
150ml milk
grated rind of 1 lemon
butter for greasing
Instructions
In a mixing bowl, combine the flour, sugar, suet/butter, dried fruit and lemon rind.
Add the milk and stir together until a soft dough forms - it should be a soft dropping consistency.
Transfer the mixture to a greased pudding basin or bowl and level the top so that it is flat. If you don't have a suitable bowl you can roll it into a cylinder (on a floured surface).
Cover the bowl, or cylinder, in greaseproof paper, followed by foil over the top. If you are covering a cylinder allow enough space for the pudding to raise within the paper.
If you are steaming the spotted dick, place a trivet, or an upturned saucer in the bottom of a large saucepan. Place the pudding bowl on top. Pour boiling water in the saucepan so that it comes about half way up the sides of the bowl.
Place the lid on the saucepan and cook for around 90 minutes - check back often to make sure the water doesn't boil dry.
The pudding is ready when it gently springs back when pressed.
Remove the pudding from the bowl and serve with warm custard or ice cream!
Notes
To Oven Bake
1. Place a baking tray filled with water on the bottom of the oven. Preheat the oven (Gas Mark 6/200C).
2. Place the pudding bowl/cylinder on a shelf above the baking tray and cook for 35 minutes.
Nutrition Information:
Yield:

6
Serving Size:

1
Amount Per Serving:
Calories:

507
Total Fat:

21g
Saturated Fat:

12g
Trans Fat:

0g
Unsaturated Fat:

8g
Cholesterol:

20mg
Sodium:

482mg
Carbohydrates:

77g
Fiber:

4g
Sugar:

40g
Protein:

7g