'Spag Bol' is a staple in our household. I try to vary up our weekday meals as much as I can, but Slow Cooker Bolognese seems to feature more frequently than most.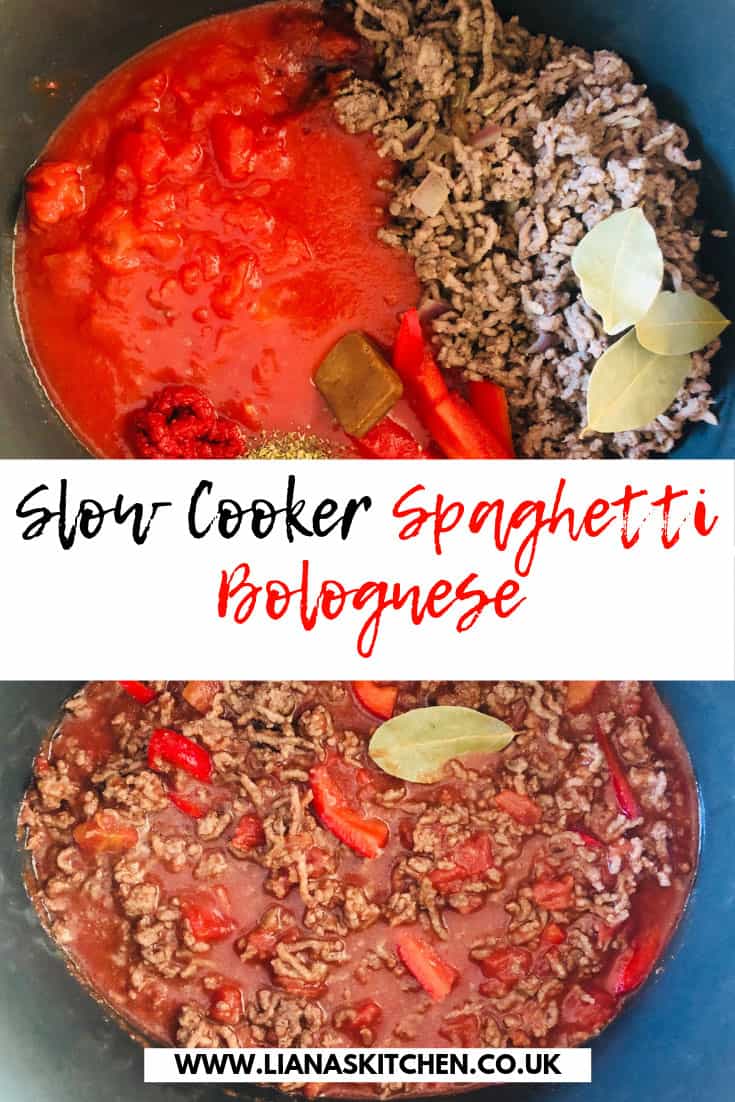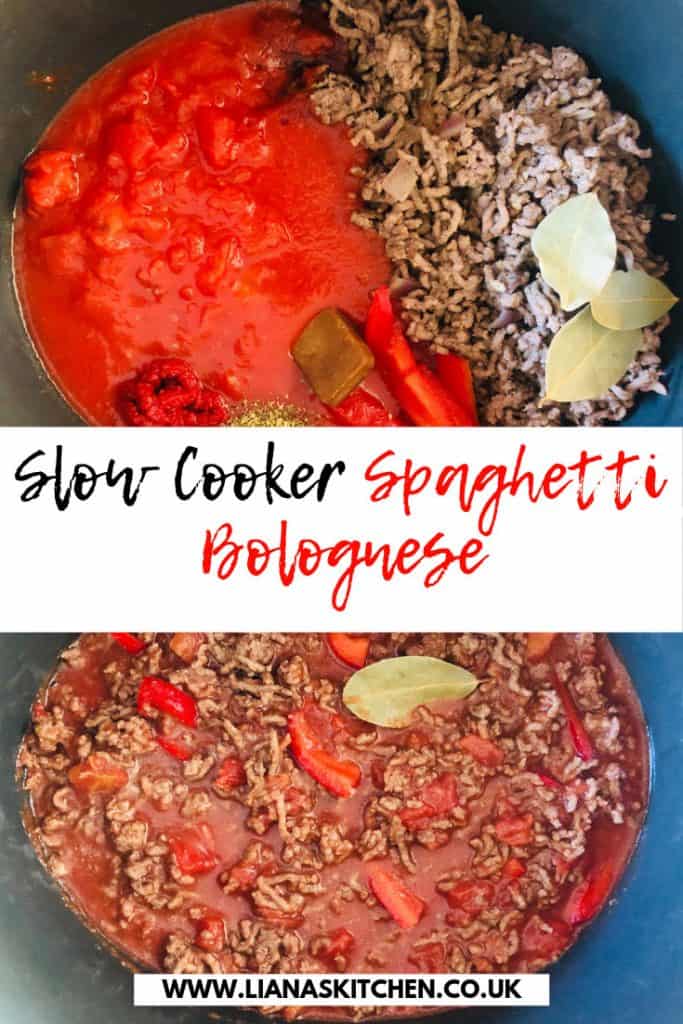 How Do You Make Spaghetti Bolognese In A Slow Cooker?
Making Bolognese in a slow cooker is really easy. You can either put it all in raw, or brown the mince off first. I talk about this more further down. I personally like to brown my mince before putting in the slow cooker for Bolognese, but it's not mandatory 😉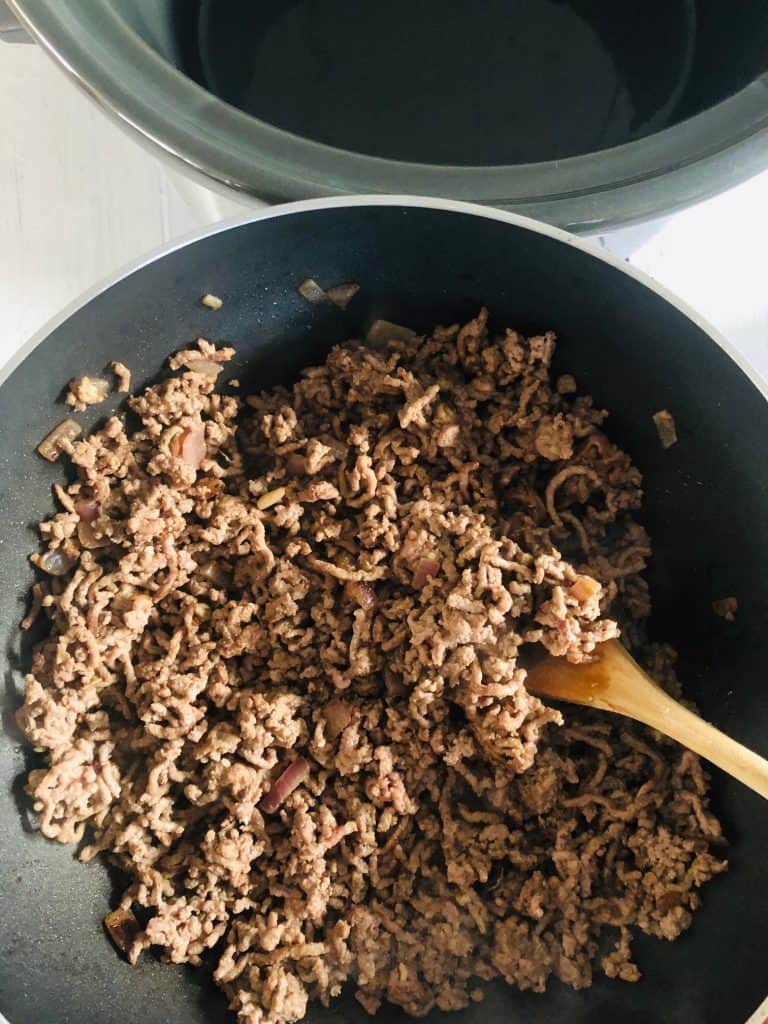 I then add all the ingredients to the slow cooker; 750g mince (you can use 500g, it'll taste as good and easily serve 4 people still), 1 onion, 1 red pepper, 3 cloves garlic, 3 bay leaves, 1 carton passata, 1 can chopped tomatoes, 3 tbsp. tomato puree, 1tbsp Worcestershire sauce, 1tsp dried mixed herbs and 1 beef stock cube.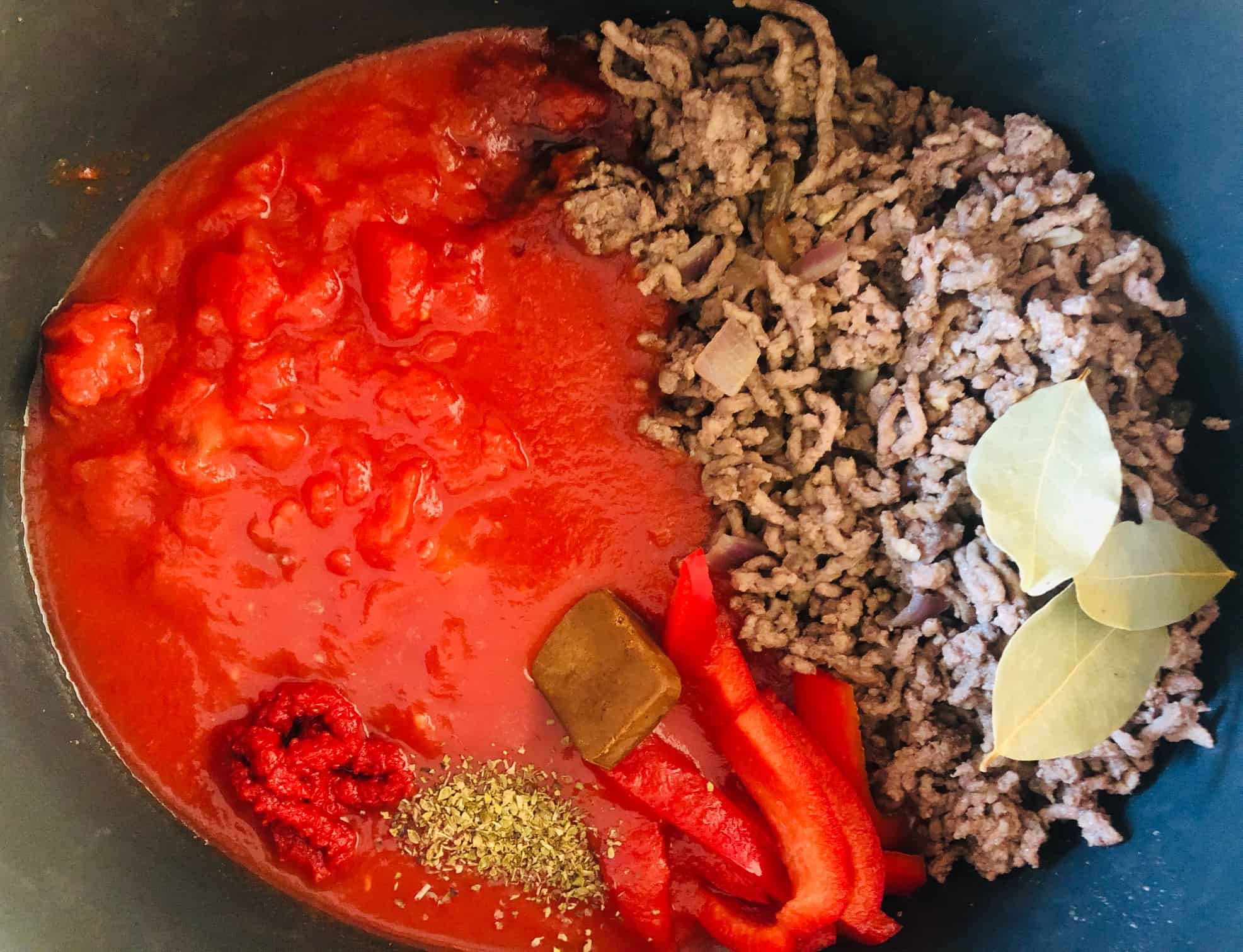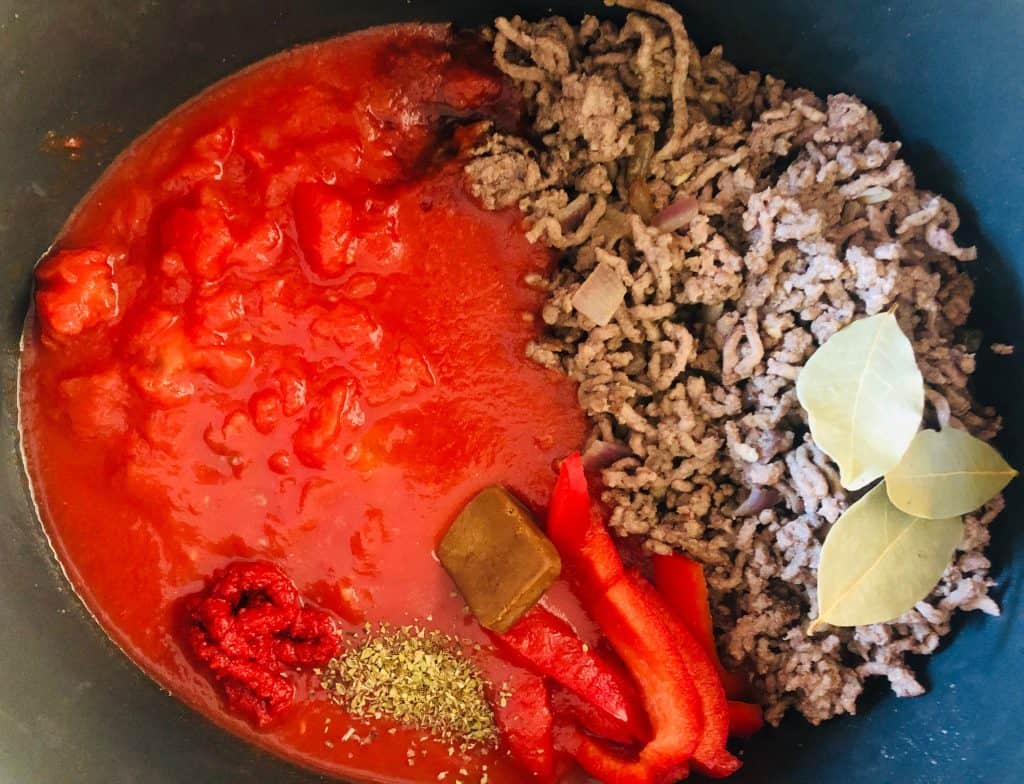 I love adding in Worcestershire sauce to my meals!

How Long Does Spaghetti Bolognese Take To Cook In A Slow Cooker?
I prefer to cook Bolognese on low in the slow cooker – it helps the meat turn really tender and full of flavour. I have been known to leave my Bolognese on low for as long as 10 hours, at a minimum I would leave it on low for 7 hours. If time isn't on your side you can cook it on high in 4 to 5 hours.
Suggested Extras
You can add any extras you wish to a slow cooker Bolognese. Here are some suggestions;
red wine (about 100ml)
celery
carrots
chilli
bacon
Serve With
Aside from cooked spaghetti, it also tastes great with your favourite cheese grated on top. Oh and some garlic dough balls or garlic bread are also welcome!
Can You Put Raw Mince In A Slow Cooker?
Yes you can. You can put any raw meat in a slow cooker and it will cook just fine. But some recipes just taste better when the meat has been seared beforehand – but really it's a matter of personal taste – and time! I tend to brown the mince (with the onions) in a pan before putting it in the slow cooker. Not only does it release some more flavour, it also allows me to skim off any excess fat. If you are short on time though you can just chuck it all in the slow cooker and it'll still taste delicious.
Of course if you have one of those wonderful Morphy Richards Sear and Stew slow cookers you may as well go ahead and brown off that meat!
Can't I Just Make It On The Hob?

Although this meal can be cooked in a pan on the hob, it has a much fuller flavour when it has been slow cooking all day long. Plus, nothing quite beats walking through the door at the end of the day to the smell of dinner waiting. Slow cooked meat is much softer and the juices are slowly released into the Bolognese sauce.
You can also make it in an electric pressure cooker. Check out my Instant Pot Spaghetti Bolognese recipe.
Let me know in the comments if you make this recipe – what extras do you add?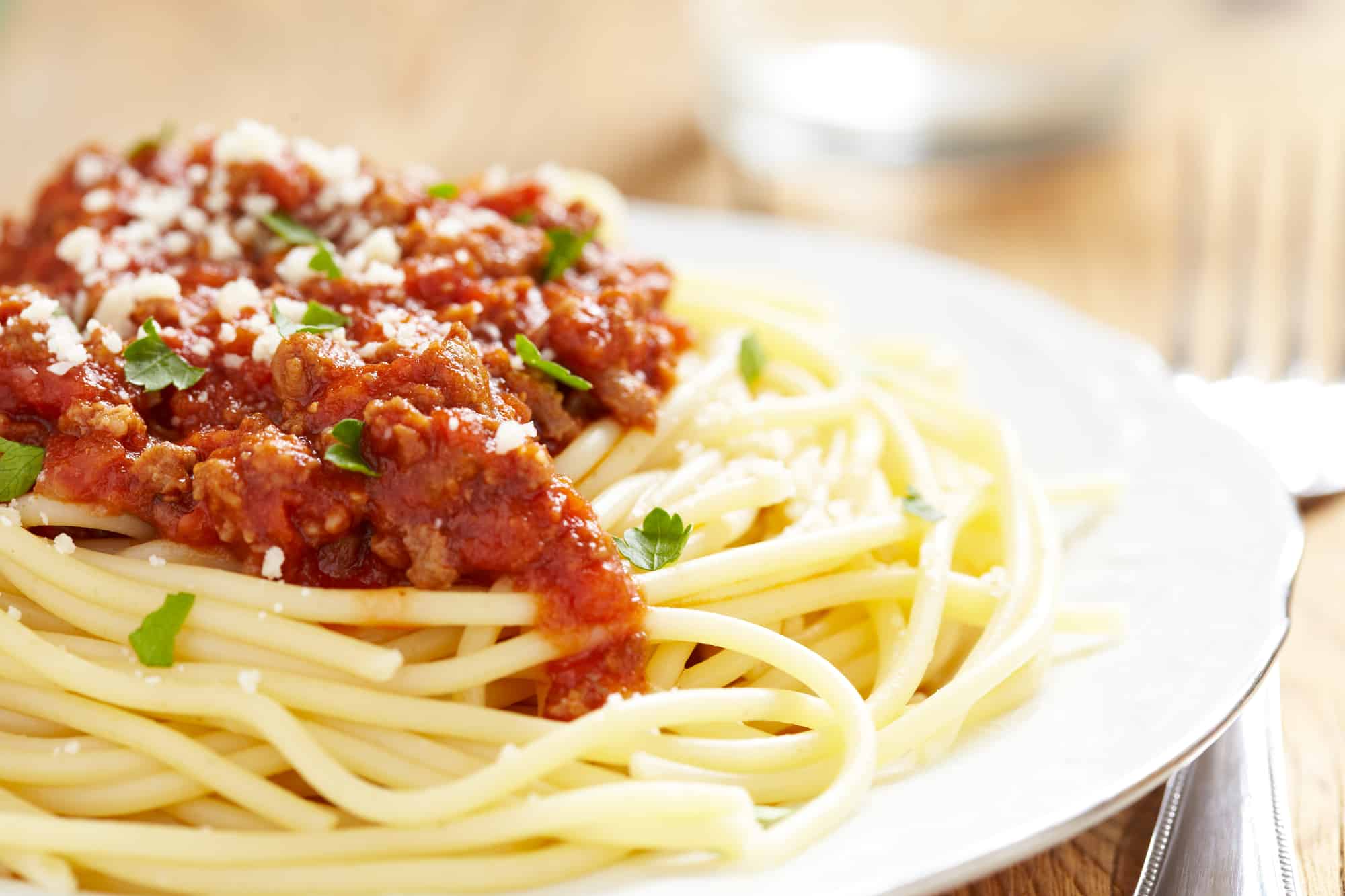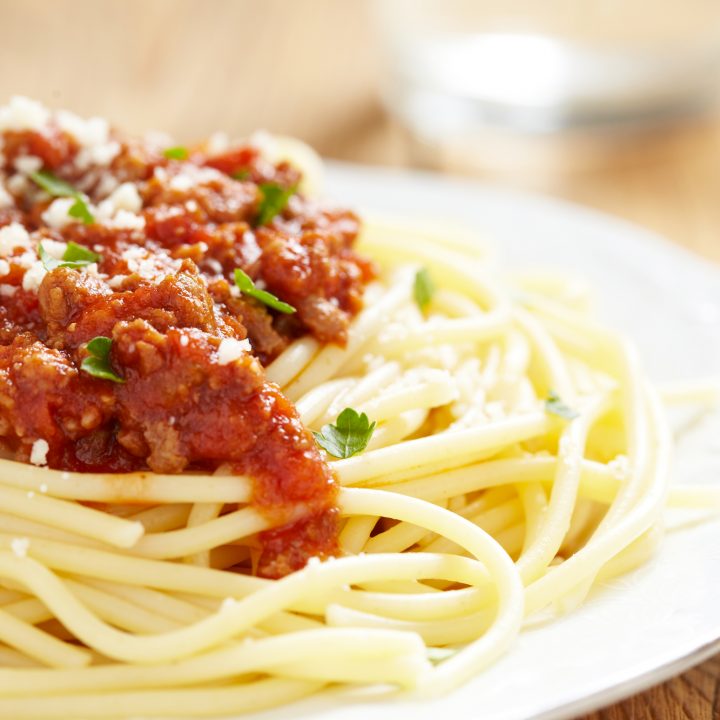 Slow Cooker Spaghetti Bolognese
Yield: 4 people

Prep Time: 10 minutes

Cook Time: 7 hours

Total Time: 7 hours 10 minutes

A comforting and delicious slow cooker spaghetti Bolognese. It's a regular in our house!
Ingredients
1 tbsp olive oil
500g lean beef steak mince
400g tin chopped tomatoes
400g passata
3tbsp tomato puree
1 onion, chopped
1 red pepper, deseeded and chopped
3 bay leaves
3 cloves garlic, crushed
1tsp mixed dry herbs
1 beef stock cube, crumbled
Instructions
Heat the olive oil in a saucepan and gently saute the chopped onions. Add the mince and brown off. This step is optional, you can skip this step if you don't have the time and just add everything straight to the slow cooker.
Add all the ingredients, including the mince and onions, to your slow cooker and stir together.
Set on low for 7 to 10 hours or high for 5 hours.
Notes
Serve with cooked spaghetti, grated cheese and garlic bread/dough balls!
Nutrition Information:
Yield: 4 Serving Size: 1
Amount Per Serving: Calories: 509Total Fat: 32gSaturated Fat: 11gTrans Fat: 0gUnsaturated Fat: 16gCholesterol: 146mgSodium: 220mgCarbohydrates: 11gFiber: 2gSugar: 6gProtein: 43g

You Might Also Like:
Slow Cooker Meatballs
Slow Cooker Lasagne
Slow Cooker Recipes