Slow cooker spaghetti bolognese is a staple in our household. I try to vary up our weekday meals as much as I can, but this one seems to feature more frequently than most!
It's just so quick and easy to make, I usually just add it all in and set it off, no pre cooking or fussing about with other pots and pans.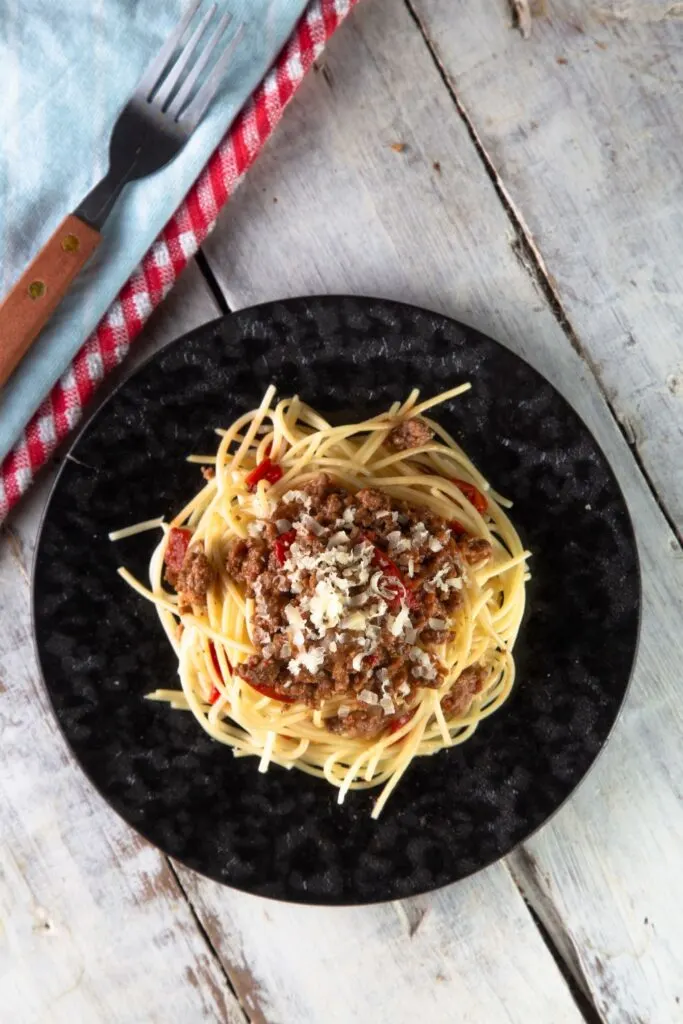 How Do You Make Spaghetti Bolognese In A Slow Cooker?
Making Bolognese in a slow cooker is really easy. You can either put it all in raw or brown the mince off first. I talk about this more further down.
I used to always brown my mince before putting in the slow cooker for Bolognese, but now, I rarely do!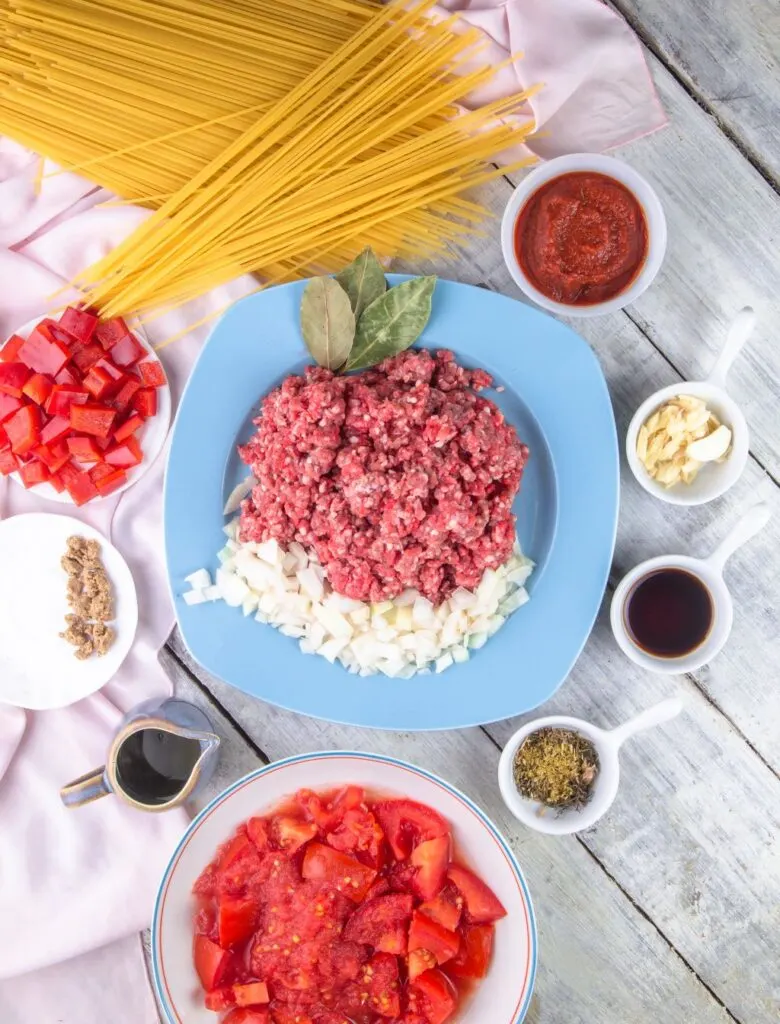 Ingredients
For exact measurements scroll down to the recipe card!
Mincemeat – usually beef, but you can substitute for pork, chicken or turkey. 500g is enough for 4 servings but I normally use 750g as there are 5 of us!
Onion, garlic, red pepper
Bay leaves – don't forget to take these out at the end!
Passata and/or chopped tomatoes – I tend to use 2 x 400g cartons, or 1 of each. If you have some tasty fresh tomatoes you can use an equivalent amount of these instead.
Tomato puree, Worcestershire sauce, dried mixed herbs and 1 beef stock cube/pot.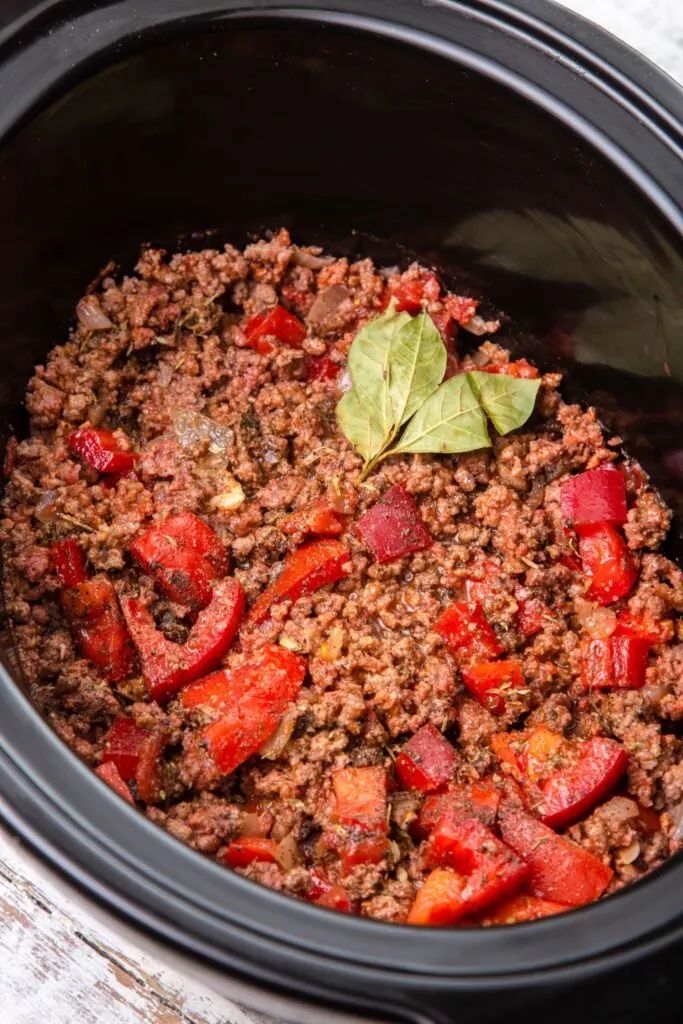 You Might Also Like: Mince Recipes For Your Slow Cooker
How Long Does Spaghetti Bolognese Take To Cook In A Slow Cooker?
I prefer to cook Bolognese on low in the slow cooker – it helps the meat turn really tender and full of flavour. I have been known to leave my Bolognese on low for as long as 10 hours, at a minimum I would leave it on low for 6 hours. If time isn't on your side you can cook it on high in 4 to 5 hours.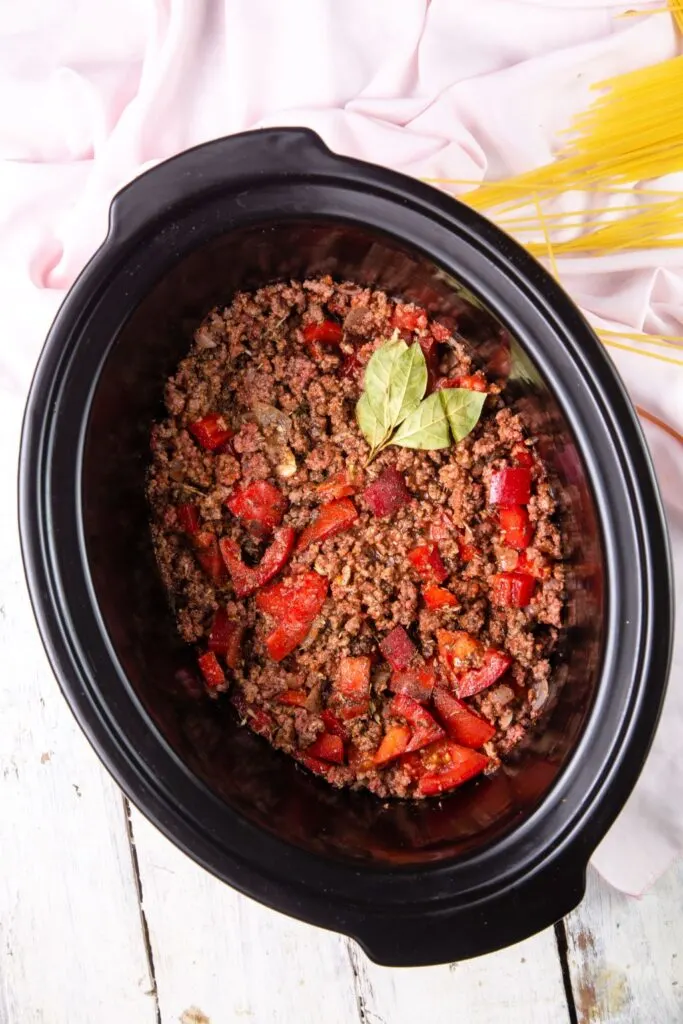 Suggested Extras
You can add any extras you wish to a slow cooker Bolognese. Here are some suggestions;
red wine (about 100ml)
celery
carrots
chilli
bacon
Serve With
Aside from cooked spaghetti, it also tastes great with your favourite cheese grated on top. Oh and some garlic dough balls or garlic bread are also welcome!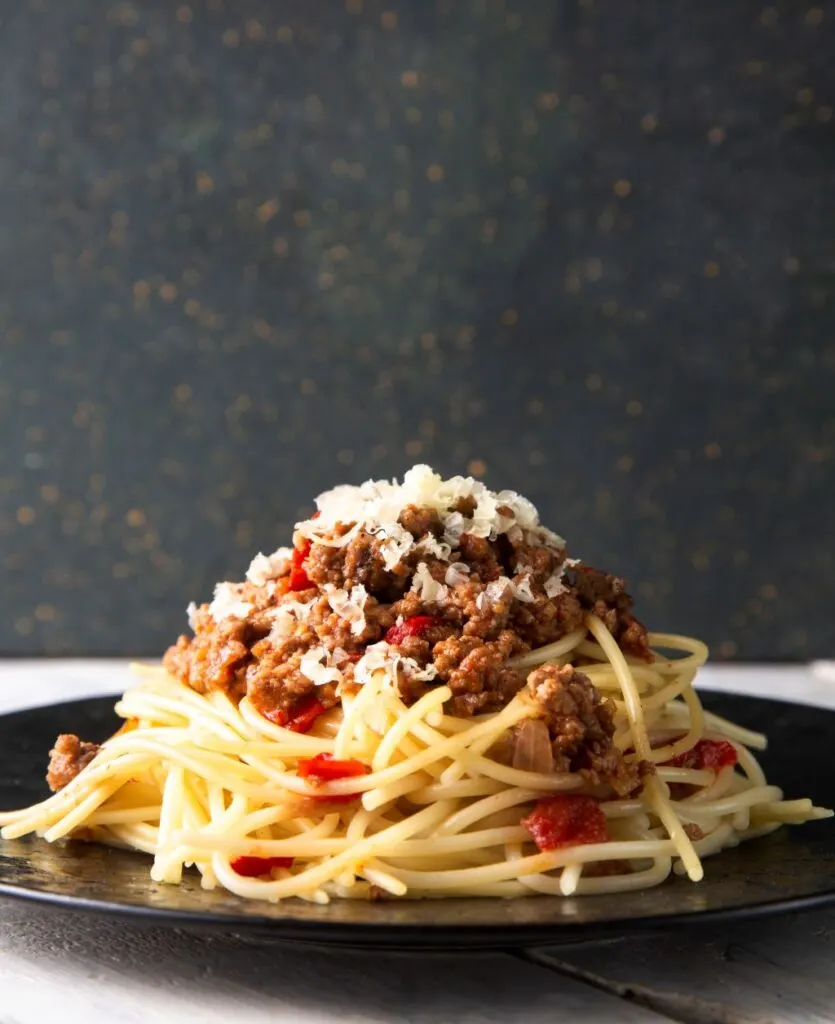 Can You Put Raw Mince In A Slow Cooker?
Yes you can. You can put any raw meat in a slow cooker and it will cook just fine. But some recipes just taste better when the meat has been seared beforehand – but really it's a matter of personal taste – and time!
I used to brown the mince (with the onions) in a pan before putting it in the slow cooker but now I just add it all in raw!
Of course, if you have one of those wonderful Morphy Richards Sear and Stew slow cookers you may as well go ahead and brown off that meat!
You can also make it in an electric pressure cooker. Check out my Instant Pot Spaghetti Bolognese recipe.
How To Store Spaghetti Bolognese
Have you got any leftovers? Once the mince has completely cooled down you can store it in the fridge for up to 5 days, or freeze it for 3 months.
You can also turn it into a Bolognese soup in the soup maker!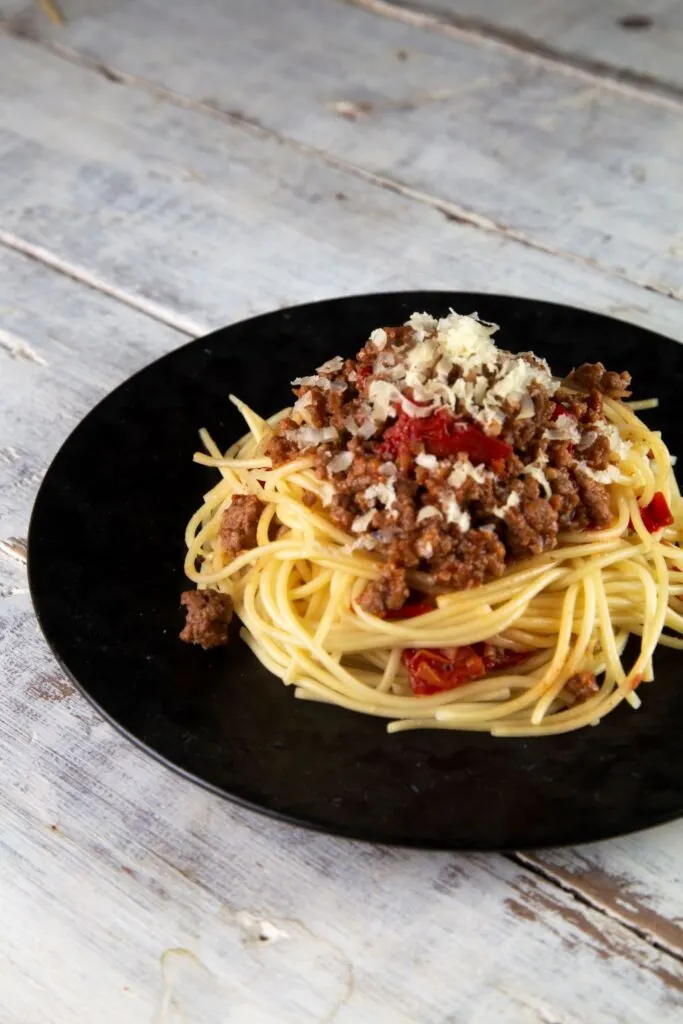 Let me know in the comments if you make this recipe – what extras do you add?
Did you know I've got a slow cooker group on Facebook? Come and join me if you want to!
This recipe appears in my slow cooker recipe book.
You Might Also Like: