Slow cooker chilli con carne is a perfect recipe for the whole family to enjoy. It is mild enough for children to enjoy, or it can be spiced up a bit by easily adjusting the chilli levels.
It's also an easy mince based slow cooker meal that can be set off quickly in the morning and returned to at the end of a busy day.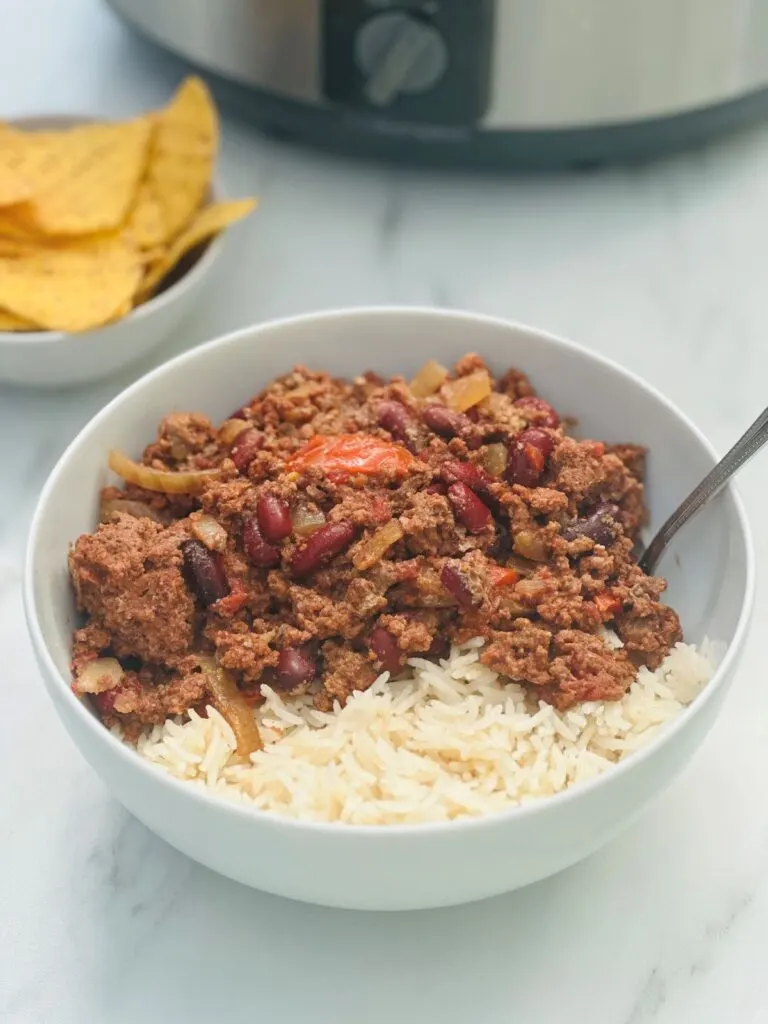 How To Make Chilli Con Carne In A Slow Cooker
I love a quick to prepare, chuck it all in recipe. And this one is no exception!
As with most of my slow cooker recipes, I don't brown the meat first (the only exception being sausages!). I much prefer adding everything into one bowl at once, switching it on, and returning to it when it is ready later in the day.
What You Need For Chilli In A Slow Cooker
The ingredients below are enough to serve 4 to 6 people. You can adjust the quantity if you want to make more or less. Or, if you make more than you need, you can freeze some for later (see details below).
To print out this recipe, please head down to the recipe card at the bottom of the post.
750g minced beef (you can use less mince if you wish)
2 onions, chopped
2 cloves garlic, crushed
1 red pepper, sliced
2-3 tbsp. mild chilli powder
1 tsp. smoked paprika
1 tsp. ground cumin
1 tbsp. Worcestershire sauce
1 beef stock cube/pot
400g tin red kidney beans
400g tin chopped tomatoes
2 tbsp. tomato puree
Salt and pepper to season
Making It
Add everything to the slow cooker pot. It doesn't really matter in what order you add it, as everything will be stirred together.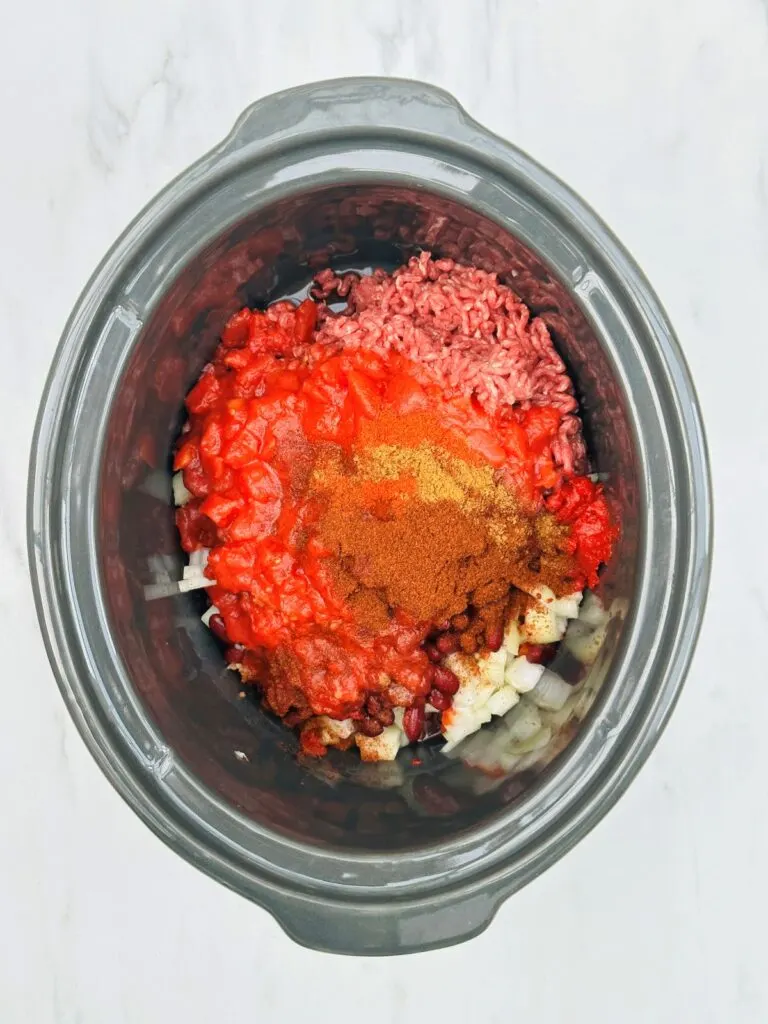 Once everything is in, I give it a good stir to mix it all around. I don't add any extra liquid to the slow cooker.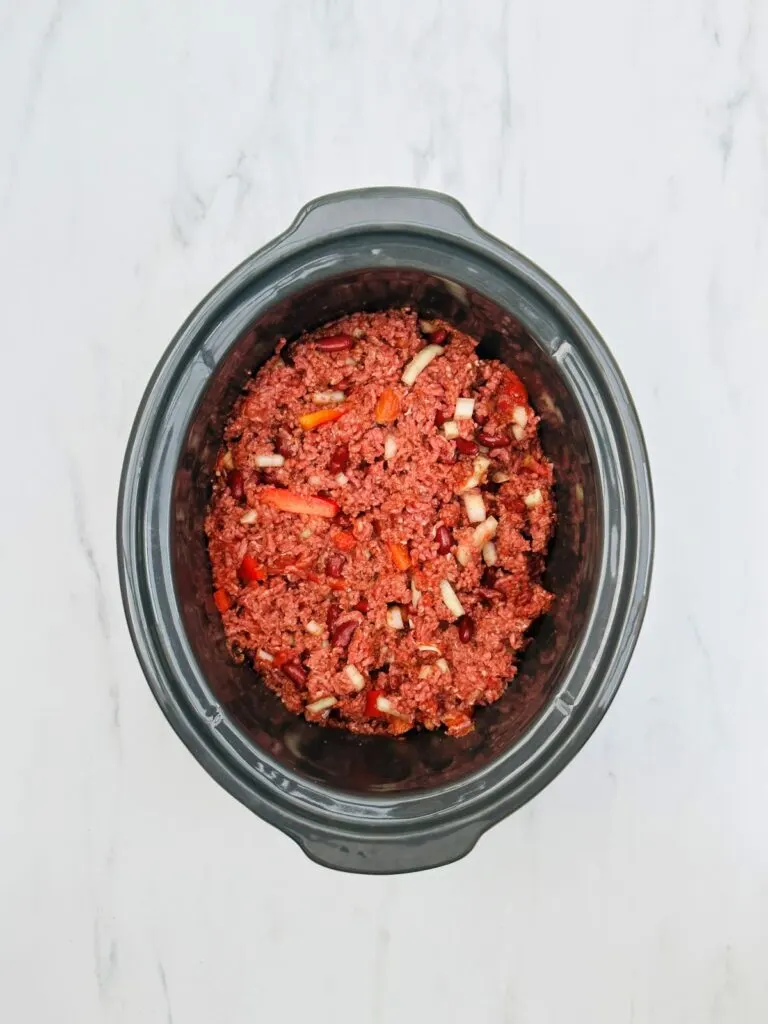 Place the slow cooker lid on and set it off on low for 6 hours or high for 3 hours.
What Spices Should I Use With Chilli Con Carne?
I use mild chilli powder from the supermarket. I also add some smoked paprika and ground cumin. How much you add depends on how warm you like your chilli.
You can also add some sliced fresh chillies if you want to spice it up.
We normally go for a mild chilli con carne that the whole family will eat; the recipe below is based on that. Feel free to add more spices according to your taste.
Other Ingredients You Can Add To A Chilli Con Carne
I add a tablespoon of Worcestershire sauce to our chilli con carne. You can also try adding a little dark chocolate (about 20g) to add a slight twist to the taste. I have also heard of people adding coffee granules, but I've never tried this. (Let me know in the comments if you have!)
Thickening Up The Sauce
At the end of the cooking time, it could be that the sauce is too thin. If this is the case, you can leave the lid off for the last 20 to 30 minutes to thicken up or stir in some beef gravy granules. You can add any extra seasoning if needed at this stage.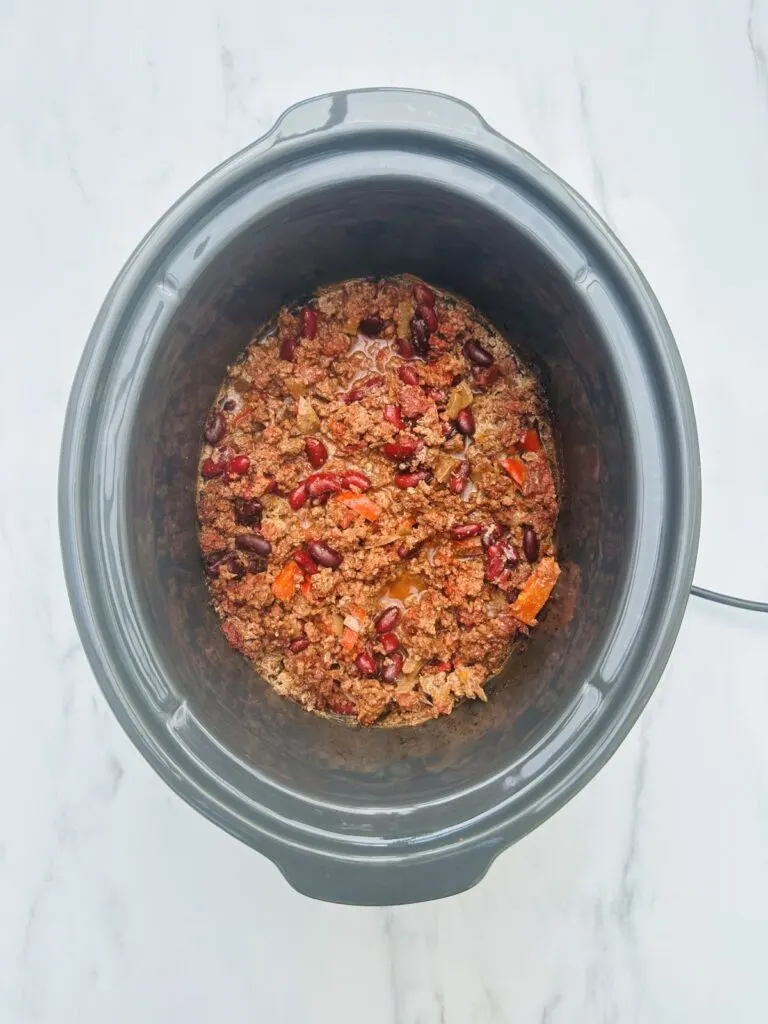 What To Serve With Chilli Con Carne
Chilli con carne is a versatile dish that goes well with several sides. Try it with rice, tortilla chips, melted cheese, potato wedges, jacket potatoes, or mashed potatoes.
It also tastes great heated up the next day and added to something different!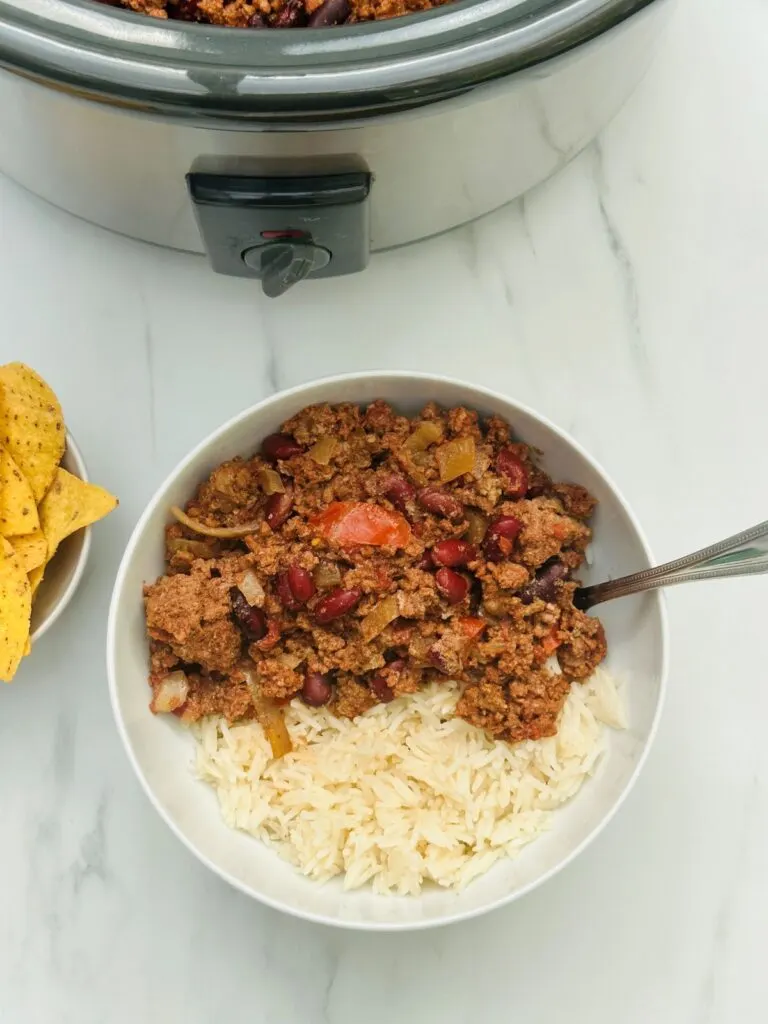 I hope you enjoy this slow cooker chilli recipe; let me know in the comments if you make it!
How Long Does Chilli Con Carne Last In The Fridge?
Chilli con carne will last up to 4 days in the fridge. Wait for it to cool down, and then transfer it to an airtight container before putting it in the fridge.
Can You Freeze Chilli Con Carne?
Yes, chilli con carne can be frozen for up to 3 months. Wait for it to cool down, and then portion it up before transferring it to the freezer. Defrost overnight and reheat in a saucepan until piping hot all the way through.
More Slow Cooker Mince Recipes
Are you looking for more slow cooker mince recipes? Check out some of these for inspiration: