Slow cooker lasagna wasn't a meal I ever expected to be making. I've always made it in the oven, but I was dubious that the texture of the pasta would turn out anything other than overcooked and soggy.
But I am happy to say that we've tried it out a number of times now, and what we got was a lasagne full of flavour, tender mince, and perfectly cooked lasagne sheets!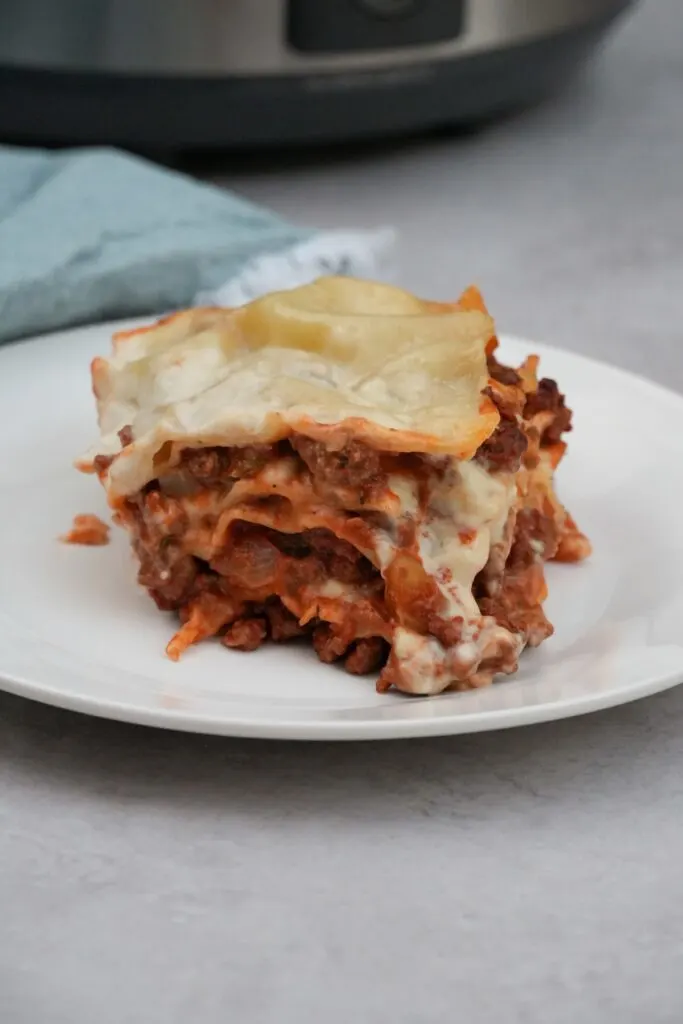 How To Make Slow Cooker Lasagne
Slow cooker lasagne is one of those slow cooker mince recipes that need a bit of preparation; it isn't a chuck it all in at once kind of dish.
But once the prep work is done, you can just let the slow cooker do it.
What You Need
There are different ways to make lasagne: either use jars for the sauces or make the sauces from scratch. Both methods obviously have pros and cons, so just go with what suits you best.
The quantities shown and listed below are to fit a 6.5 litre slow cooker, making enough to serve 4 to 6 people, depending on your portion sizes. If you have a smaller slow cooker, you can scale the recipe down accordingly.
For more concise instructions and to print it out, please head to the recipe card at the bottom of this post.
Ingredients for beef ragu from scratch: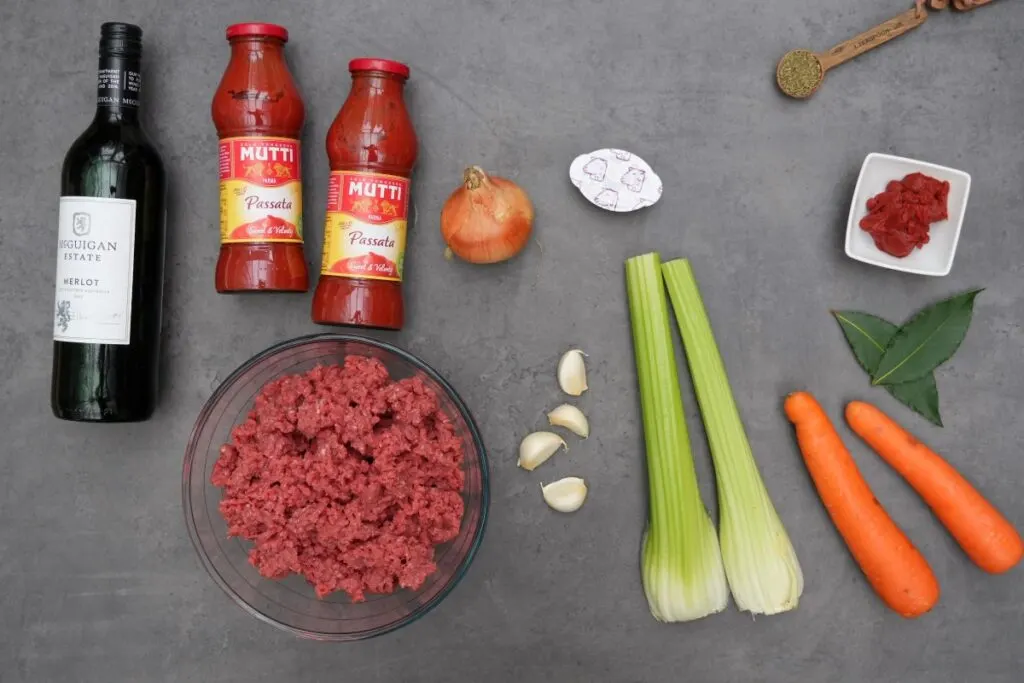 1 tbsp olive oil
1 onion, chopped
4 cloves garlic, crushed
1 kg beef mince
2 tbsp. tomato puree
800g passata
1 beef stock pot or cube
200 ml of red wine (optional)
1 tsp. thyme
2 bay leaves
2 medium carrots, chopped (optional)
2 sticks celery, chopped (optional)
Salt and pepper according to taste
Ingredients for lasagne white sauce from scratch: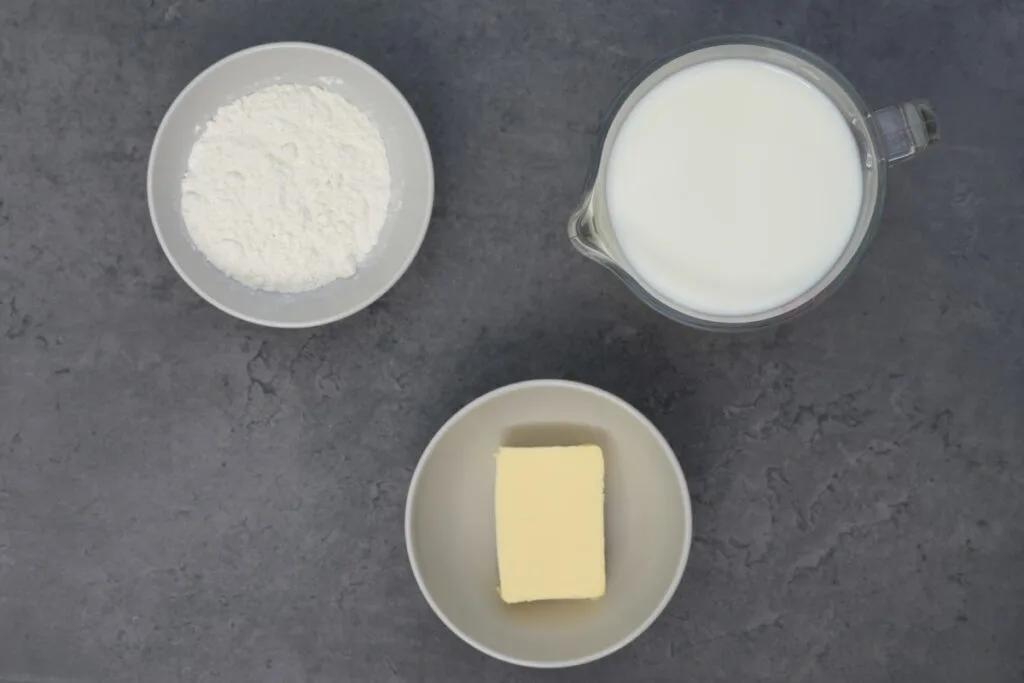 500ml milk
50g butter
50g sieved plain flour
1/4 tsp. dried nutmeg
Pinch of salt
Two to three tbsps of grated parmesan (optional)
You will also need dry lasagne sheets and grated cheese to sprinkle on top (optional).
Slow Cooker Lasagne With Jar Sauce
If you are using jars of sauce for slow cooker lasagne, you will need the following ingredients:
1 kg mince
750g/800g jar of lasagne tomato sauce
700g/800g jar of lasagne white sauce
Dry lasagne sheets
Grated cheese to sprinkle on top (cheddar or parmesan are good options)
Preparing The Mince For Slow Cooker Lasagne
Prepare the mince part of the lasagne by heating up the oil in a suitable pan before adding the mince. Lightly fry the mince until it is brown.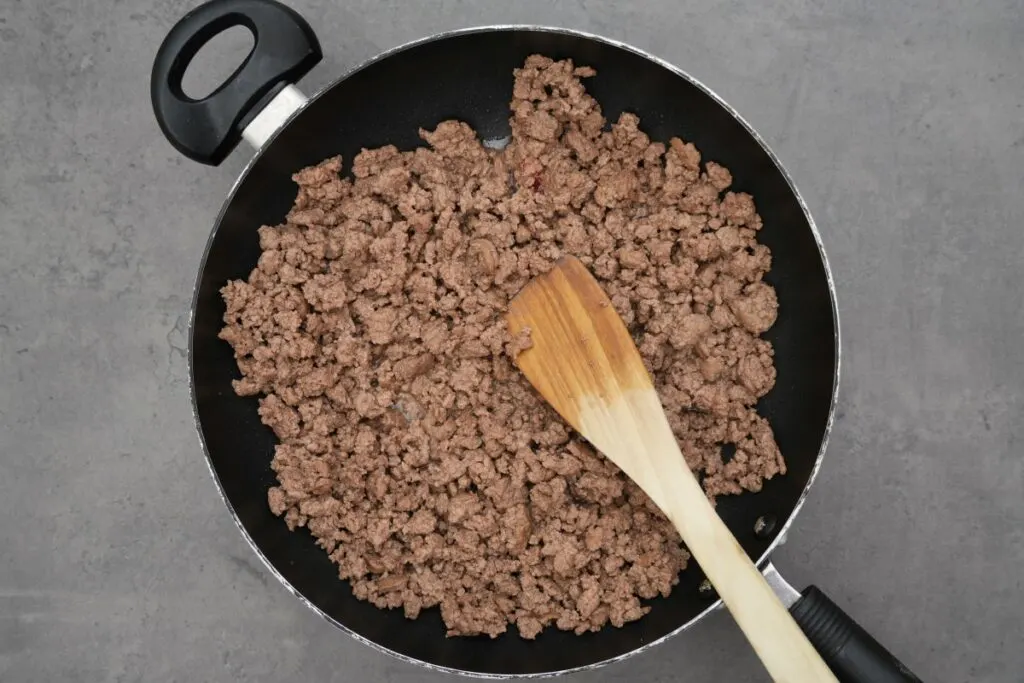 Once the mince has browned, add the onion, garlic, celery and carrots and stir in.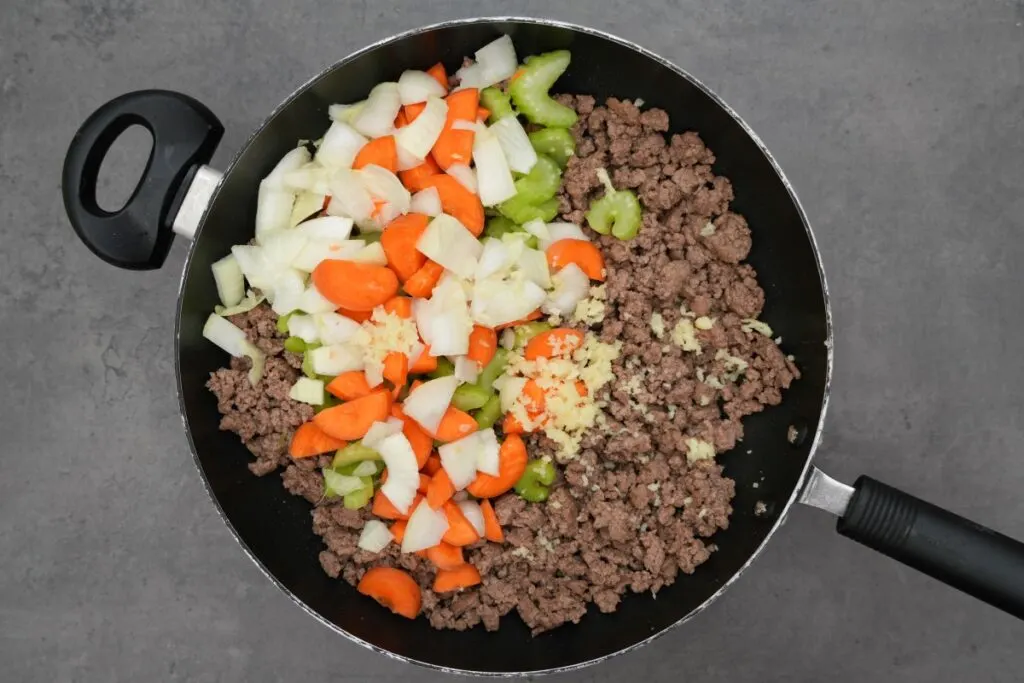 Next, stir in the passata, tomato puree, beef stock pot, dried thyme, bay leaves, and, if you are using it, the red wine.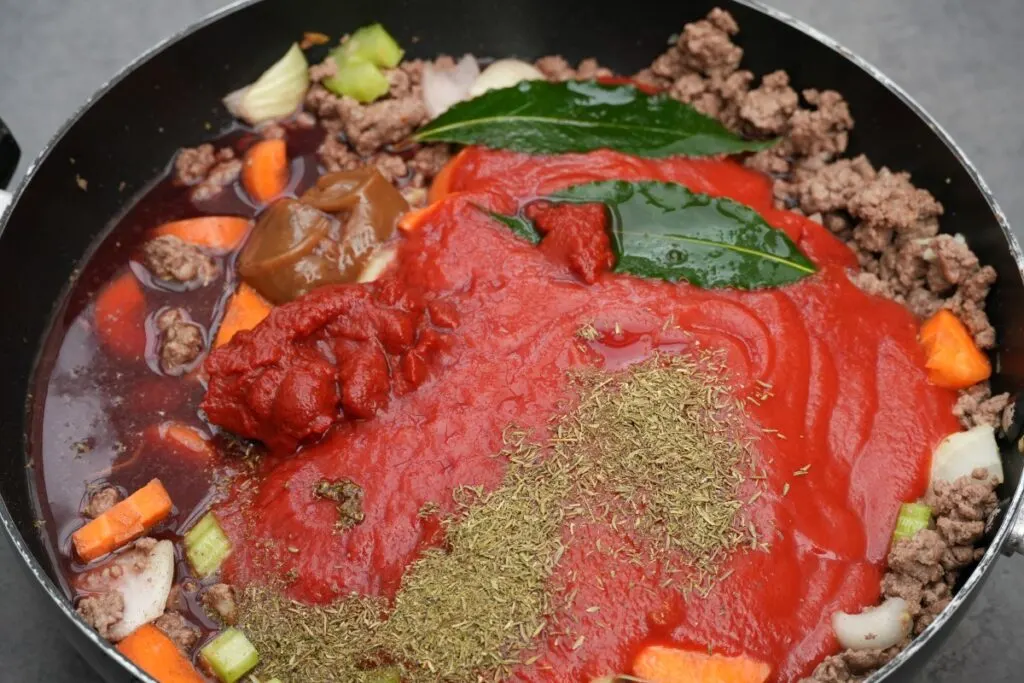 If you are not using red wine, you can use 200 ml of beef stock (made using the beef stock pot) instead.
Simmer briefly while you make the lasagne white sauce (if you are making your own).
Side note: Remember to remove the bay leaves before transferring the mince to the slow cooker.
If you are using a jar: add the lasagne tomato sauce once the mince has browned and stir through.
Once this is all mixed together, the first layer of mince can go in the slow cooker.
Preparing The White Sauce For Slow Cooker Lasagne
It's quite easy to make white sauce (Bechamel) for lasagne, or you can use a jar if that's more convenient (if so, skip this step and head to the lasagne layering step below).
Start by melting the butter in a saucepan on the hob.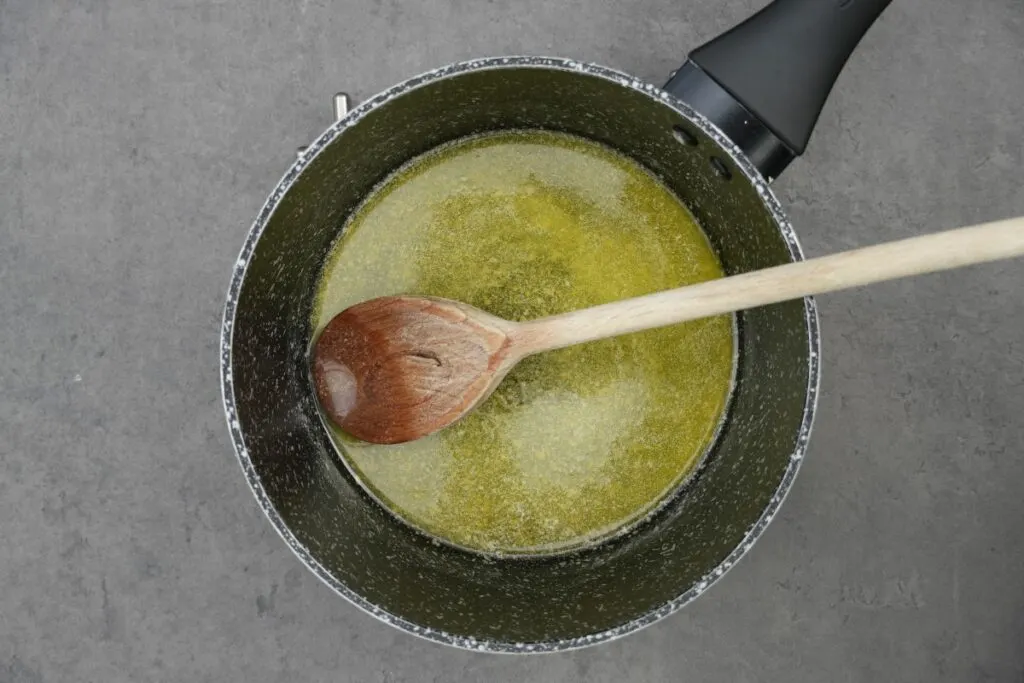 Whisk in the sieved flour and cook for around 30 seconds.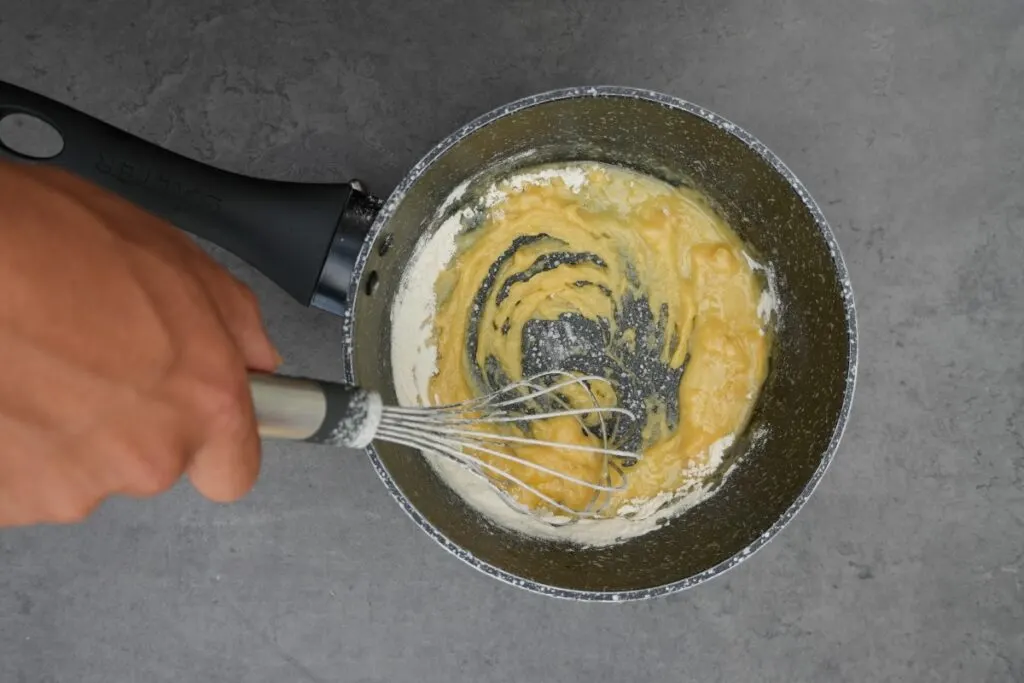 Heat the milk slightly (don't boil it) before adding it to the butter and flour, and simmer while constantly whisking until it becomes thick.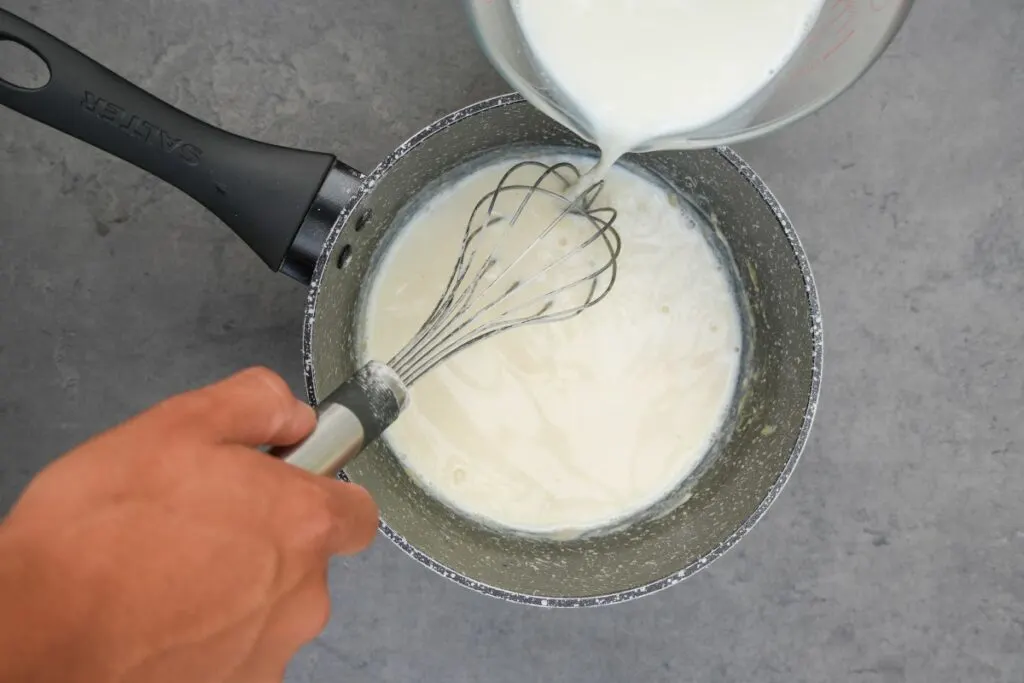 Once lines begin to form in the sauce, it is ready.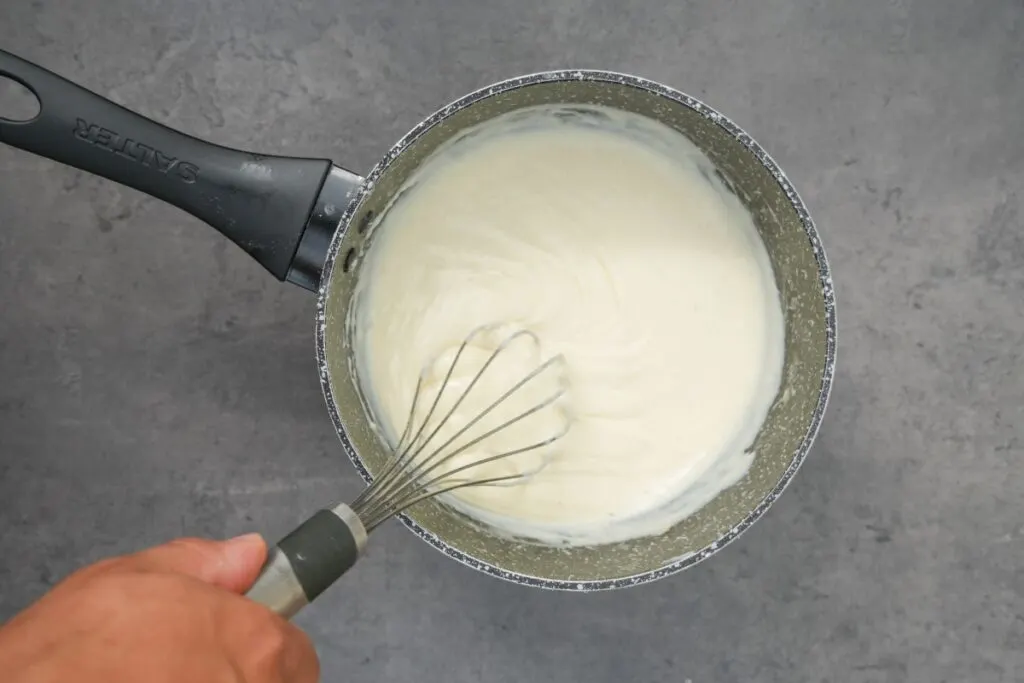 Optionally stir in a handful of grated parmesan cheese for a richer flavour.
Lasagne Layering In A Slow Cooker
Whether you have made your sauces from scratch or you are using jars, now is the time to start adding it and layering it in the slow cooker.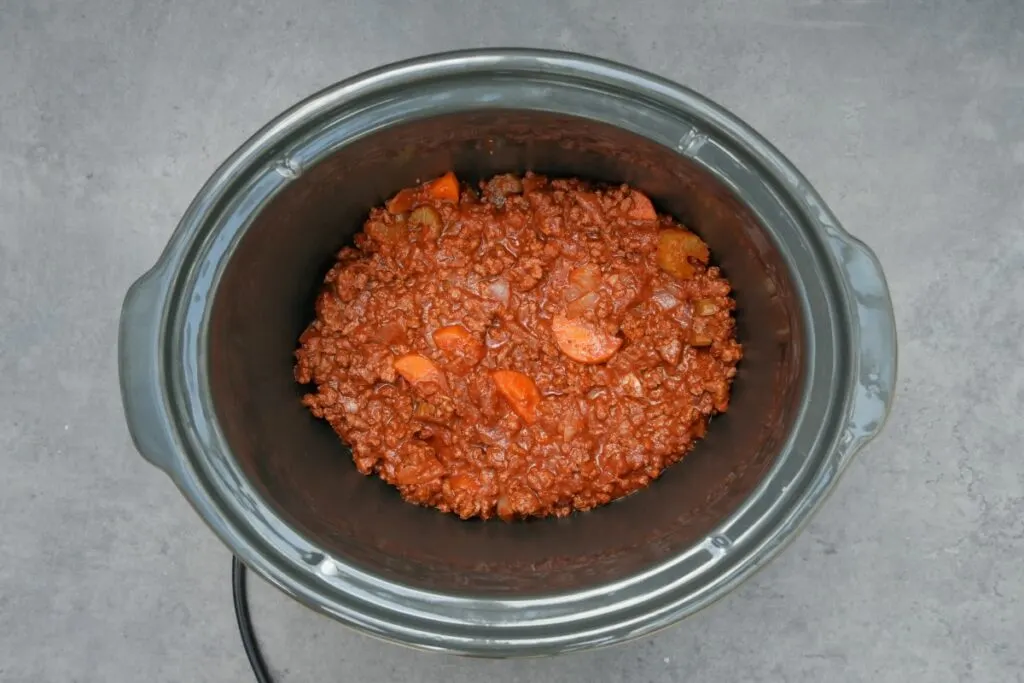 How many layers you manage to get out of your lasagne will depend on the size of your slow cooker. It really doesn't matter how many layers you make – I like to try and get at least 3 layers if I can, but there are no hard and fast rules.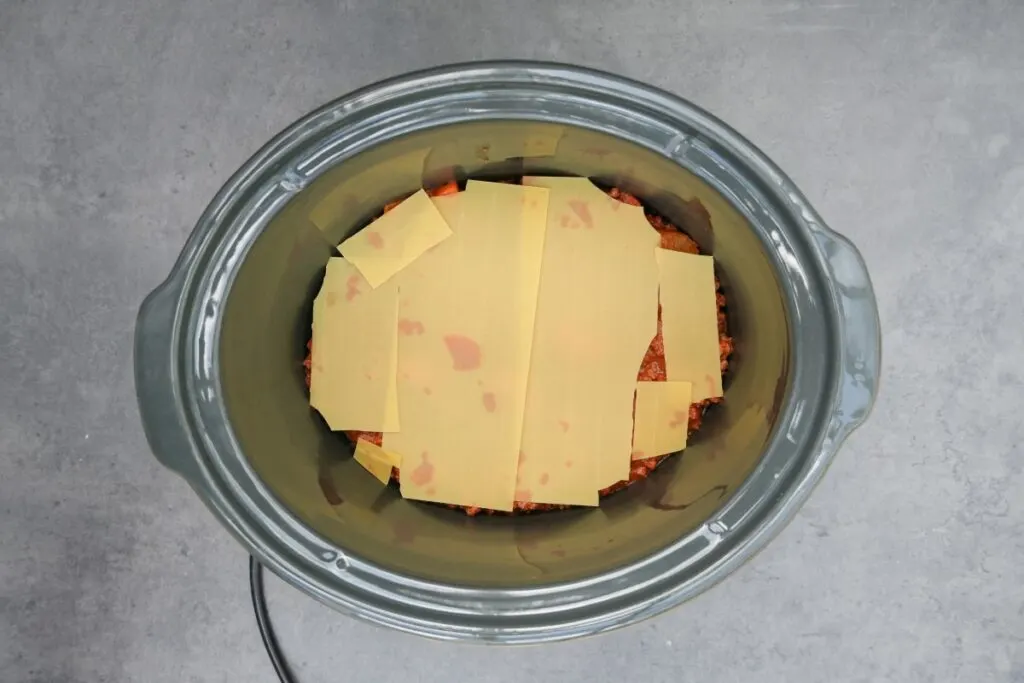 The order of layers in a lasagne goes – mince, lasagne sheets, white sauce. Repeat. Then, on your final layer, on top of the white sauce, you can sprinkle some grated cheese (parmesan, cheddar or whatever your favourite cheese is).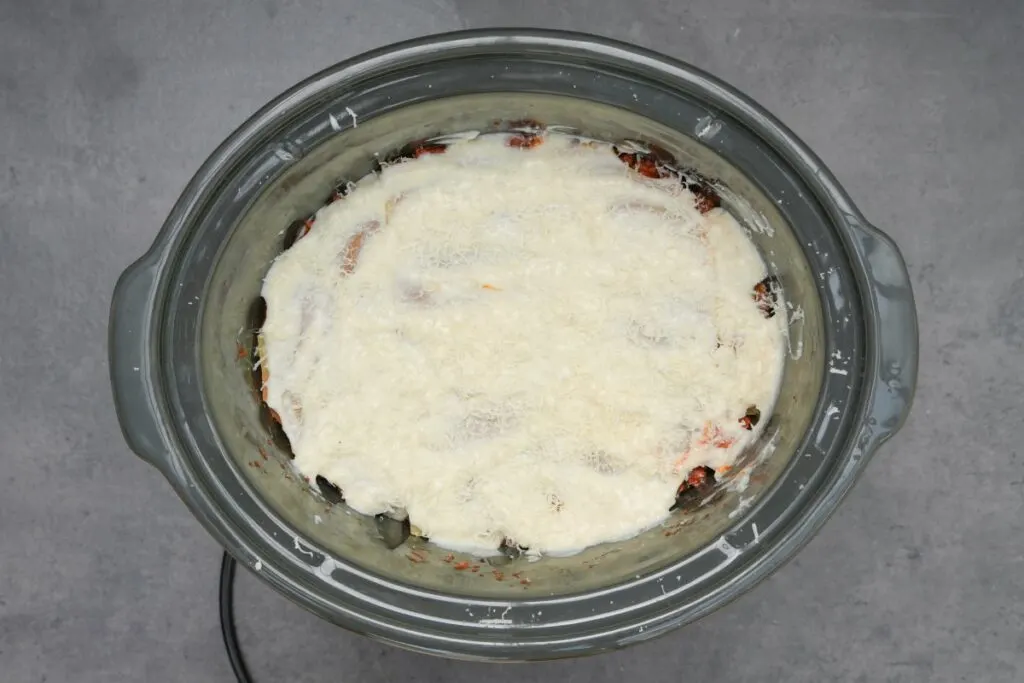 Side Note: You can sprinkle a little cheese on each layer of white sauce if you prefer a cheesier lasagne.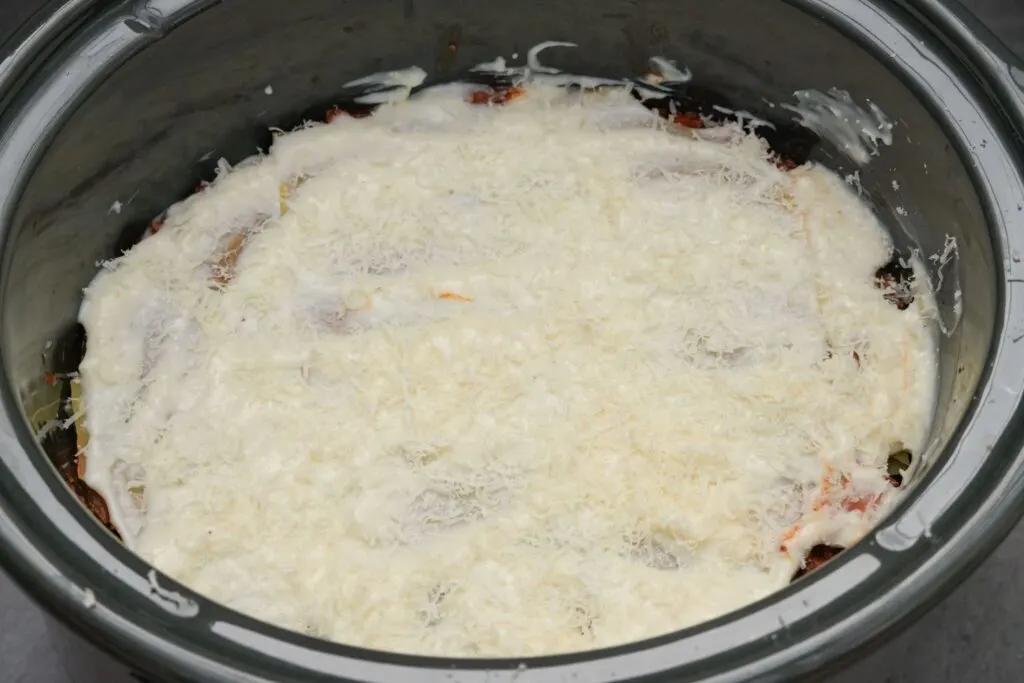 Put the lid on the slow cooker and cook on low for 4 to 6 hours. At the end of the cooking time, remove the lid and check that the pasta is soft.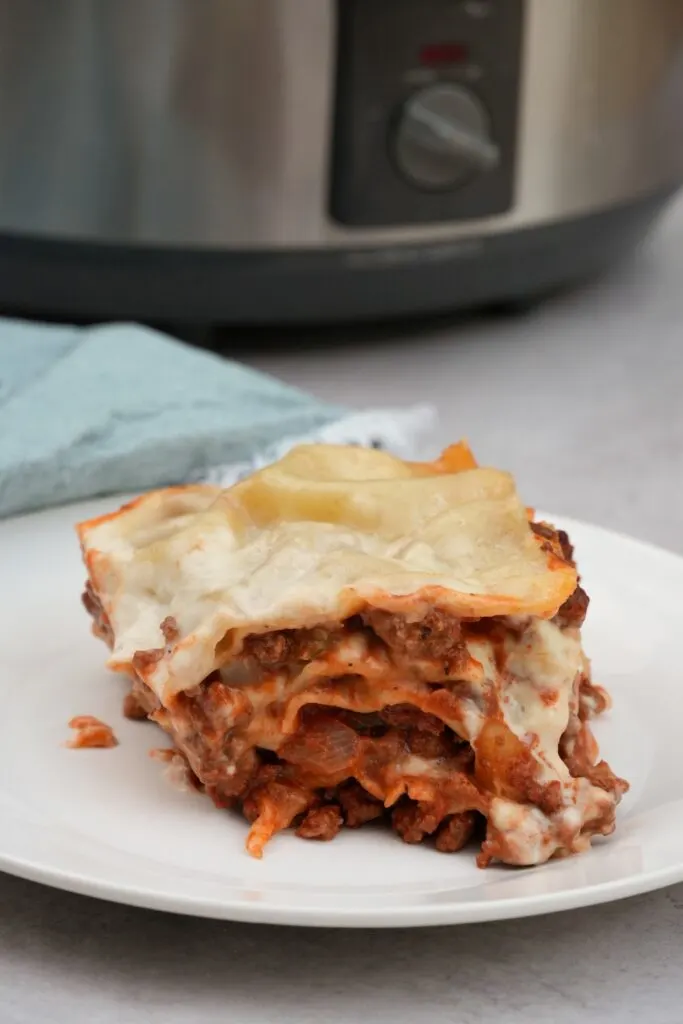 Portion the lasagne up in the slow cooker and serve alongside your favourite sides.
What To Serve With Lasagne
Lasagne can be enjoyed with a simple green salad, steamed green vegetables, and garlic bread.
Slow Cooker Lasagne: FAQ
What Sauce Should I Use For Slow Cooker Lasagne?
There are 2 sauces that are needed for lasagne. You can either make your own or buy some jars of lasagne sauce.
How Long Does Slow Cooker Lasagne Take To Cook?
The best time and setting to cook slow cooker lasagne is on low for 4 to 6 hours. This is the perfect time for the mince to become really tender and the lasagne sheets to soften.