Are you looking for a delicious and easy slow cooker meal that everyone in the family will love?
Then you've come to the right place!
This slow cooker pork ragu is a great way to make dinner with minimal effort. With just a few simple ingredients, you'll be setting the slow cooker off in no time.
Enjoyed with linguine or your favourite pasta, this hearty ragu makes dinnertime stress-free!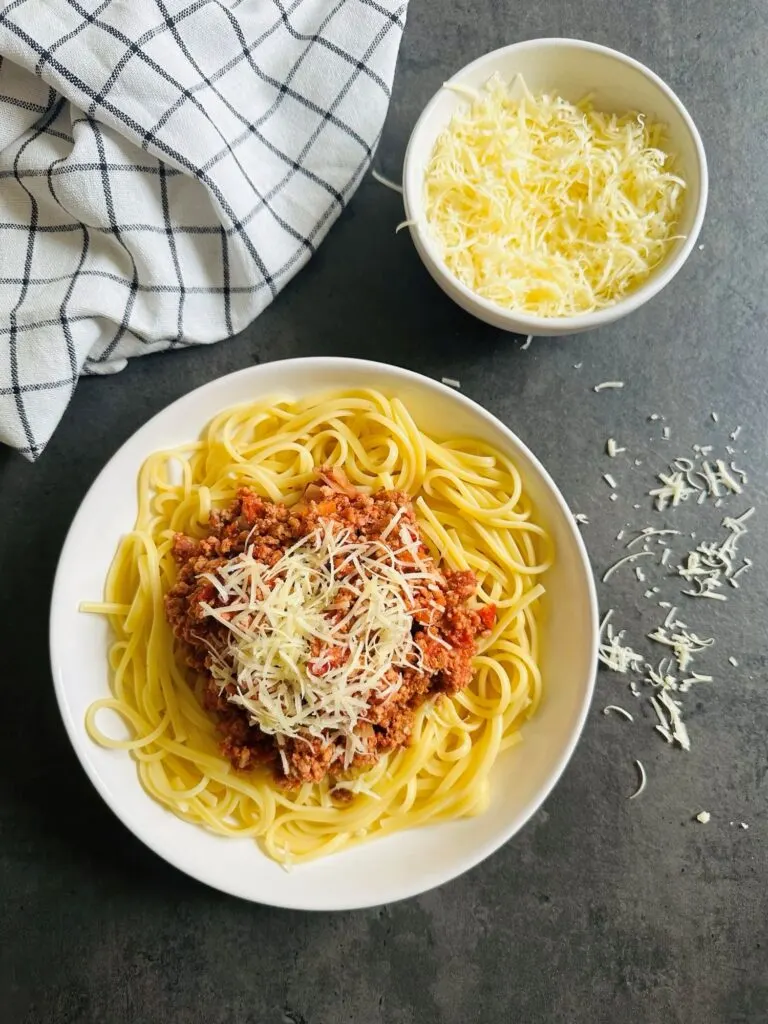 How To Make Pork Ragu In A Slow Cooker
If you have followed my other slow cooker recipes, you will know that my preferred cooking style is quick and simple, with minimal preparation!
And this pork ragu in a slow cooker is no exception.
What You Need: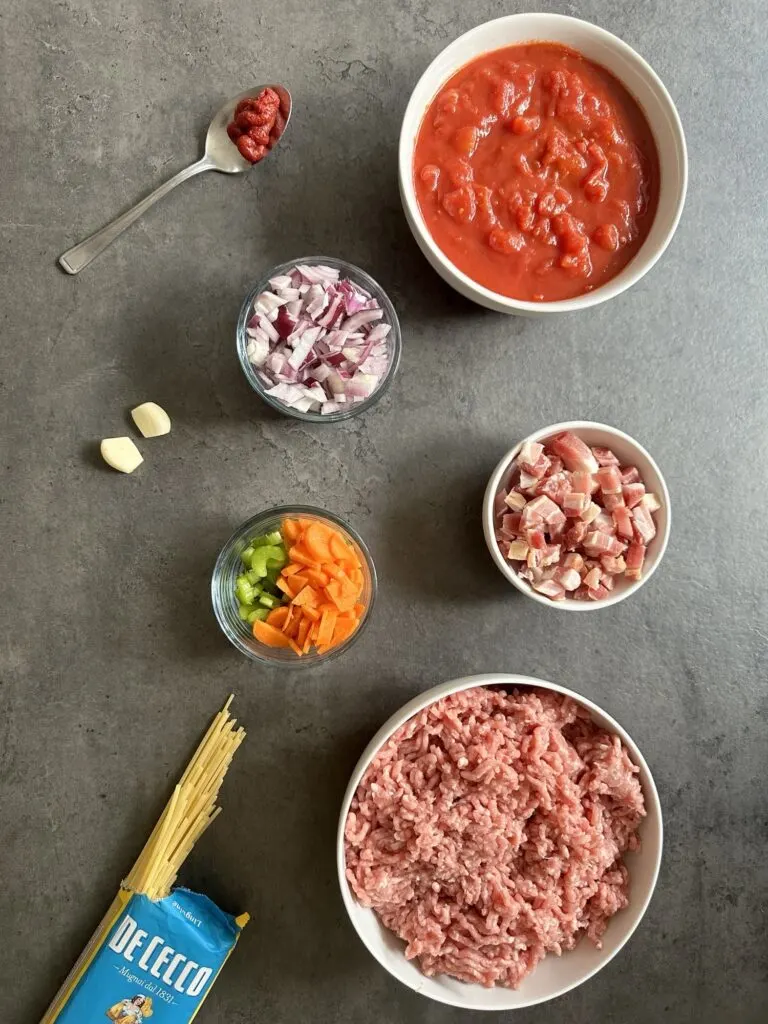 The quantities below were enough to make six decent size servings (or eight small ones). If you want to make less, you can halve the ingredients.
I wanted to make enough to save for another meal (details further on storing a cooked pork ragu), so I went with these amounts.
Pork mince – I used 1kg.
Bacon – I used 160g of bacon lardons (as this was the size of the packet I had – you can use more or less)
Garlic – I used two cloves of garlic. Use more for an extra garlicky taste.
Onion – I used one red onion, but you can use a brown onion if that's what you have.
Celery – for some extra flavour, I added two stalks of celery, chopped.
Carrots – I used two small carrots; you can use more or less.
Chopped tomatoes – I used two tins of chopped tomatoes – you could also use passata as a substitute.
Tomato puree – I added about one tablespoon of tomato puree.
Seasoning – you can optionally add salt and pepper according to taste.
To slow cook this recipe, you will, of course, also need a slow cooker. You can use a traditional slow cooker (I used a Morphy Richards Slow Cooker), or you can cook it using the slow cooker function of a multi-cooker (suggestions below).
I interchange between the two slow cookers below;
NINJA Foodi 11-in-1 SmartLid Multi-Cooker 6L
Pressure Cook, Air Fry, Grill, Bake, Dehydrate, Sear/Sauté, Steam, Slow Cook, Yoghurt, Steam Air Fry, Steam Bake.

Cooks up to 4 portions

6L Cooking Pot, 3.7L Cook & Crisp Basket, Reversible Rack
Making It:
Prepare the ingredients by chopping the onion, carrot and celery into small fine slices and crushing the garlic.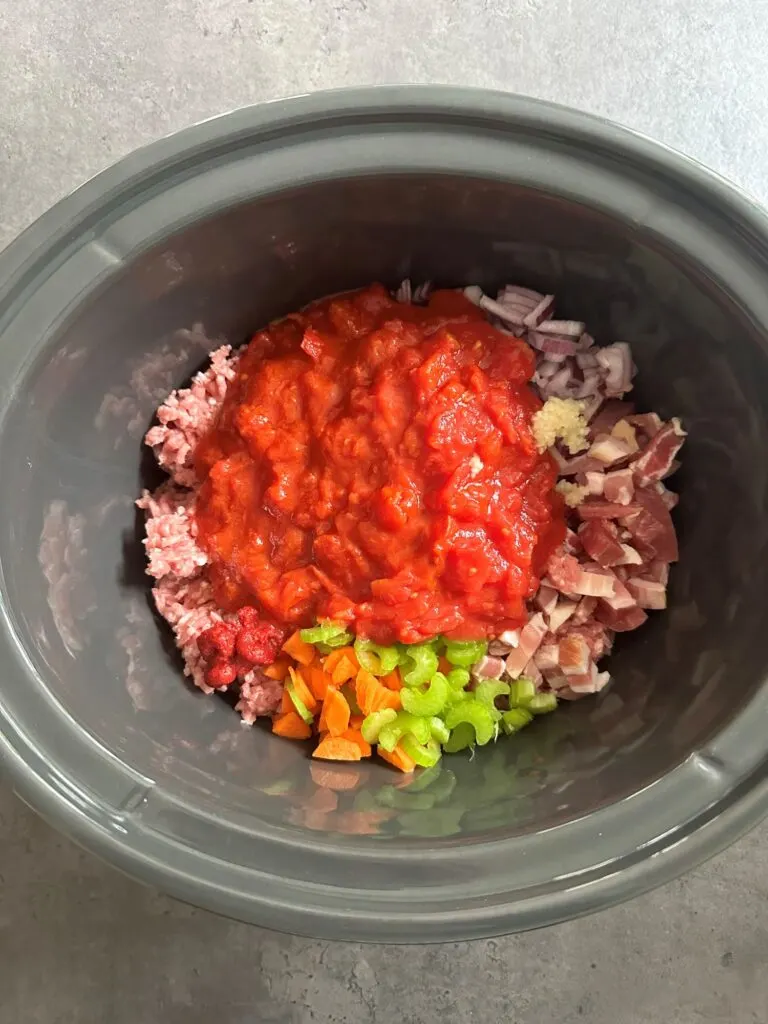 Add all the ingredients to the slow cooker in no particular order, and stir them all together.
Side note: you can optionally saute the pork mince. I only do this when using a slow cooker with a sear function. Otherwise, I don't bother.
Does Slow Cooker Pork Ragu Need Extra Liquid?
No, there is no need to add stock or water to this recipe. The ingredients will slowly release liquid during the cooking time, which, when combined with the tinned tomatoes, will be more than enough to produce a perfect sauce consistency for this dish.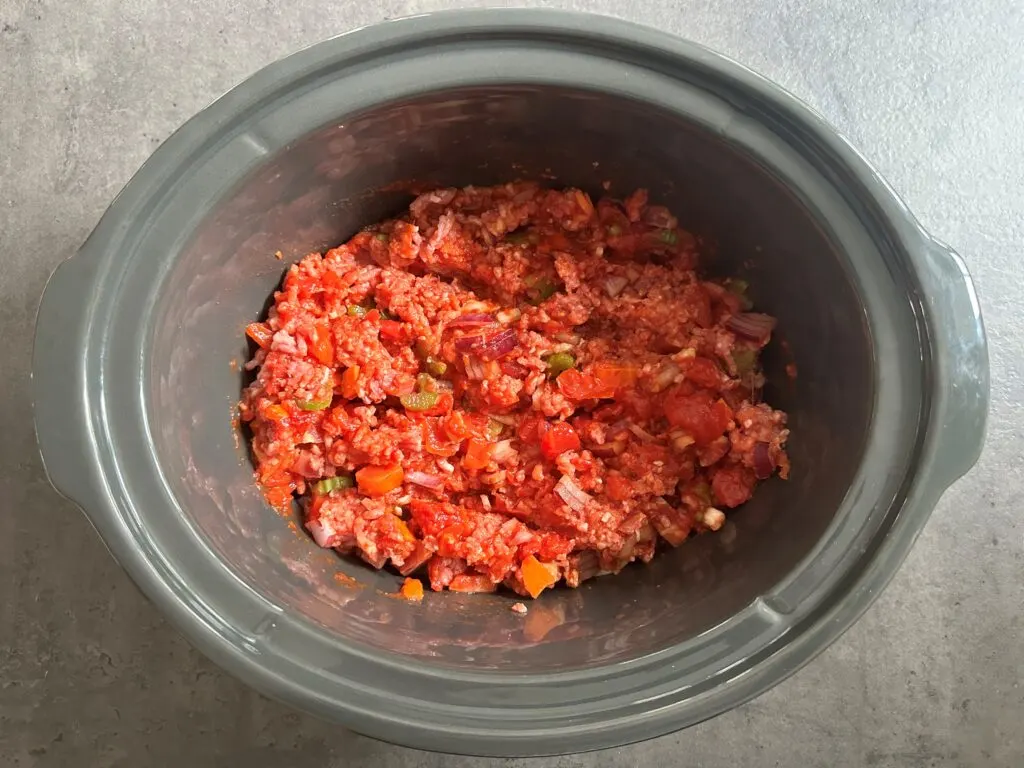 Set the slow cooker off on low for 6 to 8 hours or high for 4 hours – I prefer the low setting for this recipe; the pork mince becomes really soft and tender.
What To Serve With Pork Ragu
I served this pork ragu on top of some linguine, but you can serve it with any pasta or even on top of a jacket potato.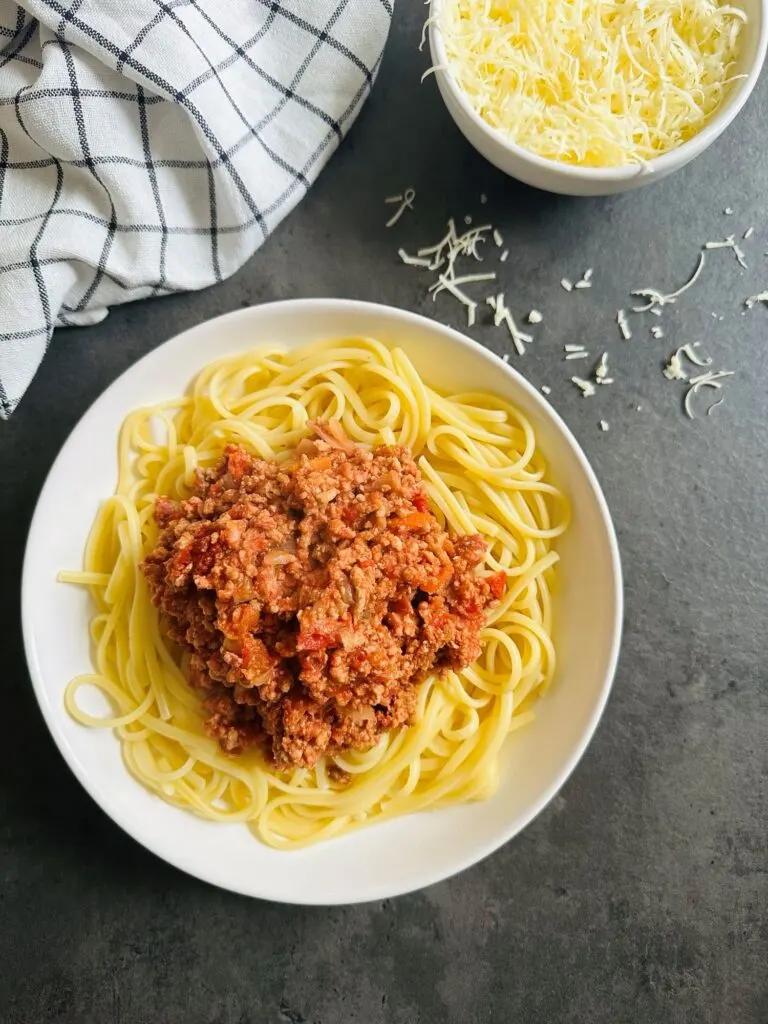 How To Store Pork Ragu
If you have extra, you can store it for a few days in the fridge or up to 3 months in a freezer. Wait for it to cool down completely, and store it in an airtight container.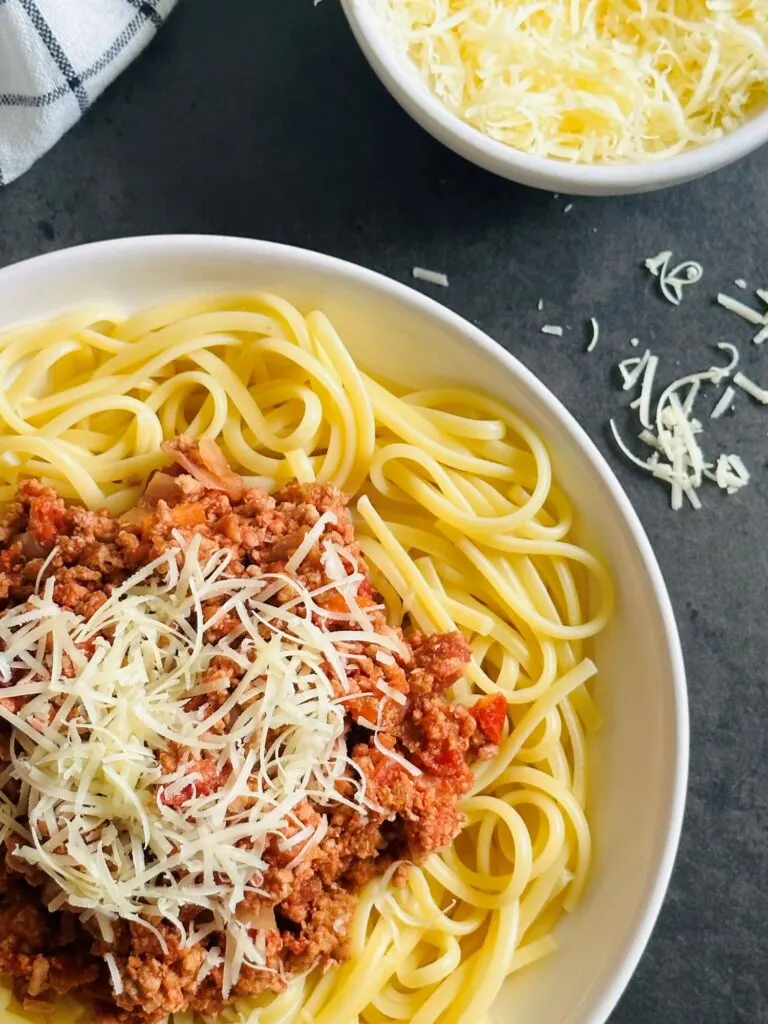 More Slow Cooker Pork Recipes