Are you looking for the perfect chicken noodle soup recipe for your soup maker?
Look no further!
In this recipe, I will explain how to make a chicken noodle soup in a Ninja Soup Maker – where you can use raw or cooked chicken – as well as other types of soup makers such as a Morphy Richards soup maker, where you can only use cooked chicken.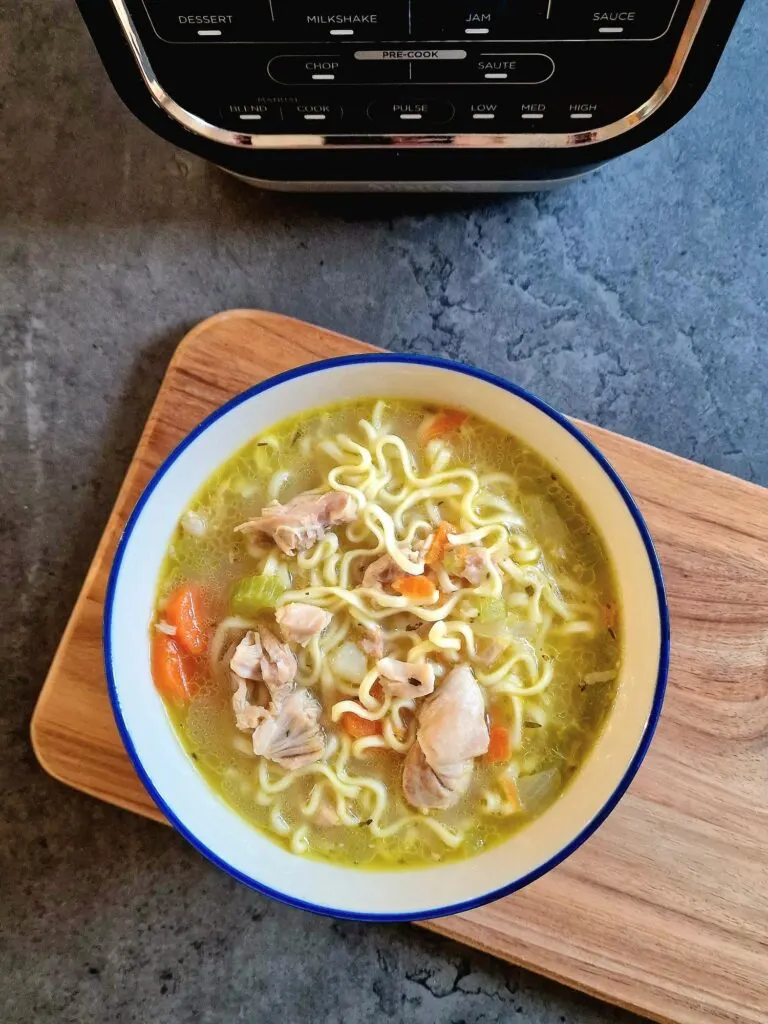 How To Make Chicken Noodle Soup In A Soup Maker
Chicken noodle soup was one of the first soups I made in my original soup maker (a Morphy Richards). It's the perfect way to use up some leftover chicken, combining it with some noodles and vegetables for a nutritious and filling soup.
Now that I mainly use a Ninja Soup Maker, I tend to use raw chicken, but below I will cover both methods.
Ninja Soup Maker and Blender
Soup/Hot Capacity: 1.4 Litres

Smoothie/Cold Capacity: 1.7 Litres

Chunky and Smooth Soups
This post contains affiliate links, meaning at no additional cost to you, if you click a link and subsequently make a purchase I will earn a commission.
What You Need To Make This Soup
The below ingredients are enough for a Ninja Soup Maker and will make 3 to 4 servings.
You can adjust ingredients slightly according to what you have available or what size your soup maker is.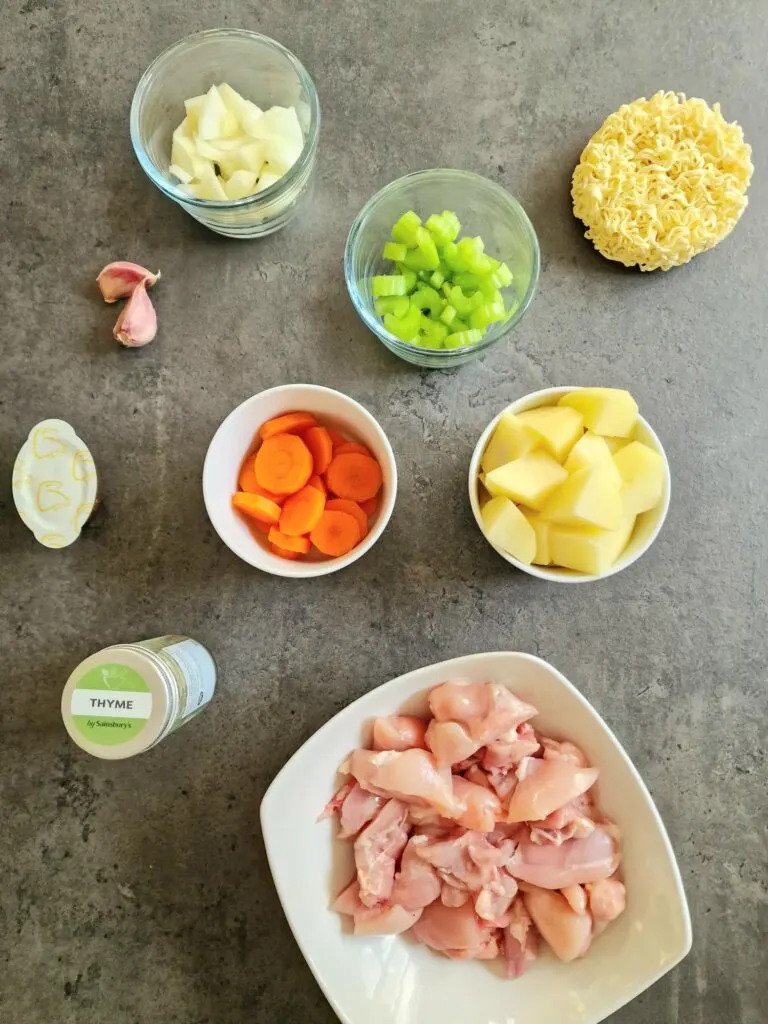 Onion & garlic – I used one chopped onion and two cloves of garlic, crushed.
Chicken – I used two boneless chicken thighs, chopped. You can use chicken breast, or, if your soup maker can't cook from raw, use about 200g – 300g of cooked shredded or chopped chicken.
Potatoes – I used about 200g of chopped and peeled potatoes. The potatoes break down quite a bit during the soup making cycle, but they add texture and thickness to this soup. You can leave them out if you prefer, but the soup will be a thinner consistency.
Celery – I added two sticks of chopped celery for some extra flavour. You can leave these out or substitute for some chopped leek.
Dried thyme – I used one teaspoon of dried thyme, but you can use a different dried herb or one teaspoon of mixed dried herbs.
Noodles – I used one dried nest of medium egg noodles. See my notes below and the recipe card for the best time to add these.
Chicken stock – I used one chicken stock pot.
Salt and pepper – add any seasoning to taste. I didn't add any extra.
Lemon juice – optionally add the juice from half a lemon.
Making This Soup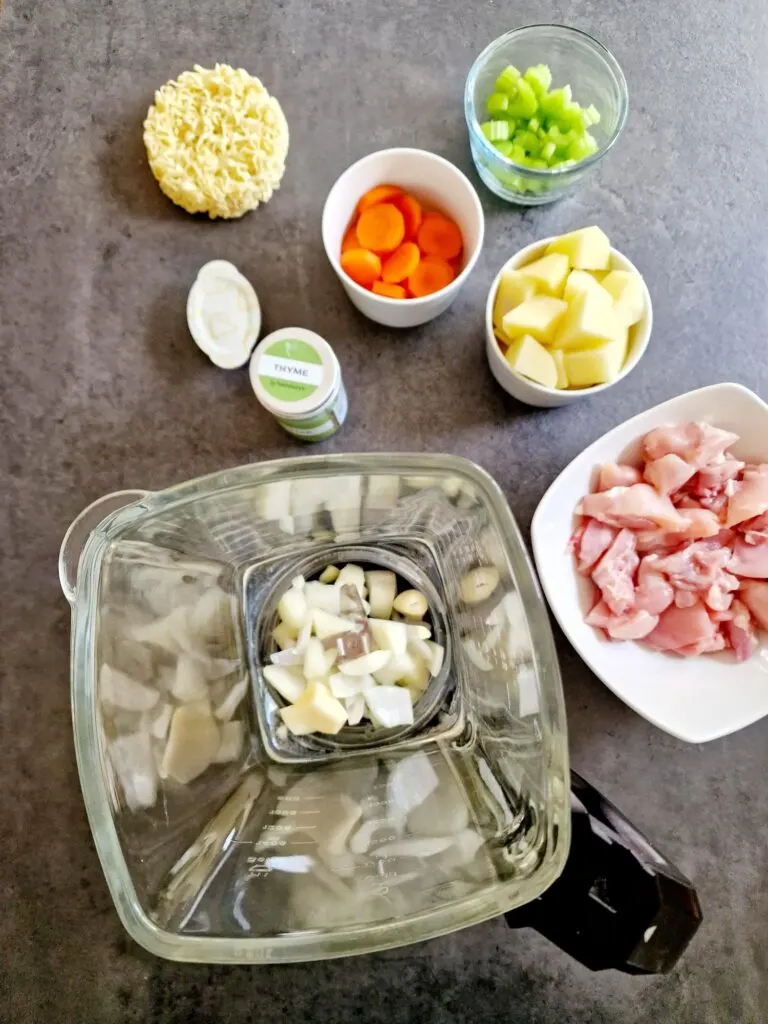 Add all the ingredients to the soup maker. If you have a soup maker with a saute function, you can optionally cook the onions and garlic in a little oil first.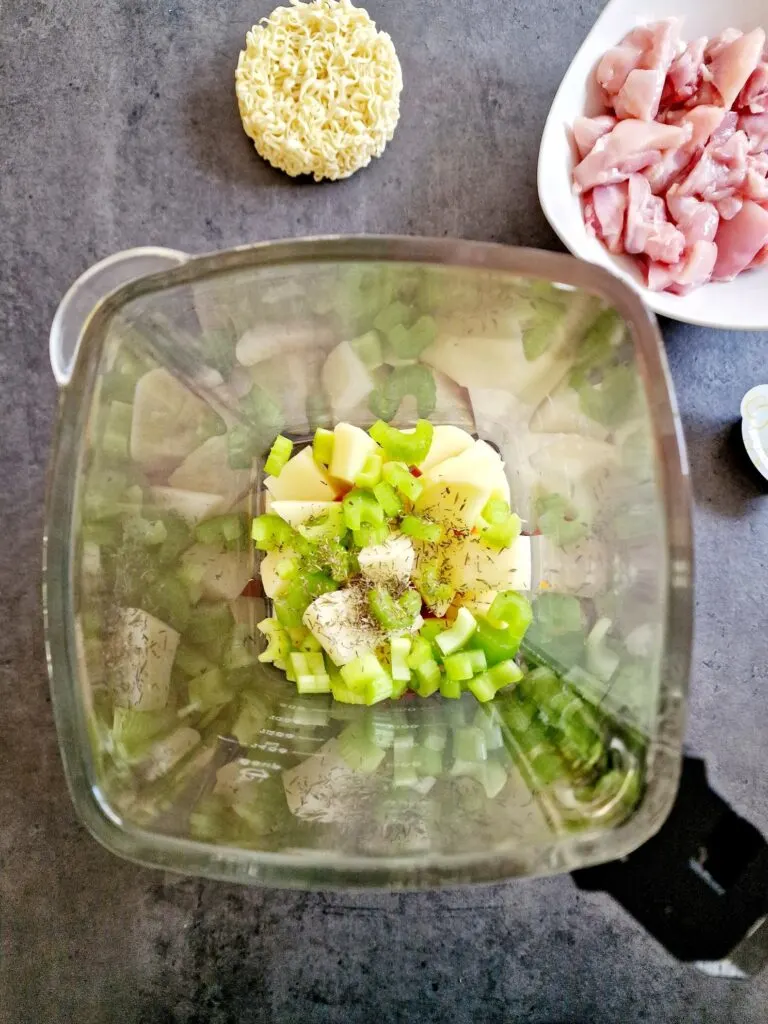 I add the stock pot direct to the soup maker and then top up to the line with hot water. You can use cold water or make up the stock before adding it to the soup maker.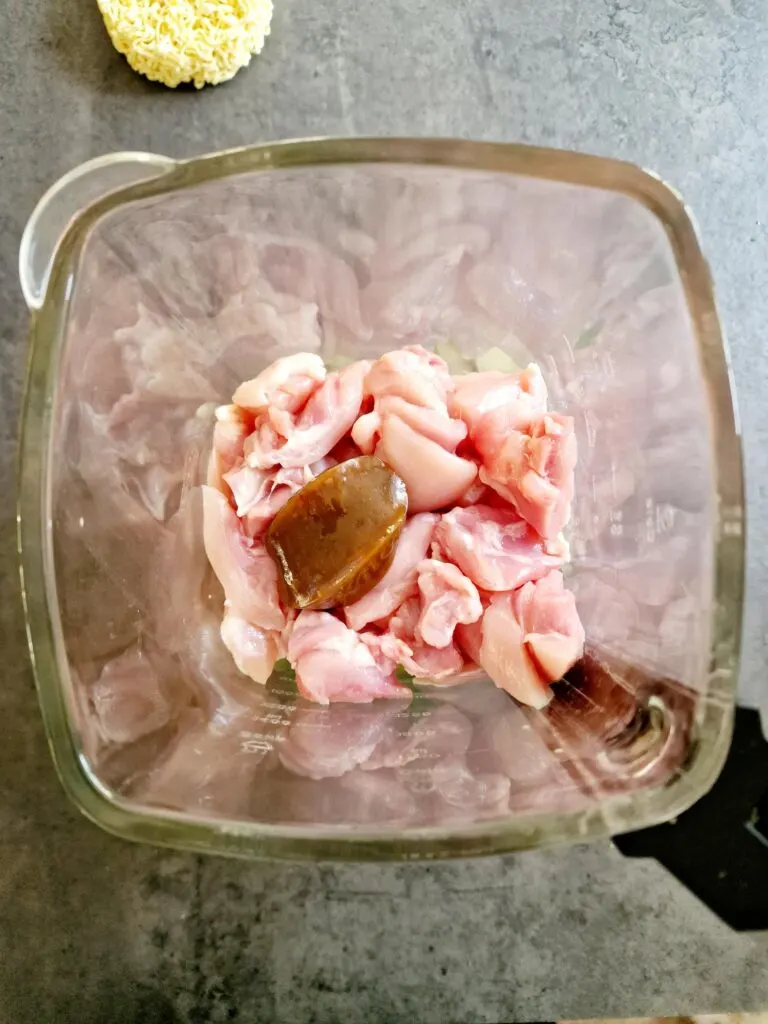 The quality of the stock you use in this recipe is important; I prefer a stock pot over a cube as I find they have more flavour, if you have some homemade chicken stock, even better!
When To Add The Noodles To The Soup Maker
I've made this chicken noodle soup many times, and I vary when and how I add the noodles. Choose which method suits you best;
Adding the uncooked noodles at the beginning of the chunky cycle (some soup makers will still chop and pulse on the chunky cycle)
Adding 5 minutes before the end of the cycle (manually pause the soup maker cycle)
Add at the end of the cycle and manually extend the cooking time
Cook the noodles separately and stir them in at the end
I hope you enjoy this chicken noodle soup in a soup maker – let me know in the comments if you end up making it!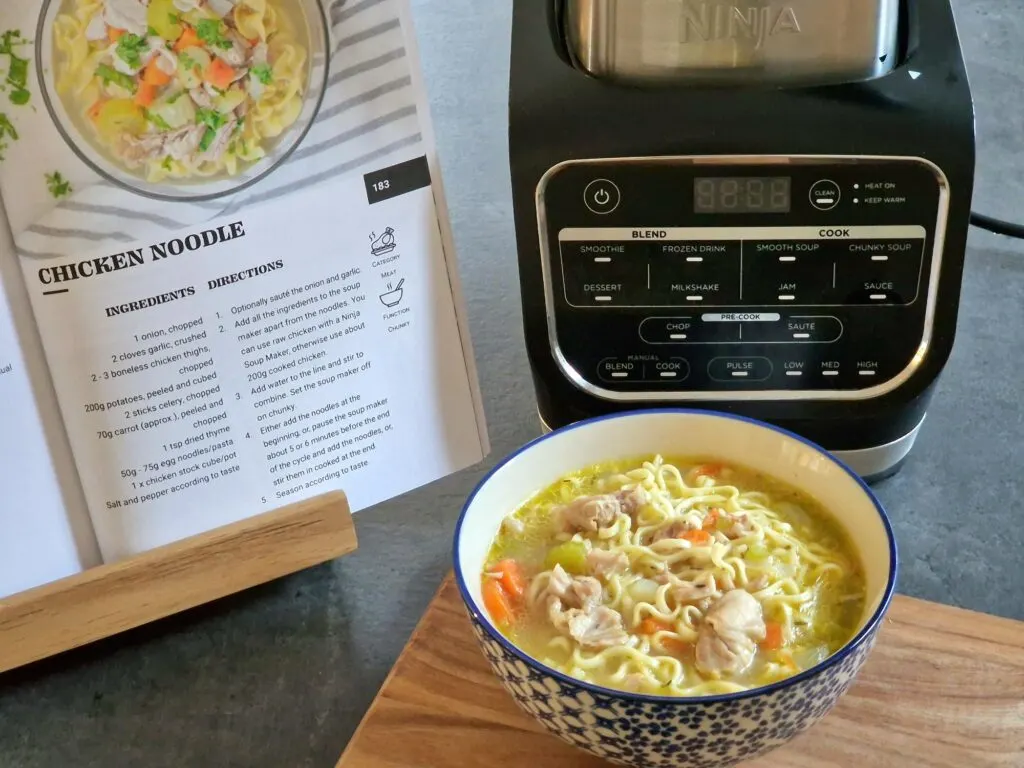 More Soup Maker Resources:
GRAB MY BOOK!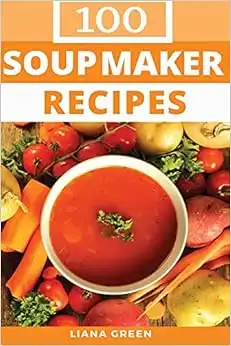 We earn a commission if you click this link and make a purchase at no additional cost to you.