Mexican noodle bean soup in a soup maker is a simple, hearty, and flavorful Mexican-inspired soup that combines noodles, beans, and vegetables with a savoury tomato-based sauce.
Using a soup maker streamlines the cooking process, making preparing this delicious, comforting meal easy and efficient.
Just add your ingredients to the soup maker, and let the appliance work its magic.
In no time, you'll be enjoying a steaming bowl of Mexican Noodle Bean Soup, perfect for any occasion.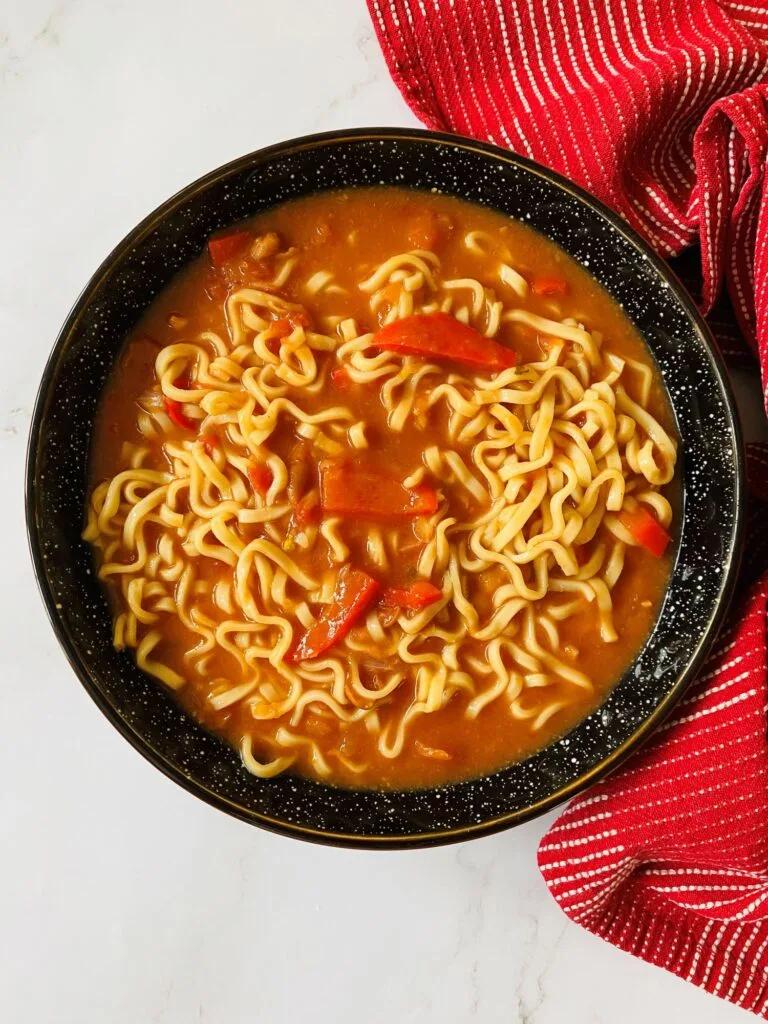 How To Make A Mexican Noodle Bean Soup
The ingredients below are suitable for a Ninja soup maker, but this soup can be adapted for any soup maker.
For more concise instructions and to print it out, head down to the recipe card at the bottom of this post.
What You Need:
Onion & Garlic – I used one red onion, sliced and three cloves of garlic, crushed.
Chillies – I used one red chilli, sliced
Peppers – I used one red and one yellow pepper, chopped – you can use any combination of colours.
Tomatoes – I used one x 400g tin of chopped tomatoes and one tablespoon of tomato puree.
Beans – I used one x 400g of pinto beans, drained. You can substitute with any tinned beans you have.
Spices – I used one teaspoon each of cayenne pepper, cumin, coriander and smoked paprika.
Stock – I used one vegetable stock pot and then topped it up to the line with hot water.
Noodles – you can use dry or fresh noodles; I used 50g of dried noodles.
Seasoning – according to taste.
Making It:
You can optionally saute the onion and garlic if your soup maker has this function.
Depending on your soup maker, you can add the noodles at the beginning of the soup maker cycle or about 5 minutes before the end. You can also cook them separately and stir them in at the end.
With the Ninja Soup Maker, I add them at the end of the soup maker cycle and then just set the soup maker off to cook manually for about 3 to 5 minutes or until the noodles are cooked.
I hope you enjoy this soup maker recipe; let me know in the comments if you end up making it!
You might also like more soup maker recipes and Ninja soup maker recipes.