Air fryer sausages are a quick and easy way to make this popular dinnertime meal. Add them to the air fryer basket with no extra oil required.
I find cooking sausage in an air fryer much easier than in an oven. They cook faster, and I think they taste better.
Plus, if you only want to cook a few sausages, cooking them in an air fryer makes more sense than other cooking methods.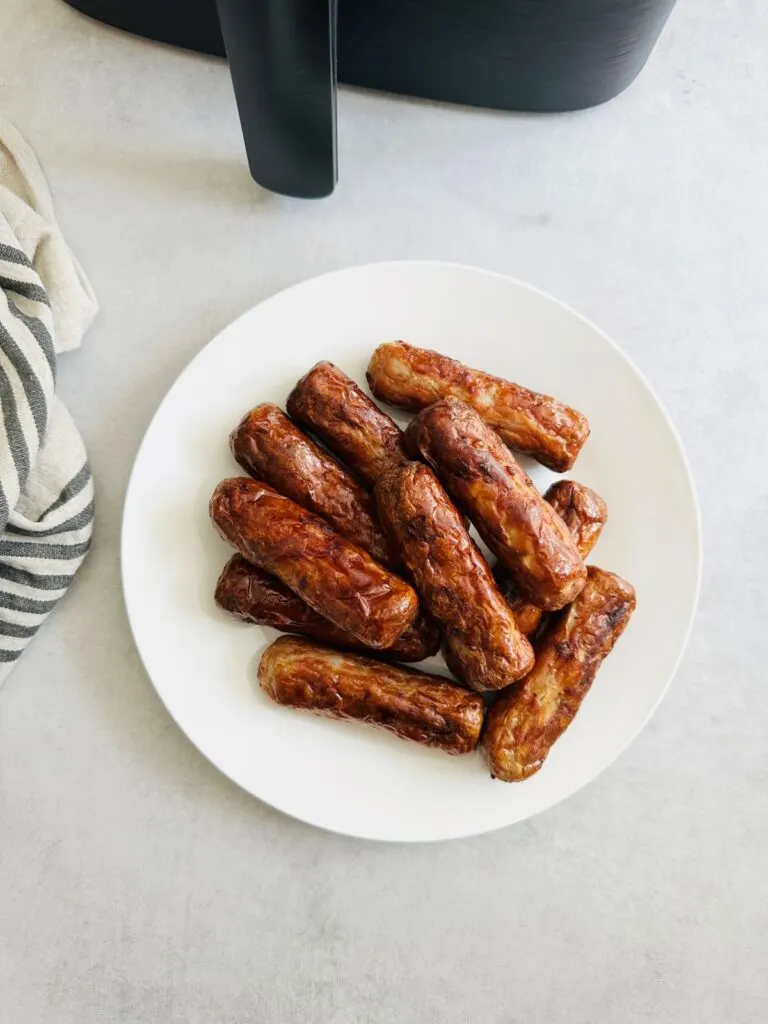 How To Cook Air Fryer Sausages
You really don't need much to cook sausages in an air fryer!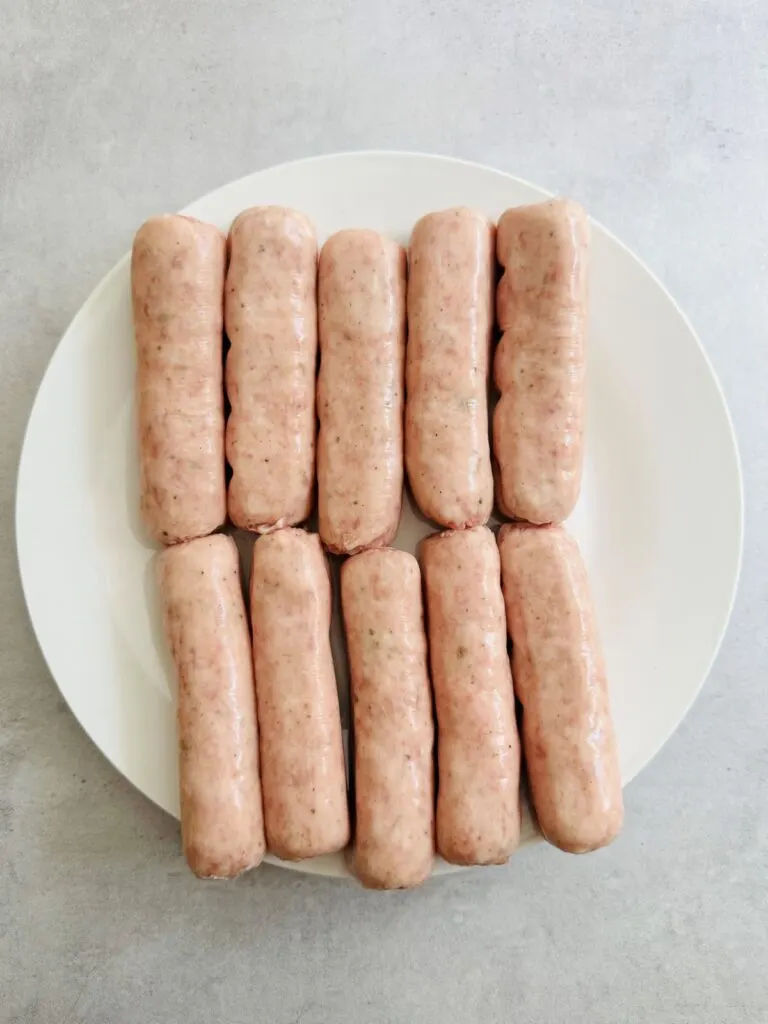 Sausages – any size, type, meat, or flavour. You will need to reduce the cooking time for thinner and smaller sausages- more on that below.
Air fryer – any make or model. I've cooked sausages in various different types of air fryers.
Air Frying The Sausages
Preheat the air fryer for a few minutes at 180°C (350°F). Preheating an air fryer isn't always essential, but I find that by doing so, the sausages crisp up some more.
There is no need to prick the sausages before adding them to the air fryer – this will cause the fat and juices to run out of the sausages and dry them out.
Lay the sausages in the basket of your air fryer in a single layer, ensuring there is enough room for them all. If you have a larger air fryer with a trivet or a metal tray, you can add another layer of sausages.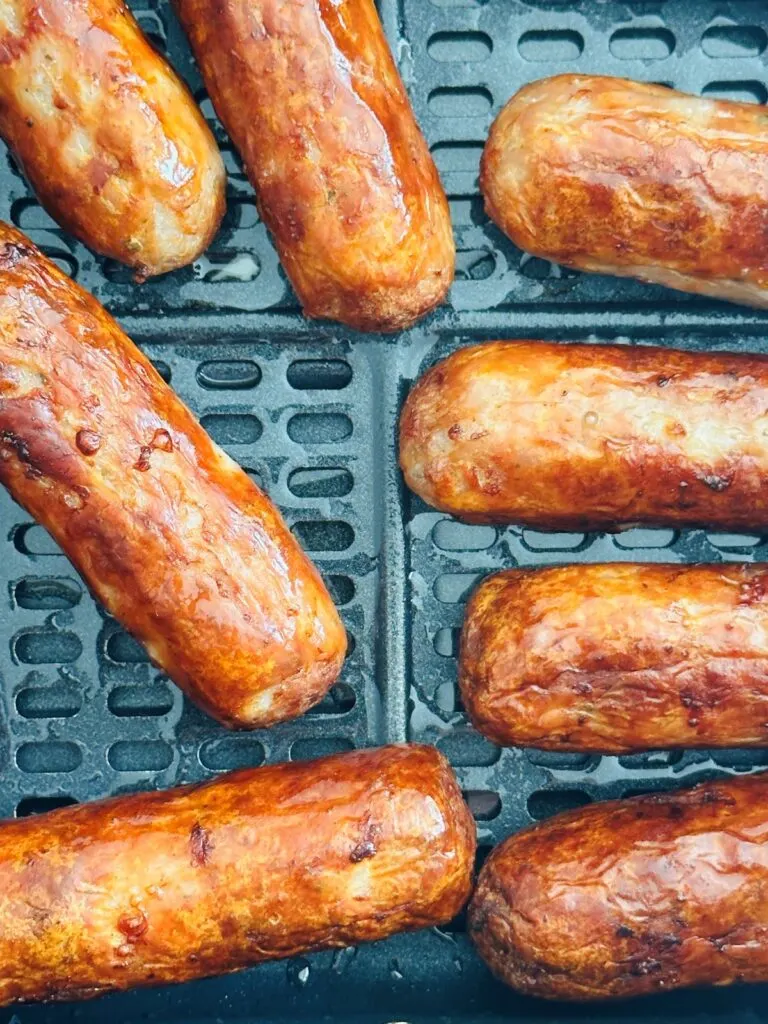 Set the air fryer timer off for 10 minutes, check on them after 5 minutes and turn them over so that they can brown on all sides.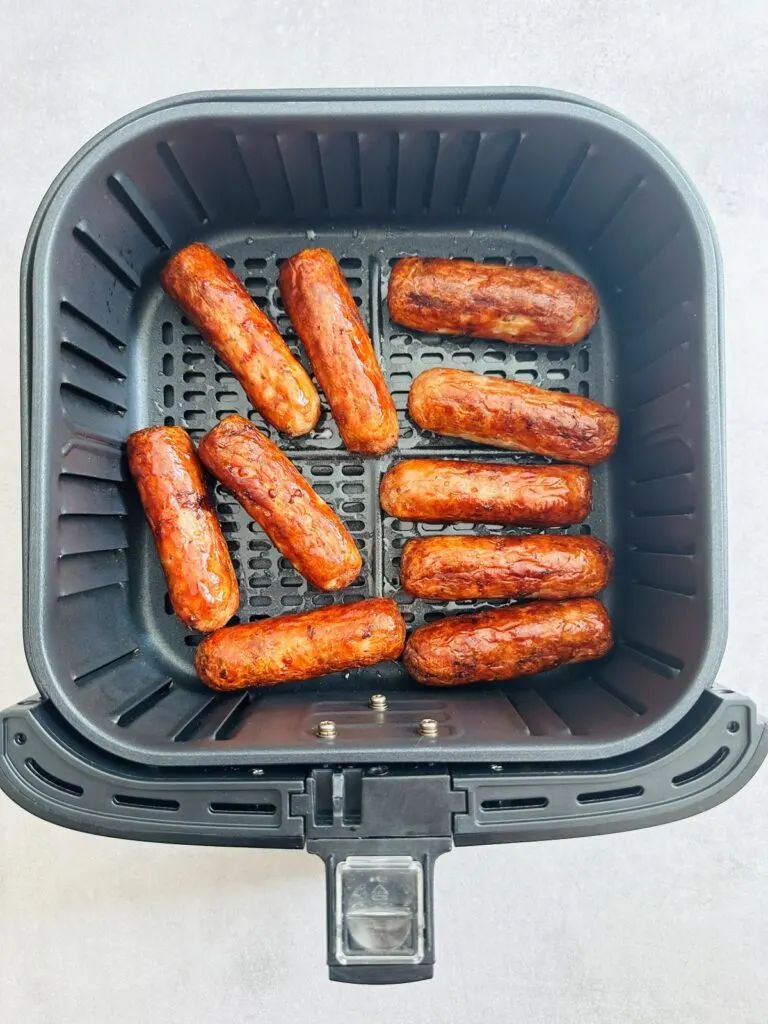 The sausages should be browned after 10 minutes, but keep an eye on them to ensure they aren't browning up too quickly.
Serving Air Fryer Sausages
Once the sausages are cooked all the way through, serve right away with your favourite sides or in a hot dog roll. Sausages also go well with chips or mashed potatoes.
How Long To Cook Sausages In An Air Fryer
The cooking time for sausages in an air fryer will depend on the size of the sausage.
For regular sized sausages, such as the ones I have used in this recipe, you should cook them for 10 minutes at 180°C, turning them over at 5 minutes. If they are not browned all over, return the air fryer basket to the air fryer for a further 2 to 3 minutes. If you are cooking fatter sausages, add some more time.
For small sausages such as chipolatas, air fry for a shorter time. Check on them at 7 minutes to see if they are browned and hot all the way through.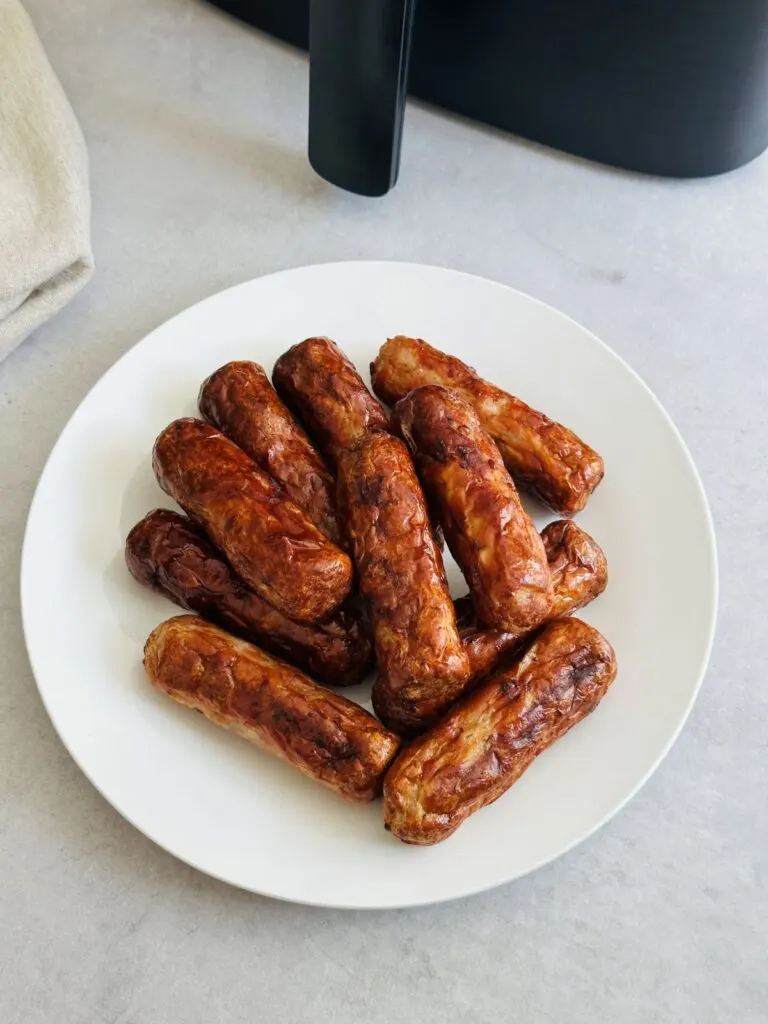 Can You Cook Sausages From Frozen In An Air Fryer?
Yes, you can. Cooking frozen sausages in an air fryer is easy and produces great results. Check the packet instructions for the frozen sausages and reduce the temperature by about 20°C and the time by 20%.
Related: The Best Frozen Foods For The Air Fryer
Cleaning Your Air Fryer After Cooking Sausages
The fat content of sausages will naturally mean that the air fryer will get greasier than normal. You could reduce this by laying some baking paper underneath the sausages – you can get these from Amazon.
However, I tend to cook sausages in the air fryer without the paper, ensuring I wipe the air fryer with some kitchen roll as soon as it is cool enough, then clean the air fryer basket as I normally would with soap and water.
Other Air Fryer Sausage Recipes
Are you looking for more air fryer sausage recipes? Check out some of the following for inspiration!