Have you tried making an air fryer toad in the hole yet?
This comforting classic always goes down a treat with some mash and peas, all covered in gravy. Yum!
And now, this tasty dish can be made in less than 30 minutes. Read on to discover the easy steps to making a toad in the hole in your air fryer.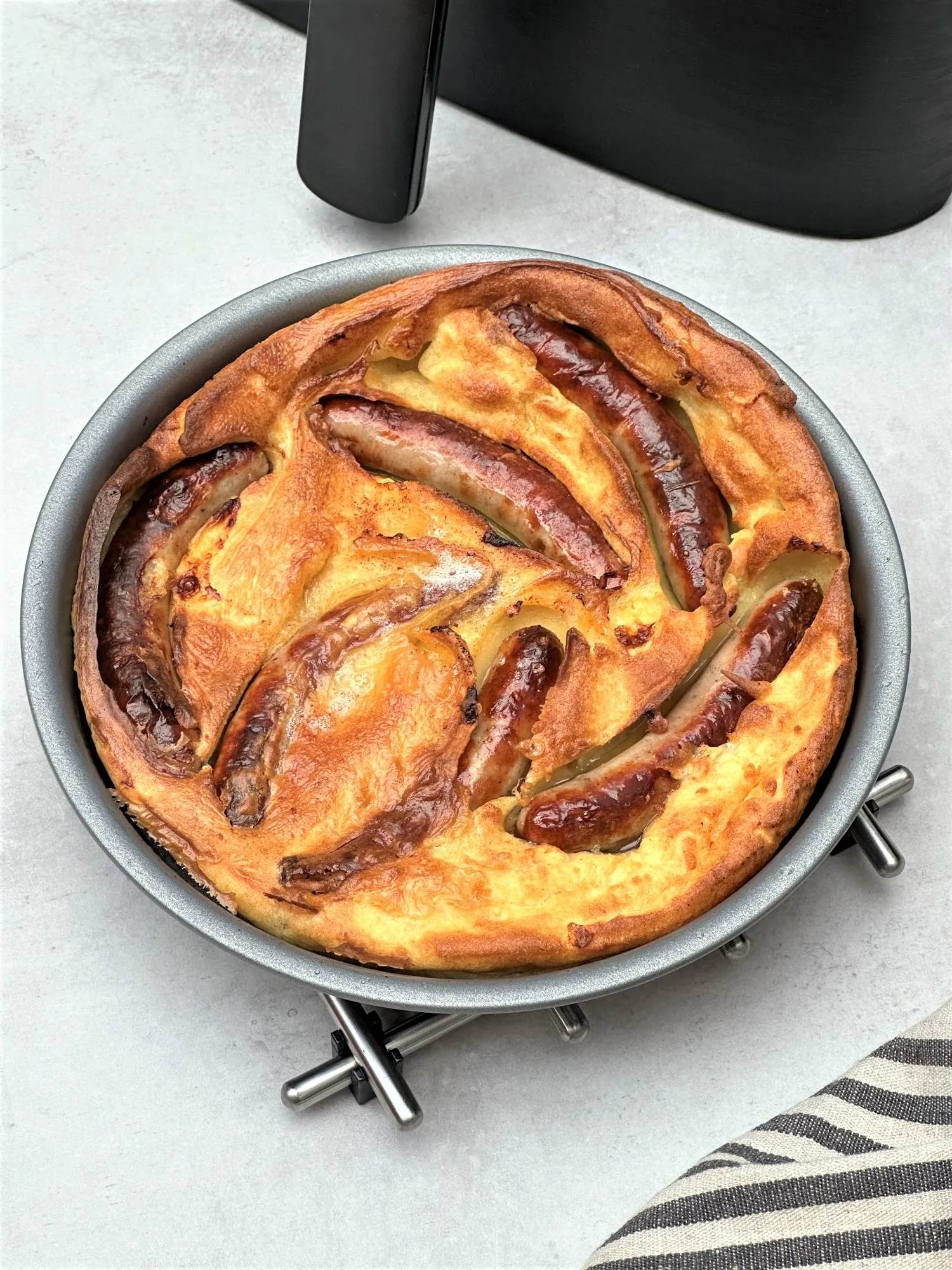 How to Make Air Fryer Toad in the Hole
There was quite a bit of trial and error when making this toad in the hole in the air fryer. Once I got the quantity of batter right, I wanted to see how well it came out in different tins.
I tried cooking the toad in the hole in the silicone liners that I use for my Ninja Dual, but the bottom was too soggy. Silicone just doesn't get hot enough, resulting in a rubbery and soggy base.
The best version was cooked in a 20-cm sandwich baking tin in a Cosori 5.5 L air fryer. You can, of course, use the same recipe for any size air fryer; you just need to find the right-sized tin for your model. You can scale the batter according to the size of your tin.
I used the following ingredients and quantities: it was enough to make a toad in the hole for two.
🛒Ingredients For Air Fryer Toad In The Hole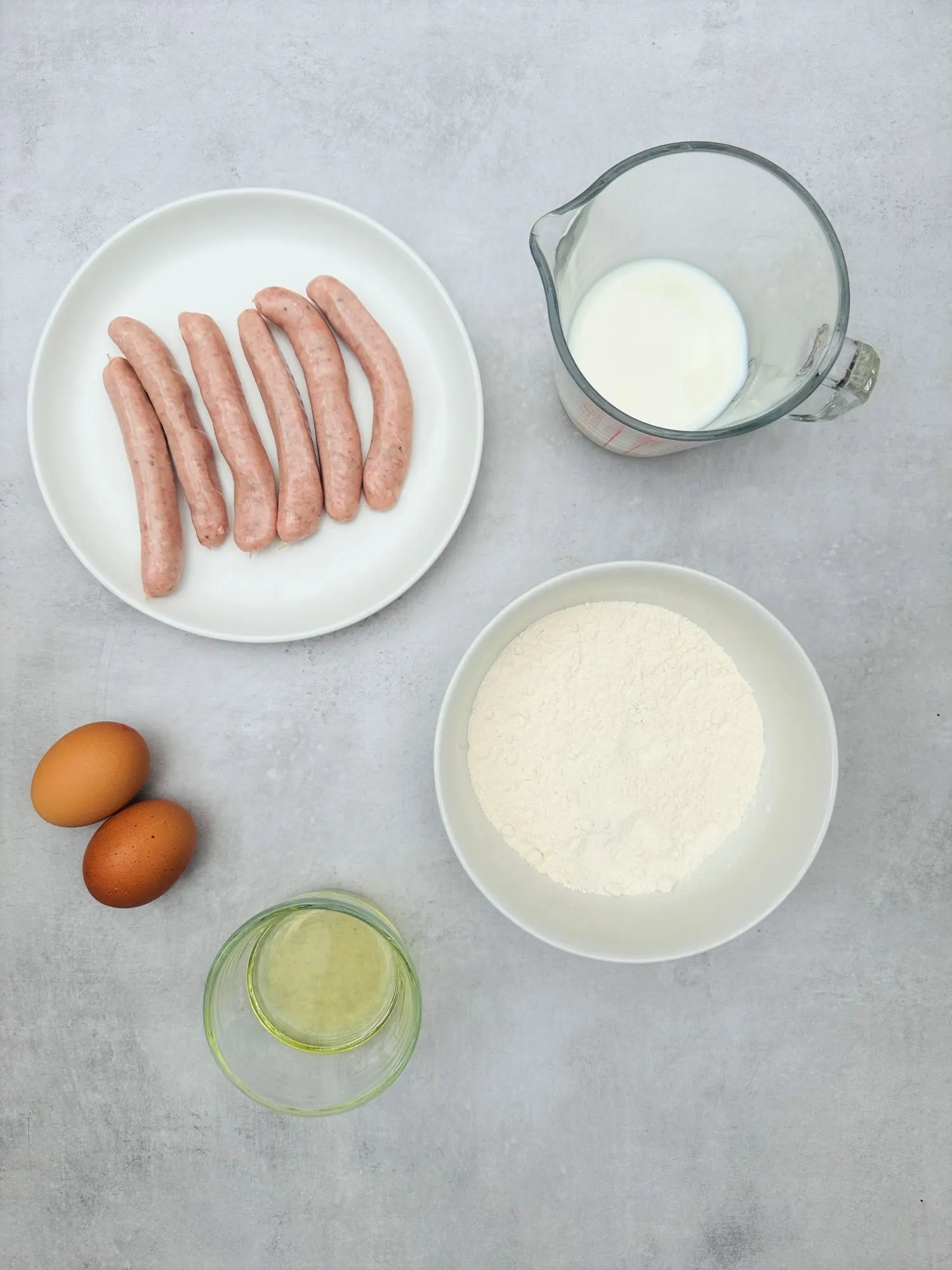 2 tbsp. vegetable or sunflower oil: Either of these oils works well for creating a crispy batter. Avoid using olive oil, as it doesn't reach as high a temperature.
6 chipolatas: You can also use your favourite sausages; I like to use chipolatas for this smaller toad-in-the-hole version. If you use larger sausages, you may want to use less.
120g plain flour
180 ml of semi-skimmed milk
2 eggs
Pinch salt and pepper
👩‍🍳Steps For Making Toad In The Hole In An Air Fryer
Step 1: Preheat the Air Fryer
Set your air fryer to 200°C. While it's preheating, you have time to prepare your other ingredients.
Step 2: Add the Oil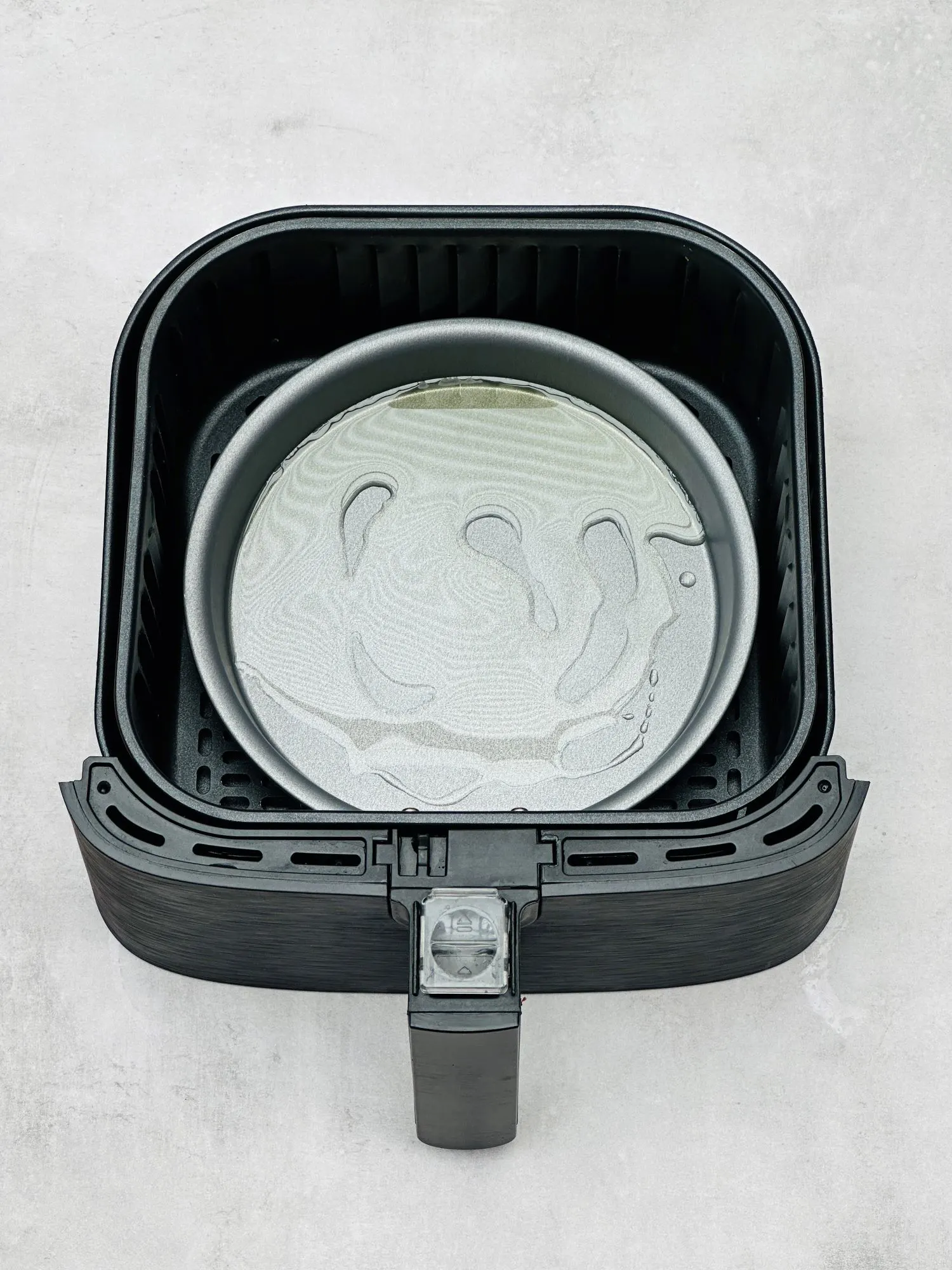 Insert your chosen tin (I used a 20cm round sandwich tin) into the air fryer basket and add the oil. Air fry for about 3 minutes, longer if you skip the preheating step. You want the oil to get really hot; that's what gives the batter its fantastic rise.
Step 3: Lightly Brown The Sausages
Carefully place the sausages in the hot oil in the tin. Close the basket and let them cook for about 5 minutes or until they start to brown. You're not cooking them through here; you're just giving them a head start.
Step 4: Mix The Batter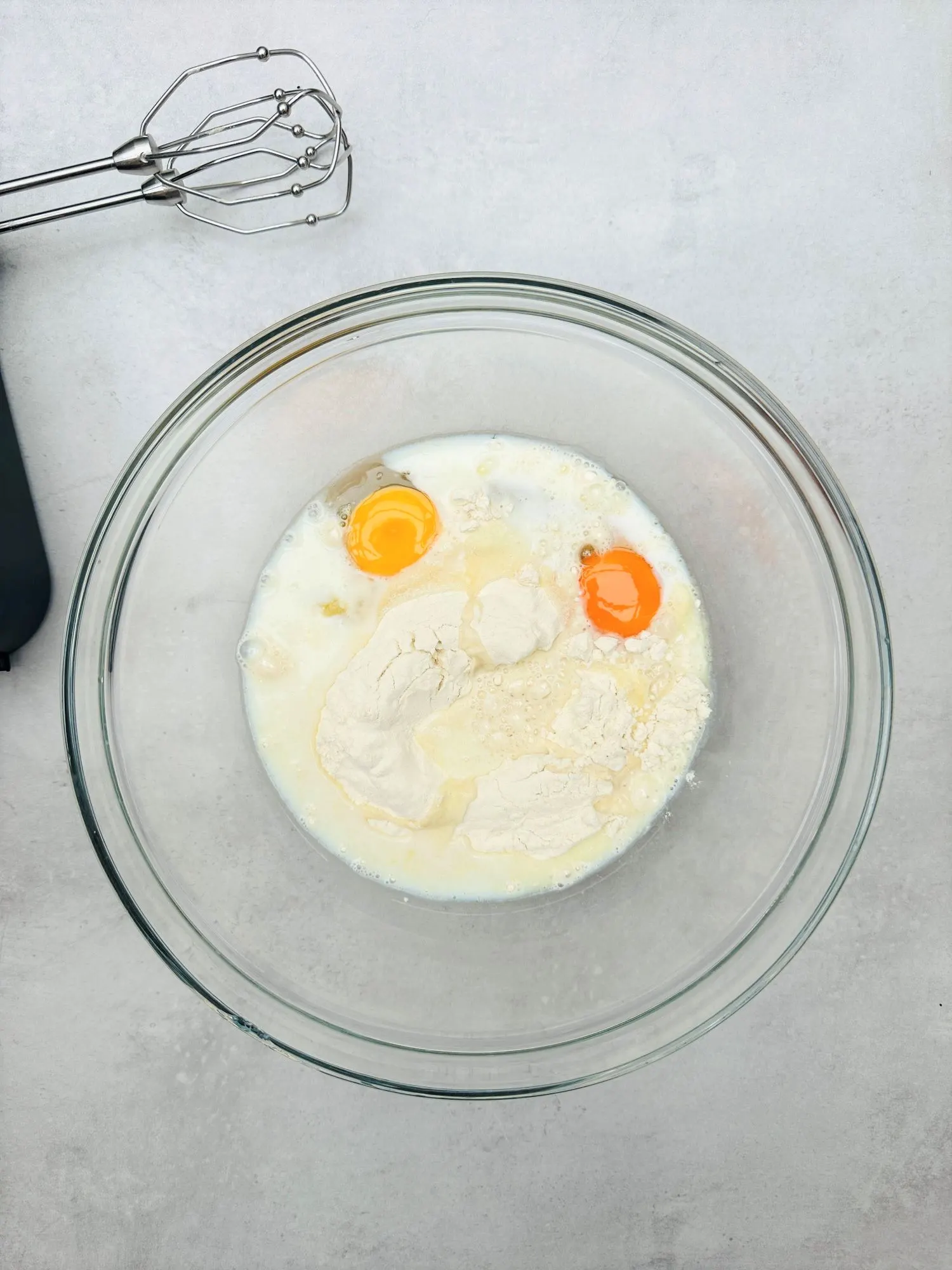 While the sausages are browning, whisk together the flour, milk, eggs, and a pinch of salt and pepper until smooth. If you have an electric mixer, even better.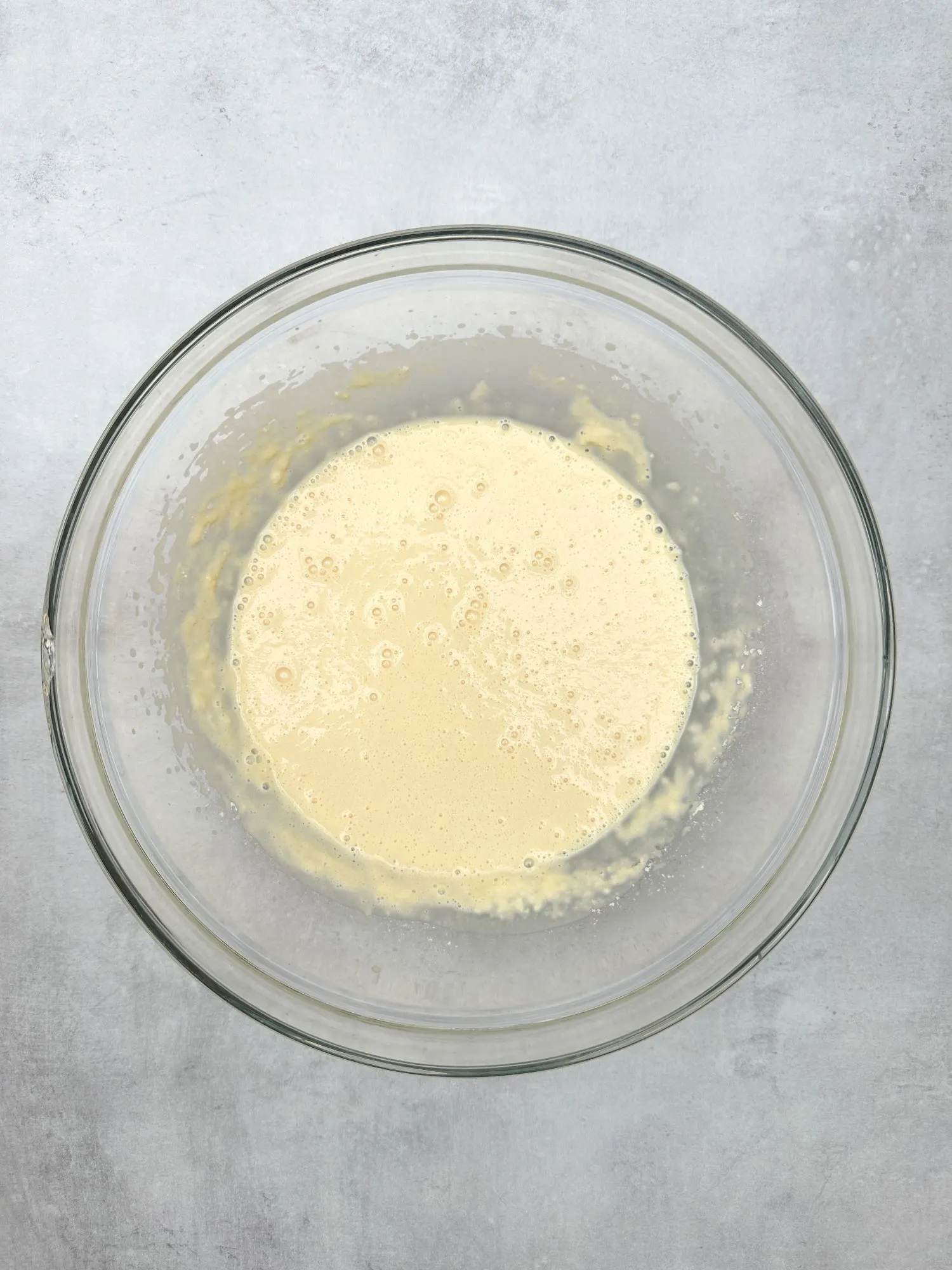 Step 5: Pour The Batter Over The Sausages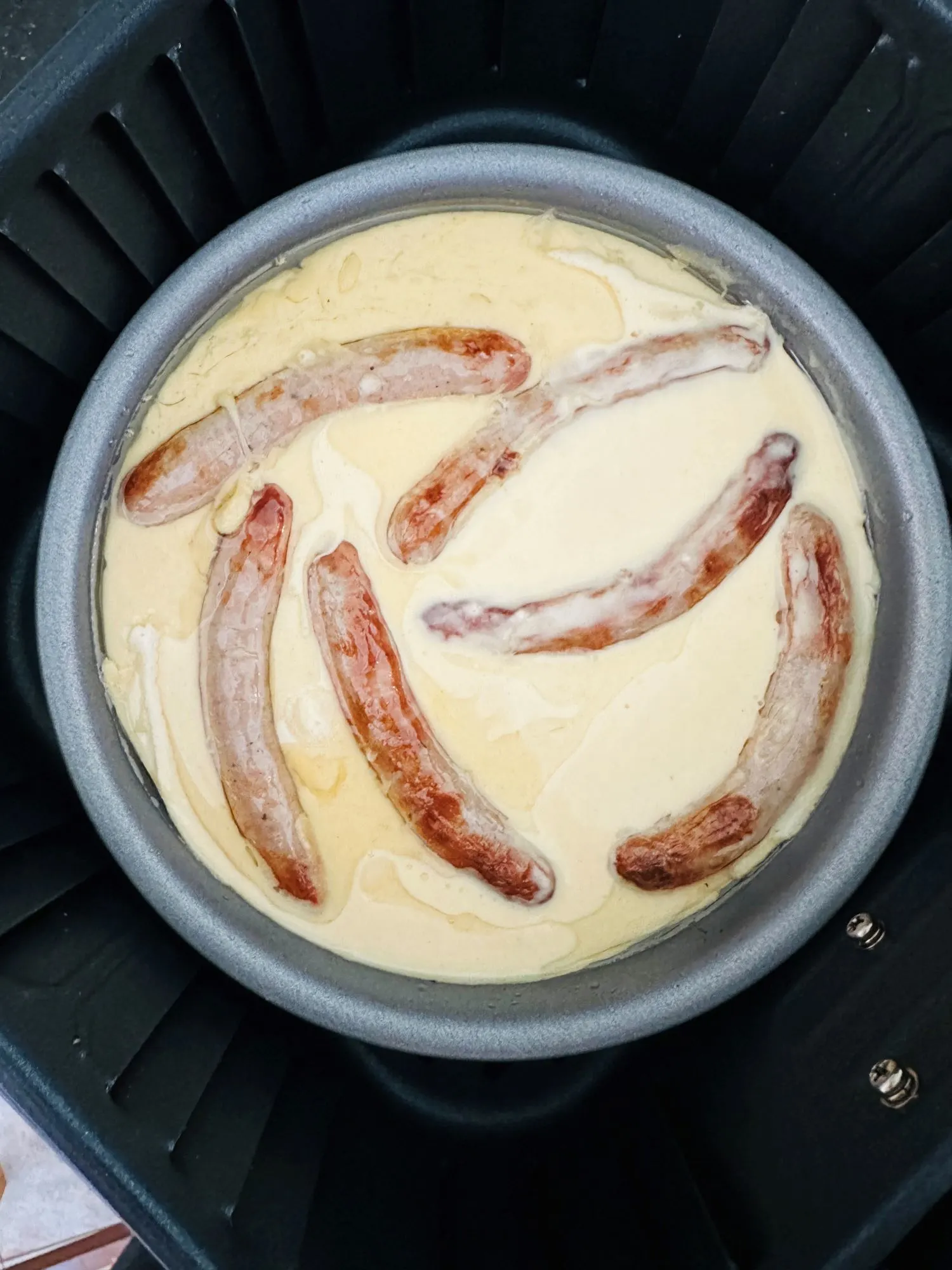 Once the sausages have browned a little, quickly pour the batter over them. You want to be fast so that the oil stays hot. Close the basket and let it cook for 12 minutes.
Step 6: Check It's Ready
Hopefully, after 12 minutes, your toad in the hole will be perfectly golden brown and have risen sufficiently.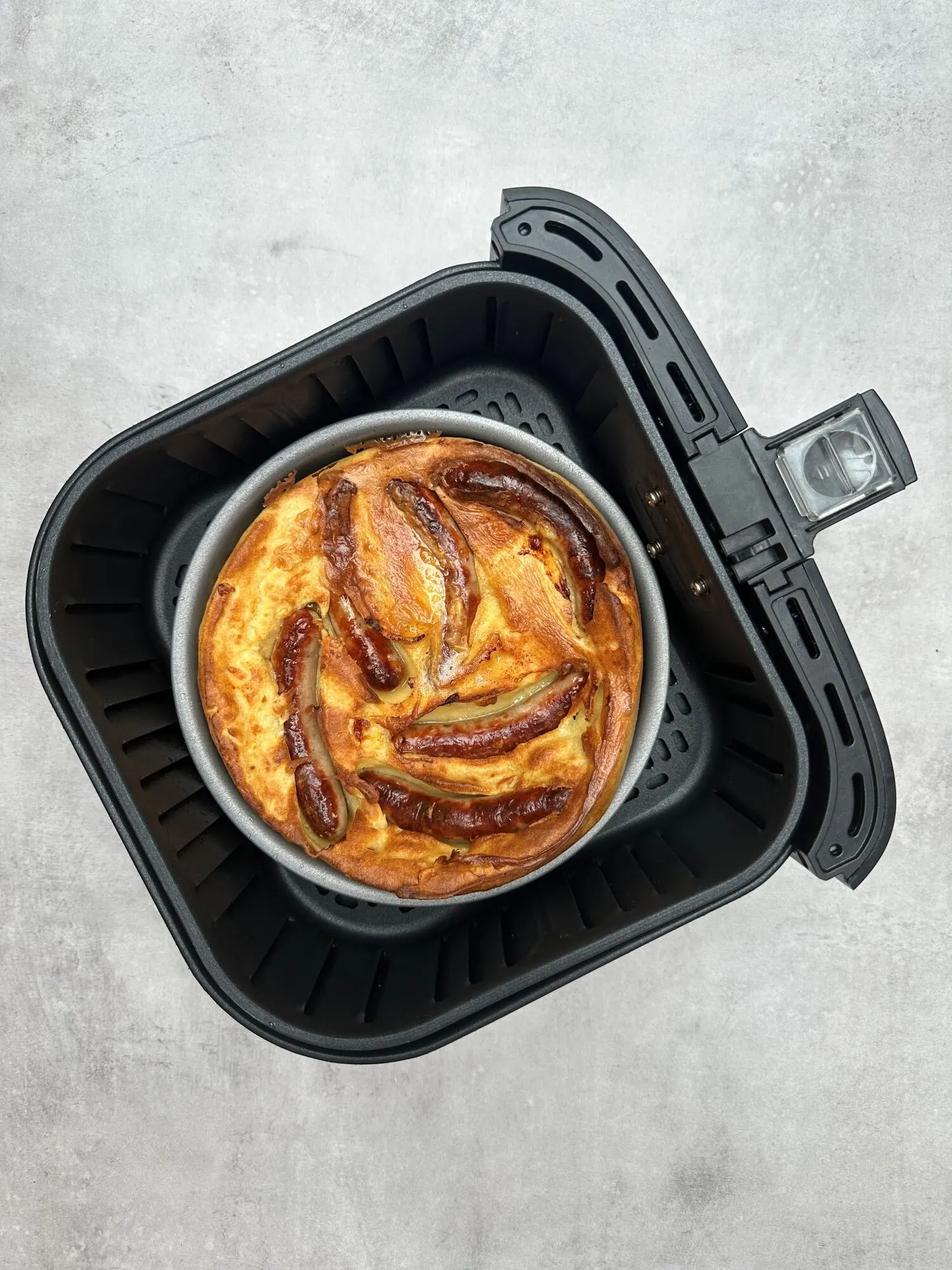 Note: All air fryers cook with different efficiency, so you may need to air fry yours for a little longer. Close the air fryer basket as quickly as possible to prevent the batter from deflating.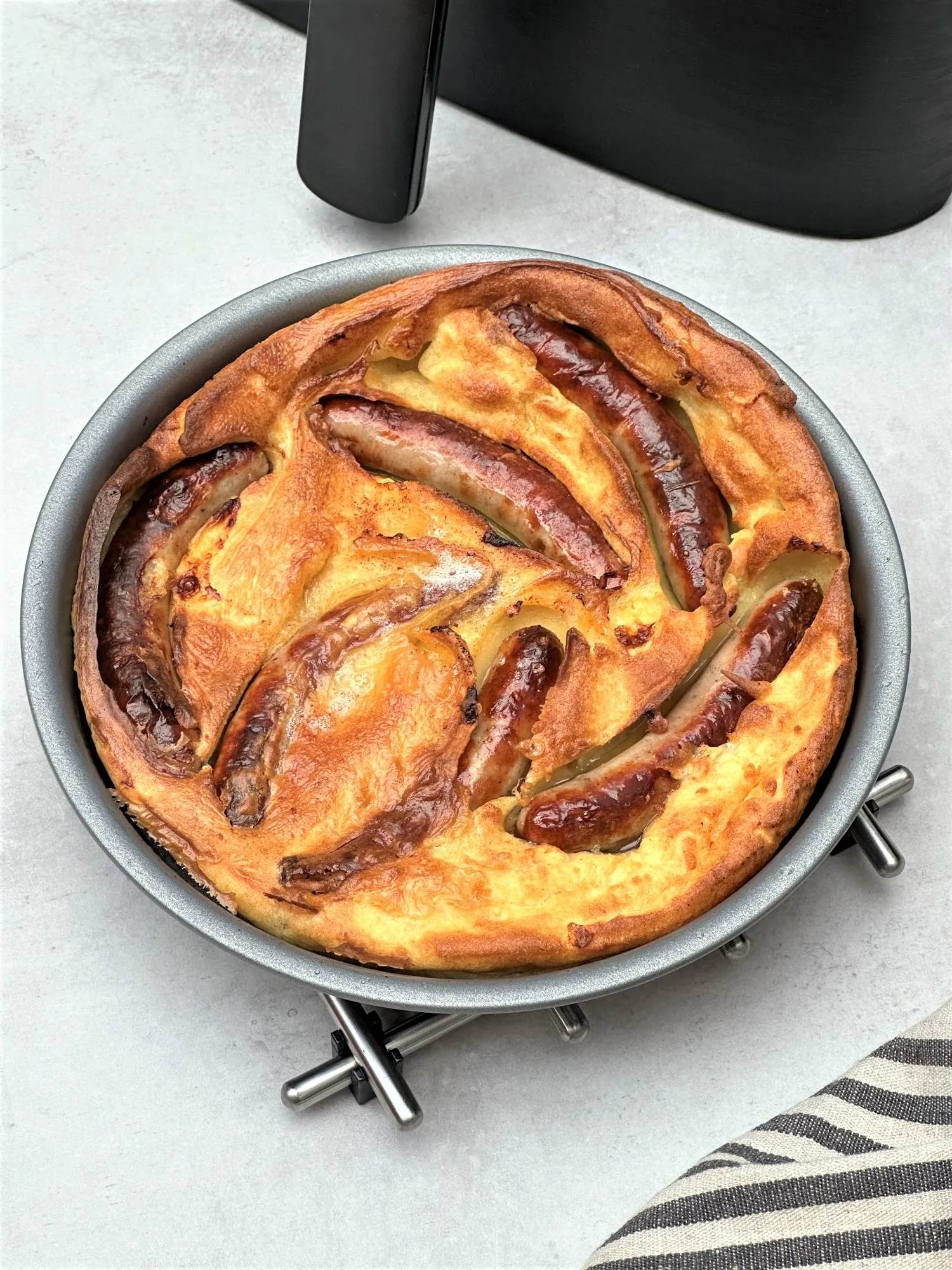 🍽 How to Serve Air Fryer Toad in the Hole
Serve it hot straight out of the air fryer! Pour some onion gravy over it and serve with vegetables or mash.
❓FAQ About Air Fryer Toad In The Hole
Is Toad In The Hole Better In An Air Fryer Or An Oven?
I prefer toad in the hole in an oven as I can make a larger portion and the batter rises higher. Having said that, air fryer toad in the hole does taste good, and for smaller servings, it's ideal.
What Type Of Baking Tin Should I Use?
A metal baking tin with a thin base will ensure the oil gets hot enough to help the batter rise. Make sure the tin fits comfortably in your air fryer.
Can You Cook Frozen Toad In The Hole In An Air Fryer?
Yes, as long as it fits in your air fryer basket. Check the packet instructions for your frozen toad in the hole and reduce the temperature by about 20°C and the time by about 20%. It might be a bit of trial and error when you first make it.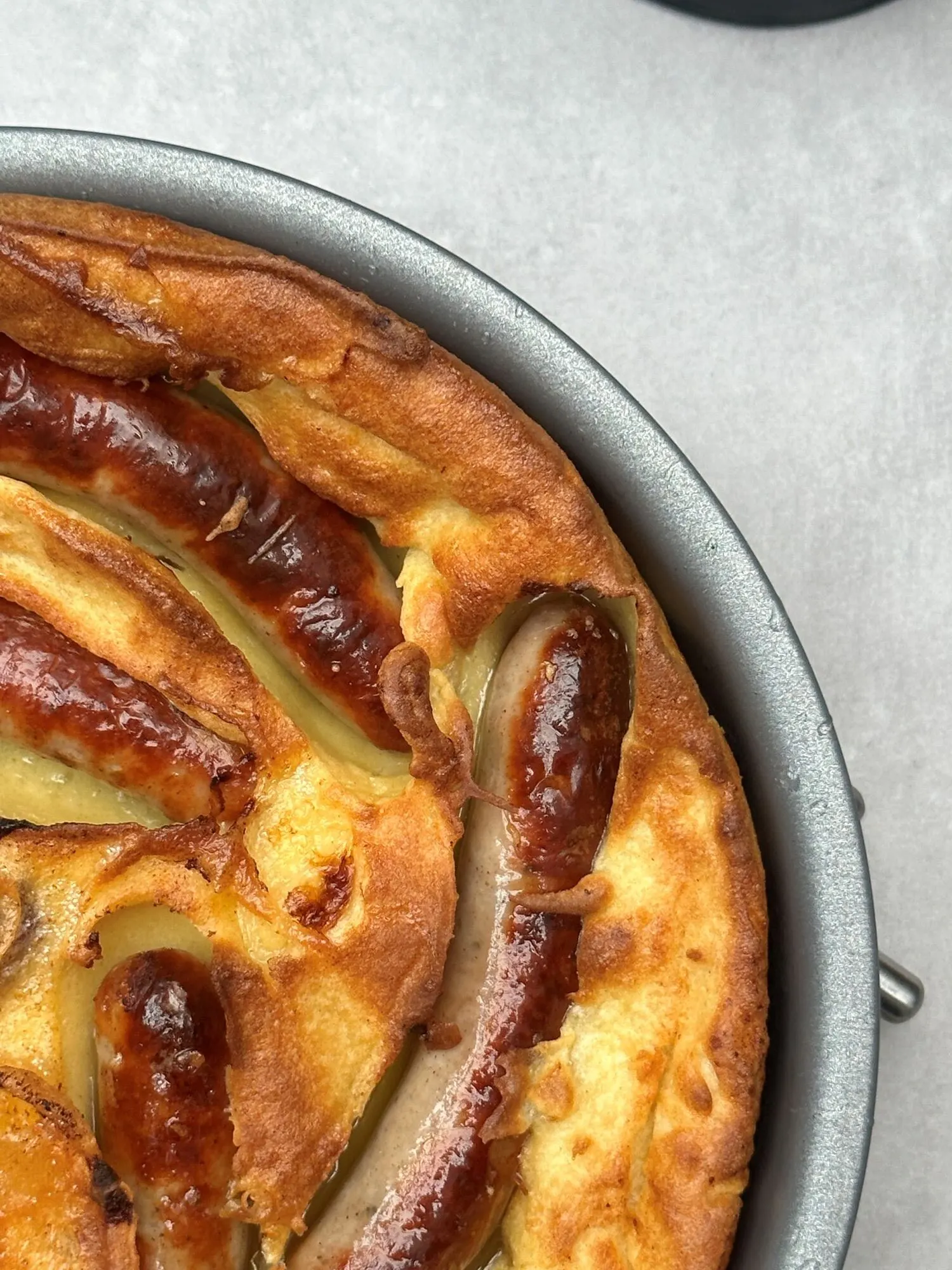 More Air Fryer Recipes
If you are looking for more inspiration, you can check out my air fryer recipe collection here or try some of these popular recipes;
📍 Pin it for later!