Are you thinking about making air fryer burgers?
Cooking a burger in an air fryer is a quick and easy way to enjoy this classic favourite.
Read on to discover how to make the ultimate air fryer burger in under 10 minutes. Your tastebuds will thank you!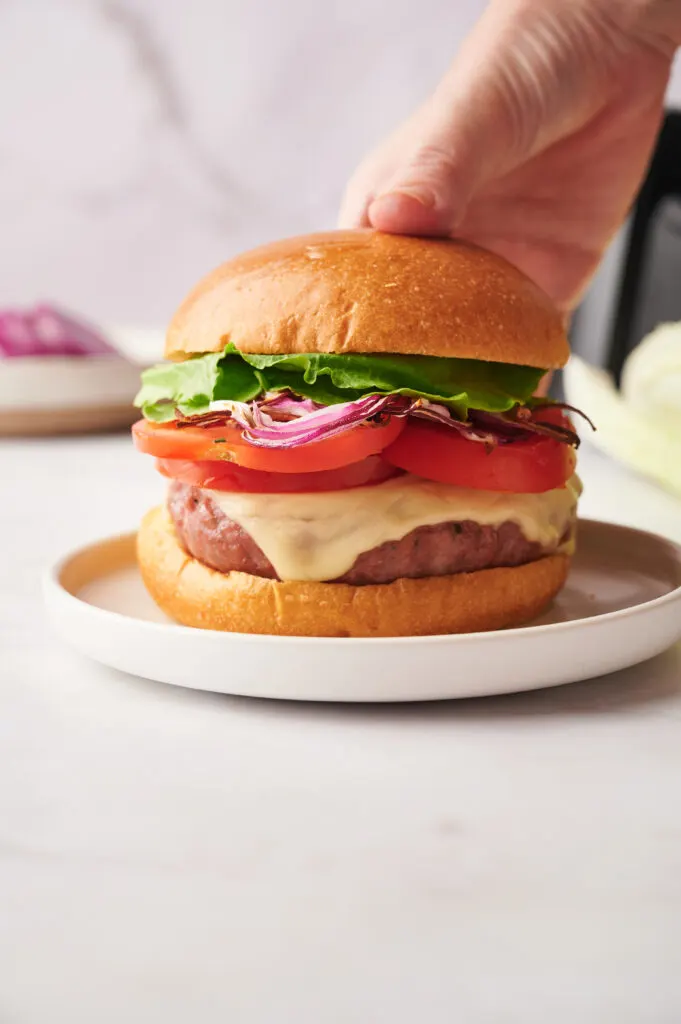 How To Make Air Fryer Burgers
When it comes to burgers, there are so many different types.
You can use beef, chicken, turkey, pork, or, for a non-meat version, a bean burger, a sweet potato burger, or even a halloumi burger.
For this recipe, I'll show you how to make a beef burger in your air fryer.
And if you want, you can add all of your favourite toppings; cheese, bacon, onion, etc.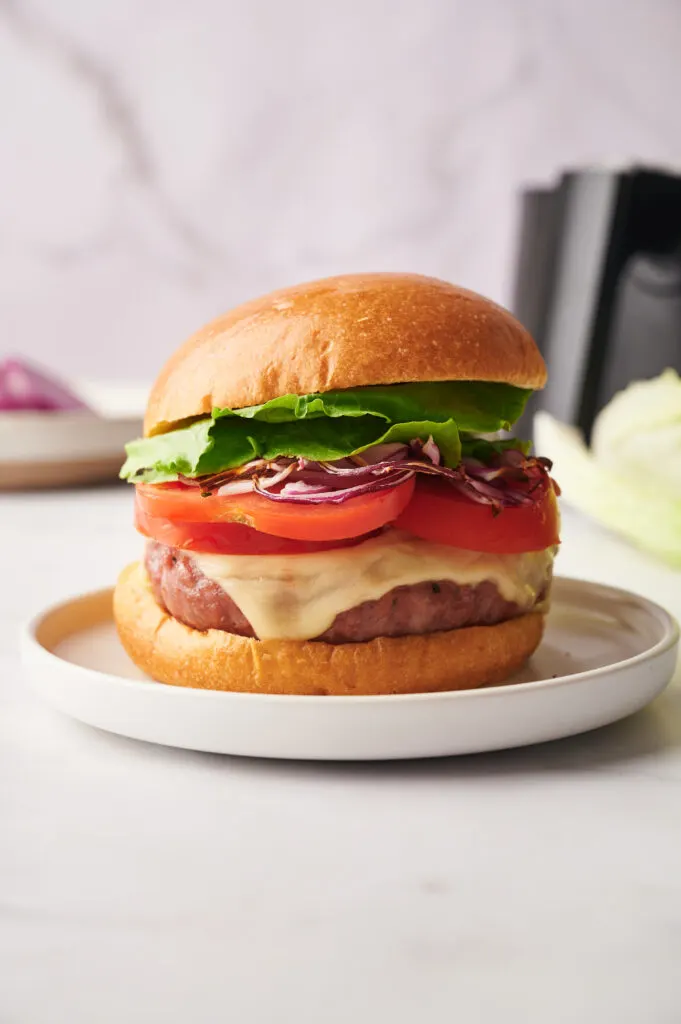 Related: More Air Fryer Recipes
What You Need To Make A Burger In An Air Fryer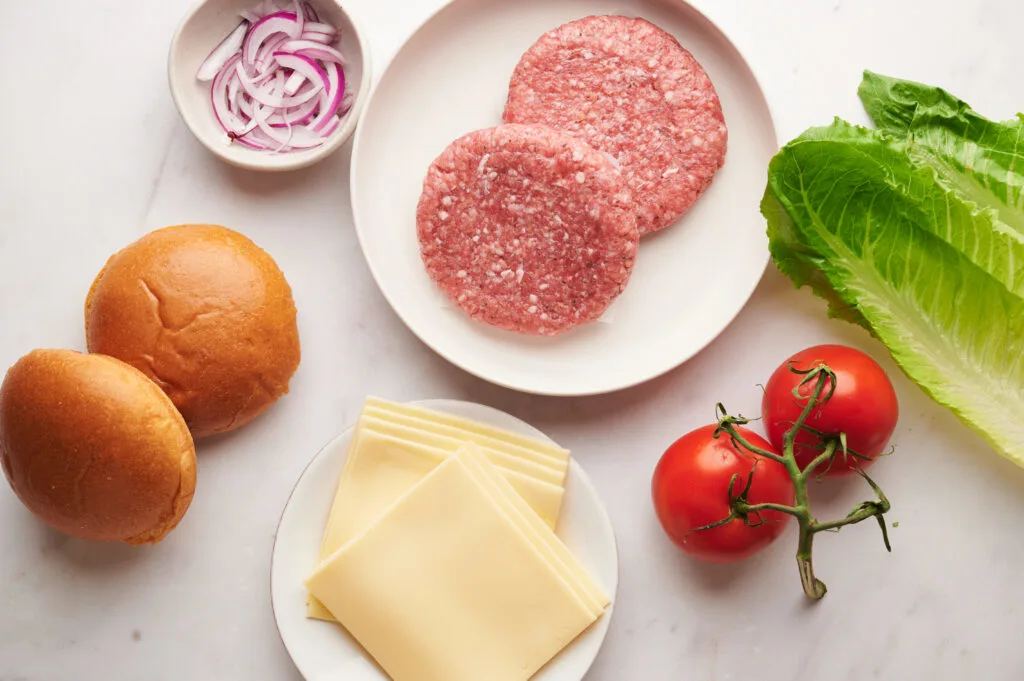 Beef burgers – you can either buy them fresh or frozen from the supermarket or butcher (I'll cover the different cooking times below) or you can make your own burgers.
Air fryer – I used my Ninja Foodi, but you can use any air fryer.
Brioche buns or burger baps
Cheese slices – optionally turn it into a cheeseburger by laying some easy to melt cheese on top towards the end of the air frying time.
Onions, lettuce, tomatoes – optionally add in some extras (you can even cook the onions in the air fryer at the same time).
Sauce – add your favourite sauce at the end, ketchup, mayo, burger sauce etc.
Making It
The great thing about this recipe is that you can cook the whole burger, complete with baps, onions and cheese, in the air fryer, making this a quick and simple meal – and the best thing is, it only takes about 10 minutes to make.
Below is a step-by-step guide to cooking a burger in an air fryer.
Step 1 – Place The Burgers In The Air Fryer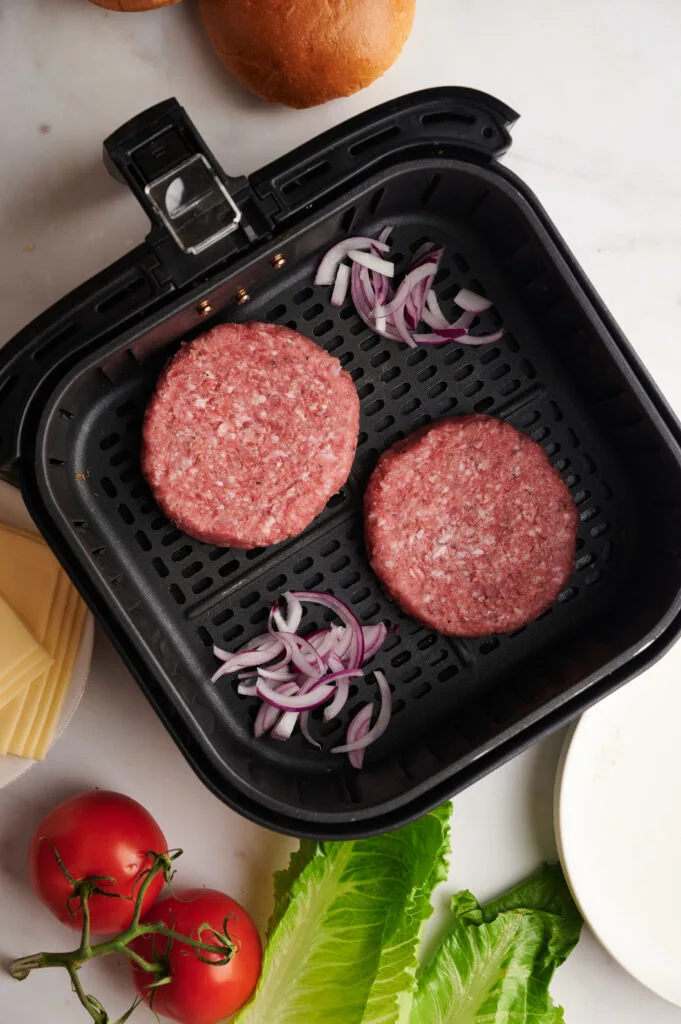 Whether you are cooking fresh or frozen burgers, the only preparation you need is to add the burgers straight to the air fryer basket.
Step 2 – Optionally Add Onions
I like to air fry the onions at the same time as the burgers as it saves me time and washing up. Note that air fryer onions cooked at the same time as burgers will not be as soft and caramelised as when you saute them in a frying pan; they will be crispier – but I still think it's worth doing them this way.
You can either place the onions directly on top of the burgers or scatter them around, depending on your air fryer basket size.
Step 3 – Switch The Air Fryer On
Switch the air fryer on and cook at 180C for 8 minutes. At the 4-minute mark, turn the burgers over. If you are not adding cheese, check if they are ready at this stage by inserting a sharp knife or metal skewer into the meat, the juices should run clear. If needed, cook for a further 2 minutes.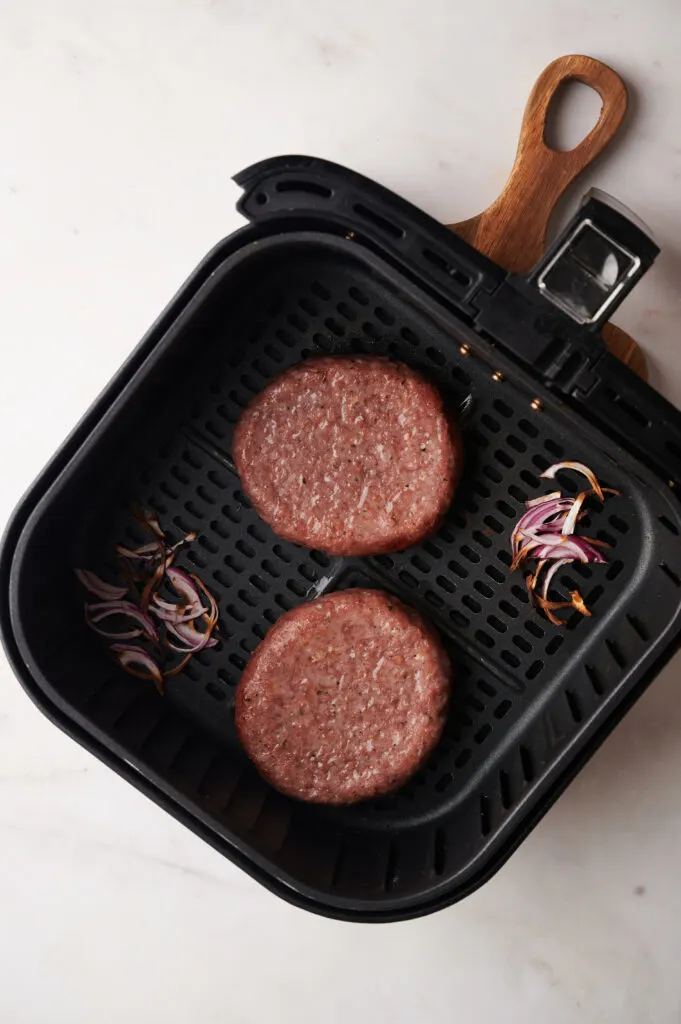 If you are cooking frozen burgers in the air fryer, they should be cooked for 15 minutes, again, flip them halfway through and check they are cooked through at the end.
Step 4 – Optionally Add Cheese
At the end of the 8 minutes, move the onions to one side in the air fryer basket, and if you are turning it into a cheeseburger, lay some easy to melt cheese on top of them.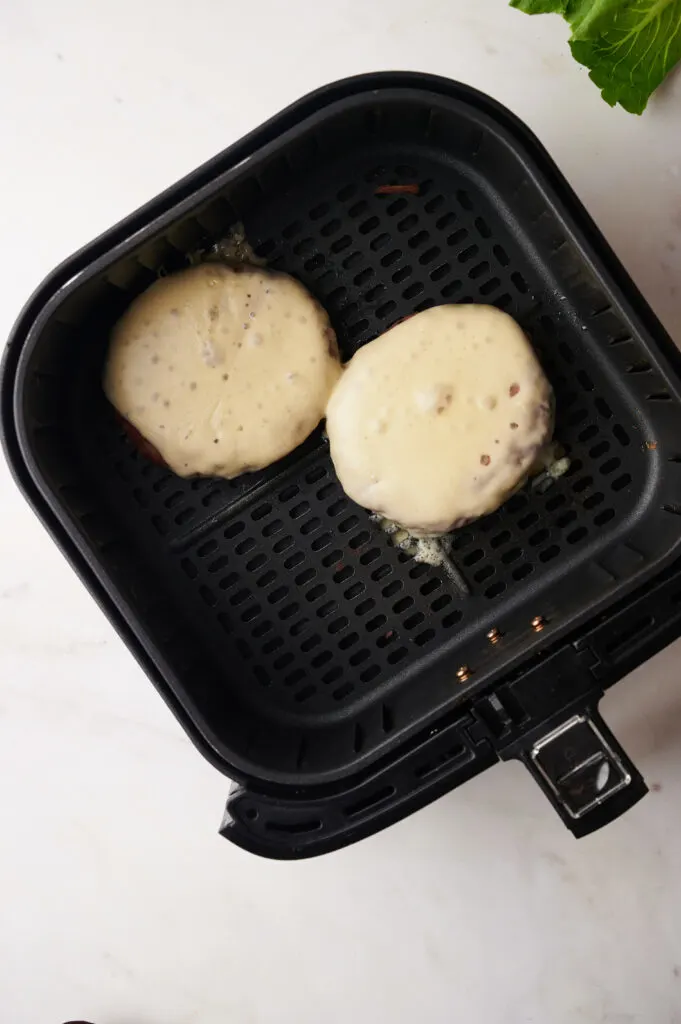 I also like to lightly toast the buns at this time. If you have a metal trivet or similar, place it over the burgers and onions and lay the buns on top.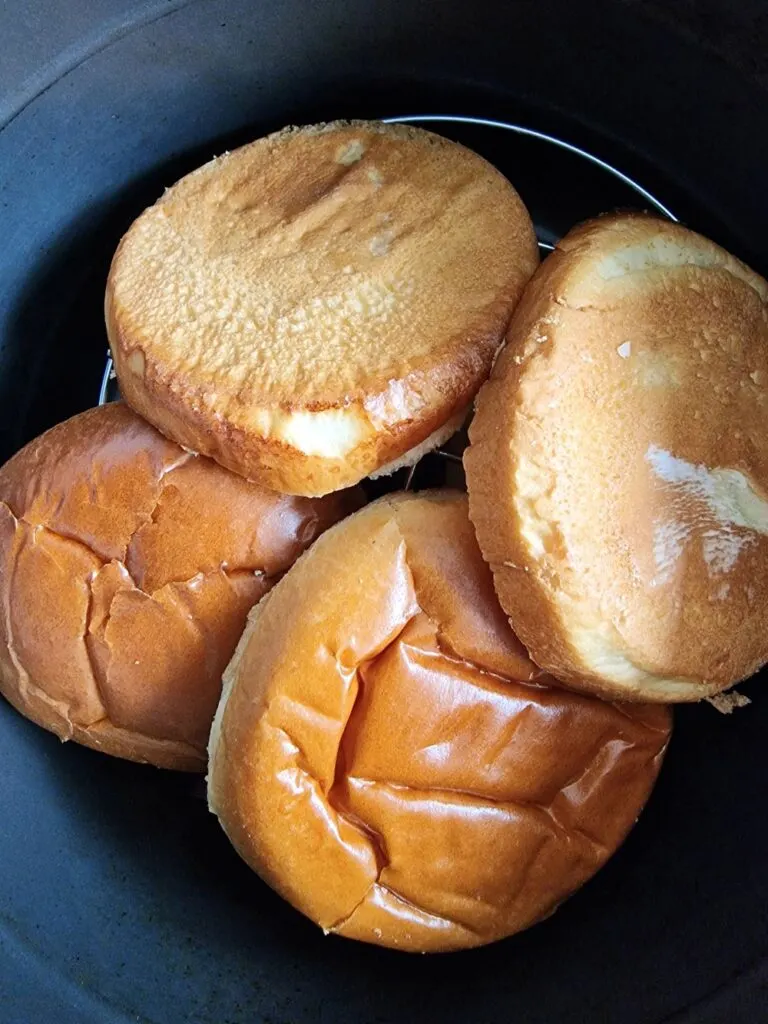 Step 5 – Air Fry For A Further 1 Minute
You should only need to air fry for a further 1 minute to melt the cheese and lightly toast the buns.
Now it's time to assemble the burger!
Step 6 – Assemble The Burger
Add the burger, onions and any other toppings to the toasted bap and serve!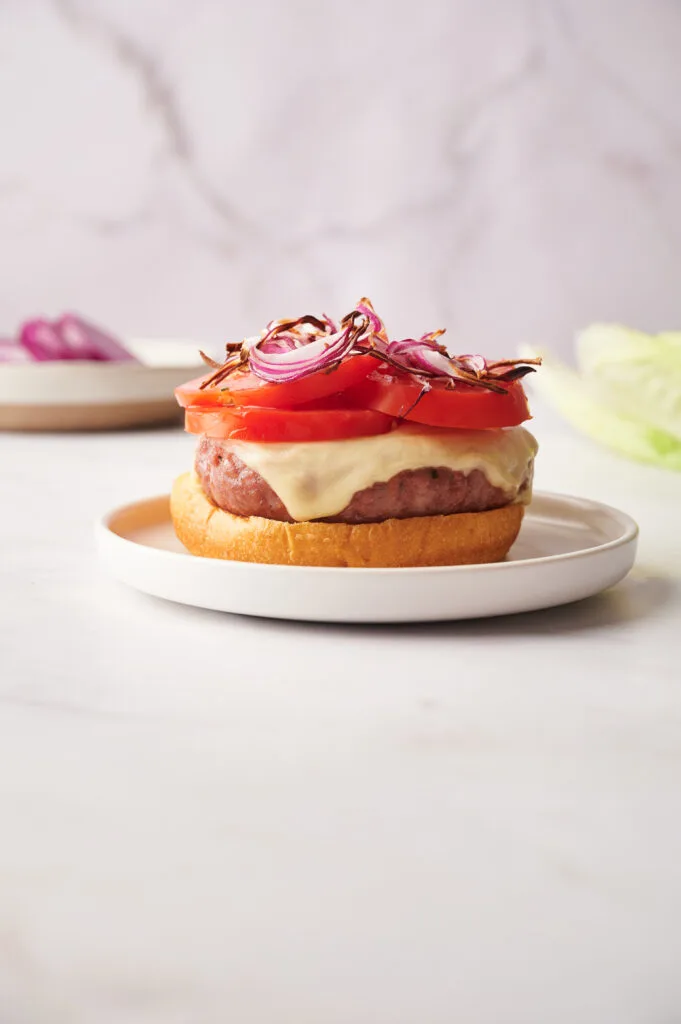 I cooked 2 burgers at the same time, but I could have fitted more in. Cook as many as you need, depending on the size of your air fryer.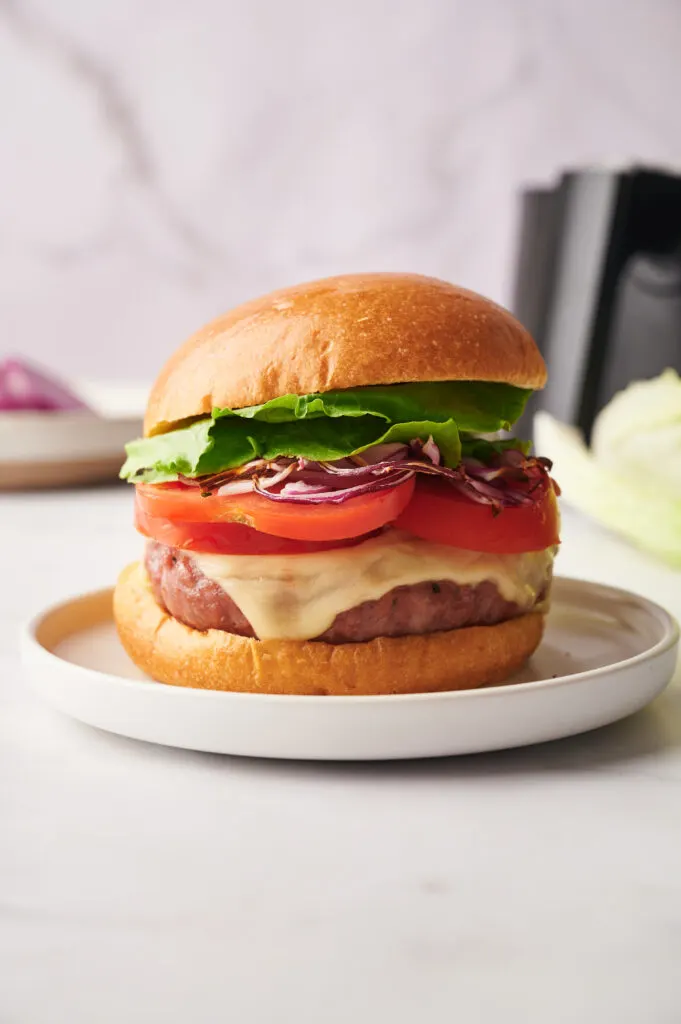 More Air Fryer Recipes
If you are looking for more air fryer recipes, check out the following for some inspiration;