When cooking frozen burgers, air fryers are the ideal solution.
Air fryers ensure the cooking is even and thorough, transforming your frozen patties into juicy, perfectly cooked burgers in around 15 minutes.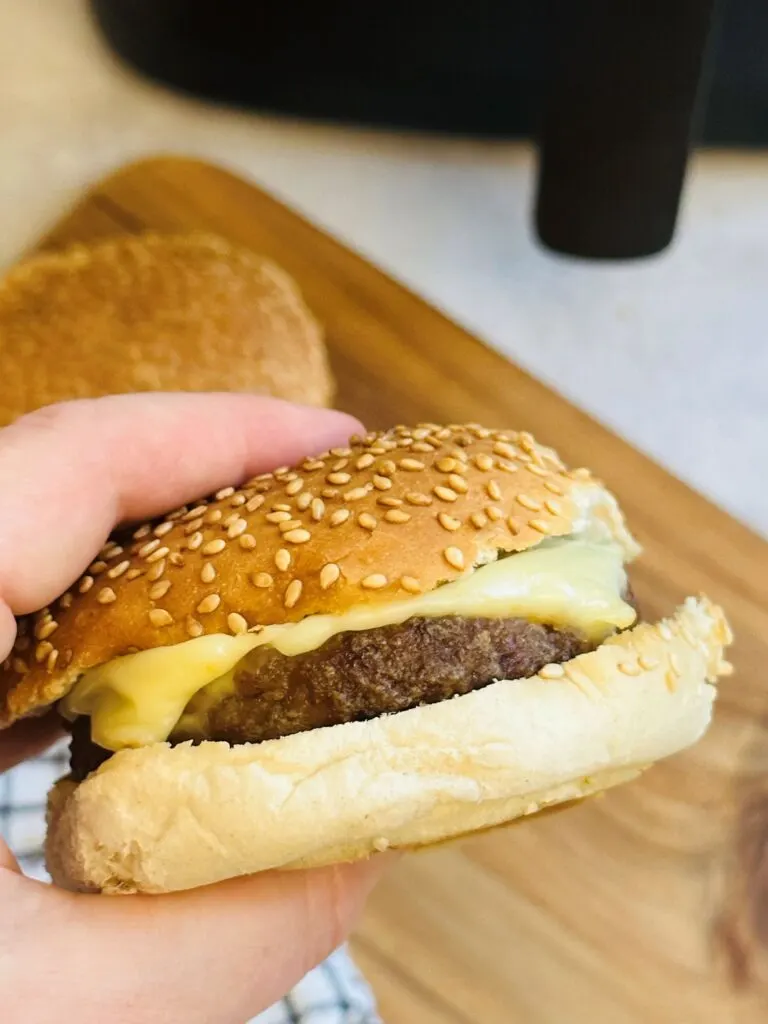 Choosing The Perfect Frozen Burger
When choosing frozen burgers, there are a variety of popular brands to choose from, including Birds Eye and supermarket own brands – I like Sainsbury's Taste The Difference range as well as Bird's Eye Premium Steak Burgers.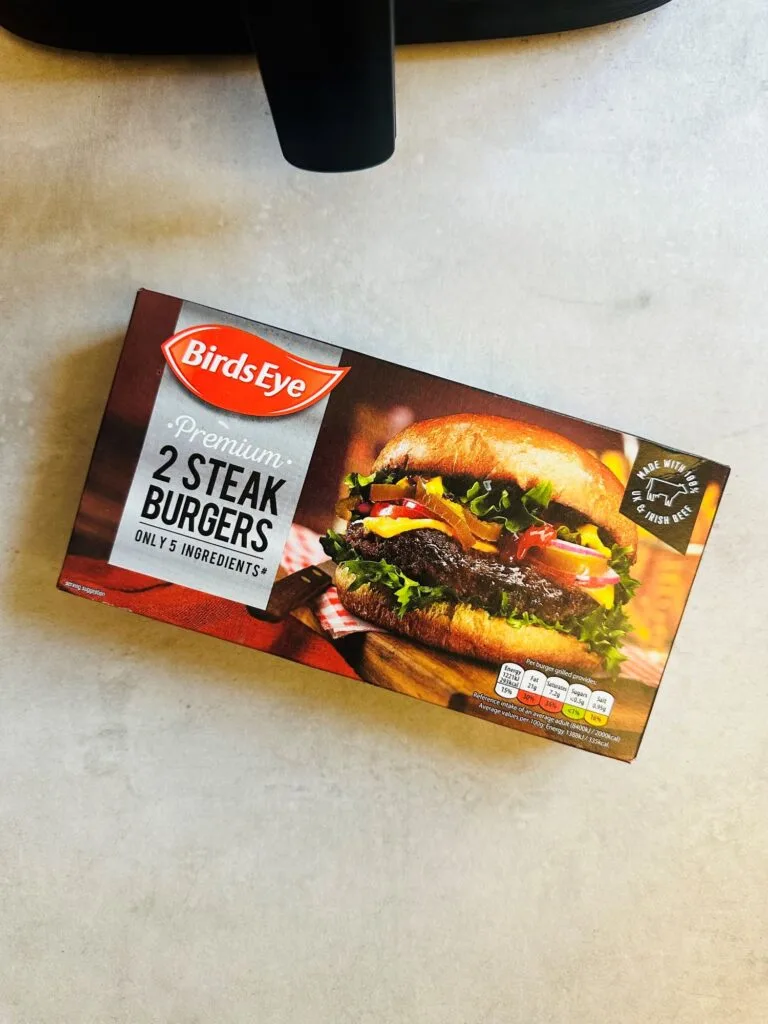 If you have cooked premade burgers before (rather than making your own homemade burgers), you will know that not all patties are equal in the taste and texture department!
If you can, try and choose quality burgers with a higher meat content, as this will make a difference to the final result – I'm sure we've all been disappointed by a burger that has shrunk to half the size after it has been cooked!
This frozen burger recipe is for beef burgers, but you can, of course, substitute with another type such as chicken, turkey, pork or a plant-based option.
Do you want to cook fresh burgers? Check out my air fryer burgers recipe.
Cooking Frozen Burgers In An Air Fryer
Follow these step-by-step instructions for cooking frozen burgers in an air fryer:
Place the burgers in the air fryer. Arrange the frozen burgers in a single layer, ensuring they don't overlap or touch. This allows proper air circulation for even cooking.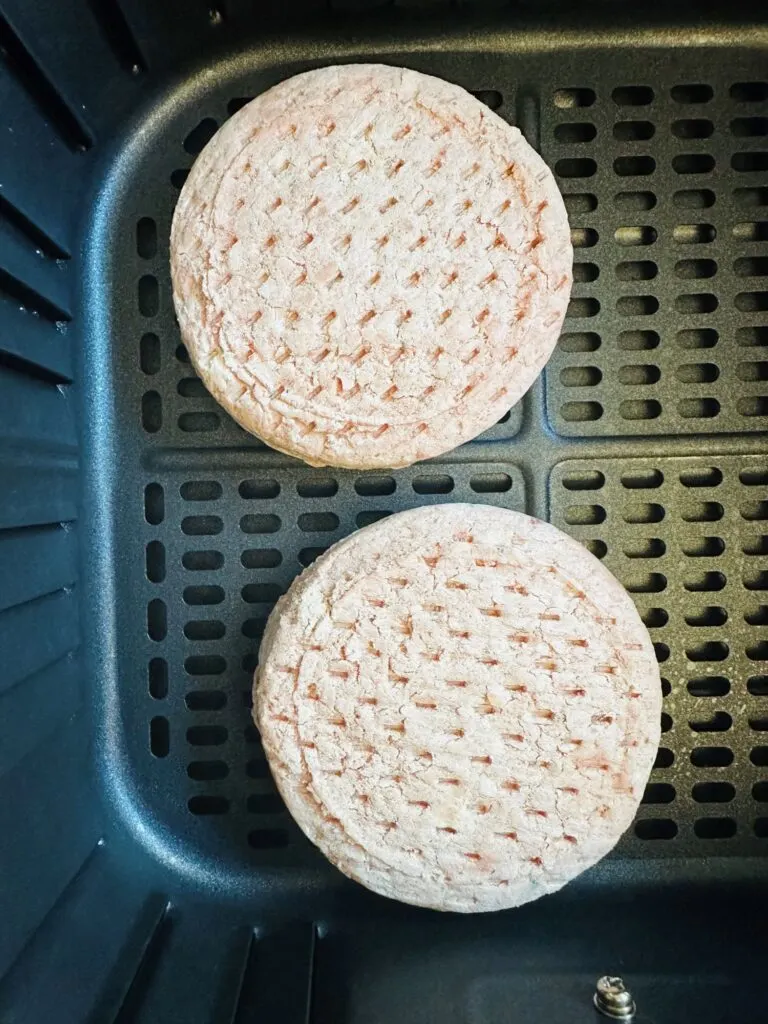 Depending on the size and thickness of the burgers (see below for more information), cook them at 180°C (350°F) for 12-15 minutes.
Open the air fryer around the 6-7 minute mark and carefully flip the burgers to ensure even browning on both sides.
How Long To Cook Frozen Burgers In An Air Fryer
Cooking times and temperatures based on burger type and thickness: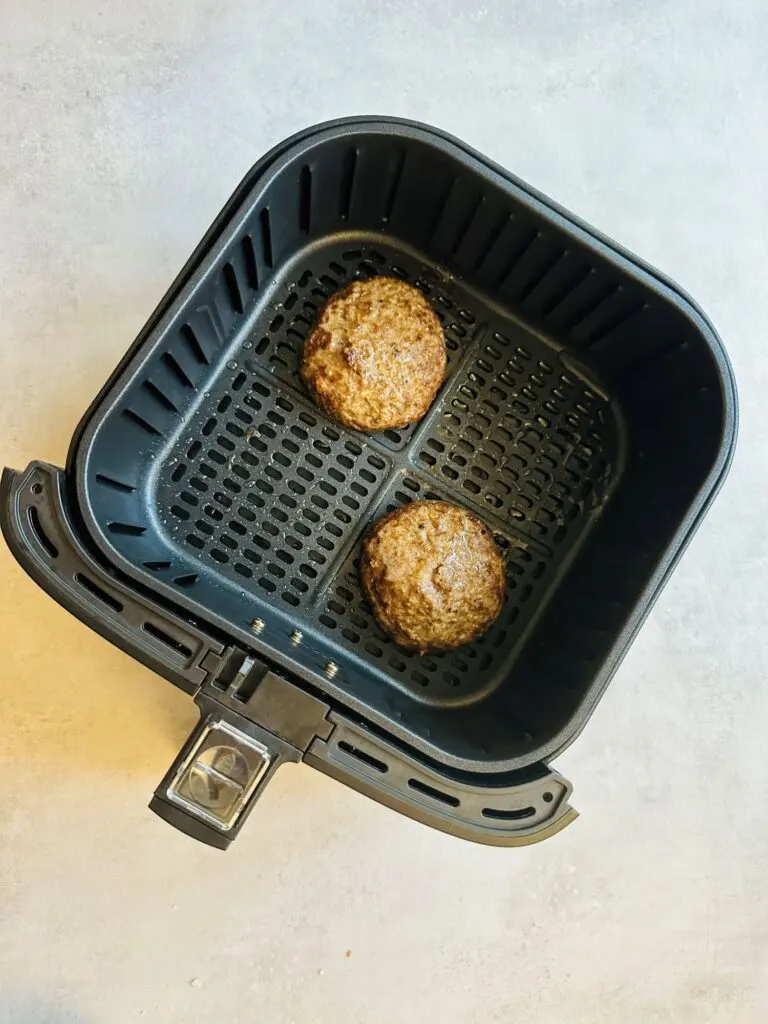 Beef, pork, or lamb burgers: Cook at 180°C (350°F) for 12-15 minutes.
Chicken or turkey burgers: Cook at 180°C (350°F) for 15-18 minutes.
Veggie or vegan burgers: Cook at 180°C (350°F) for 10-12 minutes, or follow the specific cooking instructions on the packaging.
Keep in mind that thicker burgers may require a slightly longer cooking time. Check the burgers regularly to avoid overcooking and ensure the ideal doneness for your taste preferences.
Melting Cheese On Air Fryer Burger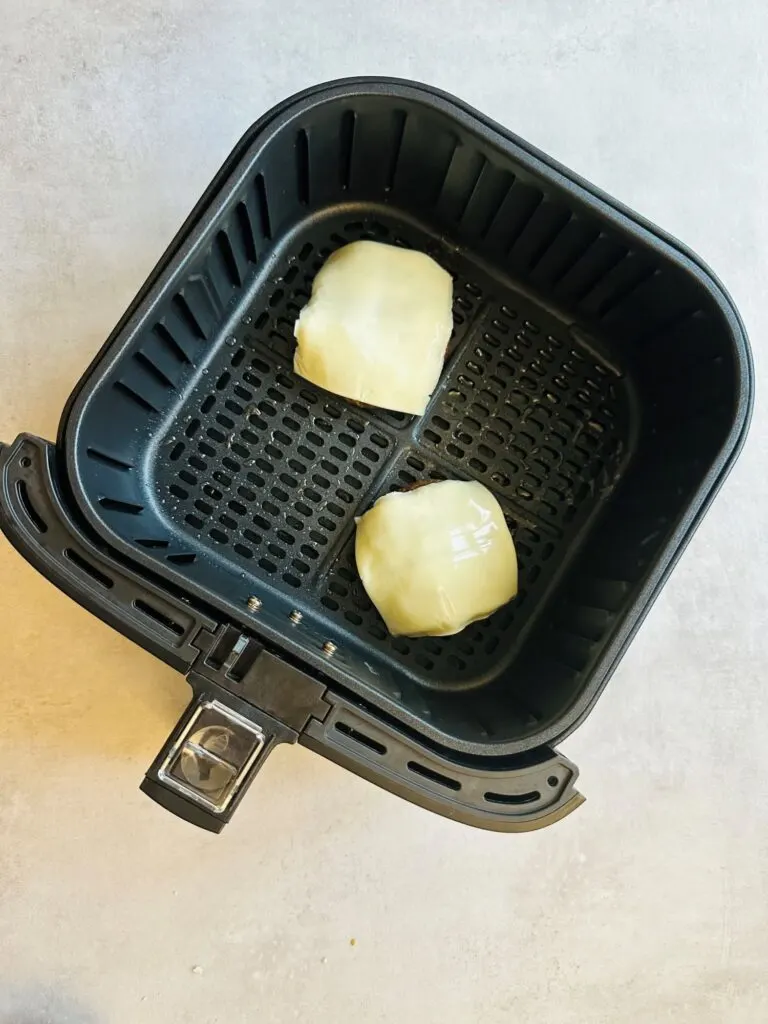 To melt cheese onto your burgers in the air fryer, simply add a slice of your preferred cheese (e.g., cheddar, Gouda etc.) to the top of the burger during the last 1-2 minutes of cooking. This will allow the cheese to melt without overcooking the burger.
Toasting Burger Buns In An Air Fryer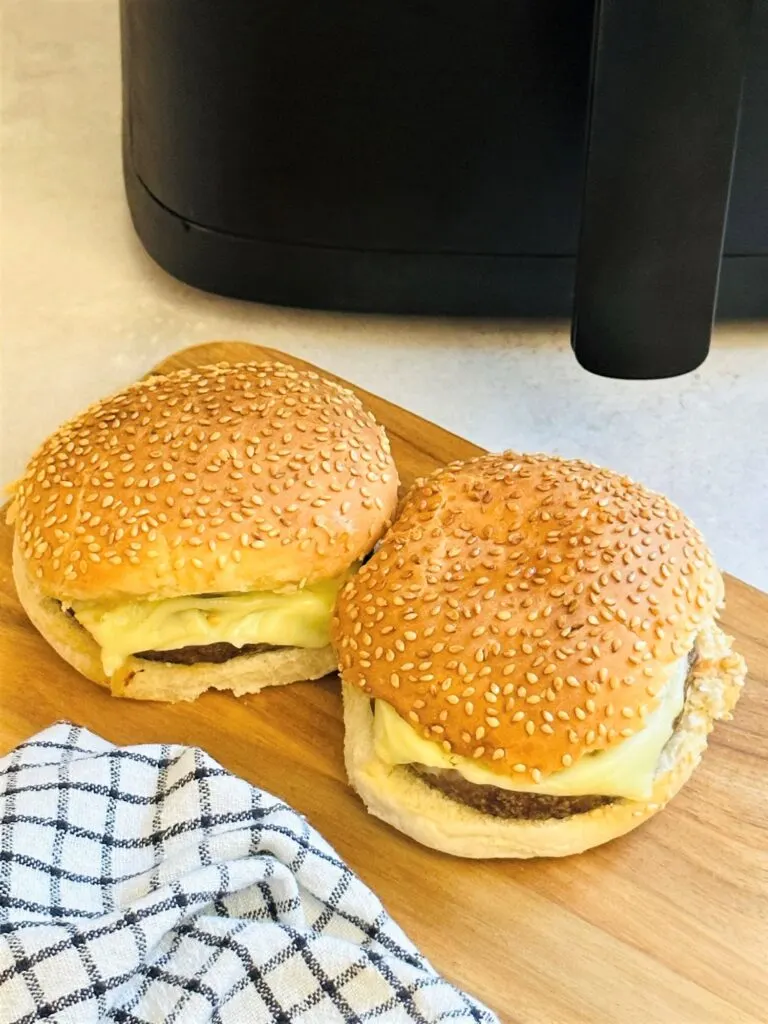 Opt for a soft yet sturdy option for the buns, such as brioche, sesame seed, or wholemeal buns. To toast them in the air fryer, slice the buns in half and place them cut-side down in the air fryer during the last 1-2 minutes of cooking your burger. This will give them a light, crispy texture without drying them out.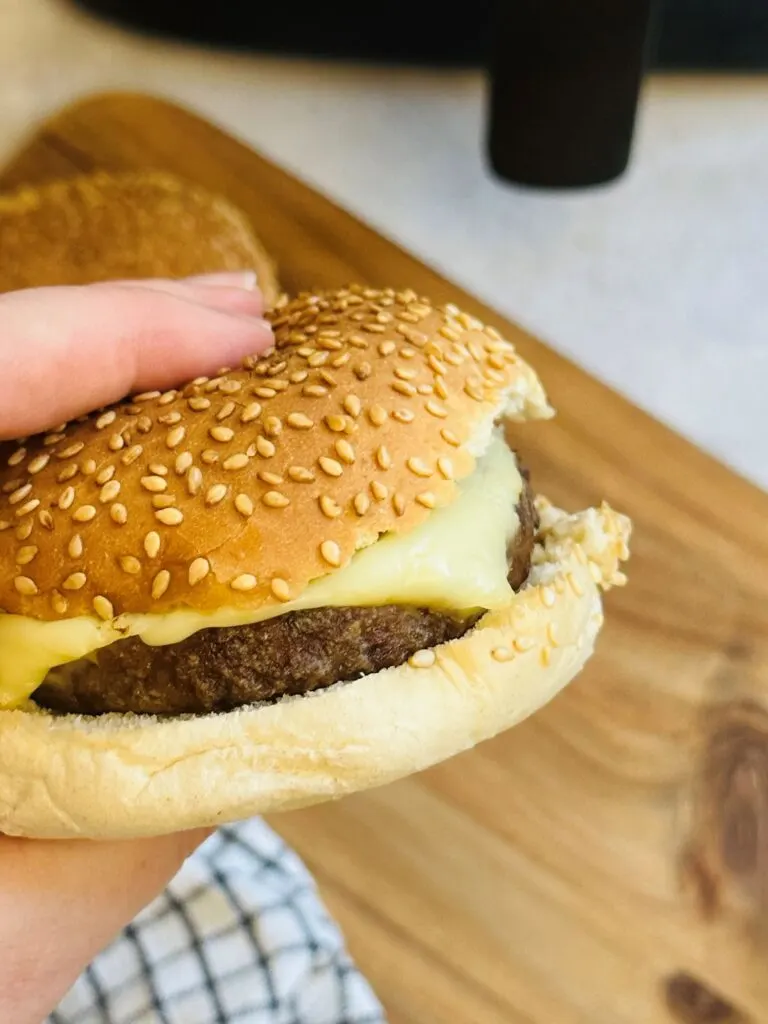 More Frozen Air Fryer Recipes
I hope this recipe will help you make the perfect frozen burger in your air fryer – let me know in the comments how you get on or if you have any questions!