Are you wondering if you can cook frozen salmon in an air fryer?
The good news is, yes, you can.
In this short guide, I'll show you how to cook delicious frozen salmon in an air fryer and suggest a few tasty flavours to add to it.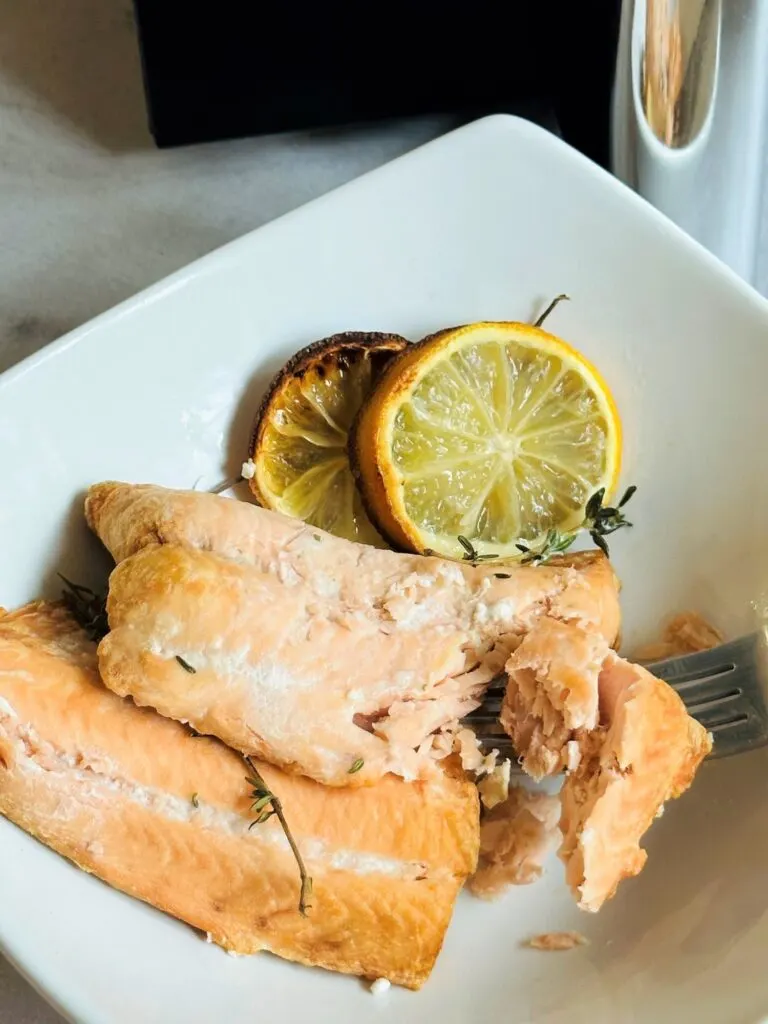 How To Cook Salmon From Frozen In An Air Fryer
I cooked two salmon fillets from frozen; you can cook as many as you need, depending on the size of your air fryer.
What You Need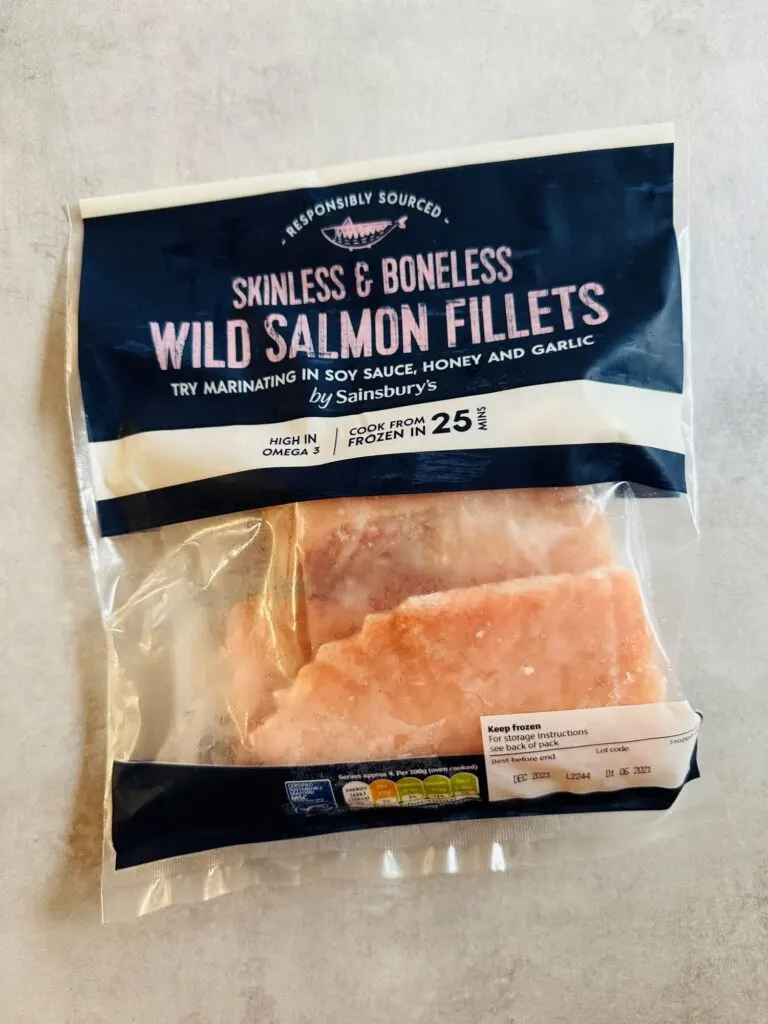 Frozen salmon fillets
Salt and pepper, to taste
Optional: your favourite herbs and spices (eg. thyme, dill, parsley, garlic powder, lemon pepper)
Equipment
Air fryer – you can use any model of air fryer
Tongs or spatula
Cooking thermometer (optional)
Making It
The frozen salmon fillets can take as little or as much preparation as you want – you can add them straight to the air fryer and cook them without any seasoning.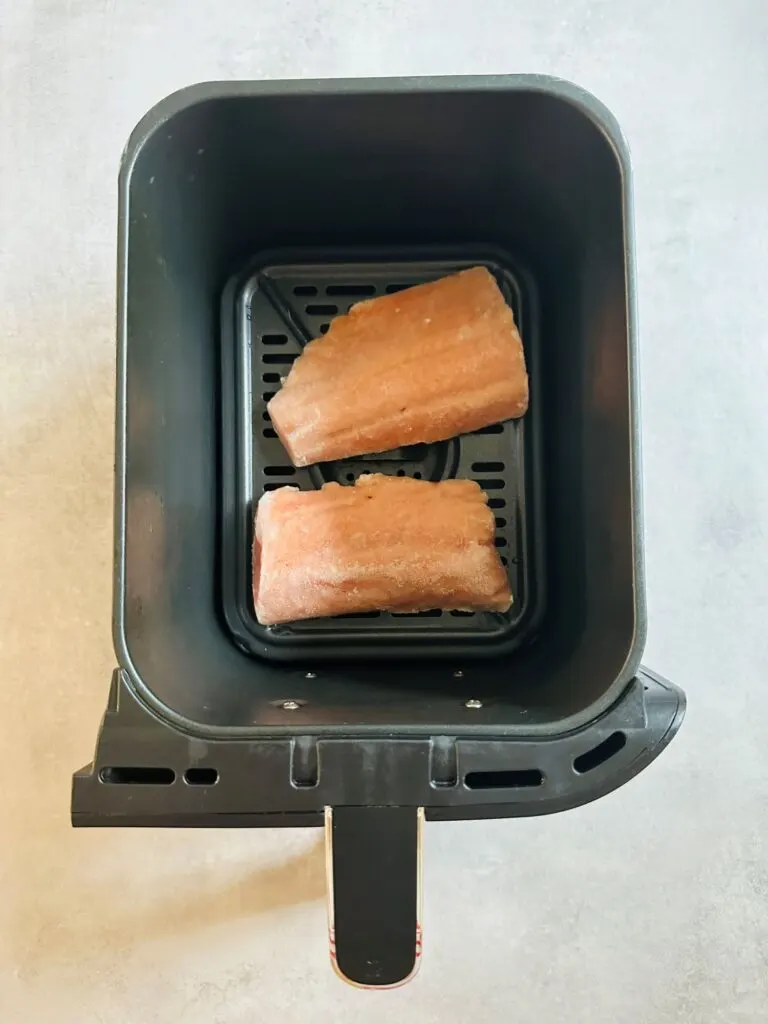 Depending on how I'm serving the salmon, I prefer to add a little flavouring and, at a minimum, a little salt and pepper.
Prepare the salmon by removing the frozen salmon fillets from their packaging. You can optionally lightly coat each fillet with olive oil or cooking spray. This will help prevent salmon from sticking to the air fryer basket and promote even cooking.
Side Note: I have found that food rarely sticks to air fryer baskets, particularly with the newer models.
Season the salmon fillets with salt and pepper, adjusting the amounts to your preferences.
If you like, you can also add your favourite herbs and spices at this time.
Salmon Seasoning Ideas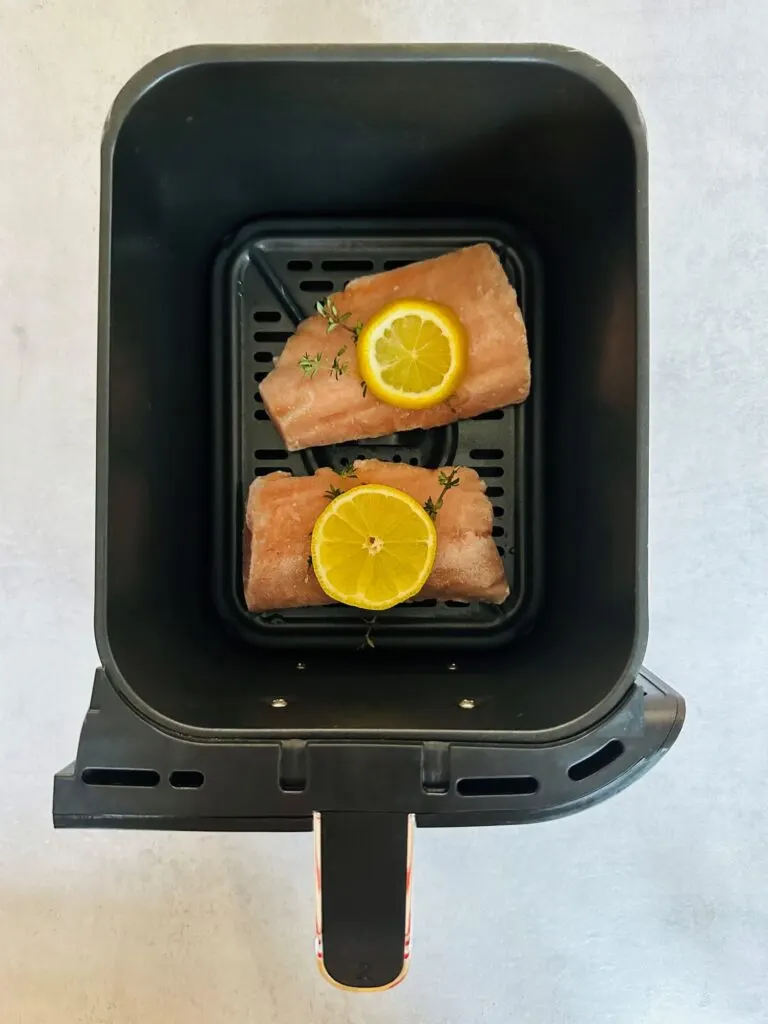 Lemon and Thyme: lay a slice of lemon on each salmon with a sprig of thyme under each slice.
Teriyaki: spread some teriyaki sauce (shop bought or homemade)
Dried Chilli Flakes: sprinkle a little over each salmon fillet
Arrange the salmon fillets in a single layer in the air fryer basket, making sure they are not touching or overlapping. This will ensure even air circulation and cooking.
Cook the salmon at 180°C for 15 minutes and check on it halfway through for doneness and to turn it over – use tongs or a spatula for this.
After 15 minutes, carefully open the air fryer and use tongs or a spatula to check the salmon. The fillets should be opaque and flake easily with a fork. If you have a cooking thermometer, the internal temperature should be at least 60ºC/145ºF at the thickest part of the fillet.
If you are cooking this frozen salmon in your air fryer for the first time, check on it often to make sure it isn't overcooking. Air fryer temperatures and cooking times vary depending on their size and model.
If the salmon isn't cooked to your desired level of doneness, return it to the air fryer and cook for an additional 2-3 minutes, checking again for doneness.
Once the salmon is cooked to your satisfaction, remove it from the air fryer and let it rest for a few minutes before serving.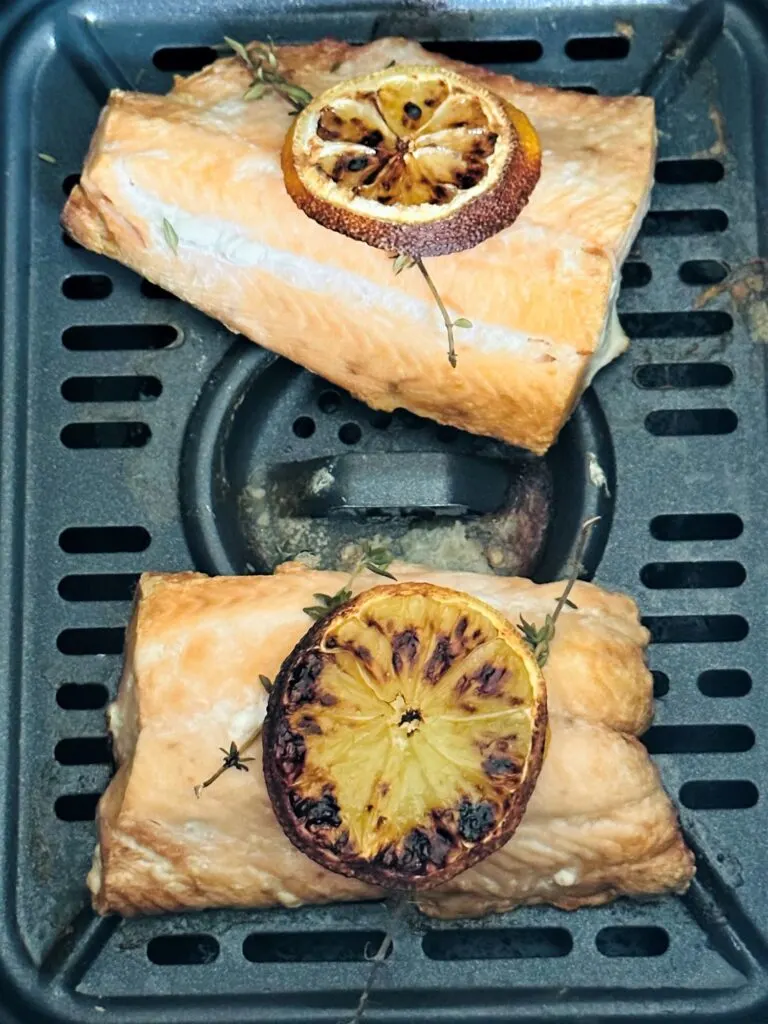 Remember: Cooking times may vary depending on the thickness of your salmon fillets and your specific air fryer model. Always check for doneness and adjust cooking time as needed.
Pair it with your favourite salmon side dishes:
Roasted new potatoes
Lemon garlic roasted asparagus
Mashed potatoes
Mediterranean vegetables
Quinoa salad
Stirred into a creamy pasta dish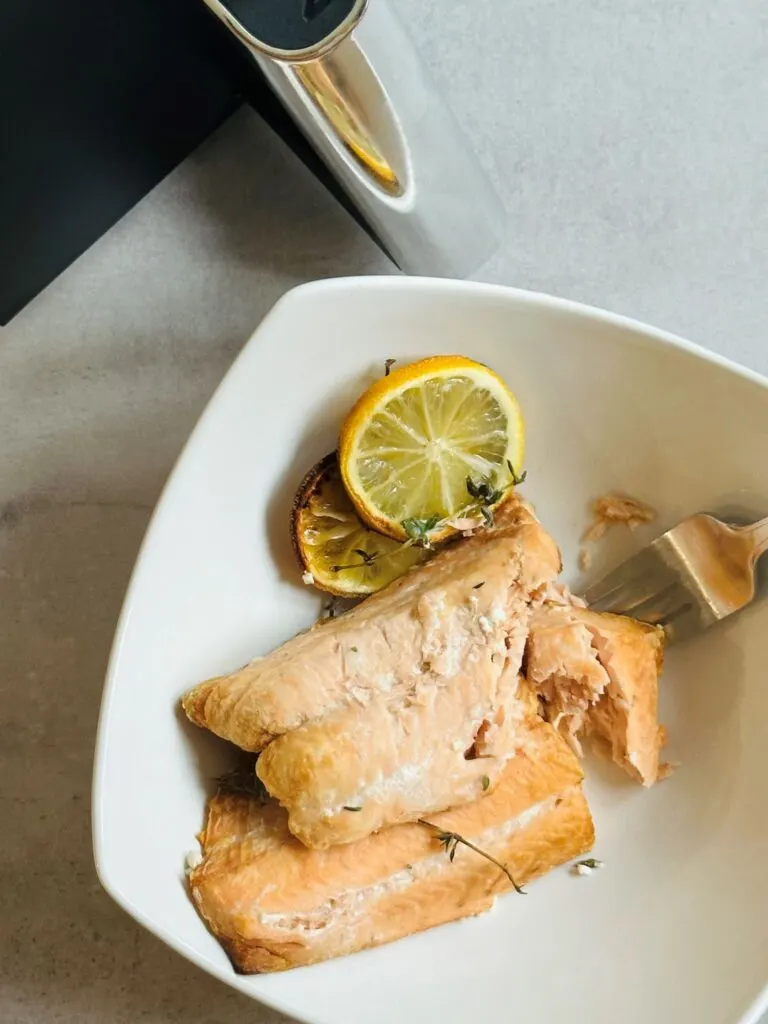 I hope you enjoy cooking frozen salmon in an air fryer – if you want to cook fresh salmon in an air fryer, check out this recipe.
Want More Air Fryer Frozen Recipes?