Are you looking for a delicious, healthy way to cook salmon? Try air fryer salmon! This cooking method is not only quick and easy, but it also results in perfectly crispy, juicy salmon every time.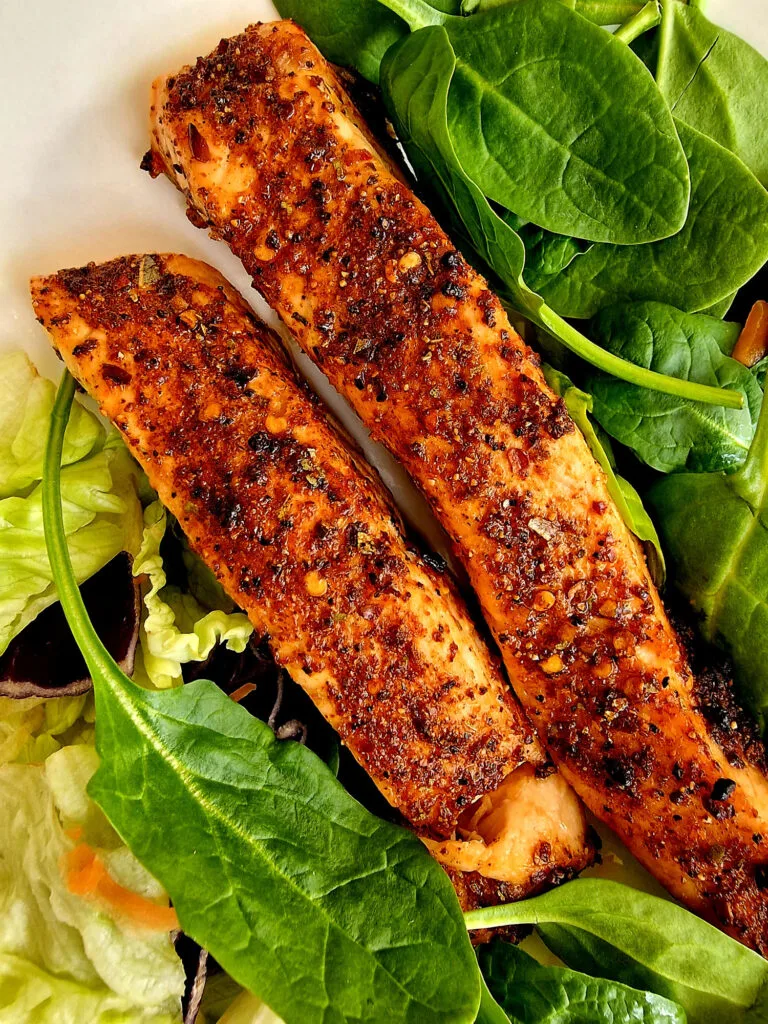 How To Cook Salmon In An Air Fryer
This recipe will take you through the basic steps for cooking salmon in an air fryer. You can vary it by changing the seasoning, or marinating it in your favourite flavours (I've included some suggestions later on).
What You Need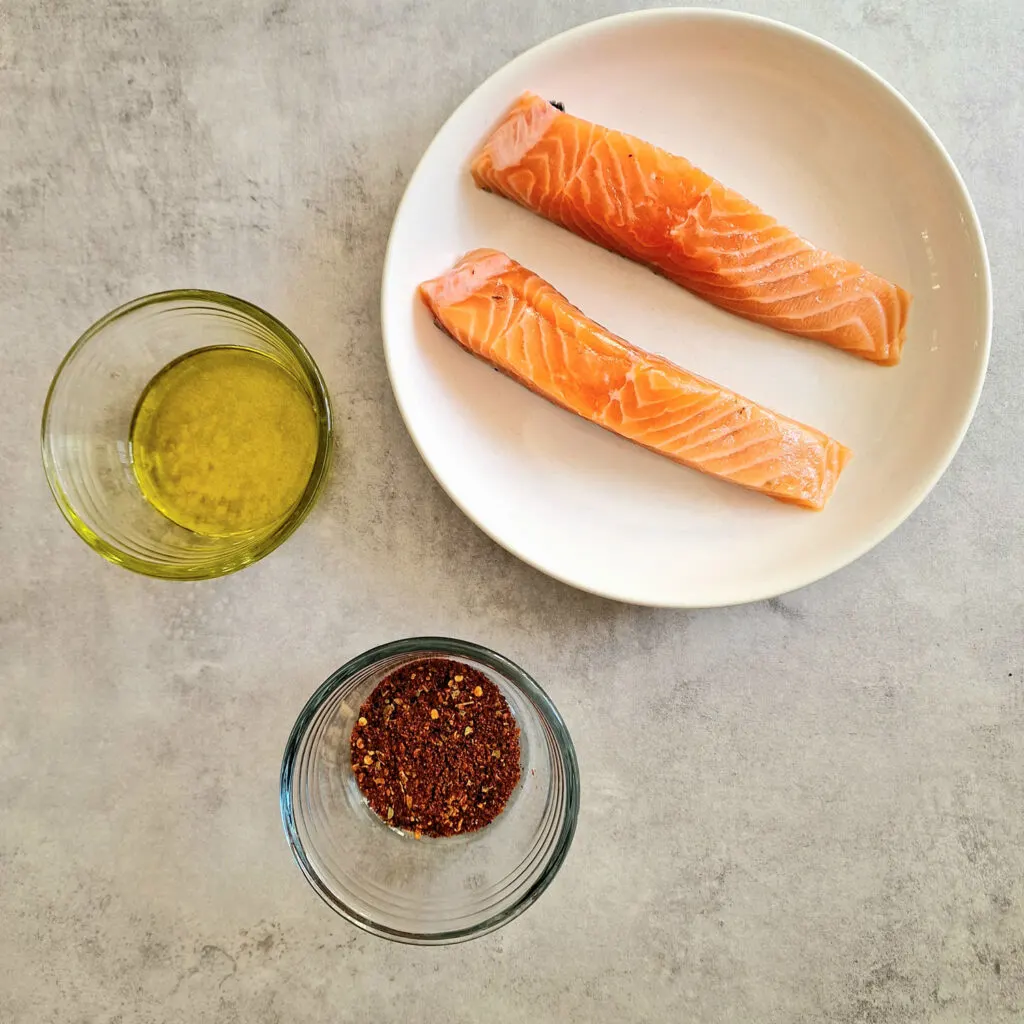 This will make 2 servings of salmon, adjust accordingly. To print out this recipe, please head to the recipe card at the bottom of the article.
Ingredients
2 salmon fillets
1/2 tbsp olive oil
Salt and pepper to season
Equipment
Making It
Switch the air fryer on and set the temperature to 200C (400f).
Begin by rubbing each salmon fillet with a little olive oil followed by your choice of seasoning.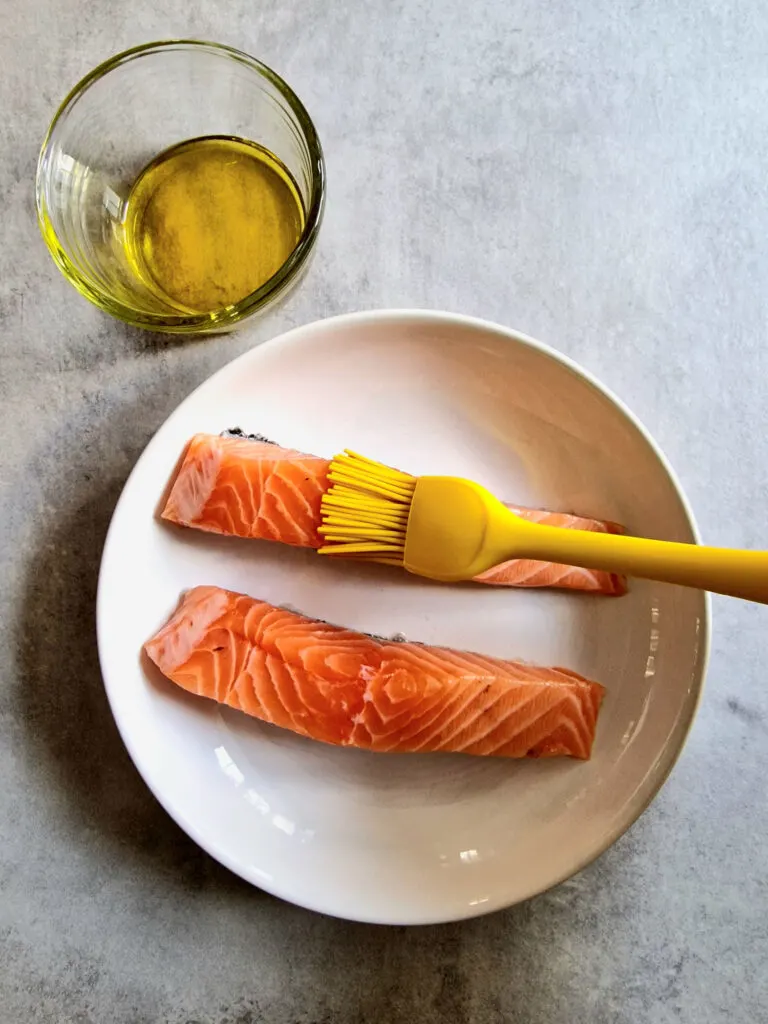 I used peri peri seasoning, about 1/2 tsp for each salmon, but you can use your favourite seasoning, or just add a little salt and pepper.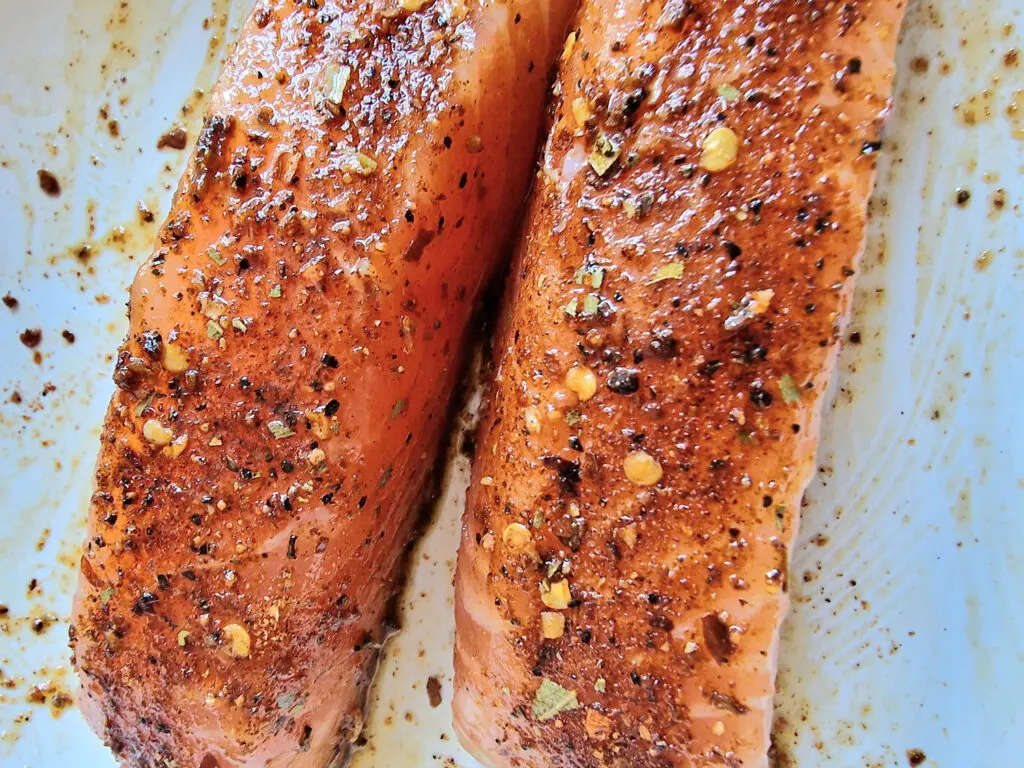 Lightly spray or brush the air fryer basket with some oil. Place the salmon in the air fryer basket, skin side down, and set the timer for 8 minutes.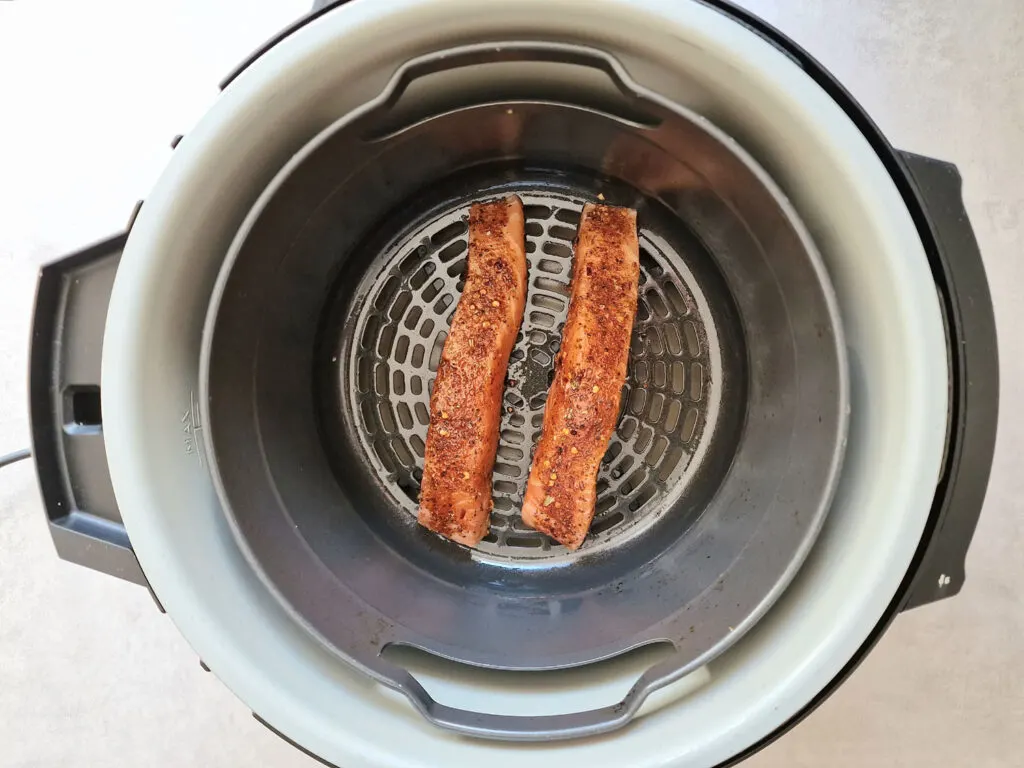 Check on the salmon at 8 minutes to check if it is cooked. The salmon should flake easily when it is ready. Air fry for a further 1 to 2 minutes if required. How long the salmon takes to cook will not only depend on your air fryer but also the thickness of the salmon fillets.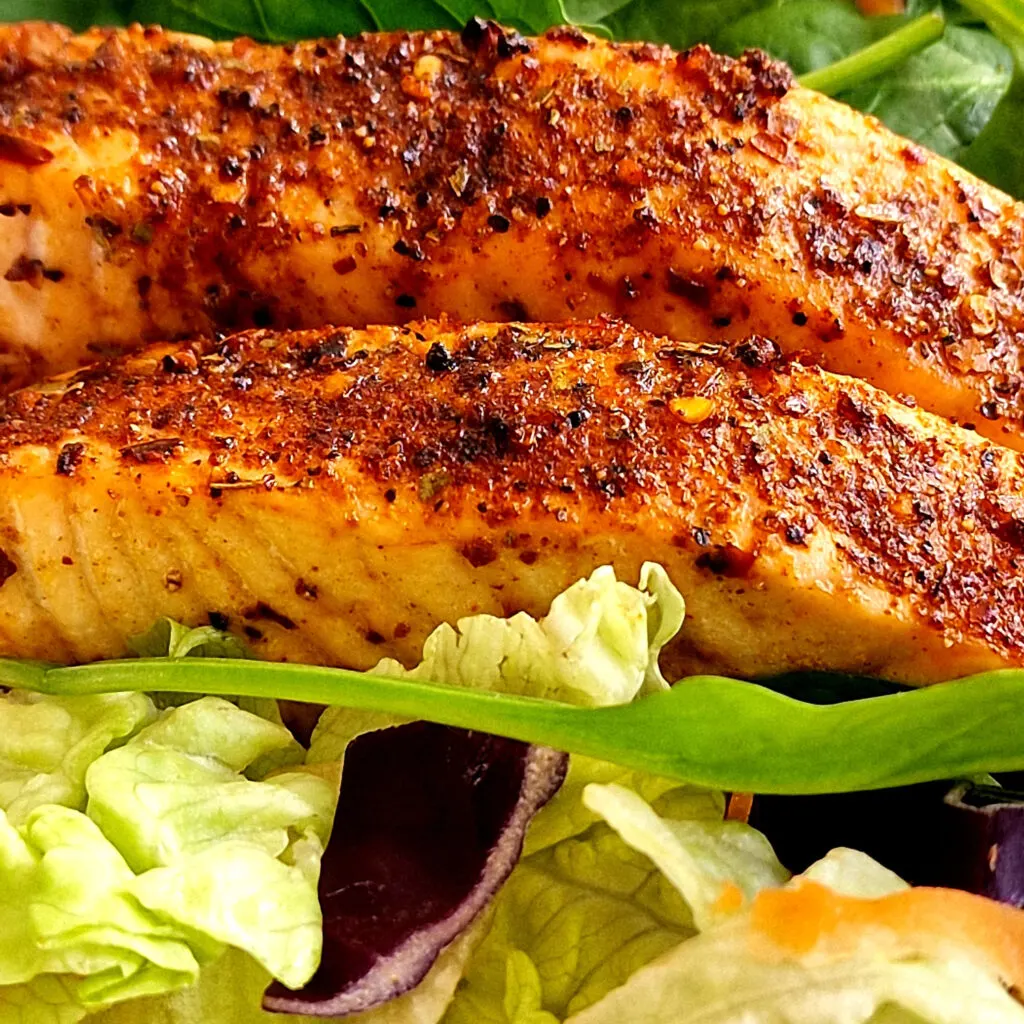 How Long Does It Take To Cook Salmon In An Air Fryer
Salmon can be air fried in less than 10 minutes, making this a quick and easy recipe to prepare at any time. Check that the salmon is cooked at around 8 minutes – the salmon should be opaque and should flake quite easily when it is ready.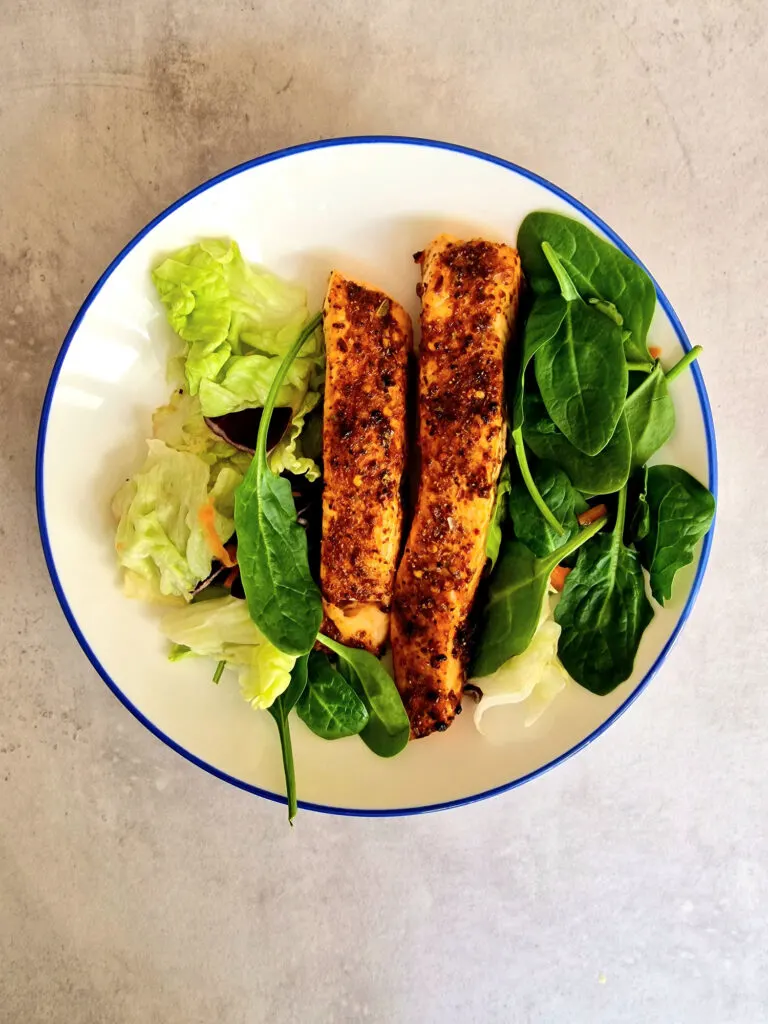 What Temperature Do You Air Fry Salmon At?
Salmon cooks in the air fryer at 200C (400f).
Do You Need To Flip Salmon In An Air Fryer?
No, the salmon doesn't need to be flipped over when cooking it in an air fryer.
Air Fryer Salmon Seasoning and Marinades
If you want to give your salmon a bit of extra flavour, you can try marinating it in one of these delicious options:
Honey and soy sauce: mix together 2 tbsp honey, 1 tbsp soy sauce and 1 tsp rice vinegar. Pour over the salmon and leave to marinate for 30 minutes.
Lemon and garlic: mix together the juice of 1/2 a lemon, 2 cloves of garlic (chopped), 1 tbsp olive oil and salt and pepper to taste. Pour over the salmon and leave to marinate for 30 minutes.
BBQ: mix together approx 100ml BBQ sauce and 1 tsp smoked paprika. Pour over the salmon and leave to marinate for 30 minutes.
What To Serve With Air Fryer Salmon
This salmon goes perfectly with some boiled or steamed greens, such as broccoli, green beans or kale. You could also try serving it with some crispy oven-roasted potatoes.
How Long Does Air Fryer Salmon Last?
If you have any salmon leftover, it will keep in the fridge for up to 2 days. You can also freeze cooked salmon for up to 3 months.
More Air Fryer Recipes