Are you looking for a quick, healthy, and delicious air fryer snack or appetiser?
Look no further! These air fryer salmon bites are ready really quickly, making them perfect for any occasion.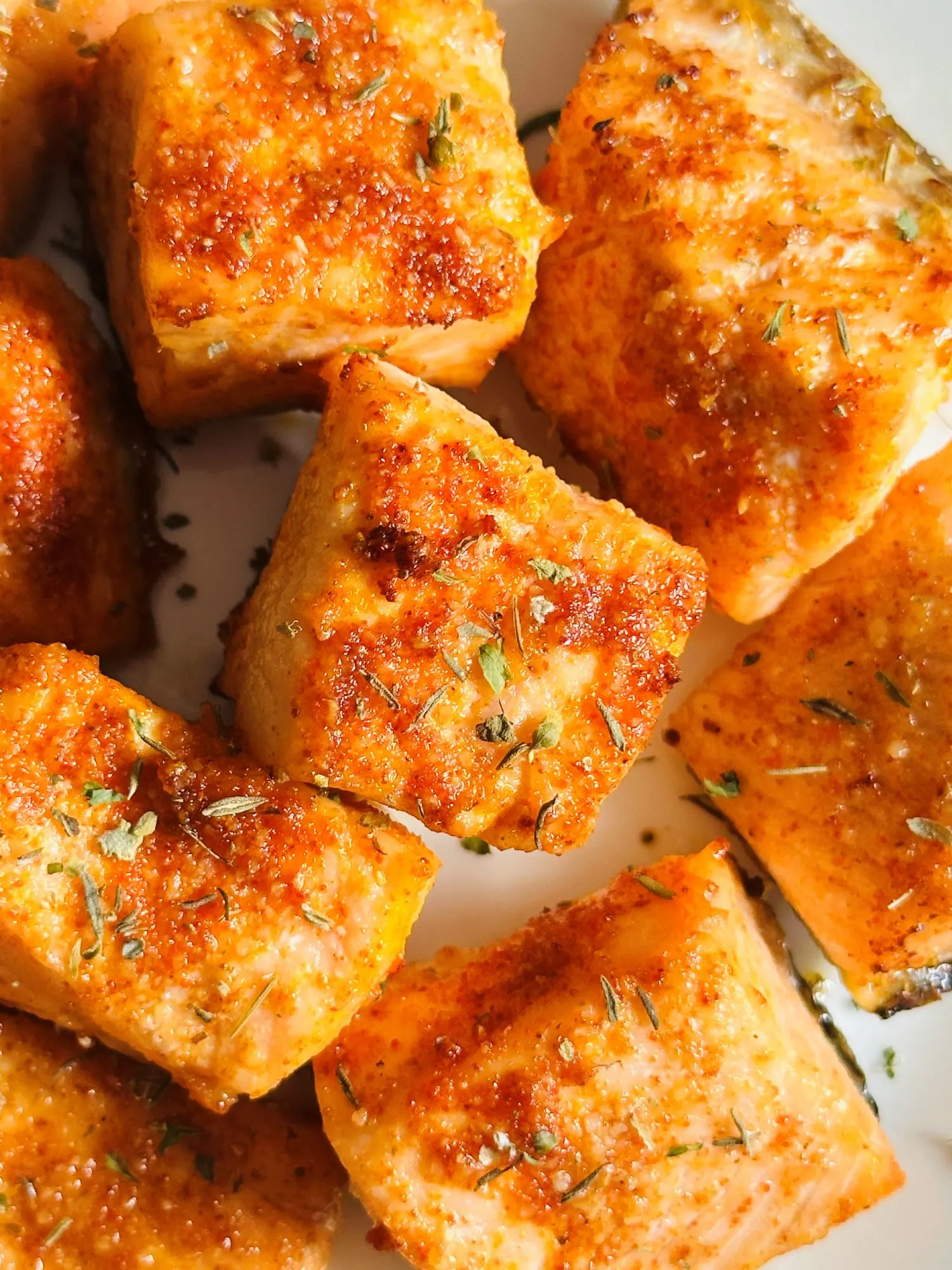 How to Make Air Fryer Salmon Bites
For concise instructions or to print out this recipe, please head to the recipe card at the bottom of this post.
To make these air fryer salmon bites, you must first decide how to season them. They can be air-fried with just a little salt and pepper, or you can add your favourite marinade. I used some garlic powder and paprika for this recipe, but you could use an alternative (see below for suggestions).
What You Need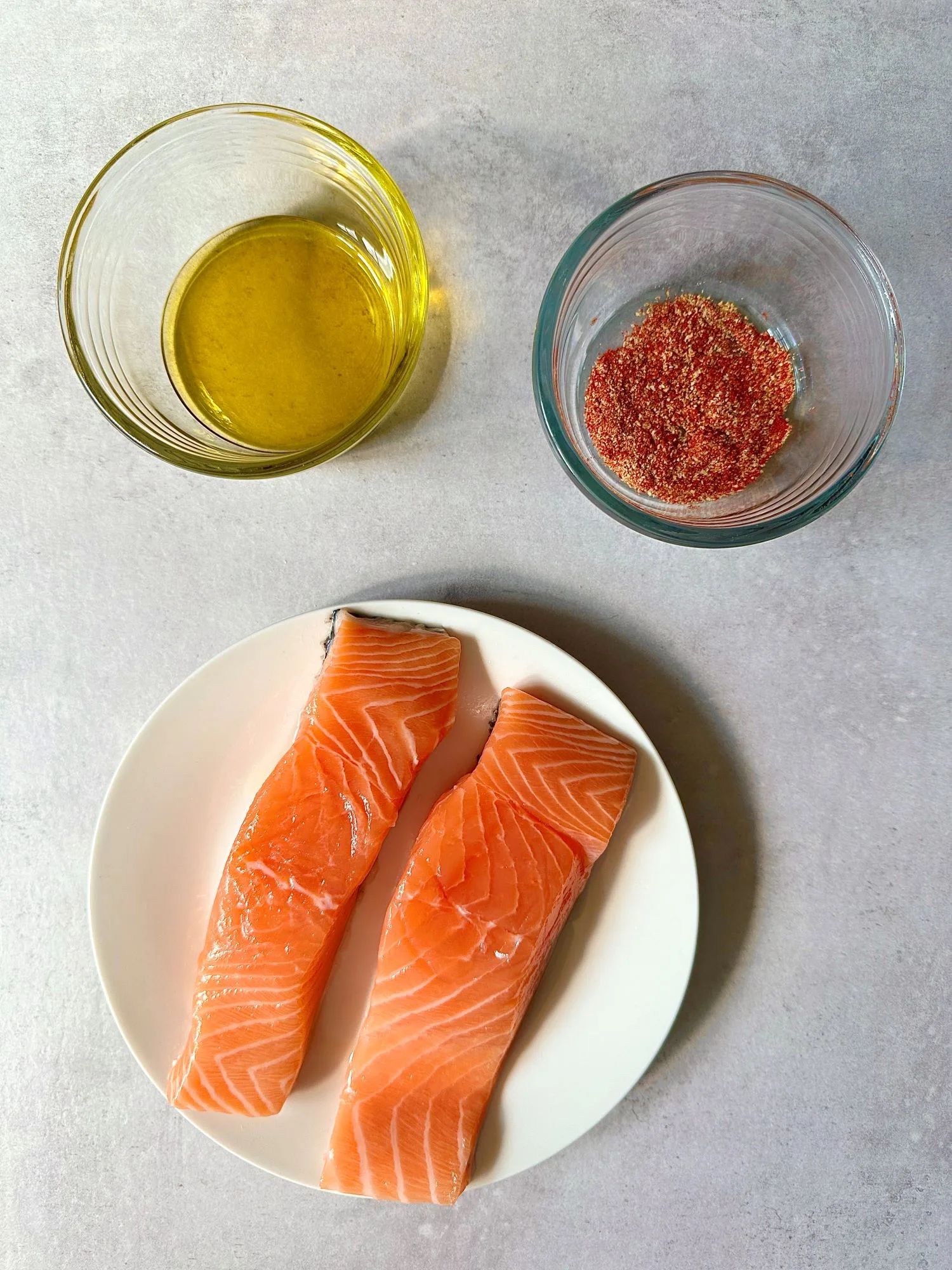 Salmon: I used 2 fresh salmon fillets. You can use more or less according to how many people you are serving.
Olive Oil: Adds moisture and helps with the crisping process. You can also use avocado oil as an alternative.
Garlic Powder: Adds that wonderful hint of garlic. Feel free to use fresh, minced garlic if you prefer.
Paprika: Provides a smoky, sweet element to the salmon. You can go for smoked paprika if you want a deeper smoky flavour.
Salt and Pepper: Basic but essential for seasoning. Adjust according to your taste.
Salmon Seasoning Alternatives
You're not limited to these seasonings. Feel free to explore other marinades like garlic and herbs, honey and mustard, garlic and lemon, or even sweet chilli. The sky's the limit!
Making It
Prepping the Salmon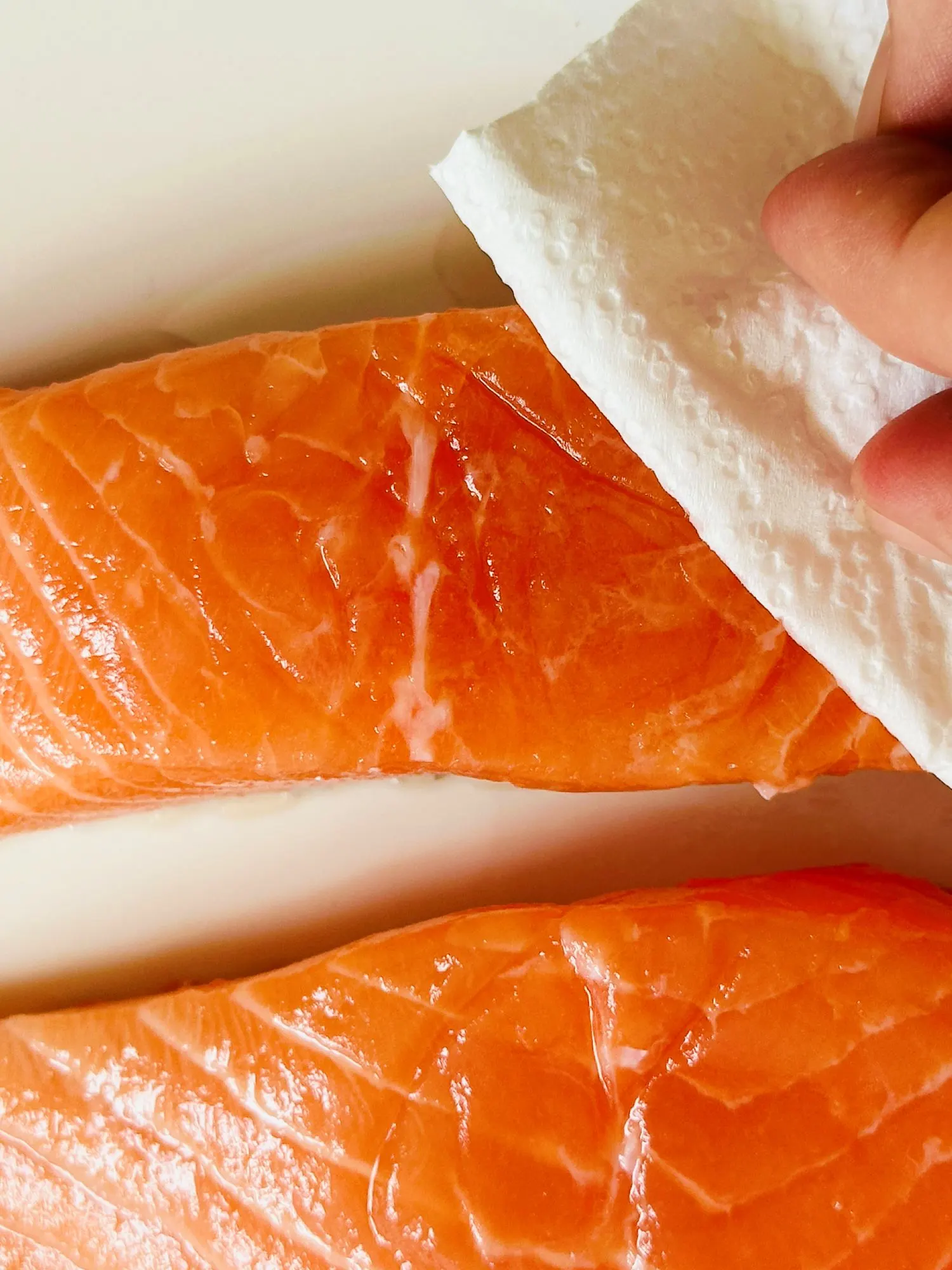 Start by patting your salmon dry with a kitchen towel. This will help the oil and seasonings adhere better.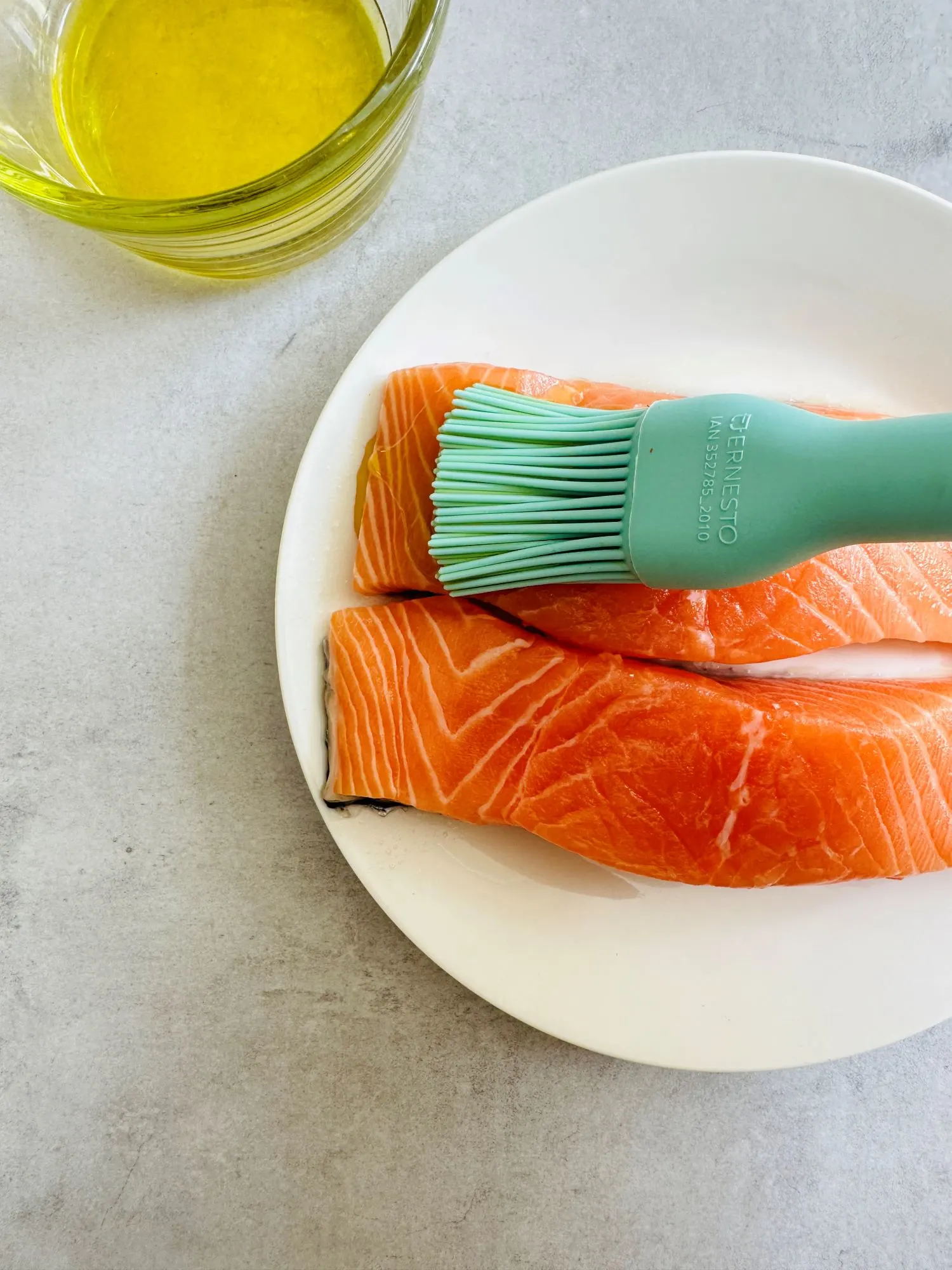 Grab a brush and lightly coat each piece with olive oil.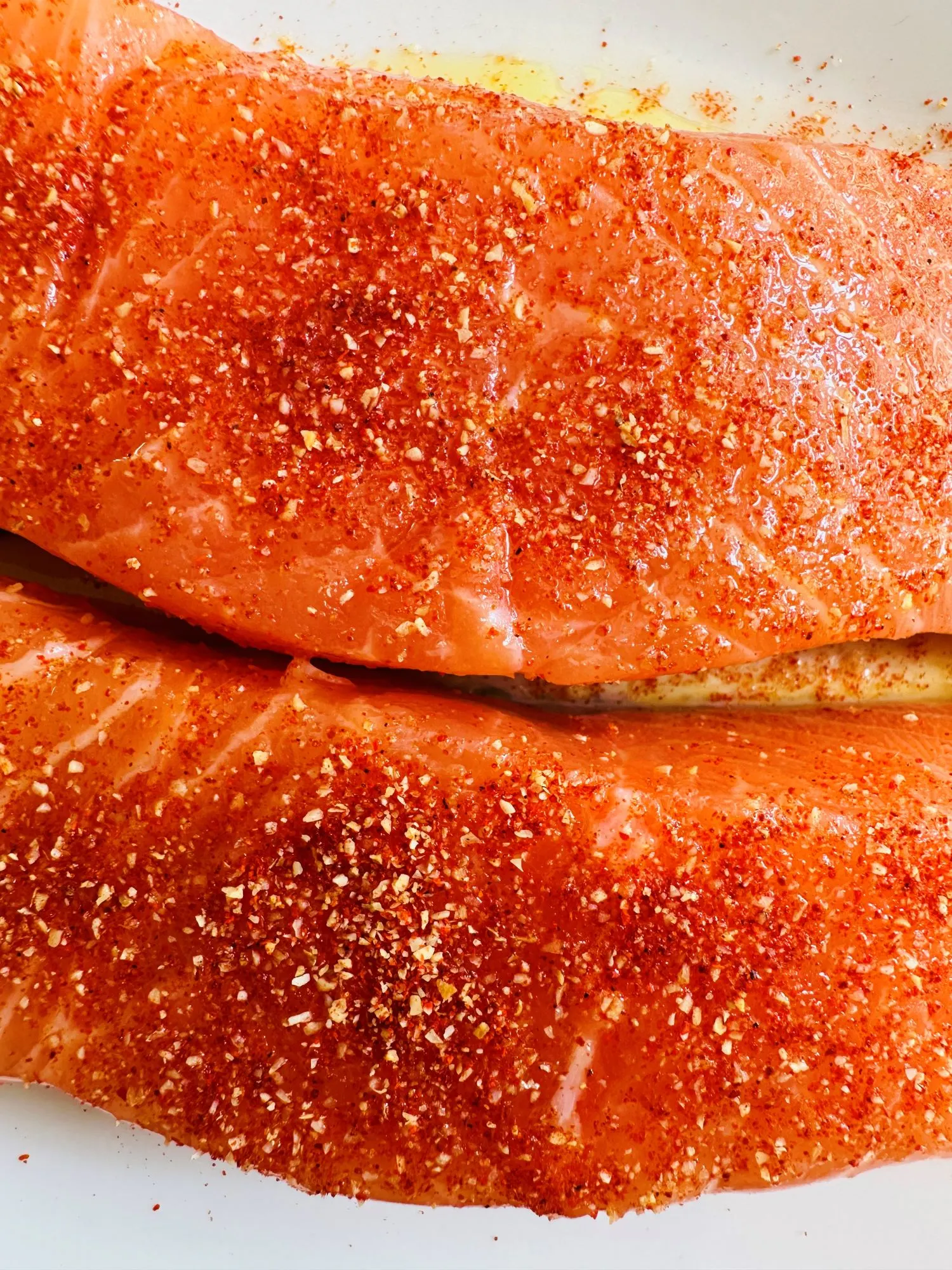 Now sprinkle on the garlic powder, paprika, salt, and pepper. Rub it in if you want; we're aiming for flavour-packed bites here!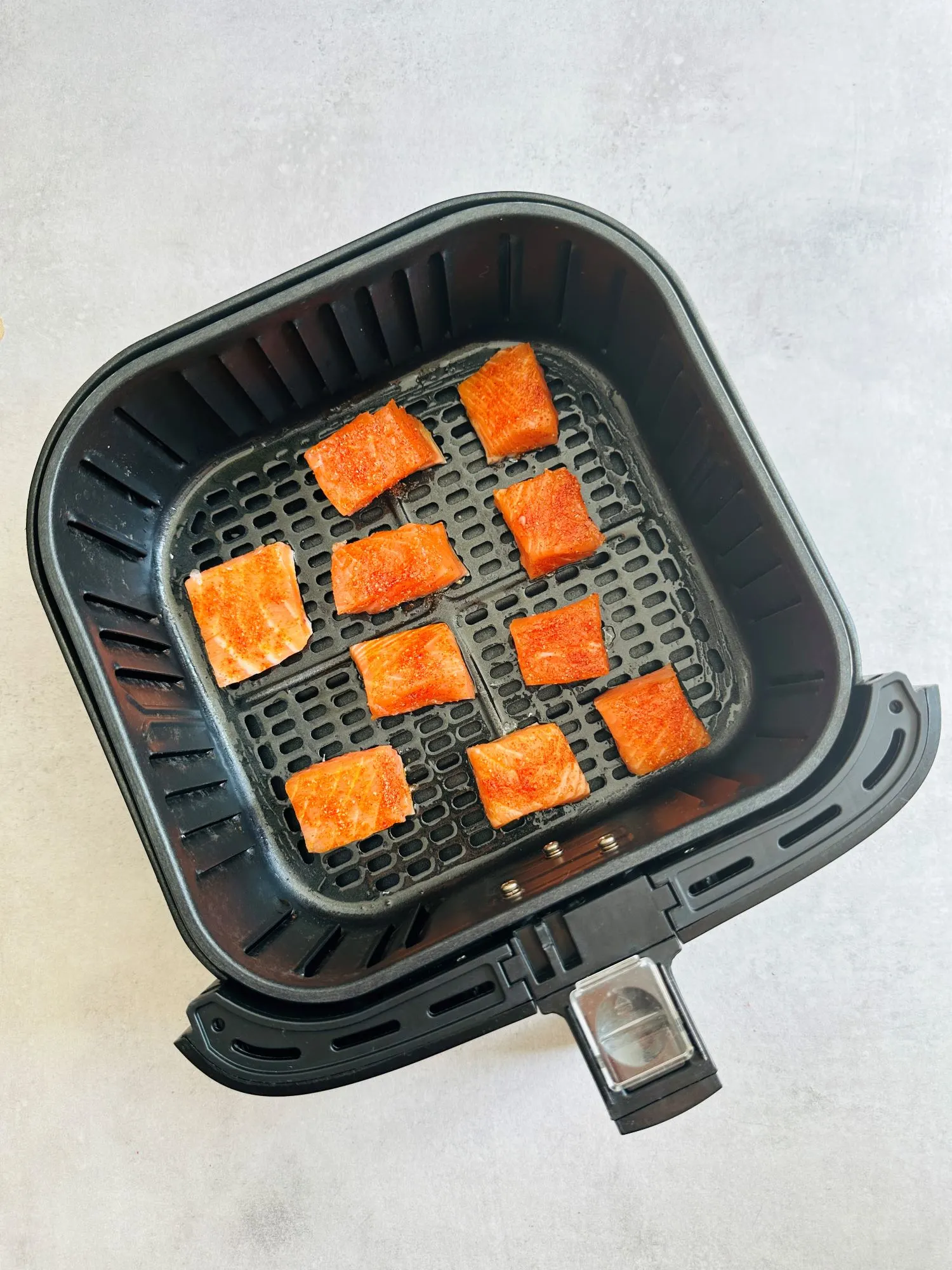 Now, cut the salmon into 1-inch cubes. Make sure they're roughly the same size so they cook evenly.
Preheat the air fryer to 180°C. Place your salmon cubes in the basket and cook for 8 minutes, but don't forget to give them a quick turn halfway through.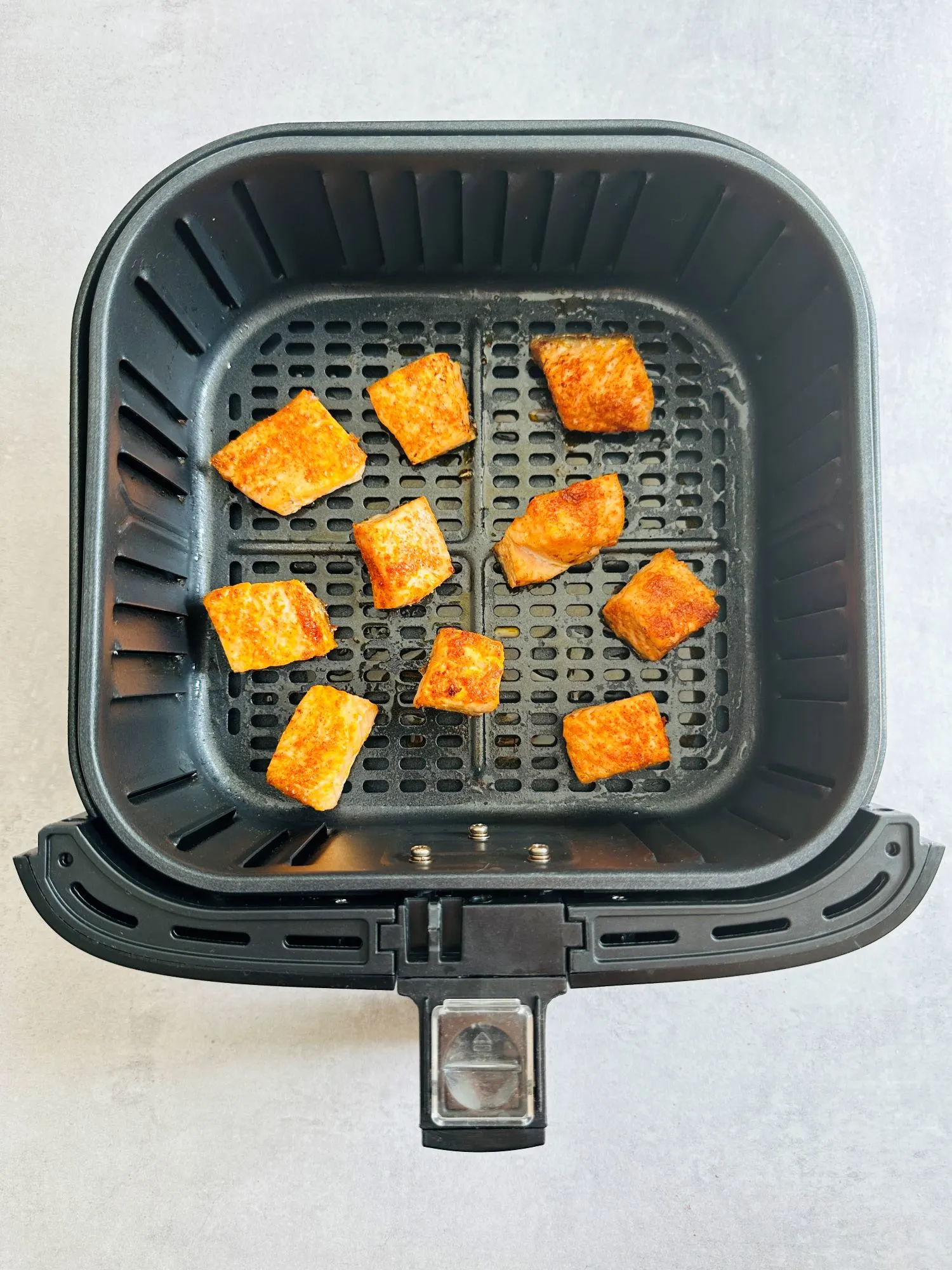 Open the air fryer and gently flake one of the pieces. If it flakes easily, they're done!
How to Serve Air Fryer Salmon Bites
These bites are incredibly versatile. Serve them over a salad, as an appetiser with dipping sauces like aioli or tartar sauce, or just snack on them as is. They're perfect for social gatherings or a simple family dinner.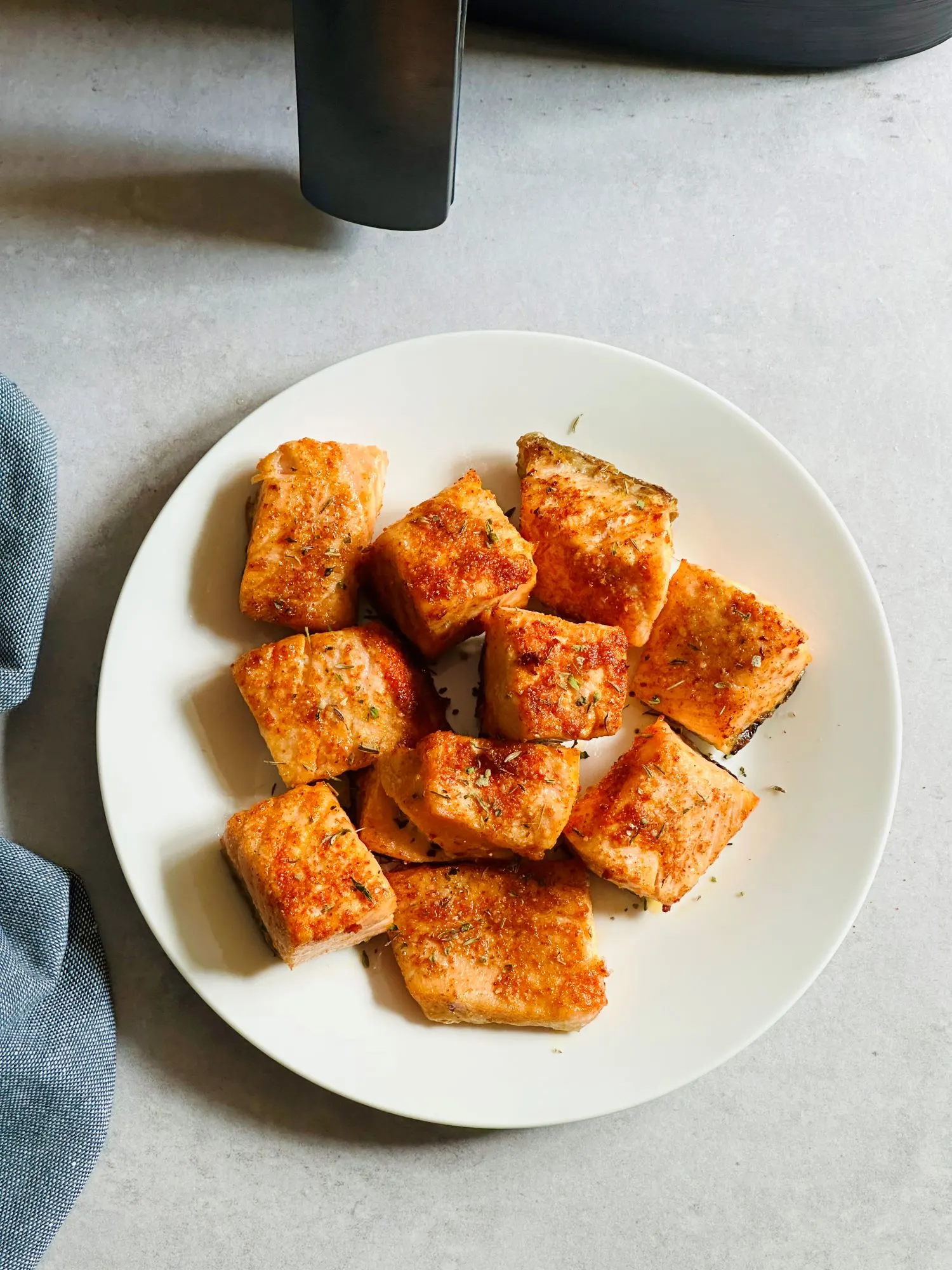 FAQ About Air Frying Salmon
Can You Air Fry Frozen Salmon?
Yes, you can follow my air fryer frozen salmon recipe here.
How Do I Store Leftovers?
Store in an airtight container and consume within two days.
Can I Make These In Advance?
Certainly, you can prepare and season the salmon, then store it in the fridge until you're ready to air fry.
More Air Fryer Fish Recipes
Are you looking for more air fryer fish recipes? Check out some of these for inspiration!