Add a healthy yet delicious dish to your meals with this easy to make air fryer cod recipe.
Cod in an air fryer brings out the delicate flavours of the fish while ensuring a perfectly cooked fillet.
Read on to learn how to cook cod in an air fryer step by step.
How To Make Air Fryer Cod
You can use the following ingredients as a starting point and adjust the flavours to suit your tastes. You can scale the amounts according to how many people you are serving.
To print out this recipe, head down to the recipe card at the bottom of the post.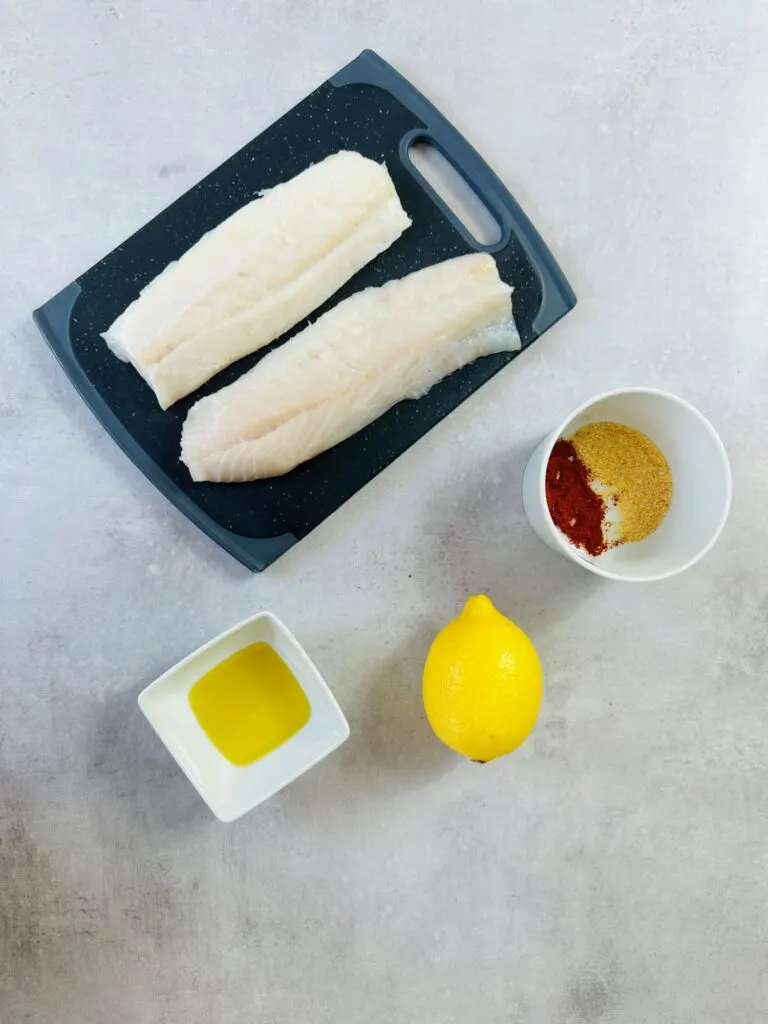 What You Need:
2 cod fillets (approximately 150g each): Cod is a white, mild-flavoured fish. If cod isn't available, you can substitute with other white fish like haddock or pollock.
1 tablespoon olive oil: Olive oil enhances the taste of the fish and helps the seasoning stick. You can use other oils if you prefer.
1/2 teaspoon paprika: Paprika adds a sweet and smoky touch. For a spicier kick, you could switch this out for cayenne pepper.
1/2 teaspoon garlic powder: Fresh minced garlic could also be used for a stronger garlic flavour.
Lemon wedges for serving: Fresh lemon juice brightens the dish and complements the fish's flavour.
Fresh parsley for garnish (optional): Parsley adds a refreshing touch and a pop of colour. Other herbs like dill or thyme can also be used for a different flavour profile.
Salt and pepper to taste: Add to your preference.
What Air Fryer Can I Use To Cook Cod?
Any air fryer can be used to cook cod. I used a Cosori 4.7L air fryer which was perfect for cooking two cod fillets; you can use any size air fryer, though.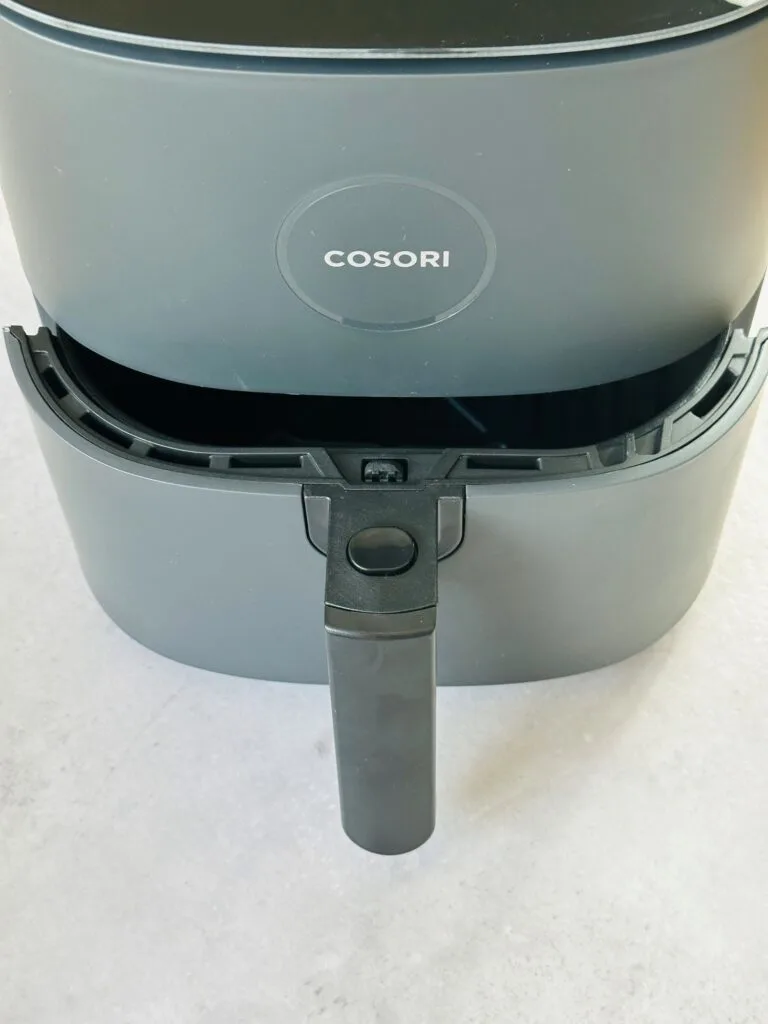 PERFECT FOR 2 TO 4 PEOPLE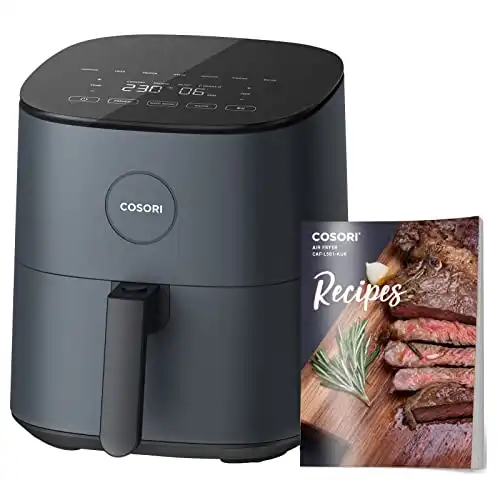 COSORI Air Fryer 4.7L
We earn a commission if you click this link and make a purchase at no additional cost to you.
12/09/2023 02:36 pm GMT
Making It
Kick off the cooking process by preheating your air fryer to 200°C. If your air fryer doesn't require preheating, feel free to move straight to preparing the cod.
Pat the cod fillets dry with a paper towel. This step helps with achieving a nice crust and prevents the fish from steaming.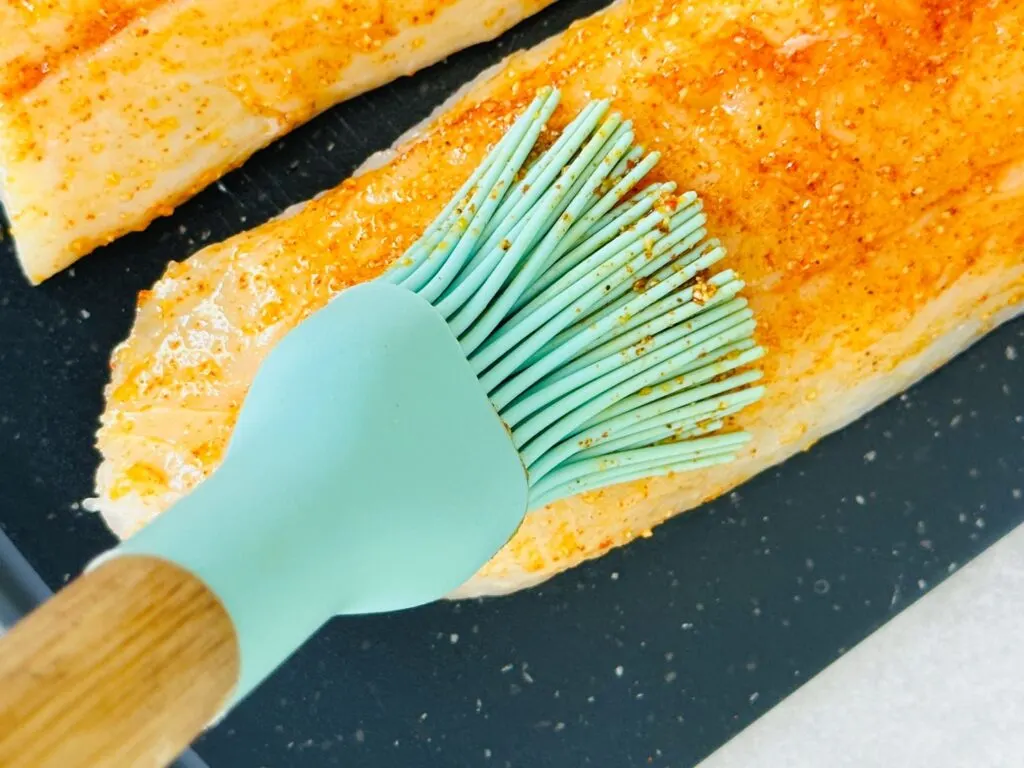 Next, mix the seasonings with the olive oil and brush both sides of each fillet. This ensures the spices stick well to the fish and assists in browning the surface.
When placing the seasoned cod fillets into your air fryer basket, ensure they aren't overlapping. This allows the hot air to circulate freely, resulting in an evenly cooked fillet.
I used a silicone air fryer liner to test them out. They worked really well and reduced the clean up time. They aren't a must, just a nice to have if you want to protect the air fryer basket.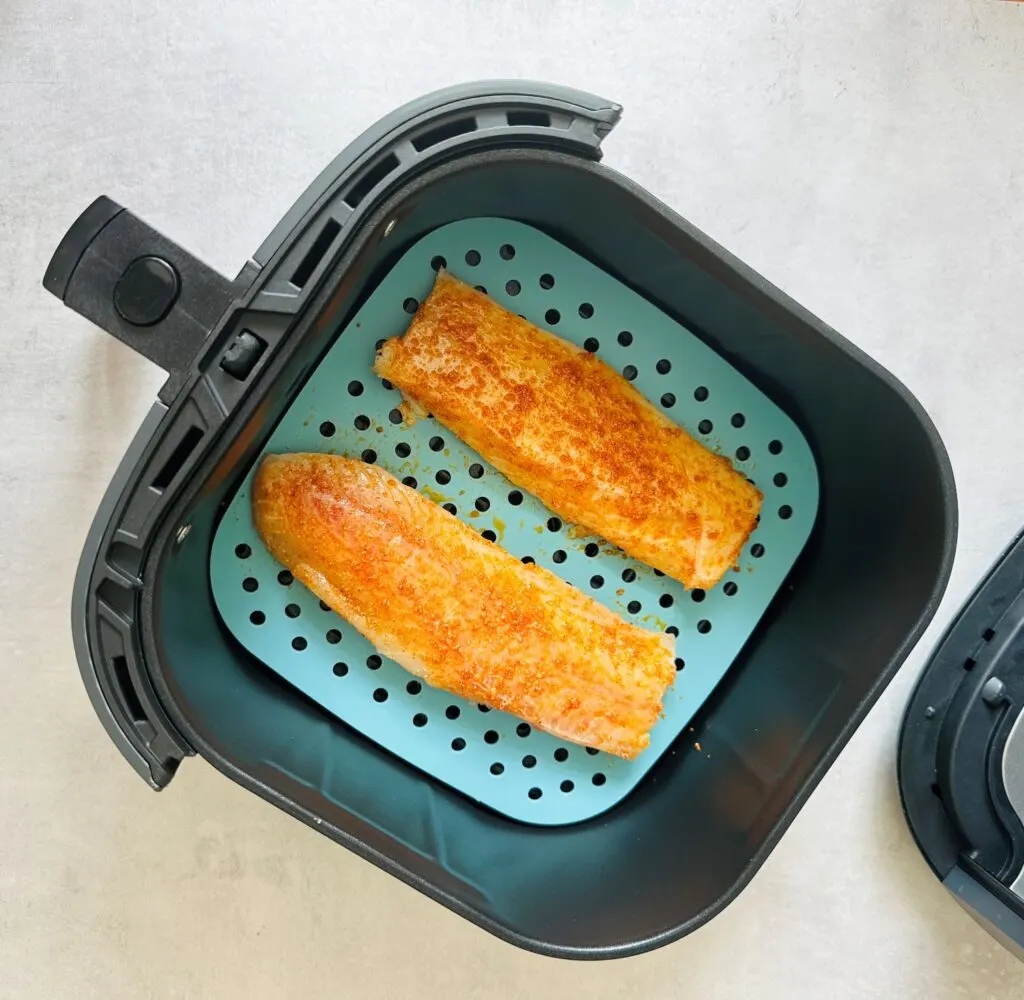 Set your air fryer off at 200°C and let it work its magic for about 10-12 minutes.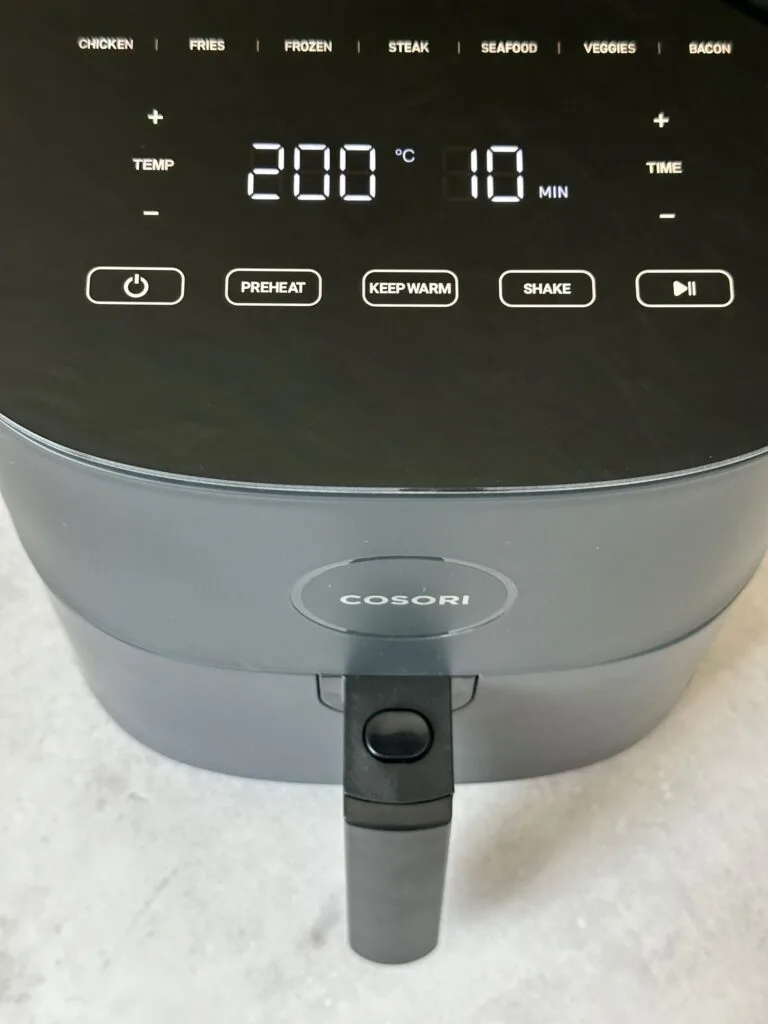 Remember, the exact cooking time may depend on your fillet's thickness, so it's a good idea to start checking around the 10-minute mark.
You're looking for an opaque colour and a texture that flakes easily with a fork.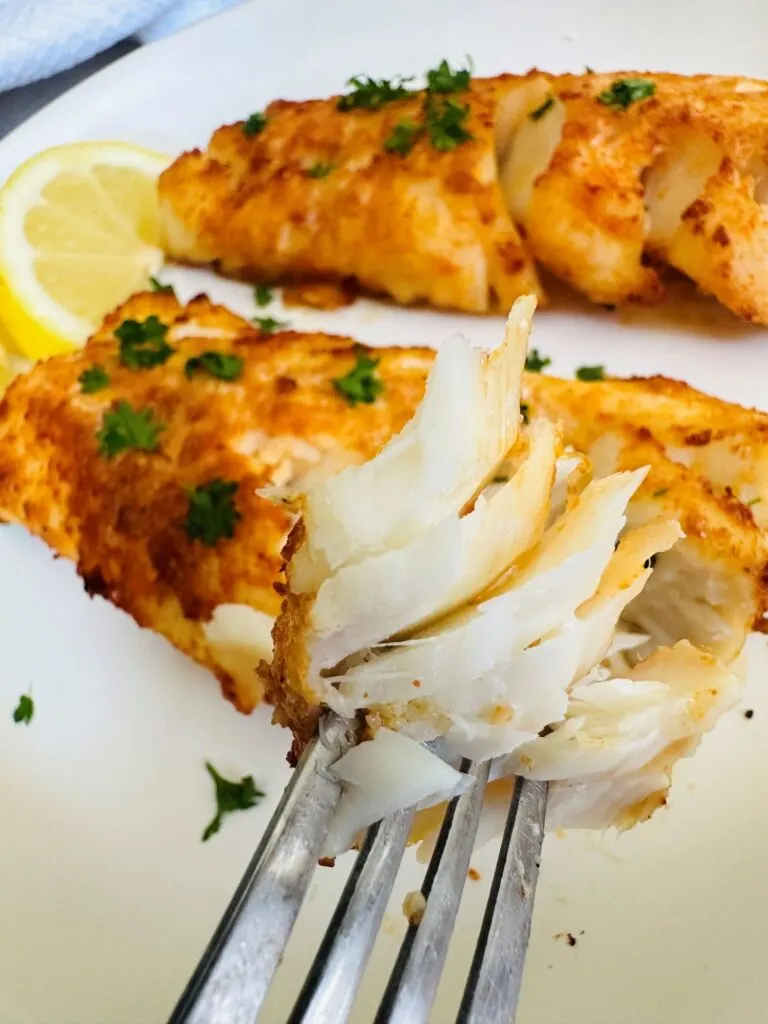 Air Fryer Cod Serving Suggestions
Once your cod fillets have cooked to perfection, carefully remove them from the air fryer and serve with a squeeze of fresh lemon. The lemon adds a lovely brightness that enhances the fish's flavours. For a final touch of freshness, garnish your cod with some finely chopped parsley.
This air fryer cod makes a perfect lunch or dinner main, served alongside a fresh green salad, roasted vegetables, or a potato salad. Its lightness makes it a great option for a healthy, protein-packed lunch.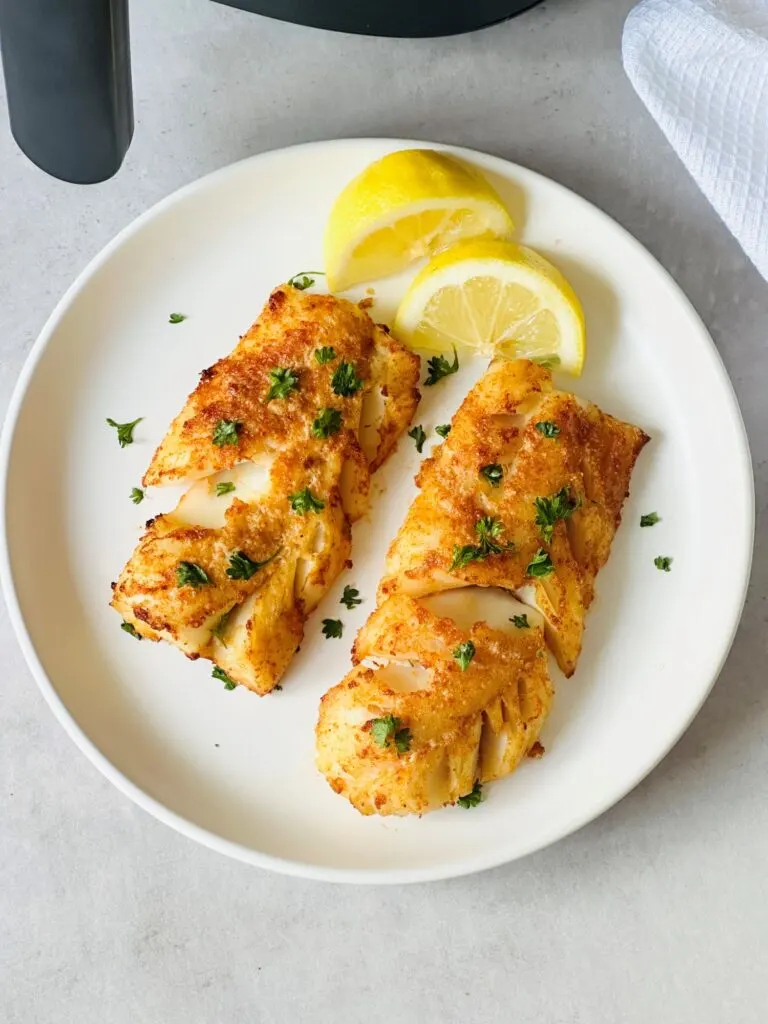 Storing Your Air Fryer Cod
If you have any leftovers, they can be stored in an airtight container in the refrigerator for up to 2 days. To reheat, using the air fryer again on a lower temperature setting is best to retain the fish's texture without overcooking it.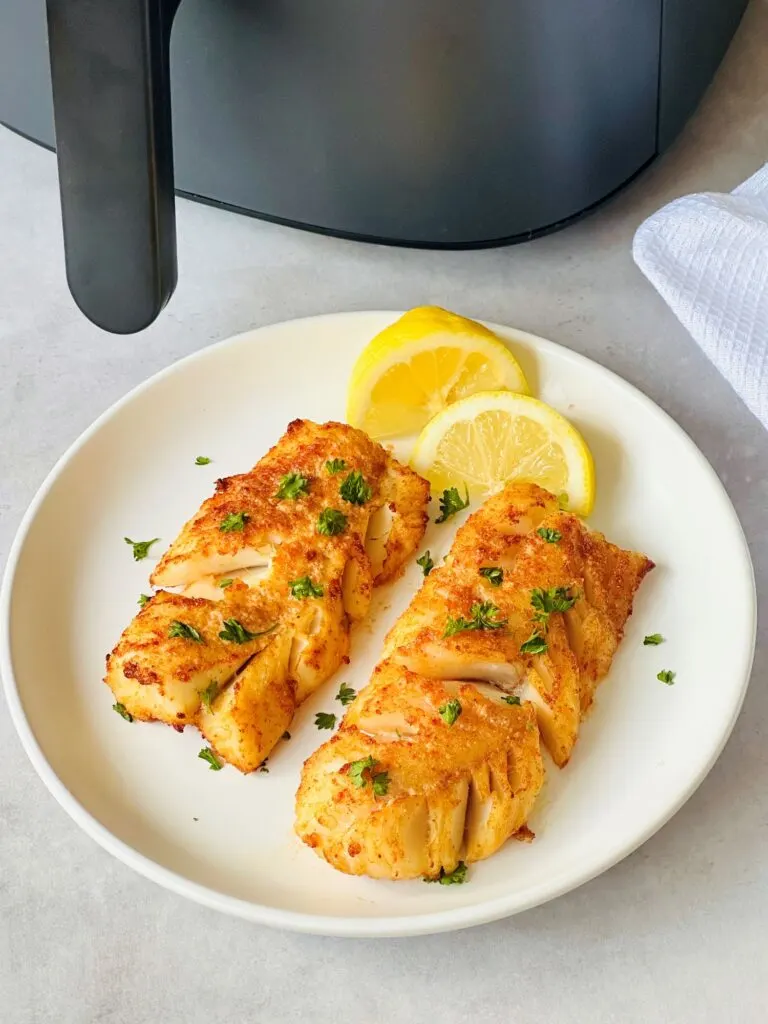 More Air Fryer Fish Recipes
Here are some more air fryer fish recipes you might enjoy:
🔎 Check out all my air fryer recipes >>
I hope you enjoy making this air fryer cod recipe; let me know in the comments if you end up making it!